Scott Wade creates awesome art from the dust and dirt that most of us spend all our time removing.
I originally put together this list back in 2010 and so recently had a chance to add more examples of this "dirty art."
One of the reasons why I wrote this is because I love the impermanence that comes with dirty window art: Tomorrow's art is quickly dashed away with the swipe of the windscreen wipers. If you are more interested in removing the dust from inside your car be sure to look at our best car air purifier.
Keep scrolling down to see all 10:
1. Mona Lisa

Leonardo da Vinci, eat your heart out. Scott Wade has recreated Mona Lisa's ambiguous smile with nothing more than a dirty car and an idle finger.
2. Girl With a Pearl Earring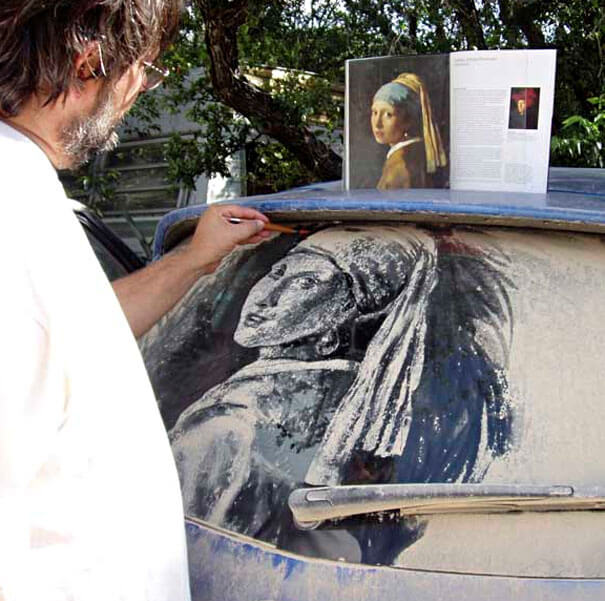 "Wash Me" is so 1999. Instead, Scott Wade spends his time recreating masterpieces. In this photo, a Mazda 3 gets to host Girl with a Pearl Earring by Johannes Vermeer. In what can only be seen as poetry, the replica can only exist until the next rainfall.
3. Birth Of Venus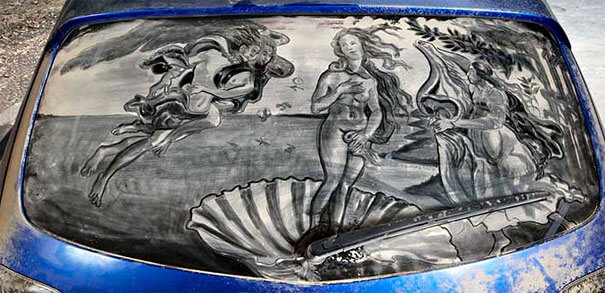 Venus, the God of love, was born a fully grown and arose from the sea (according to the artist Sandro Botticelli). This recreation captures that moment, a "dirty" duplicate of Birth of Venus.
4. American Gothic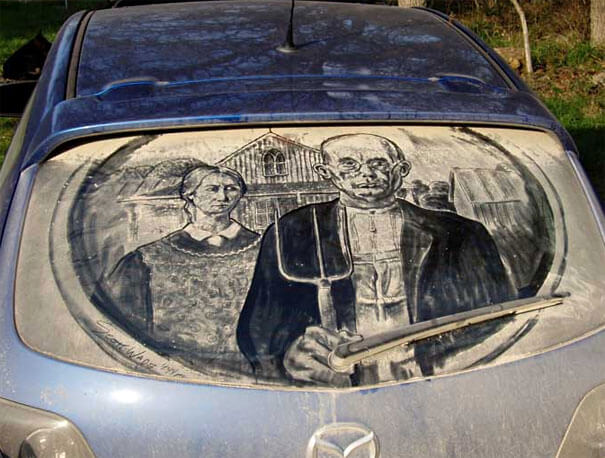 Grant Wood created American Gothic in 1930. This artist recreated American Gothic on the tail end of what appears to be a Mazda Hatchback. The real centrepiece in the original is the cottage in the background, which is based on the Gothic Revival style. However, the wiper in this dust-based recreation does have a certain charm of its own.
5. Hylas & the Nymphs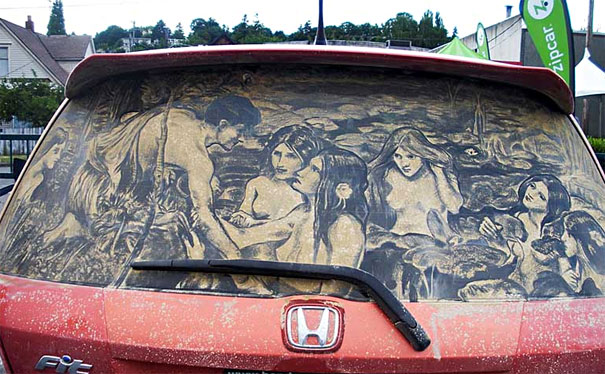 From the dusty back window of this Honda Fit arises the legend of Hylas. He was once an Argonaut and a dear friend of Hercules. During the voyage for the Golden Fleece, the nymphs called out to Hylas as he filled his jug of water. They offered him a kiss… a single sensual kiss. That kiss proved to be his last as they pulled Hylas into the water's depths.
6. Creation of Adam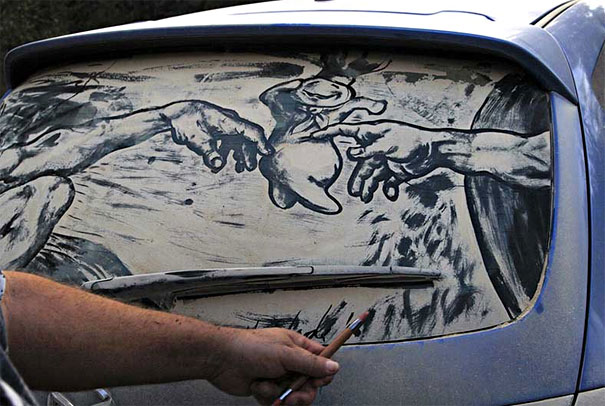 This is what would happen if Michelangelo drove a dust-covered Mazda. In the original Sistine Chapel fresco (painted in 1511), Adam sits to the left and God reaches out to him from the right. The Pillsbury doughboy between their hands is unique to this dust rendition.
7. Wildflowers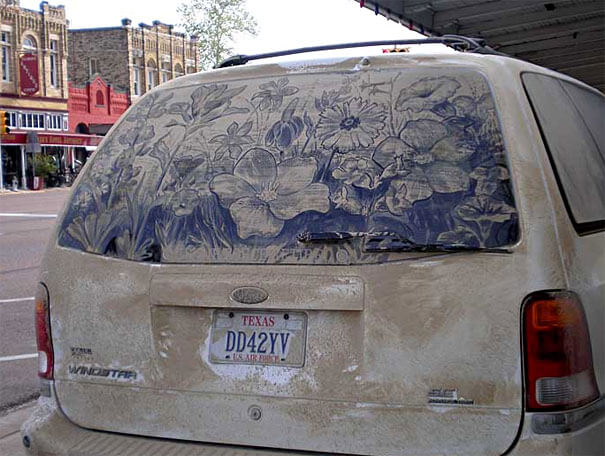 Flowers that grow in the wild make for a fantastic sight, whether you are enjoying them in real life or while stuck in traffic behind this dirty window artwork.
8. Woman Trapped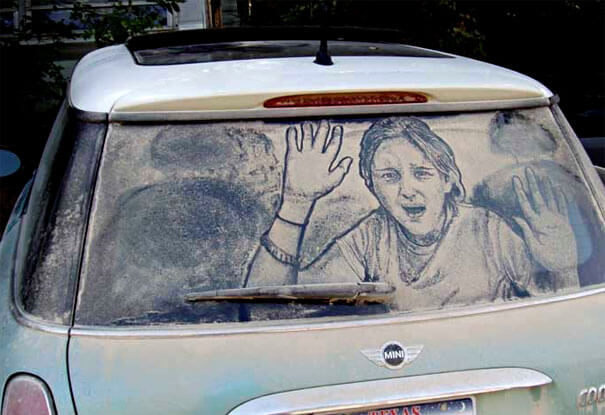 This one is a bit creepy but it has been so wonderfully done that I had to add it to the list. Imagine turning around a corner and seeing this woman looking back at you from the car in front — would you be able to realize it's an artwork without looking twice?
9. Mount Rushmore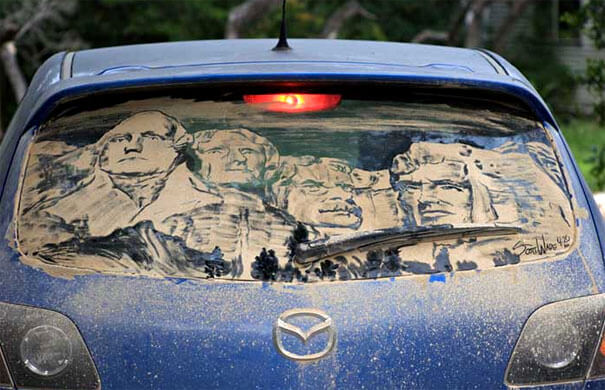 Mount Rushmore National Memorial is an iconic sculpture carved into Mount Rushmore in the Black Hills region of South Dakota. I'm not quite sure whether I love this dirty window artwork or not but it certainly caught my eye so it ended up making the list.
 If you prefer to keep your home or car dust free – then be sure to take a look at what we think are the best air purifiers for dust.