The Advanced Pure Air Newport 9000 is marketed by Real Spirit USA and is manufactured in China. It strongly resembles the Mitsubishi MHI-6800 Intelli-Pro, with a futuristic design and shape. The Advanced Pure Air Newport 9000 is sold at Costco, Sam's Club, Amazon, and Target for under $280. While it doesn't contain any breakthrough technology, it does contain several air-cleaning technologies in one package. It monitors air quality for both dust and odor. It has an LED four-level display showing indoor pollution levels and a sensor that indicates when the filters need to be replaced or when the electrostatic collection grid must be cleaned. The fan speed adjusts to pollutant levels, and it runs fairly quietly at all speeds.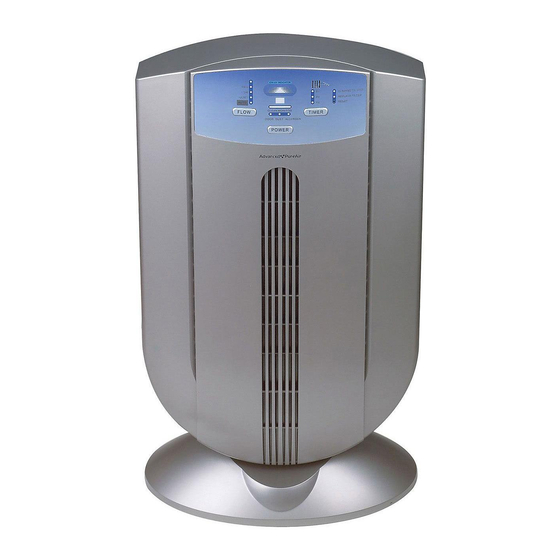 Measuring 13.5 x 10 x 25.6 inches, the Pure Air Newport 9000 has airflow of 106 cubic feet per minute, which is fairly low power. While the manufacturer says the machine can be used in rooms up to 750 square feet, this is a stretch. It is more suited to rooms of under 200 square feet in size for effective levels of air turnover. This air purifier has a series of filters, including a washable pre-filter, an electrostatic precipitator, an activated carbon filter, a high-efficiency particulate air (HEPA) filter, a photocatalytic oxidizer, an ultraviolet light, and a negative ionizer.
Ultraviolet light is designed to kill dangerous microorganisms. It is a six-watt lamp that emits 254 nanometers, which is not very high-powered. The electrostatic precipitator must be cleaned regularly to keep it working properly. This is true for many models that use electrostatic precipitators. But even when the electrostatic grid is dirty, the HEPA filter will continue to work, and if the grid is kept clean, the HEPA filter will last longer.
The frequent cleaning of the electrostatic grid is perhaps the main gripe of users, but this is true of many air purifiers in this price range. It produces no ozone, and odor removal is slightly above average. The gaskets and seals do their job well, and this helps eliminate problems such as dirty air bypassing the filters. Each filter can be replaced independently, which is convenient for those who don't like buying a suite of filters at once. The filters are inexpensive as well. Overall, the Advanced Pure Air Newport 9000 is a decent machine for the price. It is attractive, convenient, and easily portable. Though the series of filters and cleaners may be a bit overkill, all the technologies are helpful, and the only drawback is the need to keep the electrostatic grid clean for optimum performance.
Update April 2022:
The advanced pure air 9000 was a big deal back when we wrote this in 2010, but 12 years later, it is obsolete. If you are interested in looking for a replacement, then be sure to check out the air purifiers we recommend in 2022. If it's something that has similar technology to the 9000, I would recommend looking at what we think is are the best air purifiers with washable filters.
Update January 2023:
We now take a position that we don't want to recommend any filtration technology beyond mechanical (HEPA and activated charcoal) as there is not enough research yet on the potential downsides of UV or ionization technology to be confident that harmful byproducts are not produced that could increase health risks. If you are looking for the best air purifier, then be sure to check out the list that we produced based on all the tests we perform here at HouseFresh.