If you have mold in your home, you'll know how hard it is to combat. Airborne mold spores will make their way in through windows, and vents, or even hitch a ride on your clothing. Once inside your home, they have the potential to grow into unsightly mold growths, emitting unpleasant odors and posing a health risk.
Mold grows in areas with high moisture content, whether it's your wet shower or a room with leaky pipes, and they also thrive in places where there is no direct sunlight, such as your closet or basement. Left unchecked, mold can cause throat inflammation, sinusitis, skin irritation, and lung infections in more severe cases.
Utilizing an air purifier inside your home can be an excellent means of preventing and alleviating mold issues. Airborne mold particles range in size from 1 and 40 microns, which means that an air purifier equipped with a HEPA filter will effectively capture them as soon as they enter your home. In contrast, additional filters such as activated carbon filters and UV bulbs will help remove odors and eliminate any persistent mold particles that go through. 
If you are struggling with a mold infestation, apart from acquiring an air purifier, you are also advised to:
Identify and fix any issues contributing to the problem (leaks, ventilation issues)
Remove all contaminated materials and clean them thoroughly or remove them if they are sodden
Clean the affected area using a specialist cleaning solution or bleach
Allow the area to dry completely
To accommodate varying-sized spaces, we've included a range of air purifiers. If your mold problem presents within a large area, you may need a more powerful air purifier, such as the RabbitAir MinusA2, while the Eureka InstantClear NEA120 will work well in smaller rooms. We have also created a dedicated list to help with basement air quality issues that you can refer to. 
Be sure to look at our list of the best air purifiers for the basement in 2023 based on our testing and analysis. 
All of our recommended air purifiers have been analyzed via Consumer Reports and through product reviews for real-user satisfaction to ensure that genuine users rated them as fully effective in dealing with mold issues.
1. RabbitAir MinusA2
With its multiple layers of filtration, the RabbitAir MinusA2 air purifier efficiently removes mold spores. Apart from the pre-filter for large particles, the medium filter works on airborne particles larger than 1 micron, such as mold. The BioGS HEPA filter is designed to catch particles smaller than that, 0.3 microns, with 99.97% efficiency.
You can customize this with a germ defense filter, pet allergy filter, odor remover filter, or a toxin absorber filter to bolster the air cleaning process. There's also an activated carbon filter and an optional negative ion generator to handle odors. Additionally, this unit features a smart sensor, an odor sensor, and an air quality sensor to adjust the fan speed accordingly.
Purifier Technology: Pre-filter | Medium filter | HEPA | customized filter | Activated carbon | Ion
Room Size Suitability: 815 sq. ft.
Filter Life: 24 months
Noise Level: 20dB
Monthly Energy Consumption: $2.00
What we love:
Works well at removing odors in a short amount of time
Runs quietly on lower speeds
Remote control for operating from a distance
Easily set up, either standing or wall-mounted
We don't like this as much:
Unclear how to turn off the automatic sleep mode function
Replacement filters can be costly
2. Germ Guardian AC5900WCA
The Germ Guardian AC5900WCA is a 4-in-1 air purifier that includes a reliable pre-filter to capture large particles and extend the life of the True HEPA filter. Meanwhile, the HEPA filter blocks harmful air particles such as mold spores, capturing 99.97% of these contaminants, as the activated carbon filter addresses odor issues. The final protective barrier is the optional UV-C light which kills airborne viruses, bacteria, and volatile organic compounds (VOCs).
The unit has 3 speed settings and a programmable timer which can be set for 1, 2, 4, or 8 hours. It features a simple control panel where you can clearly visualize all its functions as well as the filter replacement indicator light, which notifies when it is time to change the HEPA filter.
Purifier Technology: Pre-filter | Activated carbon | True HEPA | UV light
Room Size Suitability: 338 sq. ft.
Filter Life: 6 to 8 months
Noise Level: 40dB to 60dB
Monthly Energy Consumption: $2.42
What we love:
Reduces dust accumulation
Easy to remove and clean/replace filters
Features responsive, user-friendly controls
Strong fan that propels air smoothly and quickly around the room
We don't like this as much:
Can get loud on the higher fan settings
Could perform better with removing strong odors
3. TruSens Z-300
The TruSens air purifier looks like a tower fan and has a small footprint, so you can place it in multiple locations. Its 360-degree filtration system makes it suitable for placement near walls without affecting its performance. The unit also features dual airflow that separates clean air into two streams for greater efficiency.
The remote SensorPod monitors the air and displays quality levels on an LED display. It has a touch screen for the control panel, including the timer feature and the auto-mode. This model's True HEPA filter and optional UV light handle mold, while the carbon filter works hard to eliminate the musty odors which mold spores are known to produce.
Purifier Technology: Washable pre-filter | Activated carbon | True HEPA | UV
Room Size Suitability: 750 sq. ft.
Filter Life: 12 to 15 months
Noise Level: 30dB to 60dB
Monthly Energy Consumption: $1.98
What we love:
Can clean the air in larger spaces rapidly
Features a carrying handle and lightweight design
Lights can turn off for nighttime use
Simple to navigate the control panel
We don't like this as much:
Might have to reset the unit if the sensor changes too often
Air quality sensor can be excessively sensitive
4. Airthereal APH260
The Airthereal APH260 is a modern air purifier with high-performance filters that effectively capture and neutralize mold spores and other airborne irritants. There's the True HEPA filter to deal with the smaller particles while the UV light can kill them completely. Along with that there is an anion function that can be activated to more readily attract airborne pollutants.
The timer can be set from 0 to 12 hours so you can create a schedule that meets your needs. There is also a smart sensor for displaying the air quality in real-time, and an auto mode for choosing the correct fan speed as required.
Purifier Technology: Pre-filter | Activated carbon | True HEPA | UV light
Room Size Suitability: 355 sq. ft.
Filter Life: 6 to 8 months
Noise Level: 28dB to 49dB
Monthly Energy Consumption: $1.46
What we love:
Effortless upkeep with easily replaceable filters
Quality digital display that's simple to read
Runs reasonably quiet on multiple speeds
Trouble-free setup
We don't like this as much:
An improved airflow would enable faster room cleaning
The only way to turn off the lights is in sleep mode
5. Vornado PCO575DC
With advanced sensors for detecting dust and odors, the Vornado PCO575DC will adjust accordingly and can help detect musty odors that may be associated with mold. You also get real-time visual feedback via color-coded air quality settings. If you don't want to use auto mode, you can always use the 8 airflow settings or go for the Quick Clean mode.
Not only does this unit use a True HEPA filter to remove 99.97% of tiny airborne pollutants such as mold spores, but it also features the Silverscreen filtration technology, which captures contaminants like VOCs that can slip by the HEPA filter, using UV light and TiO2 media.
Purifier Technology: Pre-filter | Activated carbon | True HEPA | Silverscreen (Ion + UV)
Room Size Suitability: 258 sq. ft.
Filter Life: 12 months
Noise Level: 35dB to 66dB
Monthly Energy Consumption: $2.04
What we love:
Easy-to-use top controls
Air quality sensor seems balanced and accurate
Precise speed settings
A powerful, energy-efficient motor that can run all day long
We don't like this as much:
The motor might get a bit loud on high settings
It's a tad bulky
6. Eureka Instant Clear 26′ NEA120
The Eureka Instant Clear 26′ NEA120 is an affordable air purifier that gets the job done. As a 3-in-1, it features multiple lines of defense. The activated carbon filter draws in and eliminates odors, while the True HEPA filter deals with pollutants as small as 0.3 microns with 99.7% efficiency. The UV filter then successfully reduces mold spores.
There are 3 fan speeds to cycle through, which work well with the long-distance air circulation built into the air purifier. It also features ultra-silent technology so that it can generate minimal noise, especially when running on the lowest fan speed.
Purifier Technology: Activated carbon | True HEPA | UV
Room Size Suitability: 222 sq. ft.
Filter Life: 12 months
Noise Level: 32dB to 52dB
Monthly Energy Consumption: $1.57
What we love:
Buttons are easy to press
Moves a good deal of air even on lower speeds
Can help remove surface dust
Transporting from one room to another is simple enough
We don't like this as much:
Not always easy to find replacement filters
Fan might rattle if the unit isn't placed on even ground
7. Oransi Finn OVHT9908
The Oransi Finn OVHT9908 is another air purifier that resembles a tower fan. Its compact design makes it suitable for bedroom use, and you can change the filters or clean the pre-filter with ease. With regards to filters, there is a carbon layer on the pre-filter as well as a HEPA filter that handles smaller harmful particles such as mold. Mold spores are further dealt with via action of the UV light.
The fan speed can be adjusted to suit your needs by cycling through 3 different speeds. With airflow from both front and back, the unit is able to push clean air throughout the room at a reasonable pace.
Purifier Technology: Pre-filter with carbon layer | HEPA | UV light
Room Size Suitability: 400 sq. ft.
Filter Life: 12 month
Noise Level: 40dB to 60dB
Monthly Energy Consumption: $1.75
What we love:
Comes with free filter replacements
High fan speed generates tolerable noise levels
Straightforward to install and get started
Compact and doesn't take up much space
We don't like this as much:
Blue light won't turn off
Been known to emit a slight odor the first few times it is used
8. Winix 5300-2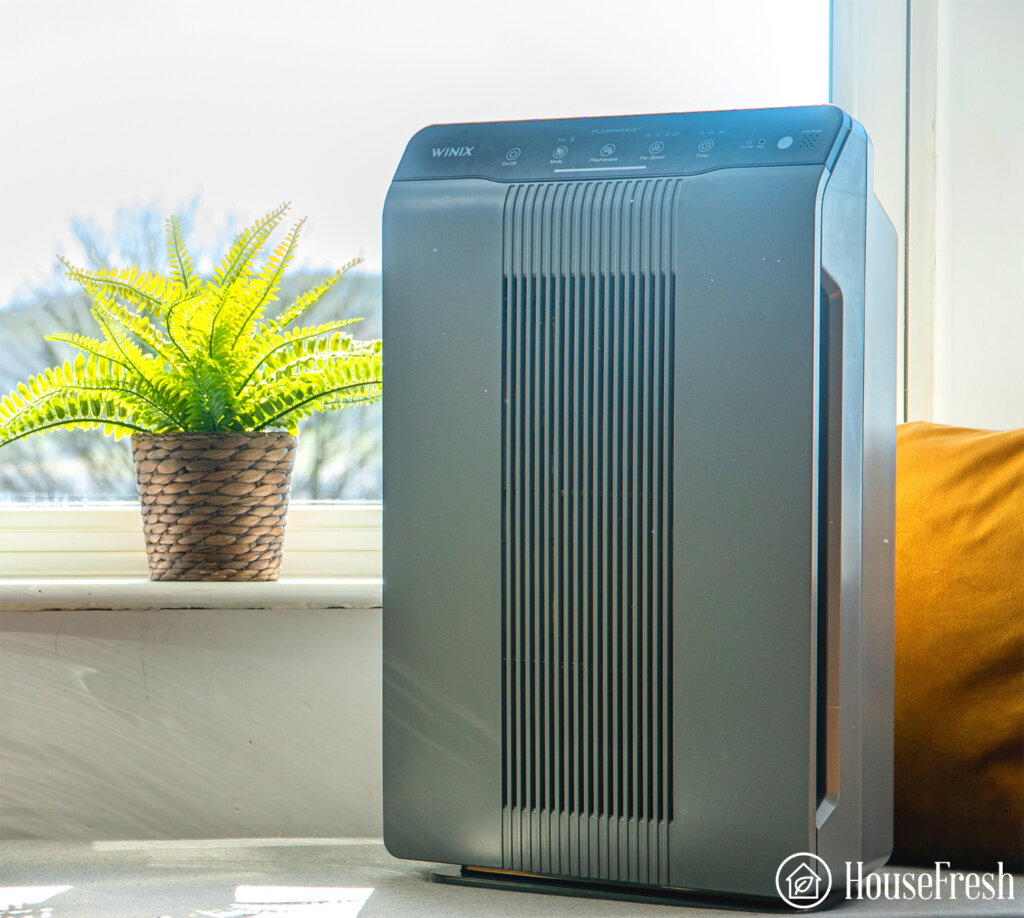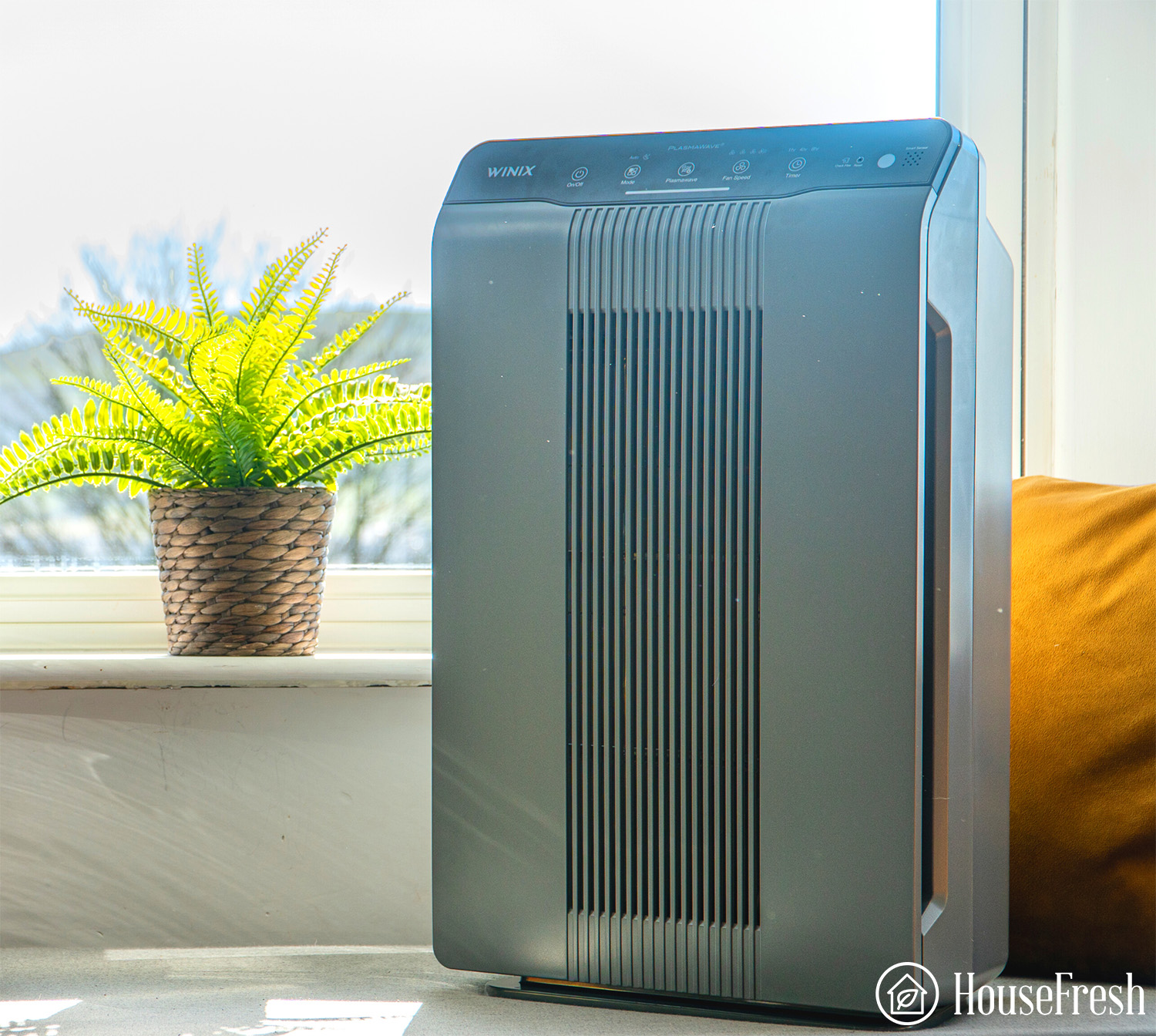 The Winix 5300-2 is a powerful air purifier which you can buy at a very reasonable price. The washable mesh pre-filter and the True HEPA filter provide easy maintenance, and the HEPA filter effectively captures 99.97% of harmful airborne pollutants like mold. PlasmaWave technology further eliminates smaller issues like bacteria and viruses.
The air purifier has dual smart sensors and an auto mode which automatically adjusts the unit while the air quality indicator changes color in real-time. If you need to, you can leave it in sleep mode so that it runs more comfortably at night.
Purifier Technology: Washable pre-filter | Activated carbon | True HEPA | PlasmaWave
Room Size Suitability: 360 sq. ft.
Filter Life: 12 months
Noise Level: 28dB to 55dB
Monthly Energy Consumption: $1.69
What we love:
Low noise output on highest fan speed
Effective at neutralizing odors
Pre-filters are easily cleaned
Airflow from the top improves circulation
We don't like this as much:
Air quality sensor may not always be accurate
Fan speed variety should be more discernible
FAQs About Air Purifiers for Mold
What feature in an air purifier deals with mold?
High-efficiency particulate air filters, also known as HEPA filters, play a crucial role in handling pollutants such as spores in the air. These high-quality filters can usually capture up to 99.97% of particles in the air, and can trap particles as small as 0.3 microns in size.
Since mold spore size typically ranges from 1 to 40 microns, a HEPA filter can easily pull them in and neutralize them. Additionally, other components can assist with mold. An ionizer can alter the electrical charge of mold spores so that HEPA filters can collect them more effectively.
Also, since mold spores tend to produce a musty odor, a purifier with an activated carbon filter can handle those odors to make the air smell fresher.
If you want to kill the mold outright, you can use an air purifier with UV-C light.
How do you know if mold is making you sick?
As a result of exposure to mold spores, you may experience nasal, throat, and eye irritations, as well as an allergic reaction or asthma attack. This will further compromise the health of those who periodically suffer from allergies or other respiratory problems, and will be more manifest in individuals with a weakened immune system.
What is the best way to prevent mold from growing in my house?
It's best to prevent mold from growing by ensuring it doesn't have the right environment. Mold thrives in warm, humid environments, so if you have damp spots in your home, they'll grow on them.
The CDC recommends controlling humidity levels, and good ways to do so are to ventilate laundry, cooking, and showering areas. It's important to dry out and clean any flood-damaged areas. You'll also want to take care of any leaks from the roof, windows, and pipes.
Which Air Purifier is Best for You?
When left unchecked, mold spores can wreak havoc on your home and your health. They damage walls, flooring, and furnishings; they are a major concern if left unattended. An air purifier capable of tackling mold is the best way to handle mold and prevent recurrence.
These air purifiers boast powerful HEPA filtration that can capture those miniscule mold spores. Many of them boast additional features to improve their performance, such as UV-C for total neutralization of the mold or ionizers to facilitate the HEPA filter action.
Choosing the best air purifier depends largely on the amount of space you need the unit to handle as well as how many extra features you would like to have at your disposal.
Last update on 2023-05-29 / Affiliate links / Images from Amazon Product Advertising API