If you live or work near a busy road or highway, many things can, unfortunately, disrupt your peace and tranquility. It isn't just the roar of engines or the wail of sirens that can cause a problem, but also the quality of the air you breathe.
The size of car exhaust pollution particles ranges from 2.5 to 10 microns. Many are categorized under PM2.5, which refers to tiny particles invisible to the eye but small enough to pass through the lungs, into the bloodstream, and your organs. Nitrogen dioxide is also a by-product of traffic pollution and can cause respiratory irritation and make you prone to all types of infections. In the long term, you risk developing asthma.
That is why traffic pollution is a severe issue that may affect your health in more ways than one. It's not just the air in your home that's affected by traffic pollution. Many of us spend hours daily commuting by car, by public transport, and by walking, exposing us to the harmful toxins produced by traffic.
Major health consequences of traffic pollution include:
The onset of asthma in children
Heart attacks
Increased risk of dementia
Multiple Sclerosis (MS)
The good news is that investing in an air purifier can reduce the likelihood of both you and your family suffering from these unfortunate conditions without needing you to move home.
We have committed to choosing products containing True HEPA/H13 and activated carbon filters as these capture the greatest number of harmful airborne particles and have been proven again in peer-reviewed papers to filter the air of all types of pollutants effectively. If you are more concerned about the air quality while driving, then look at what we think is the best air purifier for the car and portable car dehumidifier.
I hope you will find a unit on this list of air purifiers that will help stop traffic pollution from creeping into our living areas, bedrooms, and studies, focusing on the key factors to consider, such as size, room coverage, design, price, and filtration technology.
This Swiss air purifier is recommended by many air quality professionals and stands as one of the best units on the market right now.
The IQAir HealthPro Plus is one mean, keen cleaning machine. Recommended for larger rooms, this unit will help eradicate multiple indoor contaminants in spaces up to 1,125 square feet. Weighing around 30-35Ibs, the HealthPro Plus may be the most expensive on this list, but is recommended by many professionals and stands as one of the best units on the market.
The Healthpro Plus features a three-stage filtration process that draws in air through the bottom of the unit. The pre-Max filter confidently filters out hazardous VOCs such as chemicals and traffic pollution, as well as potent odors that can occur in our living spaces. 
Equipped with a super-effective HyperHEPA filter, this unit has no problem tackling all types of indoor pollutants ranging from dust particles to pet dander. Removing up to 99.95% of particles down to 0.003 microns the IQAir HealthPro Plus is as effective as air purifiers can be.
Unlike many other units on the market, the HealthPro Plus filters last up to four years, which coincides perfectly considering this unit is installed with an insane 6-stage fan speed that can be adjusted via remote control to suit many types of indoor scenarios.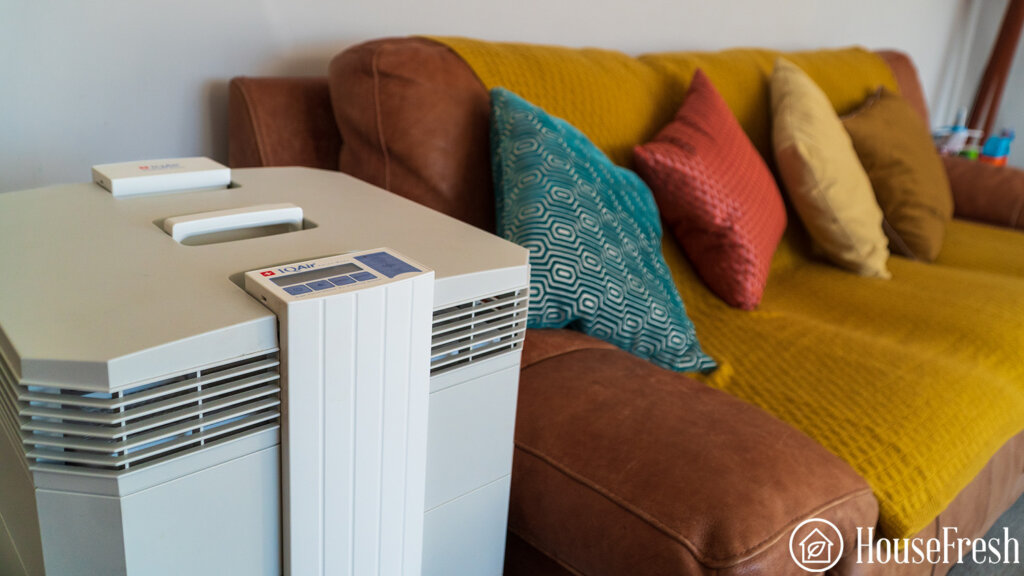 SPECS & FEATURES
2. Best budget option for small spaces: Levoit Core 300S
The Levoit Core 300S has some wicked tricks up its sleeve, starting with its small, compact, cylindrical design.
Weighing just 7.8 pounds, this smart Levoit unit comes equipped with a 3-stage filtration system to help diminish unwanted contaminants that trespass in our personal spaces. Filtration begins with the unit's nifty pre-filter to capture larger particles, a main filter for smaller particles such as dust and pollen, and an activated carbon filter for odors and unwelcome gases. 
The Levoit Core 300S features 3 fan speeds, an auto mode, and a personal timer. This unit also connects to the Ve sync app to adjust and control your air purifier whenever you need to, and wherever you are in your home. 
For a unit of this size, the Core 300S wonderfully deals with indoor pollutants in small rooms up to 215 square feet and produces a CADR rating of 134 Dust/ 126 Smoke/ 154 Pollen (cfm) cleaning the air 5 times per hour. The incredibly low noise output of 24dB on the lowest setting fits perfectly for having it on in the evenings to fend off any outside pollution.
If you don't care about smart functionalities such as auto mode, smartphone connection and an onboard air quality sensor, then you can save yourself $50 by choosing to go with its predecessor, the Levoit Core 300.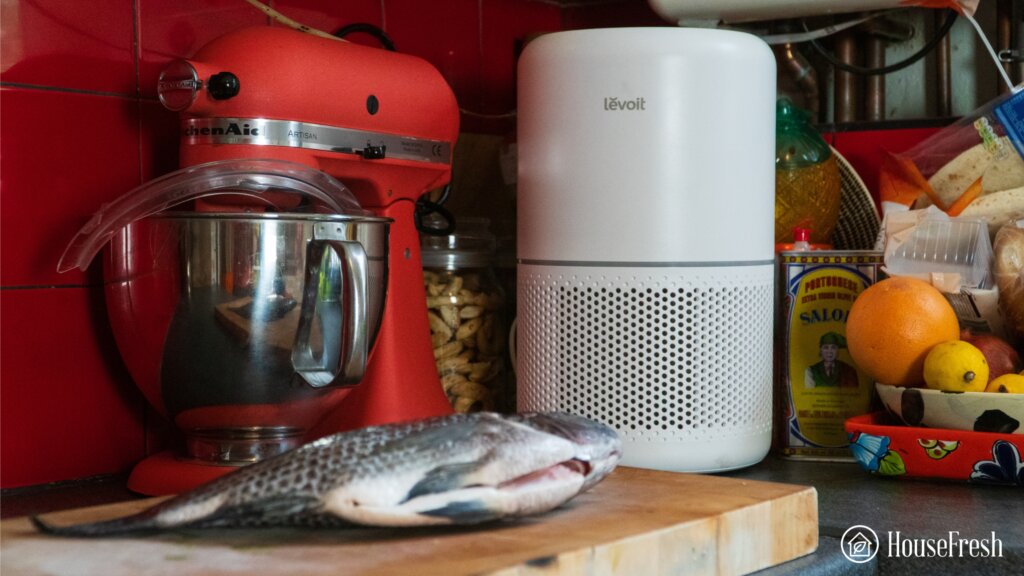 SPECS & FEATURES
The Blueair Blue Pure 211+ is a fantastically versatile, high quality air purifier with excellent air cleaning performance.
With certificates from AHAM, CARB, and Energy Star, the Blue Pure 211+ is super energy efficient and has a high CADR rating of 350 across the board for dust, pollen, and smoke.
The Blueair Blue Pure 211+ features a three-stage filtration system with a pre-filter made from a washable fabric. It is effective at catching larger particles, such as pet hair so the HEPA filter can do its job more effectively capturing smaller particles.
Not overly complicated and small and compact, this unit may give off a small bedroom purifier-type vibe but it can handle some rough situations. Suitable for medium-sized rooms, the Blue Pure 211+ can clean rooms up to 540 square feet in under half an hour.
With its unique HEPA silent technology, this machine can go as low as 31dB on the lowest setting. Combining traditional HEPA and a carbon filter with an electrostatically charging chamber, this product can more than handle odors and dangerous VOCs that invade our indoor spaces.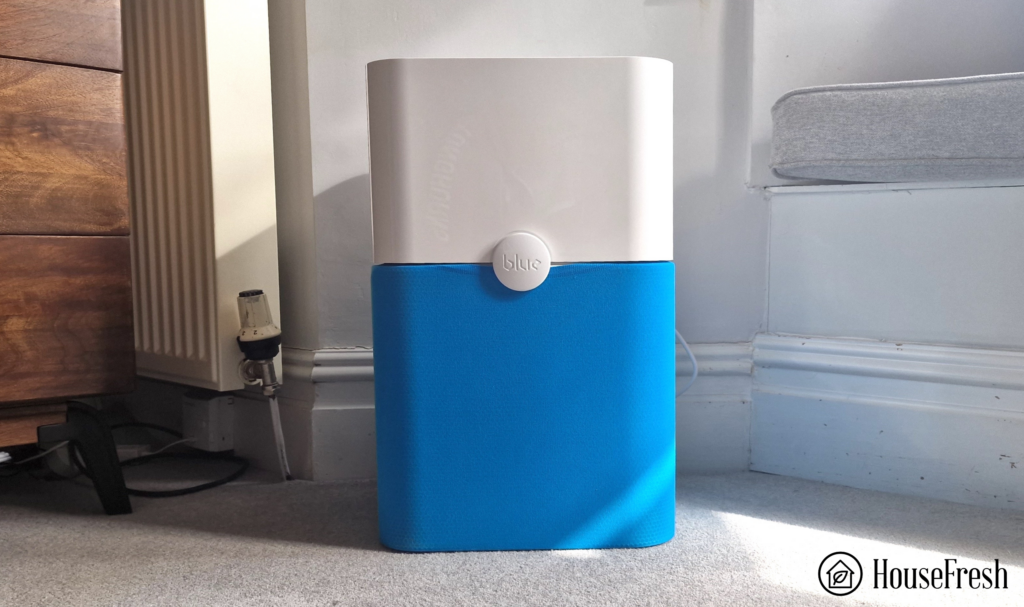 SPECS & FEATURES
An older air purifier model from one of the most trusted brands in the market — good air cleaning performance for a fair price without the bells and whistles of newer units.
The Honeywell HPA300 may not win any awards for its design but it surely packs a punch when dealing with indoor contaminants and dangerous VOCs. Its jet-black design may remind you of a machine prop from a sci-fi film but there are many things to love about this unit.
The HPA300 operates with a four fan speed setting, low, medium, high, and turbo. Unfortunately, this unit comes at a cost for a budget unit with a CADR rating of 300 that can clean rooms of 465 square feet. 
To make up for its high-performance capabilities, this product produces quite a loud noise output, starting with 48dB on its lowest fan speed and 71.2dB on turbo mode, making it not one to fall asleep to.
Nevertheless, the HPA300 features an astounding 3 HEPA Filters lasting up to a year and effectively eradicating airborne particles. The activated carbon filter really impresses with its ability to remove strange odors and VOCs, such as smoke, potent chemicals, and traffic pollution.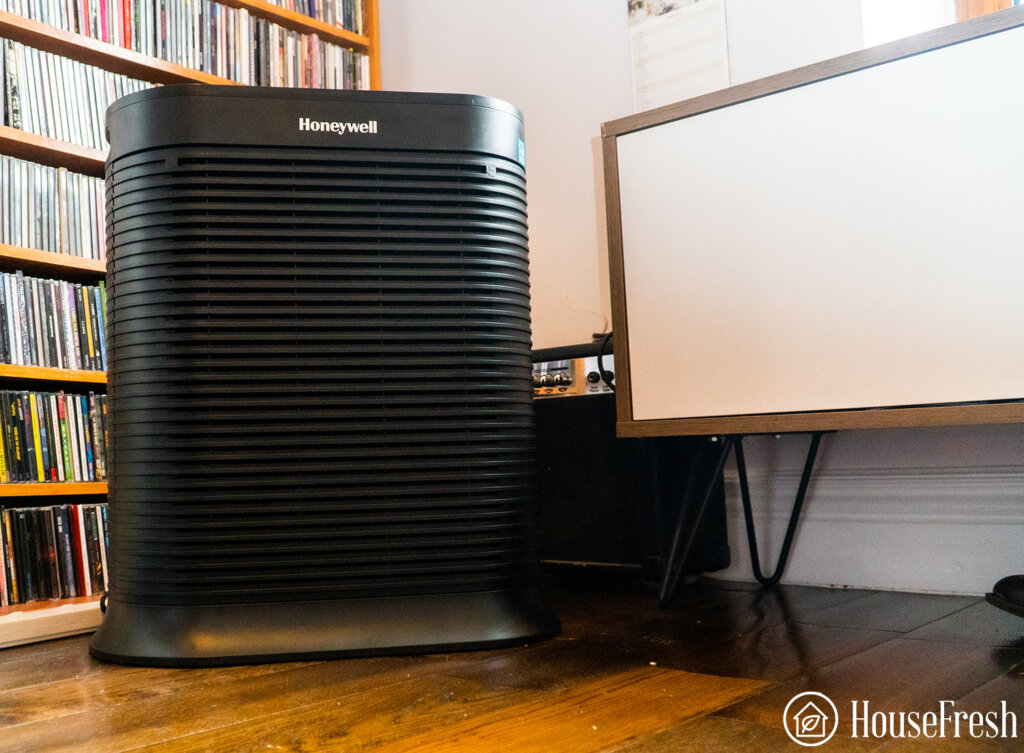 SPECS & FEATURES
The top of Alen's BreatheSmart range, packed with activated carbon to help tackle not just traffic smoke but also the associated smells.
The wonderfully powerful, high-end Alen BreatheSmart 75i is an air purifier full of surprises. As well as the IQAir HealthPro Plus, this product sits up there with one of the more expensive units on this list but with some brilliant features and overall high-performance levels, it's worth every penny.
The BreatheSmart 75i can successfully cover a room of up to 1,300 square feet quite confidently with a CADR rating of 347. Featuring 5 fan speeds and an auto mode, the Alen BreatheSmart 75i can automatically adjust to whichever speed is necessary to suit the room condition. 
It simply senses the room's air quality and determines the best way to eradicate particles or hazardous VOCs invading our personal space.
With the option of choosing from 3 different filters, this well-made product makes room for an optional Fresh filter which combines a H13 true HEPA filter with an activated carbon filter to not only help with airborne particles but offer great protection from hazardous VOCs and dangerous toxins, keeping your home pollutant-free and smelling fresher than ever.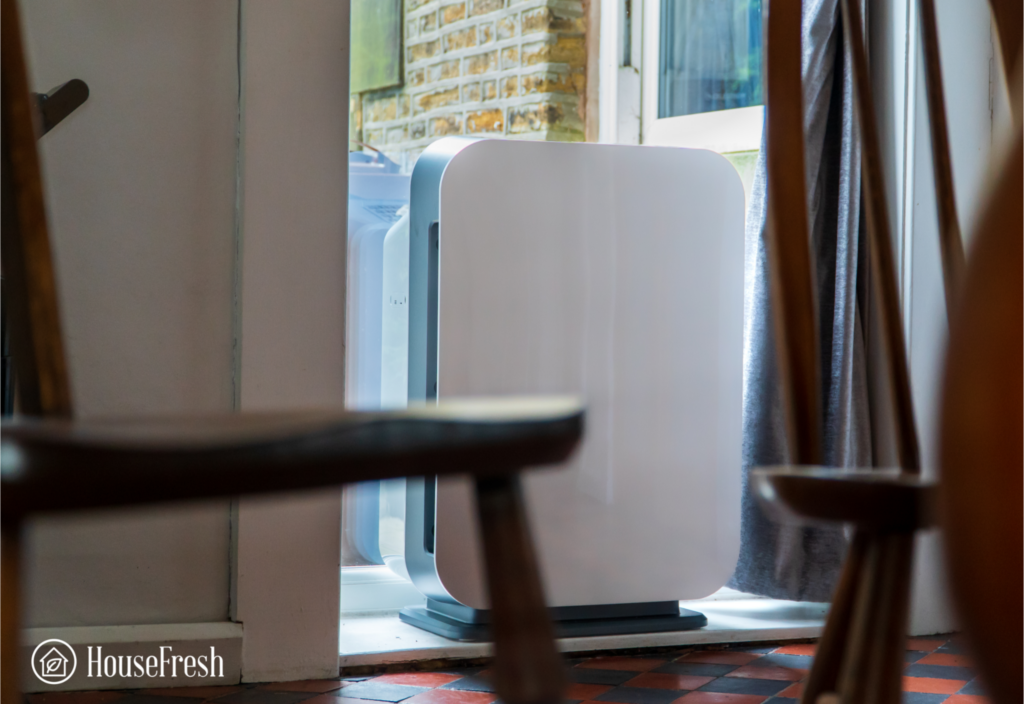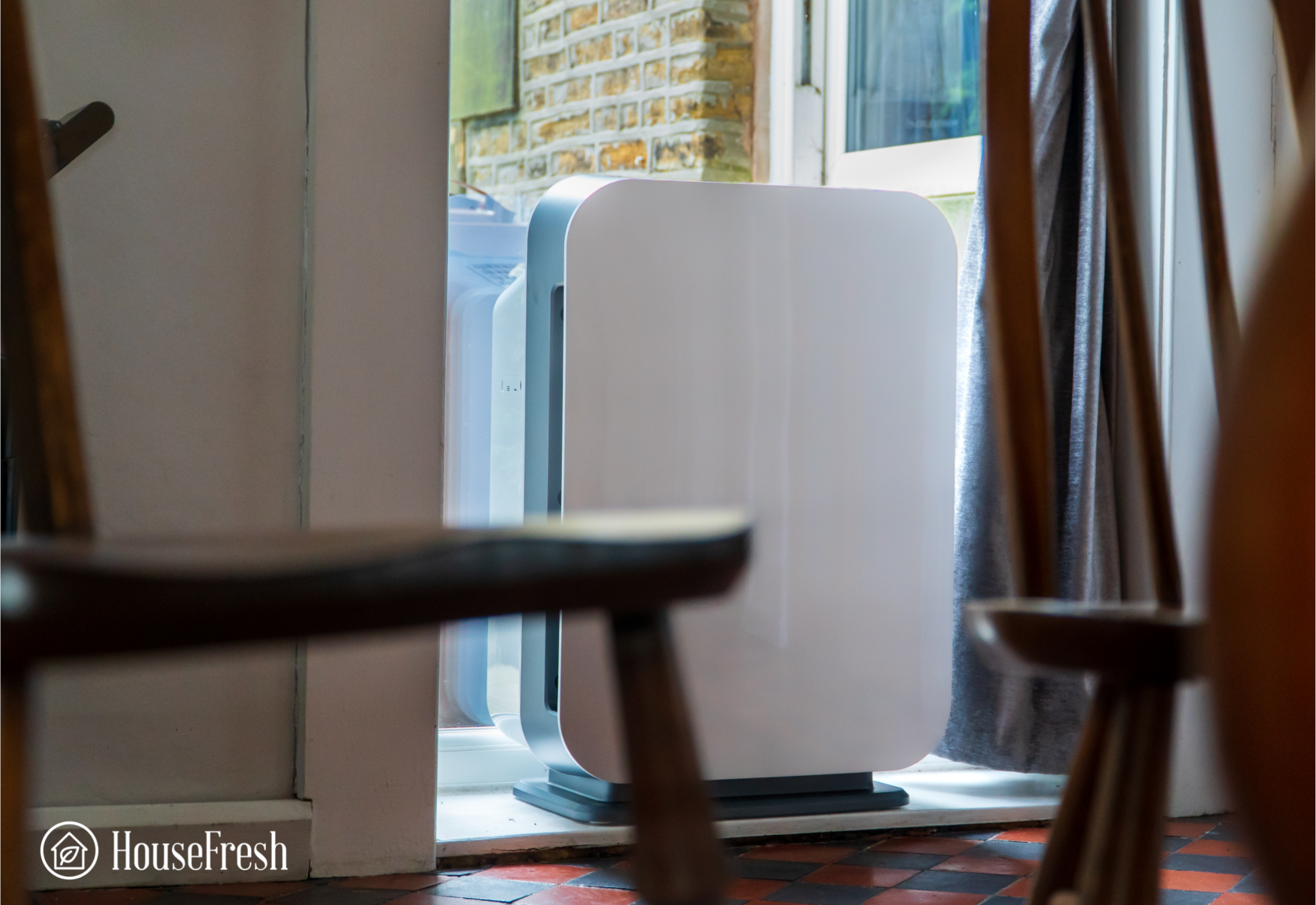 SPECS & FEATURES
The second best performing air purifier we have tested, able to clean the air in our home lab of all smoke pollutants in just 15 minutes.
Levoit is no stranger in the air purification market with their extremely respectable, low-budget, high-quality units, but some Levoit models stand out. Introducing the Levoit Core 600S.
This high-powered, large room cleansing model is recommended to consumers as not only a particle remover but will brilliantly dissipate hazardous VOCs and unwanted odors at a substantially low price.
Recommended for larger rooms, the 600S will clean a room of 1,588 square feet in your home (635 sq. ft. in just 15 minutes). Featuring 4 fan speeds, the Core 600S can function in auto mode, allowing the purifier to do its duty all by itself, recognizing when to adjust its fan speeds depending on how contaminated your home is.
The interface of this product contains bright LED light indicators, making it very easy to use and allowing you to adjust fan speeds and set personal timers manually. Lights will also allow you to see the current condition of your room by changing colors. For example, blue (very good), green (good), orange (moderate), and red (bad).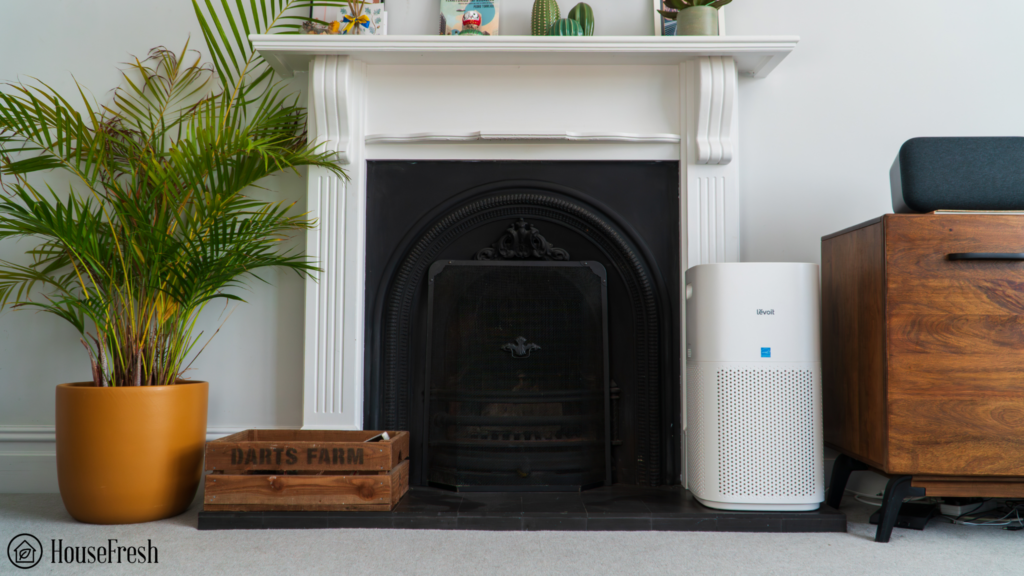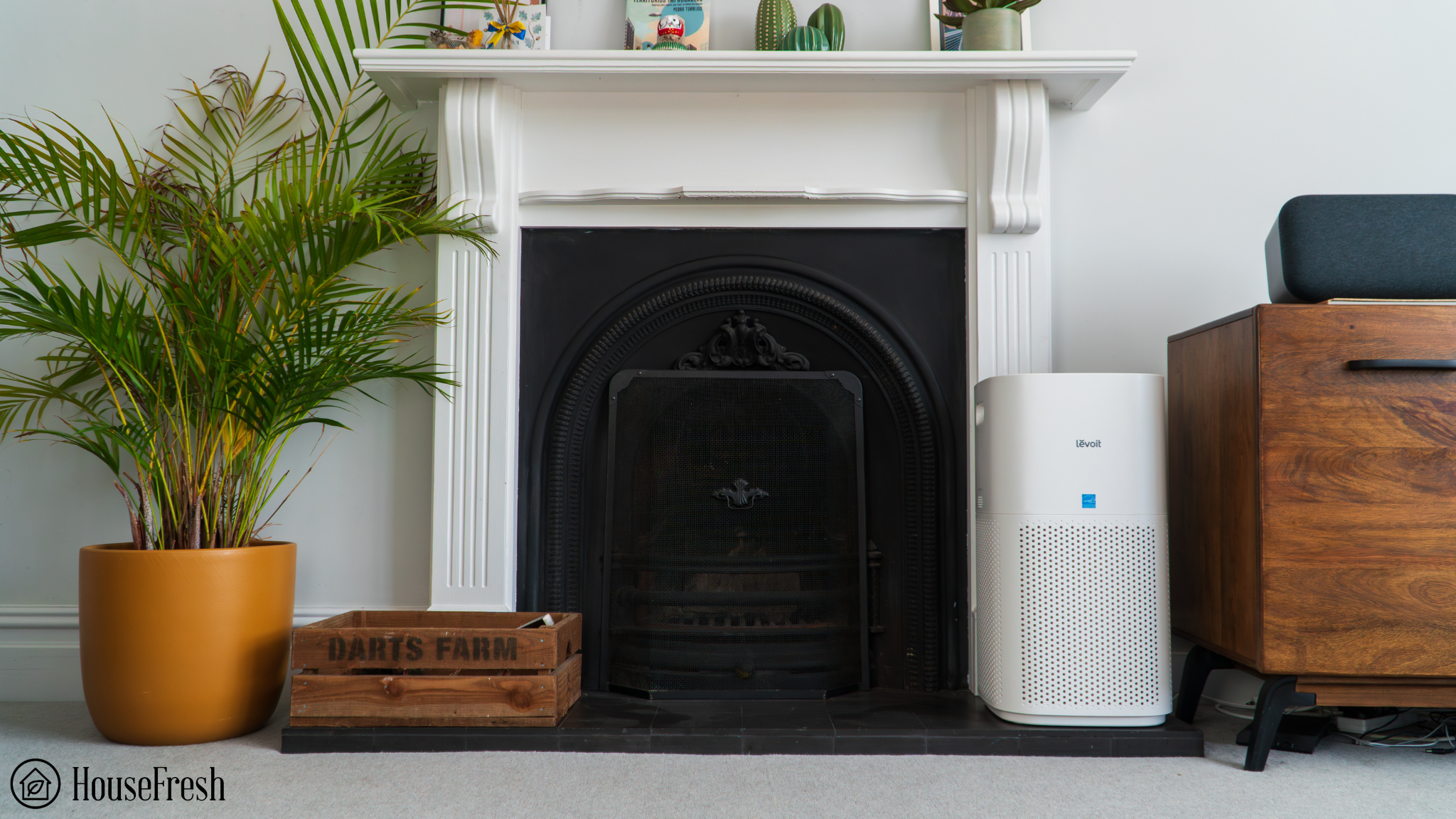 SPECS & FEATURES
The only air purifier on the list that has been designed and manufactured in the United States.
Weighing in at 47Ibs, the highly-rated American brand brings us Austin Air Healthmate. Fantastically energy-efficient and proven to remove harmful gases and particles from the air, this unit is up there with the best for overall efficiency. 
This unit features a unique white fabric pre-filter that sits just inside of its cylindrical design to capture larger particles to maximize the full potential of the impressively crafted carbon filter and HEPA filter. 
The filter life on these two can last a substantial 5 years. The carbon filter (which contains 15Ibs of activated carbon and zeolite) is hugely effective at tackling outside pollution that may wander into our homes, and the HEPA filter will take on the smaller unwanted particles, such as pet dander, dust, and mold spores.
Although activated carbon will take care of most unwanted gases and VOCs, adding Zeolite to the mixture only enhances this unit's capabilities for trapping all types of gas pollution.
As air enters the unit on all 4 sides, the Austin Air Healthmate is beautifully designed and well crafted as it pushes air through the multiple filters and releases clean air out of the unit via the back grill, which faces upwards. Featuring 3 fan speeds and a unit output of 400 CFM, this unit is perfect for spaces up to 1,500 square feet.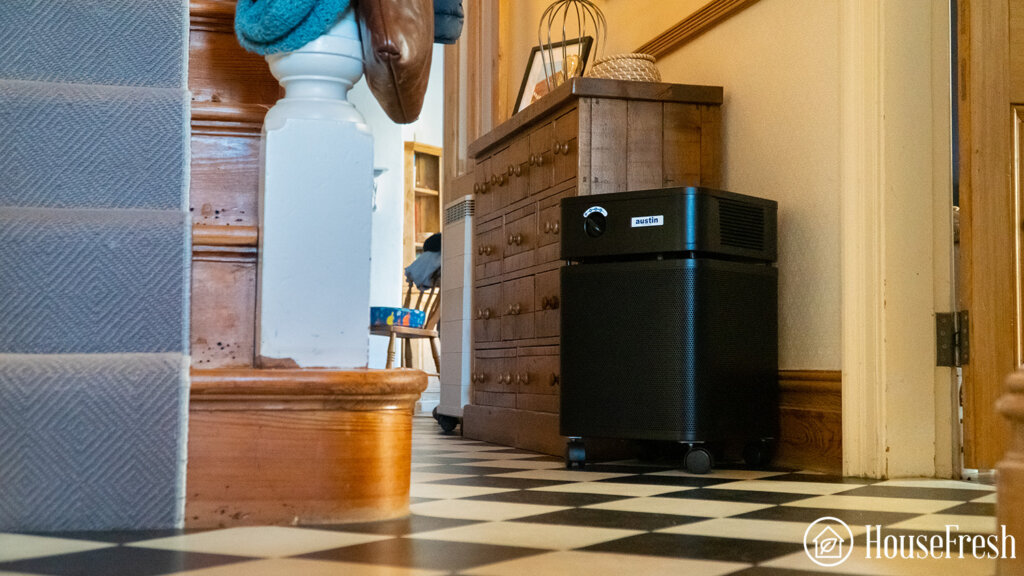 SPECS & FEATURES
A high quality air purifier with simple one-dial controls and medical grade HEPA filtration that we wished came with activated carbon as standard.
Smart Air are the new kids on the block. They're here to provide you high performing units with little to no fancy gadgetry at a price that suits your wallet. Like their other release, the Smart Air S, the Blast Mini is robust, easy to use, and reliable, making it great for handling traffic pollution near homes, schools, hospitals, and office spaces.
Inside its metal frame, you'll find a top-quality fan and a super effective, oversized HEPA filter that focuses heavily on performance, and wow does it perform! With a CADR rating of 435 CFM (740 m³/h), there's a reason this unit is recommended for bigger and more commercial buildings as well as household use, covering up to a resounding 915 square feet. 
If you need to take care of any unwanted odors or hazardous VOCs, you can purchase Smart Air's Carbon filter, giving you the best possible performance against toxic traffic fumes.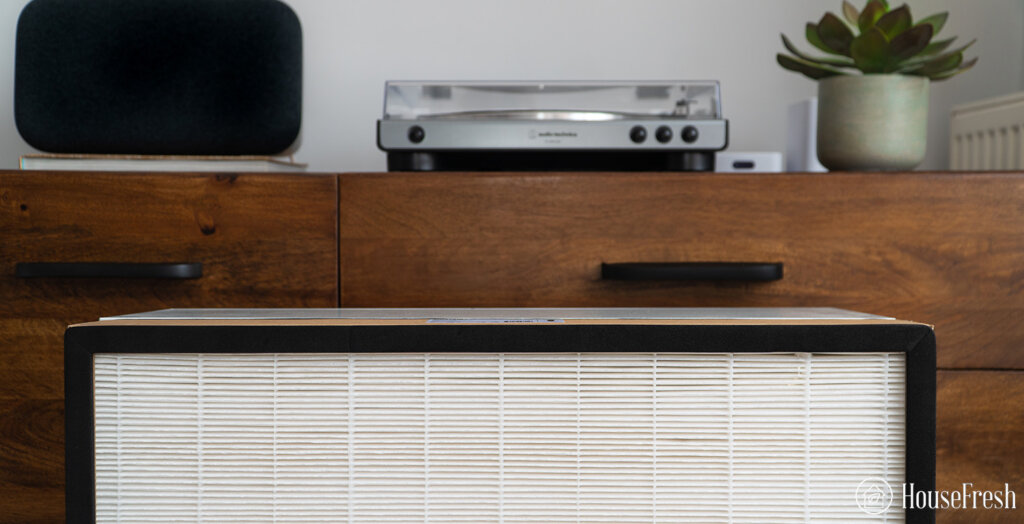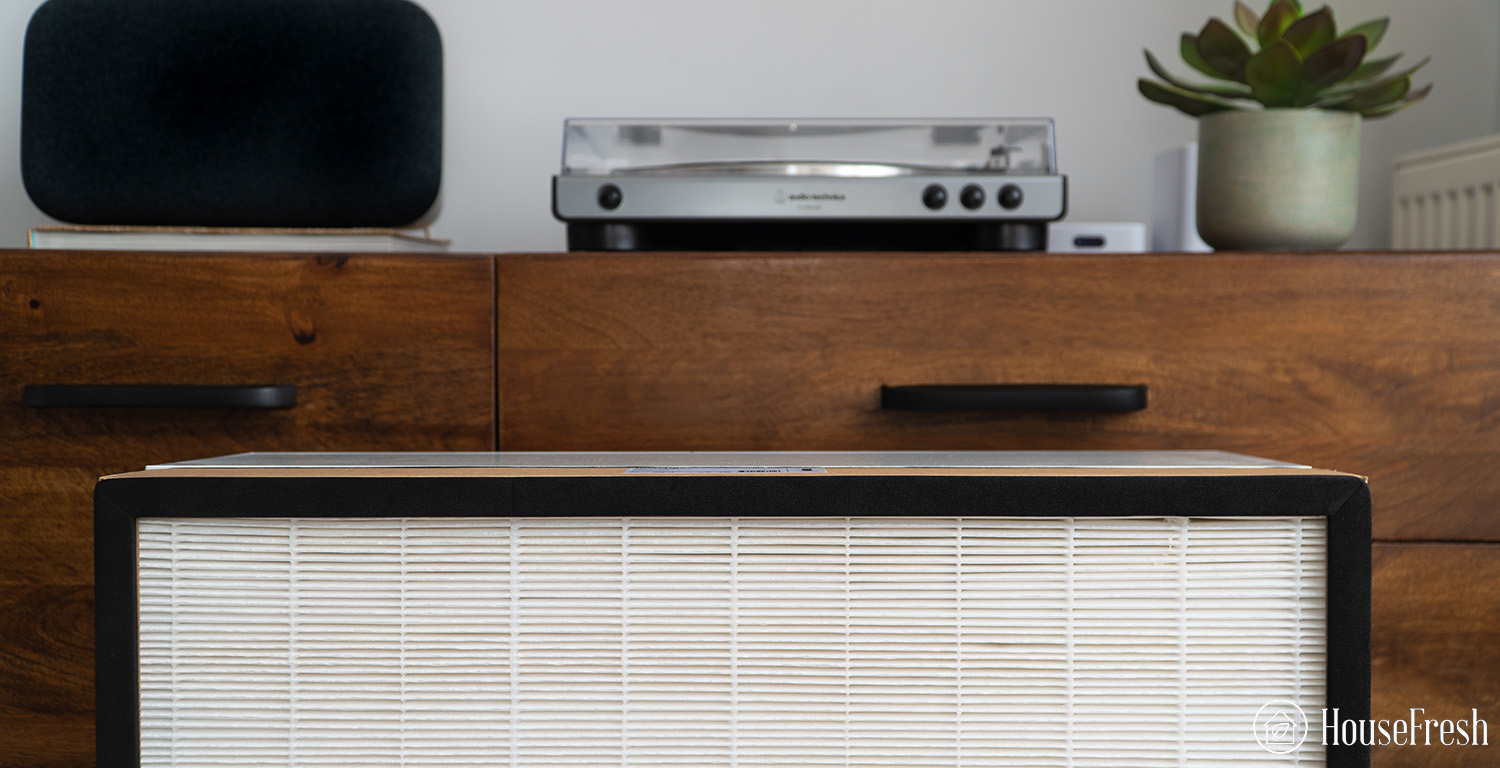 SPECS & FEATURES
---
Common questions about traffic pollution and air purifiers
Final thoughts
If you live in an area that experiences regular air pollution, such as by major highways and roadways, then having an air purifier to help with those harmful airborne particles can only benefit your health. A quality purifier with HEPA and activated carbon filters can capture and remove traffic-related particles, making the air around you healthier and easier to breathe in.
Once you discover purifiers with the right filters, you can focus on narrowing things down by your budget and by the size of the room you wish for it to work in. If you have any questions or issues with traffic pollution that you need help on, don't hesitate to email me.