In a world where air pollution is on the rise, investing in an air purifer can help transform the air you breathe. However, with a multitude of manufacturers competing for your business, all claiming to provide the miracle cure, knowing who to trust can be tricky.
Based out of Austin, Texas, Alen has developed a reputation for making some of the most reliable air purifiers on the market. Equipped with some of the most effective filters, fans and features seen on any purifier.
Delving into Alen's back catalog of air purifiers, there's no denying that these are premium products that come with a premium price tag. Aimed at the top end of most people's budgets alongside the likes of Dyson and Austin Air.
But where these competitors have question marks over their power and ultimately value for money – Alen's range of products seemingly do it all.
Whether it's Alen's lifetime warranty, high-end HEPA filters capable of capturing particles as small as 0.1 micron or smooth-running Smart features, we'll highlight the four best Alen air purifiers and unpick what makes them work so well. 
In our home lab of 728 cubic ft, we light an incense stick to generate particle pollution and VOCs.

We set up our trusted Purpleair Indoor Sensor with the latest Bosch gas sensor to track levels of PM1ug/m3, PM2.5ug/m3 and PM10ug/m3 and VOCs in the air.

We switch the air purifier to its highest speed and measure how long it takes to get our room air quality down to PM1 level to 0.

We use an energy meter to measure precisely how much electricity is used when running the unit at the lowest and highest fan speed settings.

We track sound levels emitted by the air purifier at different fan speeds with the help of a commercial sound meter.

With our tests wrapped up, we were able to pick the top Alen air purifiers that boasted these key features:
High Quality Fitlers – The linchpin of any worthwhile air purifer, we ensured each unit came with HEPA filters.
Strong CADR scores – This shows us that the purifier can effectively circulate air from all corners of your room.
Ultra-quiet fan speeds – The quieter the operating volumes, the more likely people will use their unit consistently, resulting in cleaner air 365 days a year. 
Staff picks: Top 3 Alen air purifiers 
Here's the lowdown on our three favorite air purifiers from Alen.
Last update on 2023-12-04 / Affiliate links / Images from Amazon Product Advertising API
For a more nuanced look into how these air purifiers can help transform your air quality, we've deep-dived into each option's features, filters and what boxes they tick for households with different needs, so be sure to check out the full list below.
The perfect size and the right amount of air cleaning power to tackle the majority of air quality issues in the average home.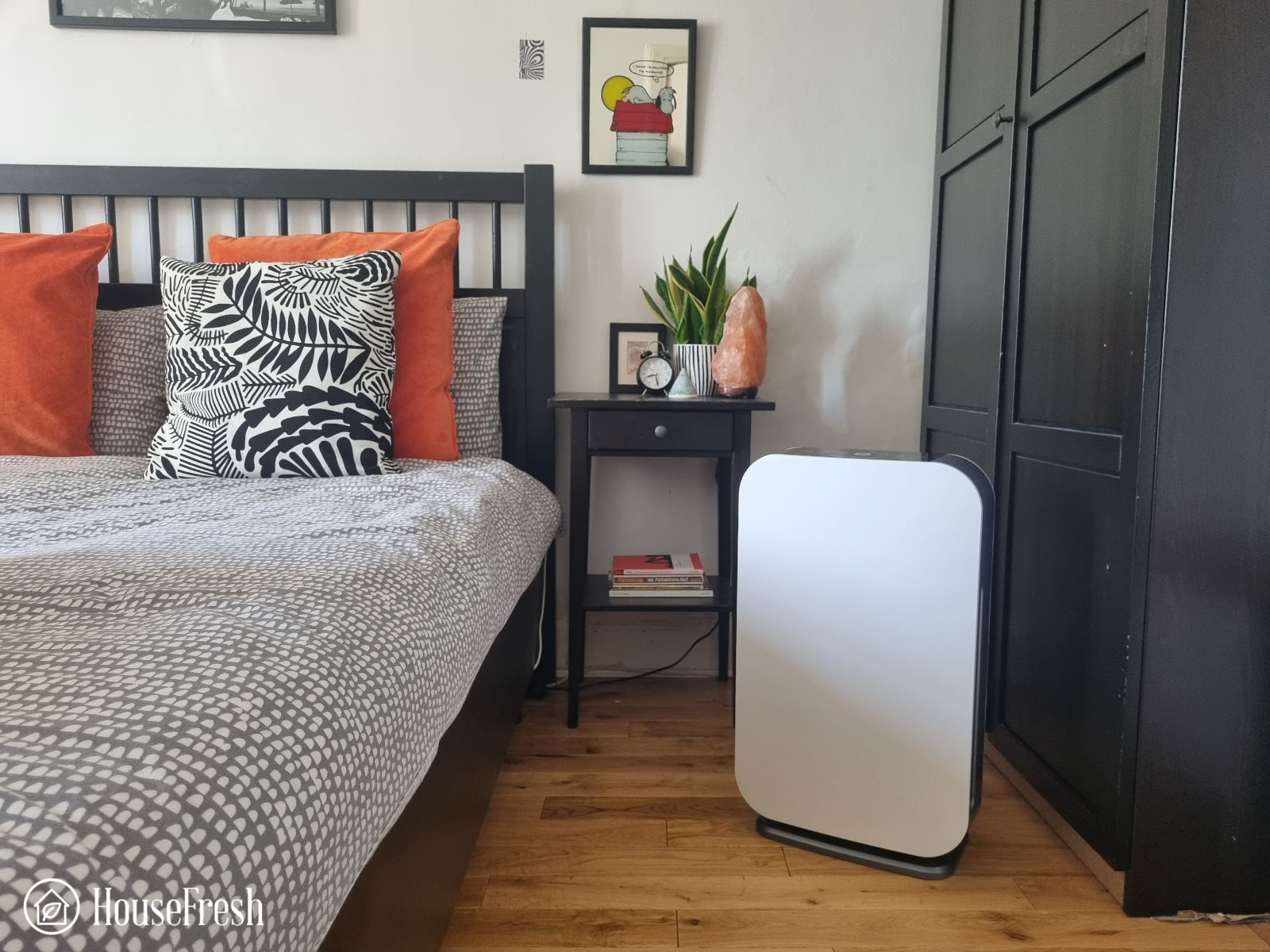 For design-savvy users, the Alen BreatheSmart 45i is certain to catch the eye. Available in a range of faux wood or metallic tones, or keep it simple with its smooth white facade and grey trim, it's fair to say this purifier looks better than most. 
Under the hood, you'll find an equally smart design. The 45i's powerful fan works exceptionally well as it glides through its five different fan speeds on Auto mode, adjusting to changing pollutant levels. 
What we really like
Quiet operation and low energy draw is a winning combo
A range of filters work exceptionally well and last for a year
Lifetime warranty is ideal for more expensive units
It comes in a range of appearances to suit different homes
Excellent air cleaning speed — in our testing, the 45i cleared our home lab from incense smoke in 33 minutes
What we think could be better
The standard filter (Pure) doesn't come with activated carbon, so it is worth upgrading
I would love to see a digital display on the unit for accurate air quality readings
As a light sleeper, the faintest noise can wake me from my much-needed slumber. Ruling out many air purifiers from overnight use. I found the Alen 45i to hit the sweet spot with its background hum. Making just 23 dB on its Sleep mode setting, which sent me off to sleep with its soothing pink noise and the knowledge I would reap the rewards of clean air through the night.
The BreatheSmart 45i also comes with an in-built Ionizer. This technology has been shown to produce ozone, which can be detrimental to air quality and have side effects on those with asthma or other respiratory consitions, so I don't see the point in its use. The good news is that Alen is very transparent about the ozone emissions their ionizers create, which amounts to 0.001ppm – well under CARB's safe limit. Moreover, this feature can be turned off entirely for those concerned about its possible effects.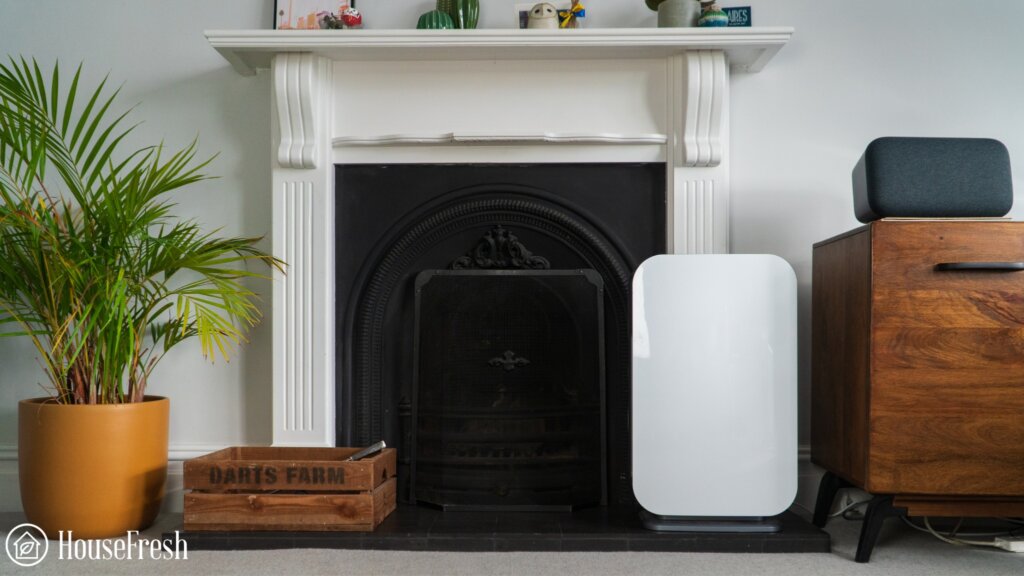 SPECS & FEATURES
An excellent unit all around with an on-and-off ionizer function and a beautiful design that could fit most rooms of the house.
| | |
| --- | --- |
| HouseFresh Rating: | ★★★★☆ |
| Time to clean our test room: | 33 minutes |
| Air purifier technology: | True HEPA H13 filters with activated carbon pellets + Ionizer technology |
| Recommended room size: | Up to 800 sq. ft. |
| Clean air delivery rate (CADR): | 245 CFM (416 m³/h) |
| Dimensions (in inches / in cm): | 25H x 15W x 8.5D inches (63.5H x 38.1W x 21.6D cm) |
| Weight (in pounds / in kg): | 20.1 lbs (9.1 kg) |
| Noise level (low – high): | 23 – 49 dB |
| Filter life: | 12 months  |
| Manufacturer's warranty: | Lifetime (with product registration & active filter subscription) |
| Estimated energy consumption: | $52.56 per year |
A more affordable air purifier by Alen with a nearly identical design to the Alen BreatheSmart 45i but without the smart and ionizer functions.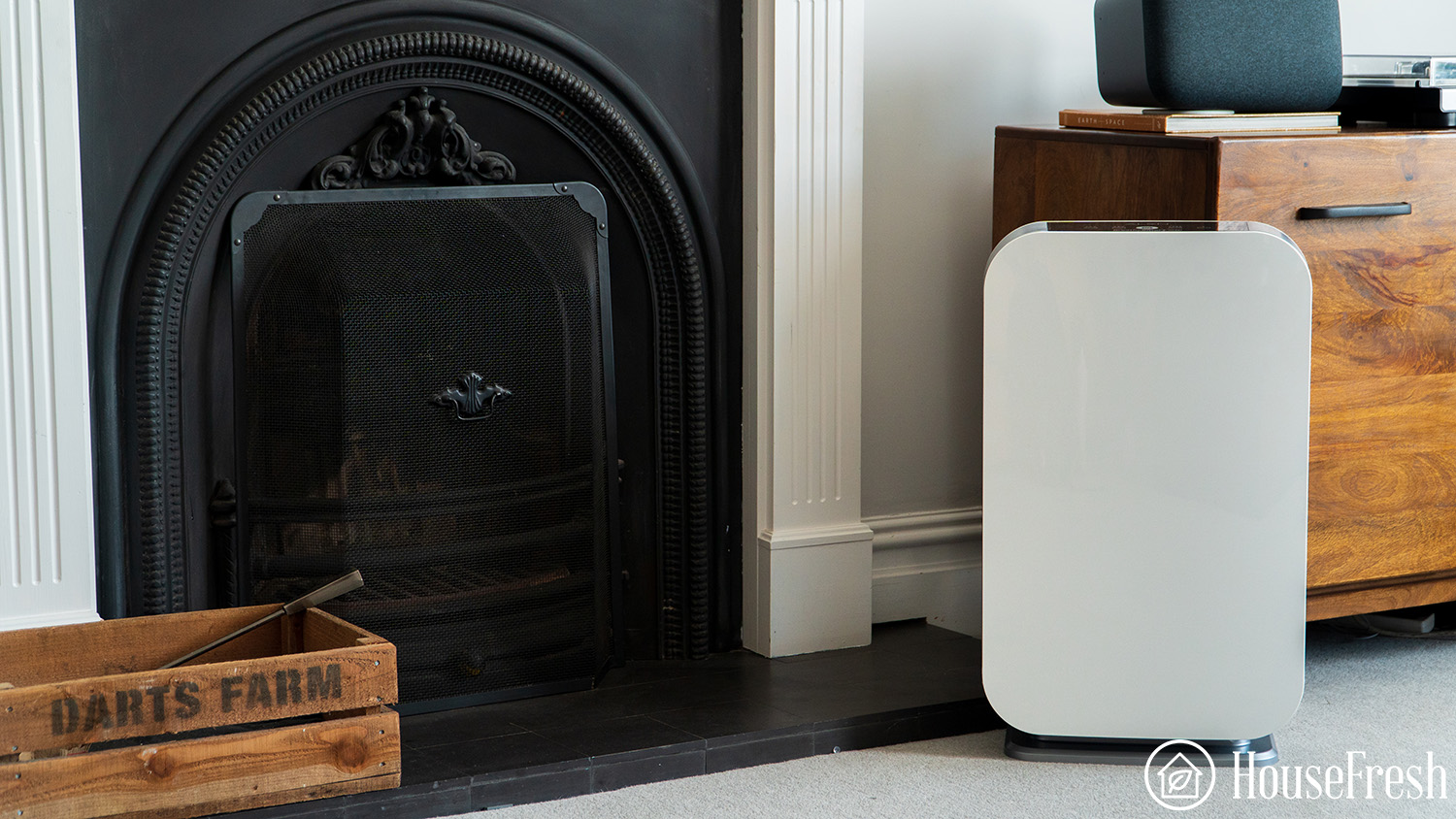 Now I know what you're thinking. Isn't this the same as the BreatheSmart 45i? While they share an uncanny resemblance and much of the same technology, the BreatheSmart Flex is aimed at customers looking for a simpler-to-use and more affordable option. 
For users that aren't interested in an ionizer nor drawn in by the other models' smart features (no air sensor, auto mode or app compatibility here), then the Flex makes for an ideal option. It costs almost 100 bucks less than the 45i, which equates to a year's worth of filter replacements and allows for continued use even if your budget is tight.
What we really like
Great dollar-to-CADR ratio
Ideal for small-to-medium-sized homes, where you can transport the unit from room to room for whole-house protection
Ridiculously easy to set up and use through the glossy capacitive control panel
Solid air cleaning performance — cleaned our test room in 34 minutes, so just one minute slower than the 45i
The pre-filter can be vacuumed whenever required
What we think could be better
If you can afford the 45i, the enhanced features and smart insights will come in handy
The lifetime warranty requires an active filter subscription, but that applies to all Alen units
You'll also find that the Flex is lighter, which is great for using the purifier in different rooms around the home. It's also more energy efficient than its counterpart. All without experiencing a noticeable drop in performance. Plus, it still comes with Alen's unrivaled lifetime guarantee.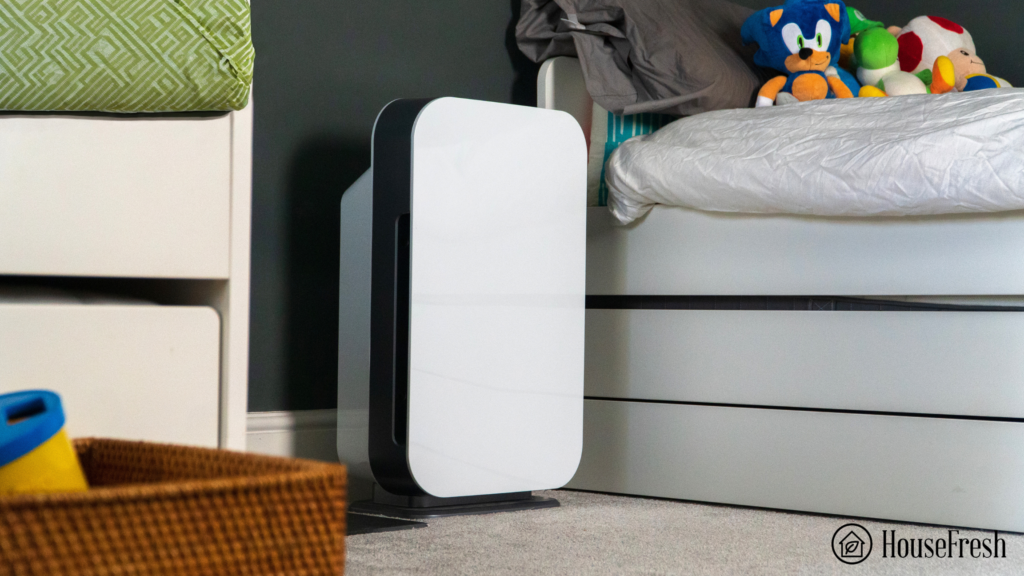 SPECS & FEATURES
The perfect Alen air purifier for those who don't care about smart functions and prefer not to have an ionizer function on board.
| | |
| --- | --- |
| HouseFresh Rating: | ★★★★☆ |
| Time to clean our test room: | 34 minutes |
| Air purifier technology: | H13 HEPA with an option for activated charcoal (Fresh, Odorcell and Heavy Smoke options available) |
| Recommended room size: | Up to 700 sq ft |
| Clean air delivery rate (CADR): | 225 CFM |
| Dimensions (in inches / in cm): | 25H x 15W x 8.5D inches (63.5 x 38.1 x 21.59 cm) |
| Weight (in pounds / in kg): | 15 lbs (6.8 kg) |
| Noise level (low – high): | 25 – 50dB |
| Filter life: | Every 9-12 months |
| Manufacturer's warranty: | Lifetime (with product registration & active filter subscription) |
| Estimated energy consumption: | $25.23 per year |
A premium Alen air purifier for those with very large rooms of up to 1,300 sq. ft. and with a budget that can stretch beyond $700.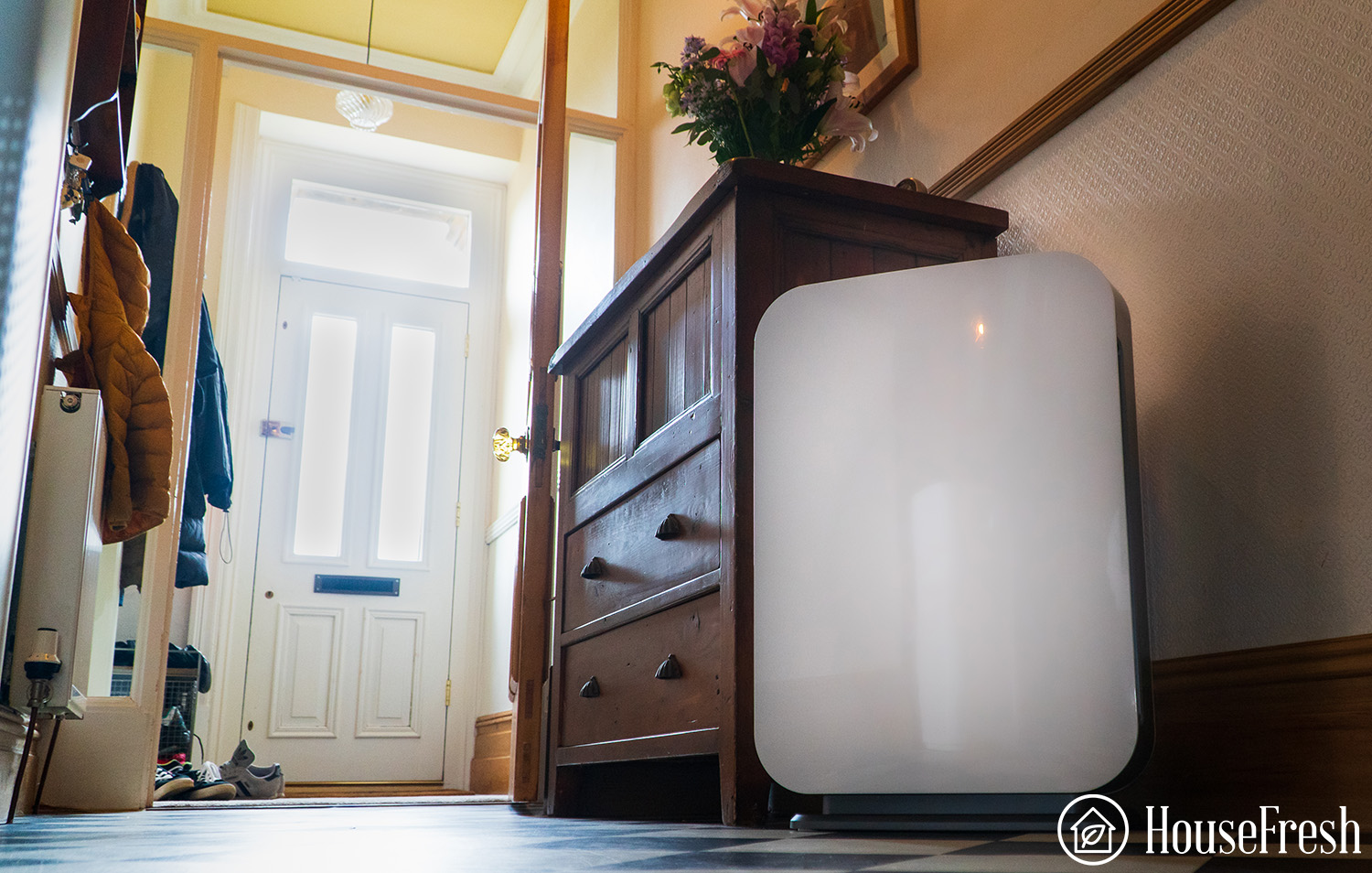 Straight off the bat, I'll mention that this air purifier costs just shy of $750.00. Understandably, this will be out of reach for a lot of people. But if you can stretch your budget that far, you certainly won't regret it. 
The BreatheSmart 75i is Alen's crowning glory. This behemoth air purifier regularly features amongst Consumer Report's top recommendations and is a firm favorite amongst the HouseFresh team, too.
Why? Well, for starters, its fans can circulate the air in a 1,300-square-foot room twice every hour. Plus, its beastly filters can capture minuscule particles for 15 months straight, or even longer if you use the unit intermittently rather than the 24 hours a day recommended by Alen.
What we really like
Powerful performance allows for use in large rooms — cleaned our test room, removing all traces of incense smoke in 24 minutes
Its smart features and the option to control the unit through Alen's smartphone app
A great choice of filters that allows for greater protection from odors or wildfire smoke, if needed
This air purifier comes with an ionizer function that can be switched off
What we think could be better
I wish the standard filter included activated carbon
It's on the large size, so it may be overkill or get in the way in small homes
You can also tailor the filter to your needs with varying levels of protection. I'd recommend upgrading from the standard Pure filter, opting for the Fresh or Odor filter instead, which are packed full of granular carbon that will combat odor or VOCs in your space. These two factors mean it'll make light work of household pollutants, as we saw when testing the unit, having cleared our test space in an impressive 24 minutes.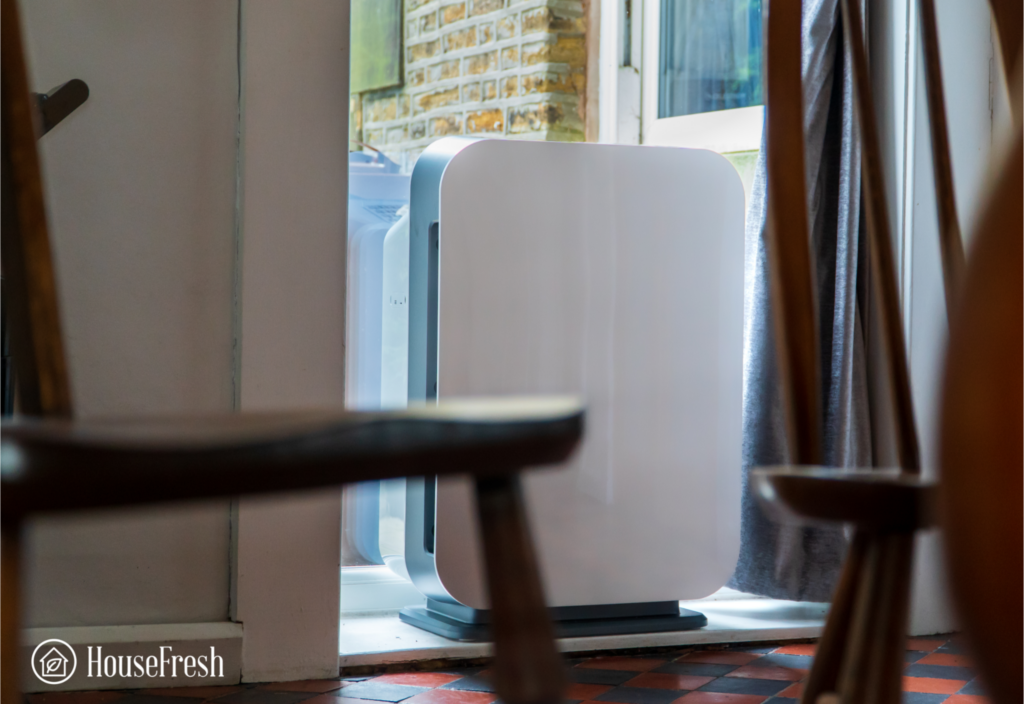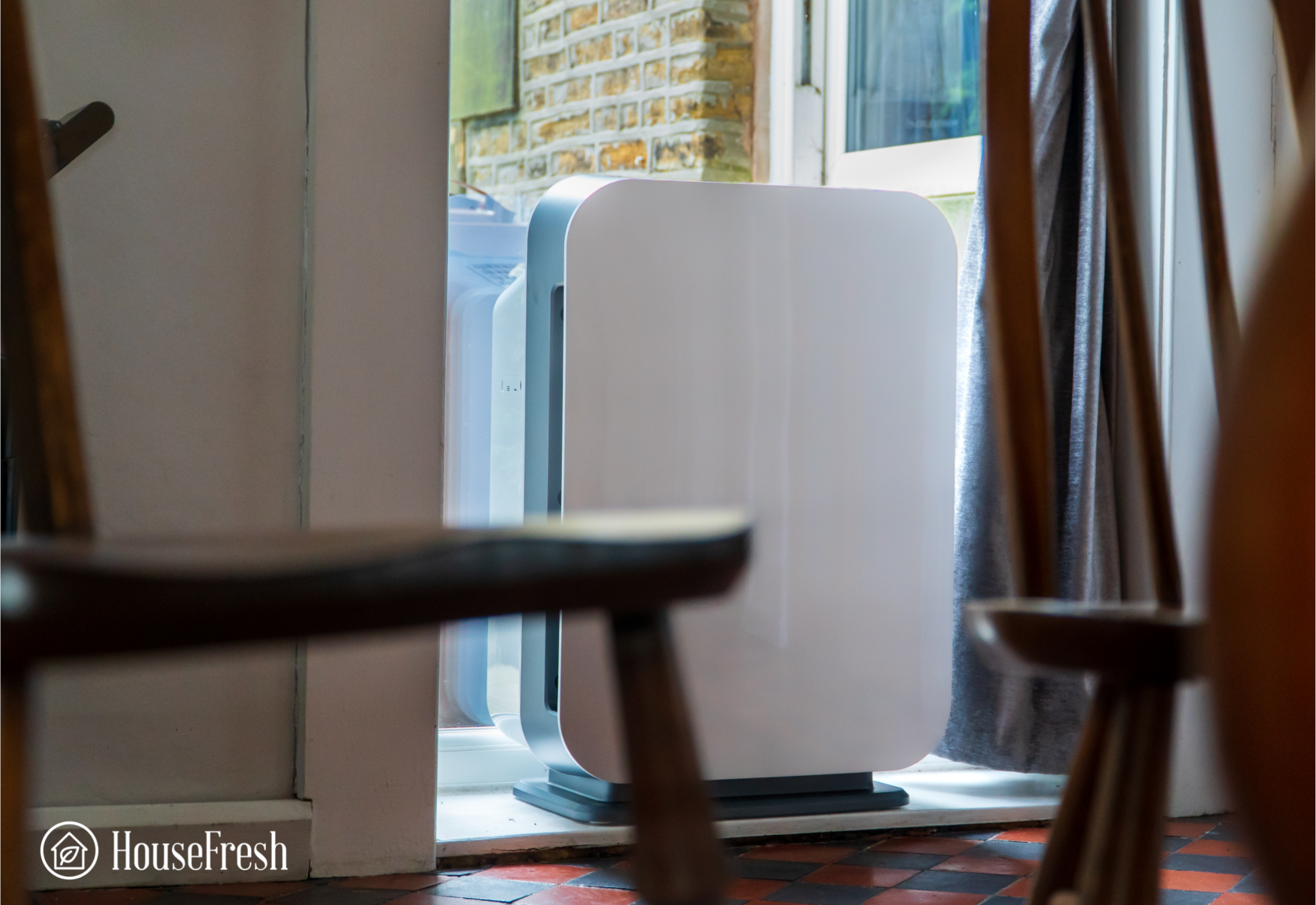 SPECS & FEATURES
The Alen BreatheSmart 75i is super user-friendly, it isn't noisy when running at its top fan speed, and it has a low energy draw. 
| | |
| --- | --- |
| HouseFresh Rating: | ★★★★☆ |
| Time to clean our test room: | 24 minutes |
| Air purifier technology: | True HEPA H13 filters with activated carbon pellets + Ionizer technology |
| Recommended room size: | Up to 1,300 sq. ft. (2 ACH) |
| Clean air delivery rate (CADR): | 347 CFM (589 m³/h) |
| Dimensions (in inches / in cm): | 27H x 18.5W x 11.5D inches (68.58H x 46.99W x 29.21D cm) |
| Weight (in pounds / in kg): | 12.2 kg (27 lbs) |
| Noise level (low – high): | 24 – 49dB |
| Filter life: | 12 – 15 months |
| Manufacturer's warranty: | Lifetime (with product registration & active filter subscription) |
| Estimated energy consumption: | $47.30 per year |
4. Best option for retro lovers: Alen 350 
Some would see it as a relic, but this 2010 Alen air purifier performs as well as its modern counterparts.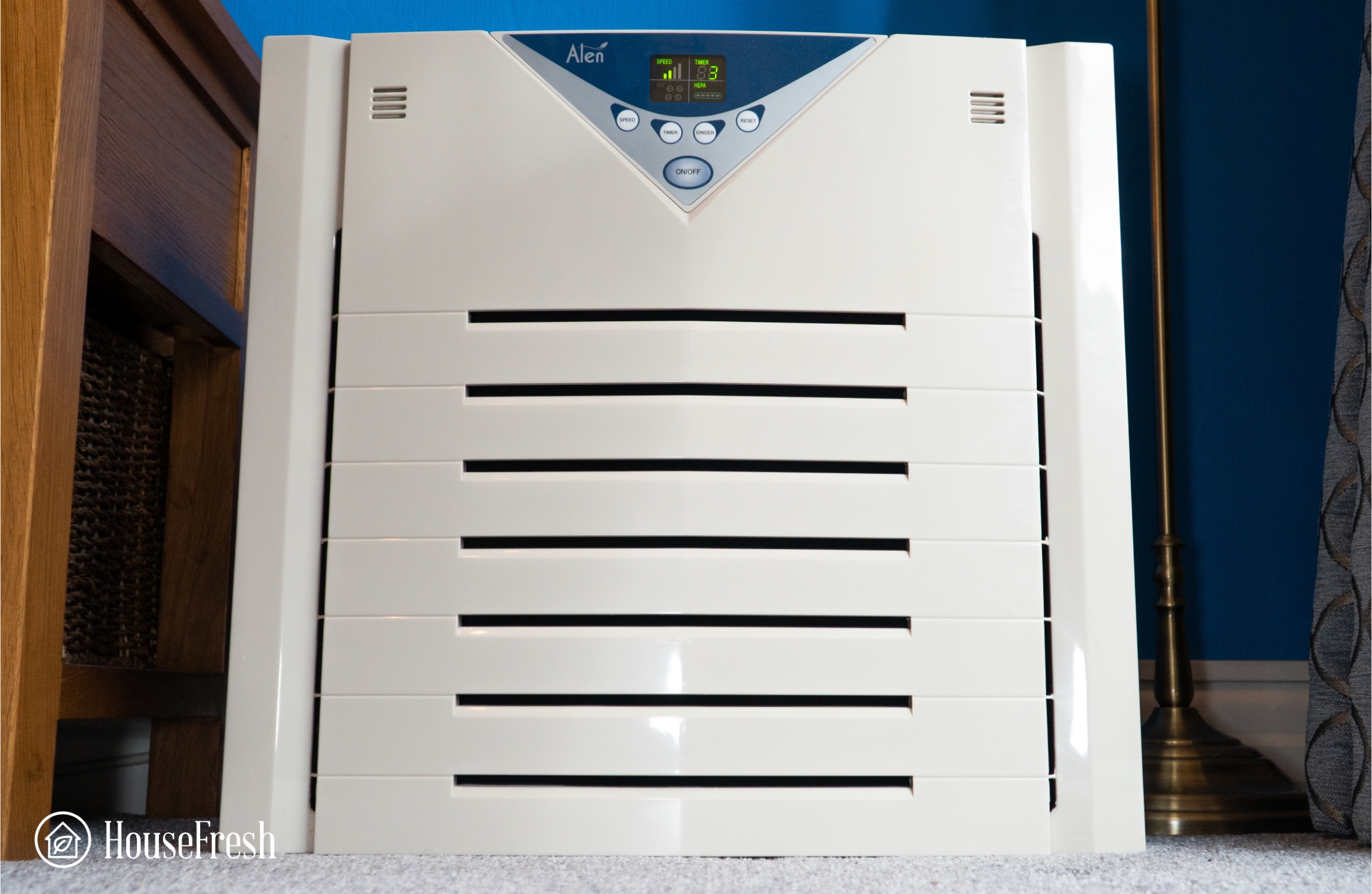 Fancy yourself as a bargain hunter, or perhaps you're an eco-warrior who loves to reclaim old appliances? For those with a keen eye for an old but gold air purifer, stumbling across the retro Alen 350 might just be the ideal unit to transform your air quality. 
This antique air purifier hit the scene back in 2010. You may even be able to tell from its admittedly dated appearance. But don't let looks fool you. The Alen 350 still cuts the mustard today, as I found out firsthand when it was put through its paces in the HouseFresh testing lab, and it still performed as well as many modern units. This is a true testament to Alen's long-lasting quality and future-proof designs. 
What we really like
It measures up well to the advanced air purifiers of today — in our air cleaning performance test, the 350 cleared the smoke in our home lab in 35 minutes
It comes with handy features such as a 12-hour timer and a filter change indicator
It comes with Alen's lifetime warranty — but by the looks of it, the 350 is pretty bulletproof anyway
Users can switch the Ionizer function off 
What we think could be better
Sadly, it runs loud on the highest fan speeds and uses a lot of energy
There is no activated carbon filtration 
Unfortunately, you'll struggle to find this option on Amazon. But keep your eyes peeled for this unit in thrift stores, second-hand retailers or your parent's attic, as replacement HEPA filters are still readily available and you will benefit from its impressive air cleaning rate that cleared the HouseFresh test space in 35 minutes.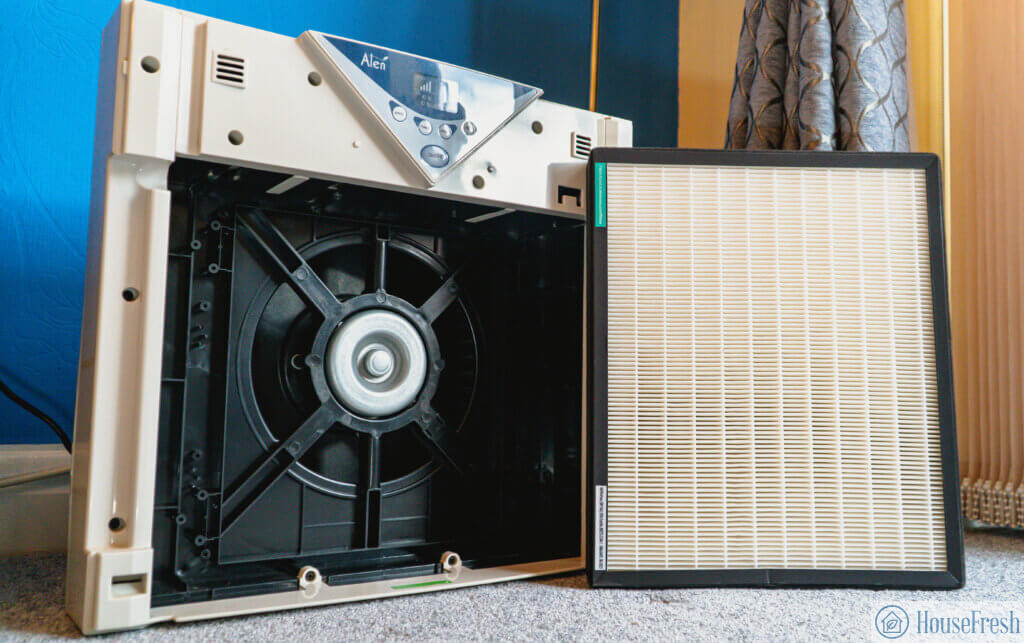 SPECS & FEATURES
| | |
| --- | --- |
| HouseFresh Rating: | ★★★★★ (at the time of original review in 2010) |
| Time to clean our test room: | 35 minutes |
| Air purifier technology: | Hepa Pure Filter |
| Recommended room size: | 400 sq. ft. |
| Clean air delivery rate (CADR): | 203 CFM (estimate) |
| Dimensions (in inches / in cm): | 18.5H x 17.5W x 8.2D inches (47H x 44.5W x 20.8D cm) |
| Weight (in pounds / in kg): | 16 lbs (7.3 kg) |
| Noise level (low – high): | 36 – 65 dB |
| Filter life: | 6 – 12 months |
| Manufacturer's warranty: | Lifetime |
| Estimated energy consumption: | $133.67 per year |
What to look for when buying an air purifier 
As wildfire smoke, traffic fumes and allergens exacerbate air quality issues, more and more consumers are turning to air purifiers to help keep their air clean. And for good reason, too.
The average American spends 90% of their time indoors, where higher levels of pollution can cause a raft of health implications. This frightening trend isn't just occurring in America either, with recent studies finding that toxic air is sweeping across the globe, as seen in Europe and Asia.
Investing in the right unit for your home can dramatically reduce pollution levels, leaving fresher and healthier air for you and your family to breathe. Choosing the ideal option for your needs isn't always easy, though.
To help you in your search, here are a few key factors to consider before you take the plunge.
1. Does the unit utilize quality HEPA filters?
High-Efficiency Particulate Air filters – better known as HEPA – are the benchmark of a quality air purifier. This certification indicates that an air purifier's filter is able to capture a minimum of 99.7% of airborne particles as small as 0.3 microns.
Alen makes some of the best filters in the business, consisting of medical grade H13 HEPA's that go beyond the minimum requirement, removing 99.9% of particles as small as 0.1 microns.
2. Are you looking for protection from VOCs such as gasses and odors?
Where HEPA filters capture particulate matter such as dust or pollen, an Activated Carbon filter works to remove harmful VOC pollutants such as odors or gasses from your environment.
These filters work by locking VOCs to the porous surface of the carbon as it passes through the purifier. The larger the filter, the more carbon there will be inside, resulting in better efficiency against these types of pollutants.
3. How long does the unit's warranty last?
Parting with your hard-earned cash on an air purifier can be tricky. Especially when looking at high-quality appliances such as an Alen air purifier, which can set you back as much as $750.00.
Opting for an air purifier with a long-lasting warranty can help to cushion the blow to your bank balance, knowing that should issues arise, you'll be protected.
Alen offers a lifetime warranty on all of their products, which is the most generous we've seen from any air purifier manufacturer. The catch, however, is that you'll need an active filter replacement subscription with Alen for it to be valid. Without this, the warranty drops to one year.
4. Are you concerned about ionizer technology? 
Ionizers are widespread in the air purifier industry, which is ironic, as they have been shown to emit ozone – thus negatively affecting your air quality. This can be particularly harmful to those with asthma or respiratory conditions but is best avoided by all if high ozone emissions are created.
Alen's ionizer works by sending negative ions into the room, which charge particles and cause pollutants to clump together—making it easier for the filter to capture. Their technology has been deemed ozone-safe by the California Air Resources Board, but it's worth noting traces of ozone are still emitted when this feature is in use.
If you're concerned about the potential adverse effects of an ionizer, it is easy to turn off this feature on all Alen devices using their capacitive control panel.
5. Would you benefit from smart features?
As technology advances, our appliances become Smarter and, arguably, easier to use. In an air purifier, this can manifest in high-tech air sensors that provide real-time feedback on air quality, Auto or Eco modes that adjust the purifier's settings to adapt to changing pollution levels or app and smart speaker compatibility, allowing you to control the unit remotely.
These features can enhance user experience, and owners may see more efficacy as a result. For those unfamiliar with the technology, it may act as a hindrance, however. Ultimately, it boils down to personal preference and assessing whether paying extra for these features will add value to your experience in the long run.
6. Would the unit be able to clean the air in your room at least four times per hour?
The U.S. Environmental Protection Agency recommends that all portable air purifiers should be able to clean the air in a room 4.8 times per hour to be effective. So in addition to checking out the recommended room sizes, you should definitely pay attention to the CADR score of the air purifier you are considering.
We've created a handy tool so you can enter the size of your room to find out what CADR score you need:
Common questions about Alen air purifiers 
Alen and many other air purifier manufacturers recommend using their products 24/7 to keep on top of pollutants and ensure you always benefit from clean air.
There is logic in this, and if you decide to use your purifier in this way, you'll benefit from not only clean and healthy air but also Alen's excellent energy efficiency, sleep-friendly volumes and super long-lasting filters.
However, most people opt to use their air purifier at home. After all, if you're at work for 8+ hours each day, it may seem pointless to run the unit during this time. 
With Alen's app, which is compatible with the 45i and 75i, a top tip is to remotely program your air purifier to start cleaning the air an hour before you return home. On Turbo speed, this should have made a considerable difference to pollutant levels that have built up during the day.
Where you place your air purifier can impact how well it works and how much of a difference you'll notice in air quality. 
The first step is to place it where you spend the most time or as near as possible to known sources of air pollution. This could be near your bed if you often wake up feeling stuffy, in your kitchen if you have a penchant for cooking pungent-smelling dishes, or near your pet's bed. 
Avoid plonking the purifier up against the wall or too near large furniture items, as this will restrict airflow. Aim to leave at least five cm between the purifier and any other object, while placing the unit between windows or doorways can capitalize on moving air flows.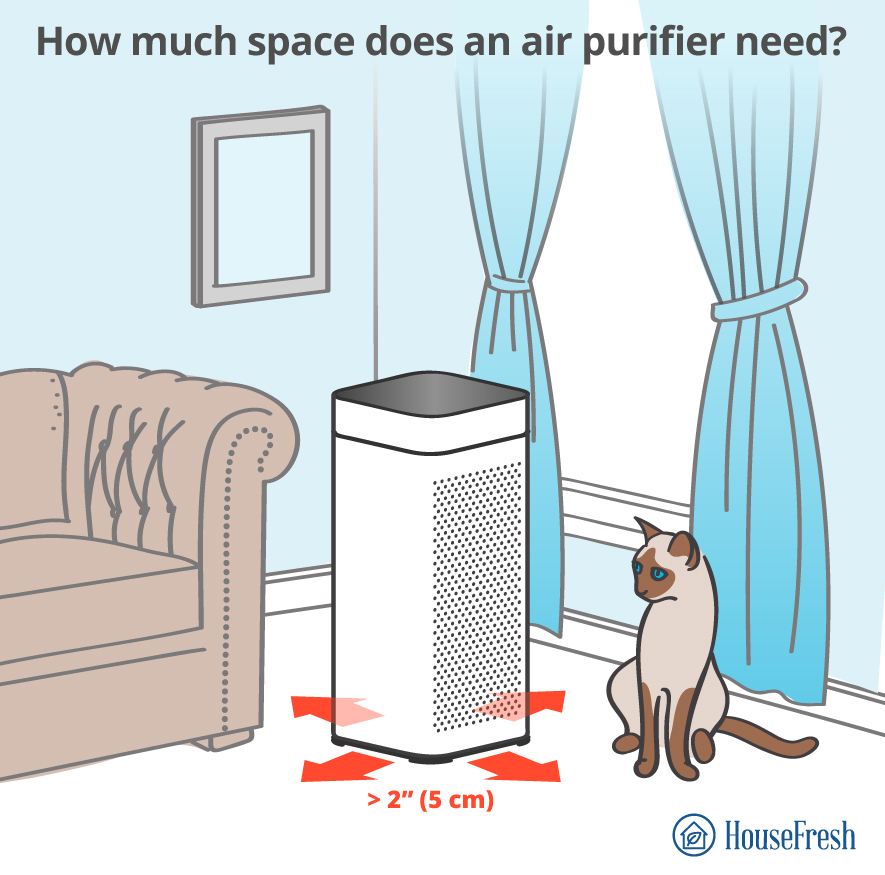 Alen's range of products sits at the upper end of the market, meaning you'll likely pay more for this brand than a competitor such as Levoit or Blueair. Often leading to consumers questioning if it's worth the extra cash.
Value is placed on different things from different people. If you look at a pure performance angle, you may prefer the Levoit Core 600S, which is super speedy without costing the earth. 
However, Alen has been in the industry for a long time. Their products paved the way for many other manufacturers and their build quality is only matched by IQAir (another expensive brand). 
If you value quality design, long-lasting performance, super-quiet fan speeds, plus lots of Smart features and customer support, then I'm sure you'd be delighted with Alen's value for money. 
Wrapping up
If you're looking for an air purifier with excellent performance and longevity to boot, opting for an Alen unit is a safe bet. Although you can save money on a top Levoit purifier that may even clean your air faster, the Alen range still makes for worthy competitors thanks to their lifetime warranty, sleeker designs and ability to tailor filters to suit your needs best. 
At HouseFresh, we have been reviewing air quality products since 2010. In all these years, we learned not to rely on manufacturers' claims and the ever-so-glowing marketing materials. That is why we buy products with our own money, so we can write unbiased reviews after we've had enough time to evaluate air quality products in our home lab. Every unit we recommend has been thoroughly tested to assess its performance, energy consumption, and noise levels emitted in real-life environments. If you have any questions about our testing process for different types of air quality products, just drop us an email at
hello@housefresh.com
.
Last update on 2023-12-04 / Affiliate links / Images from Amazon Product Advertising API