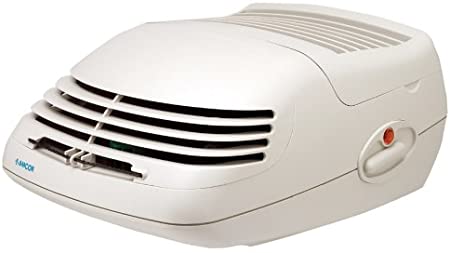 Amcor air purifiers are a range of air purifiers that were released in 2006 but went bust in 2009 after releasing a range of air purifiers.
Amcor air purifiers used a range of technologies, but most were ionizer; heavy the best example would be the HT2000 which was HEPA and ionizer.
The company existed as an LTD based in NY with offices in Europe, US and Africa.
When the company existed, it had the following products: [These have been found using the archive.org as the company no longer exists, but it's a good way for people to learn a little more about their old air purifier.]
21010 – Waterless Vaporizer
It uses no water for mold spores or bacteria to grow in
Use only 100% natural oil
Ten refill pads included
Silent operation
The AM-40 Air Purifier with the Amcor Exclusive High-tech our carbon ion generator. The Clear Aire uses a washable 3-layer filter that combines electrostatic and dust-holding high-capacity filters in one cassette. This machine has 2 fan speeds and a scent release function. Includes fragrance cartridge and washable filter. 6010
AM45
Traps allergens and kills bacteria by five stage filtration system
Permanent Washable Nylon pre-filters
Six-layer aluminum electrostatic filter
Photo-catalytic-oxidation filtration
Patented carbon filter ionizer
AM-50 — Clear Aire Elite
The AM-50 Air Purifier with the Amcor Exclusive High-tech carbon ion generator. The Clear Aire Elite uses a washable 5-layer filter that combines electrostatic, dust-holding, and anti-microbial high-capacity filters in one cassette. The unit also accommodates a HEPA filter to improve air quality further.
AM-60 — Ultra Clean Air Processor
The AM-60 Air Purifier with the Amcor Exclusive High-tech carbon ion generator. Ultra Clean has an advanced filter system, the type most recommended by healthcare professionals. Helps clear microscopic irritants from the air, such as pollen, dust, animal dander, mold, tobacco smoke, etc. This unit features double ionization, electrostatic filtration, and optional HEPA filtration.
AM70
This decorative faux Ficus Tree Air Purifier beautifies your home or office while purifying the air you breathe. Never have to worry about watering your tree or replacing any filters!
AM80– True HEPA plus Ionizer. This was one of the more standard units that used HEPA and Ionizer to clean the air.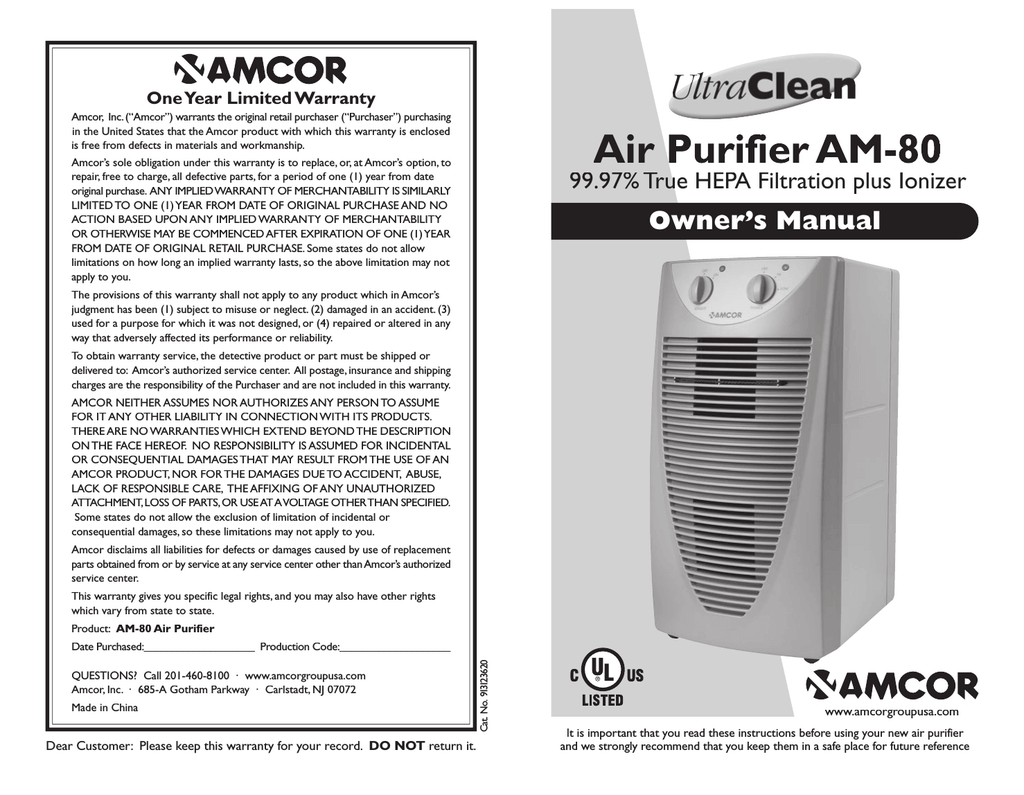 AM90
High-performance air purifier/ionizer for large areas and concentrated use
Extended surface washable HEPA type filter removes 99% of airborne pollutants
Washable dust pre-filter
The noise level is less than 50 Db
Backlit LCD
Timer function
Starting filter is good for up to 8 washes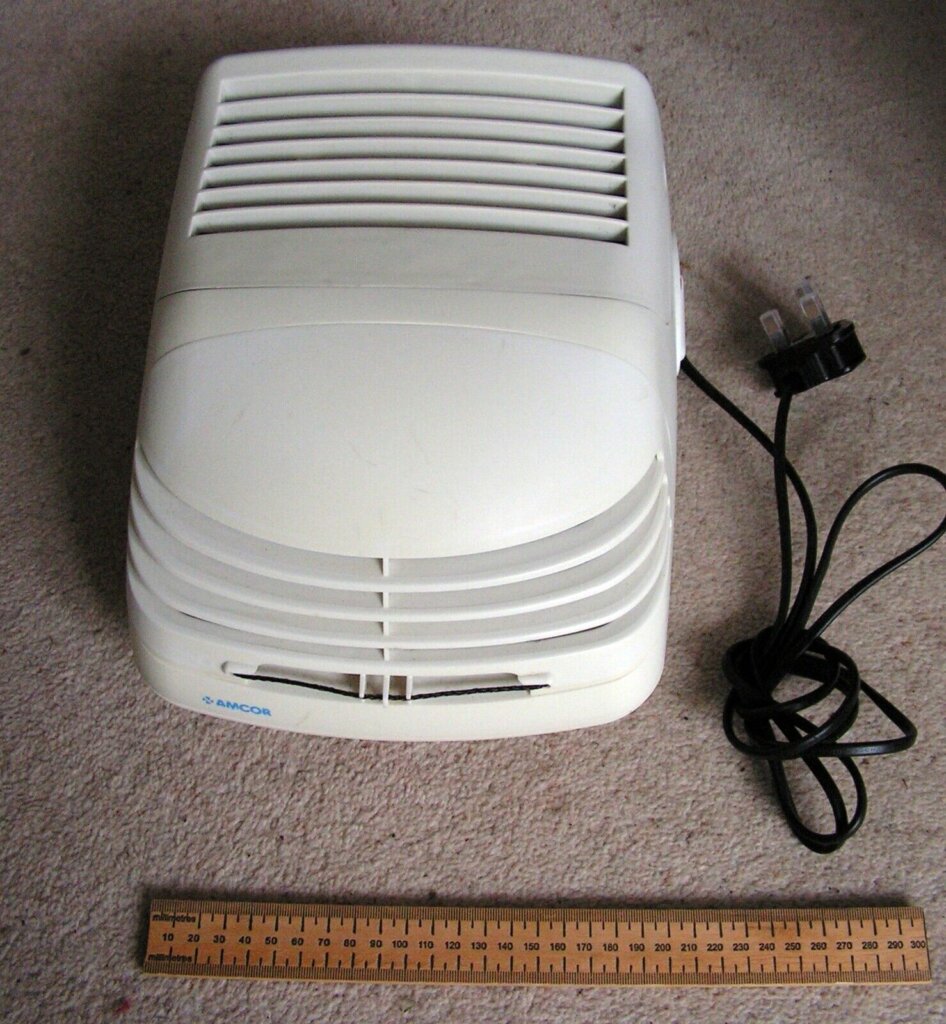 Air purifiers can be costly, and those who can't afford $500 or $1,000 for an air purifier may consider an Amcor purifier to be a good choice. The models they make are simpler, with fewer settings, but they do remove dust and particles from the air and use washable filters so filter replacement costs don't add up like they do with some air purifiers.
The most popular Amcor models are the AM-90, the AM-40, and the AM-70 Ficus Tree air purifier. Another addition to the Amcor lineup was the ionizer model ht2000. In general, I recommend avoiding ionizer air purifiers unless you have a specific need case.
The Amcor AM-90 is rated to clean the air in a room of up to 400 square feet and uses a measly 44 watts. It has a HEPA filter, which removes over 99% of airborne particles of 0.3 microns or larger in diameter. Users report that it is quiet and that they like being able to wash the filter up to eight times before replacing it. The AM-90 has three speeds with electronic controls that include a clock. It has an eight-hour timer and retails for about $109. The AM-90 measures 7 x 14.5 x 19.75 inches and has a one-year limited warranty.
A smaller, simpler model made by Amcor is the AM-40. It is similar to the AM-90, but has only two speeds rather than three. It has a carbon pre-filter that absorbs odors, a washable five-layer filter, plus a fragrance dispenser. It works in a smaller room than the AM-90, and users report it runs quietly. Measuring 11 x 9 x 6 inches, it retails for around $50.
The Amcor AM-70 is unique in that it is made to look like a small ficus tree. It is designed for small to medium-sized rooms of up to 240 square feet. Like the AM-40, it has a five-layer washable filter. This air purifier uses a carbon filament to clean the air, and it ionizes the air. The AM-70 has a high and a low setting and measures approximately 14.5 x 14.5 x 46 inches.
Sadly all Amcor air purifiers are now discontinued (as of 2023) and no longer available for sale.
We suggest checking out what we think are the best air purifiers based on our internal performance tests.