To the uninitiated, a Bonsai is often thought of as one type of tree native to the Far East. However, that isn't necessarily true. A Bonsai can come in many different species of tree or plant and is more a word to describe how it is cultivated.
Bonsai translates to "plant in a tray," which sums it up nicely. Instead, Bonsai are more akin to living art, deeply rooted in Japanese tradition where. It nurtures a tree from either seed or sapling to resemble a much older, fully grown tree while remaining small.
To obtain the appearance of an old, wise tree, a Bonsai must be painstakingly attended to. Taking dozens of years of pruning, wiring, leaf trimming, clamping and grafting to get the aesthetic just right. Despite the constant care and attention a Bonsai needs, it should appear as though no human has intervened in its growth. A natural appearance is much more desired than a symmetrical shape or tree showing signs of manipulation.
Although this may sound like a long and challenging process, cultivating a Bonsai goes far beyond mere decoration. Many people who grow a Bonsai find it similar to a meditative practice that channels patience, persistence and careful consideration. Or as the Japanese say, a process that embodies the notion of wabi-sabi.
Not to mention they make great air-purifying additions to any home too. Drawing carbon dioxide and other toxins, such as nitrogen oxides and formaldehyde, from the air while emitting clean, life-giving oxygen throughout your space.
So, let's discover the ten most awesome bonsai trees on earth!
1. The World's Oldest Bonsai Tree — Ficus Retusa Linn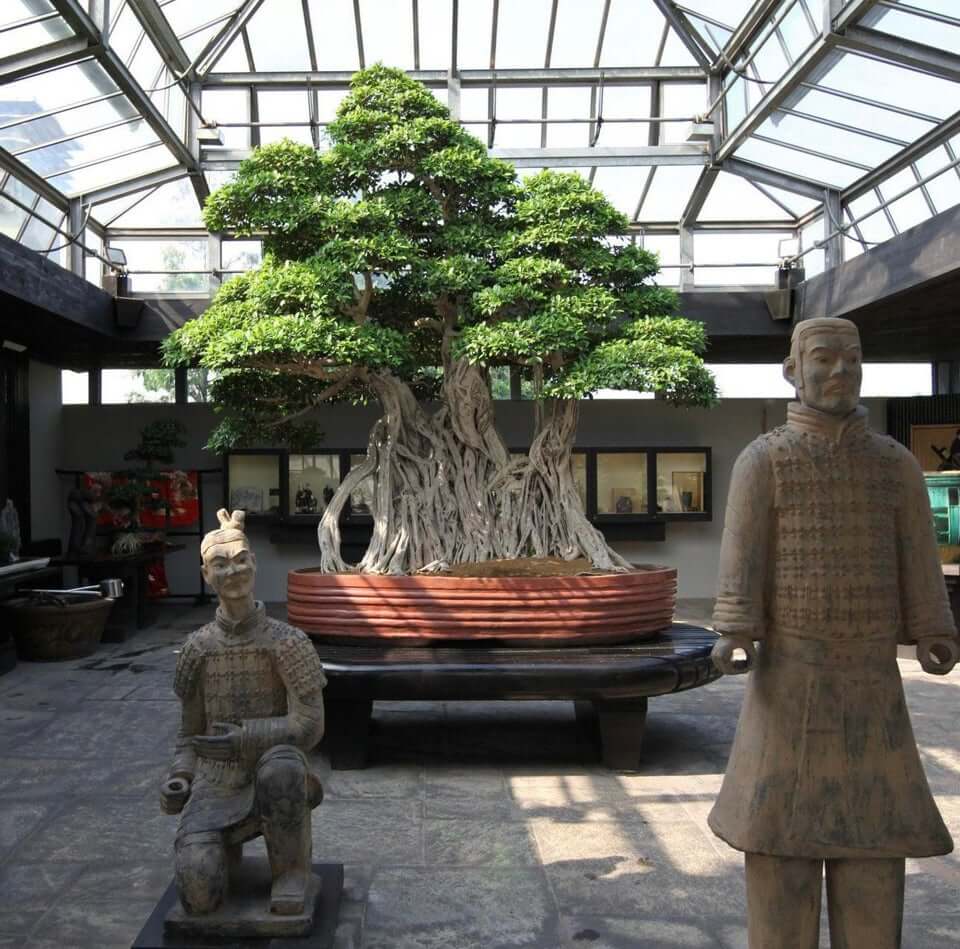 You would be hard-pressed to find a Bonsai more incredible than the Ficus Retusa Linn. Reported to be over 1000 years old, this Ficus almost dates as far back as the notion of Bonsai itself, making it one of the oldest examples in the world.
Throughout its millennia-long lifetime, the Ficus has developed an intricate trunk and network of aerial roots that support the 10-foot-tall tree. Even its pot is unique amongst Bonsai, being the largest known Bonsai pot, which was fired in one single block, following the Chinese Penjing style (where this Bonsai started its life), allowing for a more lavish design.
Having been the subject of a long-negotiated deal, the Ficus Retusa Linn was purchased by the Milan-based Crespi Bonsai Museum in 1986 and now stands pride of place in the custom-built glass pagoda as the centerpiece of the museum's collection.
2. The World's Smallest Bonsai Tree — Acer Momiji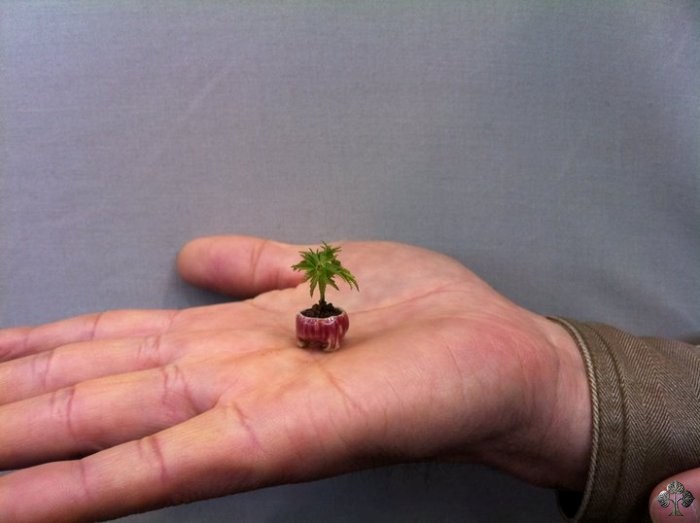 What could be more impressive than a carefully crafted miniature tree? How about the smallest Bonsai tree known to man?
This Acer Momiji is part of the Japanese maple species, a type of tree uniquely capable of reaching such little yet astounding heights. This micro masterpiece measures up at a meager 20mm, leading to it being crowned as the world's most miniature Bonsai tree, with a pending Guinness World Record in the pipeline. Bonsai trees like this are known as Kenshitsubo, which categorizes the smallest of Bonsai. These poppy seed-sized trees won't grow any larger than three inches tall, making them extremely hard to grow into the perfect miniature tree.
3. The World's Biggest Bonsai Tree — Red Pine Bonsai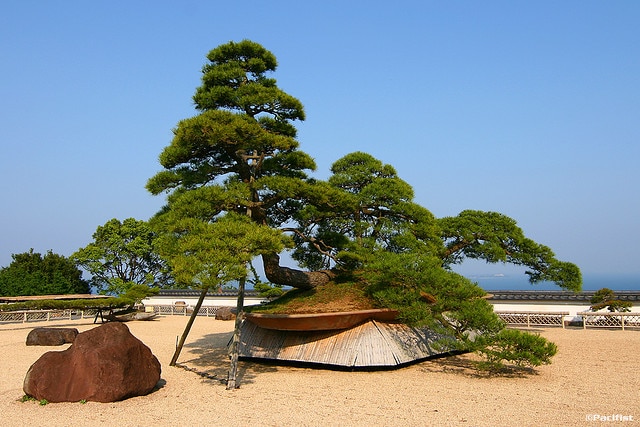 Despite the fact that Bonsai trees are characterized by their miniature size, the Red Pine Bonsai at the Akao Herb & Rose Garden takes the title of the most giant Bonsai on the planet. Although this may sound like an oxymoron, the red pine is still cultivated from within a pot, meaning it still technically meets the criteria.
At over 16 feet tall and spanning 30 feet in width, this mega Bonsai is so prominent that it requires supports to help hold its enormous branches. Set in the harmonious setting of a raked sand garden, this Bonsai represents the wabi-sabi mantra, showing that peace and beauty can still be found despite its imperfection.
At over 600 years old, not only is this Bonsai the largest, but it is also one of the oldest on our list. Red pines in the wild can often grow as high as 80 feet tall, which is a testament to the care and dedication this Bonsai has received to keep it in such ornate condition over many years.

4. The Bonsai That Survived Hiroshima – Yamaki Japanese White Pine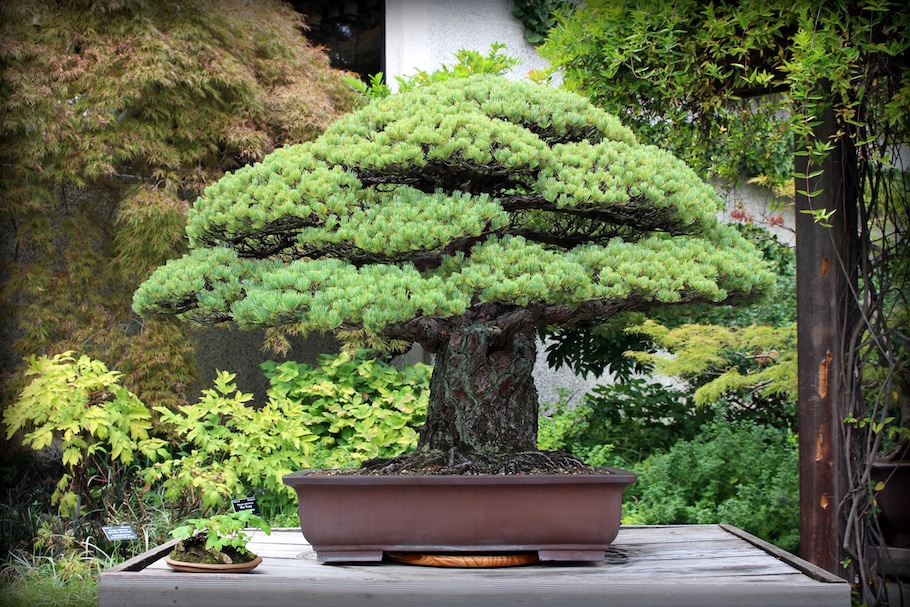 On one of the darkest days of 1945, an atomic bomb fell on Hiroshima, taking countless lives and razing the city. Amongst the destruction, however, one treasured Bonsai tree miraculously survived.
The Japanese White Pine, approaching its 400th year of existence, was part of the Yamaki nursery at the time, having been in the family for six generations. It now resides in the Japanese Pavilion at the National Bonsai Foundation in Washington D.C, having been gifted to the U.S as part of the American Bicentennial in 1976.
Amazingly, this Bonsai's historic story nearly went unrecognized until, in 2001, two of the Yamaki grandchildren visited the arboretum and shared its secret past.
5. Rocky Mountain Juniper by Walter Pall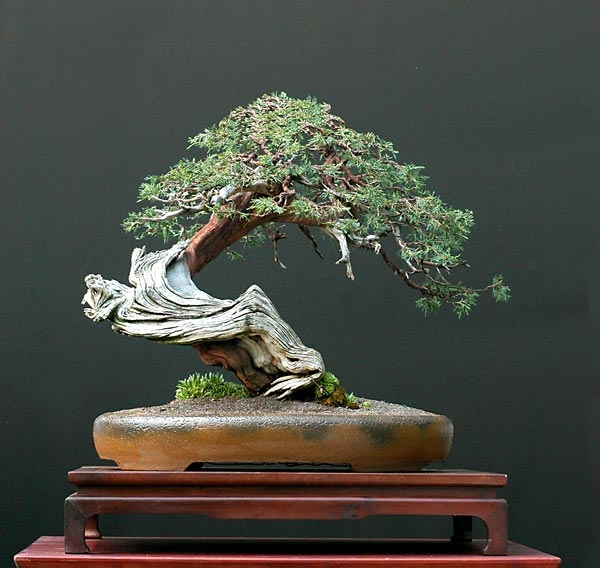 Walter Pall is a kind of rock star among Bonsai culture enthusiasts. He has received dozens of national and international awards for his beautiful, dramatic Bonsai, including the prestigious Crespi Cup Award of Italy for his world-renowned Rocky Mountain Juniper.
Although Pall boasts a collection of thousands of Bonsai, with plenty of other incredible Bonsai, such as the Acer Plantanus and his Crab Apple Tree, the Rocky Mountain Juniper is regarded as one of the most iconic Bonsai in the world.
The 60 cm tall Bonsai dates back hundreds of years. Although when Pall got his hands on the tree, he stated that it was not in a good way at all, having been infected with a fungus that ate away at the roots and trunk. He was able to resurrect the Bonsai by spraying copper onto the tree, carrying out extensive wiring and grafting that left its distinctive dry, warped trunk with a thick plume of foliage at the top.
6. Ancient Bonsai Crafted at the Shunkaen Museum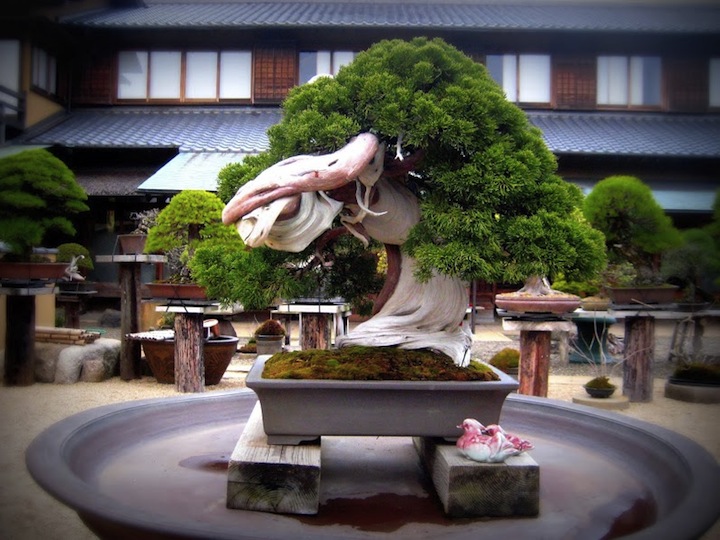 Naturally, you can expect to find many awe-inspiring Bonsai trees in Japan's heartland, Tokyo. One of the city's finest places to find Bonsai is the Shunkaen Bonsai Museum, established in 2002 by Kunio Kobayashi, the four-time Prime Ministers Award winner, which just so happens to be the highest accolade in Bonsai cultivation.
The Shunkaen nursery is home to an array of ancient Bonsai, with many specimens dating back hundreds of years. Including this White Pine Bonsai, which is thought to be over 800 years old.
Although there is an array of Bonsai on display at Shunkaen, this particular specimen is arguably one of the most famous and certainly one of the most eye-catching in the world. Kobayashi has achieved this unique design by scraping parts of the bark away to expose the wood underneath, which then is left to dry and appears in this unique white form.
7. Goshin by John Yoshio Naka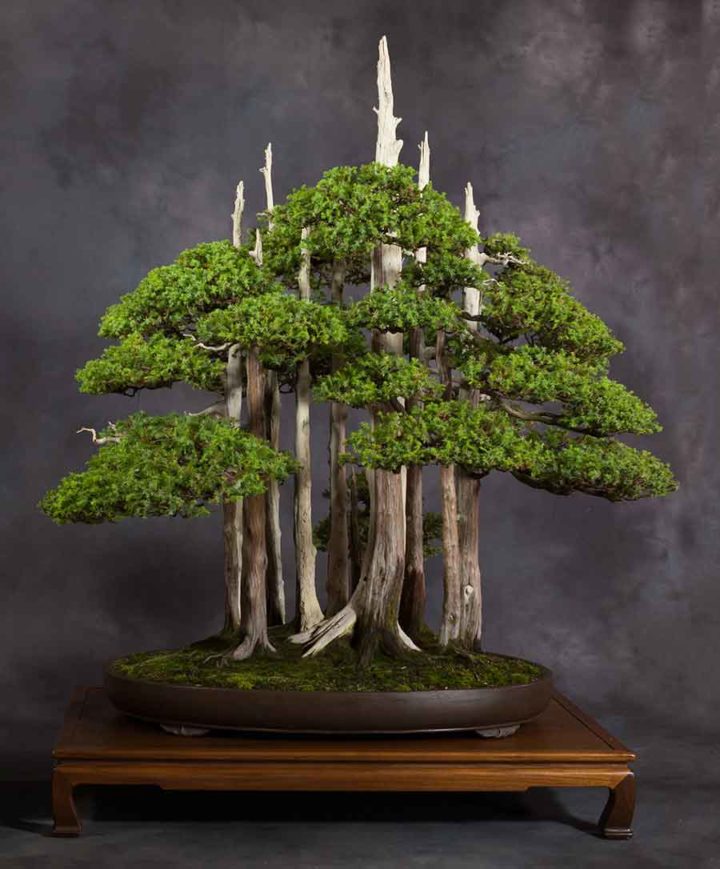 This striking Bonsai forest, titled Goshin, comprises eleven Foemina Junipers grown in a formal, upright tradition reaching over four feet in height. Goshin roughly translates to 'the protector of the spirit,' with each tree representing one of its creator's grandchildren.
Naka started to cultivate this Bonsai back in 1948, initially as a single tree, before increasing to four, then seven and finally settling on 11, when Naka deemed it complete. The style of this Bonsai leans on the Chinese Penjing tradition of creating artistic landscapes, in this case, a stunning miniature forest.
Naka is hailed as a trailblazing Bonsai master and is widely credited for bringing the culture to the fore throughout America. In 1984, Naka donated Goshin to the U.S. National Bonsai Foundation for it to be enjoyed by all, which is where it has been displayed ever since.
8. Sandai Shogun no Matsu – The Emperor's Bonsai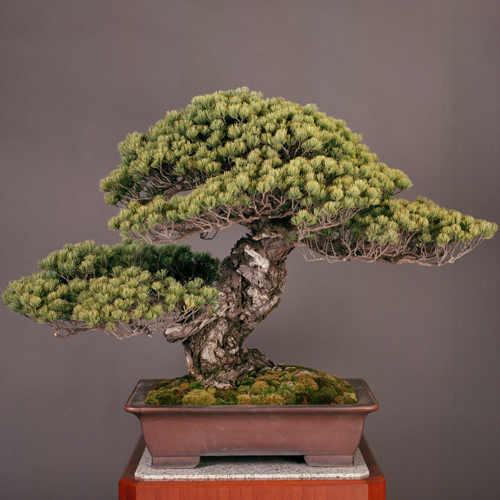 This five-needle pine Bonsai is named after the 17th-century Emperor Tokugawa Iemitsu, who acquired the Bonsai when it was 200 years old. The legend states that Lemitsu became obsessed with the tree, neglecting his duties as Shogunate to prune, trim and graft the tree into shape.
The Bonsai then became a treasured heirloom amongst Japan's rulers, being passed from Emperor to Emperor as each took the time to care for the tree. Now at over 500 years old, this Bonsai can be found in Japan's Imperial Palace, where it is treated with the utmost respect, care and attention by the Palace's staff.
9. The Million Dollar Bonsai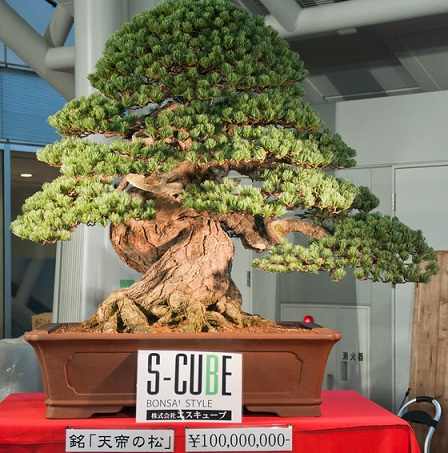 While Bonsai trees don't have to cost a fortune, it's not uncommon for finer specimens to become incredibly valuable. While some, such as the Sandai Shogun no Matsu, are deemed priceless, other Bonsai trees have been known to sell for more than $1,000,000.
One example of such a sale was at the International Bonsai Convention in 2012. This five-needle pine, known as the Old Pine Bonsai, sold for 1.3 million dollars.
At 300 years old, this Bonsai has been on the receiving end of years of dedicated care, passed down to one experienced owner after the other. As well as its history, this tree's impressive 3-foot tall structure, twisted trunk and immaculately manicured foliage make this one of the most valuable Bonsai to date.
10. Diego Stocco's Musical Bonsai
While Diego Stocco may not be a Bonsai grower, nor has he won any Bonsai awards, he is, in his unique way, a bonsai lover and tamer. Having been a fan of the culture for many years, he bought a Bonsai tree and made it sing, proving that you can teach an old Bonsai new tricks.
Using a Røde NT6 microphone, some tiny MEAS piezo transducers, and a customized stethoscope, Stocco composed and recorded an experimental piece played exclusively through the Bonsai's small leaves and branches, using no more than a piano hammer, a paintbrush and a collection of bows to obtain different sounds from the tree.
Don't be alarmed if it seems Stocco is somehow torturing the poor little tree. No Bonsai were damaged during the experiment!
Choosing a Bonsai Tree For Your Home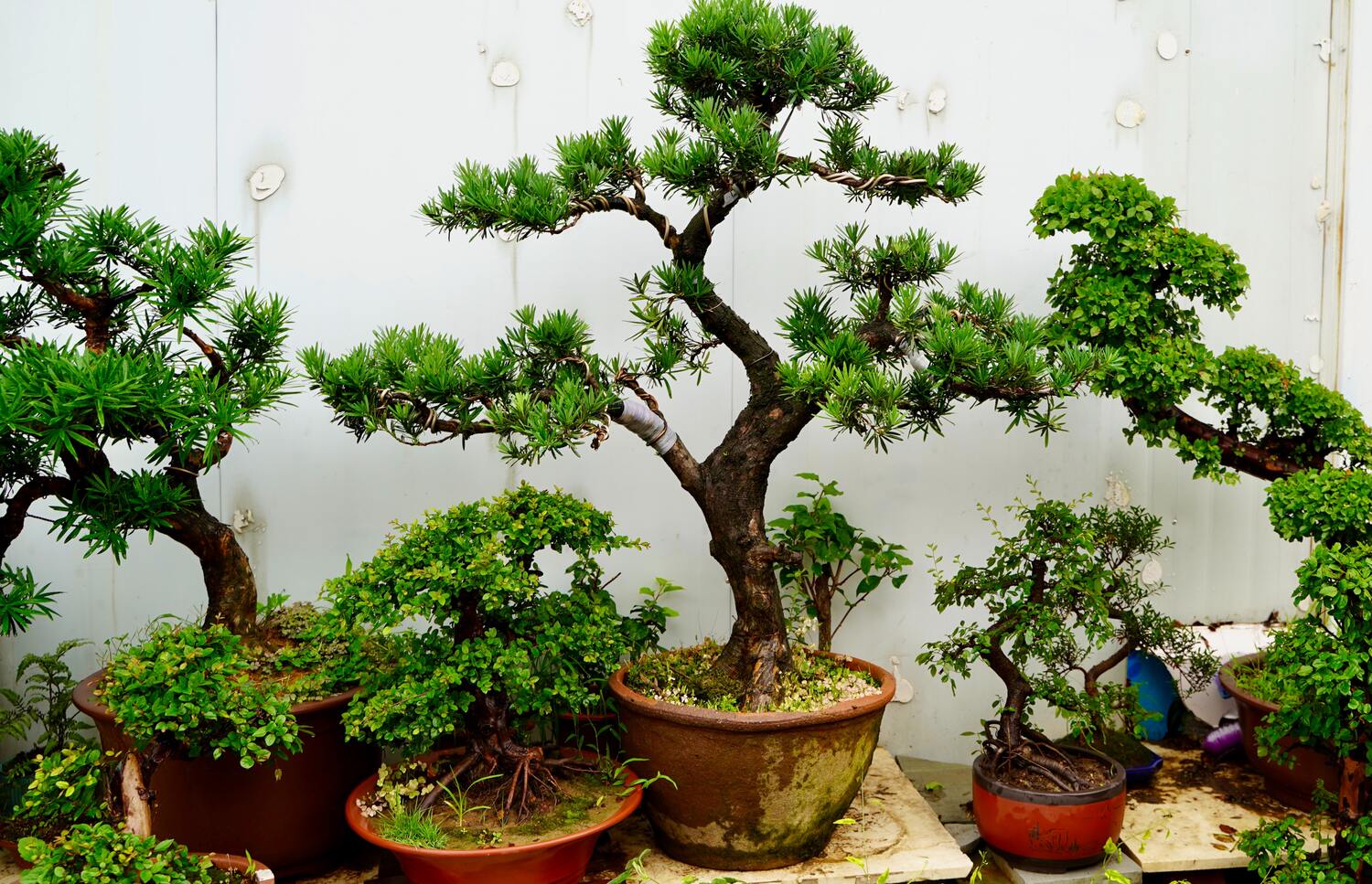 If you have been half as inspired as us by these ten awesome Bonsai trees, you may consider growing one of your own. Before taking the plunge, read through the following key points to set your plant up with the best chances of success and start your Bonsai adventure with a bang.
1. Indoor or Outdoor
First, you will have to decide whether you wish to grow the plant indoors or prefer an outdoor tree. Remember that most Bonsai trees should be grown outdoors to experience their natural cycle across the four seasons, just like their full-scale relatives would if planted in the ground.
If you wanted one inside the home, opting for a tropical tree species such as a Ficus, Jade or the ever-popular Hawaiian Umbrella is advisable. Most indoor Bonsai thrive in a space with plenty of light and a warmer temperature.
For those grown outdoors, an excellent starting point will be to assess which trees thrive in your local climate. If other trees enjoy the conditions, the odds are similar that the Bonsai tree will too.
2. Mame or Mega
Next, you need to consider the size of your space and what size species will grow too. While Mame Bonsai (those that grow up to 10cm) make a great addition to a small apartment if you have a generously sized room or a garden, you may wish for a larger plant to fill the space.
3. Novice or Pro
Make no mistake, growing a Bonsai isn't a simple process where you can expect to see results overnight. Many of the plants on our list were grown by master horticulturists and Bonsai enthusiasts over decades, if not centuries, of immediate care and attention.
For those new to growing Bonsai, opting for a tree that is easy to train and can tolerate the odd lapse in care is a safe bet. Junipers, Ficus, Pine and Chinese Elm, make great starter Bonsai.
If you have tried your hand at growing Bonsai in the past and are looking for a new challenge, then perhaps opt for a Japanese Maple, Cedar, or fruit or flower-bearing tree such as the Crabapple or Pomegranate.
4. Blooming or Bust
A healthy Bonsai makes for a happy owner, so check for signs of disease, rot or damage before you buy.
Look for an even distribution of branches, bright green leaves and well-rooted roots! The trunk should be thicker at the base and have a fairly smooth texture in its infancy. Infestations of bugs are bad, as are dried or discolored leaves and signs of poor management, like snapped branches or a poorly grafted trunk.
---
What Are The Best Bonsai Trees You Can Buy Online?

From seed starter kits for those looking for a more difficult yet enriching challenge to Bonsai's that are already well on their way, we've included seven different options for you to choose from, no matter what level of experience. We made sure to include a variety of plant species and sizes while considering different budgets too, so there is bound to be an ideal Bonsai for everyone.

A Jade Bonsia makes a truly awesome addition to your collection of houseplants. They are known for their simple care requirements and excellent air purifying qualities. This Jade comes at an earlier stage in life, enabling you to learn and practice your Bonsai cultivation skills as it grows.
What We Really Like:
👍 Ideal plant for beginners
👍 Comes at only six inches tall so you can hone your practice
👍 Expertly packaged for a damage-free delivery
What We Think Could Be Better:
👎 As the plant is still in its infancy it can be more fragile
👎 No ceramic pot included
American Plant Exchange Live Dwarf Jade Tree, Miniature Bonsai Tree, Plant Pot for Home and Garden Decor, 6" Pot
Dwarf Jade Plant Pot: Dwarf Jade is a lovely miniature bonsai tree with small, round, opposite, thick, moisture-retentive, dark green leaves. The plant has a green trunk when young, which turns into a smooth reddish-brown color as the plant ages.
Indoor Plants: The fleshy, succulent woody plants bloom with small, pale pink to purple flowers during the winter. They work great as landscape plants in areas with a mild, dry climate year-round. The USDA hardiness zone for outdoor planting is 9–11.
Easy Maintenance: Dwarf Jade plants are low-maintenance and easy to care for; the plants thrive in direct sunlight, with the ideal temperature being 60–70° F. A heat pack is also included for each plant if your region experiences cold weather.
Home and Garden Decor: Our Dwarf Jade plant pot is perfect for windowsills, countertops, desks, and tables in your home or garden. The plant, which can reach heights of up to 10' outdoors and 3-4' indoors, is a great gift option for friends and family.
Health Benefits: Live plants purify the air in their surroundings and thus enable you to inhale clean, fresh air while also helping to boost mood levels. The plant is toxic to humans and pets if ingested.
For the more adventurous horticulturists amongst you, this complete growing kit allows you to grow your Bonsai for seed, nurturing and manipulating it to your desired style. The set includes everything you need to get going, including various seeds and pots, nutrient-rich soil, and Bonsai tools and shears, plus a handy care guide to help you along the way.
What We Really Like:
👍 It Comes with five different sets of seeds so you can grow a variety of trees or pick your favorite
👍 Can be grown indoors or out (climate dependent)
👍 Includes kit that will make growth easier, including self-watering pots and organic soil discs.
What We Think Could Be Better:
👎 Will require a tonne of patience and persistence
👎 No immediate gratification, so may not make a wow-factor gift
Bonsai Tree Kit - Bonsai Tree Starter Kit with 5 Seeds Types - Unique Indoor Gardening Gift Ideas for Garden Lovers or Gardener Mom - Wooden Gift Box Packaging
A COMPLETE BONSAI STARTER KIT -- Contains everything you need to grow your own stunning bonsai tree live indoors. The Gardening kit comes complete with: 5 different bonsai tree seeds, 5 soil discs, 5 biodegradable burlap bonsai grow bags, 5 bamboos plant markers, 3 bonsai gardening tools, bonsai scissors, and detailed instructions for your assured success.
NO GREEN THUMB REQUIRED -- All our seeds have a high germination rate and include: Pinus Thunbergii (Japanese Black Pine), Flame tree (Delonix Regia), Red Maple, Colorado Blue Spruce, Jacaranda. We can't guarantee that every seed will germinate, so we've added extra seeds to increase your chances for success
THE PERFECT INDOOR GARDENING GIFT -- This bonsai plant growing kit is Unique Indoor Gardening Gift Ideas for Garden Lovers or Gardener Mom for a birthday, anniversary, housewarming, hostess, holiday. The entire bonsai trees kit comes in an impressive wooden box to place your burlap grow bags for germination. Kids, adults, beginners, and skilled gardeners will love this unusual gift.
MAKING LIFE INFINITELY MORE FUN -- Bonsai trees add a calm presence to a home or could feature as a centerpiece for an urban garden. The trees are the perfect size for an ever-growing urban city. It's so important to have green spaces inside your home and a Bonsai is a perfect way to do this.
KIMIPAPA BRAND QUALITY COMMITMENT -- We want you to succeed and if you struggle with any aspect of the process, please feel free to contact us for advice. We also offer a 30-day guarantee on all of our Bonsai Tree Kit. If for any reason you are not satisfied with your purchase, please contact us at,100% Satisfaction Guarantee for risk-free shopping!

The Golden Gate Ficus makes for a unique and interesting Bonsai. Thanks to its characteristic thick silver trunk and plumes of green foliage, you will have plenty of opportunities to hone your pruning and shaping skills.
This option is a four-year-old Bonsai and will be between five and 8 inches on arrival, making it an ideal age for you to nurture into maturity. Plus, this Ficus already comes with an ornate yet subtle ceramic pot.
What We Really Like:
👍 Includes thorough care guidelines which you can refer to easily
👍 Ficus generally make unfussy Bonsai
👍 Will make an excellent gift
What We Think Could Be Better:
👎 Pot may not be to everyone's taste
👎 On the smaller side for over $35
Brussel's Live Golden Gate Ficus Indoor Bonsai Tree - 4 Years Old; 5" to 8" Tall with Decorative Container
CONTENTS: Bonsai, Decorative Container (Assorted Colors & Styles), Soil, Care Instructions.
SPECIES: In the ficus family, the Golden Gate variety is the best for growing indoors. The attractive gray trunk is thick and sturdy topped by small, dark green oval foliage.
AGE/SIZE/CARE: Your 4 year old bonsai will arrive between 5" to 8" tall in a 6" container and will perform best indoors (see detailed care instructions in images)
USES: Ideal Mother's Day gift, office & cubicle décor or a centerpiece for any kitchen table, desktop, window plant or outdoor décor.
WARRANTY: Your bonsai tree has been grown in a state-of-the-art greenhouse under precisely controlled conditions to achieve optimum health. If for any reason you are not completely satisfied with your tree or with our service, please notify us within 30 days of receipt. We will correct the situation to your satisfaction.
💡 Love Ficus Bonsai but lack patience? Grab a fully matured 17-year-old tree here.

Juniper Bonsai is one of the most popular trees to cultivate. In part, this is down to their adaptability to different environments, but also thanks to their elegant form. Moreover, this fine Juniper specimen comes with a unique ceramic pot and a fisherman's miniature figure over a pond, creating a scene akin to Chinese Pejing landscapes.
What We Really Like:
👍 Can be grown either outdoors or in the home
👍 Comes with other figures to create a unique landscape
👍 Offers excellent value for money
What We Think Could Be Better:
👎 The tree is still relatively young so will require continued care and attention
👎 May need re-potting if it shows rapid growth
9GreenBox - Juniper Tree Bonsai with Poll and Fisherman
Bonsai is popularized by Japanese people as an art of growing ornamental, dwarf trees. Bonsai Plants is assumed to have the same life cycle of the normal size trees. Growing and taking care of Bonsai's is one way to relieve stress and will develop as a good hobby. Can be a décor to your home or office. In fengshui, bonsai trees is believe to bring a good luck.
TAKING CARE OF BONSAI – Each Bonsai Trees has a specific care procedure. Most common reason why bonsai tree dies is over watering. Keep in mind that you need to check your bonsai tree frequently. Watering, fertilizing and repotting your tree should always be in your mind.
KEEPING BONSAI TREE IN SHAPE –trimming a bonsai tree comes in two ways. First is maintenance-pruning, which means you need to maintain and refine the existing shape of a Bonsai. Second is structural-pruning, which requires more rigorous pruning or trimming to give a tree its basic shape or style.
9Greenbox BONSAI Juniper Tree Zen Garden 8.5x5.5'' inches and 2'' inches deep. And comes in a pot with an approximately size of 7" and proudly hand made by 9GreenBox.
9GreenBox Offers Live Plants - actual sizes and shape varies from pictures shown.
Whether you are new to growing Bonsai or an experienced cultivator, this Chinese Elm will be a welcome addition to your collection of plants. This tree has already shown extraordinary growth at seven years of age, reaching between eight and 10 inches tall.
Chinese Elm is a hardy plant that will thrive outdoors and can be forgiving if you make the odd mistake as you hone your craft, making this an excellent choice for beginners or those looking to test their newfound skills.
What We Really Like:
👍 Comes with an ornate decorative pot
👍 Has been grown in a state-of-the-art greenhouse facility
👍 Fairly standard growth pattern make this a great choice for beginners
What We Think Could Be Better:
👎 Roots and trunk are already well formed so less exciting for advanced growers
👎 Requires access to an outdoor space
Sale
Brussel's Live Chinese Elm Outdoor Bonsai Tree - 7 Years Old; 8" to 10" Tall with Decorative Container
CONTENTS: Bonsai, Decorative Container (Assorted Colors & Styles), Soil, Care Instructions.
SPECIES: The Chinese Elm has beautiful, distinctive dark gray to reddish brown bark that turns fissure and corky when mature. It has a lovely branching shape with delicate, oval shaped toothed leaves that showcase a fresh green color and a delightfully tiny leaf.
AGE/SIZE/CARE: Your medium 7 year old bonsai will arrive at 8" to 10" tall in a 8" container and will perform best outdoors (see detailed care instructions in images)
USES: Ideal Mother's Day gift, office & cubicle décor or a centerpiece for any kitchen table, desktop, window plant or outdoor décor.
WARRANTY: Your bonsai tree has been grown in a state-of-the-art greenhouse under precisely controlled conditions to achieve optimum health. If for any reason you are not completely satisfied with your tree or with our service, please notify us within 30 days of receipt. We will correct the situation to your satisfaction.
A firm favorite amongst Bonsai growers, both new and old, is the Hawaiian Umbrella Tree. This unique tree creates an impressive appearance when matured, with a thick canopy of shiny green leaves that provide the umbrella aesthetic.
This specimen is an 8-year-old tree, reaching up to 14 inches tall, so it is on the larger side of plants, making it an excellent option for a statement Bonsai in a larger room. Plus, with its deep blue 12-inch ceramic pot, it will be sure to capture the imagination.
What We Really Like:
👍 Flowering berries add to the charm of the Bonsai
👍 Eligible for Prime delivery, minimizing the risk of extended transit times
👍 Reviews commonly state the tree showed impressive growth and full foliage
What We Think Could Be Better:
👎 Tropical plant so can only be grown indoors
👎 Larger plants require more pruning and maintenance
Brussel's Live Hawaiian Umbrella Indoor Bonsai Tree - 8 Years Old; 10" to 14" Tall in Decorative Container
CONTENTS: Bonsai, Decorative Container (Assorted Colors & Styles), Soil, Care Instructions.
SPECIES: Glossy green leaves are delicately divided and upright umbels produce orange-red to black berries. The leaves are miniature and shaped like umbrellas, which together, form a beautiful, green, and dense canopy.
AGE/SIZE/CARE: Your x-large 8 year old bonsai will arrive at 10" to 14" tall in a 12" container and will perform best indoors (see detailed care instructions in images)
USES: Ideal Mother's Day gift, office & cubicle décor or a centerpiece for any kitchen table, desktop, window plant or outdoor décor.
WARRANTY: Your bonsai tree has been grown in a state-of-the-art greenhouse under precisely controlled conditions to achieve optimum health. If for any reason you are not completely satisfied with your tree or with our service, please notify us within 30 days of receipt. We will correct the situation to your satisfaction.

If you are looking for a show-stopping Bonsai, look no further than this Brazilian Raintree (also known as the Pithecellobium Tortum). This unique Bonsai features delicate, fern-like foliage that constantly moves with the changing light.
This plant is around 11 years old and will arrive to you having already seen generous growth between 11 and 12 inches. When in bloom, this Bonsai will produce distinctive fuzzy 'puffball' flowers, making it an incredible sight to behold.
What We Really Like:
👍 Initially grown by a well-known and well-trusted brand, Bonsai Boy
👍 Produces a sweet fragrance when flowering
👍 Comes with a distinctive earthware pot
What We Think Could Be Better:
👎 For indoor use only
👎 May require a keen eye to keep on top of maintenance
Final Thoughts
In an age of instant gratification, the culture and cultivation of Bonsai certainly breaks the norm. Championing lost virtues of patience and persistence along with encouraging us to find beauty in every day, even with its apparent imperfections.
Looking into the world of Bonsai, we find some genuinely awe-inspiring trees and appreciate the dedication it takes to create them. Although most of our top 10 awesome Bonsai are considered priceless, trying your hand at cultivating a Bonsai needn't cost the earth.
From starter kits to spectacular pre-grown Bonsai trees, today, you can readily get your hands on a tree to call your own. And who knows, with a little effort and a lot of time, maybe your Bonsai will go on to inspire others too.
Last update on 2023-06-04 / Affiliate links / Images from Amazon Product Advertising API