Did you know that Brookstone (the guys that seem to have shops in every airport) used to sell air purifiers back in 2010. It was not a great unit, and thankfully as of 2020, Brookstone no longer sells any air purifiers.
Many of Brookstone air purifiers utilize ionizer technology, such as the Pure-Ion Advanced Air Cleaner.
Ionizers use ionized particles to turn positive to negative and the metal fins can attract the dust. They can sometimes release small amounts of ozone so are no longer the norm for most people.
The amount of evidence to support Ionizer based air purifiers is very much lacking and is one reason why we always push HEPA-based units. This is especially true with cheaper units in the sub $100 as HEPA units can now be produced fairly cheaply and even low-priced units can be effective for small rooms or desks.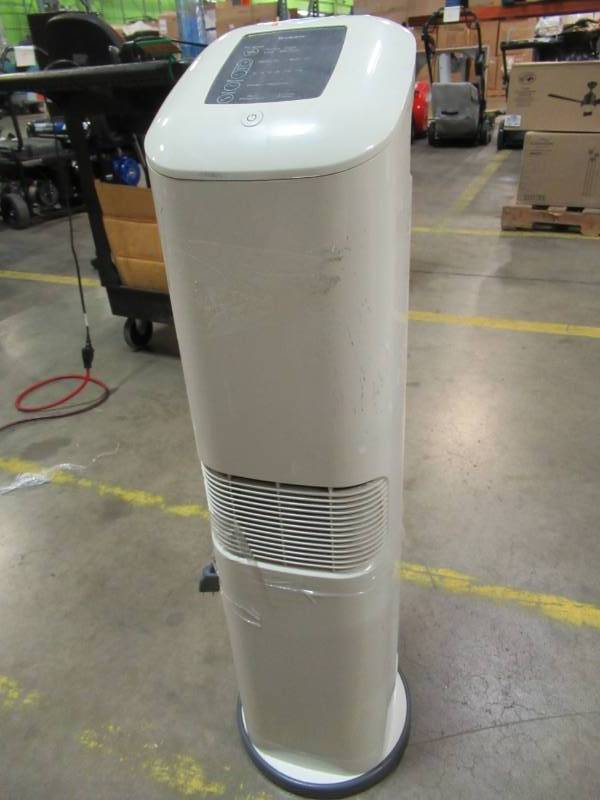 PRICE = $199.95 (Amazon.com) as of 2010
It's best first to check what the major internet-buying consumers think about this air purifier. Many large retailers provide their consumers with the ability to rate/review their purchases. We can use these consumer reviews to gauge the general opinion about this Brookstone purifier quickly.
| | |
| --- | --- |
| Review Site | Rating |
| Amazon.com | 3.5 Stars (3 reviews) |
| Epinions.com | 4.5 Stars (4 reviews) |
| Shopping.com | 3 Stars (2 reviews) |
I am not happy with the number of reviews available for this particular purifier. The problem is that when there are only a few reviews, it easy for marketers/manufacturers to publish their own positive reviews that can affect the overall score.
I can not prove that people connected to Brookstone have been publishing false reviews but I will outline some of what I have found out and you can make your own decision.
First review:
5.0 out of 5 stars. Stop snoring and breathe better., January 23, 2010
By
Internet shopper "Mike" (New Hampshire, USA) –
Total word count: 900+ words
My problem with this review is how detailed it is. It has over 900 words which is impressive for just a normal consumer. I could understand this review being so long if he actually had some sort of grievance or point to make but he just provides a very "professional" review. This Brookstone purifier review just reads like a marketing message that you would find on a retailers website or the script from a cheesy infomercial.
However, you should read the review and decide for yourself.
Second Review
1.0 out of 5 stars filter breaks easily with no replacement sold, August 8, 2009
Barry Obama "2 bigg 2 fail" (DC) – See all my reviews
This review looks more real and I can understand why the reviewer has taken the time to write it. They had a grievance with their Brookstone purifier breaking and tells us that the metal fins might not be dishwasher safe. We usually expect that a small number of purifiers will break so this does mean that other customers will have the same problem.
Third Review
5.0 out of 5 stars I have 2 of these and I like the results!, February 22, 2010
By
Bold Consumer (Oklahoma City, OK USA) – See all my reviews
Another 5 star review is highly positive. I clicked through to find out what other products this person has reviewed.
Wait, is that 3 reviews in just one day! All the products on the first few pages related to DVD's that people use when riding their bike indoor which are all sold by third-party sellers. I would suggest that this person is a professional Amazon reviewer and provide reviews for $. I suggest you have a look and decide for yourself.
Conclusion Retailer Reviews
I would be very wary of purchasing one of these air purifiers based on the fake reviews and lack of honest positive reviews that are available. The negative review are also very negative relating to the purifier breaking or causing particle build-up that makes breathing problems worse.
The next step we take for this air purifier review is to dig a little deeper into what the experts are saying about this purifier:
After reading a couple of different sources (there really is not much about Brookstone purifiers on the net), it seems that the Brookstone air cleaner uses the same technology that was used in the now-bankrupt Sharper Image purifiers.
When we read the technical details about the Brookstone purifier, it talks about the high CADR rating but then when we click to find out the CADR details we are taken to this page:
It seems that Brookstone doesn't want to publish their CADR rating as its missing from the product information page.
From what I can tell this Brookstone purifier is that it uses an ionization unit primarily than an ozone release as part of its cleaning process. Ozone is a toxic gas and I would recommend that you should keep well away from any purifier that uses it. This is especially true if you have pets, children, or elderly people living in your house. You can read more about the dangers of purifiers that use ozone at the EPA government website.
Conclusion
This purifier has many dubious reviews, and its technology is both antiquated and dangerous. I would seriously suggest that consumers look elsewhere to find a cheap air purifier. With a budget of $200, there is still a lot of purifiers that will clean the air and not harm your health:
We give the Brookstone Air purifier 0 Stars and recommend that consumers keep well away.
In 2021 no Brookstone air purifiers are available for sale but please feel free to check out the list of my current favorite below: