Updated 2020: The Coway AP-1009 is an air purifier from 10 years ago that used a combination of HEPA and pre-filter and was a great unit at the time for fairly large rooms. If you are looking for a replacement for this unit, you will be glad to know that Coway is still going and have created an excellent air purifier with the Coway 300 or 400:
I recommend that you buy from Amazon.com as they have an excellent return policy in case you have any issues.
I have decided to include some old details about the AP-1009 but be aware that it is no longer for sale.
The Coway AP-1009CH Air Purifier is built in Korea by Woongjin Coway. The brand was introduced to the U.S. in 2007 and was rebranded by retailers like Lowes and Sears. Coway dominates the air purifier market in Korea, claiming 40% of sales there. The AP-1009CH is a mid-market product at $279 sold by Amazon, Walmart, and AirPurifiersAmerica.com. EPA Energy Star states that the Coway AP-1009CH has a clean air delivery rate (CADR) of 186.9 for dust, 149.9 for smoke, and 203.8 for pollen (for an average of 180). These rates make this air purifier suitable for small and medium rooms.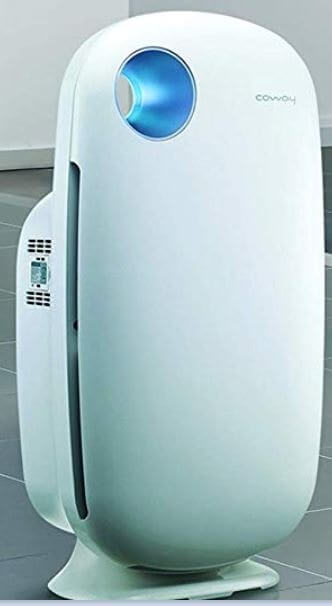 This air purifier has a rounded, futuristic shape and is pitched toward women, with floral designs in the product literature. Complaints about the AP-1009CH air purifier have been few, with some users reporting a temporary odor when the machine is switched on for the first time. It is extremely quiet, at only 22.4 decibels, which is suitable for sleeping. It measures 25.8 x 14.3 x 8 inches in size and weighs 13 lbs. It stops automatically when the front cover is open or removed. This air purifier earned the EPA Energy Star rating, using only 37.8 watts on its highest setting. It comes with a one-year warranty.
The bottom line is that even though the initial price may seem high, the AP-1009CH has low maintenance costs and energy consumption. It is very attractively designed and suitable for those who want clean air, but it is not powerful enough for those who have serious health issues. The washable carbon filter is fairly light-duty but can tackle odors fairly competently. It is stylishly designed, very quiet, and is considered a good value in terms of price and performance.
If you are looking for the best air purifier, then look at our list of units that we tested performance in our home lab.