TLDR: The Edenpure air purifiers were released and sold between 2006-2011, and its main technology was Ozone combined with a small HEPA filter system. If you are still using one of these air purifiers, then we would recommend you stop as there are a large number of health problems from the usage of an ozone unit in the home from numerous respected studies. If you are looking for a suitable replacement air purifier, we would suggest checking out our most recommended H13 air purifiers and our recommended ozone free air purifiers.
This Edenpure purifier review begins with the basics: what it looks like and who makes it. The Edenpure G-7 Whole Home Air Purifier looks like a small stereo speaker or karaoke machine, with a wooden cabinet and a black mesh front with control buttons and a remote. It measures 12.75 x 8.875 x 8.75 inches and weighs 16 lbs. It is made by Edenpure, a division of Suarez Corporation Industries (SCI), a direct marketing company based in Ohio. They make an extensive line of products for health, fitness, weight loss, and home care.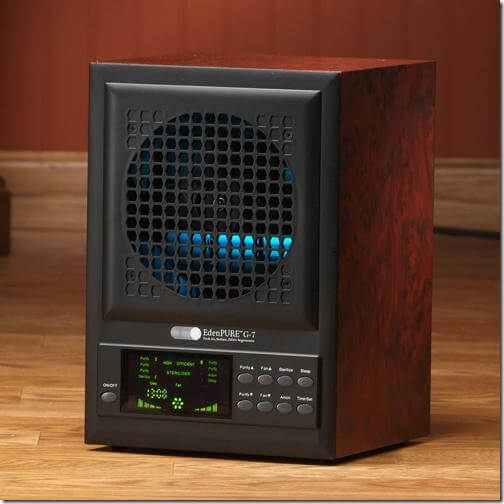 What technology?
The Edenpure G-7 uses four methods to eliminate indoor air pollution. It has an ozone generator, an ultraviolet light source, an ionizer, and a HEPA filter. It claims to purify the air in 3,000 square feet of living space. The ozone generator produces ozone, a strong oxidant, which is used to remove the smell of smoke after fire damage, as well as musty mold smells and even the smell of decaying flesh.
You will like: 8 Best Kitchen Air Purifiers
The G-7's ultraviolet irradiation sterilizes air forced past its UV lamps. The UV source and filter are designed to remove the dead microorganisms killed by the UV light. The ionizer in the Edenpure G-7 uses electrically charged surfaces to create electrically charged ions. The ions latch onto airborne particles, which then are drawn to a charged collector plate. The fan-based ionizer in the Edenpure G-7 is efficient, cleaning and distributing clean air quickly. 
The Edenpure G-7 has a permanent HEPA filter with a removable, washable pre-filter. HEPA stands for "high-efficiency particulate air," and is designed to remove 99.97% or more of particles that measure 0.3 micrometers. In the G-7, the HEPA filter follows the removable pre-filter, which removes the more coarse air impurities so that the HEPA filter does not clog with them. HEPA filters do not generate harmful byproducts.
Other Edenpure air purifiers:
EdenPURE OxiLeaf air purifier [plug in]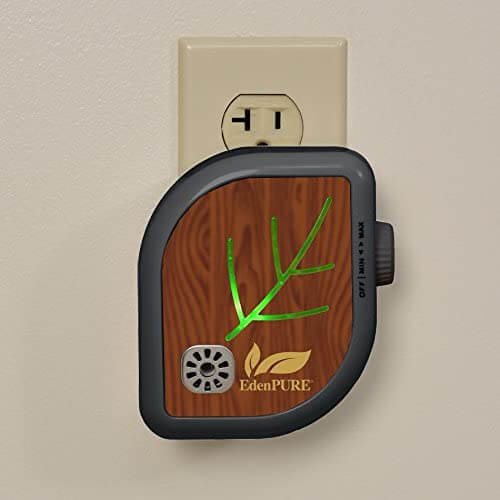 When this air purifier was on sale it ranged from $49 – $89 so this is on the cheaper end of the scale. The big benefit of the Oxileaf is that it can be easily plugged into a socket so takes up very little space.
This air purifier uses ozone production to reduce the number of pollutants in the air, which I always avoid recommending as ozone air purifiers can cause issues for people with allergies. Not all people suffer issues with Ozone, but in general, I agree with the EPA, which doesn't recommend ozone generators to be used to clean air in a home. It's really just not worth the risk, and while HEPA units are more costly to purchase and maintain, they don't suffer from the health risks that ozone generators can cause.
2.Edenpure air purifier a4647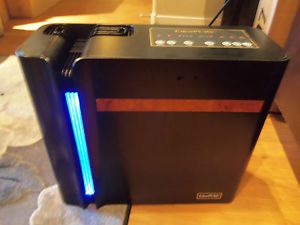 The A4647 from Edenpure is slightly different because it uses UV light to purify the air. UV light can be helpful when combined with a HEPA filter, but this purifier only uses UV. The challenge with UV is that it can also generate Ozone which, as we discussed, can cause a whole raft of health issues, so this is another air purifier I would not recommend.
Are Edenpure air purifiers safe?
The biggest concern about products like the Edenpure G-7 is ozone generation. Ozone is considered a health hazard when it is used long-term. The Edenpure G-7 creates 360 mg of ozone per hour, which is too high a risk to bring into the home, and we suggest you stop using these types of air cleaners as soon as possible. The California Air Resources Board (CARB) identifies Edenpure air cleaners as a potentially hazardous ozone generators.
Returns?
Edenpure comes with a 60 day guarantee, and returns require original packaging. The machine carries a one-year warranty. Users have had problems with customer service, however, particularly getting through to them in the first place, reporting recorded messages blaming a high volume of calls for the delays. While the Edenpure G-7 Whole Home Air Purifier may be safe for purifying rooms that are not occupied, there are enough concerns about the levels of ozone produced by the machine that any Edenpure purifier review would be remiss, not to mention the potential dangers.
Why buy an air purifier?
People who are prone to allergies often have trouble with mold spores, pet dander, pollen, and dust, as well as secondhand smoke. Today's air purifiers can capture particulates to reduce the concentration of contaminants in the air and can be quite useful for people with allergies or asthma. An air purifier can also reduce the necessity of frequent room cleaning by getting dust and particles out of the air before they have a chance to settle on surfaces.
Air purifiers can also reduce cooking smells, pet smells, and other unwanted odors in the home.
Sadly many of the Edenpure air purifiers mentioned in this article have been discontinued and are no longer available for sale. Be sure to look at what we think are the best air purifiers as of 2023 based on our performance tests.