UPDATED JULY 2020
The Holmes HAP625 Air Purifier is a portable air purifier that lets you clean the air in the room quietly and efficiently. It provides genuine High Energy Particulate Air (HEPA) filtration, a desirable feature in an air purifier. The many great features of the Holmes HAP625 make this an air purifier worth your consideration. But first, a few basic pros and cons of this model.
Among the "pros" of the Holmes HAP625 are that the machine is small and can be positioned either upright or on its side so it can be made to fit a variety of spaces, and can even go on a shelf. The HEPA filter is well sealed with a gasket so that no unclean air taken up by the machine can bypass the filter. Additionally, the Holmes HAP625 is very quiet, producing under 50 decibels on its top speed setting.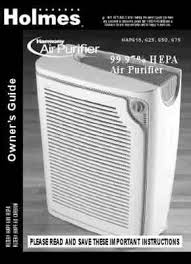 The main "con" of the Holmes HAP625 is that it is small, and can only purify the air in rooms that are around 200 square feet in area or smaller. Also, carbon filters will have to be replaced every few months to get the best smoke, gas, and chemical odor removal.
The HEPA filter in the Holmes HAP625 air purifier is some of the best available HEPA technology. Because it is a true HEPA filter, it has to remove at least 99.97% of particles from the air that are 0.3 microns in size or larger. Therefore, almost all the airborne particles that can aggravate allergies and asthma are removed from the air by a HEPA filter. And the gasket around the HEPA filter ensures that of all the air taken into the air purifier, it cannot bypass the filter but must instead pass through it and be cleaned.
The activated carbon pre-filter in the Holmes HAP625 is another excellent feature. It performs two primary functions: it helps capture large particles in the air, removing them from the path of the main HEPA filter, and it also traps harmful gases and odors due to the shape and arrangement of the carbon molecules. Activated carbon can break down some 4,000 chemicals and odors, removing them from the environment. They work better than any air freshener could at eliminating odors.
The Holmes HAP625 is designed to work in small rooms – up to around 200 square feet in area. In a room this size, it will change the air six times in one hour, which is considered the optimal rate of air movement through an air purifier. While it will purify the air in larger rooms, it will not be able to change the air as many times in one hour, so it will not be optimal filtration. For example, a room with 525 square feet in the area will only get 2 complete air changes in one hour, which is helpful but not ideal.
For optimal performance, the filters in the Holmes HAP625 will need to be changed regularly so that they don't clog. This includes both the HEPA filter and the carbon pre-filter. If the filters are allowed to become too clogged, there is the possibility that the motor will burn out. The HEPA filter will have to be replaced every one to two years at the cost of around $30 per filter. The frequency with which you'll need to change the carbon filter is usually around 3 to 4 months, but if there is smoking in the area, these filters will clog faster and have to be replaced more frequently. The carbon filters come in packages of 4 that cost around $16.95.
The Holmes HAP625 runs quietly because the HEPA filter has been treated to capture the maximum number of particles while allowing good airflow. It is not the quietest air purifier we have reviewed. However, still, on its loudest setting, it only produces 50 decibels, while running the purifier on "silent" mode takes the noise down to 30 decibels, which is very quiet, particularly for an air purifier.
The air purification device retails for around $50. This is a great price for a HEPA air purifier. It also comes with a 5-year warranty, which is longer than many air purifier warranties. In addition to the filtration technologies, it also has some great extras. A lighted color display tells you when the filters need to be replaced, and the space-saving design lets you place the machine right next to a wall and have it still run efficiently. This is a great, inexpensive air purifier that can give you years of faithful service. The level of purification it provides is high, while filter replacement costs are more reasonable than for most air purifiers.
If you are looking for replacement filters for the HAP625, we can recommend the following:
Holmes True HEPA Filter with Enhanced Mold Fighting Power, 2-Pack, White, 2 Count
TRUE HEPA FILTRATION: Filter helps remove up to 99.97 percent of dust, smoke, pollen, odors, mold spores, and pet dander from the air passing through it, filtering particles as small as 0.3 microns to help provide cleaner air for your home or office
PACK OF 2: Includes 2 replacement filters
COMPATIBLE: Compatible with select Holmes Air Purifiers
FITS HOLMES AIR PURIFIER MODELS: Compatible with HAP616, HAP633, HAP653, HAP726, HAP756, HAP759, HAP8615, HAP8650, and HAP9726 models
FITS BIONAIRE HOLMES AIR PURIFIER MODELS: Compatible with BAP1225, and BAP1250 models
If you are interested in a new air purifier, we would be happy to recommend any from our current list of the best air purifiers for this year.
Last update on 2023-12-02 / Affiliate links / Images from Amazon Product Advertising API