Updated 19th April 2020
When I first wrote up this research paper there was general agreement that it was correct that houseplants plants in the home can help to clean the air. But since that publication, there has been a number of public responses from prominent scientists rejecting the idea including on Atlantic.com. We, therefore, share this list of plants but would recommend you not buy them if your only plan is to clean your air [We think there are a ton of benefits for plants so don't let this put you off owning and looking after plants].
If you are serious about cleaning the air in your home then be sure to check out the specific guides we have written with our recommended units based on our inhouse testing and analysis:
7 best air purifiers for pet smells
8 best air purifiers for kitchen
A Note About Pets:
As noted by a number of readers, many of the plants on this list can also be poisonous to dogs and other pets. Be sure to check for any potential poison or allergies from the plants for your animal and try to put plants in locations that pets can not reach.
If you do have pets, make sure you check out the recently updated list of our recommended purifiers for pets as these in combination with a combination of these 15 plants on this list can allow pet owners to live without the fear of allergic reactions.
If you are interested in cleaning the air in your home, I would suggest a cheap HEPA air purifier, we recently did a review of the Levoit 300 and Levoit PUR131.
1. NASA Research
A NASA research document came to the conclusion that "house plants can purify and rejuvenate air within our houses and workplaces, safeguarding us all from any side effects connected with prevalent toxins such as formaldehyde, ammonia and also benzene."
Here are the results of the NASA research study:
| | | | |
| --- | --- | --- | --- |
| | Common name | Scientific name | Score |
| 1 | Areca palm | Chrysalidocarpus lutescens | 8.5 |
| 2 | Lady palm | Rhapis excelsa | 8.5 |
| 3 | Bamboo palm | Chamaedorea seifrizii | 8.4 |
| 4 | Rubber plant | Ficus robusta | 8.0 |
| 5 | Dracaena "Janet Craig" | Dracaena deremensis "Janet Craig" | 7.8 |
| 6 | English ivy | Hedera helix | 7.8 |
| 7 | Dwarf date palm | Phoenix roebelinii | 7.8 |
| 8 | Ficus Alii | Ficus macleilandii "Alii" | 7.7 |
| 9 | Boston fern | Nephrolepis exalta "Bostoniensis" | 7.5 |
| 10 | Peace lily | Spathiphyllum sp. | 7.5 |
2. Interior Plants: Their Influence on Airborne Microbes inside Energy-efficient Buildings
In another study made in 1996, a bedroom with no plants had 50% more colonies of airborne microbes than a room which contained houseplants.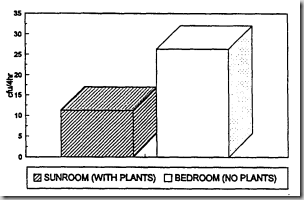 Source
3. Foliage Plants For Indoor Removal of The Primary Combustion Gases Carbon Monoxide and Nitrogen Dioxide
During a laboratory experiment in 1985, Dr. Wolverton PHD compared the removal of carbon monoxide and nitrogen dioxide using a sealed chamber of spider plants.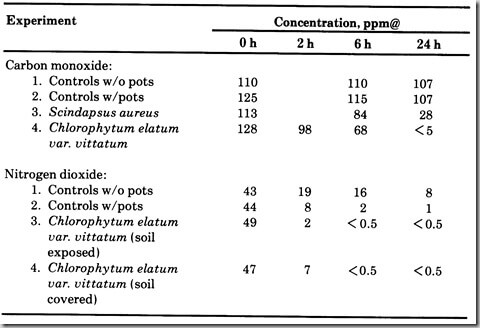 Source
4. Dr Wolverton – Formaldehyde removal experiment
In another laboratory study by Dr. Wolverton PHD, he compared a number of house plants at removing formaldehyde from a sealed chamber. Formaldehyde is a common household toxin that is released from a variety of household items.
Removal of Formaldehyde from Sealed Chambers for Plants Grown in Potting Soil
Common

Name

Botanical

Name

Removal Rate*

(Micrograms/Hour)

Boston fern

Nephrolepis exaltata "Bostoniensis"

1863

Dwarf date palm

Phoenix roebelenii

1385

Bamboo palm

Chamaedorea seifrizii

1350

Janet Craig

Dracaena deremensis "Janet Craig"

1328

English ivy

Hedera helix

1120

Weeping fig

Ficus benjamina

940

Peace lily

Spathiphyllum "Clevelandii"

939

Areca palm

Chrysalidocarpus lutescens

938

Corn plant

Dracaena fragrans "Massangeana"

938

Lady palm

Rhapis excelsa

876
Source.5
16 Air Purifier Plants
With reference to the experiments of Dr Wolverton and the NASA experiments, I have compiled a list of 16 house plants that provide the greatest level of air purification.
1.

Areca Palm Tree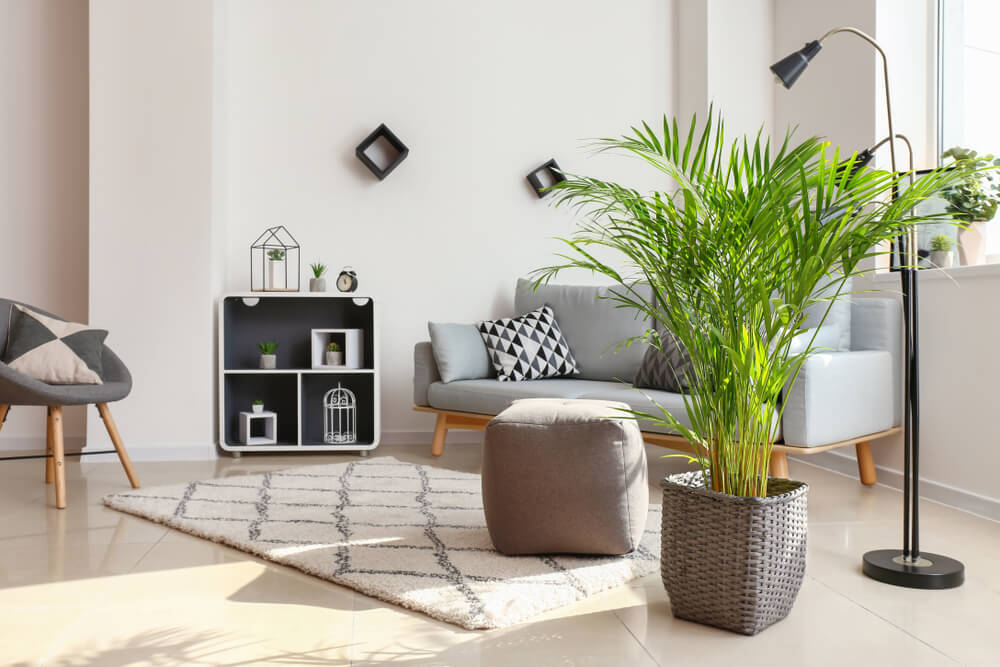 Costa Farms Areca Butterfly Palm Tree, Live Indoor Plant, 3 to 4-Feet Tall, Ships in Grow Pot, Fresh From Our Farm, Excellent Gift
Do not recommend shipping to states currently experiencing extreme cold weather/temperatures.
I can adapt to full sun or light shade, but bright indirect sunlight is the best!
Place me on your patio to create a topical paradise!
I love regular watering's, keep me damp, but not muddy
We're unable to ship this item to: AK,AZ,CA,GU,HI
The Areca palm tree is the very best air purifying plant according to the ratings from NASA's research and has the 8th highest removal rate for Formaldehyde according to Dr Wolverton's data. This house plant was referred to as "the most effective air humidifier" by MetaEfficient.com. The Areca has the ability to maintain your office or home moist throughout dry periods as well as continually removing chemical toxins from your air. In the course of the winter season, it's so effective at putting moisture back in the air that you could switch off your electric humidifiers!
2.

Lady Palm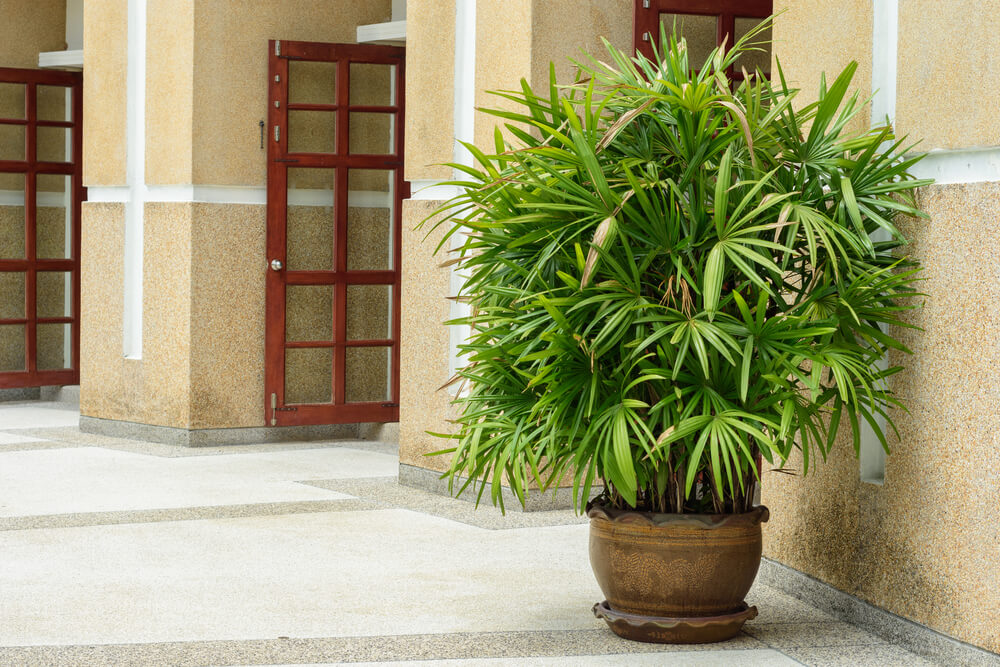 This house plant – Lady palm (or Rhapis excelsa) achieved exactly the same rating as the Areca Palm tree in NASA's research. This adaptable house plant, can be stored in dry or moist parts of the world ( between 20-100° Fahrenheit) and is particularly resistant to the majority sorts of plant insects.
The Lady Palm is not the most effective at removing Formaldehyde so if this is a concern then i would suggest you look at another plant.
3.

Bamboo Palm
Sale
Costa Farms Assorted Foliage Clean Air House Plant Collection, 8-Inches Tall, Green
Add a little color and texture with a small collection of plants! This collection may include duplicates.
Height at shipping is approximately 8-inches tall, measured from the bottom of the pot to the top of the plant. Ships in a 4-inch diameter grower pot.
Grow Assorted Foliage in bright, indirect sunlight for the best growth and enjoy!
Water Assorted Foliage with approximately 1/2 cup of water about once a week. Adjust as needed for your environment.
The clean air plant collection are the most efficient plants around to filter indoor pollutants, allowing us to breathe clean air in our homes and offices, according to NASA studies
The bamboo palm was the third most powerful plant at removing formaldehyde from the air. It ranked third in the NASA experiment so is a good all rounder at keeping your room air clean. This house plant will grow best in a moist but not wet soil and in direct sunlight. However this palm will require lots of room to grow, so it might not be the best option if want this plant to sit on your desk.
4.

Boston Fern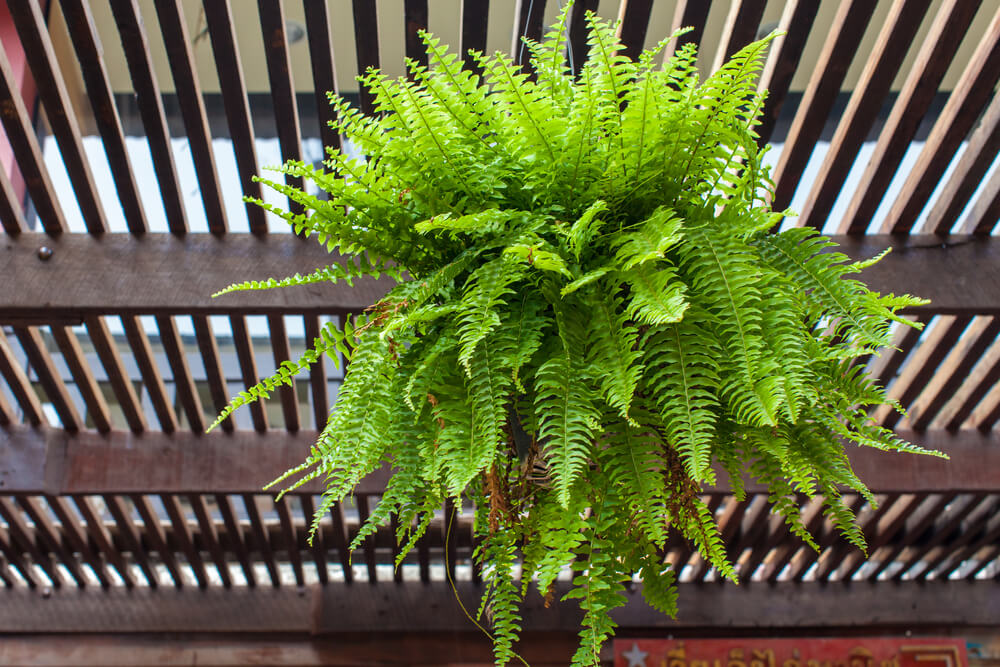 Sale
Costa Farms Boston Fern, Nephrolepis exaltata, Live Plant, 2-Feet Tall and Wide, Ships in Grow Pot with Hanger, Fresh From Our Farm, Excellent Gift
EASY CARE! Water Boston Fern to keep soil consistently moist. If the soil dries out, the fronds may turn brown and crispy. Never allow the soil to become saturated. Boston Ferns enjoy high humidity, so give it a good misting.
LOVES INDOOR LIGHT: Boston Fern loves bright to medium light; do not place in direct sun.
BONUS! A HANGING POT: Boston Fern is grown with care by the horticultural experts at Costa Farms and shipped in a 10-inch black hanging pot, ready to adorn your home. Just hang it up and admire it or remove hanger and place on a plant stand.
REAP HEALTH BENEFITS: Studies show that Boston Fern helps cleanse indoor air, removing toxins such as toluene and xylene. Plus, leafy green plants improve your mood and reduce stress.
ENJOY LIVING HOME DÉCOR: Boston Fern is a voluptuous, easy-care fern that grows well indoors as well as on porches and patios. Its arching branches covered with soft, emerald-green fronds ship at min. of 20-in. tall. Keep for yourself or give as a gift!
The Boston fern was the most effective plant at removing Formaldehyde and removed significantly more per hour than the rest of plants examined.
Studies have also shown that the Boston fern will also eliminate heavy metals, such as mercury and arsenic from the soil.
5.

Rubber Plant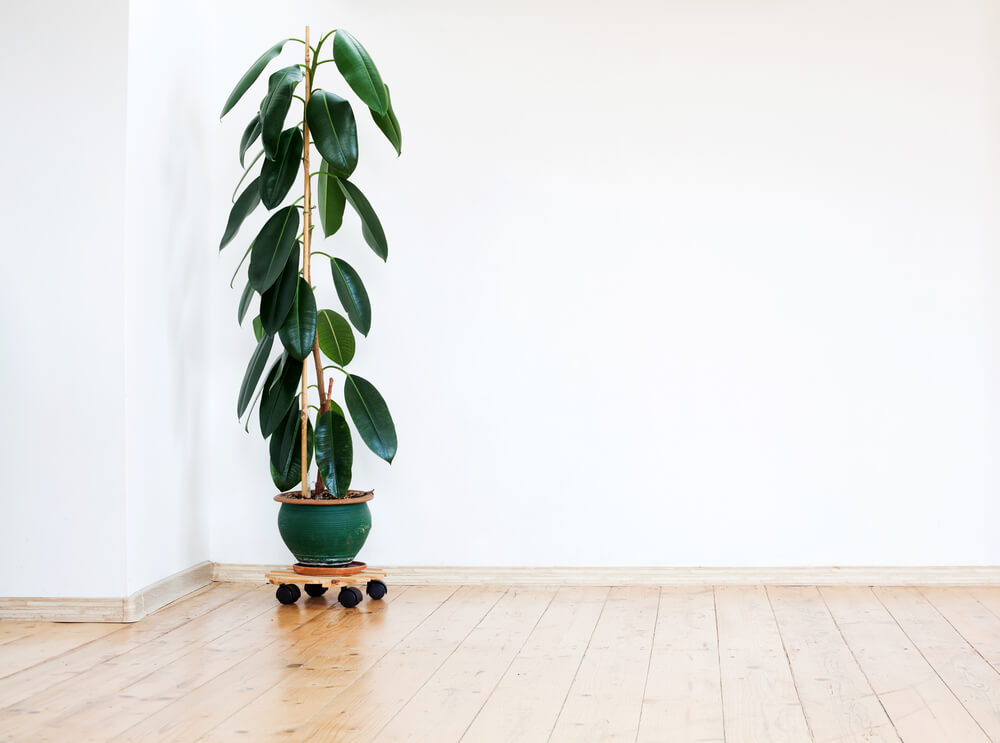 This rubber house plant (Ficus robusta) has been mentioned as one of the leading Twenty plants by Doctor. B.C. "Bill" Wolverton's "50 Houseplants That Purify Your Home Or Office." This rubber house plant provides moisture, eliminates bio effluents, takes away volatile organic compounds as well as suppresses air based microorganisms as soon as it's put into a room
As time passes this rubber plant will become much more skilled at eliminating toxic compounds present in the air. Bacteria within the rubber plants leaves break up the toxins and also feast on them. The procedure subsequently emits clean air in to the surrounding environment. Since the plant grows, these microorganisms increase.
This increased number of bacteria assist the rubber house plant in becoming progressively more effective at extracting further toxic compounds from the air.
6.

Janet Craig – Dracaena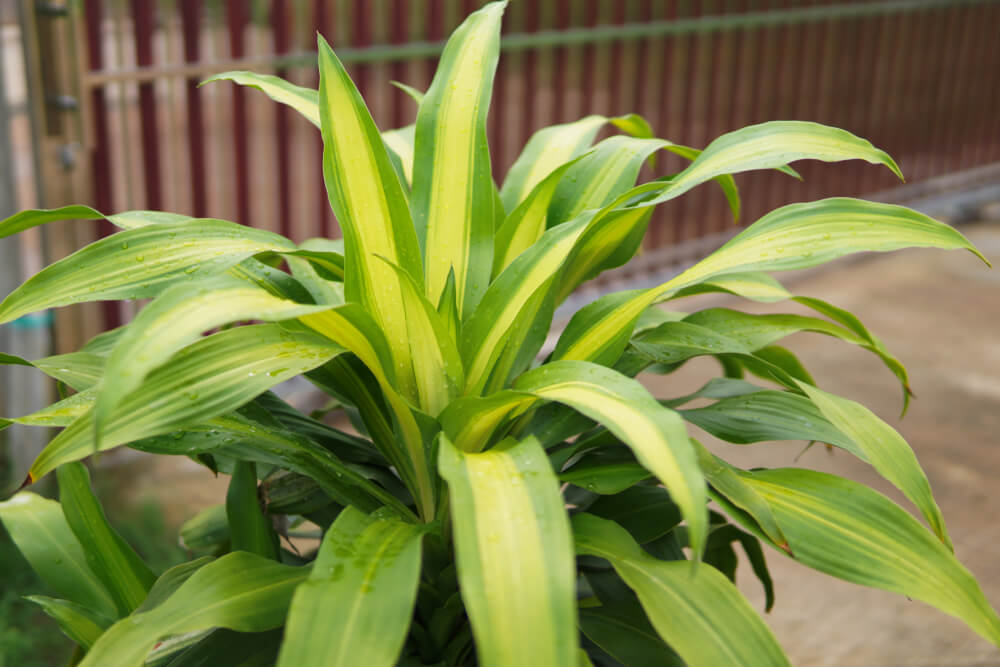 No products found.
The Dracaena (or Dracaena deremensis) places fifth on NASA's ranking with a 7.8 score. According to data it can remove Formaldehyde, at a rate of 1,328 micrograms per hour. It also removes Xylene, at a rate of 154 micrograms per hour according to http://www.earthwitchery.com/pollution.html
Recommended Placement in Home: These are especially effective in newly carpeted or newly furnished rooms were formaldehyde levels are at the highest.
Tips to keep this plant healthy:
Favours vibrant light, although not direct sunlight.
Water completely through early spring through the winter season and allow the plant's soil to dry out in between watering
7.

English Ivy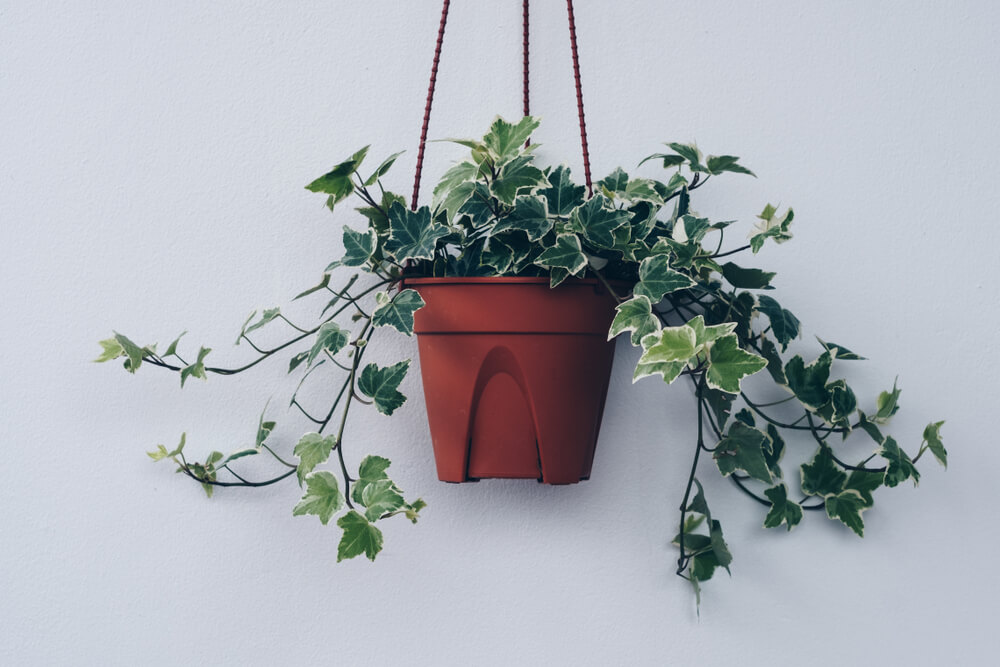 American Plant Exchange Easy Care English Ivy California Trailing Vine Live Plant, 6" Pot, Indoor/Outdoor Air Purifier
The English ivy plant is a classic, fan-shaped, Silver green ivy.
Makes a wonderful, bright light houseplant. It will grow long and lush, bringing a bit of the outdoors inside.
Easy to grow, self-clinging vine that is great for baskets, containers, climbing walls, as a ground-cover, enhancing container plantings and spilling over planter boxes.
English ivy helps in reducing indoor air pollution and certain allergens from the house like molds and other fungus growth. It also removes airborne fecal matter from pets and formaldehyde from household cleaning products.
If your air flow in your geographical area has got stagnant and dried out, English ivy (also known as Hedera helix) may be just the solution! WebMD.com talks about this effervescent house plant as "a solution for allergic reactions" observing that sixty percent of air based mold within the space was removed after just six hrs right after English ivy had been introduced.
People that have allergies, asthma, or even the desire to inhale cleaner, more fresh air might be wise to give this English ivy plant a shot!
8.

Date Palm Tree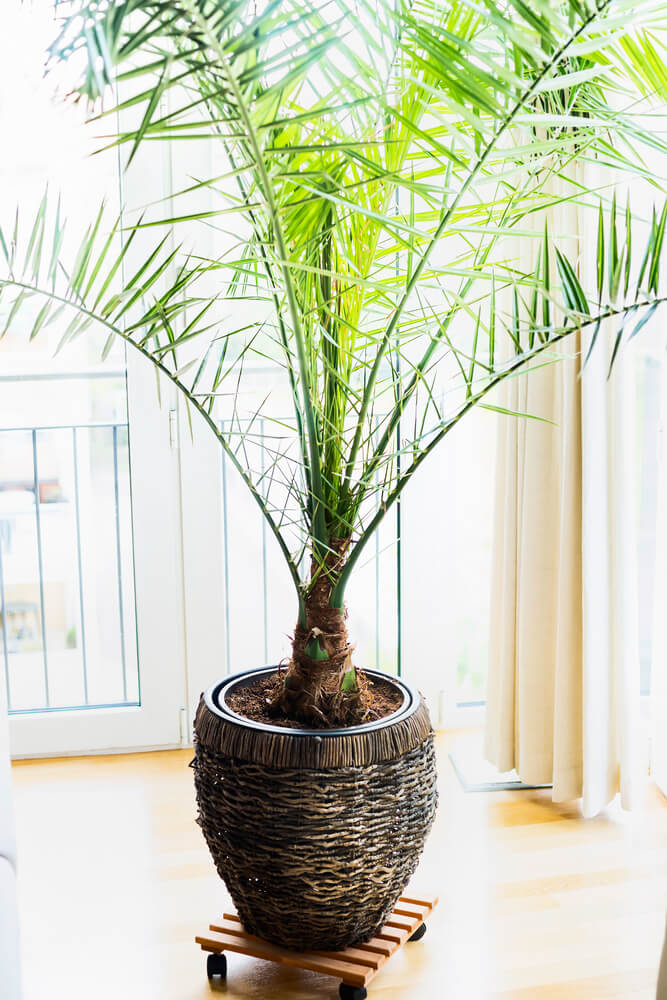 Although it does not position at the top of the purifying scale when compared to it's three palm relatives, make no mistake: this Date palm house plant (also known as Phoenix roebelinii) remains an extremely efficient and stylish looking method to both cheer up the design of an area and reduce the content level of volatile organic compounds floating all over the air.
The Date house plant is very effective at getting rid of formaldehyde thus works great in combination with other purifier plants (has the second highest removal rate after the fern plant.)
9.

Ficus Alii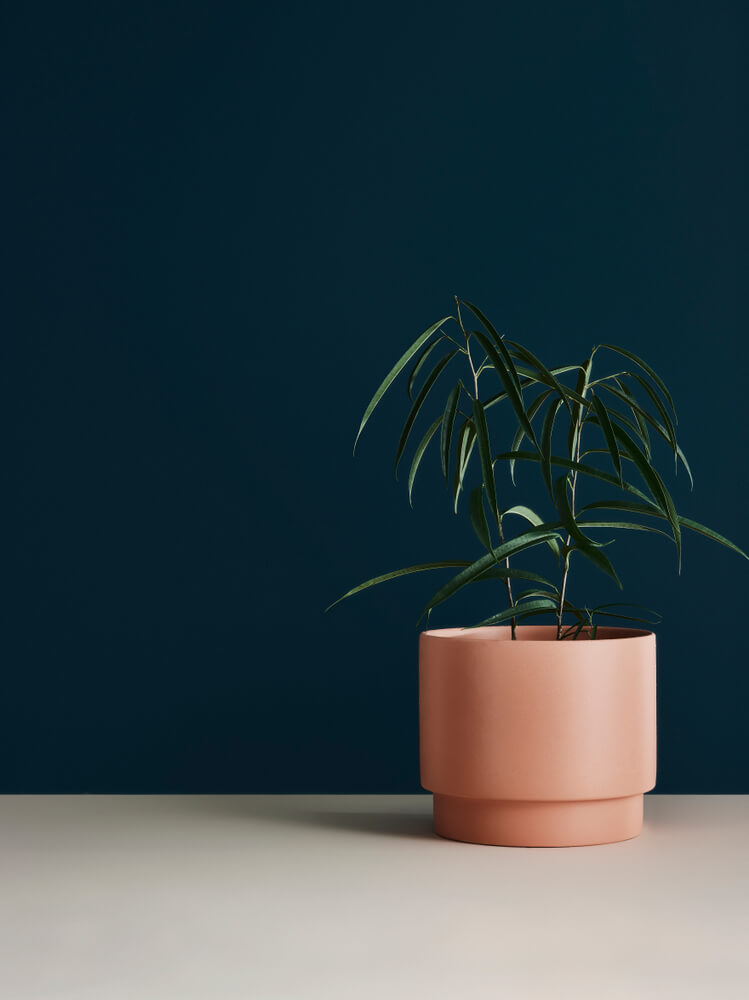 Brighter Blooms - Benjamina Ficus Tree - Unique Potted Tree, Perfect as a Patio Plant or Indoor Tree (2-3 ft.)
NO SHIPPING TO ARIZONA - Benjamina Ficus Tree cannot be shipped to AZ due to federal restrictions. If you live in Arizona and order this tree, your order will be cancelled.
PERFECT SIZE FOR INSTANT BRIGHT FOLIAGE AND COLOR - Benjamina Ficus Tree will not be mature on arrival, but it will instantly adorn any landscape with a refreshing dash of bright foliage!
DELIVERY - Your ficus trees may arrive a little more dry than you expected. Please unpack them and give them a healthy drink. They should perk right back up. If you have any questions or concerns, please contact us immediately.
GROWING DIRECTIONS - Upon arrival, your new Benjamina Ficus Tree will benefit from a healthy drink of water, and continue to water regularly 2-3 times a week.
HAPPY AND HEALTHY GUARANTEE - If for any reason you are not completely satisfied with your Benjamina Ficus Tree or with our service, please notify us immediately or within 30 days of receipt. We will correct the situation to your satisfaction.
This ficus alii (also known as the Ficus macleilandii) isn't as strong in it's pollutant-removing effectiveness as, say, a rubber plant, however it remains an excellent addition to any kind of office or home wherever clear air is missing. Although they aren't terribly difficult to look after, PlantCareGuru.com alerts to us that hand protection ought to be used whilst dealing with the house plant for those who have latex allergic reactions.
10.

Peace Lilly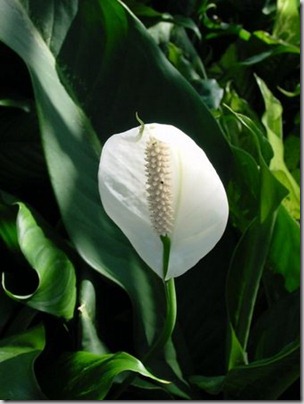 The Peace Lily (also known as Spathiphyllum sp.) is a perfect air purifier plant for those who don't have green fingers. Peace Lilies are often found in malls because they are so easy to grow.
If you scared you might kill your new house plant then I recommend you go for this one.
11.

Aloe Vera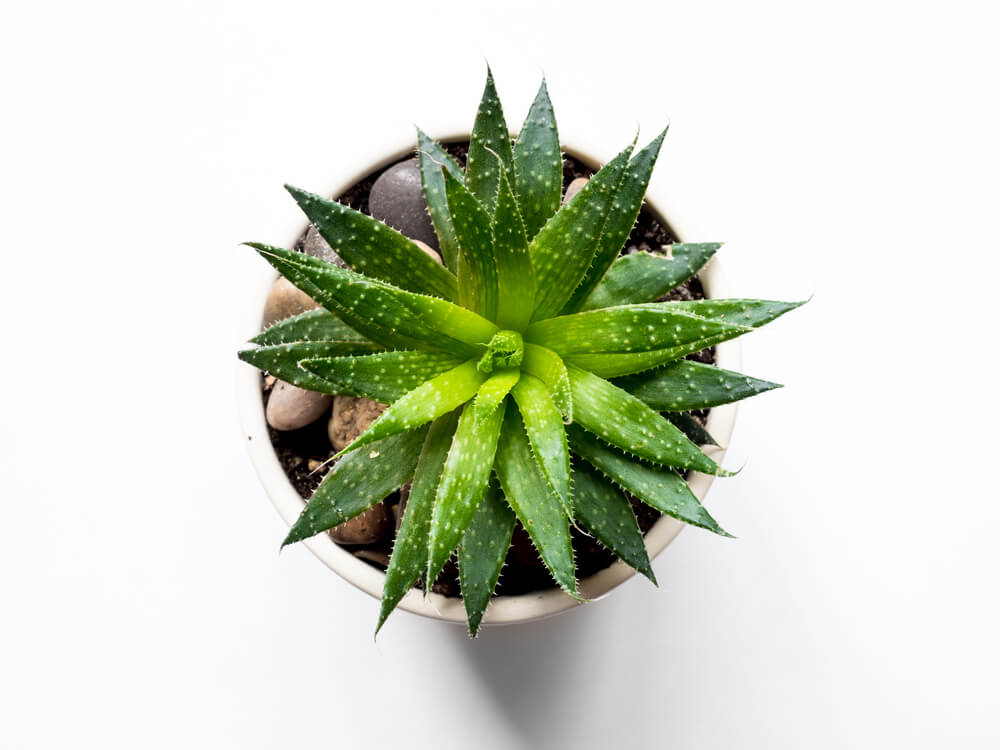 Sale
Costa Farms Aloe Vera, Live Indoor Plant, 10 to 12-Inches Tall, Ships in Grow Pot, 2-Pack, Fresh From Our Farm
Is this a gift? Please choose "this is a gift" At check out to add a personalized message
The Aloe Vera plant is known for its cool Gel inside of its thick, toothed leaves
Great addition to modern and contemporary decor; Perfect for desks, tabletops, credenza cabinets, and more
These sun-lovers grow best in a sunny window. Drought tolerant, only needs water once every two to three weeks
Height at shipping is approximately 10 Inches tall, measured from the bottom of the pot to the top of the plant
Aloe vera was proven to be a lot more effective at the elimination of formaldehyde at lesser concentrations when compared with Philodendrons. Aloe vera is likewise famous as being a healing plant acknowledged for its therapeutic qualities, giving it the majority of its nicknames.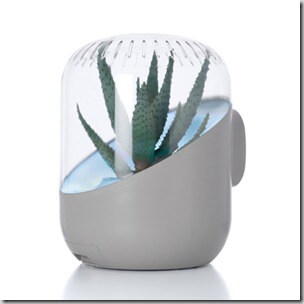 The Aloe house plant was also used in the initial photography used for the Andrea plant air purifier – probably due to the plants purification properties.
12.

Spider Plants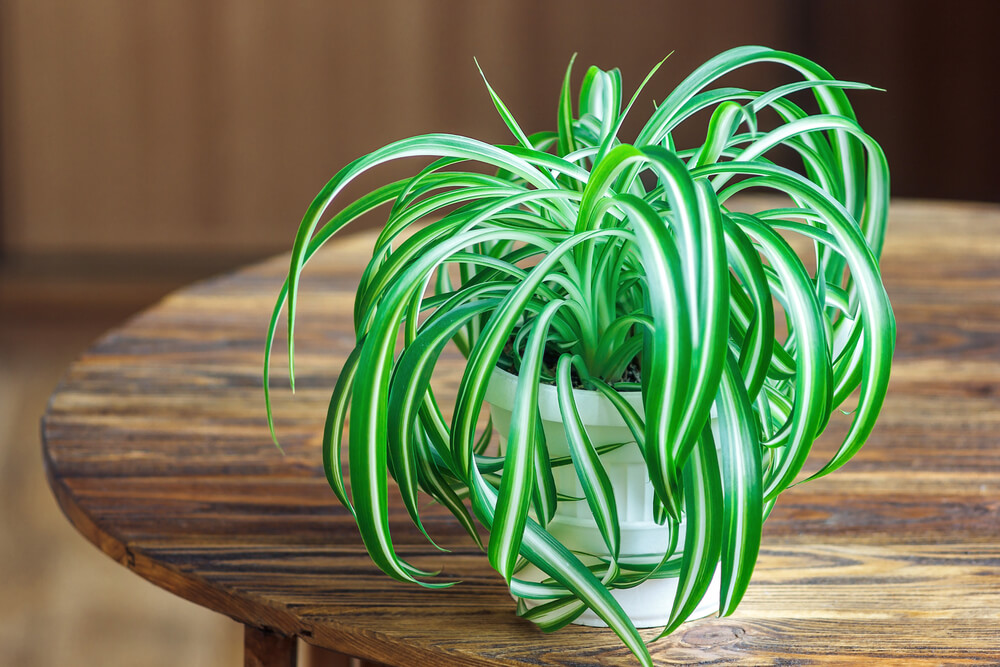 The spider plant was used by Dr Wolverton in his 1985 study that examined the plant's removal of carbon monoxide and nitrogen dioxide. In a room with many spider plants, the amount of carbon monoxide and nitrogen dioxide dropped to near zero after only 24 hours.
13.

Chrysanthemum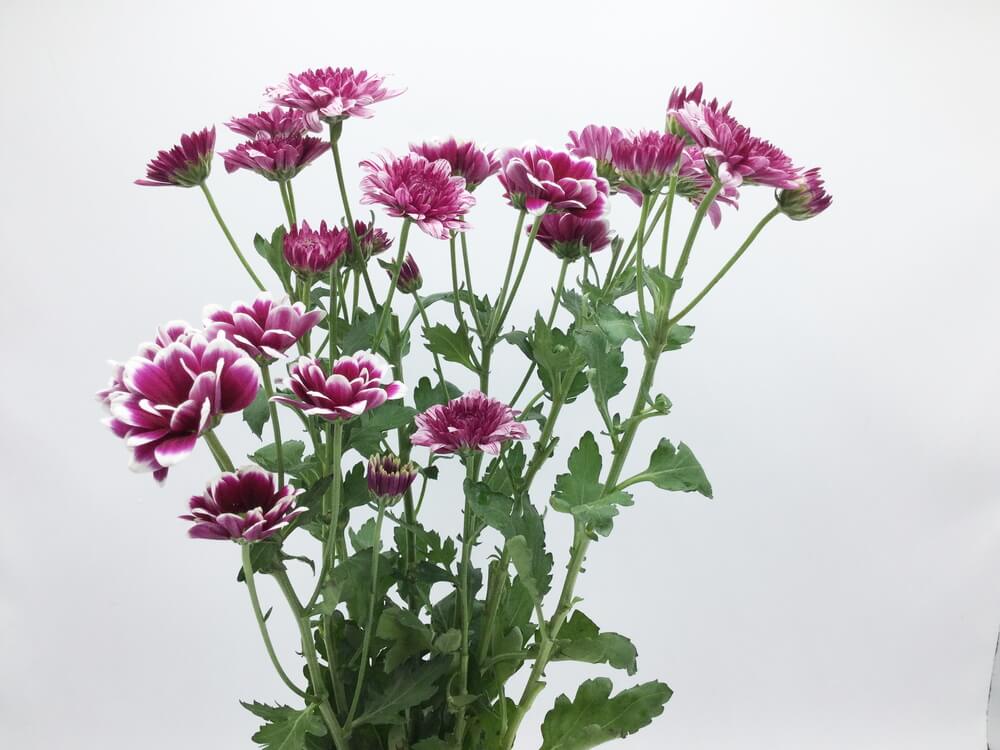 This particularly attractive house plant was shown to be effective at removing the VOC compound – benzene which has been known to cause cancer.
Many tobacco products contain high levels of benzene so it would be helpful to have one of these plants in a smoking household. However no house plant can ever negate the effects of tobacco smoke.
Remember to be careful with Chrysanthemum as it is poisonous when ingested or with prolonged skin exposure.
14.

Heart leaf philodendron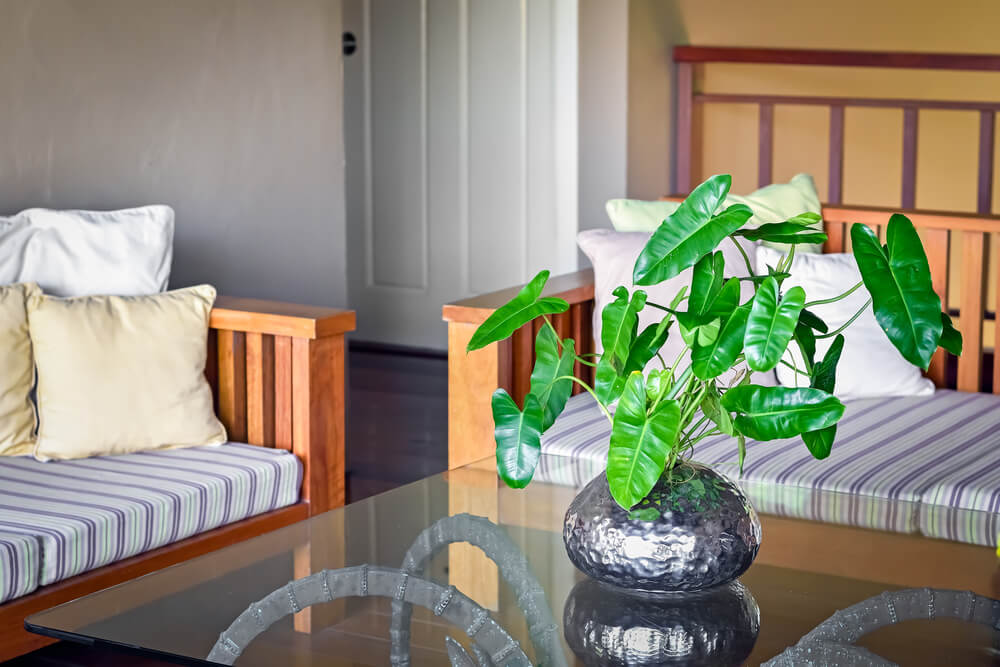 The N.A.S.A. study showed that the Philodendron house plant was one of the best house plant for elimination formaldehyde from the surrounding air, especially when working with higher concentrations.
15.

Snake Plants or Mother of Law Tongue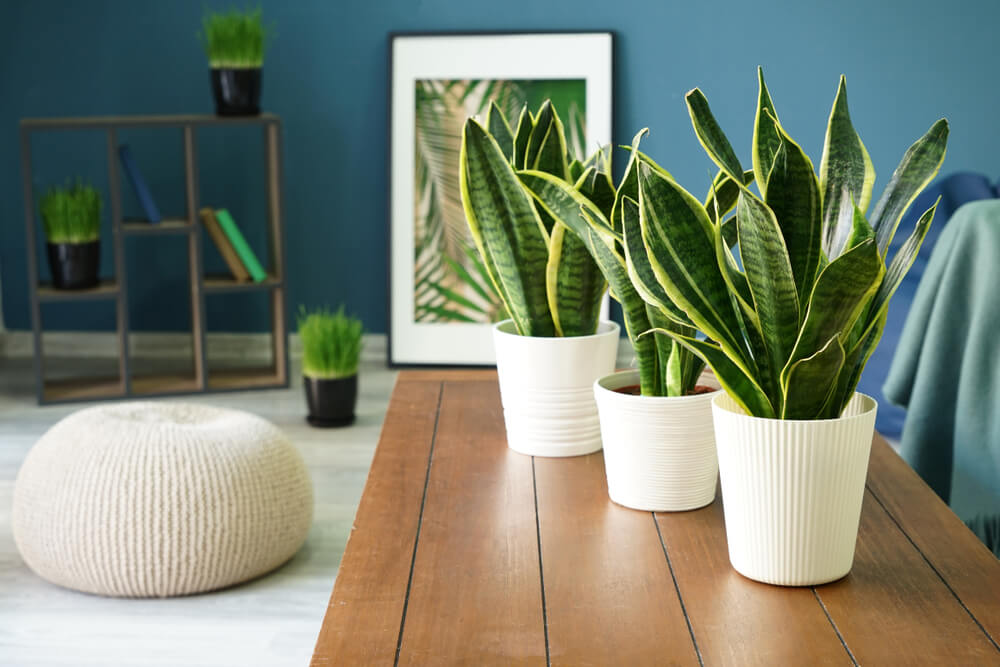 Snake Plant, Mother-In-Law's Tongue - Sanseveria - 6" Pot/unique-from jmbamboo
10-12'' inch live plant.Extremely hardy house plant, difficult to kill
Commonly called Snake Plants or Mother-in-law's Tongue
In China, it was kept as a treasured houseplant because the Eight Gods bestowed their eight virtues on those who grew them
Will grow in dime light, water when dry
The plant you will receive is growing in a 6" pot
Snake house plants — these types of plants tend to be incredible growers and also extremely tough. They're excellent at eliminating the majority of toxins plus they are quite happy to grow in areas where other plants may decline and perish ( say for example a hot window ledge). Also, they are great bathroom and darker area plants.
16. Sago Palm Air Purifier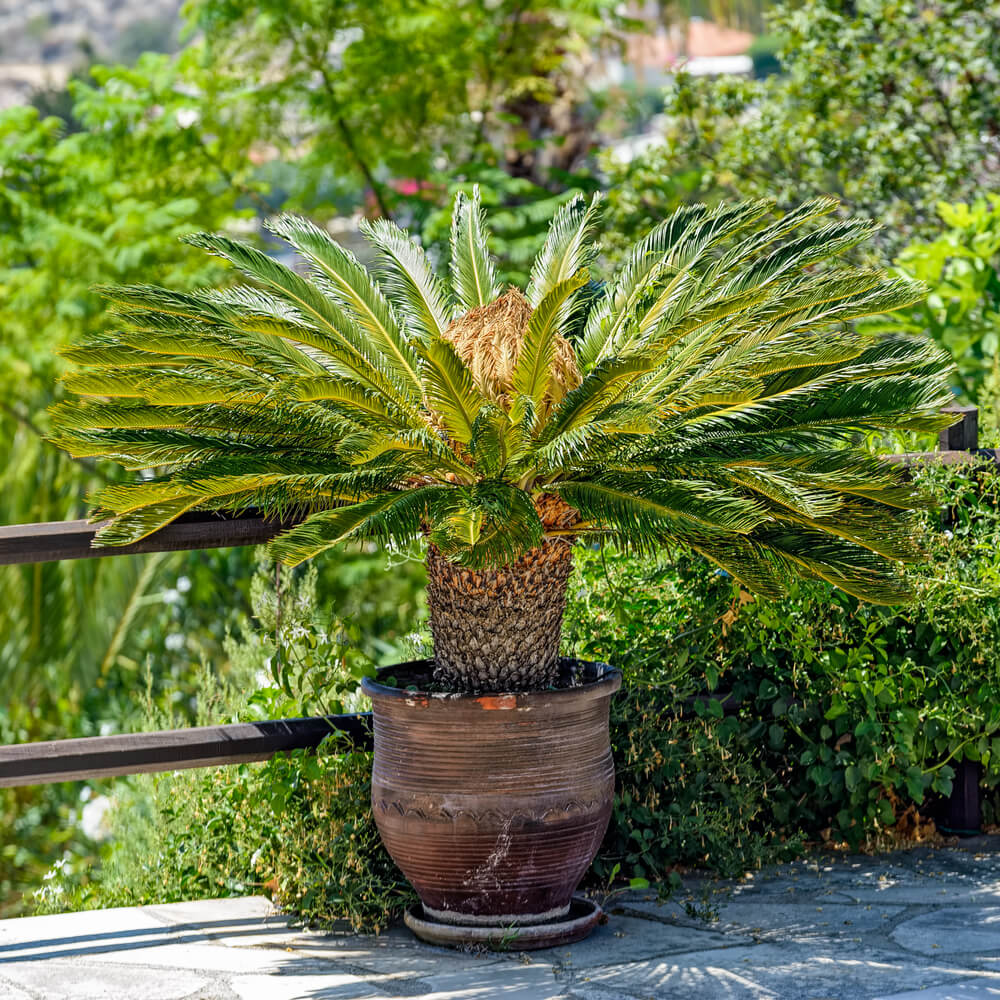 Snake Plant, Mother-In-Law's Tongue - Sanseveria - 6" Pot/unique-from jmbamboo
10-12'' inch live plant.Extremely hardy house plant, difficult to kill
Commonly called Snake Plants or Mother-in-law's Tongue
In China, it was kept as a treasured houseplant because the Eight Gods bestowed their eight virtues on those who grew them
Will grow in dime light, water when dry
The plant you will receive is growing in a 6" pot
There is a large number of air-purifying palms on this list for good reason and the sago palm was a great plant for cleaning the air.
One Final Point:
Make sure to Maintain your house plants in a good condition and make sure you have enough of them. The NASA research advised that there should be a six inch plant for every 100 sq feet of interior living space
Update from author "it's not true to say that house plants can clean the air":
Last update on 2023-02-07 / Affiliate links / Images from Amazon Product Advertising API