Our verdict:
There are a lot of factors that impact the effectiveness of an air purifier, including its power, condition, CADR rating and the room it's placed in. 
Usually, cleaning a mid-sized living area takes the average purifier about 45 minutes to 3 hours. But you can also do a few things to increase the efficiency of your purifier and clean the air more quickly.
Making sure you purchase the correct purifier for your space and needs, regularly maintaining the device and keeping the surrounding area clear of obstacles will all go a long way in creating a better environment at home.
As air pollution has risen steadily in recent years, more and more people have been searching for a way to keep the air in their homes clean. Polluted air can lead to severe health issues and worsen conditions such as chronic obstructive pulmonary disease (COPD), asthma and allergies.
For these reasons, getting the right air purifier for you is incredibly important. There's no point in spending money on a machine if it doesn't have the right tools for the job. So, in this article, we'll cover all the factors that might slow down your air purifier's progress and what you can do to tackle them effectively.
The Faster Air Purifiers We Tested Can Clean a Room in Under 15 Minutes
Last year, we tested 40 different air purifiers in our home lab by filling up the room with incense smoke and tracking how quickly pollutants are removed with the help of an air quality monitor. To give you an idea of how long it usually takes for an air purifier to clean a room, check out the fastest air purifiers compared to the average we've seen across all units we have tested here at HouseFresh:
6 Key Factors That Will Influence How Long It Takes an Air Purifier to Clean Your Room
1. The size of your room
Most purifiers will have an ideal, recommended room size. This is typically measured in square feet (sq ft).
Instructions:
To determine your room's size, you must multiply its length, width and height. This will tell you how many cubic feet your space contains or how much air the purifier would need to clean.
A purifier made for a bigger space will generally have bigger, more powerful fans and ventilation equipment. On the other hand, having a purifier rated for a smaller space will result in lower efficiency. 
Even with the correct purifier for your space, small rooms will likely be cleaned faster than large ones. This can be sped up even more by ensuring all doors and windows are closed.
Most purifiers are rated for a specific room size, often measured in factors of:
🏠 Small = 100 – 250 sq. ft.
🏠 Medium = 250 – 400 sq. ft.
🏠 Large = 400-600 sq. ft.
🏠 Very large = 600-1000 sq. ft.
Pro Tip: If you are very sensitive to pollutants or have conditions such as COPD or asthma, you may want to purchase a purifier rated for a bigger space than you need. Doing so will provide a quicker, more thorough final clean.
2. The purifying power of the unit (ACH rating)
To find out the power of a purifier, look for its ACH rating. This is the rate of Air Changes Per Hour, or how often a room's air is cycled through the machine. Remember that most purifiers are marketed based on their highest power settings. When you turn the power down, you probably won't get the results claimed on the box.
Three cycles an hour is the average rate, which is acceptable (but only just). We recommend avoiding any purifiers that have an ACH lower than this. A good purifier should cycle a room's air every 12 to 15 minutes or four to five times per hour.
A higher ACH will be necessary to keep the air clean in spaces where people and pets spend a lot of time.
Pro Tip: By placing your purifier right next to the source of a pollutant (such as by a pet's favorite sleeping spot or the place someone smokes), you can better filter out these particulates before they enter the main space.
3. The level of pollutants in the air
If your home has a very high amount of particulates due to smoking, pets, or other sources, the environment will take longer to purify. This is because more cycles will be required before the air is properly filtered.
If the air outside your home is also heavily polluted, it may help to close your windows and doors where possible to prevent more toxins from entering your house.
Remember: Colder weather means denser air, which means your purifier may take longer to clean the same room than in summer.
4. The air purifier's CADR rating
The CADR stands for Clean Air Delivery Rate and measures how much air a purifier can push through its filters. CADR is extremely helpful as it's a standardized measurement that uses the same test protocol for each machine, providing an accurate idea of how effectively it will work and how long it will take to clear your space.
Machines are tested using tobacco smoke, dust and pollen. The higher the CADR score, the more effectively the device cleans these substances. We recommend a minimum CADR score of 300 CFM to clean your room quickly and efficiently.
Fact: CADR is only measured on certain substances (pollen, smoke, and dust). It is not a measurement of purifier efficiency when dealing with other pollutants, such as viruses, which may behave differently.
5. Whether you're maintaining the unit properly
Performing regular maintenance is an essential part of keeping your purifier effective.
The most important consideration is to make sure to change your filters regularly. For HEPA filters, the ideal duration between replacements is six months to a year. We recommend cleaning reusable filters every month.
Clogged or damaged filters just won't work either and will lead to your purifier taking longer to clean your lying space. They'll also make your purifier work harder and consume more power.
Most purifiers will come with manufacturer guidelines on when and how to perform regular maintenance, so be sure to check them.
Pro Tip: Make sure to wipe down the vents of your machine with a microfiber cloth at least once a month.
6. Whether you're blocking the unit with furnishings
The layout of your room can have a major impact on how quickly your purifier cleans the air. It's vital to ensure that no furniture, walls, or other items block the vents of your device. Note where they are on your purifier and ensure they have plenty of space to draw air in and out.
Elevating them using a countertop or table may also be a good idea for smaller units. There should be about 2 ft of space between your purifier's vents and any obstacles.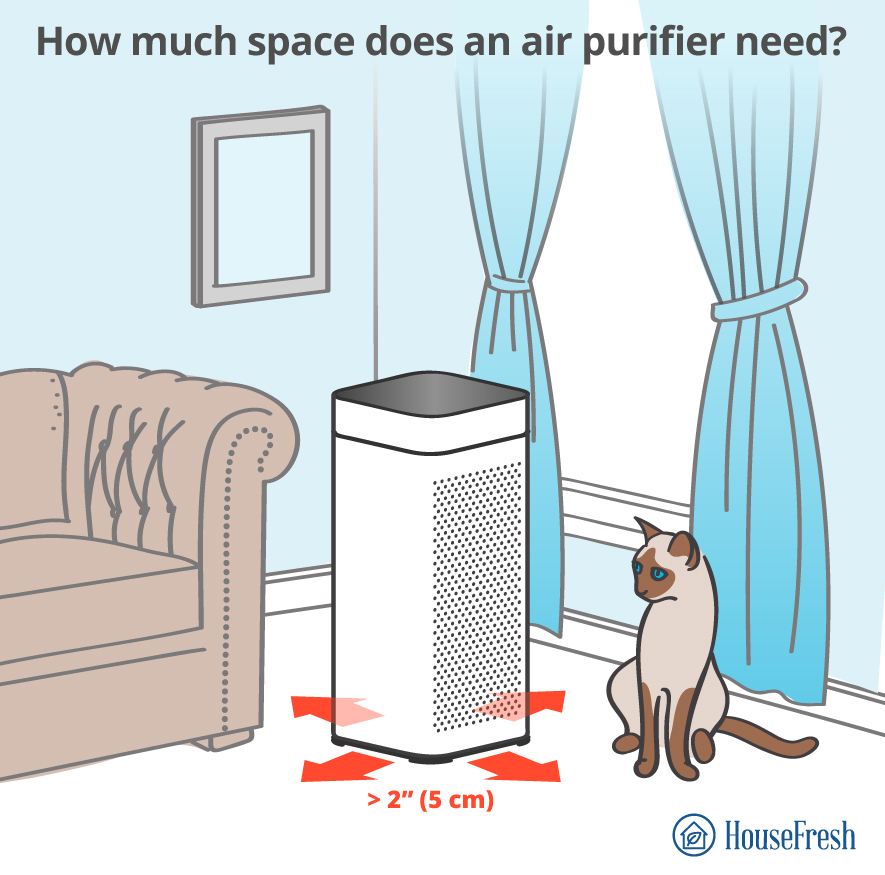 Pro Tip: Avoid placing your purifier near electronic devices that may interfere with its wavelengths.
Top 3 High CADR Air Purifiers
We test every air purifier we recommend in our house. In truth, that's the only way to find out how well they perform. So, never trust a "best air purifier" list that hasn't put every unit through its paces. Here are our top picks for high CADR air purifiers:
Best Overall
Best Overall
Best Budget Option
Best Budget Option
Best for Large Spaces
Best for Large Spaces
Style
Pros
Whisper quiet mode and particle filter included
Great value for such a high output of CADR
The HEPA filter lasts up to 1.5 - 2 years
Cons
No Smart Sensor or air quality sensor
Air quality sensor could be more accurate
The high-powered performance means it's a little louder than other units
Filter Technology
HEPASilent™ technology (electrostatic filtration with HEPA and Activated Charcoal)
Best Overall
Style
Pros
Whisper quiet mode and particle filter included
Cons
No Smart Sensor or air quality sensor
Filter Technology
HEPASilent™ technology (electrostatic filtration with HEPA and Activated Charcoal)
Best Budget Option
Style
Pros
Great value for such a high output of CADR
Cons
Air quality sensor could be more accurate
Best for Large Spaces
Style
Pros
The HEPA filter lasts up to 1.5 - 2 years
Cons
The high-powered performance means it's a little louder than other units
Conclusion
As you can see, there's a lot to keep in mind when choosing and setting up your new air purifier.
Each of these factors will make a difference to your purifier's efficacy and cleaning speed — ultimately affecting the final quality of the air in your home.
If you want to get the most out of your device, we recommend keeping the tips above in mind! They'll ensure your purifier operates at its maximum potential and you get the best possible results.
We hope this article will help you create a safer and healthier environment for yourself and your family.
Last update on 2023-09-17 / Affiliate links / Images from Amazon Product Advertising API