The Kenmore Envirosense 85500 is recommended for rooms up to 280 square feet. It has a Clean Air Delivery Rate, or CADR, of about 185. While there are in-depth explanations of the CADR, one straightforward rule of thumb is that the CADR number should be at least two-thirds of the square footage of the room you want to put it in. So, with its CADR of 185, it could be used in a room of around 275 square feet, which is pretty close to the 280 square feet recommended.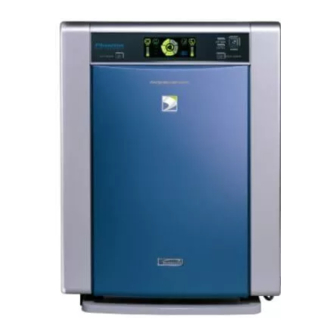 It has a five-stage cleaning system with a washable pre-filter and a high-efficiency particulate air (HEPA) filter. This four-speed machine alerts you when the filter needs changing and it has a remote control. The slowest speed is quiet, and the unit measures 21.7 x 16.3 x 8.5 inches. It weighs about 15 lbs.
The Envirosense 85500 contains a nano-silver filter, which became extremely popular in Asia after the SARS outbreak in 2004. The antibacterial and anti-fungal filter has been shown to reduce the number of airborne viruses. Kenmore was one of the first to market this technology in the U.S. It senses the level of particles and odors in the air and adjusts its fan speed accordingly, which is a nice touch.
This air purifier earned Energy Star status, with a 2.8 dust CADR per watt rating, meaning it uses about 66 watts. The documentation does not specify how often to change the filters. Online customer reviews have indicated one year, but the Sharp air purifier that appears to be this machine's clone indicates a five-year life for the filter, so there may be some trial and error involved in figuring it out.
Complaints about the Kenmore Envirosense 85500 generally have less to do with the machine itself and more to do with Sears' customer service, whether the air purifier was purchased online or in bricks and mortar Sears store. So you're not likely to have too many problems with the purifier itself, but if you do, you will have to deal with Sears and its reputation for non-stellar customer service.
The Kenmore Envirosense 85500 is almost identical to models made by Sharp and Whirlpool, particularly the Sharp Plasmacluster FP-N60CX. Sharp's Plasmacluster series is the top seller in Japan and has become popular in the U.S. too. Overall it is a good machine, but customers may want to choose based on Sharp's customer service versus Sears.
As of 2023, this purifier has been discontinued and is no longer available for sale. However, you can still find filters for the Kenmore 85500 at Amazon:
True HEPA Air Cleaner Filter Replacement Cartridge 85510 Compatible with Kenmore EnviroSense 85500 Air Cleaner by LifeSupplyUSA (3-Pack)
GREAT VALUE: This is a True HEPA air filter replacement comparable to Kenmore part 85510, to help effectively filter airborne particles for healthier living.
TRUE HEPA FILTER: "High-Efficiency Particulate Air" (HEPA) replacement will filter very fine airborne elements such as smoke, dust, pet dander and fabric fibers.
USED BY PROFESSIONALS: LifeSupplyUSA air cleaner replacement filters are made to be durable & efficient for months. Ensure the maximum airflow supply volume & protect your device.
COMPATIBILITY: Compatible with Kenmore EnviroSense 85500 Air Cleaner.
SIMPLE TO INSTALL: Installation of filter for air cleaner is easy; no tools required. Simply remove and replace from your unit when needed. For maximum efficiency, it is recommended to replace every 12 months (dependent on air quality and use).
If you are looking for a replacement for your Kenmore 85550, I suggest checking out our list of what we think is the best air purifier as of 2023.
Last update on 2023-09-23 / Affiliate links / Images from Amazon Product Advertising API