Plug-in air purifiers are a portable and practical choice for people who want to avoid inhaling pollutants and enjoy the luxury of fresh, clean air. Compact, effective, and economical, there are many models currently available on the market.

Plug-in air purifiers are great for:
Saving energy – Plug-in air purifiers are more energy-efficient, with some of the smaller units needing only 3-8 watts to work.
Saving space – Plug-in models will save space on your counter, floor, or table because the device can connect directly to a power outlet.
Strong performance – For smaller spaces and rooms, these devices can effectively eliminate a variety of air pollutants depending on the model. Trying to use them for larger areas might not be as effective, of course.
Great for travelers – Plug-in purifiers can help keep your mind at ease wherever you go. Portable and compact, you can take these devices in your bag or purse and put them to work at hotels, Airbnb's, and other locations.
Having a plug-in model in your bathroom or a home office is an excellent option if you have a standalone unit in your living room or kitchen.
The CADR rating is important. This measures the effectiveness of your purifier's filter and how much air can move through it. All products that we have chosen for our list include HEPA filtration technology. HEPA traps microscopic matter, bacteria, and undesirable odors. Our favorite model for smaller rooms is the HomeZens Portable Plug-In Air Purifier, whereas larger rooms can benefit from the Winix 5300-2 model.
We use consumer report analysis so you can decide which unit will work best for your individual needs. By evaluating real user experiences, we have revealed six of the best models for reducing contaminants in small and large spaces.
The GermGuardian Pluggable Air Purifier & Sanitizer is a multi-functional device that you can plug into just about any room where you have an outlet. This compact air purifier stands at around seven inches and is ideal for smaller areas such as a child's bedroom, laundry room, bathroom, or a pet zone.
It is designed to reduce unwanted household odors, featuring a UV-C light bulb to eliminate some airborne viruses and germs. This also works along with Titanium Dioxide to help cut down on volatile organic compounds. There is minimal maintenance needed besides changing the bulb.
Purifier Technology: UV-C
Room Size Suitability: 100 sq. ft.
Filter Life: 10 to 12 months
What we love:
Handles tough odors well
Easy to replace the UV-C light bulb
Able to plug in at different directions
Good portability
We don't like this as much:
Unable to turn off the lights
Noticeable fan noise
The Therapure TPP50 Ionic Pro, designed for small-sized rooms, is an energy-efficient purifier that freshens and sanitizes the air. There are many notable features included with the device, such as a washable filter to eliminate common allergens and pet odors. The UV-C light removes most viruses, bacteria, and germs that might linger in the air.
With its powerful internal fan, it is able to circulate the air at a fast, steady pace. Consequently, it can cover small rooms like kitchens in a very short period of time. It is available in either black or white and features a stylish design.
Purifier Technology: UV-C
Room Size Suitability: 100 sq. ft.
Filter Life: 10 to 12 months
What we love:
Works well at reducing smoke
Doesn't make too much noise
Sits flush to the wall
Simple to wipe clean
We don't like this as much:
Takes up both outlets
A UV light switch to turn it off would be nice
The GermGuardian GG1100B is a straightforward plug-in air purifier that slots in only at a vertical angle. At seven inches, it works best in small rooms like bathrooms and laundry areas but can also help control pet odors and cooking fumes, as well as reducing smoke accumulation in the air.
There is a UV-C light that will kill some of the airborne germs, viruses, bacteria, and even mold and mildew. This light functions in tandem with Titanium Dioxide for handling volatile organic compounds, further confirming how versatile this plug-in purifier is in its performance.
Purifier Technology: UV-C
Room Size Suitability: 100 sq. ft.
Filter Life: 10 to 12 months
What we love:
Soft blue light is unobtrusive
UV-C light bulb lasts for a long time
Eliminates odors fast
Low noise output
We don't like this as much:
Appears top-heavy and might tilt out of the outlet
Can seem a bit bulky
The HomeZens Portable Plug-In Air Purifier stands at around seven inches for great portability, allowing easy relocation of the device around the house or quick packing for traveling when spending nights away from home. It has a 180-degree rotatable connection, so it can be plugged in at various angles if you need more space.
This unit is meant to give total protection to small spaces as the UV-C light works to penetrate those hard-to-reach corners of the room. It can help make airborne germs and viruses inactive while also killing up to 99.99% of them.
Purifier Technology: UV-C
Room Size Suitability: 110 sq. ft.
Noise Level: 45 dB
What we love:
Simple and quick to set up
Quality UV-C that lasts a long time
Easy to clean and replace the bulb
Doesn't make too much noise
We don't like this as much:
The fan could move more air
Can take up the whole outlet
The Belita Amy Plug-In Air Purifier is a mini air purifier that is convenient for travel and home use. This near noiseless device is an economical choice that can keep the air fresher by reducing pet and cooking odors, as well as household smells in bathrooms and laundry rooms.
As for how it works, it features anion filtration as well as four carbon fiber brush heads. The ionizer will ensure that the charged particles form heavier compounds that collect on surfaces and can subsequently be easily wiped off. It simply needs to be plugged into a standard socket to start clearing the air in your target area.
Purifier Technology: n/a
Room Size Suitability: 40 m2 to 60 m2
Noise Level: 20 dB
What we love:
Quiet and ideal for use in bedrooms
Sleek and compact
Efficient performance
User-friendly design
We don't like this as much:
Could perform better in controlling smoke
More fan power would have been welcome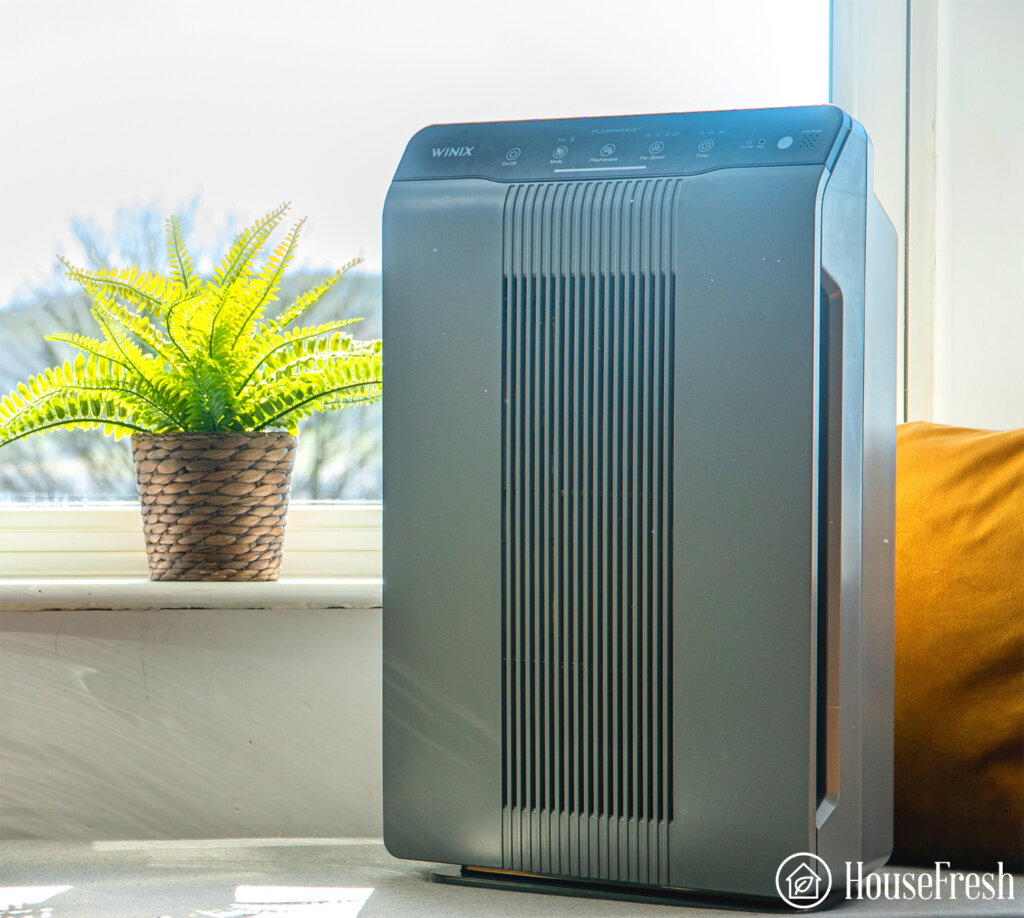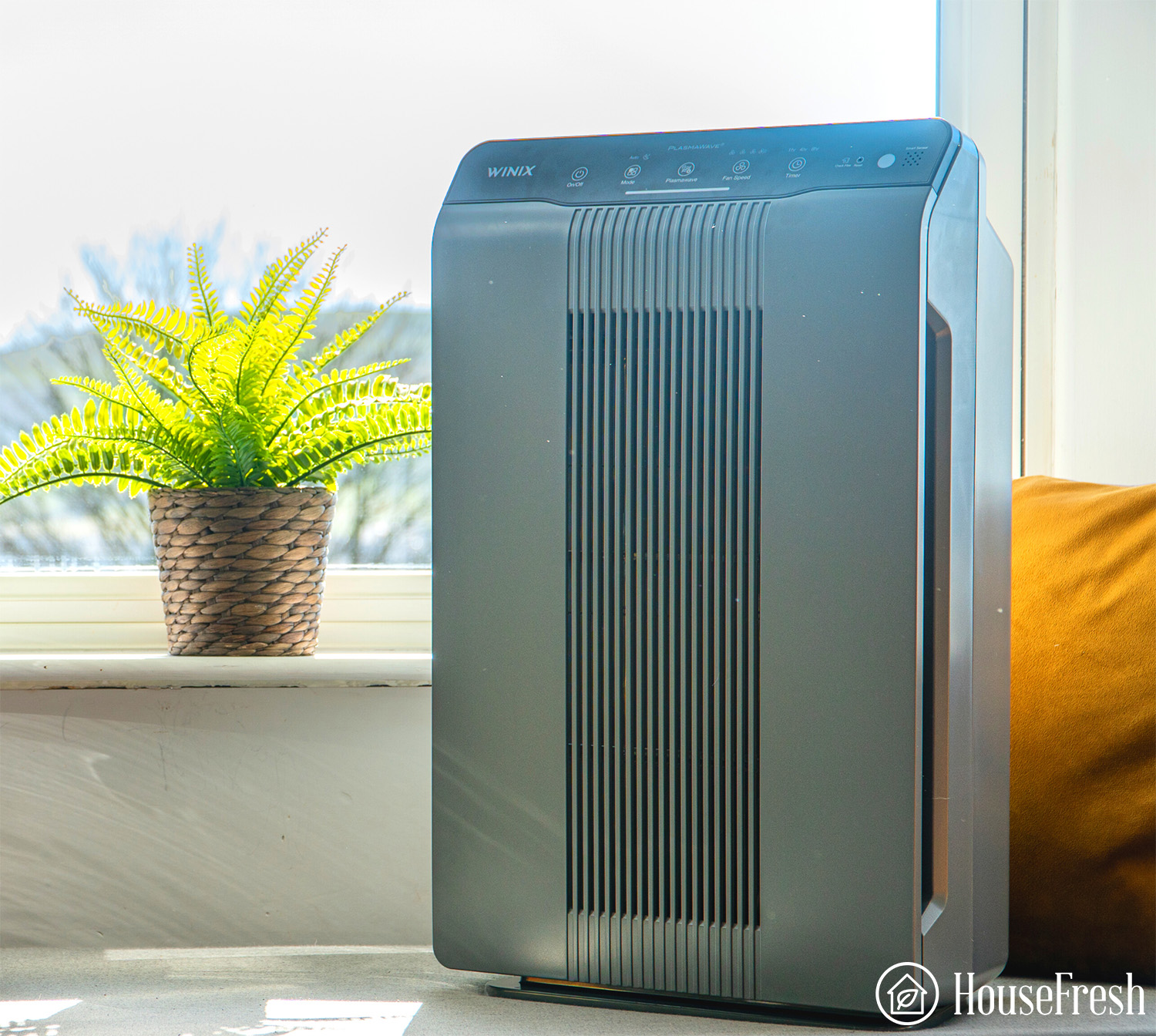 Winix 5300-2 Air Purifier isn't as portable as common plug-in air purifiers, but it is the go-to choice if you still want to save space and purify average to larger-sized rooms. It has a True HEPA filter captures 99.97% of airborne pollutants, including pollen, dust mites, and pet dander.
There are three cleaning stages, and with its smart mode and auto mode settings, the unit can detect air quality and automatically adjust the fan speeds as needed. Apart from handling airborne particles, the unit will also take care of odors and chemical compounds via the intelligent use of its activated carbon filter.
Purifier Technology: HEPA
Room Size Suitability: 360 sq. ft.
Filter Life: 1 year
Noise Level: 28 dB
What we love:
Strong airflow
Minimal noise on lower fan speeds
Fast set-up process
The effortless filter replacement procedure
We don't like this as much:
Increased fan speed variety would have been appreciated
A more sensitive air quality sensor would improve the unit
FAQs About Plug-In Air Purifiers
What are plug-in air purifiers?
As the name implies, plug-in air purifiers plug into an outlet. Unlike traditional air purifiers, plug-ins go directly into the wall, remaining compact and able to operate in multiple locations with ease. They are straightforward in terms of design and use.
What technological differences are there between a plug-in purifier and a standard air purifier?
One of the most notable differences lies in the removal of air particles. Since most plug-in air purifiers lack filters, they aren't usually able to extract particles from the air like standard air purifiers would. Instead, they focus largely on capturing and eliminating odors. Many of them do this by featuring carbon filters, but these can only handle large pollutants in the air rather, with minimal to no effect on microscopic particles.
Additionally, plug-in air purifiers will feature ionizers that cause airborne particles to form heavier compounds that can subsequently be more readily collected from flat surfaces and floors when sweeping or vacuuming.
There are even plug-in air purifiers with ozone generators. These aren't highly recommended though since they generate high levels of ozone, despite them working well as sanitizers. Still, the plug-in purifiers are small, so the amount of ozone they can release is arguably insignificant.
What are the benefits of owning a plug-in air purifier?
An obvious benefit of using a plug-in air purifier over traditional ones is the smaller footprint. These readily save space, especially if you adopt a more minimalist approach to your home design. Keeping the purifier off the floor or on a higher flat surface like a desk or countertop is a viable option with these models.
They are also ideal if you are on the move. If you're unsure about the quality of the air you will find, whether you're staying at someone's home or in a hotel, a plug-in air purifier can deliver peace of mind. You can slip it into your bag or purse and take it with you.
Plug-in air purifiers still offer a strong performance despite the compact size. This is especially noticeable when used inside smaller rooms.
Which Air Purifier is Best for You?
We all know how beneficial air purifiers are, but we all either can't afford one or don't have the space for traditional devices. Plug-in purifiers are helpful for clearing out odors and, if they have a filter, can also handle some airborne pollutants. They do this while staying out of the way, so you don't have to move things around.
These do come in various sizes, so you can easily get the purifier that best suits your purposes, from small rooms to larger areas. They are also simple to use, with many of them only requiring you to plug in the device and walk away.
If you're unsure which one to get, our reviews should help point you in the right direction. In the meantime, take a look at our favorite choices for what we feel to be the best small room plug-in, the best for mid-range rooms, and the best purifier for larger spaces:
Last update on 2023-09-16 / Affiliate links / Images from Amazon Product Advertising API