Many people find houseplants aesthetically pleasing, and they can thank social media for their resurgence in popularity. Instagram, in particular, has become a platform to which plant enthusiasts and foliage fanatics flock.
Plant gurus make it hard to ignore all the lush goodness of indoor plants, and the pictures they share can be captivating and inspiring for anyone who has ever considered starting a collection of their own.
Where are all the plant lovers at?
Budget Direct commissioned this study with the goal of uncovering where most of the world's plant pics are coming from. All the images posted with the hashtag #UrbanJungle made it on our map for house plant hotspots. Is your location featured? Check it out. 
How to care for the most Instagrammable houseplants
It's no surprise that among the most popular houseplants surfacing on Instagram include succulents and cacti. These types of plants are easy to care for, don't require much effort, and are pretty hard to kill. The best part being that they don't have to be continuously watered to be happy, it's quite the opposite.
Echeveria
Echeveria succulents thrive on brief periods of neglect, low amounts of water and nutrients. They come in a wide variety of colors, providing dreamy tones and texture for mixed flower beds. Caring for this type of plant is pretty much foolproof; they can easily grow well in small ceramic pots or garden beds.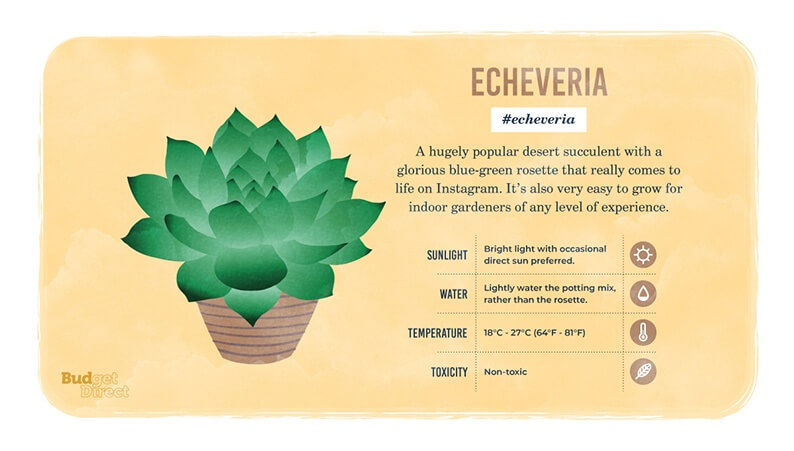 Haworthia 
Another type of succulent popular among the Instagram community is Haworthia. Caring for this small yet beautiful plant is not difficult; the only thing you have to be careful with is overwatering. Other than that, it will basically take care of itself.
Fuchsia
Very few flowers offer as pleasant of an appearance as the fuchsia. These unique blossoms somewhat resemble brightly colored, layered skirts. When given proper care, these flowering plants can last a long time.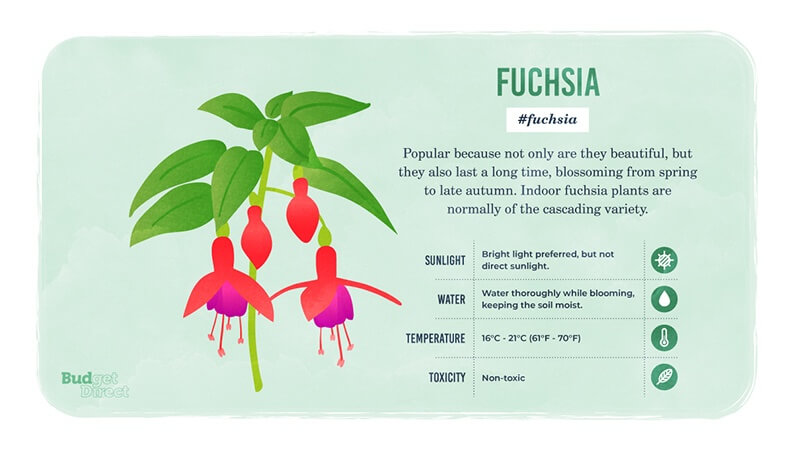 Crocus
Belonging to the iris family, the crocus represents springtime. Vibrant hues of yellow, royal purple, and crisp white are sure to brighten up any room. These flowering plants are toxic to dogs and cats, so be sure to keep it out of your pet's reach if you plan on bringing one home.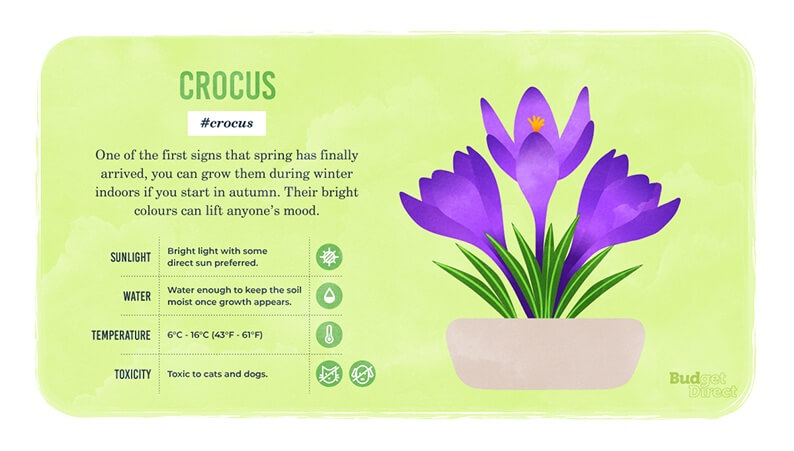 Daffodils
In ancient Rome, daffodils were prized for their sap because it was thought to contain healing properties. Today, we may not treasure them for the same reasons the Romans did, but their brightness and striking beauty keep them very popular among plant enthusiasts.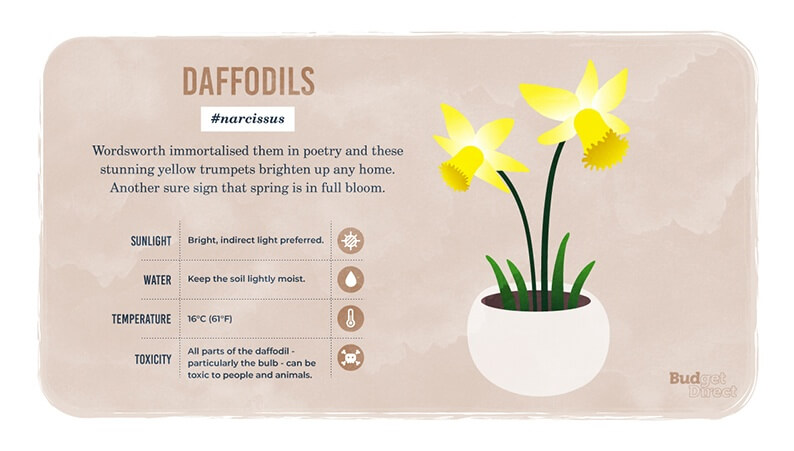 Swiss Cheese Plant
This plant gets its name from its distinctive natural perforations in its leaves. Some species also bear fruit, but those who make the mistake of taking a bite of an unripe monstera will experience severe skin and throat irritation. This is due to the high levels of oxalic acid, which is used to bleach wood and remove rust from metal.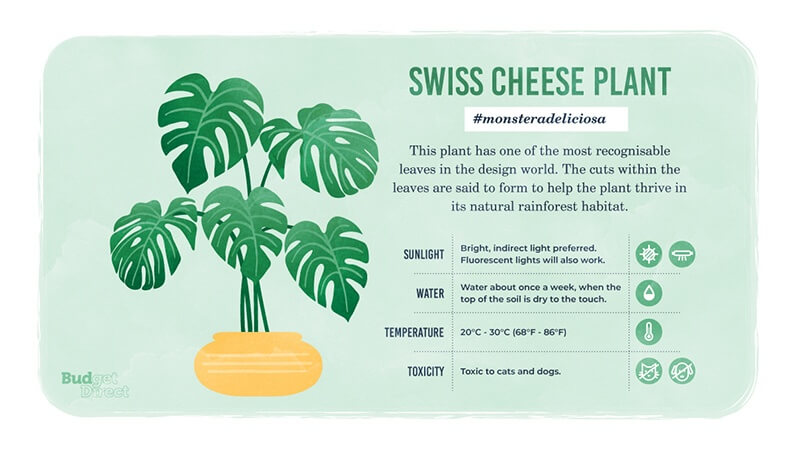 Chinese Money Plant
The Chinese money plant is an inviting, attractive, and easy to grow houseplant. It also goes by the missionary plant, pancake plant, lefse plant, UFO plant, or pilea.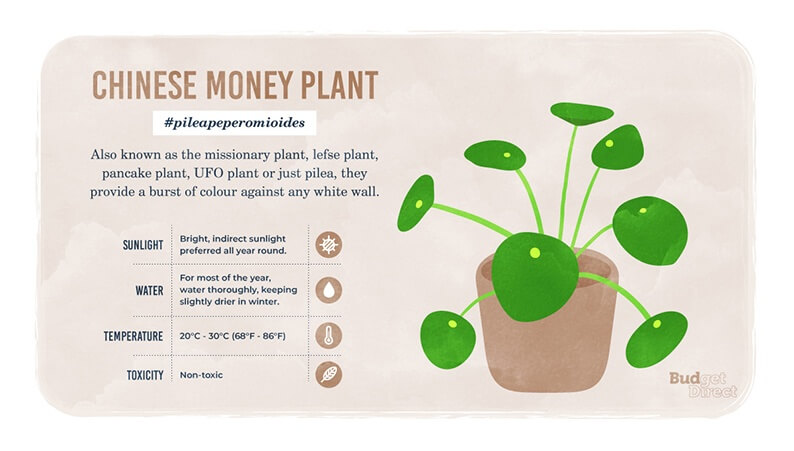 Rubber Plant
The rubber plant is an excellent plant for beginners and anyone who's lacking a green thumb. These interesting plants can grow anywhere between 6 to 10 feet tall with proper care.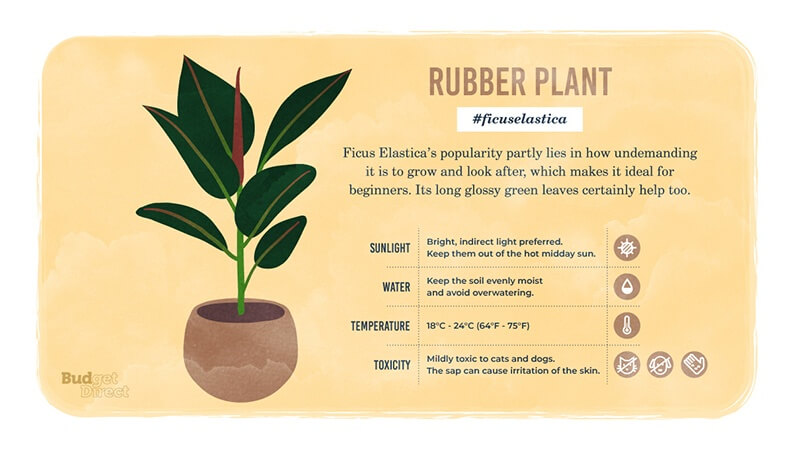 Not sure which houseplant to pick? Read up on the best air purifying plants. Still not convinced? Use our flowchart to find the perfect indoor plant for your home.