The Ultra Sun air purifier is a premium-priced air purifier that uses multiple filters and ultraviolet technology to clean and sanitize the air. It retails for around $600. A pre-filter removes particles larger than 5 microns in size and is easy to clean with a vacuum cleaner. Next, two layers of gas and odor absorption use activated carbon, zeolite, and potassium permanganate layers to make up this filter. The HEPA filter is next. True HEPA filters remove 99.97% of particles that are 0.3 microns or larger. The next step in Sun Pure's filter system is a photocatalytic oxidation chamber. It has a titanium dioxide grid that is activated by ultraviolet light. Photocatalytic oxidation is a new enough technology that its usefulness in-home air purifiers are not quantified yet.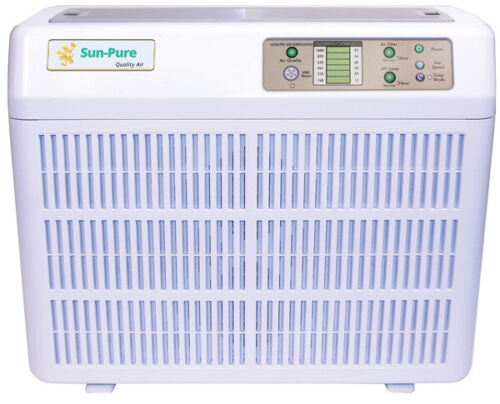 We produced a study on what we think is the quietest air purifier as of 2022.
One of Sun Pure's marketing angles is that its air purifiers use photocatalytic oxidation to get rid of toxic chemicals in the air as opposed to traditional HEPA filter-based air purifiers, which use carbon filters. Though Sun Pure claims that the machines can purify the air in huge rooms, that figure is only accurate for one air change per hour, which is insufficient for most people. It does, however, purify the air in a room of 300 to 350 square feet with six air changes per hour with the machine set on its highest setting.
The Sun Pure has computerized controls that allow four speeds and seven-room sizes for a total of 28 power settings. Sensors alert the user to airborne contaminant levels with easy-to-understand green, yellow, and red LED displays so the user can turn the machine off if the air is already clean. The purifier also uses infrared motion detectors that turn the power down when there is less movement in the room.
The Sun Pure air purifier is not the quietest, with 68 decibels (dB) recorded on its high setting and 58 dB in the low setting. Another gripe besides the noise is that the cardboard frame holding the HEPA filter doesn't seal securely to the chassis, potentially drawing dirty air around the HEPA filter rather than through it.
In summary, the Sun Pure air purifier is expensive but uses both HEPA filtration and photocatalytic oxidation, aimed at removing particles as well as chemicals and odors. It weighs 23 pounds and measures 21.5 x 18.9 x 8 inches, making it unsuitable for placement anywhere other than the floor. It is well made, and maintenance costs are low. Filters and UV bulbs are sold separately so that users can replace one without having to replace all consumables. Its automated controls are very appealing to some users. It is worth considering for those with the budget to accommodate a Sun Pure air purifier.
Sadly, this product has been discontinued and is no longer available for sale.
Be sure to check out our current best-rated air purifiers we tested and reviewed here at Housefresh.com: