Aside from giving you a sense of smell, your nose performs several crucial bodily functions. It filters and cleans the air around you to remove particles and allergens, while also moistening the air so that it travels easily into your respiratory system.
However, your nose can sometimes become congested, aka stuffy. The reasons for this are due to either health conditions, such as a cold, or it may be your environment that's to blame, for example the presence of household mold.
Nighttime is often when the condition worsens, so we'll give you the heads-up about what to do both before bedtime and during the night, as well as how to ease congestion when you wake up.
We'll also look at how an air purifier can relieve your stuffiness.
What Is Nasal Congestion?
Throughout any given day, your nose takes in air. Yet this air isn't necessarily clean and may carry a whole host of dirt and allergens. Luckily, the inside of your nose does an incredible job of capturing these unwanted particles by trapping them in a mass of hair and cilia (very small structures which are similar to hair), which are then sent to your nostrils.
By blowing your nose or sneezing, you're effectively booting these unwelcome particles out of your respiratory system.
However, your nose hair and cilia may not always be able to capture them. When this occurs, the tissue lining the inside of your nose can become inflamed and start to swell. Your immune system then goes on the attack to try and get rid of all the nasty invaders by producing more mucus.
All of this mucus, combined with the swelling and inflammation, can make it difficult for your nose to take in air, hence the stuffiness. You may then have trouble breathing this way and start breathing through your mouth.
Similarly, you might also suffer from a runny nose due to the mucus flowing from it. On top of this, headaches and coughing can also arise as a result of congestion.
But it's not all bad news because in most cases congestion clears after a few days. And rest assured that you're not alone in suffering from a stuffy nose. Approximately 12% of people in the U.S. have nasal congestion at any given time.
There can be several reasons why you might have nasal congestion. Yet they can be broadly split into two camps: health conditions and environmental factors.
Let's take a closer look.
🤒 6 Health Conditions That Cause Nasal Congestion
1. The common cold
The cold virus, also known as the common cold, can often lead to a stuffy nose. Congestion arises when blood vessels within the nose swell due to excess fluid. You may also suffer from a cough, sore throat, mild headache, and sneezing.
2. Sinusitis
Sinusitis, which means inflammation of the sinuses, can be quite common after a cold. Alongside nasal congestion, you might also have pain, swelling, and tenderness around your cheeks, eyes, or forehead; a loss of smell; green or yellow mucus coming from your nose; fever; and even toothache. The good news is that the condition generally gets better by itself, but you should see your doctor if symptoms persist.
3. Rhinitis
According to the National Center for Biotechnology Information, "nasal congestion is a common symptom in rhinitis." Also a type of inflammation, this time of the nasal passages or nose, rhinitis is normally caused by exposure to an allergen, such as pollen, and is often temporary. Yet as well as congestion, you may also have a runny nose, itchy nose and eyes, and mucus in the throat.
4. Asthma
When your airways narrow and swell, they may produce extra mucus, and this is what happens if you suffer from asthma. Breathing can therefore become difficult, and the condition may also lead to wheezing. While some cases of asthma are thankfully mild, there is evidence to suggest that nasal congestion may indicate severe asthma.
5. Pregnancy
Approximately 18-30% of people who are pregnant can experience congestion, so it's important to be aware of this side effect. Other symptoms include sneezing, runny nose, and sinus and/or ear infections.
6. Nasal polyps
Lastly, nasal polyps, in which tissue growths develop inside the nasal cavity, may cause a stuffy nose. You may also experience facial pressure or pain, and lose your sense of smell.
🏠 6 Environmental Factors That Cause Nasal Congestion
1. Pollen
The warmer seasons mean that trees and plants start to recover from their winter hibernation, and this is when the pollen count rises. Pollen can enter your home through open windows, and may even attach itself to your clothing when you've been outside. When the count is particularly high, aim to shut windows and doors and clean clothes regularly.
2. Mold
Most commonly found in damp and moist environments, mold is a type of fungus. The fungus produces spores, which then become airborne and float around your home. If you have a mold allergy, your nose is likely to become blocked. It's important to be vigilant for any signs of mold in your home, and to clean the affected areas as soon as possible.
3. Dust mites
Dust mites are tiny bugs that live in household dust, and love warm, humid places such as your bedding and carpets. Unfortunately, the mites can lead to a dust mite allergy, which may be at the root of your stuffy nose. In some cases, the allergy can result in a sinus infection.
4. Pets
As much as we love them, our pets can sometimes cause nasal congestion. What may be giving you a stuffy nose, however, isn't their fur but their dander, which basically means dead skin cells. The dander can also carry some of the allergens we mentioned above: mold, pollen, and dust mites.
5. Smoking
There can be many serious side effects as a result of smoking, and a stuffy nose is just one of them. Tobacco smoke can damage blood vessels, and result in weakened air pathways. Whether you smoke yourself, or breathe in second-hand smoke, this could be the source of your congestion.
6. Household chemicals
Cleaning your home is essential, but many of these products can cause allergy-like symptoms. Common home cleaning ingredients that can be irritating include formaldehyde and ammonia. It's best to avoid products that contain these harsh chemicals if you're susceptible to a stuffy nose.
What To Do Before Bed To Prevent a Stuffy Nose
If you've experienced a stuffy nose, you'll know that it gets worse at night. One reason for this is because lying down "makes mucus pool at the back of your throat". But there are many things you can do to prevent congestion before bed. Read on for our top tips.
1. Make your bedroom cool and dark
Having a cold can make you more sensitive to fluctuations in temperature or light. Aim to keep the temperature in your bedroom cool and choose light covers.
Pro Tip: Using blackout curtains will block light from outside and help you get a restful night.
2. Use pillow and mattress covers
If you've noticed that you only seem to get a stuffy nose in bed, then it may be a dust mite allergy that's causing it. Pillow and mattress covers can do a great job of reducing your exposure to the tiny bugs.
Pro Tip: Don't forget to change your sheets at least once a week to keep on top of cleanliness.
3. Have a hot shower
Steam is fantastic for thinning mucus in your nose, thereby helping to prevent congestion. Switch on your shower to a hot (but not scalding!) temperature. The hot shower works in a similar way to humidifier and if you find this works, then be sure to look at investing in a dedicated gadget, we recently published what we think is the best humidifier for dry nasal passages.
Pro Tip: Closing the door of your bathroom means you can take in even more steam. Be sure to take in a good few deep breaths.
4. Eat some hot soup
As with the hot shower method, the steam from a bowl of soup can help to soften and loosen mucus, easing congestion.
Pro Tip: Chicken soup can be particularly effective if you have a cold. Some studies have found that it may reduce swelling and inflammation.
What To Do During the Night To Ease a Stuffy Nose
You manage to get to sleep, but what if you wake in the night and your nose is still blocked? Follow our guidance on what to do during the night.
1. Add an extra pillow
Sleeping with your head propped up can help drain mucus and ease sinus pressure. Use an extra pillow for effective elevation.
Pro Tip: Sleeping on your back is the best position, as it will help to improve sinus drainage.
2. Wear a nasal strip
These strips help to open the nasal passages, which will improve your breathing. An added benefit is that they may help reduce snoring.
Important: The strips can be tricky to apply, so be sure to follow the instructions on the package (you can buy them at most pharmacies).
3. Keep supplies by your bed
When you have a cold, there's nothing worse than having to get up and out of bed because you need to blow your nose. Having supplies nearby can reduce sleep interruptions.
Pro Tip: Be sure to keep:
– Box of tissues
– Wastebasket
– Bottle of water
4. Apply a menthol chest rub
If you do wake in the night, try rubbing your neck or chest with a vapor rub. Store-bought rubs often contain menthol, camphor, and/or eucalyptus oil to ease stuffiness and help you get back to sleep.
Pro Tip: You could make your own essential oil rub before bedtime. Eucalyptus, peppermint, and tea tree are a few examples of essential oils that can help congestion.
How To Clear a Stuffy Nose After You've Woken Up
Even if you've managed to get the golden eight hours, you're unlikely to feel your best if your nose is still congested. Here's our advice on what to do after you've woken up.
1. Clear your sinuses with a neti pot
Like a mini teapot, a neti pot is a great way to wash out mucus, and relieve your stuffy nose in moments.
Stand with your head over a sink
Position the spout of the neti pot in one nostril
Carefully tilt the pot until water enters your nasal passage
When the water flows into your nostril, it'll come out through your other nostril and drain into the sink
Continue this for a minute, and then switch nostrils.
Pro Tip: For best results, you can use the pot one to two times a day.
2. Use a decongestant
Decongestants can shrink blood vessels inside your nose, which will help you breathe more easily. Be sure to check the label for the star ingredients phenylephrine or pseudoephedrine.
Health warning: Be careful with decongestant nasal sprays. If you use these for more than four days in a row, your nose may become even stuffier.
3. Apply a warm compress
By opening the nasal passages from the outside, a warm compress may help ease your blocked nose and the warmth from the compress can help to alleviate pain and inflammation.
Instructions:
1. Soak a towel in warm water
2. Squeeze out the excess water
3. Fold the towel and place it over your nose and forehead
4. Stay hydrated
While your stuffy nose may not be instantly relieved, drinking plenty of (nonalcoholic) liquids throughout the day will help to thin mucus in the nasal passages.
Pro Tip: If your congestion is due to allergies, ginger tea can be particularly effective.
Can an Air Purifier Help?
As air purifiers are designed to remove harmful, congestion-causing particles from the air, such as mold and smoke, the answer is most definitely yes. Purifiers typically work by pushing air through a filter (sometimes multiple filters). Any pollutants or toxic particles are then trapped by the filter, while fresh, clean air is recirculated back into your home.
However, it's important to be aware that not all purifiers are made equal. In short, make sure it comes with True HEPA filter technology. Meaning High-Efficiency Particulate Air, a unit with HEPA ensures that it will trap those ultrafine particles like dust and pet dander.
According to the Environmental Protection Agency, this type of filter can "can theoretically remove at least 99.97% of dust, pollen, mold, bacteria, and any airborne particles with a size of 0.3 microns." This is essential if you're looking for one that'll help with your stuffy nose and sinus problems.
There is also evidence that air purifiers can help reduce the symptoms of asthma. This is because they can remove those airborne particles which may trigger an attack.
Before purchasing, also note the CADR (Clean Air Delivery Rate) of the purifier. This measures and tells you the cleaning speed of the purifier for removing particles. Be sure to look for a CADR rate of at least 300.
Finally, while air purifiers are great at eliminating allergens and pollutants, you might want to consider using one in conjunction with a humidifier, especially if you have a cold. Humidifiers work by adding moisture to the air, which will help to ease nasal congestion by loosening any mucus and improving sinus drainage.
3 Best Air Purifiers for Nasal Congestion
We test all the models we recommend ourselves and we don't put any forward without being 100% confident in them.
Here are our top three choices for you:
Style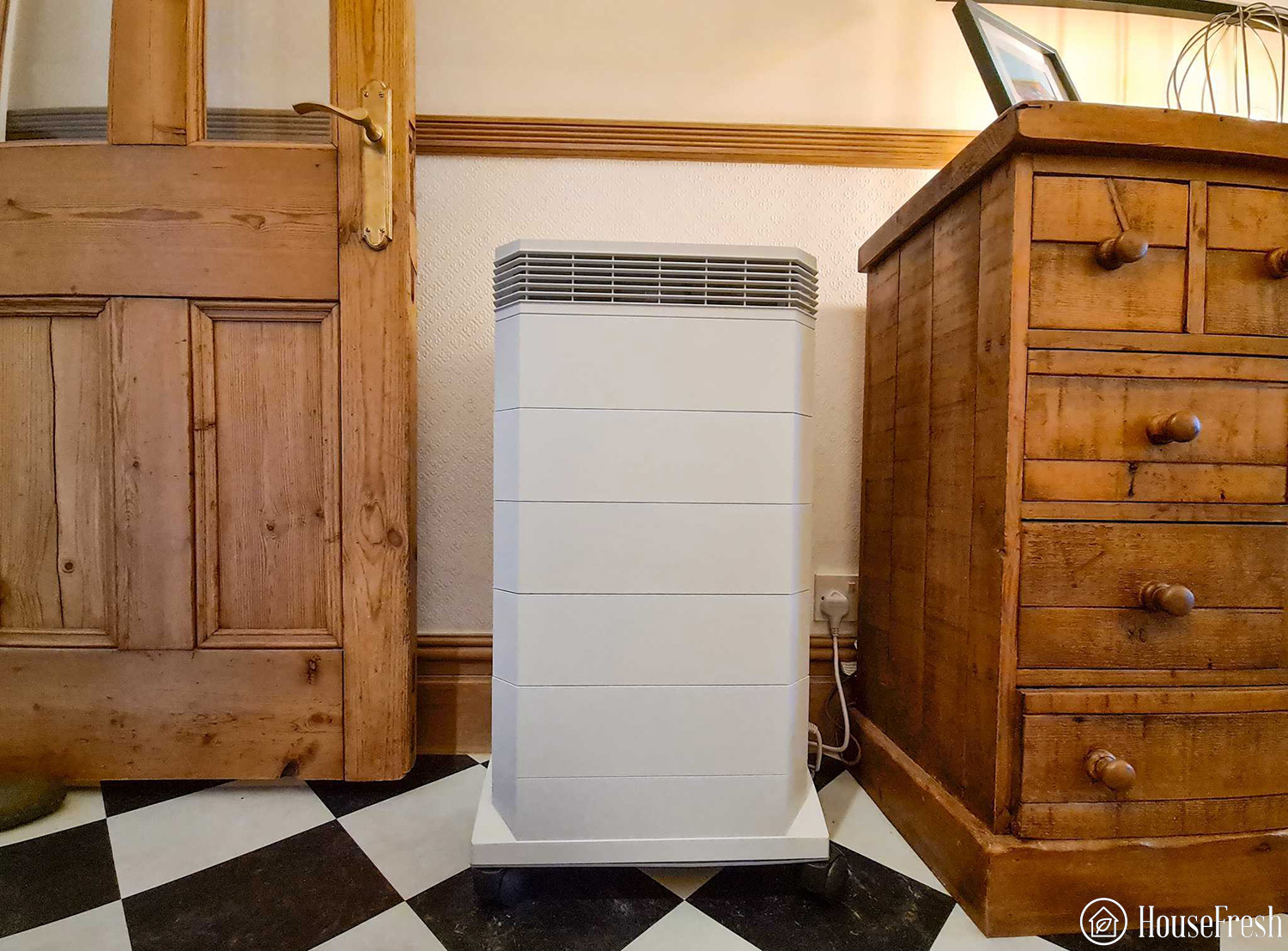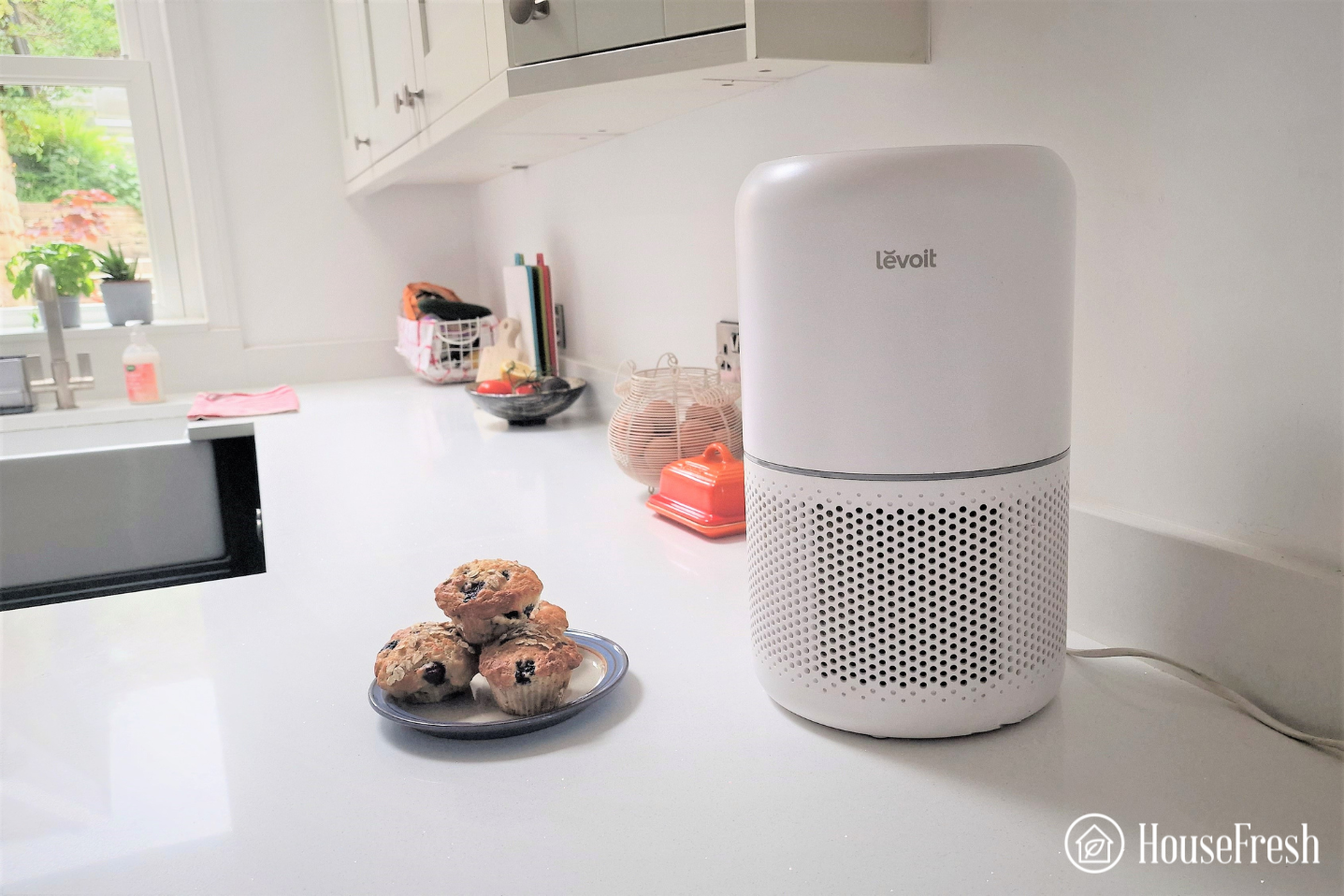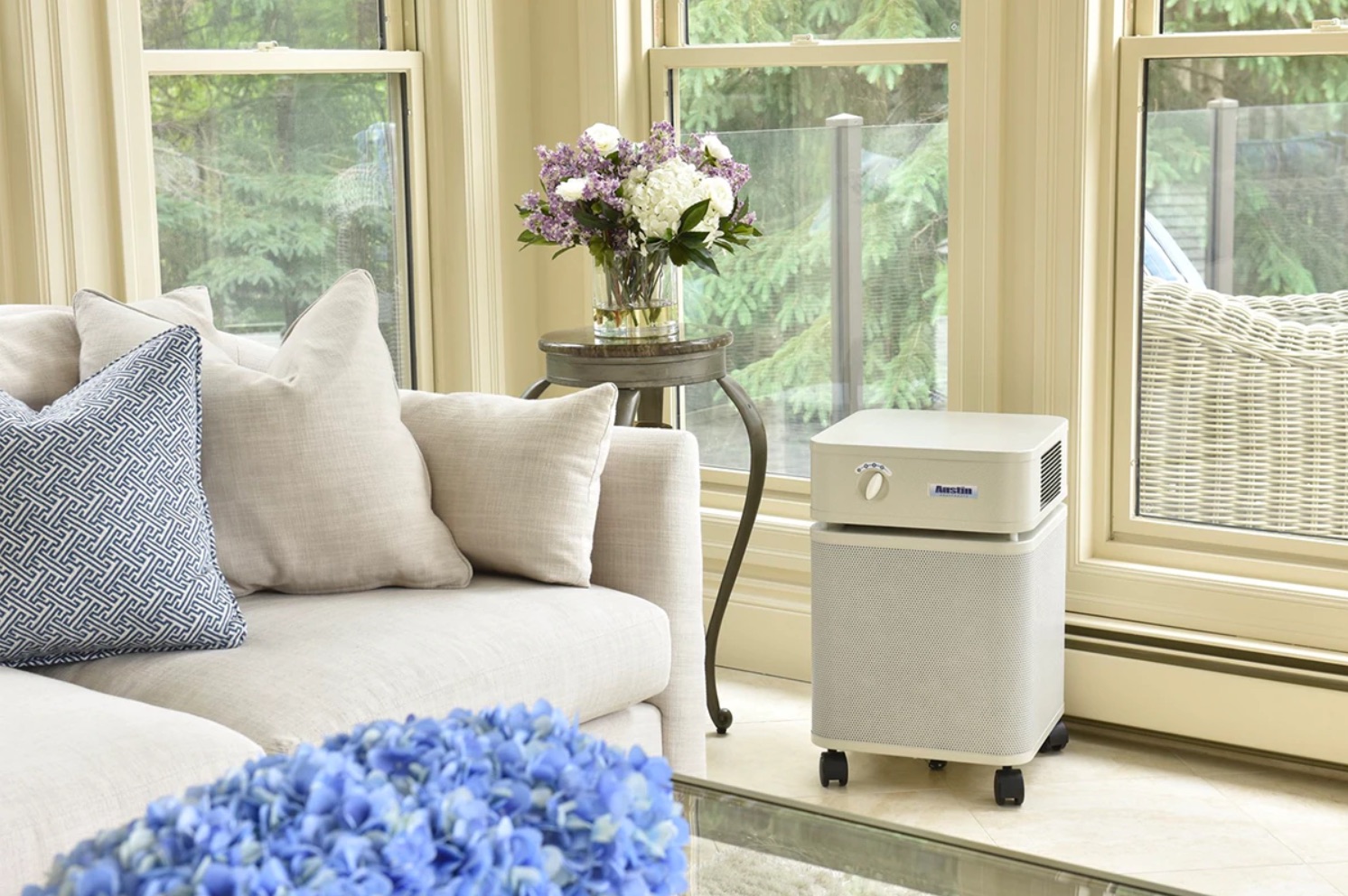 Pros
Excellent performance for under $100
Great purifier for people who suffer from asthma attacks
Cons
No air sensor or smart feature
Would be great if this unit was Energy Star rated
Filter Technology
Pre-max filter, V5-Cell Filter, HyperHEPA filter
Carbon Filter, HEPA Filter, Pre-Filter, Large Particle Pre-Filter
Recommended Room Size
450 sq. ft. to 1125 sq. ft.
750 sq. ft. to 1500 sq. ft.
Best Overall
Style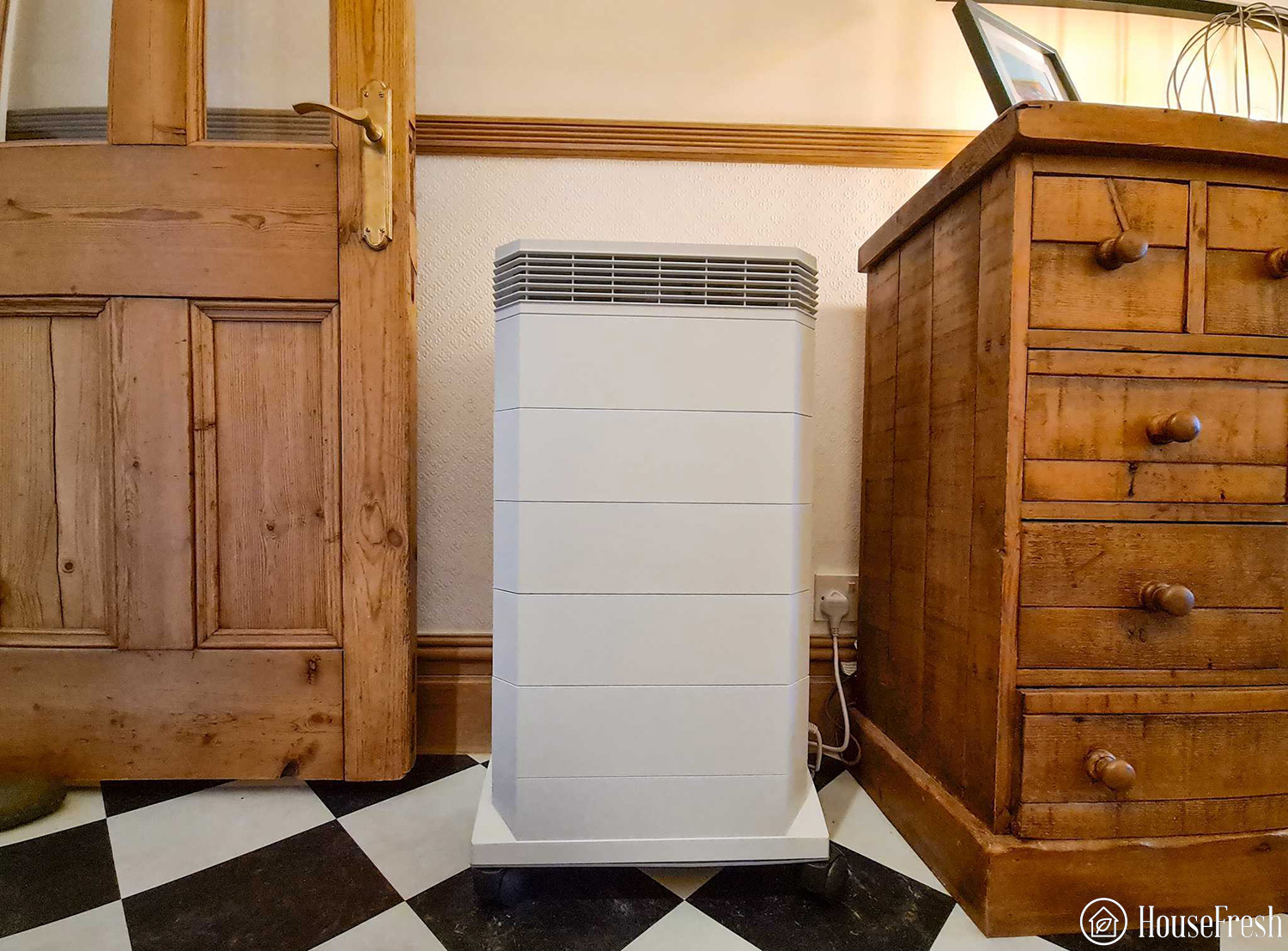 Filter Technology
Pre-max filter, V5-Cell Filter, HyperHEPA filter
Recommended Room Size
450 sq. ft. to 1125 sq. ft.
Best Budget Option
Style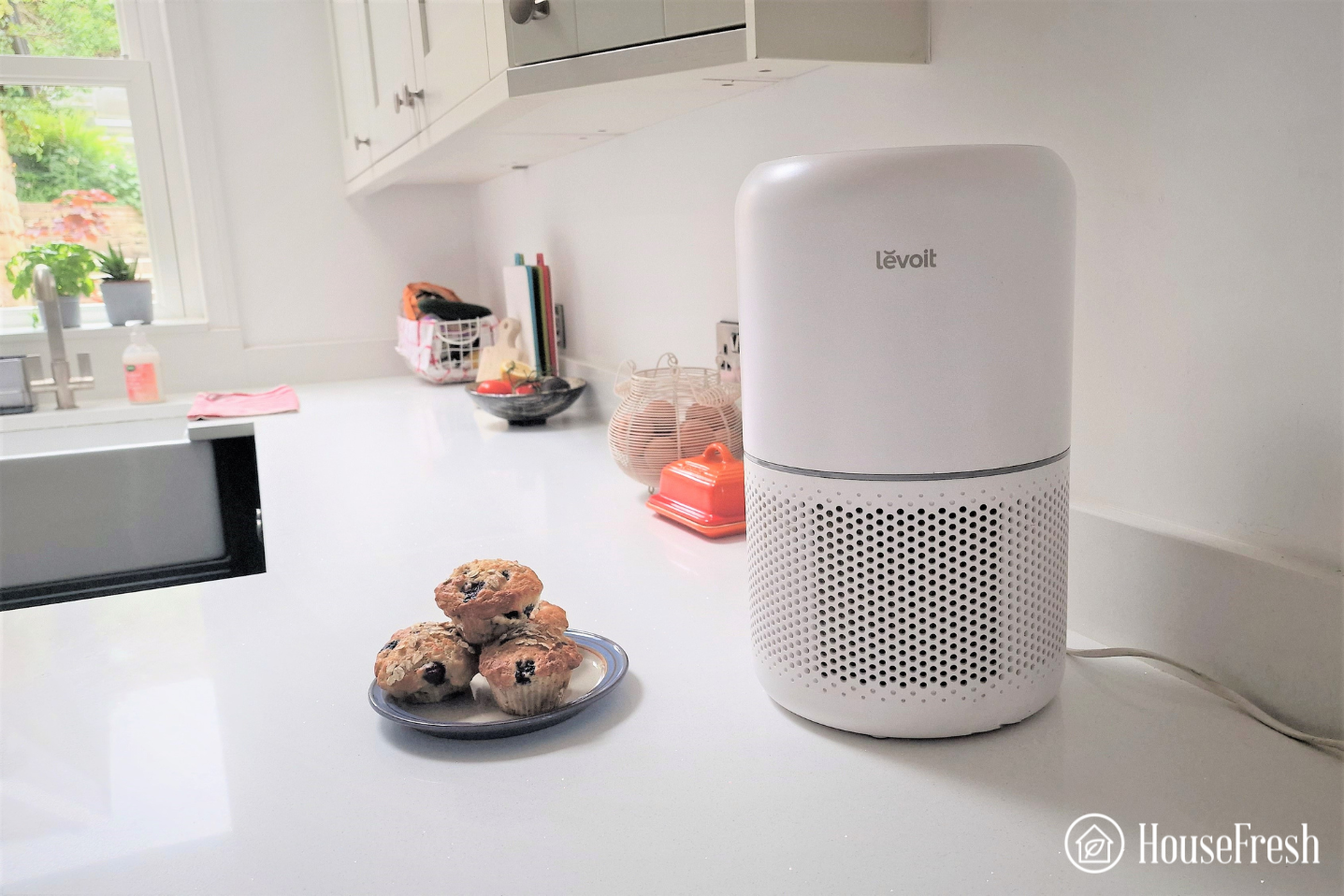 Pros
Excellent performance for under $100
Cons
No air sensor or smart feature
Best for Large Spaces
Style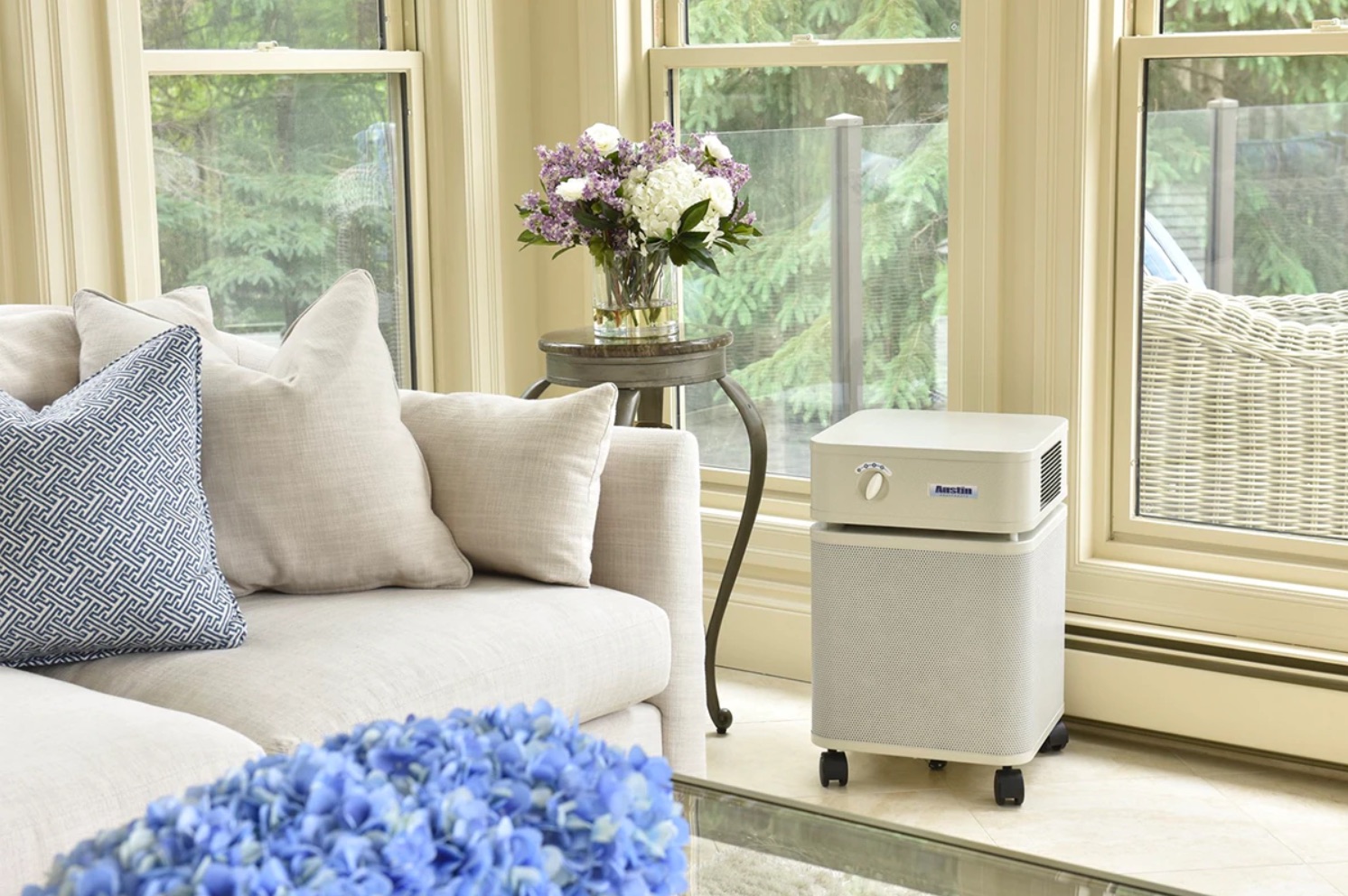 Pros
Great purifier for people who suffer from asthma attacks
Cons
Would be great if this unit was Energy Star rated
Filter Technology
Carbon Filter, HEPA Filter, Pre-Filter, Large Particle Pre-Filter
Recommended Room Size
750 sq. ft. to 1500 sq. ft.
Final Thoughts
Waking up with a stuffy nose definitely isn't the best way to start your day. Yet it can be a reality for many of us. Whether it's a bad cold, or the pet dander from your beloved kitty is to blame, nasal congestion is either down to health conditions or environmental factors.
But you don't have to suffer through the stuffiness. Wearing a nasal strip in bed and clearing your sinuses with a neti pot in the morning are just some of the things you can do to alleviate congestion. Equally, purchasing an air purifier that has a True HEPA filter will help enormously to ease your blocked nose.
Sources
Ambardekar, N. (2022). Web MD. 5 Ways to Get Rid of a Stuffy Nose. webmd.com
Ashton, D. (2022). HouseFresh. Do Air Purifiers Help With Asthma? housefresh.com
Ashton, D. (2022). HouseFresh. Do Air Purifiers Help Nasal Congestion? housefresh.com
Ashton, D. (2022). HouseFresh. Can Air Purifiers Make Allergies Worse? housefresh.com
Asthma and Allergy Foundation of America. (2021). Rhinitis (Nasal Allergies). aafa.org
Asthma and Allergy Foundation of America. (2021). Mold Allergy. aafa.org
Asthma and Allergy Foundation of America. (2021). Pet Allergy: Are You Allergic to Dogs, Cats, or Other Animals? aafa.org
Bachert, C. Baraniuk, J. N. Naclerio, R. M. (2010). National Center for Biotechnology Information. Pathophysiology of nasal congestion. ncbi.nlm.nih.gov
Burch, K. (2021). Insider. 13 tips to get better sleep with a stuffy nose at night. insider.com
Califano, J. Patino, E. (2022). Everyday Health. 7 Natural Remedies for Congestion Relief. everydayhealth.com
Caporuscio, J. (2020). Medical News Today. What can cause a person to wake up with a stuffy nose? medicalnewstoday.com
Cleveland Clinic. (2022). Nasal Congestion. clevelandclinic.org
Cleveland Clinic. (2022). Nose. clevelandclinic.org
Environmental Protection Agency. (2022). What is a HEPA filter? epa.gov
Ertl, R.F. Gossman, G.L. Rennard, B.O. Rennard, S.L. Robbins, R.A. (2000). National Center for Biotechnology Information. Chicken soup inhibits neutrophil chemotaxis in vitro. pubmed.ncbi.nlm.nih.gov
Hayes, K. (2022). Very Well Health. Why a Stuffy Nose May Get Worse at Night. verywellhealth.com
Healthline. (2018). Common Cold Symptoms. healthline.com
Helmer, J. (2015). Web MD. 6 Tips for Sound Sleep When You Have a Cold. webmd.com
Hinde, N. (2021). Huffington Post. 7 Reasons Why You're Waking Up Feeling Congested. huffingtonpost.co.uk.
Holland, K. (2021). Healthline. How to Clear a Stuffy Nose. healthline.com
Knott, L. (2021). Patient. Nasal Congestion. patient.info
Mayo Clinic. (2022). Asthma. mayoclinic.org
Mayo Clinic. (2022). Dust Mite Allergy. mayoclinic.org.
McCoy, K. (2013). Everyday Health. Home Cleaning Tips for Allergy Sufferers. everydayhealth.com
Rothman, R. (2021). Good Housekeeping. Do Air Purifiers Actually Work? goodhousekeeping.com
Science Daily. (2010). Nasal congestion can mean severe asthma. sciencedaily.com
Vandergriendt, C. (2020). Healthline. How to Sleep with a Stuffy Nose: 25 Tips to Speed Healing and Sleep Better. healthline.com
Villiness, Z. (2019). Medical News Today. 9 tips for sleeping with a stuffy nose. medicalnewstoday.com
Wynd. (2018). 10 Reasons Why You Are Waking Up Congested. medium.com
Last update on 2023-12-06 / Affiliate links / Images from Amazon Product Advertising API