This article will review the following air purifier: Whirlpool Whispure AP510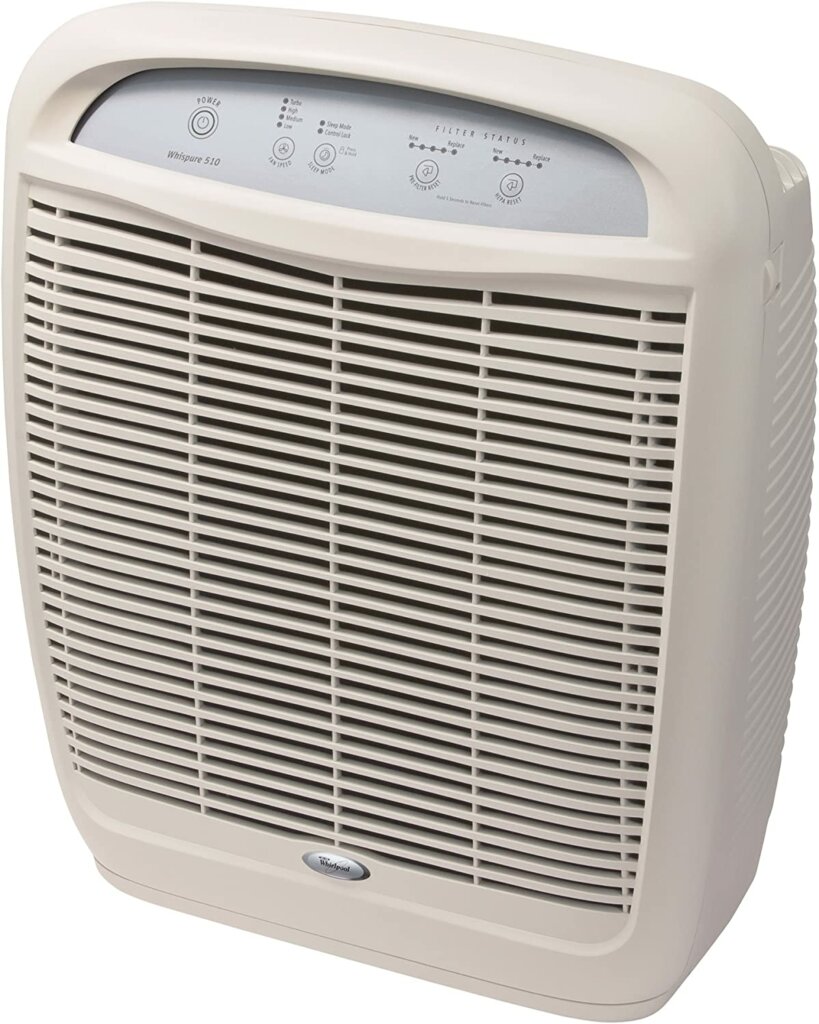 PRICE = Should be $399 – Amazon.com
It is always worth checking out what other consumers think of this purifier before we dig deep into the technology behind this purifier. We check the major internet retailers who give their consumers a chance to rate their purchases.
The Whispure has had some of the highest review ratings we have ever seen for a medium-price range air purifier.
What have other experts said about this purifier?
Air-Purifier-Power: Has given this purifier a score of 81 out of 100 – URL
CADR Rating
Whispure 510 air purifier created by Whirlpool had been ranked # 2 out of 30, and also showcased as being a quick best third party recommendation within the Consumer Reports October 2005 assessments.
(There have been succeeding CR assessments. However, these haven't been as broadly promoted.)
Whirlpool room air purifiers score high throughout clean air delivery ranking for each dollar.
This Whispure AP510 offers a typical (CADR) – Clean Air Delivery Rate of 316. CADRs are usually; dirt 330, cigarette smoke 330, and plant pollen 288.
When it comes to clean air delivery for each $ AP51030S rates the most effective, standing with high-quality equipment selling at a much higher price.
Filter Technology
Whirlpool AP510 provides genuine HEPA degree effectiveness (99.97% of contaminants bigger than .3 micron sizing) and air purification in areas up to five hundred sq ft.
This particular Whirlpool Whispure air cleaner uses 3M Filtrete Genuine Hepa filtration system technologies.
When the AP51030S is run regularly, as suggested, the primary Filtrete Hepa filtration system requires replacement every 12 months.
A charcoal pre-filter eliminates bigger contaminants in front of the Hepa filtration system. Pre-filter switching is suggested on four occasions yearly.
AP510 includes a modern filtration system change sign light for both the filtration system and pre-filter.
Weak Ponts
AP51030S Weak points; chem/odor, filtration system changes, sound
The primary problem could be the particle-only emphasis; there isn't any actual chemical or smell capacity. With the cost nearly pushing in the direction of $400, and with a few sellers upping costs through the manufacturing gap, we have a price/performance problem.
This Whispure 510 purifier's regular filtration system alterations can be annoying.
You will find consumer reports of higher costs: replacing filters may equal to 1 / 2 of the acquisition cost each year.
Customers record operating the AP510 using the lowest of 4 fan rates of speed more often than not to help keep sound to a whisper.
Digital controls consist of an 8-hour snooze function: strike a control button, it decelerates; eight hrs elapse, the Whirlpool Whispure 510 air cleaner instantly increases.
Overall this Whirlpool Whispure Air Purifier is a good value for money air cleaner in 2010. The problem at the moment is that not enough of these purifiers are being made, so the price has risen considerably. We will alert our readers as soon as more purifiers hit the market. We give this purifier five stars and recommend it for purchase if you can get it for $400.
You can still buy filters for the Whirlpool Whispure 510:
PUREBURG Replacement True HEPA Filter set Compatible with Whirlpool Whispure 1183054K 8171434K Fits AP450 AP510 AP51030K AP51030KB AP45030K WP500 WP1000,H13 High-efficiency Activated carbon Air Clean
✅High-quality Replacement HEPA Filter Kit - 1 high-efficiency True HEPA filter +4 Carbon Pre-filters
✅Fully Compatible with Whirlpool Whispure 1183054K 8171434K Fits AP450 AP510 AP51030K AP51030KB AP45030K WP500 WP1000 Air Purifiers
✅H13 True HEPA capture 99.97% of airborne dusts PM2.5 down to 0.3 microns in size. Remove large and airborne particles, including dust, common pollutants,Carbon Pre-filter reduce Chemicals VOCs, tobacco smoke, common household bad smell
✅Please replace regularly to keep your machine fresh and clean,For best results, remove the filter once a month and clean with a soft brush or gently vacuum.
✅Top-Notch Quality Used for Maximum Customer Satisfaction Guaranteed, Change the PUREBURG replacement filter in minutes, no tools required; note: please remove the new filter from the plastic bag before placing it into it.
Sadly this purifier, the AP51030K, has been discontinued, but you can get the updated version, the Whirlpool Whispure WP500. I would also suggest you check out our list of the best air purifiers for 2023 that we got a chance to test and evaluate.
Last update on 2023-12-01 / Affiliate links / Images from Amazon Product Advertising API