hOmeLabs is a brand managed by Aterian that is listed on the Nasdaq and is responsible for 2000 products ranging from dehumidifiers to air purifiers. I first became aware of the hOmelabs 50-pint model with a pump when I analyzed the best-selling dehumidifiers on Amazon.
This model stood out as the biggest seller of last year with over 40k reviews with an average review of 4.7 — not easy for a product like a dehumidifier prone to faults. The main aim of this specific model is to bring a high capacity of dehumidification, including a pump but for far less money than you would usually pay.
The hOmelabs 50-pint with pump can often be found for less than $250, while a similar unit from a brand like Honeywell with the same size and pump is over $350. hOmeLabs promises the same level of performance for $100 less, so I was super excited to test it for myself and see if it lives up to the hype.
Why You Should Trust This Review

As with all our reviews here at HouseFresh, we bought this dehumidifier with our own money to give you an unbiased view of how it performed in our own home:

1️⃣ We set it up to run in our basement, which is the most humid room in the house.

2️⃣ Then we used a Govee WIFI humidity sensor to track the performance of the humidifier over time, recording humidity levels every hour.

3️⃣ Using an electricity usage monitor, we plugged in the hOmeLabs 4,000 sq ft Dehumidifier and recorded energy consumption in watts at the highest and lowest speed levels.

4️⃣ We exported all this data and visualized it using Flourish to clearly show changes in humidity over time and energy consumption compared to other appliances.
TL;DR The Low Down on the hOmeLabs 4000 Sq. Ft. Dehumidifier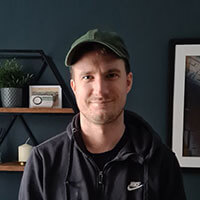 "Top-level performance for $250 typically only found in the $350+ range. If you have a damp basement and can use the pump, this is the dehumidifier to get in 2023"— Danny Ashton, Founder & Senior Writer
---
Don't want to read my full review? Then get my low down on what I think about the hOmeLabs dehumidifier:
What We Really Like:
👍 50 pints of water removed for $100 less than the competition
👍 Uses less power compared to other models with the same capability – 520 watts vs. 700
👍 Pump works well, and the hose is long enough for most situations
👍 Size is easy to live with and comes with wheels for easy moving around
👍 Sound level of 53dB is easy to live with and is much lower than many similar dehumidifiers on the market
What We Think Could Be Better:
👎 Lacks a carry handle which would make it easier to move to different rooms
👎 No smart mode or app support
👎 Water tank capacity is smaller than other units at this performance level, so less attractive to those who will not be able to utilize the pump and hose
The Specifications
This model stands out with the amount of dehumidification power for far less money than many other competitors with similar specs:
| | |
| --- | --- |
| HouseFresh rating: | ★★★★★ |
| Water removal in 24 hours (2019 DOE Standard): | 50 pints |
| Water tank capacity: | 7 pints |
| Recommended room size: | Up to 4000 Sq. Ft. |
| Noise level full power: | 53dB |
| Dimensions (in inches / in cm): | 11.75″D x 15.75″W x 25.3″H |
| Weight (in pounds / in kg): | 42.50 lbs |
| Energy consumption: | 520 watts or $44 per month |
Looks Good, and It's Easy To Use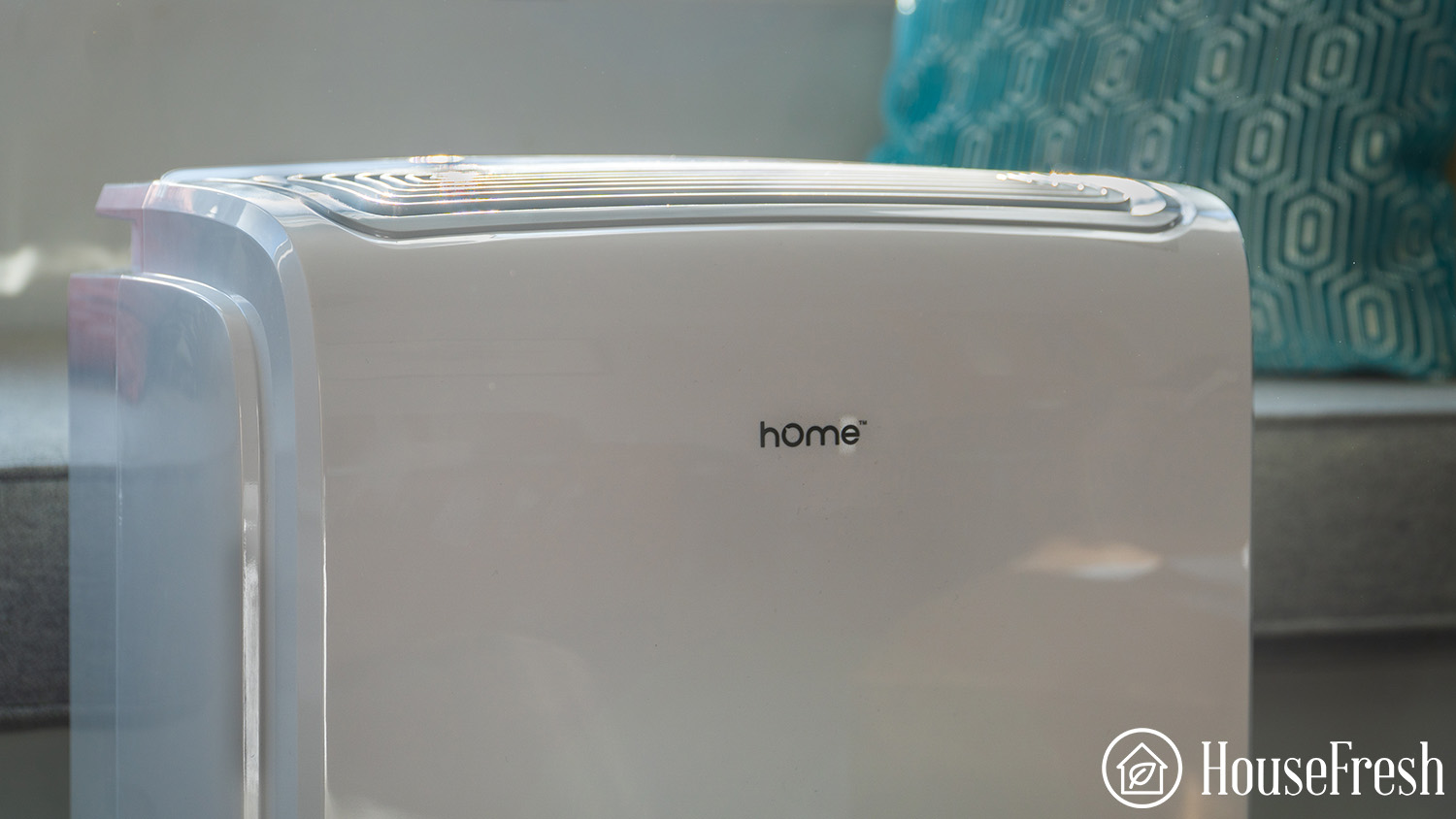 Any dehumidifier is unlikely to win a design award, but the hOmeLabs 50-pint with pump looks good and has a super simple menu system. You can change the humidification target level at 1% variations.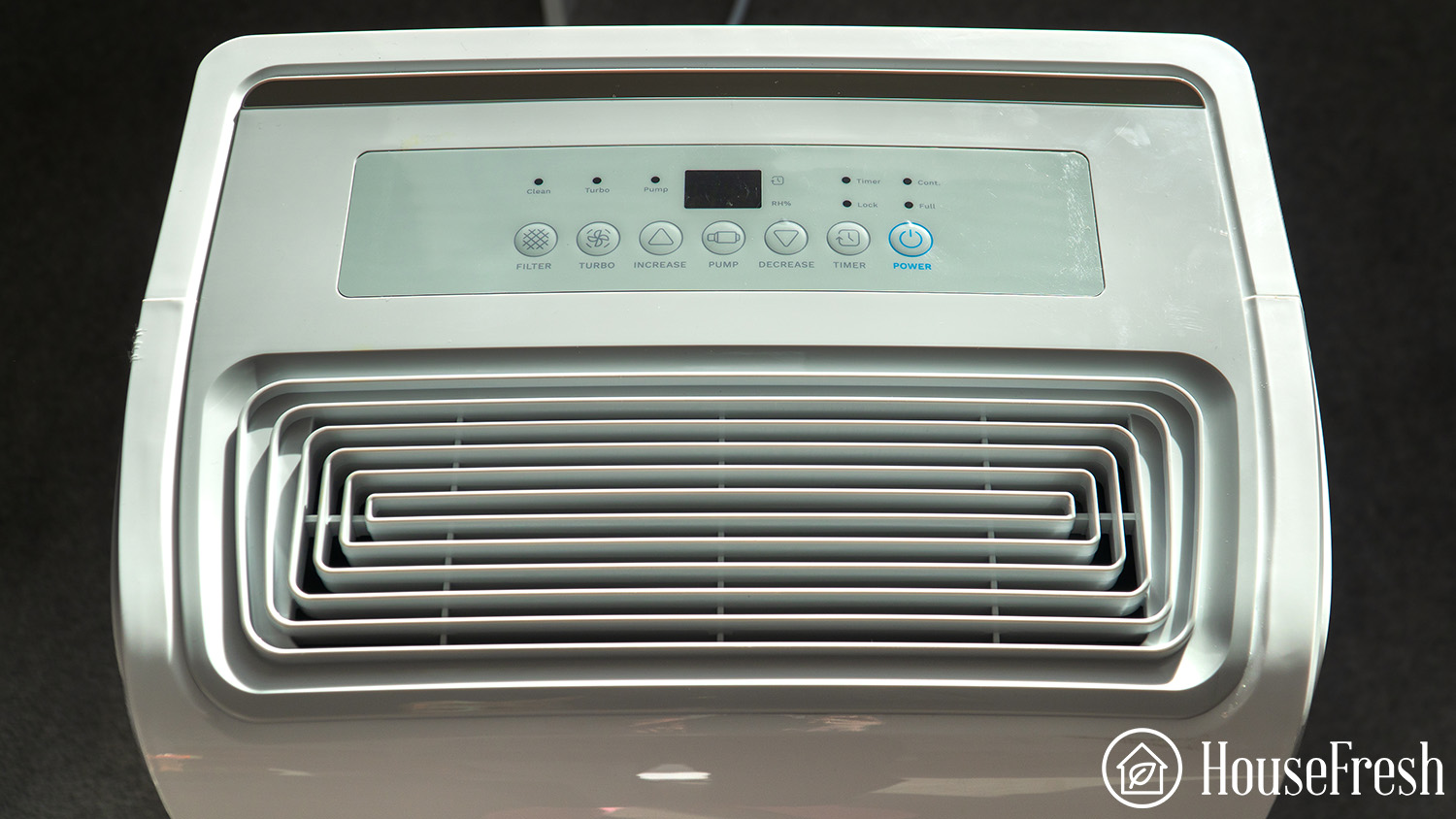 I preferred the hOmeLabs menu to the Honeywell, as I found the icon-only buttons unclear with the Honeywell model. The hOmeLab uses text and icons and I could quickly know what each button did without requiring me to check the web.
High-Quality Mesh Filter
The hOmeLabs dehumidifier has a high-quality mesh that stops large particles and insects from entering the cooling coils. There is also an alert to inform you when to keep this clean, which alerts me every three months.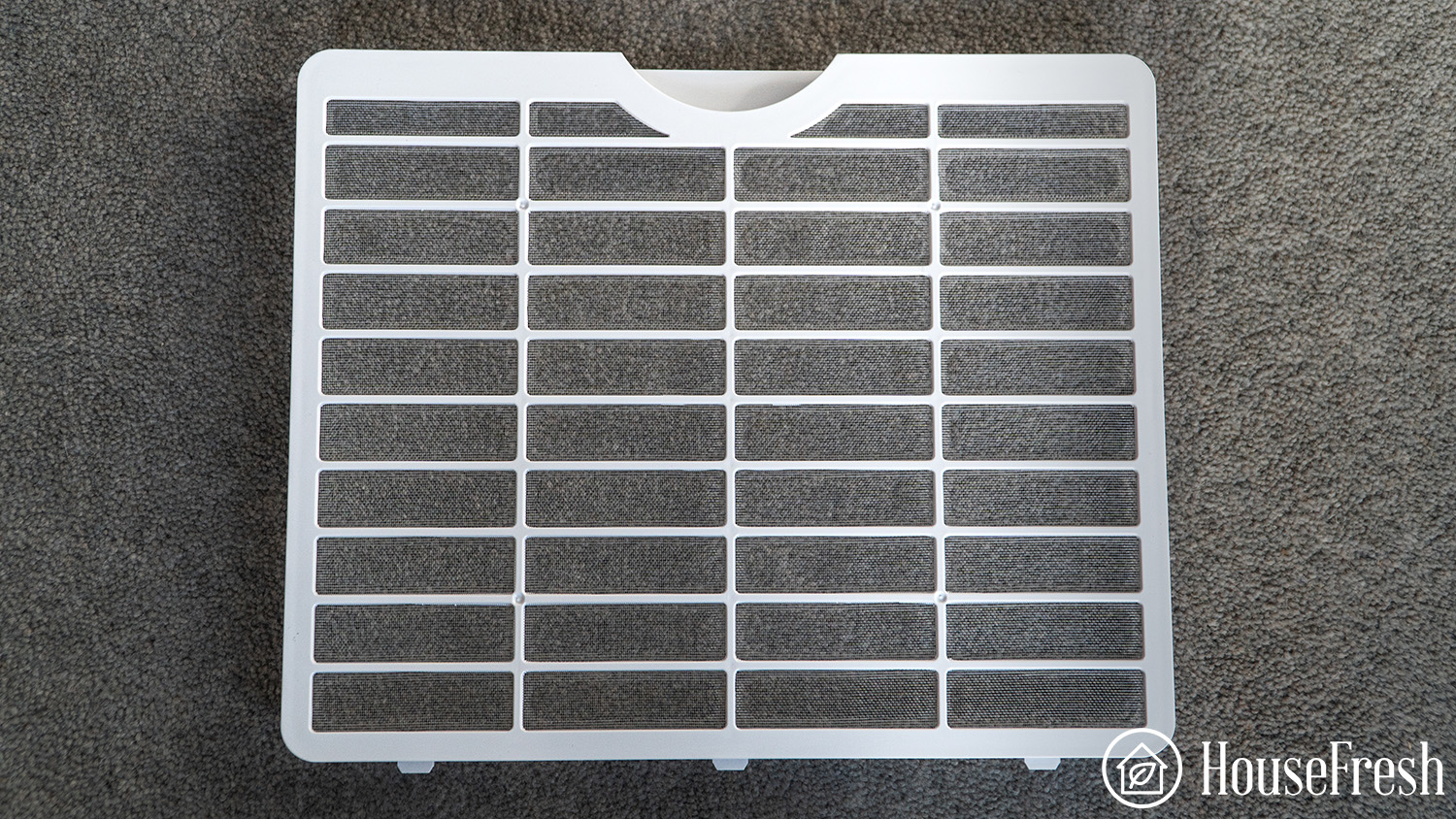 Unlike other dehumidifiers we have tested, this unit doesn't use any filter beyond the dust/insect mesh, and I don't think this is such a bad thing. The main goal of a dehumidifier is to reduce humidity; if you are looking to clean the air of pollutants or odors, then you are much better off with a dedicated air purifier.
No Need to Drain Daily
One of the highlights of this particular unit was the inclusion of the pump.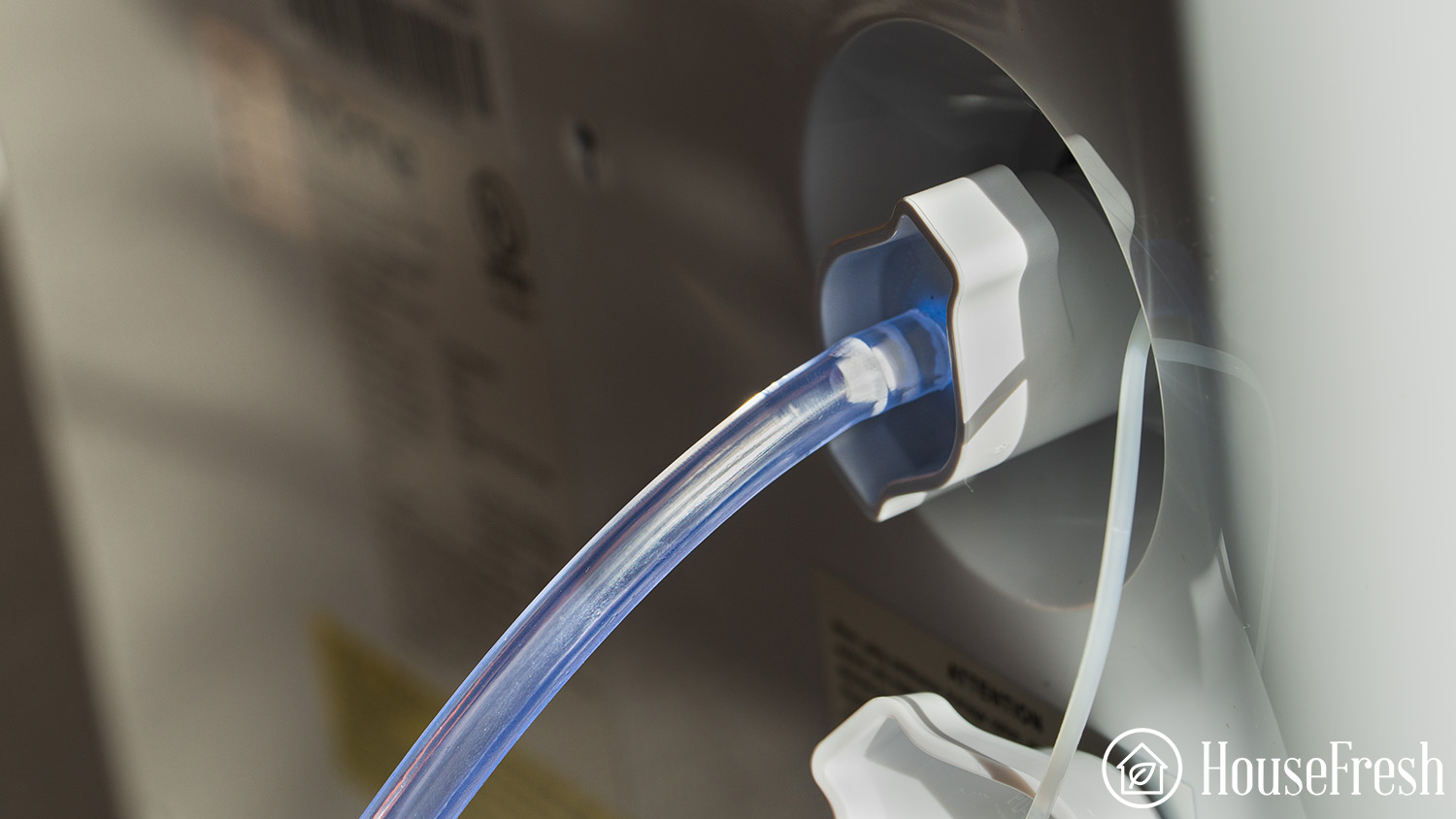 If you have ever used a dehumidifier, you will know that a real pain can be emptying the water bucket daily. This is fine for smaller rooms like a bathroom, but for a basement with a significant damp issue, you might be draining the water twice daily with a unit that can pull out 50 pints of water in 24 hours.
This dehumidifier comes with an extended 16.4ft hose that is long enough for most situations; I was able to have mine pump out water to a drain outside my basement.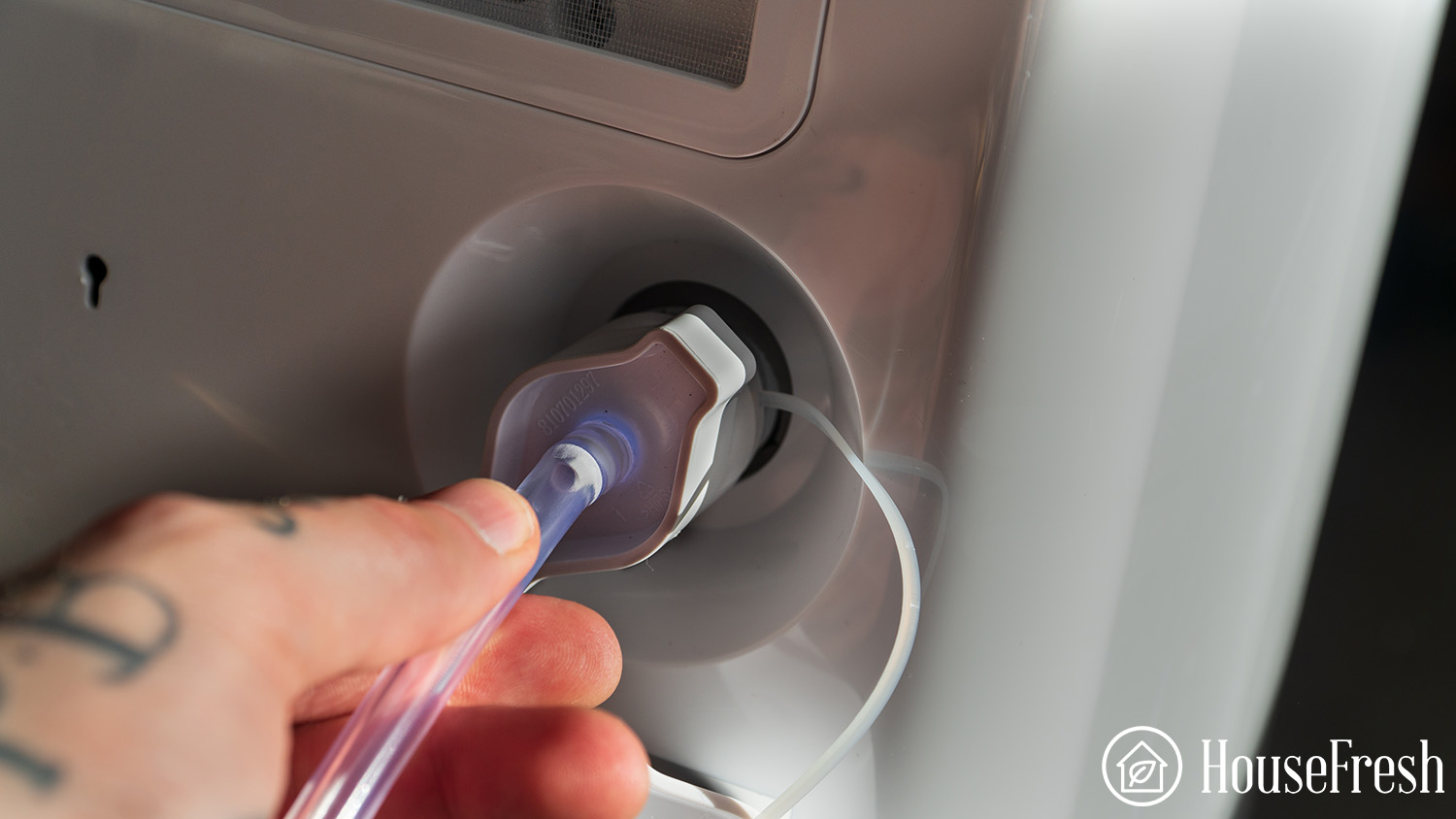 You need to connect the hose to the connector at the back and press the pump button when using the pump. The pump means that you can have the hose go higher as it will not require gravity, as you will be able to pump the water to another location.
💡 You can use this model without the pump if you're not planning on placing it in a very humid room. However, in that case you should probably go with a smaller dehumidifier without a pump as it will be cheaper.
Intuitive Control
The display screen shows the room's current humidity level and you can then set your preferred target humidity up to a maximum of 80%. Once the dehumidifier detects hitting the desired humidity level, it automatically reduces power levels and the electricity you use.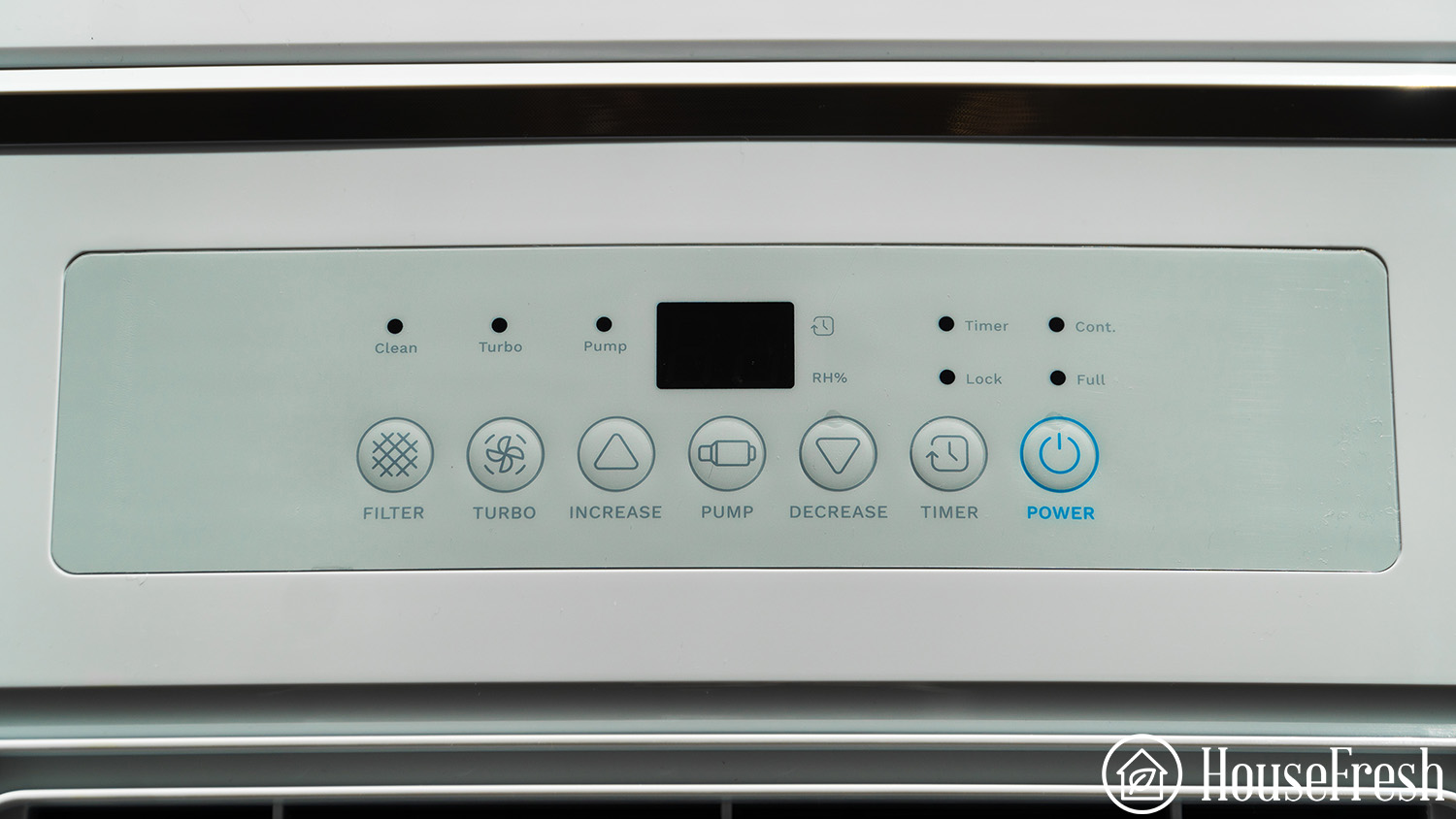 The pump button is vital if you want to use the pump as you need to press it, or the unit will just use the water tank.
The timer allows you to have the dehumidifier on for a set amount of time, from 1-24 hours, which will switch off the dehumidifier after a set time. I'm sure this might have some use case.
Personally, I prefer to set the humidity rate and let the machine decide when to be on or off.
The hOmeLabs 4,000 sq ft Dehumidifier Positively Impacted Humidity Levels in My Basement in 2 Weeks
This hOmeLabs dehumidifier can work up to 4000 square feet, so I tried it in my 2000 square foot very damp basement. My house is relatively old, so the basement gets very damp (90%+), so this is an excellent test for a unit with this level of performance.
I set up the unit with the included hose, which is long enough to connect to an outside pipe and drain. This is great as all the water absorbed from the air is pumped outside without the need of emptying the tank continuously. I had previously tested other smaller units in my basement and found I was emptying the tank twice per day, which was a pain and usually led to me spilling a little water every time.
To test the level of the humidifier, I used my Govee WIFI humidity sensor, which allows me to track the humidifier over time and export the data to show the change over time.
Before turning on the hOmeLabs, my basement showed 90+% humidity, so I set the hOmeLabs to 65% to see if we could hold this humidity level in the short and long term.
I switched on the dehumidifier on the 8th of October 2022, and you can see how quickly it reduced the initial humidity level from 90% down to the desired 65% by the 15th of October. Within two weeks, I saw significantly lower humidity levels.
Once it reached 65%, I didn't switch off the unit. You can see how effectively it kept my basement's humidity levels in the 50-60% range, which is much healthier than before. My wife, who suffers from asthma, now finds it much easier to spend time in the basement when before, she would have problems after just a few minutes down there.
I ran the test for a number of months (between October and January) and in that time, I had two alerts to clean the filters and no issues with the pump or with the unit switching off, even when we went away for four weeks along the way.
Overall I was super happy with its dehumidification performance both in the short and long term.
Noise Levels Test Results
The hOmeLabs 50-pint dehumidifier has a maximum sound level of 53dB, similar to a refrigerator. While certainly not silent, it doesn't stand out too much. Use a dehumidifier using a target humidifier level.
You will find that the unit is not on full power all the time except when it's used for the first time and will often come on and off as needed, which helps to reduce the amount of sound generated.
Sound levels are always personal, so we have produced a short video of what our hOmeLabs dehumidifier sounds like in our basement:
The Cost to Run a hOmeLabs 4,000 sq. ft. Dehumidifier: $44 per Month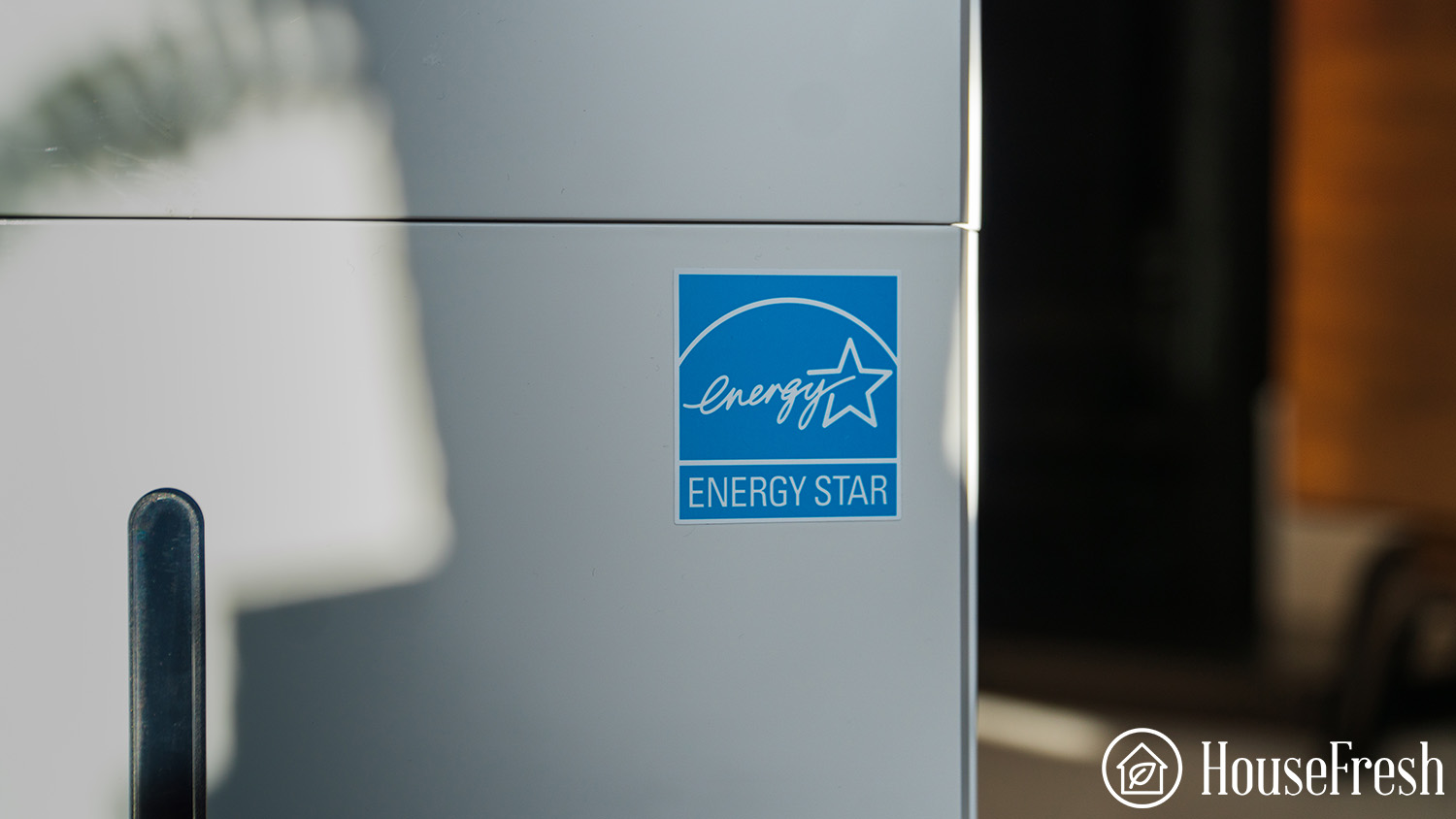 The maximum amount of power that this dehumidifier will draw from the power is 520 watts, which, if we assume it's using this level of power all the time, will equate to $44 per month according to the Department of Energy's appliance energy calculator.
When not running at full power (once humidity levels had been reached) the dehumidifier used between 14.9 watts at the lowest and 74.7 watts at the highest — much less than what you will see when you first use the dehumidifier in a very damp location, but something to consider when using longterm as it won't cost as much as you might think.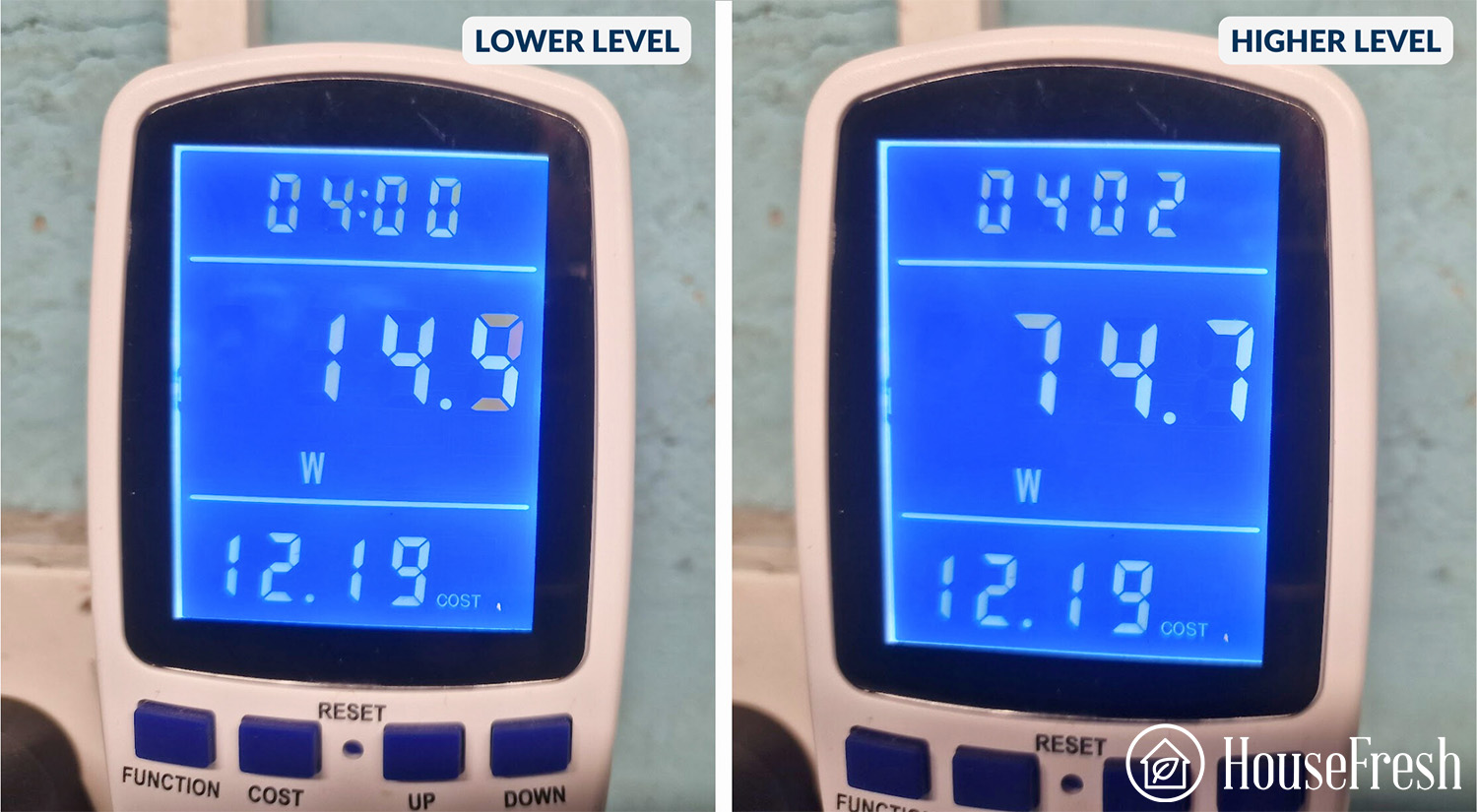 Dehumidifiers can certainly use a lot more power than many people expect. Still, for many uses, the unit will not draw maximum capacity as it will switch to a lower power mode when it reaches the level of humidification required.
---
Bottom Line
I had high hopes for the hOmeLabs 50-pint with pump dehumidifier and I'm glad to say that it met those expectations. Certainly, there could be some improvements, like a handle or app support.
Still, for the price, it's hard not to recommend this dehumidifier for any homeowner with a damp basement that can utilize the pump function. It does the job well, is easy to live with the sound levels and won't cost too much electricity.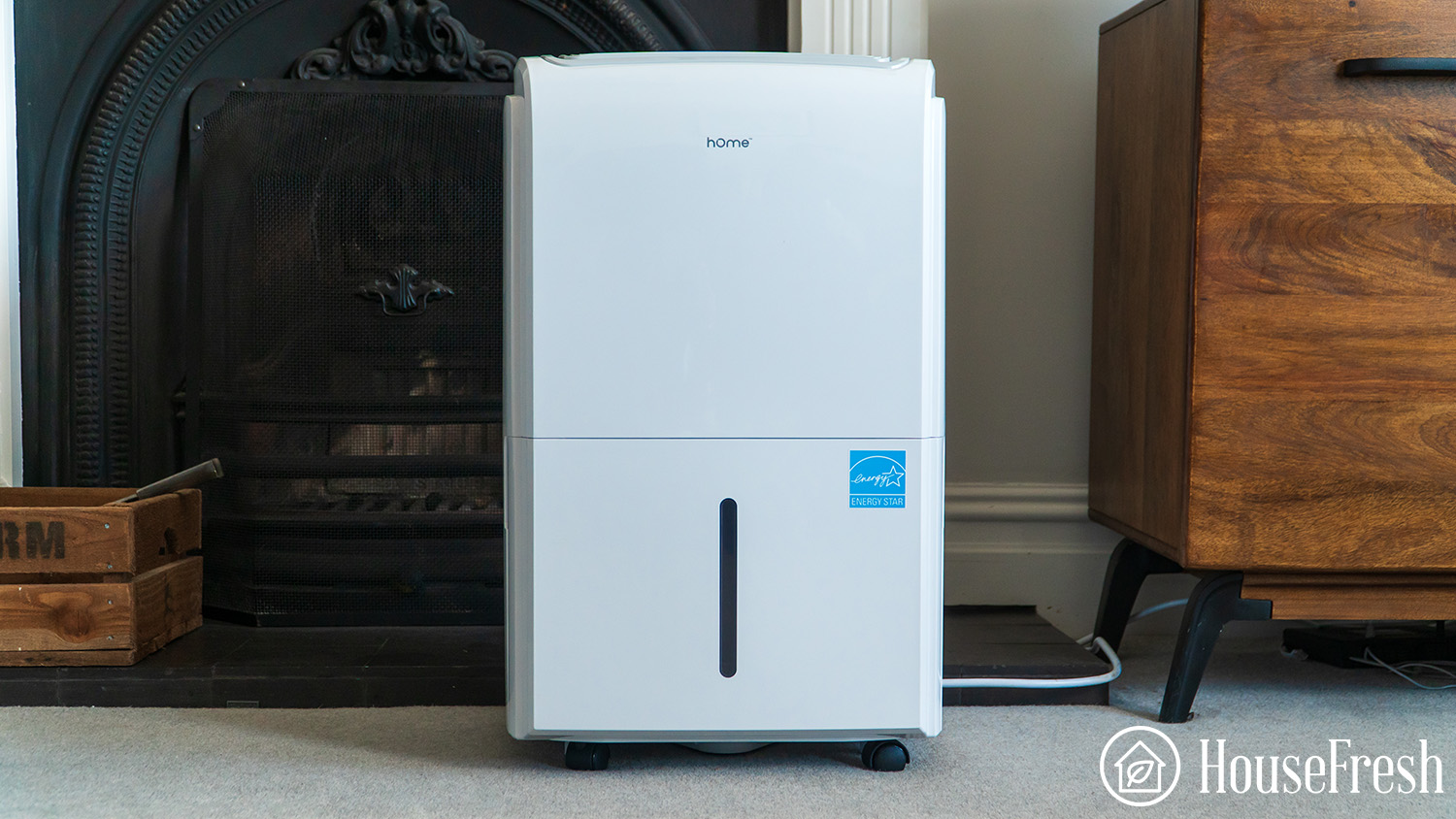 Its main competitor is the Honeywell [TP70PWK] dehumidifier, which has a handle and higher capacity for removing water but, at $100, is a hard choice over this hOmeLabs model.
I have been running this unit since October and have had no issues. Based on many customer reviews, the team at hOmeLabs is very reactive to any problems if they occur, which accounts for their very high average rating on Amazon.
---
SOURCES
We calculated the monthly energy consumption costs using the Department of Energy's appliance energy calculator. We calculated yearly costs associated with running the hOmeLabs humidifier for 24hs a day for 365 days. We ran this calculation using the U.S. average utility rate of $0.12/kWh as of April 2023.