Rabbit Air has gone full-on making this air purifier either blend into your home or be the centerpiece of any room. Boasting a 5-stage BioGS® HEPA filtration system, highly sensitive odor and particle sensors, WiFi compatibility, app control, and cutting-edge Brushless Direct Current (BLDC) motors, this unit covers most bases when it comes to purifying the air in the home.
With one look at the MinusA2, you'll realize that Rabbit Air is trying to do something different. In a market full of white boxes, the MinusA2 takes air purifier design to the next level with its innovative way of living comfortably with a unit in the home.
Coming in at just over $600, the MinusA2 is aimed at an audience who appreciate the finesse of design and those who love their gadgets with features… lots of features.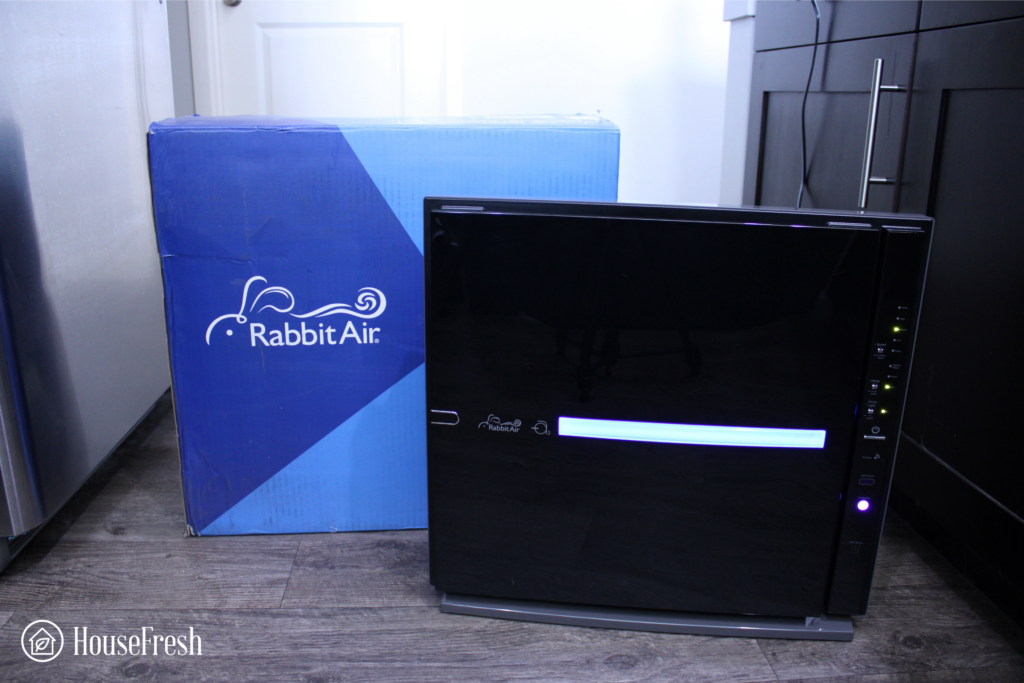 Why You Can Trust This Review

As with all our hands-on reviews here at HouseFresh, we bought this unit with our own money, so we have no biases to give a better review than we would under normal circumstances.

Every unit we feature on our site goes through the same performance review test:

1️⃣ We light an incense stick inside our home testing room (705 cubic ft) to release smoke particulate and VOC pollutants into the air before we turn on the air purifier at full speed.

2️⃣ We can then use our indoor air quality sensor to record the levels of PM1ug/m3, PM2.5ug/m3 and PM10ug/m3 particulate, allowing us to track how long it takes the air purifier to clean the air.

3️⃣ We use an electricity meter to record how much power the air purifier uses when running at its top and bottom fan speeds.

4️⃣ Finally, we use our sound level monitor to measure noise levels emitted by the air purifier when running at the highest and lowest fan speeds.
Will this futuristic unit triumph? Or is it style over substance?
TL;DR The Lowdown on the Rabbit Air MinusA2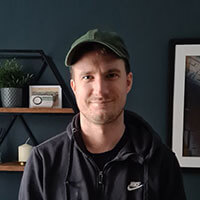 "The wall-mountable Rabbit Air MinusA2 may not be the simplest to set up and get your head around, but once you do, you'll see why it's worth the price tag."
Danny Ashton, Founder & Senior Writer
---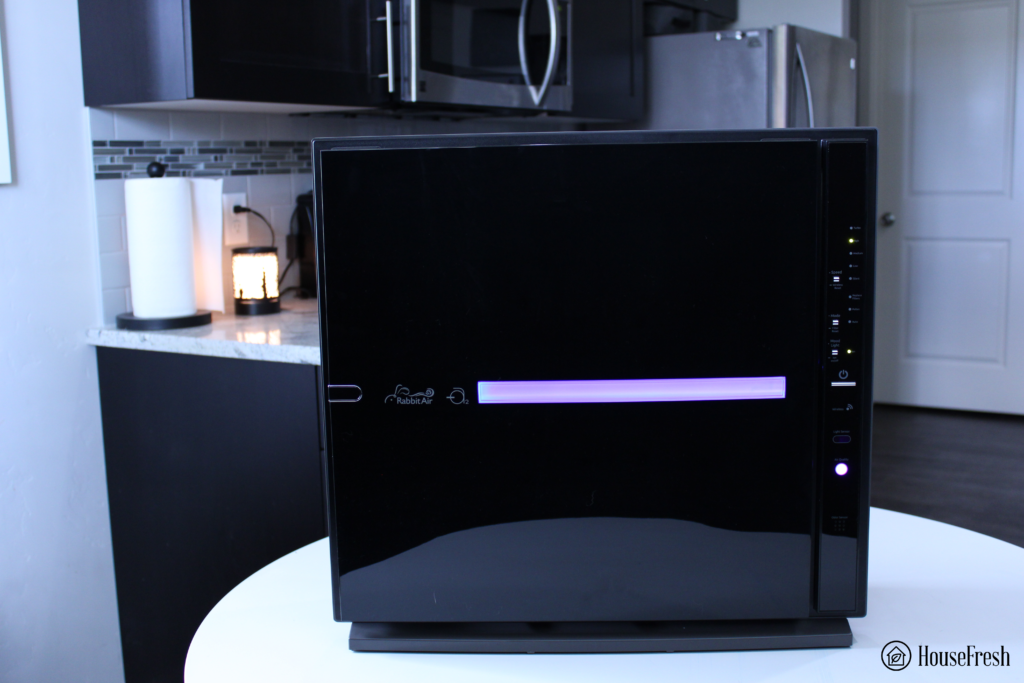 What We Really Like:
👍 Its design is modern and customizable, with different design covers that transform the MinusA2 into a functional piece of wall art
👍 You can leave it freestanding or mount it on the wall (and it comes with everything you need for wall mounting)
👍 Rabbit Air offers different filter options for the MinusA2 that cover all cases: Germ Defense, Toxin Absorber, Pet Allergy or Odor Remover
👍 It comes with a 5-year warranty in case of any mishaps, which isn't a standard
👍 It features an onboard air quality sensor, which allows it to include an Auto mode
What We Think Could Be Better:
👎 The filter replacement indicator is located on the side of the control panel and is small, so it wouldn't be hard to miss it
👎 The app needs work: it was incredibly challenging to get it to connect to the wifi and even when it did, it kept randomly disconnecting
The Specifications
| | |
| --- | --- |
| HouseFresh Rating: | ★★★☆☆ |
| Air purifier technology: | BioGS HEPA filter with an activated carbon filter |
| Recommended room size: | 815 sq. ft. |
| Clean air delivery rate (CADR): | Pollen 200 CFM / Dust 193 CFM / Smoke 180 CFM |
| Dimensions (in inches / in cm): | 20H x 21.4W x 7D inches (50.8Hx 54.4W x 17.8D cm) |
| Weight (in pounds / in kg): | 19.4 lbs (8.8 kg) |
| Filter life: | 12 months |
| Noise level (low – high): | 25dB – 51dB |
| Estimated energy consumption: | $64.12 per year |
| Warranty | 5 years |
Customizable Look and Simple Operation
Okay, so I've already gone on about the design of the MinusA2 but let's take a closer look. We opted for the black version over the normal white model because, let's face it, it looks so much cooler.
The shiny gloss front panel holds a Knight Rider-esque light bar stretching most of the unit. Down the front right-hand side is where the controls live, along with more lights and indicators.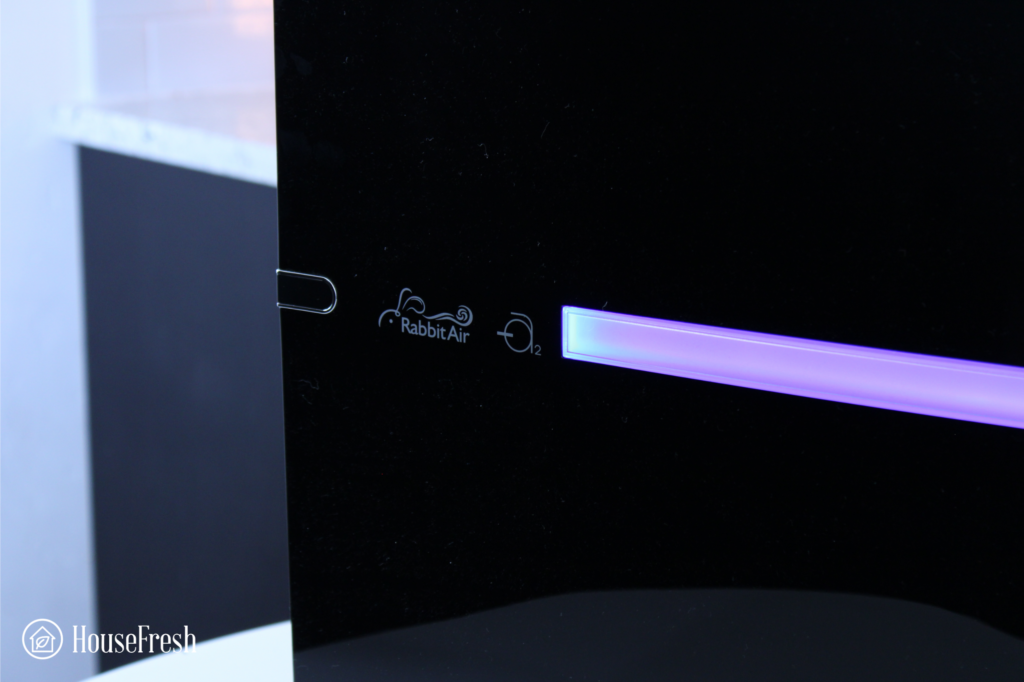 But if you're more into decorative aesthetics, Rabbit Air have you covered as it offers five different designs to choose from that will transform your air purifier into a functional piece of wall art.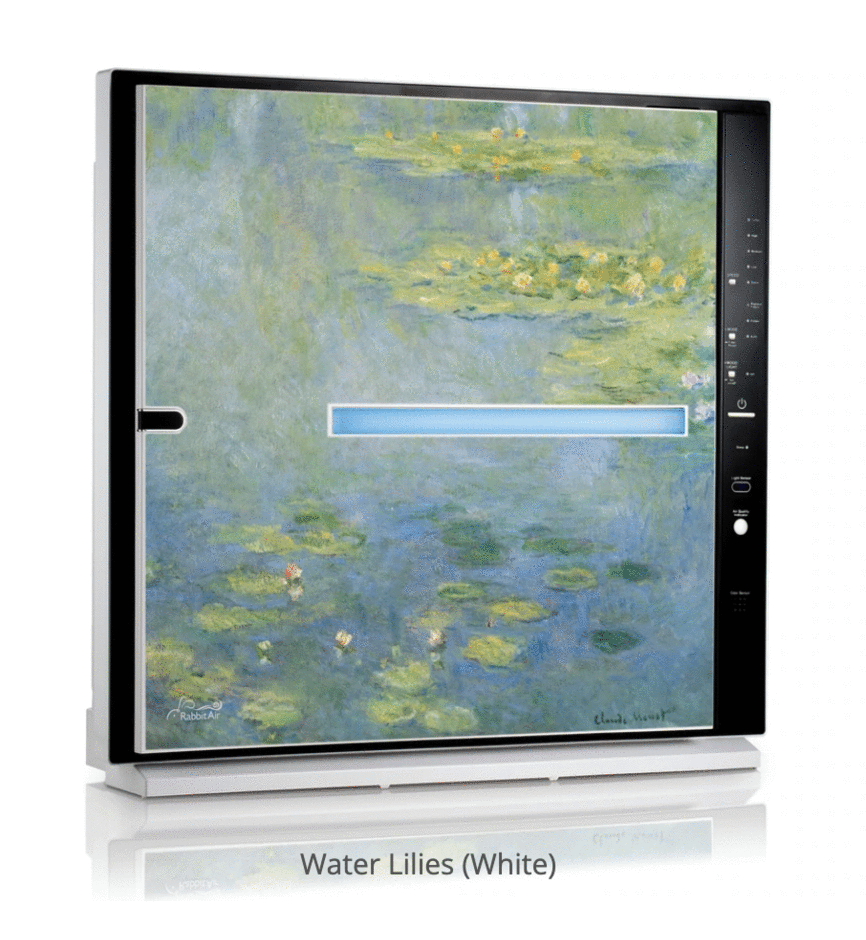 A great feature of this unit is its free-standing or wall-mounted ability. You receive all the parts you'll need for both options without buying any extras. If you choose to have it freestanding, it measures just 19.25 inches in height which means it won't be towering over anything, and (size permitting) you could even have it on a desk or table. The MinusA2 has a remote control, which is super handy when mounting the unit to the wall.
The control panel is clearly labeled and extremely easy to navigate. There are four buttons: Speed (to control fan speeds), Mode (to switch modes + to reset the filter indicator), Mood Light (to turn the light on and off + to turn the Negative Ion Generation on and off) and Power button.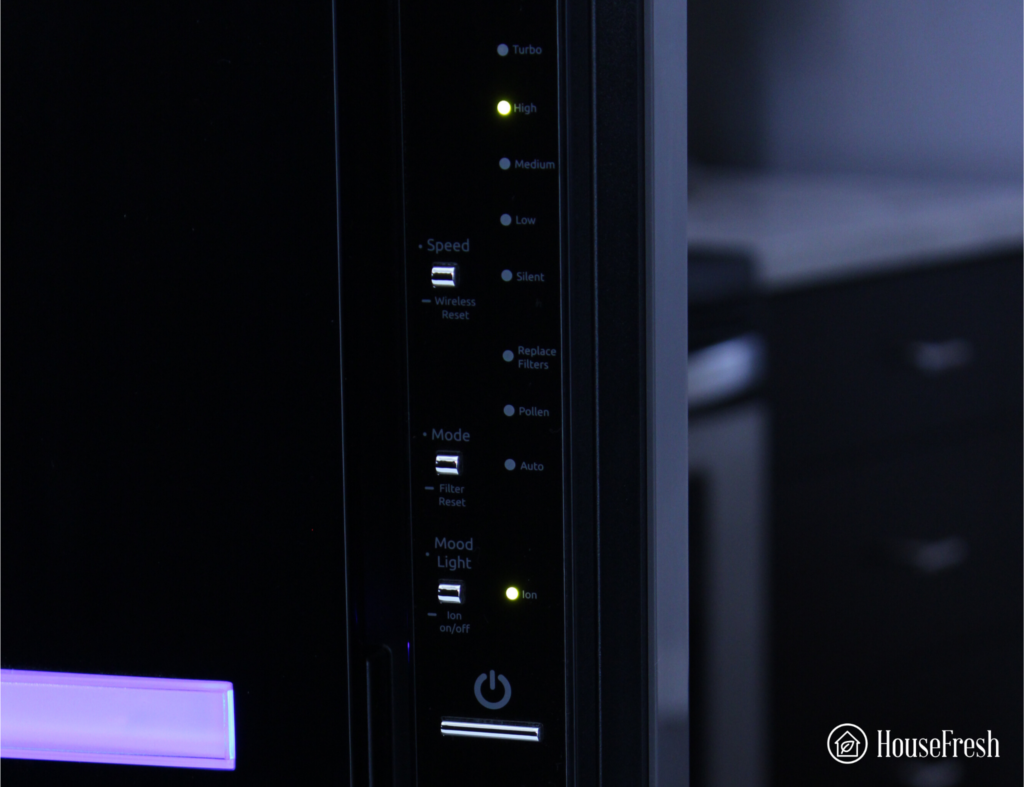 Here are some notes on the buttons:
You must press and hold the Power button for two seconds to turn the unit on or off.
There are five speeds, so pressing the Speed button takes you through Silent > Low > Medium > High > Turbo.
The Mode button is a dual control button: pressing it briefly allows you to change between Pollen Mode and Auto Mode. But when you press and hold this button, it will reset the Replace Filters Indicator.
The Mood Light button is also a dual control button. When pressing it briefly, it turns the mood light on and off. Pressing it and holding it for three seconds allows you to turn the Negative Ion Generator on and off.
We found that for general use, Auto mode worked better for us. When you set it to Auto, you can basically forget about it and let it do its job. We noticed the fan speed and air quality sensor changing when we were cooking and when we were moving around the apartment more than usual.
A great feature of the Rabbit Air is the light sensor. When testing the unit in the bedroom overnight, we noticed that when you turn the lights out, the A2 will turn its light out so it won't disturb your sleep. This happens because when the room is dark for 3 minutes, the MinusA2 goes into Sleep Mode. It's worth mentioning that Sleep Mode doesn't override Pollen Mode or the fan speed you have set manually.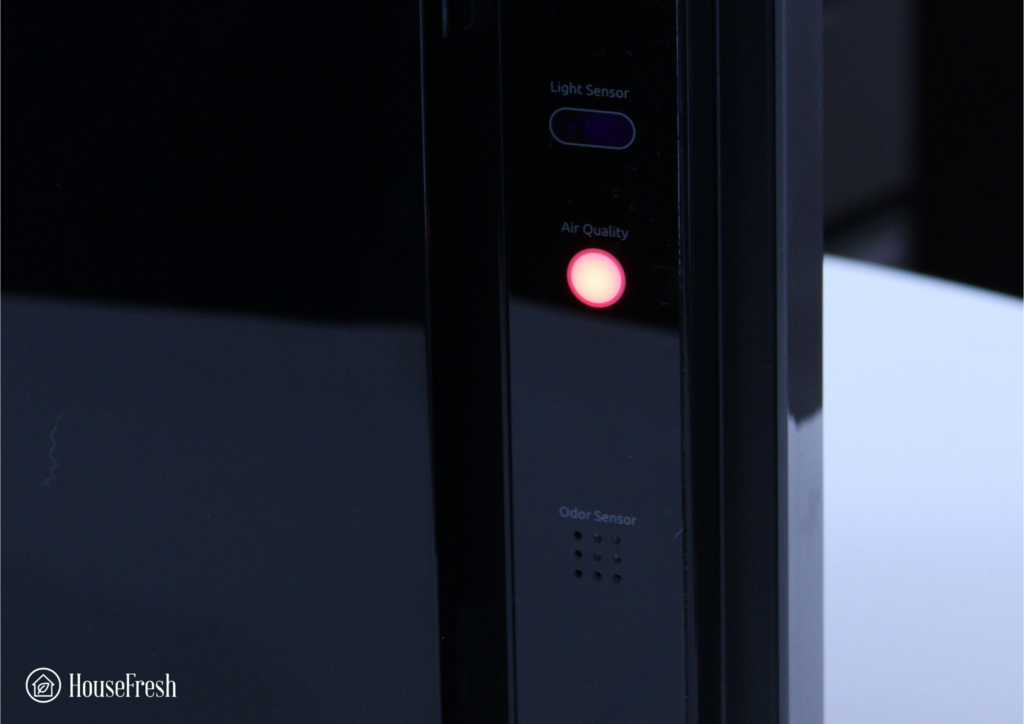 Something I like about the MinusA2 is that it comes with an air quality sensor onboard, allowing you to track air quality levels in your home — by the way, this makes the air purifier capable of offering Auto Mode in the first place!
The Air Quality Indicator light indicates the air quality in the room the air purifier is in. Depending on the amount of pollutants in the air, the colors shift from blue (good air quality) to purple to pink to red (bad air quality).
Another thing I like about the onboard air quality sensors is that you can adjust the sensitivity levels. All you need to do is to press and hold both the Speed and Mode buttons for three seconds. Afterward, you will see the Air Quality Indicator and Auto Mode Indicator blinking, this means that you can now use the Speed button to set the sensitivity level you prefer: low (Replace Filters), standard (Pollen Mode) and high (Auto Mode). To save the new sensitivity level, you need to press and hold the Speed and Mode buttons for three seconds.
The App Is Not Great
You'd think it would be standard practice to have wireless capabilities with air purifiers by now, but it still seems to be an extra feature (I hope this changes soon). The MinusA2 has these capabilities, and Rabbit Air has created its own app for their units.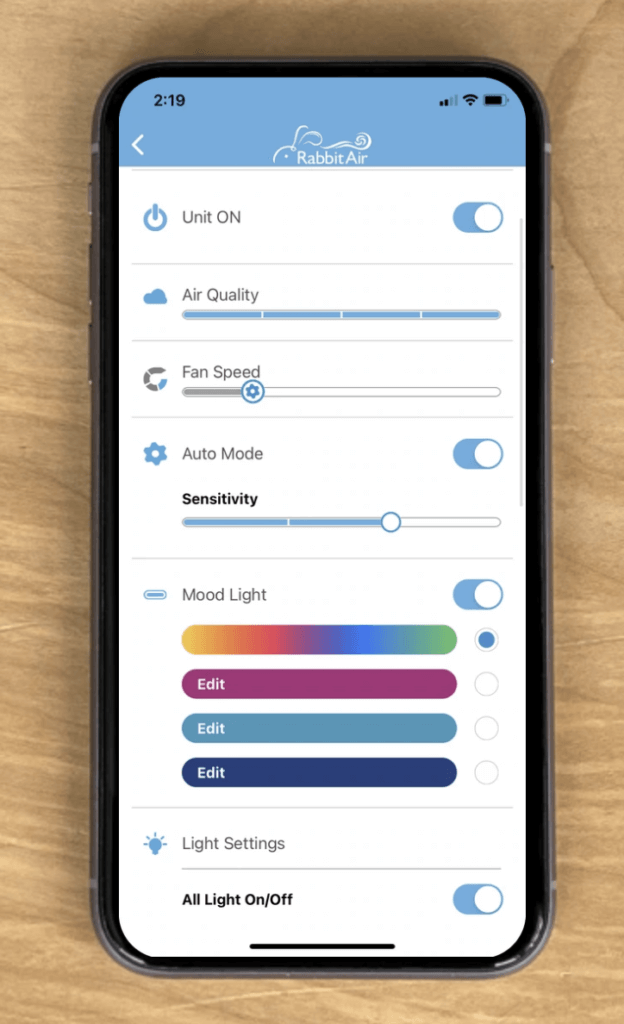 You can connect to the MinusA2 from the comfort of your couch or before you get to your house to remotely turn your unit on/off, check the room's current air quality, change fan speeds, and engage Auto Mode.
The app is probably great… when it's working. At first, the unit wouldn't connect to my wifi at all. Eventually, when it did connect, it would work for a while, then disconnect by its own free will.
This kept happening until I got to the point where I didn't use it all. I hope Rabbit Air updates the app to improve its UX and functionality as being able to access the air purifier remotely would be extremely useful.
💡 Pro Tip: There is an option to use Alexa if you like shouting commands from across the room.
6-Stage Filtration System
This is where Rabbit Air stands tall over other brands. The MinusA2 comes with a large six-stage filter to battle airborne contaminants, which fits snugly in the front of the unit.
Here's a breakdown of the six stages:
| | |
| --- | --- |
| Stage 1: Pre-filter | The pre-filters main task is to capture larger airborne particles like dust mites, pet hair, and pollen. This filter is hand washable, which means it not only doesn't have to be replaced with the other filters, but it prolongs its lifespan (if you wash it regularly, of course). |
| Stage 2: Medium filter | You don't commonly find a medium filter on a lot of units, so this is a bonus. It's designed to care for particles larger than 1 micron, like bacteria, mold, and dust particles. Having a medium filter means the HEPA filter doesn't have to work as hard and should last longer. |
| Stage 3: BioGS® HEPA filter | A HEPA filter has the most critical role in any air purifier: it removes the tiniest particles out of the air to make it clean. Rabbit Air's BioGS® version traps 99.97% of allergens and particles 0.3 microns in size. Basically, whatever sneaks through stages 1 and 2 will be caught here. |
| Stage 4: Customized filter | The MinusA2 allows you to tailor the unit to match your needs. Each of the 4 customized filters is engineered to tackle different contaminants. You can choose from Germ Defense, Toxin Absorber, Pet Allergy, or Odor Remover. |
| Stage 5: Activated carbon filter | Rabbit Air claim that its filter is more effective than typical Activated Carbon filters. It reduces chemicals and odors in the home, like vape/cigarette smoke, VOCs, and cooking odors by trapping them in its activated carbon layer. |
| Stage 6: Negative ions | Not strictly a layer of the filter, these invisible molecules released from the unit latch onto contaminants, weighing them down. This makes it easier for the filters to trap these particles. |
Something I didn't like as much is that the (dreaded) filter replacement indicator is located on the side of the control panel and it is pretty small, so it makes it easy to miss. This means that you'll have to keep an eye on it. Rabbit Air state that you should replace the filter every 12 months, if you're operating the unit 24hrs a day.
💡 Pro Tip: You can prolong the filter life by regularly cleaning the pre-filter and making sure you vacuum and dust more regularly.
Noise Levels Test Results
Noise is a key factor for me. As the fan spins around, collecting all those harmful toxins, it starts to generate noise, and if it's too loud, it'll deter me from turning the unit on.
On Silent mode, you can hear the fan gently hum away, which is great if you have it in the bedroom as it won't keep you awake. Turbo mode, on the other hand, is where the MinusA2 ramps noise levels up. Unfortunately, it does get quite loud and noticeable even over the TV. It's no jet engine though!
Here's a video so you can hear it by yourself:
Cost to Run the Rabbit Air MinusA2: $169.12 Per Year
1. Electricity costs = $64.12 per year
At its minimum fan speed, the Rabbit Air MinusA2 only recorded 7 watts, the same as a compact fluorescent. Compared to competitors, it pulls much less power; the Honeywell HPA300, for example, recorded 30 watts when running at its lowest fan speed. When setting the MinusA2 at its top fan speed, however, the unit pulls 61 watts. If you were to run this air purifier at its top speed non-stop for a full year, it would cost you $64.12 per year.
2. Filter costs = $105 per year
The filter costs are not cheap, but luckily you shouldn't need to replace the filters sooner than 12 months. The good news is that generic replacement filters are easily available online if the official MinusA2 replacement is too expensive for your wallet.
Technology
Medium Filter, BioGS HEPA Filter, Customized Filter, Charcoal-Based Activated Carbon Filter
True HEPA filter, medium filter, customized filter and activated carbon filter
Technology
Medium Filter, BioGS HEPA Filter, Customized Filter, Charcoal-Based Activated Carbon Filter
Technology
True HEPA filter, medium filter, customized filter and activated carbon filter
---
Bottom Line
All said and done, the Rabbit Air MinusA2 is a hard worker and looks great. Its six-stage filter system makes light work of airborne pollutants and you can see it working with its air quality indicator.
Yes, the app can be a little problematic, and the buttons are small, but it makes up for these issues when cleaning the air in rooms up to 815 sq. ft.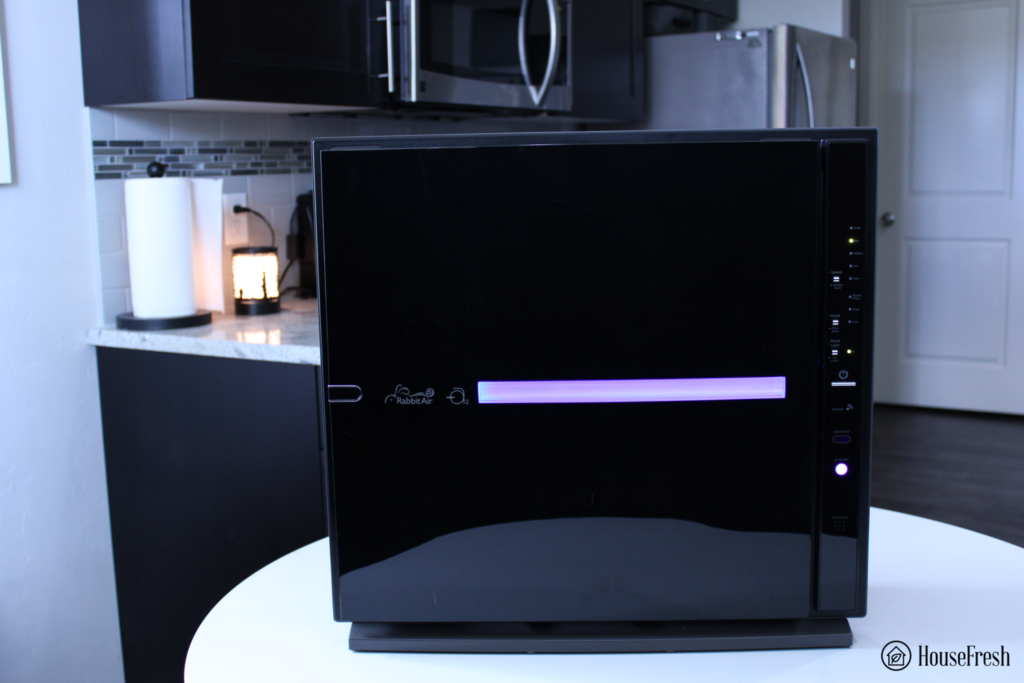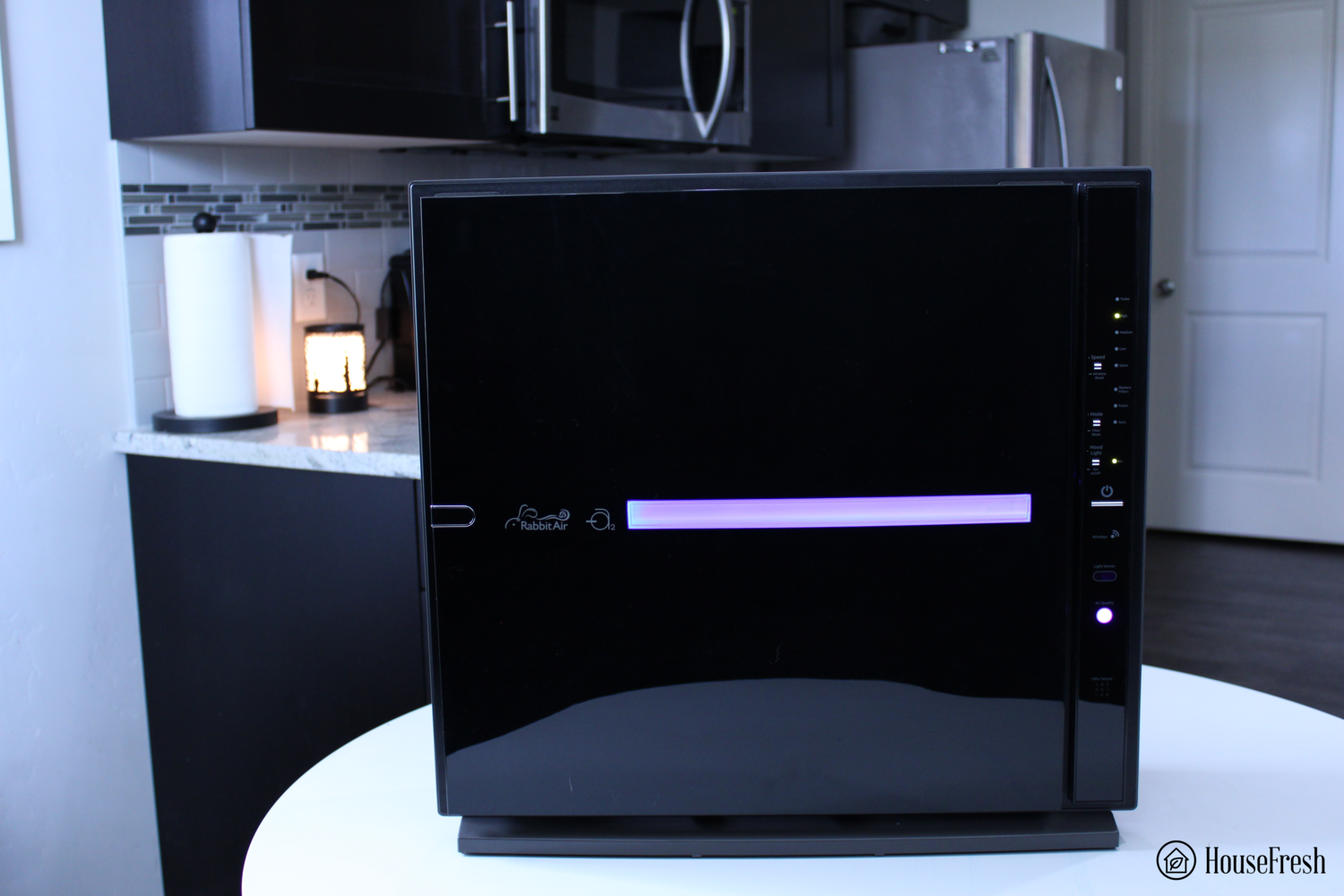 The Rabbit Air MinusA2 fits perfectly well into creative spaces, apartments with little floor space (thanks to its mountable nature), and those who want their gadgets with a little more style.
---
SOURCES
We calculated the monthly energy consumption costs with the help of the Department of Energy's appliance energy calculator. We calculated yearly costs associated with running the Rabbit Air MinusA2 for 24hs a day for 365 days. We chose to run this calculation utilizing the U.S. average utility rate of $0.12/kWh as of the 1st of May, 2023.
Last update on 2023-12-01 / Affiliate links / Images from Amazon Product Advertising API