Our verdict:
This is my review of the Alen A350 air purifier that was sold in the 2010 era.
At the start of 2022, we managed to get our hands on a working Alen A350 to review and were also able to get a brand new filter from Alen.com so we're able to test it. It performed surprisingly well for such an old unit but its age does show when it comes to its energy usage vs cleaning performance. If you still have one of those units and don't mind the higher bill price, then it's a worthy addition to the home.
The Alen A350 managed to clean our test room of 700ft in 35 minutes which is better than something like the Levoit Core 300, which is an air purifier that we recommend and that cleaned the room in 49 minutes.
Performance:
The downside of the A350 is its power consumption at a whopping 86.7watts which is equal to $133.67 a year at California electricity costs. Compare that to the far more powerful Levoit Core 400S that has 24.5watts at full power which would only cost residents of California $37 for the year it's hard to recommend buying an Alen A350 but if you got one still in operation you don't mind the extra costs of energy to save more plastic being thrown away then you might be tempted to keep it running.
*figures generated from our inhouse tool: How much electricity does your air purifier use
Updated 2020
The Alen A350 was an air purifier that was first sold in 2010, if you already have one of these units then congrats on keeping your unit running for 10 years. You will also be happy to know that you can still buy filters for these units:
Alen BF25A-Silver Filter, 1 Count (Pack of 1), Silver
Silver-Ion Technology protects the filter against growth of harmful bacteria and microbes
Creates an allergy and asthma friendly environment by removing dust, pet dander, mold spores and pollen from the air
Provides pure, breathable air by capturing VOCs (Volatile Organic Compounds) from cleaning products, personal care items and other household materials
Pre-Filter layer extends the life of the filter
Our standard medical-grade H13 True HEPA air filter offers outstanding protection by removing 99.9% of dust, allergens, and harmful fine pollutants as small as 0.1 microns. Every 30 minutes, our product can purify your home or office air depending on the model of Alen air purifier.
Sadly the Alen A350 is no longer for sale but there are a number of new Alen units that you might be in interested in that have a similar specification:
Alen 45i Air Purifier, Quiet Air Flow for Large Rooms, 800 SqFt, Air Cleaner for Allergens, Dust, Mold, Pet Odors with Long Filter Life (Dust, Mold, Odor) (Air Purifier)
REPLACEMENT AIR FILTER: For BreatheSmart Flex & 45i Air Purifiers ONLY. Find your model number on the top panel below the power button to ensure you get the right HEPA filter. It purifies 800sqft every 30 minutes and is helpful for 9-12 months.
B4-PURE FILTER: Ideal for medium, large, and extra-large spaces, including living rooms, bedrooms, nurseries, laundry rooms, bathrooms, offices, kitchens, basements, and more! It traps allergens, pollen, fur, pet dander, mildew, and aerosolized viruses.
MEDICAL-GRADE PROTECTION: 3-Stage H13 True HEPA filtration captures 99.99% of particles as small as 0.1 microns. HEPA air filtration is the third of five stages where the air filter traps viruses, bacteria, mold spores, and smoke with activated carbon.
5 AIR QUALITY COLORS: A Laser Smart Sensor detects airborne particles and auto-displays the current air quality. Blue = Excellent, Green = Good, Orange = Fair, Red = Poor, Purple = Bad air quality (high particle levels).
PERFECT GIFT WITH A RANGE OF APPLICATIONS: Alen air purifiers aim to maintain our community's health and wellness with cleaner pure air. From back-to-school preparations for classrooms, doctor's offices, hotels, bars, lounges, restaurants, and most importantly your home, our air purifiers offer air filtration to everyone. A great gift for smokers and pet owners who need to improve their indoor air quality caring for their loved ones.
With a CADR rating of 245, the breathsmart 45i would be the A350 for the modern era. This unit comes with the same Alen lifetime guarantee so you can expect this air purifier to keep performing beyond 2030!
2. Alen BreatheSmart T500
Sale
Alen T500 Air Purifier, Quiet Air Flow for Large Rooms, 500 SqFt, Portable Air Cleaner for Allergens, Dust, Mold, Pet Odors, Bacteria, In White
RECOMMENDED FOR: Dust, dander, allergens, pet fur, odors and cleans up to 500 SqFt of air every 30 minutes on high speed
TRUE HEPA FILTER: Includes a Medical Grade H13 True HEPA layer that captures 99.99% bacteria, aerosolized viruses, and airborne particles larger than 0.1 micron AND includes a vacuumable pre-filter to help increase filter life
ANY ROOM SIZE: Fits perfect in any space from small to large rooms, living rooms, bedrooms, dorms, offices, bathrooms, nurseries, and kitchens
SIMPLE TO USE: Quickly adjust settings with a touch of a button
PERFECT GIFT WITH A RANGE OF APPLICATIONS: Alen air purifiers aim to maintain our community's health and wellness with cleaner pure air. From back-to-school preparations for classrooms, doctor's offices, hotels, bars, lounges, restaurants, and most importantly your home, our air purifiers offer air filtration to everyone. A great gift for smokers and pet owners who need to improve their indoor air quality caring for their loved ones.
This unit is a little cheaper but still has a CADR rating for dust of 159 so less powerful than the A350 but can often be found for less than $250 so significantly cheaper. This is a low priced unit but still comes with the Alen lifetime guarantee. This unit comes with the H13 which are the same filters used for medical grade air purifiers.
The following article is our original review of the Alen A350 Air Purifier from 2010: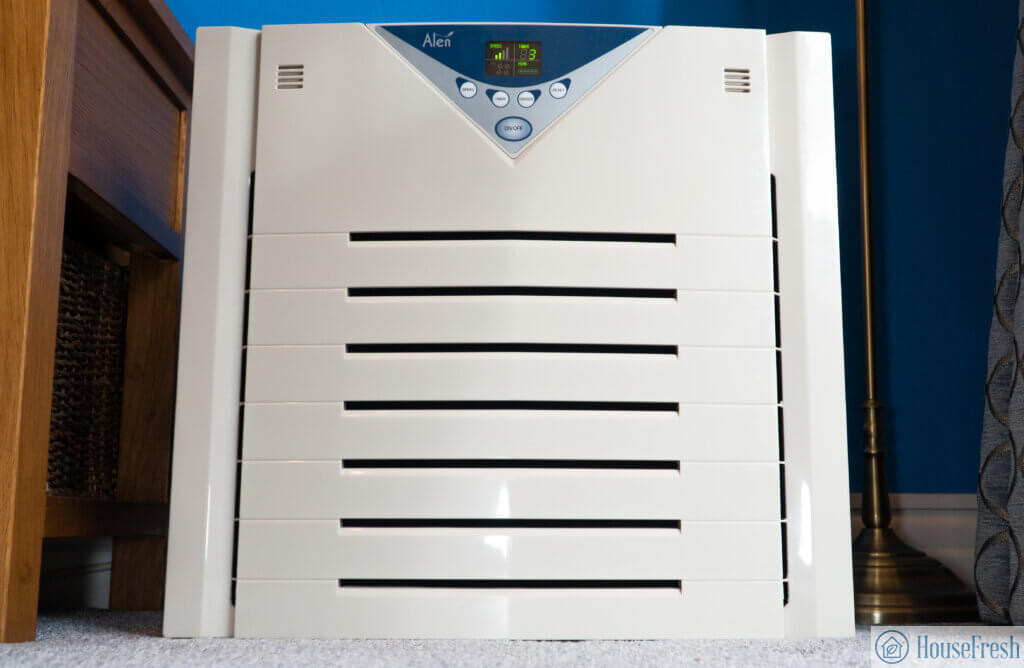 PRICE = $399 (Amazon.com)
Before we start to dig deep into the pros and cons of this particular purifier. It's worth having a look at what consumers at the major retailers think of this purifier. Most large internet retailers allow consumers the ability to provide a rating for their purchase. I use this rating as an initial way to quickly gauge the performance of an air purifier.
The Alen a350 purifier has achieved favorable scores across a wide range of sites.
Note: Air Purifiers America has business connections to Alen so we need to take their scores less seriously than the other more independent retailers.
The video below will take you through a sample of Amazon.com reviews so you can get an idea of what people like/dislike about it:
The next step we take for this air purifier review is to dig a little deeper into what the experts are saying about this purifier:
1. Air Purifier Power – Written By Ed Sherbenou – URL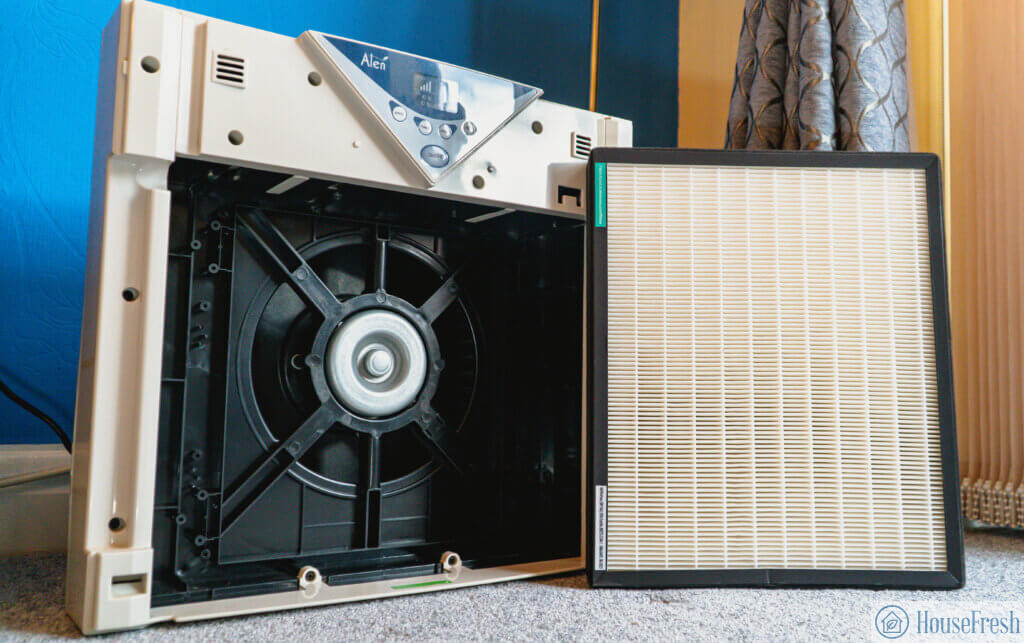 Air-Purifier-Power Rating: 82, good
Benefits:
In recent assessments by air-purifiers-america.com this A-350 eliminated 98% of the contaminants in the device and 97% of the contaminants within the room.
The A 350 purifier is great at airborne dirt and dust and plant pollen elimination, yet is also competitively cost-effective costing under $300..
So the projected CADR (for basic comparability to mid priced store-bought models without having chemical substance blocking capability ) is 203.
The manufacturer guarantees 95% of purchases will be delivered within Twenty-four hours, and also features a straightforward return policy.
Problems:
Significant gas and smell elimination is really a necessity if health benefits can be envisioned: Models with actual carbon VOC ability position higher. We produced a list of the best air purifier for VOC's.
Alen A350 air purifier sound amounts will be over normal: 36 decibels(A)on low setting, 65 decibels(A)@214cfm on highest setting. 65 decibels(A) isn't the loudest, but 214cfm is fairly weak for that amount of noise.
The organization doesn't sell direct, yet drop ships air cleaners marketed by merchants.
2. ConsumerSearch.com: URL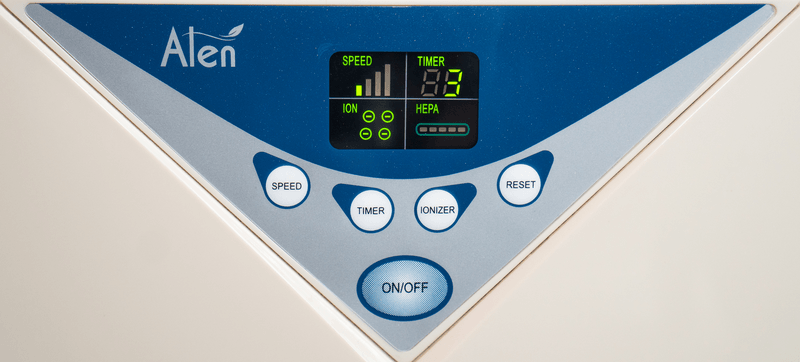 Provides some reservations that the A350 should only be used in smaller rooms.
Benefits:
Highlights that this particular purifier can be mounted on the wall
States that the replacement filters are relatively cheap
Mentions that the A350 comes with a Lifetime warranty
Problems:
Talks about how come, consumers, mention that the power supply causes a "humming" sound
Indicates that this air purifier should only be used in smaller rooms
CADR Results:
Sadly the A350 has not undergone a CADR test so we can not provide these results for this test. Thankfully Ed at air-purifier-power has worked out that this purifier has a similar ranking to a CADR ranking of 203.
The Alen A350, therefore, has an estimated score of: 203 CADR Ranking
Technology Used:
1.HEPA Filter
The Alen A350 uses one combined HEPA, carbon, and pre-filter in one unit. The only issue this raises is the price as the purifier requires this combined filter to be changed every six months. Currently, you can purchase the A350 filters on amazon.com for $49.99 which is not too bad but bear in mind that you will need to replace these twice each year – so it's $100 per year. If I compare this with other purifiers that use Lifetime HEPA such as the Honeywell 50250-N, the A350 is considerably more costly to run.
2. Ionizer Function
One of the nice benefits of the Alen A350 is that it comes packaged with an inbuilt non-ozone ionizer unit. Normally I would suggest that people steer clear of ionizer-only units but when combined with a strong HEPA filter it can help improve cleaning efficiency. The ionizer unit will charge the surrounding particles with a negative charge which means that these particles are heavier and thus picked up more easily by the HEPA filter. Negative ions have also been shown to imbue of sense of well-being but this still has not been confirmed by scientific studies. If you are not sure about the ionizer then you can easily disable the function using the on-off switch at the top of the unit.
Power Consumption
The A350 has an Energy Star Rating but compared to modern air purifiers it's uses a lot of electricity with a maximum of 86.7 watts.
Addressing the Sound Problem
Some reviews have mentioned that the A350 has a whining sound when running. In tests, we came across no such noise and believe that this whining sound was down to broken air purifiers. On the highest setting, the A350 creates a noise level of 65 dB, which is relatively loud. In the video below I show the Alen a350 working at each different sound level so you can evaluate if it's too loud for your home.
While the purifier is loud at the level 5 setting, it's unlikely that you would need to leave it at this level for much time. I am quite happy with the sound output at the lowest level and so I would not find a problem sleeping with it running in my bedroom.
Performance Test
To test the A350's performance, we set it up in our HouseFresh testing room.
We use this 705 cubic ft bedroom to test all our air purifiers to ensure it is done fairly, in the same conditions for a more accurate comparison.
To create pollution, we use incense sticks which contaminate the room with large amounts of pollutants. When the room is sufficiently polluted, we turned the Alen on at full fan power and left it to see how long it took to clear it of contaminants.
As with all our performance tests, we used the Purple Air Indoor sensor to track the number of small particles down to 1ug in the room, in real-time, allowing us to view the data on a graph.
Here's what we found:
The highest point on the graph is where pollutants from the incense reach their maximum contamination.
As you can see from the sharp drop, the A350 goes straight to work on the larger particles in the room, while dealing with the smaller ones at a slightly slower pace.
The A350 cleared the room of contaminants in 35 minutes. Even though this unit is no longer sold, it holds its own against the newer, more modern units on the market.
Conclusion
This purifier provides a significant amount of cleaning for a small price of just under $400. It can be used in medium-sized rooms (400 square feet recommended) and can remove all types of particles successfully. My only issue with this purifier is the cost of replacement filters ($100 each year) and the lack of VOC capabilities.
When comparing with other purifiers you should make sure that you take into account the $100 a year cost, as some Lifetime HEPA filters will work out far cheaper in the long run and may outweigh the initial extra cost.
The Alen A350 air purifier is currently the highest-rated purifier in my medium range ($200-$700) purifiers, and I give it a 5-star rating.
If you want to move away from Alen for your next air purifier, then check out my latest recommendations for the best air purifiers for wildfire smoke.
Last update on 2023-06-08 / Affiliate links / Images from Amazon Product Advertising API