For our latest review, we've turned to the Austin-based air purifier manufacturer Alen to put the BreatheSmart 45i through its paces. Alen is widely regarded as one of the top innovators on the market, creating high-performing purifiers and long-lasting filters.
The BreatheSmart 45i is the little brother to Alen's flagship purifier (the 75i), sharing the same great technology but designed for use in spaces up to 800 sq. ft. With impressive facts and figures on the Alen website, we decided to test it for ourselves.
Why You Can Trust This Review

As with all the reviews we do here at HouseFresh, we bought the Alen 45i with our own money to be as unbiased as possible to give our readers the information they need to decide if this unit is for them.

If the Alen BreatheSmart 45i sucks, we will tell know, and we will tell you. To know, we put the Alen 45i to the test as we do with every air purifier we review.

Here's how we tested this unit:

1️⃣ To test its air cleaning performance, we calculated how fast the Alen 45i cleaned the air in our 705 cubic ft. home lab, previously filled with incense smoke. We turned the 45i to its highest fan speed and used an air quality monitor to track the as PM1.0ug/m3, PM2.5ug/m3 and PM10.0 ug/m3 levels decreased.

2️⃣ Next, we tracked electricity consumption in watts when running the air purifier at its lowest and highest speeds, with the help of an energy monitor.

3️⃣ The last step was a noise test, where we used a sound level monitor to record sound levels in decibels emitted by the Alen 45i when working at its top and bottom speeds.

I sat down to write this review only when we had gathered all this data ourselves, so you can rest assured I am not just paraphrasing an Amazon listing or a manufacturer's brochure just like most sites reviewing air purifiers these days.
TL;DR The Lowdown on the Alen BreatheSmart 45i
---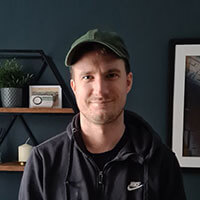 "Although its price comes in at the higher end of the mid-range market, you'll struggle to find another purifier for under $450 that boasts 5 air changes per hour in an 800 sq. ft. room with a CADR rating of 245, along with the real-world performance to back it up."

— Danny Ashton, Founder & Senior Writer
---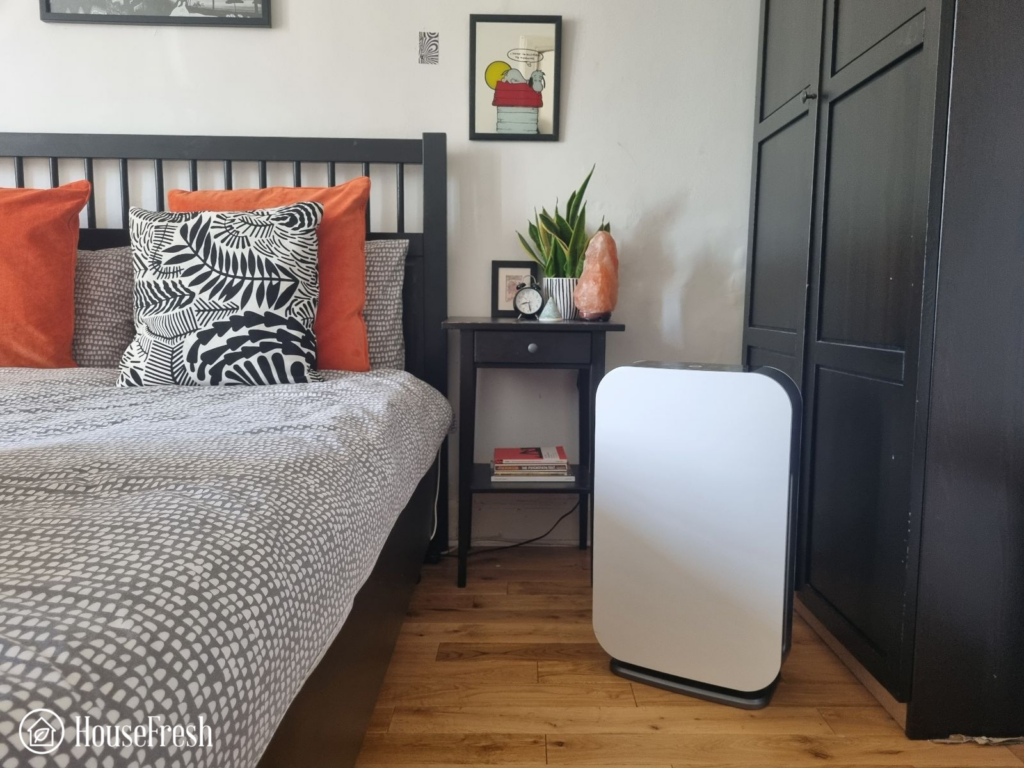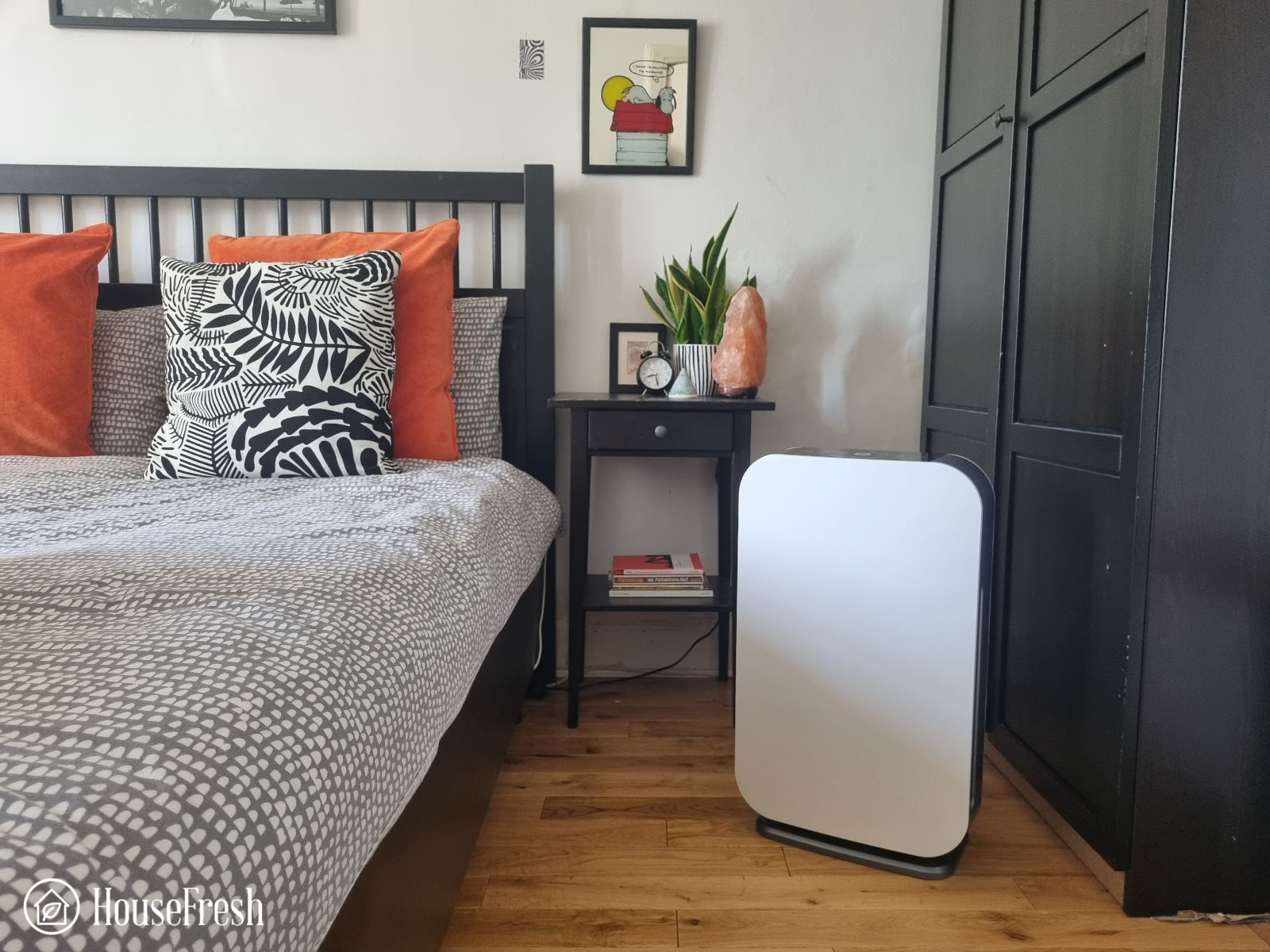 So you're a skimmer. Don't worry. I have prepared a nice and simple list of pros and cons for you to decide quickly if this is the right unit for you.
What We Really Like:
👍 Its minimalist design helps it blend nicely into my home.
👍 It is surprisingly lightweight, making moving from room to room easy.
👍 It's quiet enough to run through the night, allowing me to sleep soundly.
👍 The ionizing feature is optional, so it can be switched off if you have respiratory issues.
👍 It comes with a lifetime warranty.
What We Think Could Be Better:
👎 The replacement filters are expensive.
👎 The cheapest filter option doesn't have an activated carbon filter.
👎 Being provided with 3 different power cables for various regions is unnecessary and wasteful.
The Specifications
| | |
| --- | --- |
| HouseFresh Rating: | ★★★★☆ |
| Time to clean our test room: | 33 minutes |
| Air purifier technology: | True HEPA H13 filters with activated carbon pellets |
| Recommended room size: | Up to 800 sq. ft. |
| Clean air delivery rate (CADR): | 245 CFM |
| Dimensions (in inches / in cm): | 25H x 15W x 8.5D inches inches (63.58H x 38.1W x 21.5D cm) |
| Weight (in pounds / in kg): | 9.1 kg (20.1 lbs) |
| Noise level (low – high): | 23dB – 49dB |
| Filter life: | 12 months |
| Warranty: | Lifetime (with product registration & active filter subscription) |
| Estimated energy consumption: | $52.56 per year |
Modern and Minimal Design
The Alen BreatheSmart 45i has a sleek and modern aesthetic, combining a glossy white facade with gun-metal gray trim for a minimalist and versatile look.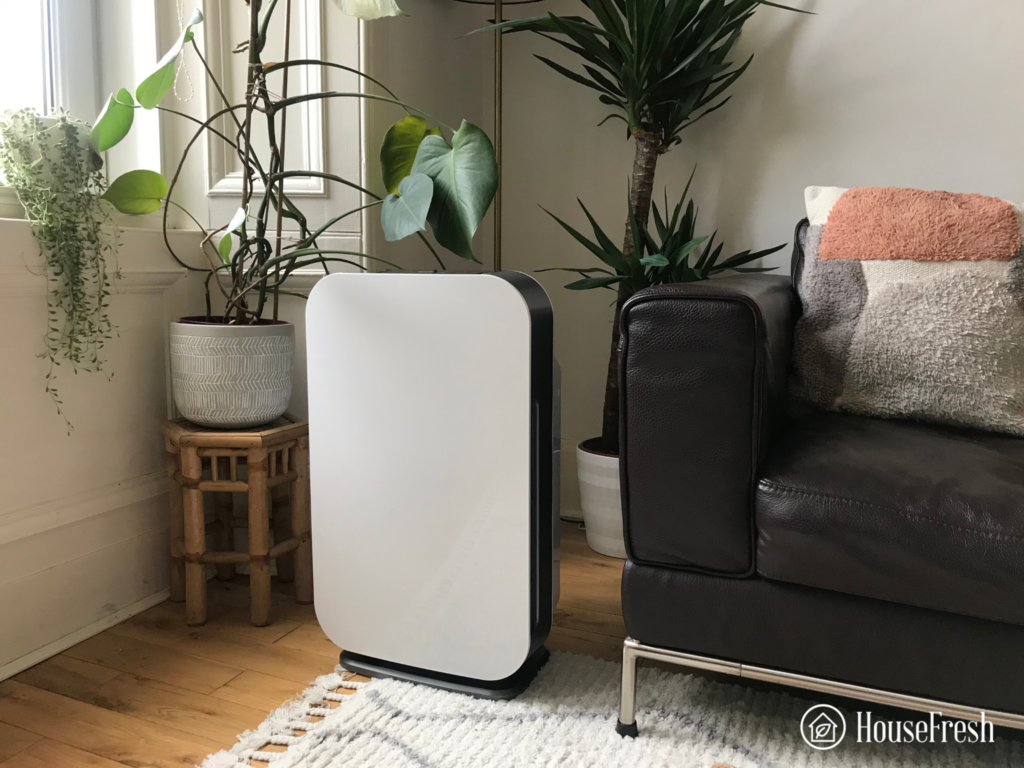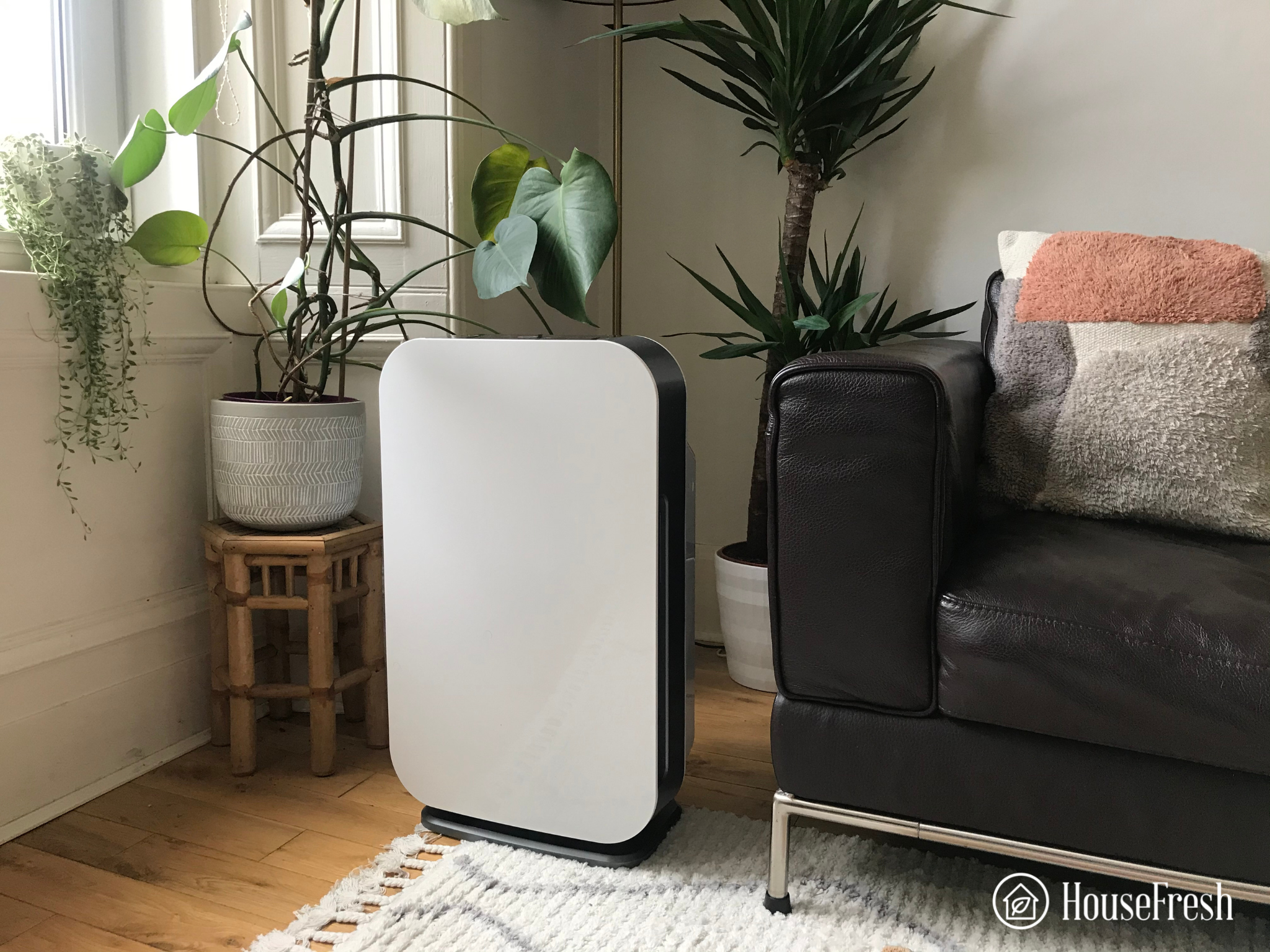 Despite being a powerful machine, it doesn't take up too much space and as far as white goods go, sits comfortably in my living space, bedroom or office. Due to its relatively lightweight, it's easy to maneuver from room to room and can slot nicely into the corner or a cupboard when not in use.
For those after a more distinctive appearance, the Alen Breathesmart is available in a variety of 'designer' faux woodgrain and metallic tones so you can best match your home's decor.
Getting the purifier up and running is ridiculously simple. Once everything is unwrapped, open the front hatch via the air inlets on the side of the machine and slot in the HEPA filter, with the pre-filter facing towards you. Then once connected to the mains, hit the power button, and you're ready.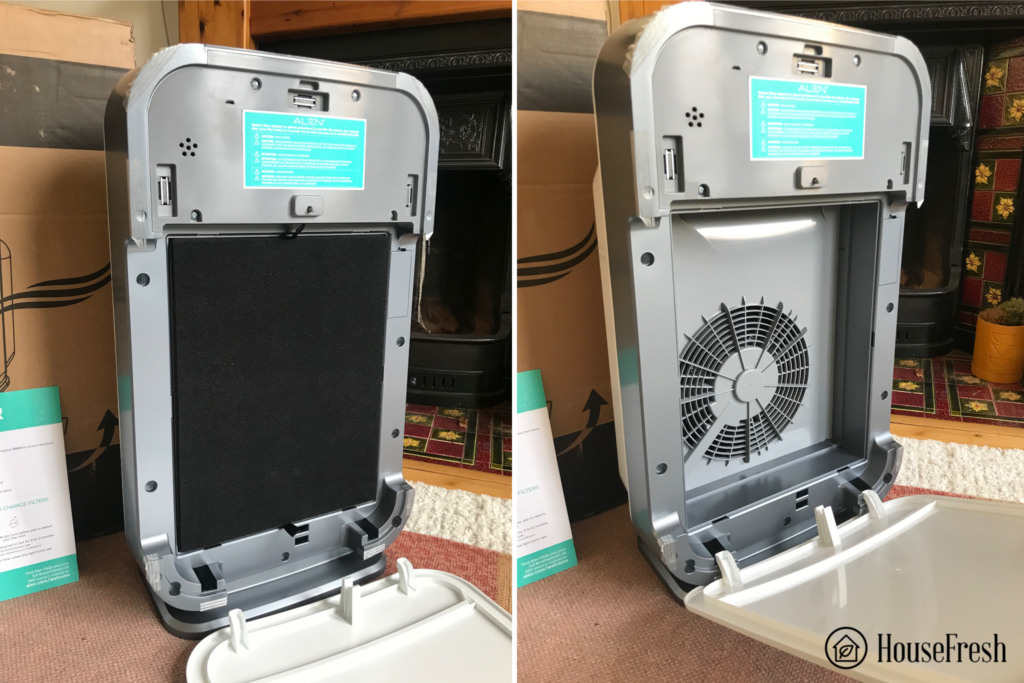 Straightforward Control Panel
With the purifier turned on, I first noticed the power button illuminate. Rather than a mere design feature, this light's color indicates the air quality in the room. There are five colors, from purple, which is poor through to red, orange, green, and blue, which signals excellent air quality.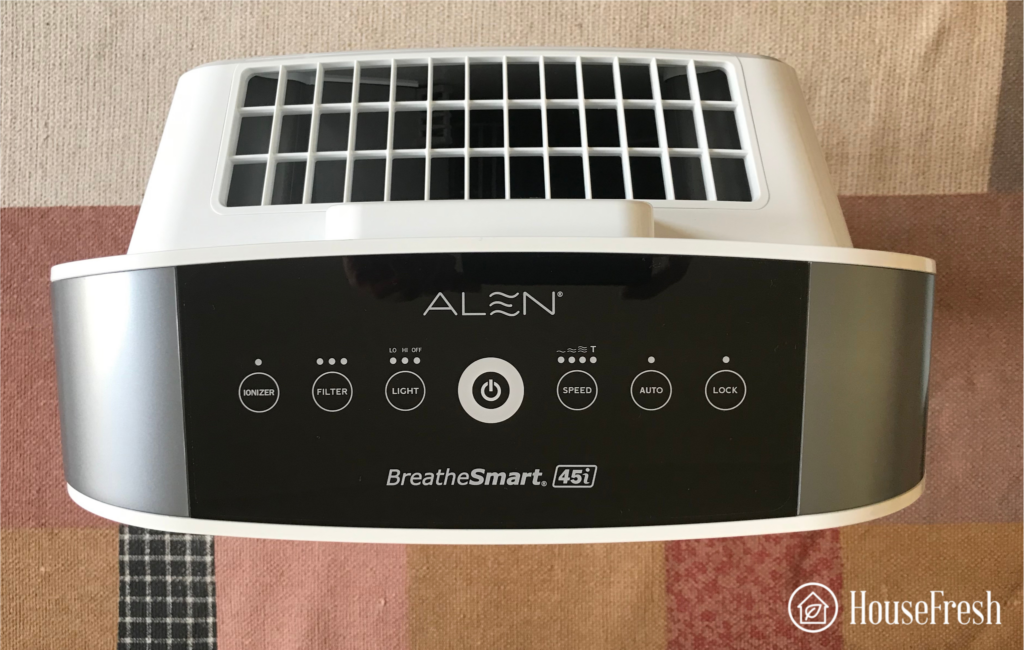 The capacitive control panel allows you to cycle through the settings easily. Changing between the four fan speeds, adjusting the LED lights from low to high or even off entirely (which comes in handy at bedtime), or set to Auto, which monitors the air quality and adjusts the purifier's settings for you automatically (we'll get into that later).
As well as a handy filter replacement light, which illuminates yellow when the filter is coming to the end of its lifespan and turns red when it is time to replace, you can also lock the control panel to stop any curious kids or boisterous pets from messing with your new pride and joy.
H13 True HEPA + Powerful Activated Carbon
When purchasing the Alen Breathsmart 45i, you are given a range of filters. Each filter offers a slightly different level of protection, mainly in relation to odors and volatile organic compounds (VOCs).
I went for the 'Fresh' model, which contains a medical-grade H13 True HEPA filter plus an activated carbon filter for added protection against VOCs and smoke.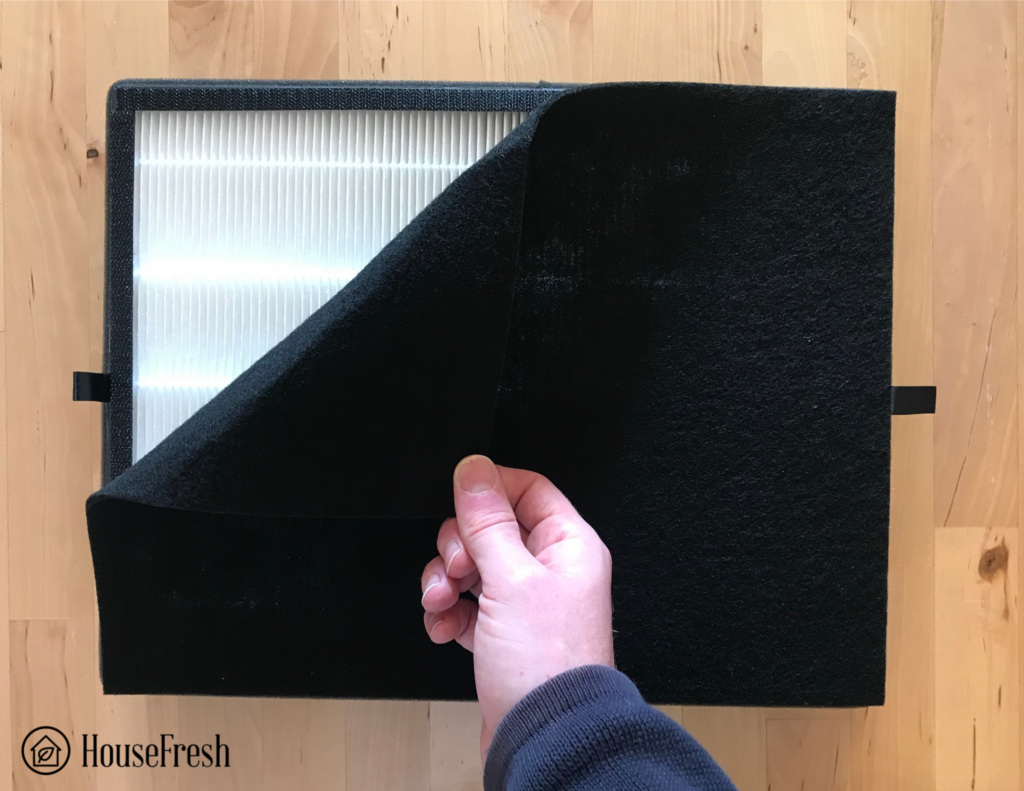 Each of Alen's True HEPA filters can capture 99.99% of airborne contaminants down to 0.1 microns, which are certainly impressive figures and was something we saw for real in our performance tests. However, these results reflect controlled lab testing, so I was keen to see how these figures translate in the real world.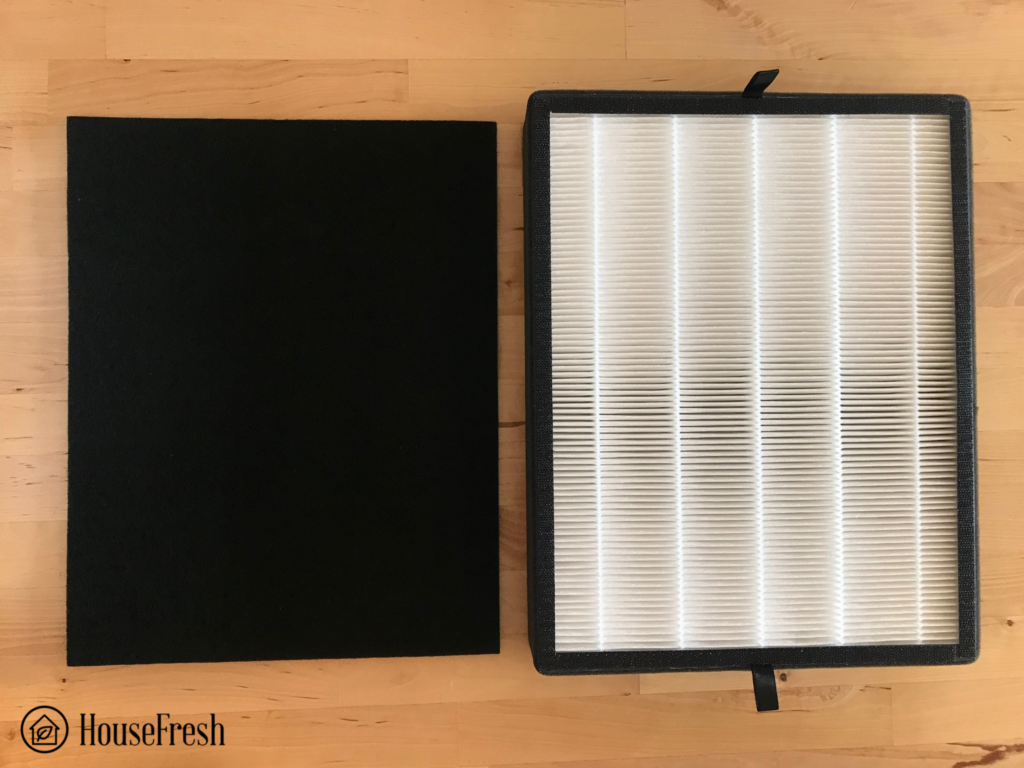 The BreatheSmart 45i Cleared Our Test Room in 33 Minutes
As part of all the reviews we do here at housefresh.com, we tested the Alen 45i air cleaning performance by filling our test room with incense smoke and then recording how quickly this air purifier can remove PM1, PM2.5 and PM10, the tinniest particles that can cause the most damage as they easily enter our bodies via our lungs. We use a Purpleair Indoor sensor with our in-house custom API recording software and then share this data via Flourish.
You can see here what happened during our test of the Alen 45i:
When we switched on the Alen 45i at full power with the ionizer, it removed all particles in 33 minutes.
Air Cleaning Performance Compared to Other Air Purifiers
This was the same time as the Levoit Core 400S and the budget TaoTronics AP-003 but 3 minutes quicker than the Mila Air Purifier. The 45i has great performance for a smaller to a medium-sized room but would not be the best choice for a larger room, which is why the Alen 75i exists, which managed to clean our test room in 24 minutes.
Noise Levels Test Results
With four fan speeds to choose from, the noise of this purifier can easily be curtailed to suit the user while still vastly improving the air quality in your home.
As a light sleeper, I thought utilizing the purifier in the bedroom would be a no-go area. However, I was pleasantly surprised to find on the lowest setting, it is barely noticeable. I also had no issues on the second lowest setting, which may have even helped send me off to sleep with its gentle ASMR pink noise hum.
During the day, with the purifier set to auto, it occasionally ramped up the fan speed to higher levels. This creates a lot of noise and can be distracting, especially if working or even watching TV or listening to music. Of course, this can easily be adjusted to suit the user and limited to lower speeds when needed.
Alen states the sound levels of the purifier are 39 dB at speed 1, 42 dB at speed 2, 49 dB at Speed 3, and reaching 55 dB on turbo. To you and me, that ranges from a whisper on the lowest level to a box fan on the highest.
So you can see and hear for yourself, check out our sound guide below:
The Cost to Run an Alen BreatheSmart 45i: $121.56 Per Year
1. Electricity costs = $52.56
Running this air purifier will cost less than you think, thanks to its Energy Star-rated efficiency – even if you leave it running on auto mode around the clock, as Alen recommends.
According to our own testing, the Alen 45i consumes 50 watts of energy when running at full power, which will set you back at approximately $4.38 per month according to data we calculated with the help of the Department of Energy's appliance energy calculator estimating the total energy consumption associated to running the 45i non-stop 24/7 all year.
In reality, the power consumed will be much lower as the purifier operates on the lowest setting 99% of the time.
2. Filter costs = $69
While the Alen Breathesmart 45i proves to be highly efficient in energy use, filter replacement costs are considerably increased by average running costs. Ranging from $69 for a basic filter to $119 for the premium option, this is a notable expense to be paid out and should be seriously considered before purchasing.
Even if used continuously, running the purifier as recommended, Alen claims the filter will last 12 months. This is quite a long lifespan for a HEPA filter, with many other manufacturers suggesting replacing the filter after 6 months or a year if used infrequently. However, as the replacement filters cost up to $119, I hope it proves true.
Technology
3-Stage H13 True HEPA filtration
2-Pack Replacement True HEPA Filter Set Compatible with Alen BreatheSmart 45i
Technology
3-Stage H13 True HEPA filtration
Technology
2-Pack Replacement True HEPA Filter Set Compatible with Alen BreatheSmart 45i
---
Bottom Line
Upon opening the box to the purifier, you're met with a simple one-sheet instruction manual, with the header "PREPARE TO CHANGE YOUR AIR" written across the top in large letters.
Having researched plenty of air purifiers in the past, I was well aware of Alen's stellar reputation and knew that their range of products was some of the best in the business. This all contributed to some rather lofty expectations on my part, and I wondered, could this purifier transform the air quality in my city center apartment?
By putting it through its paces in various real-world tests, it proceeded to tick all the boxes. Working well at eliminating odors from cooking and nearby breweries and noticeably reducing allergies to pollen and dust while being extremely simple to operate and maneuver around the home.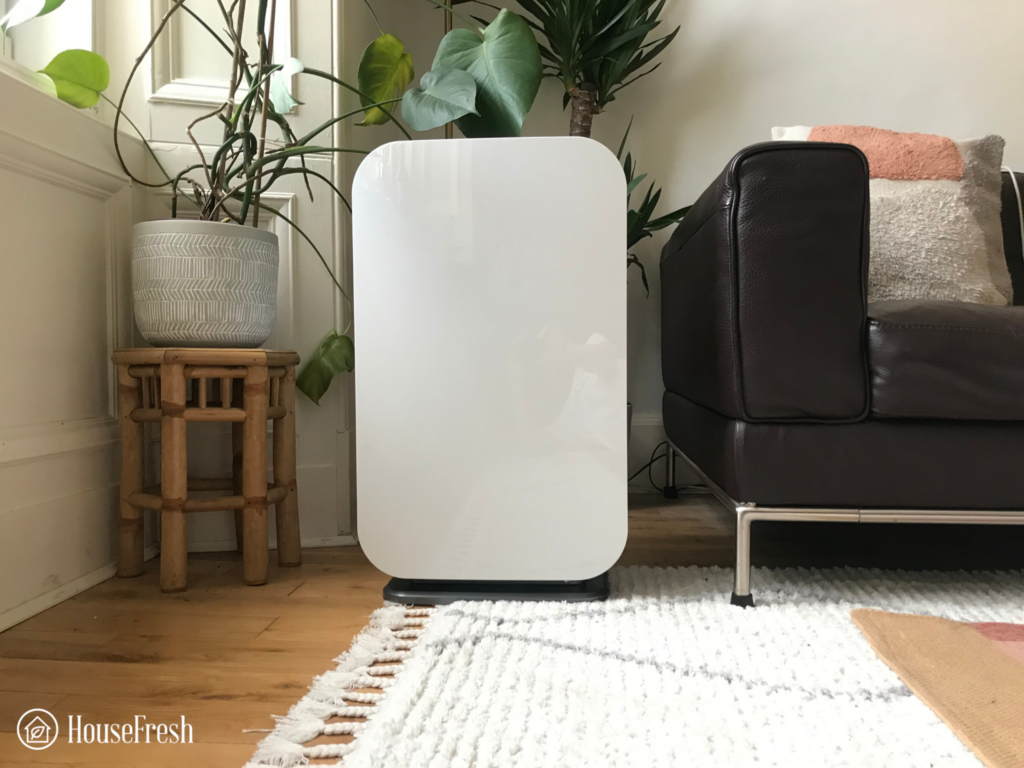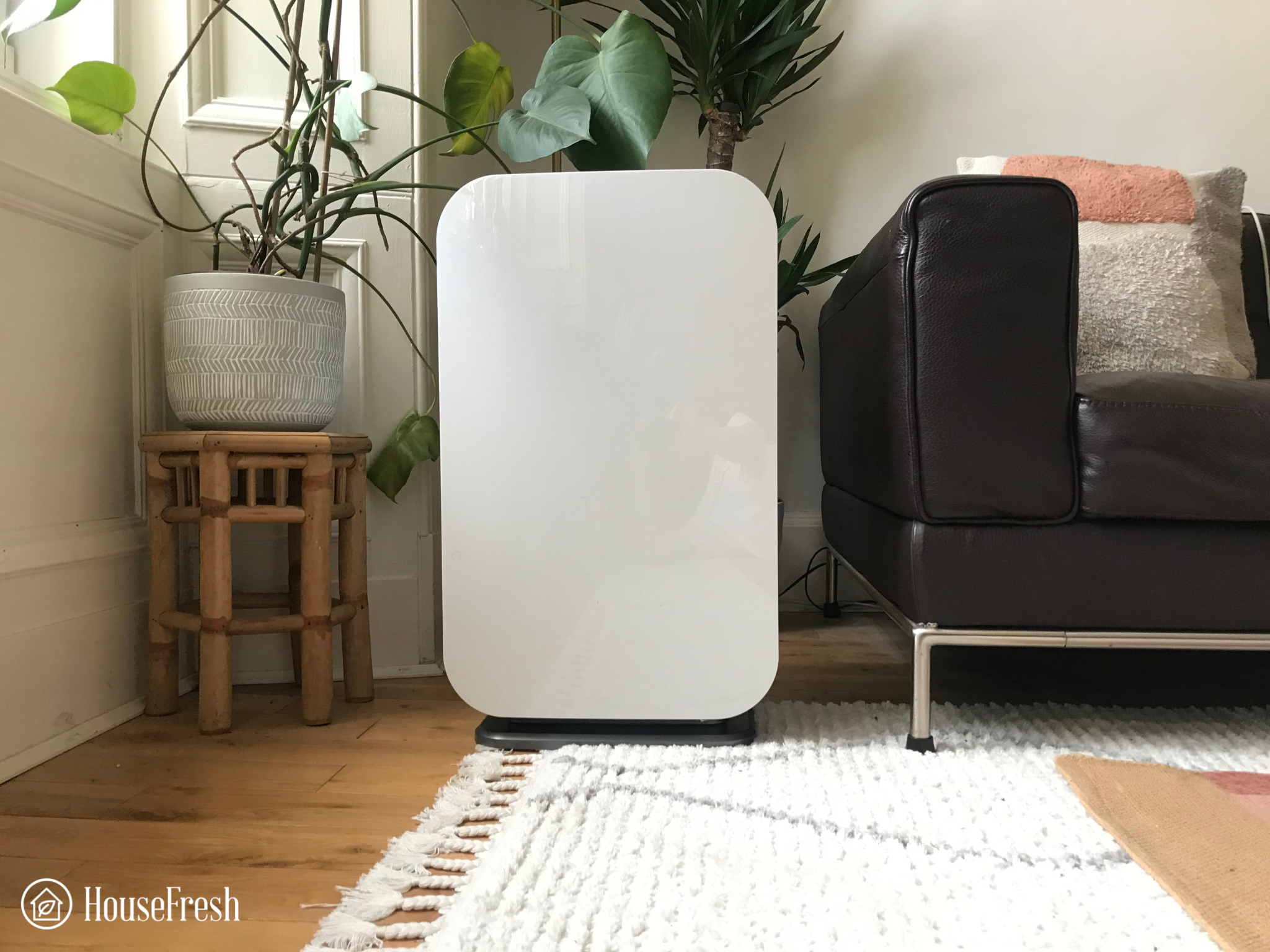 Of course, this performance comes at a cost (both with the initial purchase and with steep filter replacement costs), but its performance backs up its price tag and is helped by being very energy efficient and quiet. I'm pleased to say it has lived up to the expectations of an Alen product.
For those looking for a quiet and powerful purifier for under $450.00 and are happy to pay extra for the lifetime guarantee and smart features, the Alen Breathesmart 45i could be the air purifier for you. Suppose you are based in the United States. In that case, I recommend you check out the unit at Alen.com as you get automatic registration for their lifetime guarantee, you also get more options to choose your initial filters, and they often have the best price.
---
SOURCES
We used the Department of Energy's appliance energy calculator to calculate yearly costs associated with running the Alen BreatheSmart 45i for 24hs a day for 365 days. We chose to run this calculation utilizing the US average utility rate, which is $0.12/kWh as of April 2nd, 2023.
Last update on 2023-12-01 / Affiliate links / Images from Amazon Product Advertising API