Our verdict:
This is one of the best units available for consumers based in Europe. It's powerful, simple and looks good (for a dehumidifier!) I had some issues with the filtering technology used but overall it's an effective solution for most people based in the UK or mainland Europe. For those in the United States, I would recommend the Honeywell tp30wkn over this model as it can remove more water at the same price point and has a better filter system.
The main use case for this dehumidifier was to keep my growing tent free of excess humidity – I didn't want to have something that took a lot of space but I also needed a unit that I could trust to deal with a large amount of humidifier as it would be located in our basement.
DeLonghi is not a name I expected to make dehumidifier as they are normally known for their coffee machines but after checking out their Wikipedia page they have a significant history with heaters and air conditioners so it makes total sense that they would move into the world of dehumidifiers.
As with all our hands-on reviews here at HouseFresh, I bought this unit with my own money so I have no biases to give a better review than I would under normal circumstances. This unit is a mid-priced unit and can deal with 14 liters of water in a 24 hour period.
I have been using this unit since September 2021 so I feel confident to give both a short-term and medium-term review of my experience.
Specifications:
How much water can be removed per day: 14 litres which I found to be a good estimate and would likely say it removed a little more on average.
De'Longhi created 3 different versions that each have a different capacity from 12 litres to 16 Litres.
The space recommended for the 14 litre option is 23mᶟ or 75 square feet.
This unit weighs 11.3kg and takes up floor space of 22 X 33 cm.
The bucket water tank is 2.1 litres and so will need to be emptied regularly if using continuously.
All three sizes come with a continuous hose which is recommended for those looking to keep these on all the time.
The Look: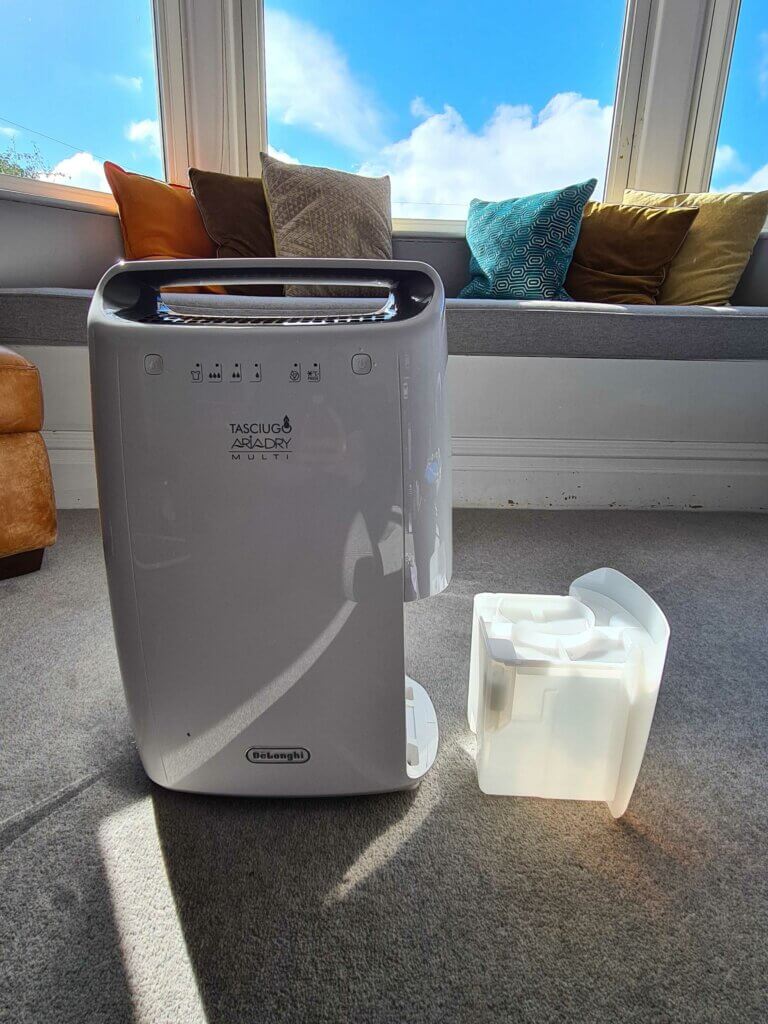 OK, I know that looks are not the main focus for something like this but if a unit is going to be in a room all the time you at least don't want it to be so ugly that eyes are drawn to it.
The Italian heritage is clear with this unit as it really does look better designed than most other units at this price range.
The color is a pearly white and really I like the use of curves when most units are fairly boxy – whilst I doubt anyone is going to buy the unit for looks alone – it is great to see the care they took to make this unit look good vs the competition
The handle is built into the main part of the unit as it is easy to use to move to different rooms and at just under 12kg/26lbs it's easy to move.
Unlike bigger units, it does not include a wall mount and so is only usable as floor mounted.
Filters:
I would never recommend you use a dehumidifier to clean the air alone but it is a useful feature to keep out particulate matter that might damage the parts inside.
The DEX 214F is meant to come with a double filter which is a dust filter and a replaceable allergen filter for picking up smaller particles. The dust filter is fine and covers the entire air intake but I wasn't impressed with the allergen filter.
The problem is that the "allergen filter" is very small and only protects the air coming from one section of the air intake so it is basically useless.
Overall this was one of the weakest areas for this particular dehumidifier and I hope that Delonghi looks at a more effective allergen filter for future models such as the large filters used in British-made Ebac dehumidifiers.
How easy is it to use?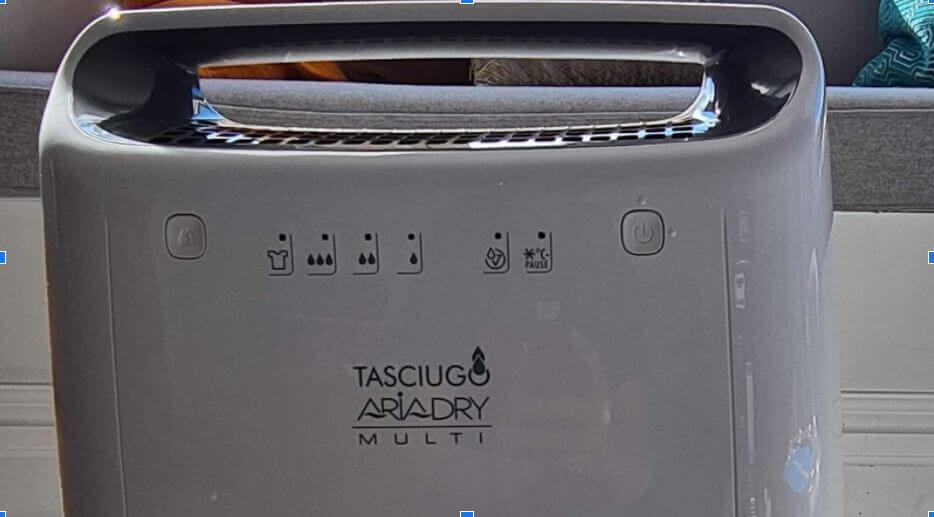 This is one of the simplest units I have come across. You have 3 different humidity settings and a laundry mode (which puts it into a high mode for a short period of time.)
The simple menu is something I wish more manufacturers would use as most people just want a dehumidifier that they can switch on and move on with their lives.
How does it sound?
Rather than bore you with the decibel numbers I decided to put together a video to give you the experience of how this unit sounds when in use.
I personally don't mind the sound levels but I know this is a very personal thing.
Cost of running the DEX214F Dehumidifer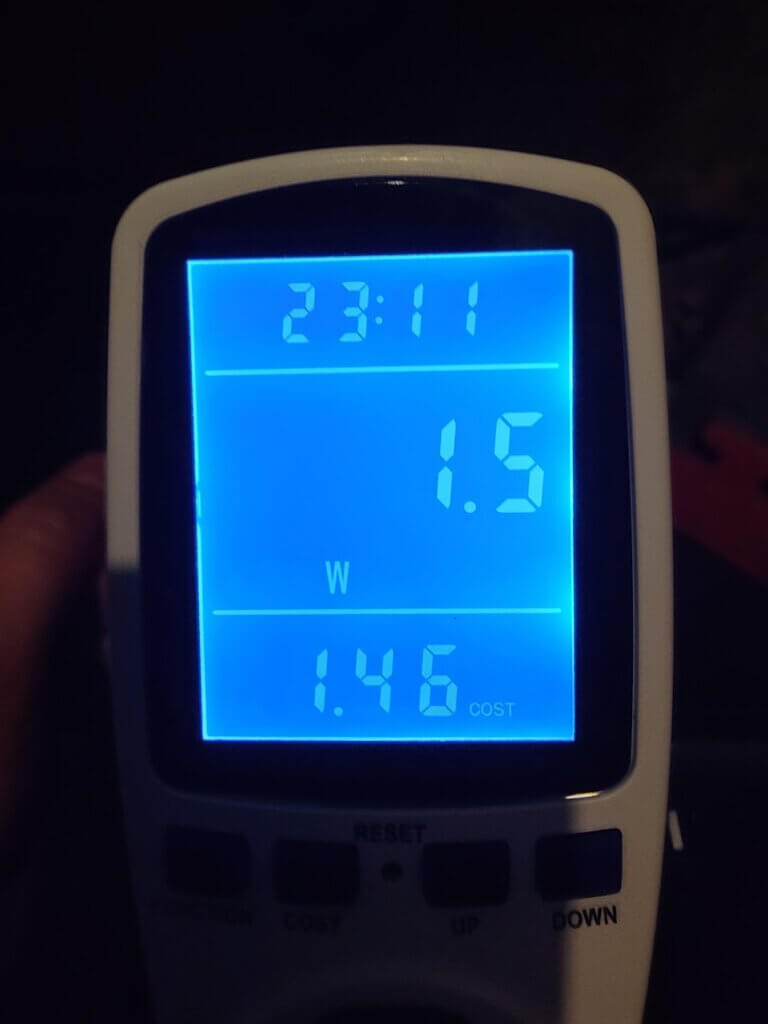 I used a power meter to see how much power was used when the dehumidifier was on standby so not actively removing water and found that it used 1.5W which is around $1.7 per year assuming the cost of 13.31 cents per KWh.
Once the dehumidifier detects an increase in humidity it will go into full power mode and as you can see it increased to 195.6W which at 13.31 cents per KWh is just over $230 per year. Whilst most people won't need the unit running 24 hours you can clearly see the financial benefit of an automatic system that reduces usage when the humidity target is reached.
Performance
For the test, I used the DEX214F in a Gorilla Grow Shorty Grow tent which is 3ft by 3ft.
You can see how quickly the humidity was reduced after switching on the dehumidifier. It took less than 10 minutes to reduce from 71% to under 30% relative humidity which is to be expected in a small space but still impressive to see.
You can see how effective the onboard humidity detector is with the unit showing it reaching a higher level of humidity and then switching to full power and then off again once the desired humidity is reached. I used a Govee Wifi hygrometer to measure the temperature and humidity levels – what I like about this device is that you set it and then easily pull data in 1 minute intervals.
For most people, using this dehumidifier for a grow tent is likely overkill but I was super happy with the performance with the only downside was having to remember to remove the water as the 1.2l bucket gets filled pretty quickly in very humid conditions.
What I love:
Super simple menu system – was impossible to get wrong which is not something you see very often in the world of dehumidifiers.
The design is sleek and would pass the partner test for a unit that had to be used in a living room or hallway
High performance, quickly removes humidity and the on-board sensors kick in quickly once humidity increases so less power usage vs 24 hour full power.
Good size for smaller rooms
What I don't like as much:
Felt cheap to use such a small amount of space for the "allergen filter"
The bucket at 1.2litres fills quickly but you do have the option to use the continuous hose for long term use
Bottom Line
If you are looking for a premium dehumidifier for a small to medium-sized room and you are based in the European region you can go far wrong with the De'Longhi DEX214F. It's not without its faults such as the tiny "allergen filter" but they are minor and the unit's performance more than makes up for these minor issues. De'Longhi is not a name I would have thought about for a dehumidifier but I would certainly be interested in future models from this company and I have high expectations for its long-term usage.