Updated October 2020
The first-ever air purifiers similar to those they sell today happened in 1963 with the release of the first commercial unit by the Incen Air Company, which Manfred and Klaus Hammes in Germany headed up. This company was the precursor to the very respected IQair corporation.
But the idea of a gadget that can clean the air you breathe has been published since 1854.
The following list is all based on existing patents and also includes relevant diagrams.
1. The Stenhouse gas mask, 1854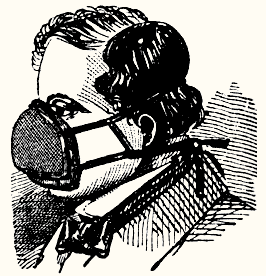 A chemist by trade, John Stenhouse, began experimenting with charcoal filters as an air purifiers as early as the 1850s.  The unit he devised called for wire gauze "filters", which held powdered charcoal as the filtering ingredient. His findings led to the invention of the gas mask, used in London factories as a personal "air purifier" to protect workers from toxic gas.
2. Carbon Filtering – 1862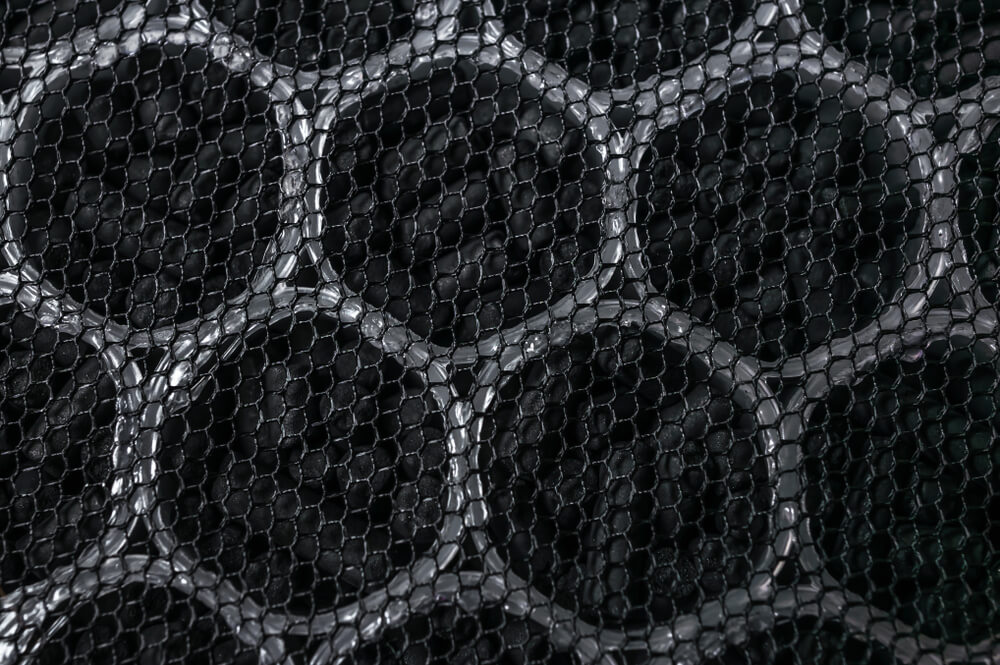 The carbon filter was invented in 1862 and was originally used to purify water. Its transition into an air purifier occurred in 1872 when Allen and Alvin E. Rice advanced the technology by creating a 2 stage filtration based on activated carbon. In modern-day, air purifiers built around the carbon filter are used to purge the air of vapors, odors, and hydrocarbons… as well as the basis of today's spacesuit breathing system.
If you ever wanted to know if charcoal bag air purifiers work, then be sure to read out in-depth article on the question.
3. Barton's respirators, c. 1874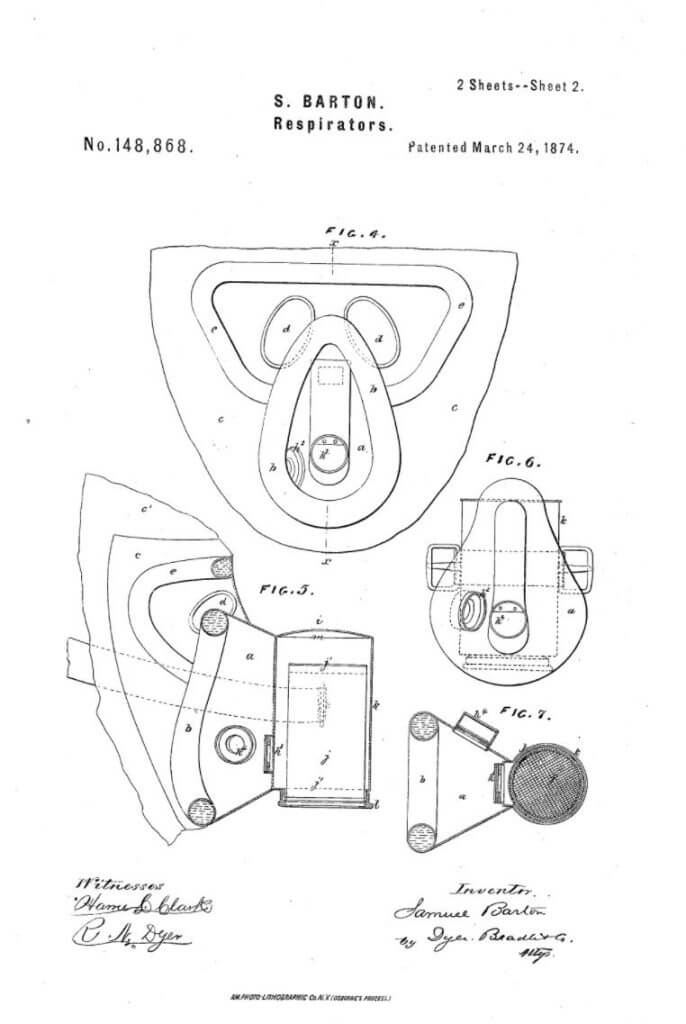 In 1874, Samuel Barton filed for a patent for the canister gas mask… one of the most advanced air purifiers of the time. Air impurities were lifted as the user inhaled through a tri-layer filtering system, which was strapped to the face via head harness and face cover. The invention also included a revolutionary air recycling system, whereby clean air was cycled through a secondary filter to remove carbon dioxide.
4. Air Purifier For Refrigerators – 1899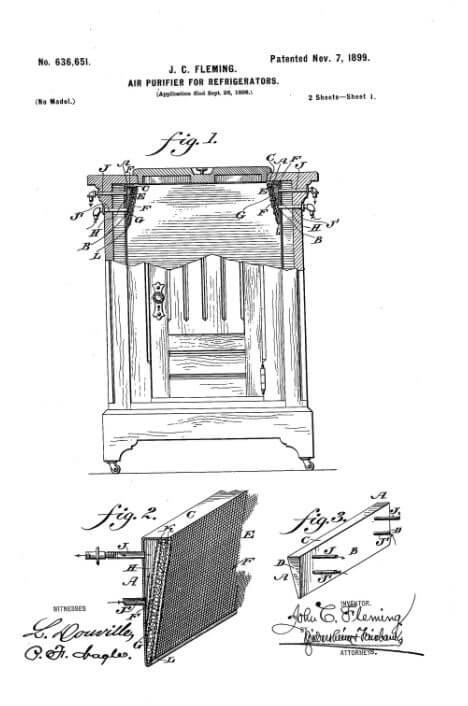 This was one of the first patents for a commercial air purifier similar to what we see today but this one works for the refrigerator and uses a carbon filter to remove odors.
It probably became less of an issue as refrigerators became more powerful and capable of staying at lower temperatures for a long period – so no rot = no smell.
The patent has now lapsed so maybe there is room for an air purifier for the refrigerator for those of us who just plain forget to throw our food away.
5. First Vacuum – 1901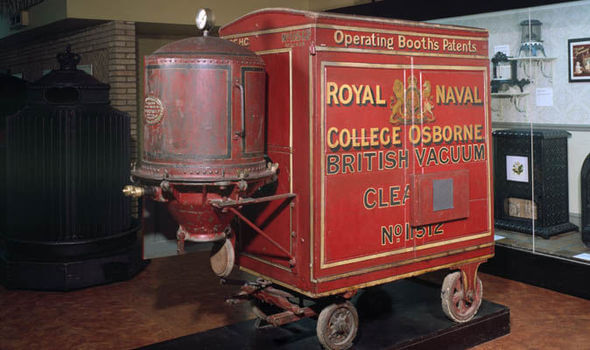 While riding the train, Hubert Cecil Booth began breathing dust laden air through a handkerchief during a moment of inspiration. The moment spurred Booth on to the 1901 invention of "Puffing Billy", the world's first vacuum cleaner. The unit ran on an oil engine and is a precursor for more advanced air purifier systems.
6. First Air Conditioner – 1906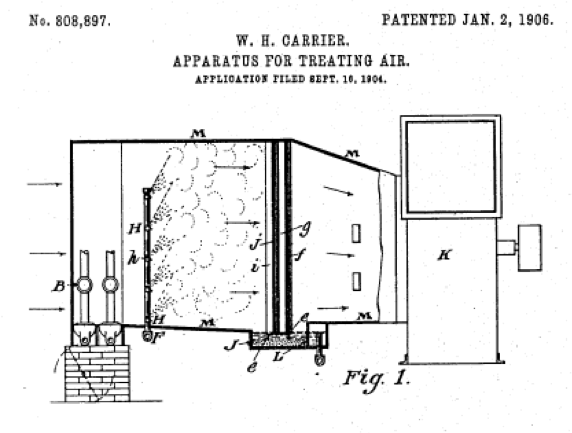 Patents #808 and #897 are the soil from which today's air conditioner bloomed. By using centrifugal force and a complex system of filters and coolants, Carrier (the unit's inventor) birthed a robust air purifier and cooling system. Not only did his invention purify air and control temperature, but it also curbed humidity and manipulated air circulation.
7. Electrostatic Precipitator – 1908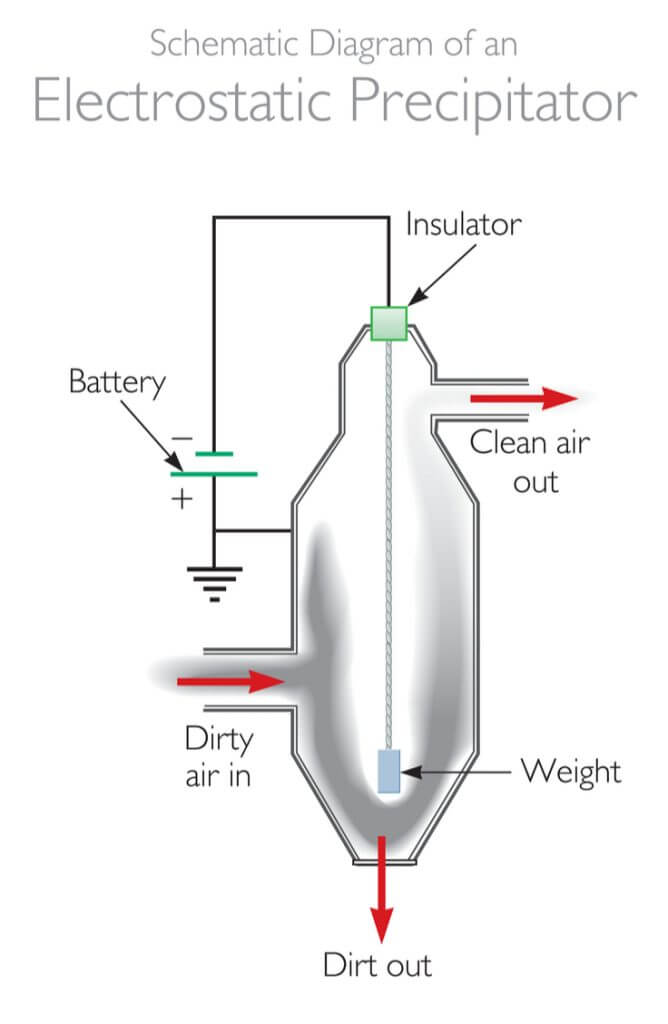 Dr. Frederick G. Cottrell invented the electrostatic precipitator, a device which created and collected charged particles. Cottrell's apparatus found use in smelting factories and vineyards, where sulfuric acid and lead oxide fumes that once polluted the air could be collected and eliminated. The technology evolved to become a key component in publically-marketed air purifier units.
8. The First Personal Air Purifier – 1914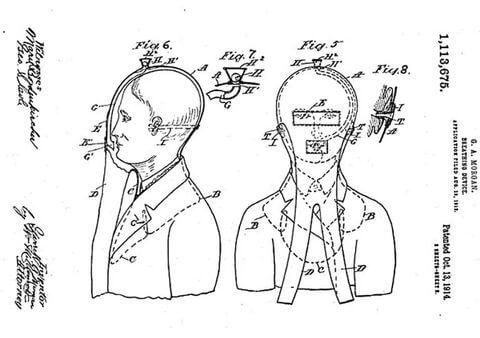 Garret Morgan filed for a patent in 1914, of a device that resembles the mask of an ancient scuba diving suit. A long tube runs from the mask down to the floor, sitting below lighter-than-air gases. The filter in the "air purifier" itself mimics the body's mucous membrane, cleansing inhaled air by running it through a wet sponge lining. And what does a user do when the gas is heavier than air? Elevate the tube above the gas…
9. HEPA – Filters – 1940's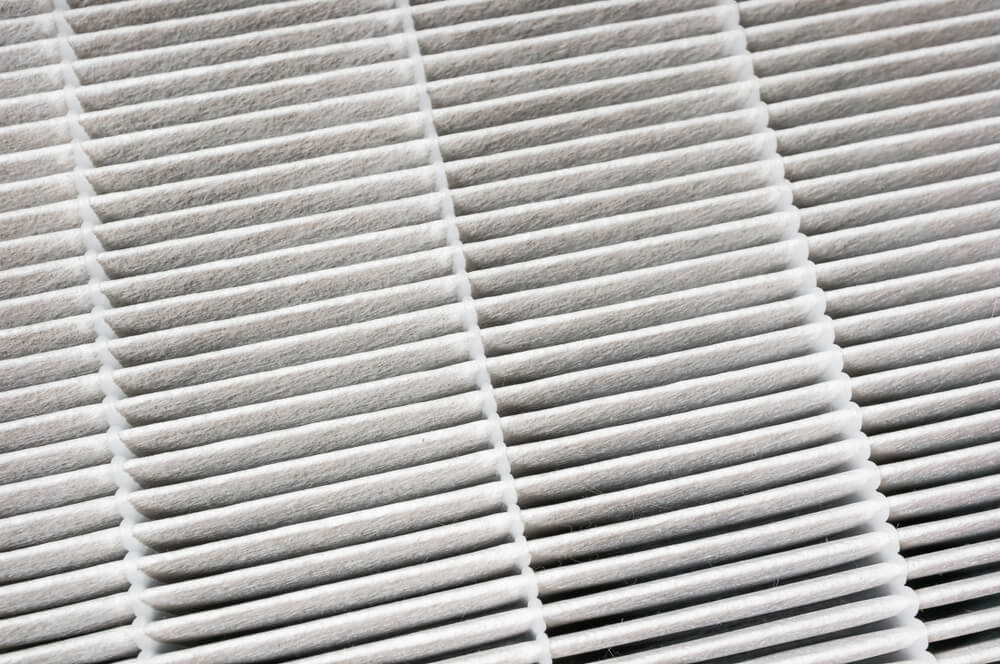 The USA Atomic Energy Commission invented the HEPA filter during the Manhattan Project, seeing a need for a system to clean air contaminated with radioactive particles. After World War 2, the HEPA filter was released to the public and is now used by air purifier companies as a heavy-duty filtration device.
10. Rufus Stokes – Air Factory Purification Device, 1968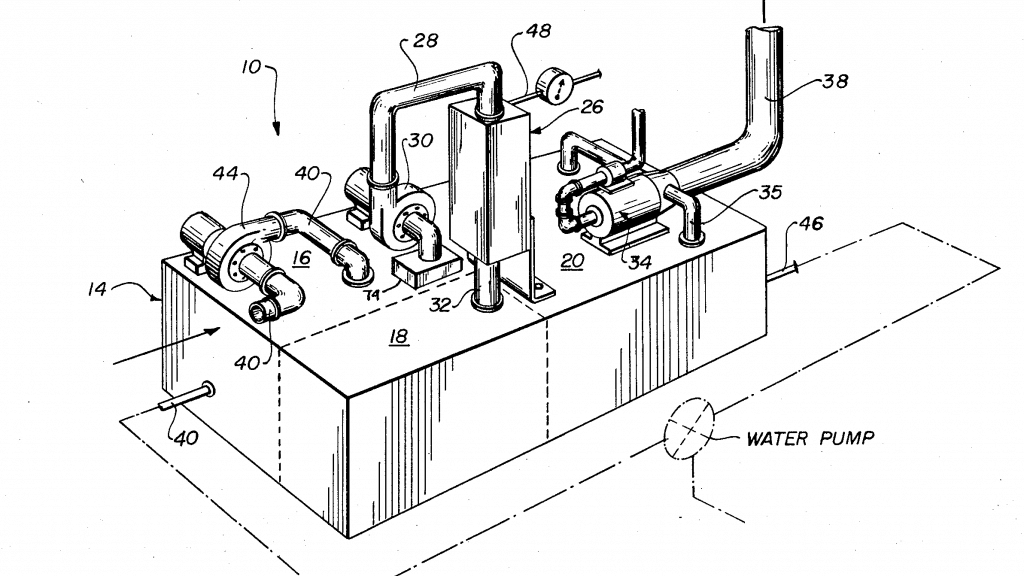 Rufus Stokes invented the "clean air machine", a device used on smoke stacks to clean the emissions. His invention drastically reduced the amount of ash and gases that made it beyond the stacks, leaving behind virtually transparent releases. The boost in air quality improved the health of people, plants and animals living in the vicinity of commercial furnaces and power plants.
11. NASA Space Air Cleaner Laser – 2004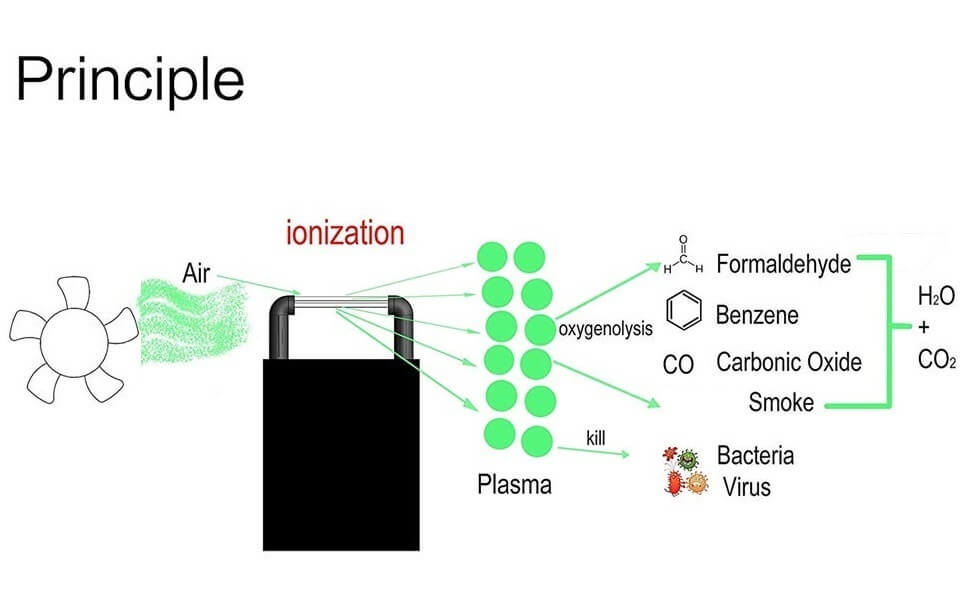 In an invention that sounds like something out of Star Wars, NASA created the Low-Temperature Oxidation Catalyst (LTOC) in 2004. LTOC began as a method for lasers to control carbon monoxide in space. Now, researchers are finding applications for air purification on Earth, using the tech in automobile catalytic converters.