If you've looked into purchasing an air purifier you will have come across the term "Activated Carbon". If this has left you with questions, you're in the right place. In this article, we're going to look at what carbon is, how it's activated, how activated carbon filters work, and how they will enrich your life and your nose.
What is Carbon?
In simple terms, carbon is made when a chemical reaction is introduced to materials such as bamboo, willow peat, wood, and coal. Think of burning wood on a fire. After the fire goes out, you're left with a black substance and pieces of blackened wood. The char that remains is mainly carbon (otherwise known as charcoal). This is left because all the combustible material in the wood has burned away.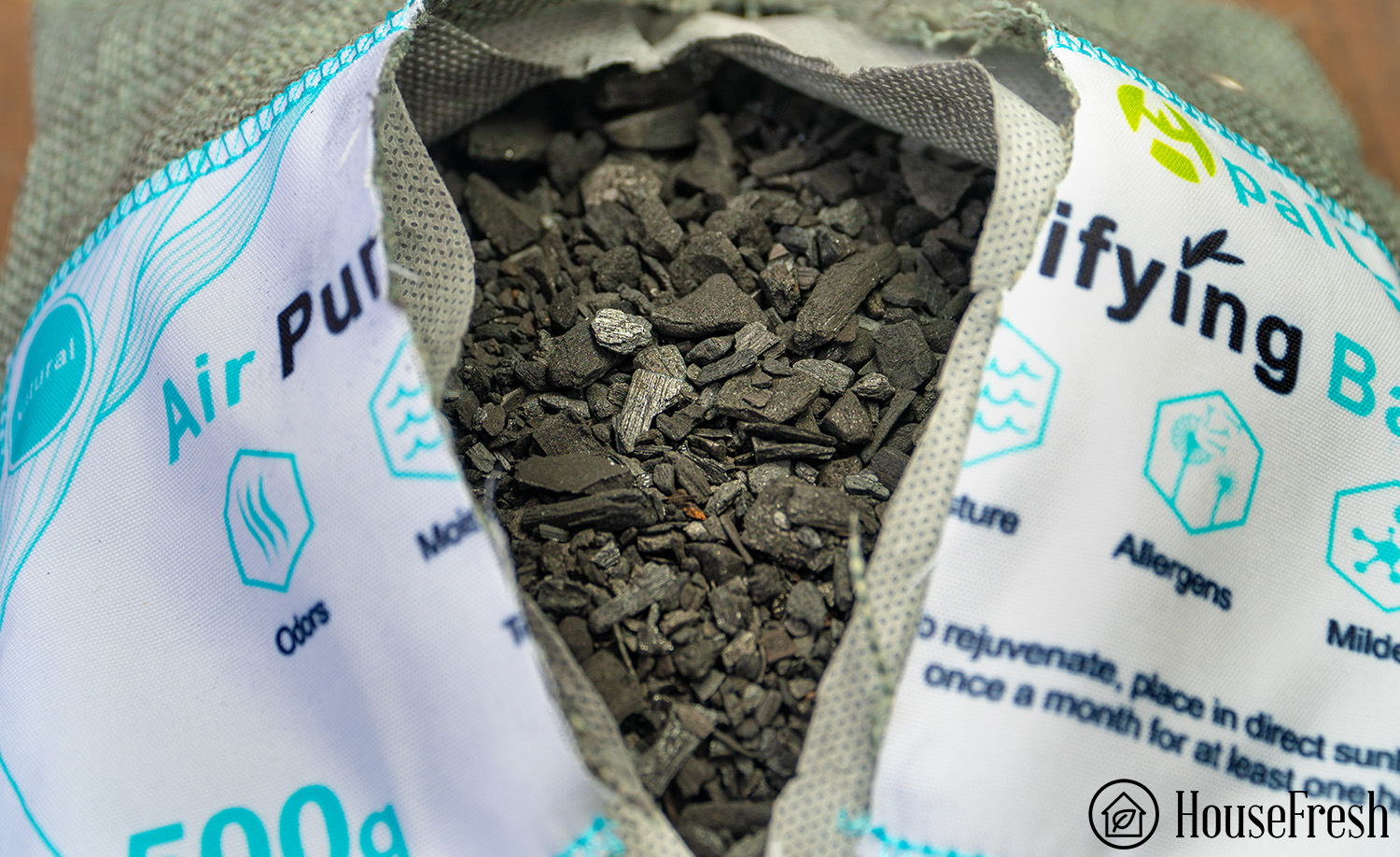 Carbon can also be made in an industrial process. This involves heating substances in a vacuum chamber until all the VOCs (Volatile Organic Compounds) are released, leaving only carbon behind. This is then collected and used for all kinds of things, from removing odors to purifying liquids.
How is Carbon Activated?
For carbon to be effective at trapping VOCs, it needs to go through a process of activation. This is usually performed in a high-temperature kiln. This activation process involves the carbon injected with hot air, carbon dioxide, or steam. This creates a lattice of tiny pores within the carbon, increasing its surface area.
By making the carbon larger, it makes more room to capture harmful molecules, making it far more effective as a filter. After the carbon is activated, it is treated with chemicals to enhance its ability to filter specific harmful molecules, making it the ideal substance to use in an air purifier.
How Do Activated Carbon Filters Work?
Now we know what activated carbon is, let's look at how it works as a filter. Most air purifiers come with an activated carbon filter as standard, claiming they will remove odors from your home. They come in all shapes, sizes, and weights, some are filled with loose carbon, and some use a sheet of bonded carbon. Whichever form they come in, they are there to do the same job.
The Process
How it works isn't actually that complicated. Once the carbon has been activated, it's ready to do its job.
Here's what the process looks like:
Contaminated air enters the filtration system
The air passes through the activated carbon air filter
The process of adsorption takes place to remove the contaminants
Purified air flows out of the activated carbon filter and back into the room
Adsorption versus Absorption

You will notice the word adsorption when we talk about how activated carbon removes harmful contaminants from the air. This is different from absorption, which you may be more familiar with:

🤓 Adsorption = contaminants stick to the outside of the carbon substrate. 
🤓 Absorption = contaminants are absorbed inside the structure, like a sponge.

Absorption is best used when collecting liquid, like using a paper towel to soak up a water spill from a surface. Adsorption, on the other hand, is the most effective way of removing pollutants from the air, like activated carbon, in an air purifier filter.
What Does an Activated Carbon Filter Remove?
As you can see, there is a scientific reason activated carbon is used in air purifier filters. But what exactly do they remove from the air?
Odors
🧇 Cooking
All that delicious food we cook up in our kitchens can often leave a lasting smell, especially if/when we burn something.
🚬 Cigarette smoke
Smoking cigarettes indoors not only creates an unhealthy environment, but it also leaves a lasting odor on your clothes and furniture.
🧻 Bathroom
Do I really need to explain this one? Let's leave it up to your imagination.
🦮 Pets
It's not their fault, but pets can bring in all sorts of odors from outside, not to mention the smells they create inside.
🌿 Weed smoke
As weed is illegal to smoke in public places, most opt to blaze in their homes. The odor weed creates is very potent and hangs around long after the blunt.
Volatile Organic Compounds (VOCs)
☠️ Formaldehyde
This is a common indoor pollutant. If left unchecked, it can cause irritation to your eyes, throat, and lungs and can even trigger asthma attacks.
🤯 Benzene
There's generally more benzene in indoor air than outdoor. Long exposure to it can cause drowsiness, dizziness, and headaches.
😶‍🌫️ Naphthalene
This toxic VOC is the stuff you find in mothballs. It also comes from cigarette smoke. Long-term exposure can cause headaches, nausea, and diarrhea.
🌡 Chloroform
You can be exposed to chloroform from drinking water, food, and the air you breathe. Short-term exposure can cause headaches and nausea, long term can lead to liver and kidney damage.
🦠 Acetaldehyde
This is usually found in air fresheners, perfumes, and other fragrant sprays. Repeated exposure can cause damage to your lungs and even lead to cancer.
What an Activated Carbon Filter Won't Remove
Unfortunately, there are plenty of other airborne pollutants in our homes that cannot be adsorbed by activated carbon (not everything is perfect). Some of the major contaminants that these filters won't remove include:
❌ Dust
❌ Pet dander
❌ Mold
❌ Pollen
❌ Bacteria
Fortunately, most air purifiers contain a HEPA filter which is designed to trap these exact pollutants. Instead of using pieces of activated carbon, these filters are made from fibers tightly woven together so that these nasty particles can't get through.
Choosing a Carbon Filter
When choosing the right air purifier to suit your needs, you need to make a few considerations before you commit to one. Yes, budget, design, room size, and cost of running are all critical factors, but you also need to consider the type of filters they come with.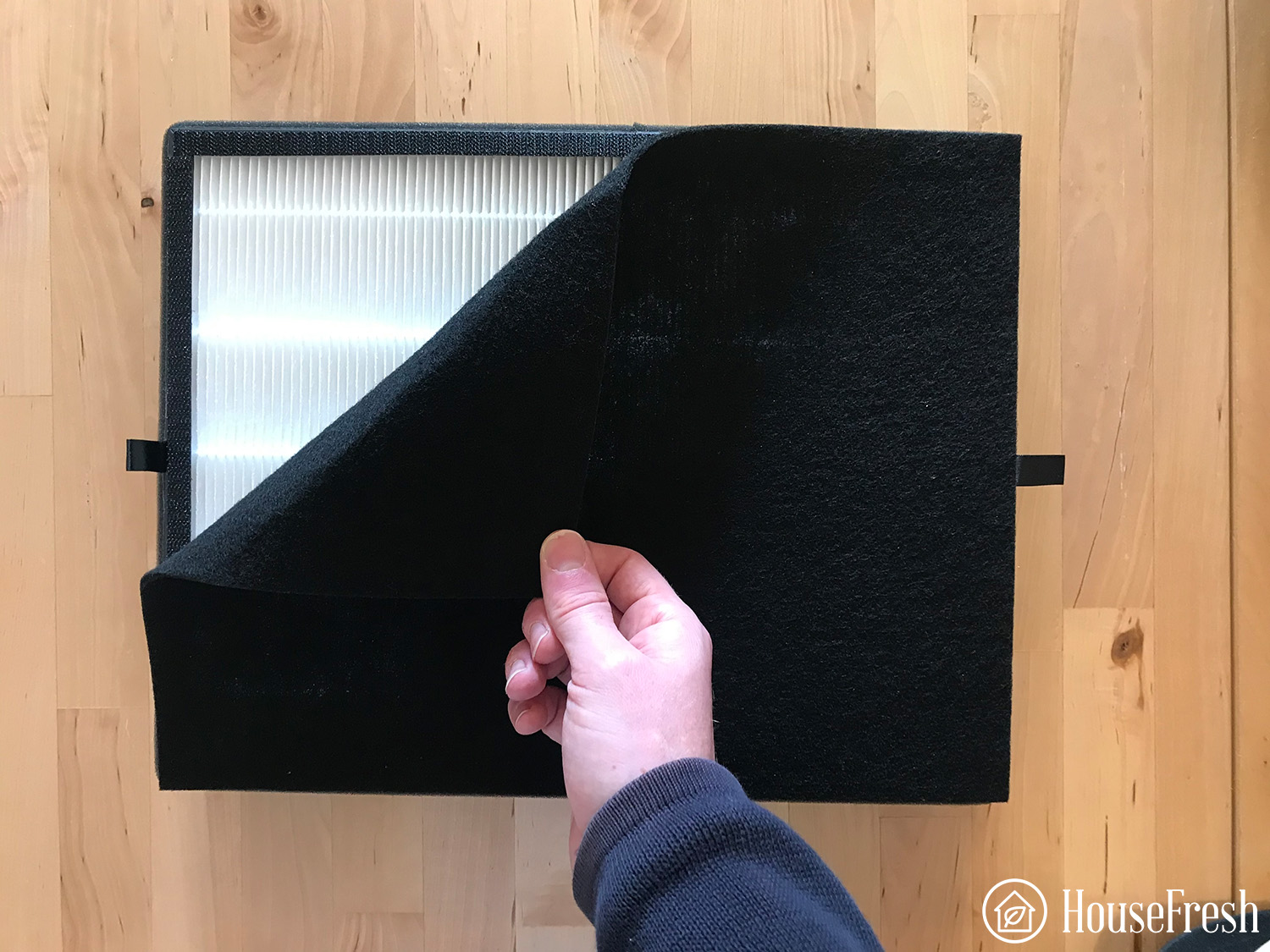 🤔 Are all activated carbon filters created equally?
Unfortunately, not all activated carbon filters are created equal. When you delve into it, you'll see different air purifier brands use different carbon filters. Two types of carbon filters are commonly used in air purifiers: loose-fill carbon filters and bonded carbon filters.
We've found the most effective of the two is loose-fill carbon. Because these contain actual pieces of activated carbon, they can adsorb and hold contaminants a lot more effectively than when it is crushed and bonded.
🤔 Does the amount of carbon matter?
Yes, it absolutely does. The most effective filters are the ones that contain the most carbon. The more carbon there is, the more substance there is to adsorb airborne pollutants.
If you want to get the most out of a filter, the general rule is to use one with at least 5 lbs of loose-fill activated carbon.
Filters with higher amounts of activated carbon will have a longer lifespan meaning fewer replacements, saving you money in the long term.
The longer pollutants pass through the filter, the more likely they are to be adsorbed. Smaller particles yield faster adsorption rates. This means the thicker the carbon barrier, the more effective it will be. This is known as "dwell time".
Our Favorite Air Purifiers with Activated Carbon Filters
Style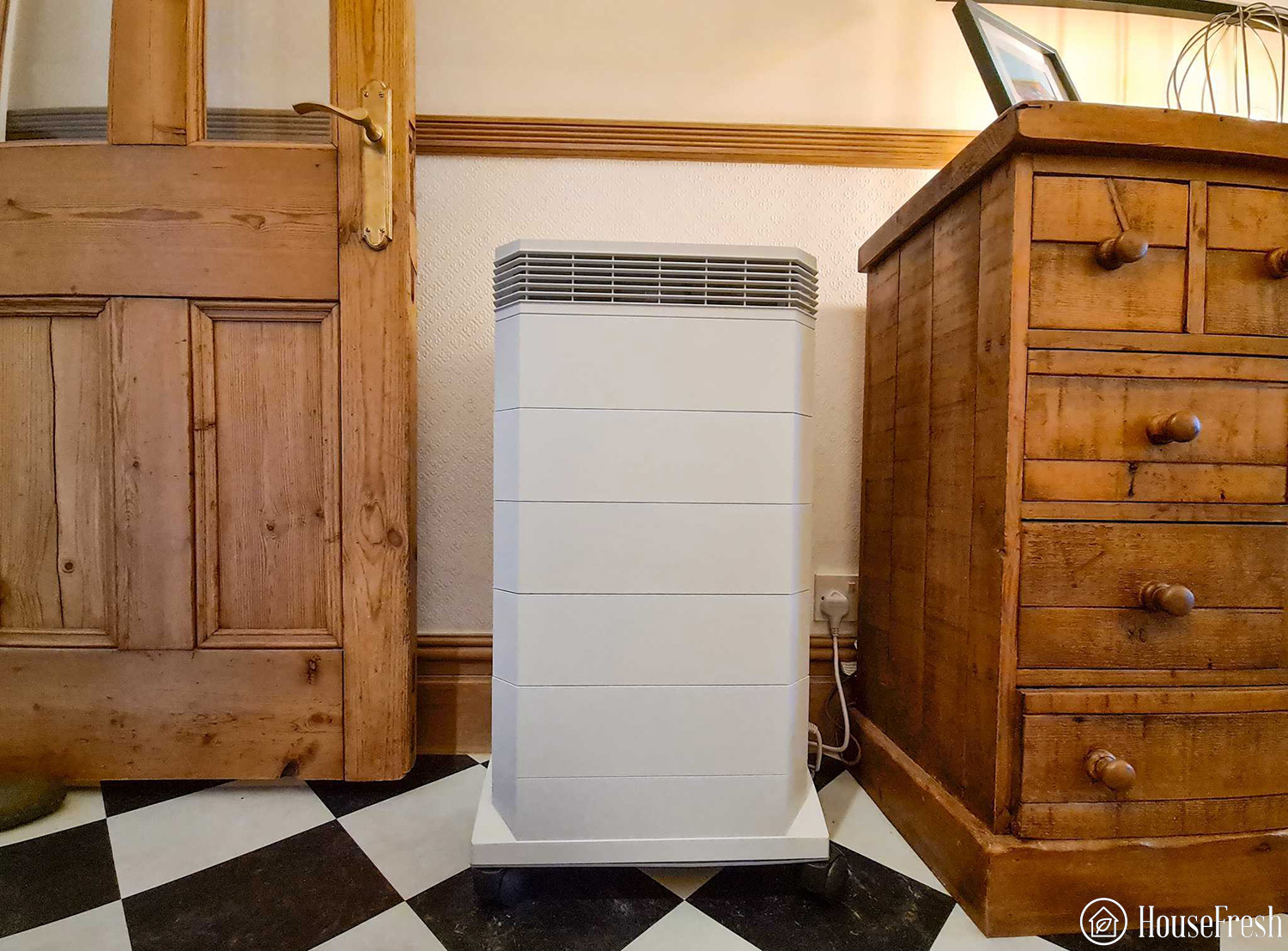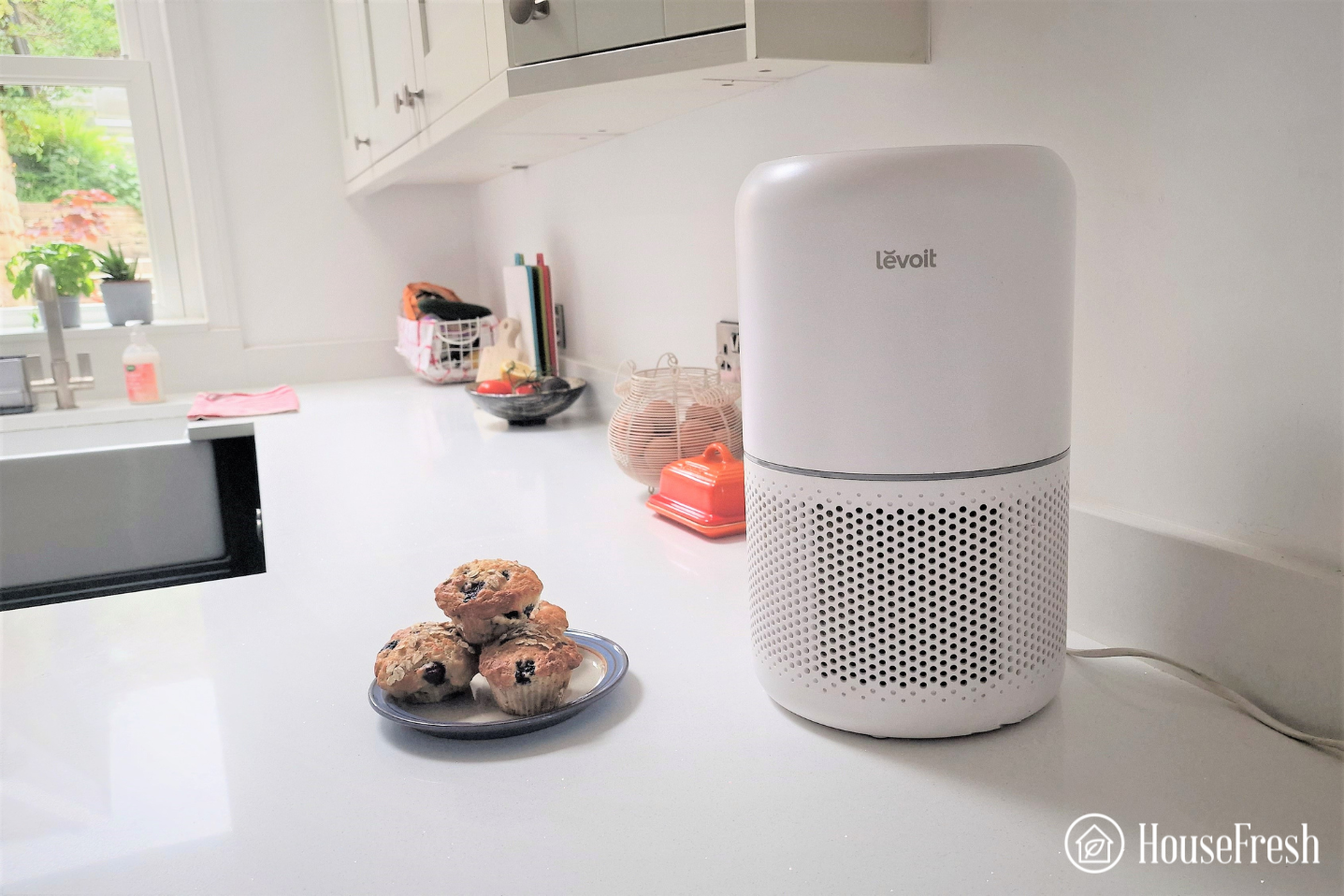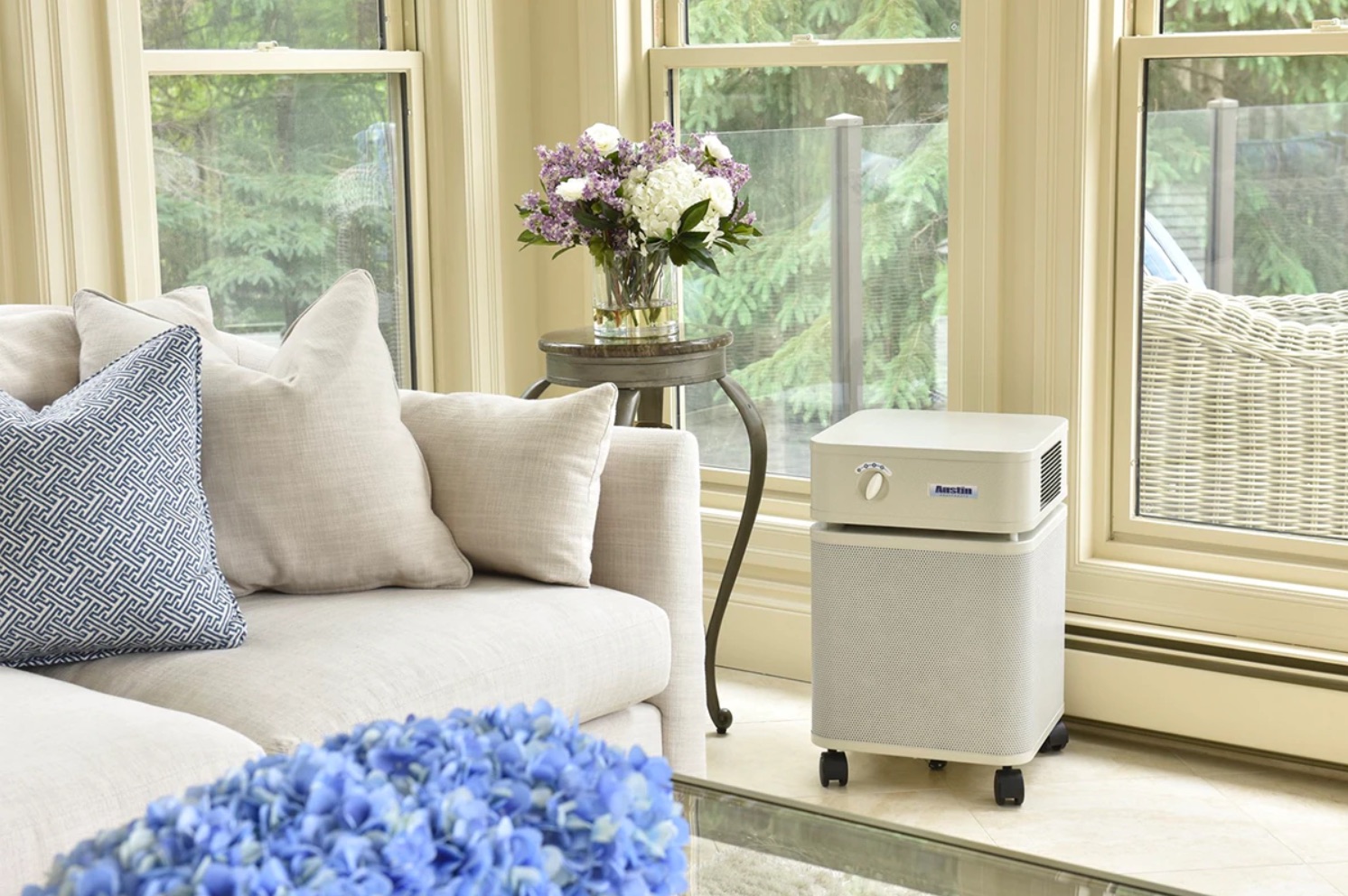 Pros
Excellent performance for under $100
Great purifier for people who suffer from asthma attacks
Cons
No air sensor or smart feature
Would be great if this unit was Energy Star rated
Filter Technology
Pre-max filter, V5-Cell Filter, HyperHEPA filter
Carbon Filter, HEPA Filter, Pre-Filter, Large Particle Pre-Filter
Recommended Room Size
450 sq. ft. to 1125 sq. ft.
750 sq. ft. to 1500 sq. ft.
Best Overall
Style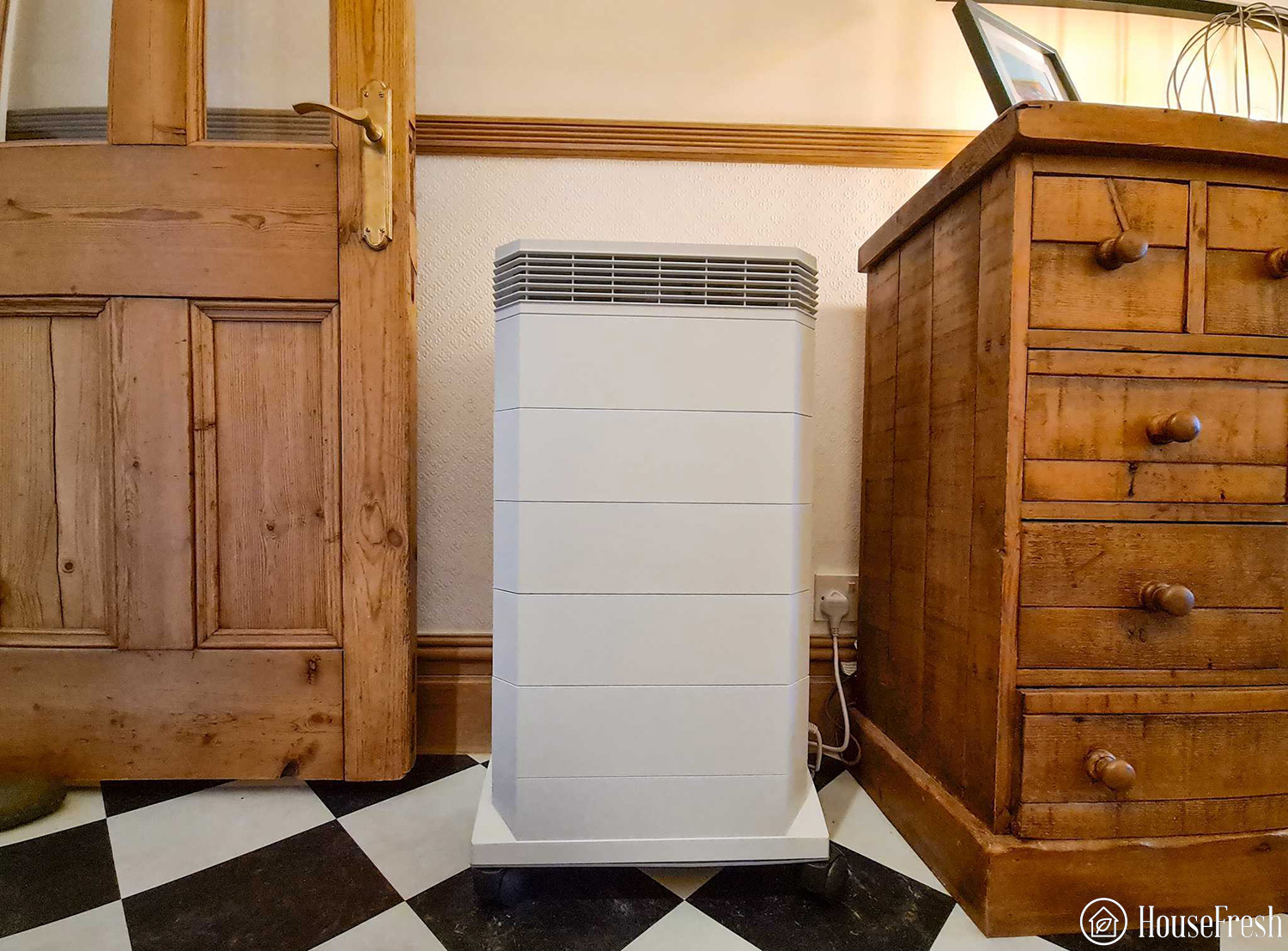 Filter Technology
Pre-max filter, V5-Cell Filter, HyperHEPA filter
Recommended Room Size
450 sq. ft. to 1125 sq. ft.
Best Budget Option
Style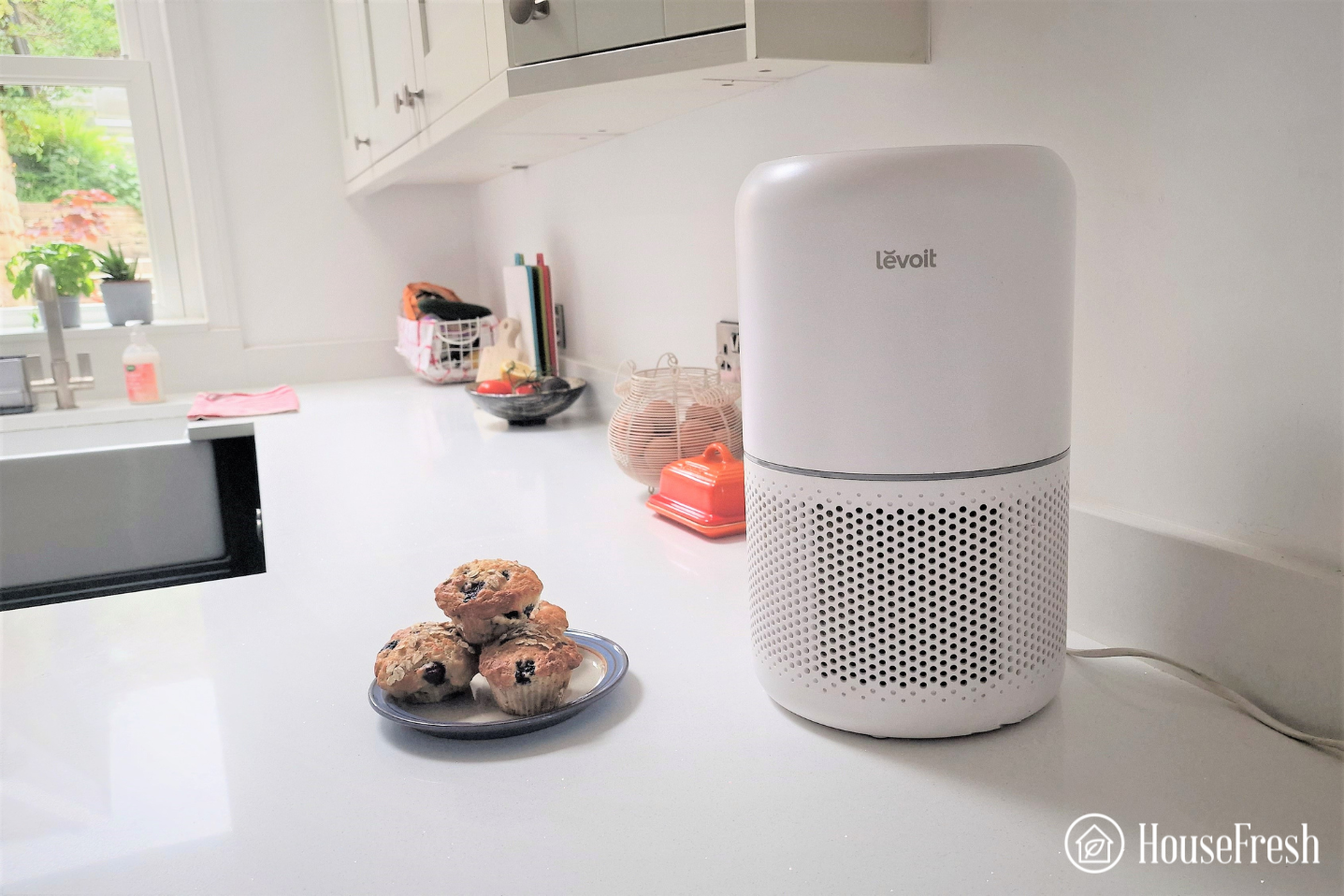 Pros
Excellent performance for under $100
Cons
No air sensor or smart feature
Best for Large Spaces
Style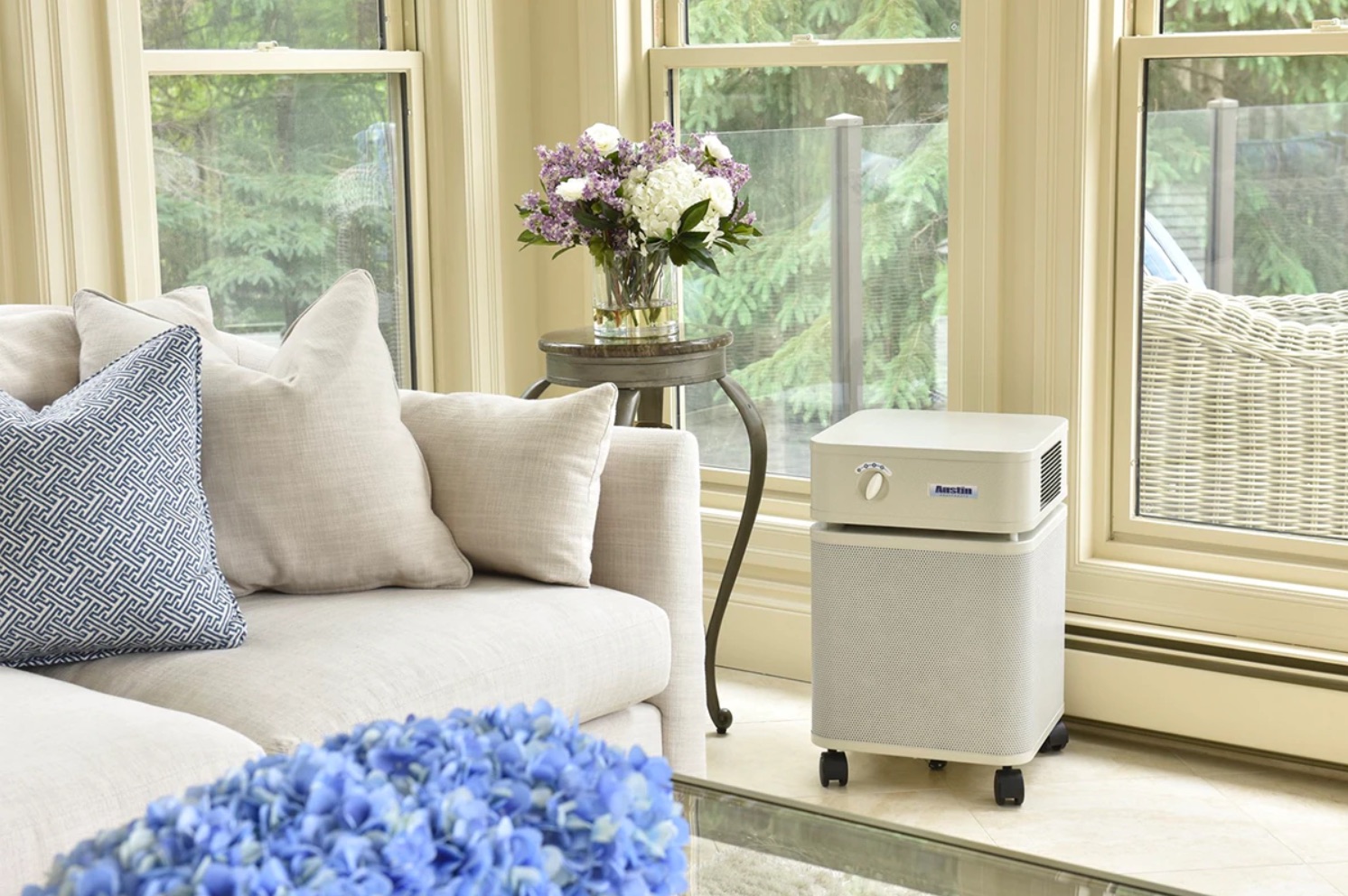 Pros
Great purifier for people who suffer from asthma attacks
Cons
Would be great if this unit was Energy Star rated
Filter Technology
Carbon Filter, HEPA Filter, Pre-Filter, Large Particle Pre-Filter
Recommended Room Size
750 sq. ft. to 1500 sq. ft.
Some Frequently Asked Questions About Activated Carbon
🤔 Are Carbon Filters any Good?
Carbon filters have been scientifically proven to remove harmful VOCs and bad odors from the air in our homes. But, not all carbon filters are good. It all depends on a few different factors:
How much carbon is used in the filter
If it uses loose-fill or bonded carbon
The size of the filter
Its dwell time
If the filter doesn't have any of these attributes, it won't be that effective at removing VOCs and odors from the air in your home. Be sure to check out what we think is the best air purifier that removes VOCs as these are those that contain large amounts of activated carbon.
🤔 How Long Does an Activated Carbon Filter Last?
Activated Carbon filters have varying lifespans. They can last anywhere from 3 months to 5 years. It really depends on the same factors as the previous answer and, of course, how much you use your air purifier and how hard it is working.
Air purifier brands are usually open about how long their filters last. It's best to check their website to compare it with others. After all, it has to be calculated into the overall running costs of your unit.
🤔 Are Activated Carbon Filters Safe?
Activated carbon filters are perfectly safe to use in air purifiers. If you use them correctly. If you tamper with them, you run the risk of releasing all of the pollutants they have trapped back into the air.
❌ Don't open them up
❌ Don't handle the carbon
❌ Don't put the carbon in your mouth
❌ Keep out of reach of children
Final Thoughts
Activated carbon filters are the safest and most effective way of removing harmful VOCs and odors from the air in your home. If you're looking for an air purifier specifically for this reason, there are a few factors you need to consider.
Make sure the air purifier is designed to clean a room of your size
Choose a filter that is packed with at least 5 lbs of activated carbon
Take into consideration the lifespan of the filter as this will affect the overall running costs
Make sure the air purifier also contains a good HEPA filter
Last update on 2023-12-06 / Affiliate links / Images from Amazon Product Advertising API