Fresh president, fresh look. Every time the U.S. votes in a new leader, the incoming POTUS gets to redecorate the Oval Office – the White House room where they keep the (leather and maple wood) seat of power.
When a president is not even allowed to throw open their own windows, the least they want is a new lick of paint and a virgin desk chair to dispel the fug of the outgoing POTUS. Priorities differ from one administration to the next: Lyndon B. Johnson put down new lino to cover the holes Eisenhower made with his golf spikes; President Biden removed Trump's famous bright red emergency Diet Coke button.
America's royalty gets to work with top designers. Still, today's hot interior brands offer style and affordability to turn the eye of a prudent Treasury Secretary, especially in a moment of economic instability. So, HouseFresh wondered what the Oval Office might look like with an overhaul in the style of the iconic home brands that readers might consider for their own home office shake-up.
What We Did
HouseFresh identified six iconic home stores in the U.S. and trawled their websites to curate alternative furniture choices and design details for those commonly visible in the Oval Office. We chose pieces that matched the purpose of the Oval Office originals as closely as possible while best representing the respective brand identities of the different stores. And we noted the RRP of each in case readers should feel like recreating the branded President experience at home.
Would you like a Diet Coke with your meatballs, Your Excellency?
1. The IKEA Oval Office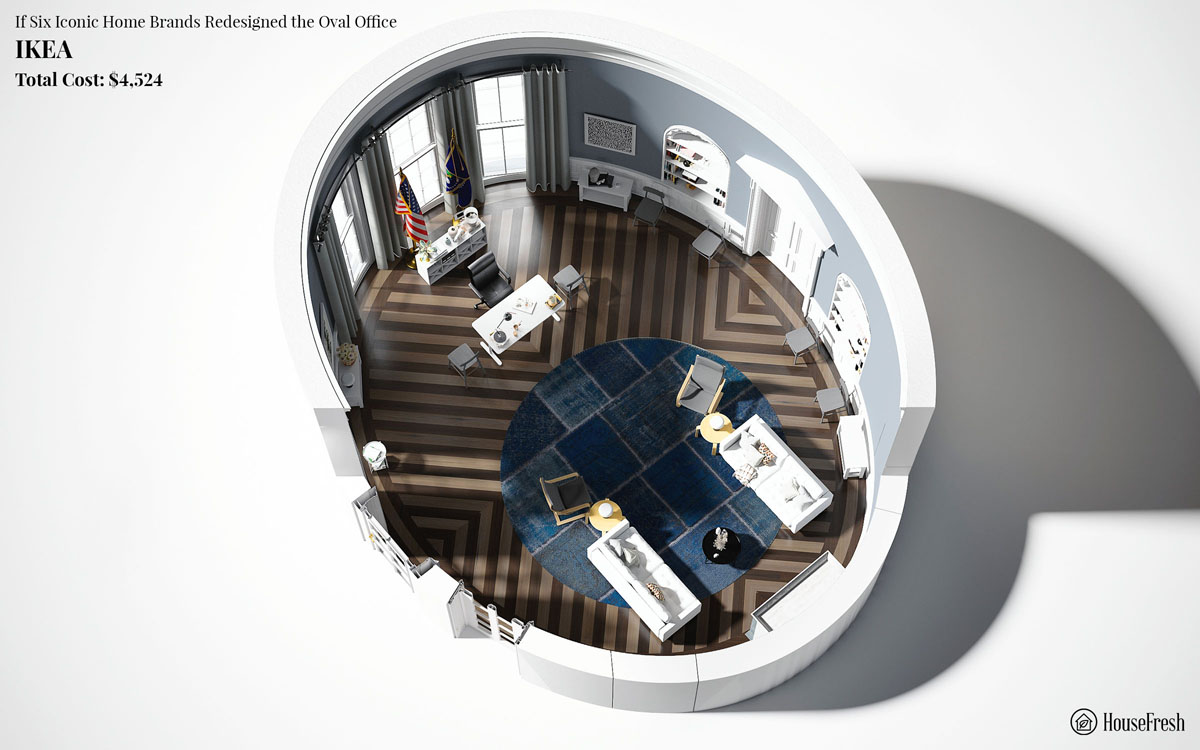 There are 52 IKEAs in the U.S., and the closest to the White House is just a half-hour drive up to College Park. IKEA is known for maintaining meticulous design principles and low prices but suffers from good season/bad season syndrome: while some pieces become design classics and collector's items, others are best consigned to an anonymous warehouse alongside the lost Ark of the Covenant.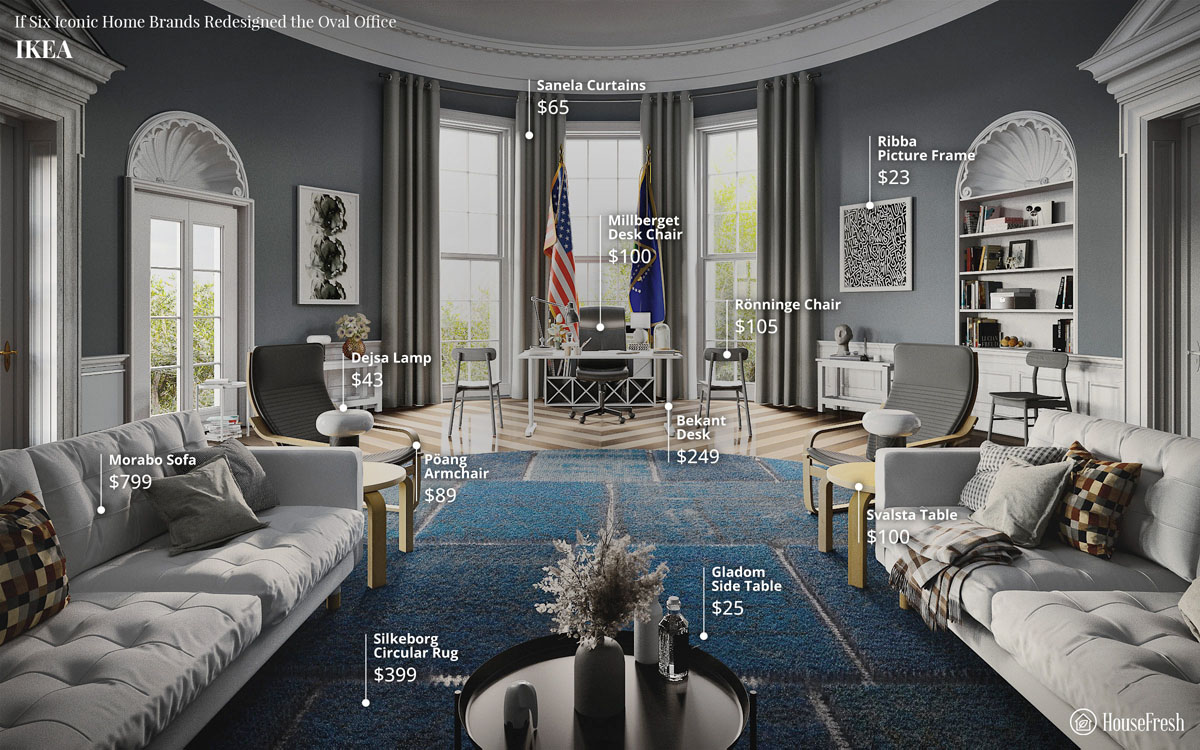 An IKEA president would need to balance IKEA's talking-point objects with its more conservative, practical-led designs. Examples of the latter include the BEKANT desk ($249) and MILLBERGET swivel chair ($99.99), which are light, modern, and unpretentious. Meanwhile, an eye-catching pair of mushroomy DEJSA table lamps ($42.99) would work equally well for a Super Mario Bros. veteran or the leader of the free world.
2. The Pottery Barn Oval Office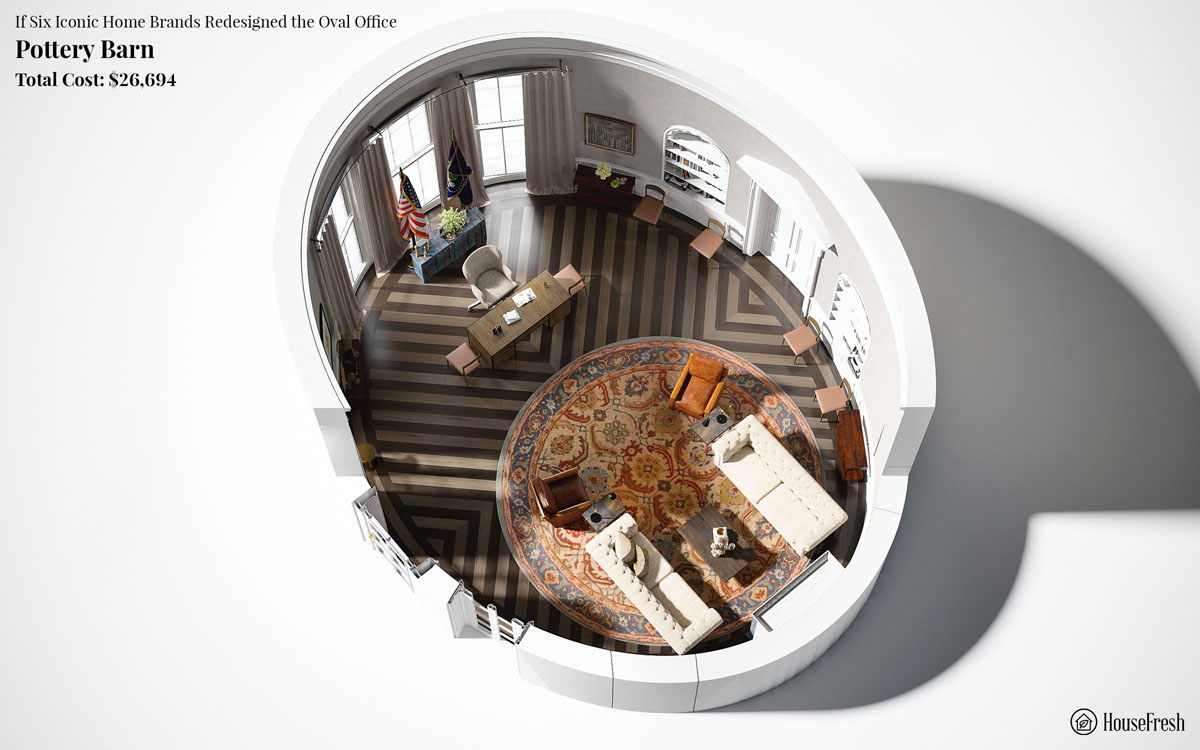 Pottery Barn is a trans-American phenomenon. Having launched in Manhattan in 1949, the store is now headquartered in San Francisco and remains a brand name everybody loves to utter. Those two words capture it all: the Secon brothers established Pottery Barn to resell three barns full of dead stock stoneware and made it big after a popular New Yorker columnist namechecked the brand for its quality but uniquely flawed wares.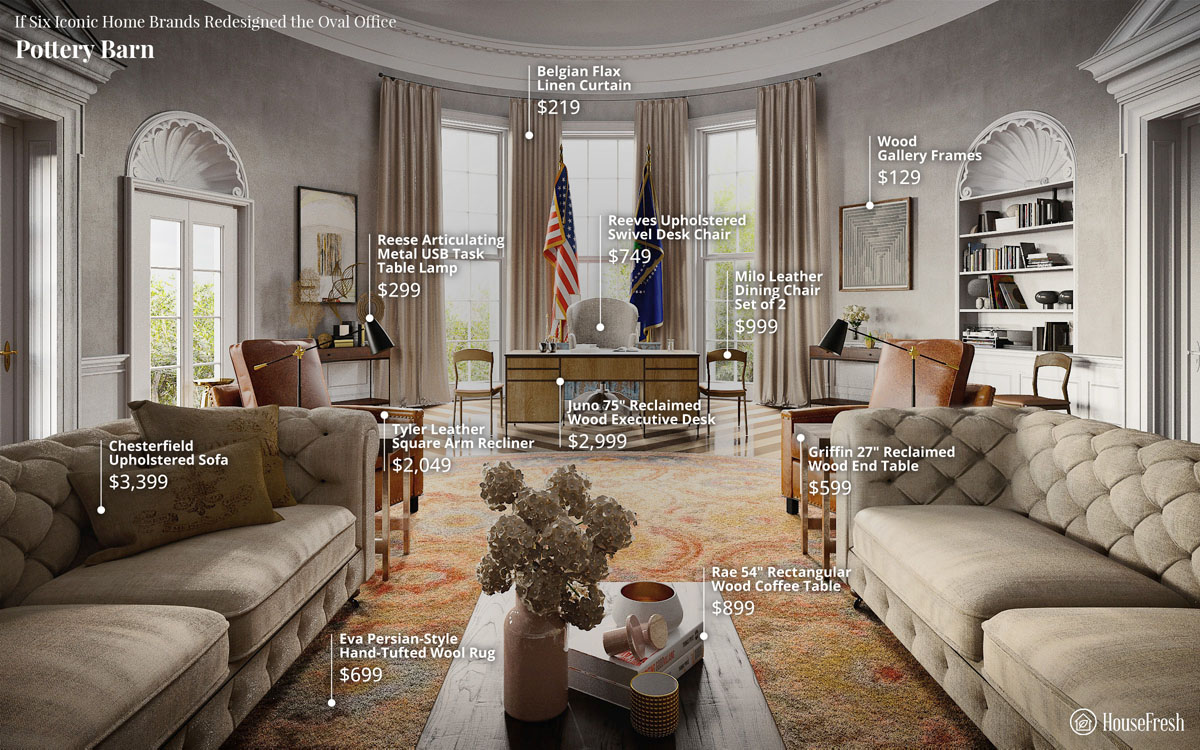 So it's a twee president who would capitalize on Pottery Barn's rustic, farmhouse style. Dark wood, rattan or seagrass details, and muted colors (check that Eva Persian-Style Hand-Tufted Wool Rug, $699) create an airy family-friendly space that gives the impression the prez has been in office for way more than two terms.
3. The Urban Outfitters Oval Office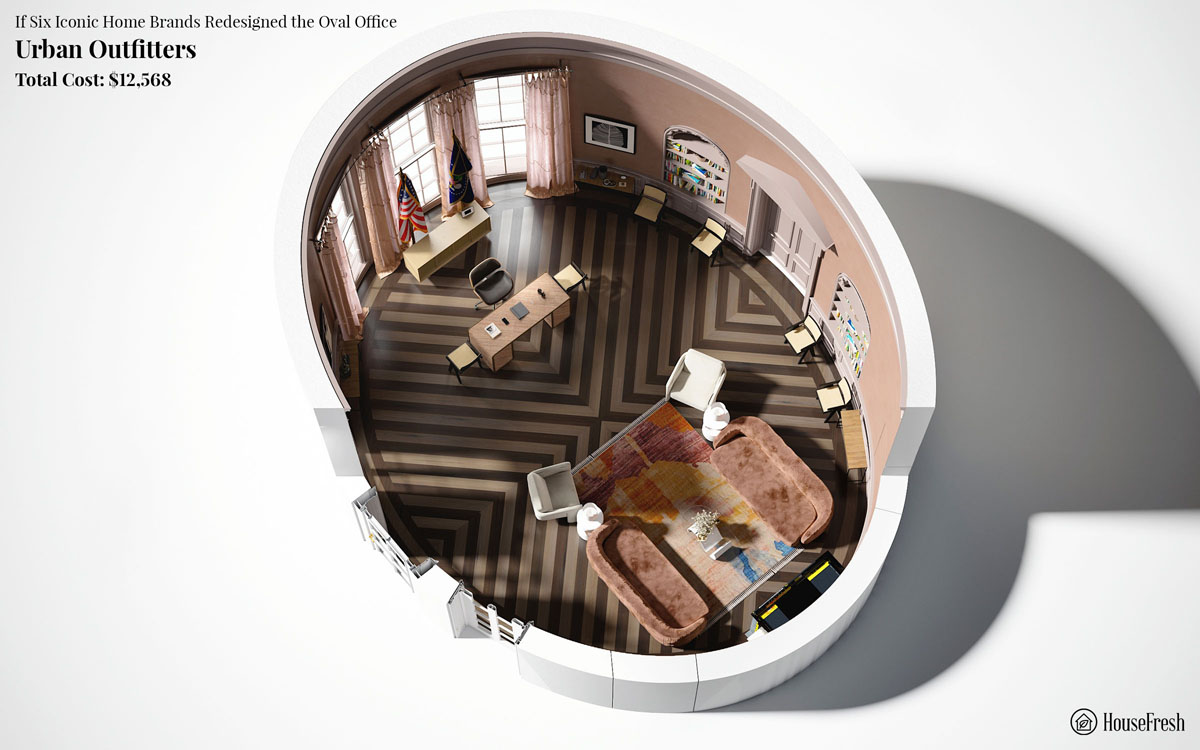 You're a hipster who just got your first job, and it's "President of the United States"? You can deck out your whole office without leaving the Urban Outfitters app. The Pennsylvania brand launched at the tail end of the 1960s and has retained everything swinging about that era while embracing modern tools and trends.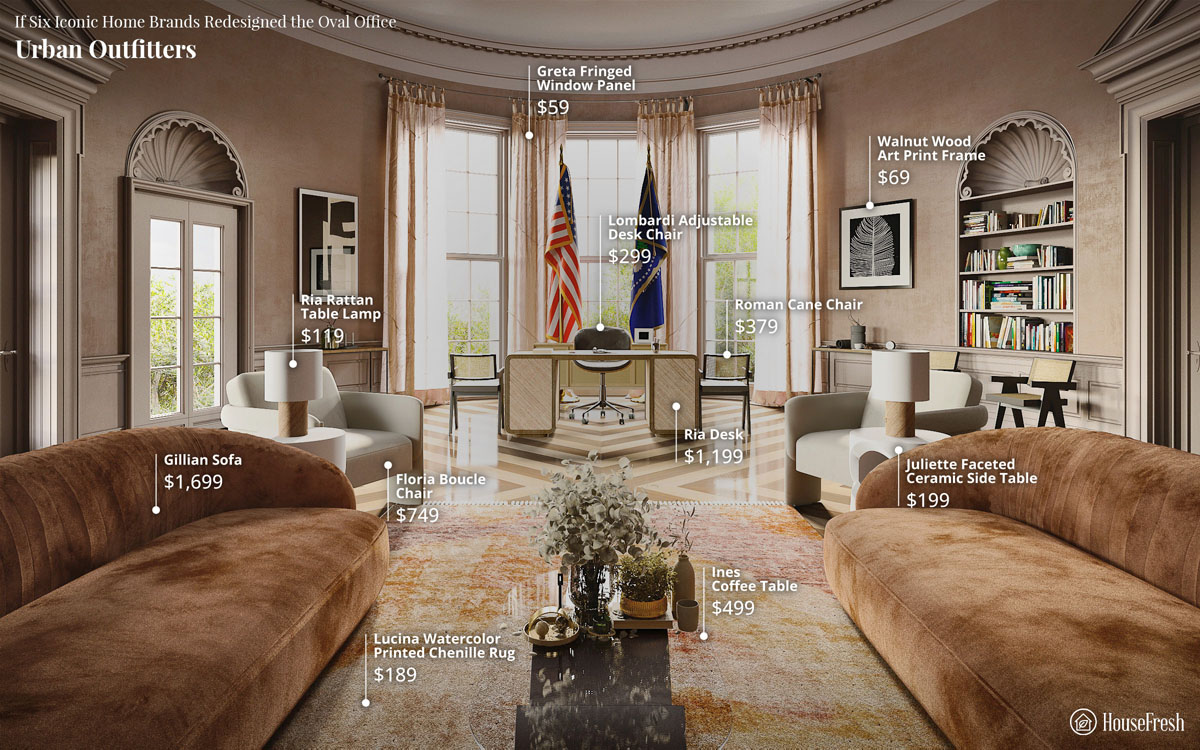 Urban Outfitters does good rugs, and this Lucina Watercolor Printed Chenille number ($189) takes on the iconic role as Oval Office rug with flamboyant disregard for sober tradition – particularly topped with the wavy Ines coffee table ($499). But the Ria desk ($1,199) takes pride of place, balancing form and texture, vintage and modern, with rattan-paneled drawers that look like they could tell a few stories.
4. The CB2 Oval Office
Crate & Barrel launched its CB2 brand in 2002 to indoctrinate young adults into their exotic but affordable line of designer furniture. Head-to-head with Urban Outfitters, but minus the hippie/hipster sensibility, CB2 works with indie designers to deliver modernist interiors with a stately presence.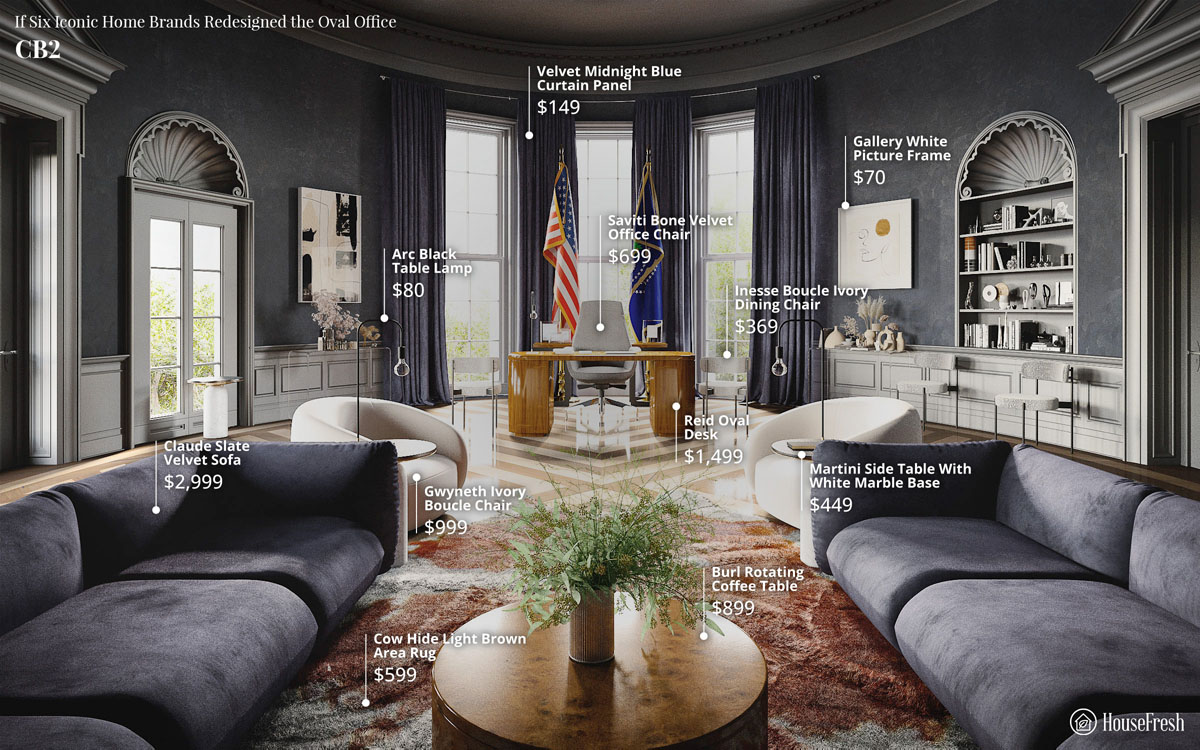 First of all, let's hear it for that Burl rotating coffee table ($899). A huge push-to-open (let's say "hidden") drawer holds space for secret documents, stashed liquor, and cold cereal. And the "luxe layer of Italian Mappa burl wood" on top is pure Trump-era bling. We've balanced this imposing feature with more modest acrylic details, such as the transparent 38″ Peekaboo console table ($399), to prevent the room from feeling heavy.
5. The Anthropologie Oval Office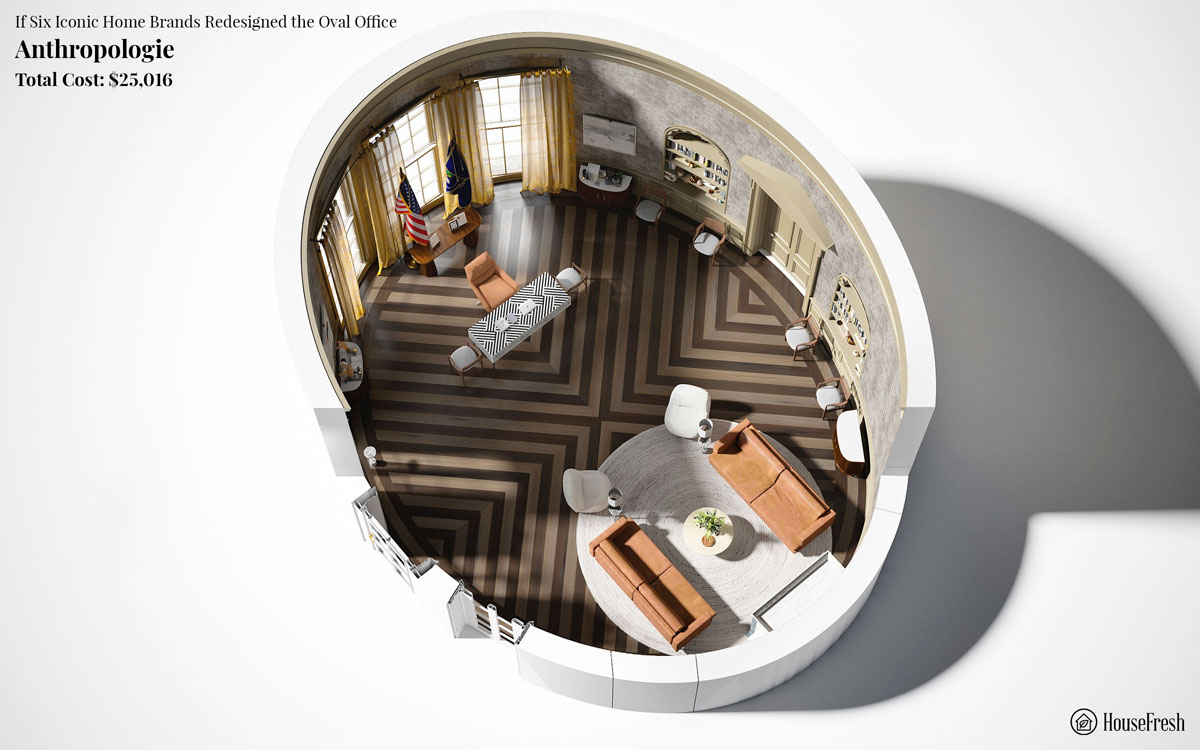 Anthropologie, a cousin store to Urban Outfitters, is "an oasis for the discerning woman with an appetite for worldly inspiration." Catering primarily to women around 30-50, the clothing and homeware brand counts Julia Roberts among its loyal customers. IKEA-style room layouts in-store communicate Anthropologie's signature interior aesthetics: "the more boho look that's geared toward textiles and pattern play and then the kind of chateau-meets-English town home, more traditional vibe," according to department manager Kelly Cameron.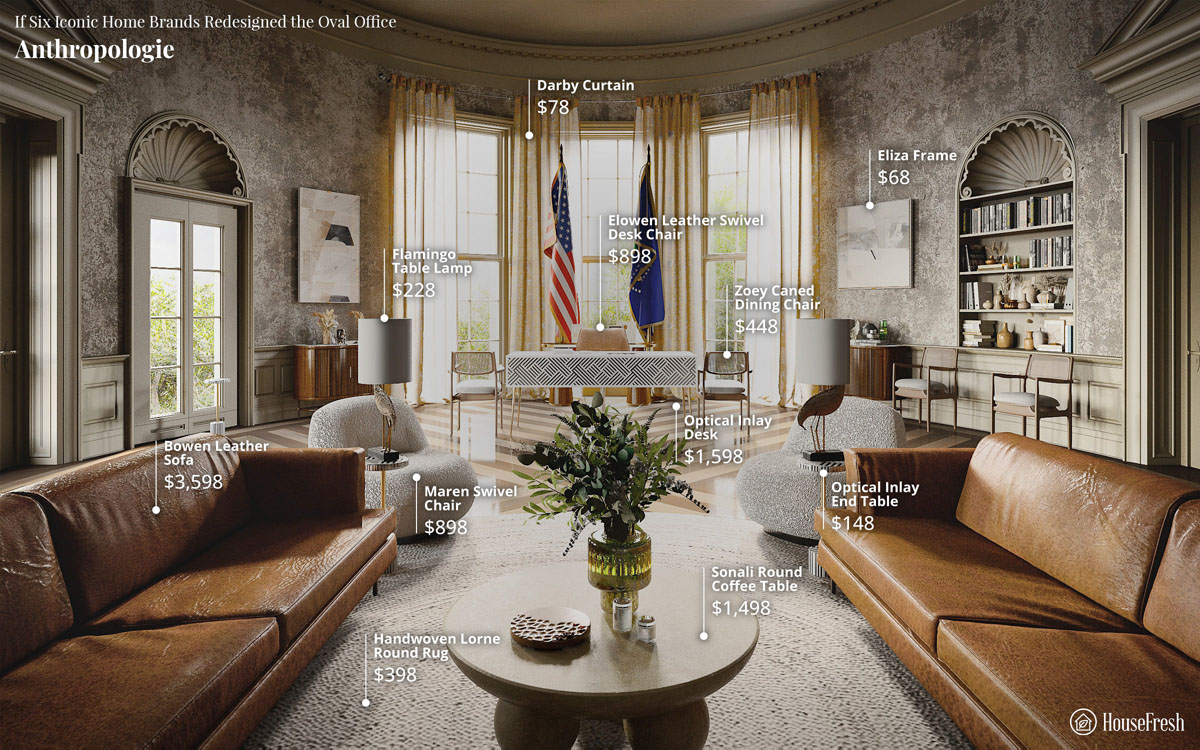 Despite its middle-aged profile, there is plenty that's playful about Anthropologie's interiors – and plenty that's playful about our Anthropologie POTUS. Note the Flamingo table lamps ($228), whose heads are most definitely not in the sand (one might even say they're enlightened) – the attention to detail extends to their feather-themed finials. The Optical Inlay end tables ($148) holding the Flamingo lamps are sure to dizzy any visiting world leader. And the Sonali coffee table with ash wood veneer ($1,498) and spherical legs will remind more insular presidents not to sweep global affairs under the table.
6. The Restoration Hardware (RH) Oval Office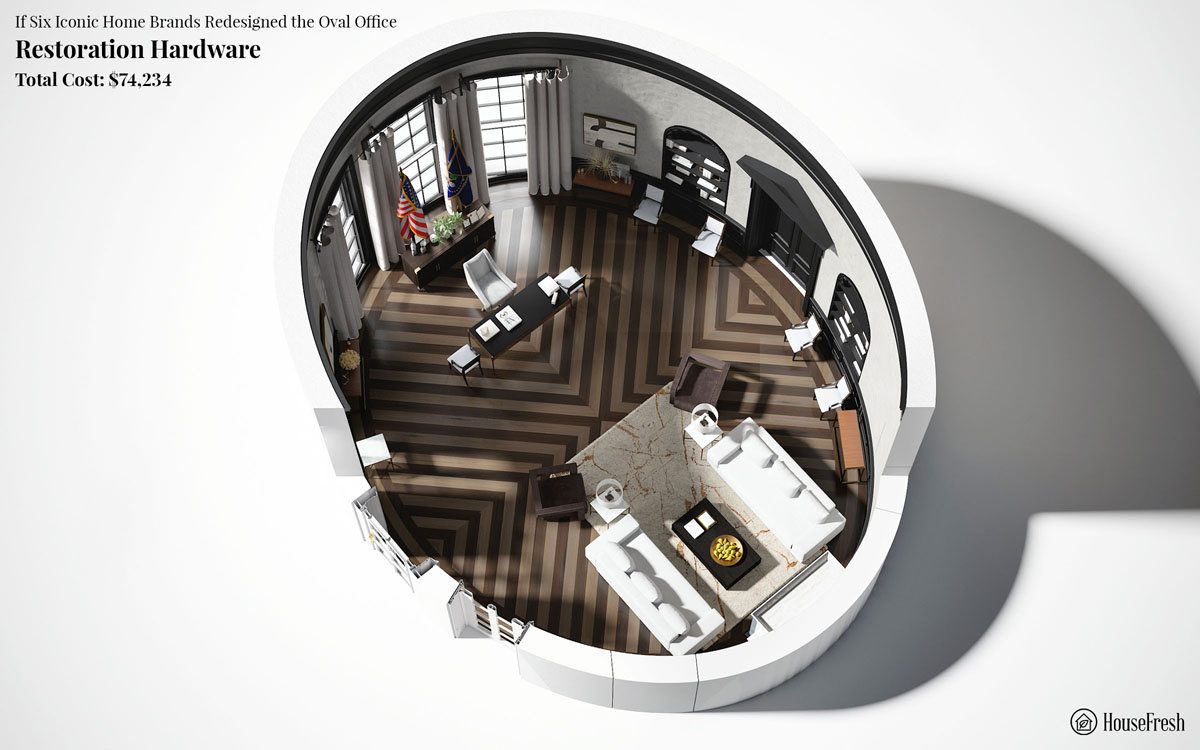 Shopping at an RH "gallery" is a definite statement of intent and budget: with a focus on design, quality, and unusual imported wares, the RH Oval Office is the most expensive among our refurbishments. A sense of refinement flows through the pared-back color palette, although studies suggest gray and white may not be the most upbeat scheme for a place of work.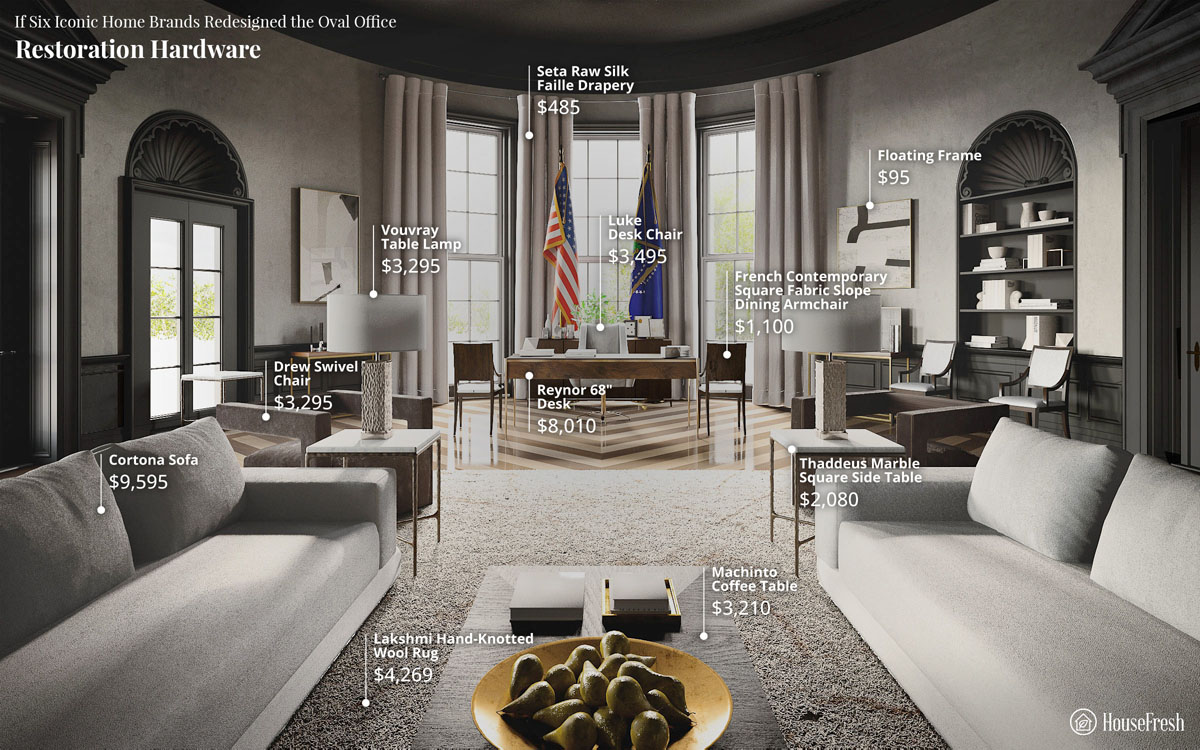 Still, with that 45"-deep, post-modern Italian Cortona sofa ($9,595), this is less a room for work and more a place for lounging around feeling important and fabulous. The handsome, enticing, handcrafted Drew swivel chairs ($3,295) next to the sofa make it even less likely that the RH President will make it past the rug to sign executive orders at their Reynor brass- and walnut-finished desk ($8,010).
The All-American Office
As President Obama reminded us about 1600 Pennsylvania Avenue, "this house belongs to the American people." What changes might you make given the freedom to redecorate the Oval Office with your favorite home brand loyalty card in hand? And how might you freshen up your home office with a bit of presidential style – but with distinctly less than a $22k rugs and wallpaper budget?
---