Our verdict:
The ProBreeze dehumidifier is easy on the wallet but in tests, it failed to have any significant effect on humidity even in a small grow tent. This feels like a product designed to be easily bought (low price) but with no real practical value for most people. I would avoid and if possible spend a little extra to get something that will be effective.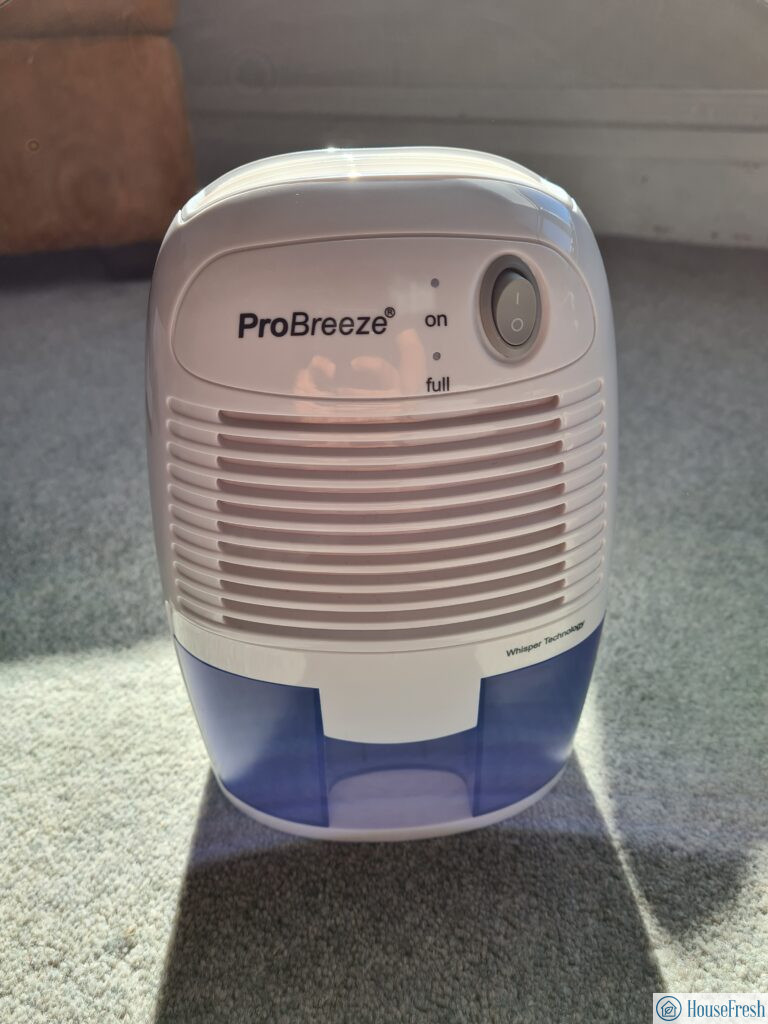 On paper the pro breeze 500ml tank dehumidifier seems like the perfect dehumidifier – it's tiny, silent, and costs less than $50.
But there is also a major fly in the ointment – it just can't remove enough water to have a meaningful effect on the environment.
I will show you some numbers from my experiments later in the review but let's just look at the details from the Amazon product page.
According to the details, it can remove 9 ounces of water per day – for those more visual, this is one of those small cups that come with an office water dispenser.
In comparison, the Honeywell TP30WKN can remove 600 ounces of water in the same period of time and can be regularly found for less than $200.
On an ounce of water removed per $ – the Pro Breeze dehumidifier is $5.50 vs the Honeywell TP30WKN which is 33 cents per ounce!
The performance per $ spent is massive but the biggest issue is that there seem to be no situations that would require such a small amount of water removal for most situations that require a dehumidifier.
About our hands on tests
We don't accept free units from manufacturers as we don't want this to add undue pressure to give a more positive review than we would normally so we bought this Pro Breeze dehumidifier with our own money. As this review shows, if a unit doesn't perform we would rather make this clear to consumers rather than just say it's great as the vast majority of reviews out there (Google pro breeze dehumidifier review and you will see what I mean) our goal at HouseFresh.com is to make sure you end up with a dehumidifier that performs effectively for your budget/use case.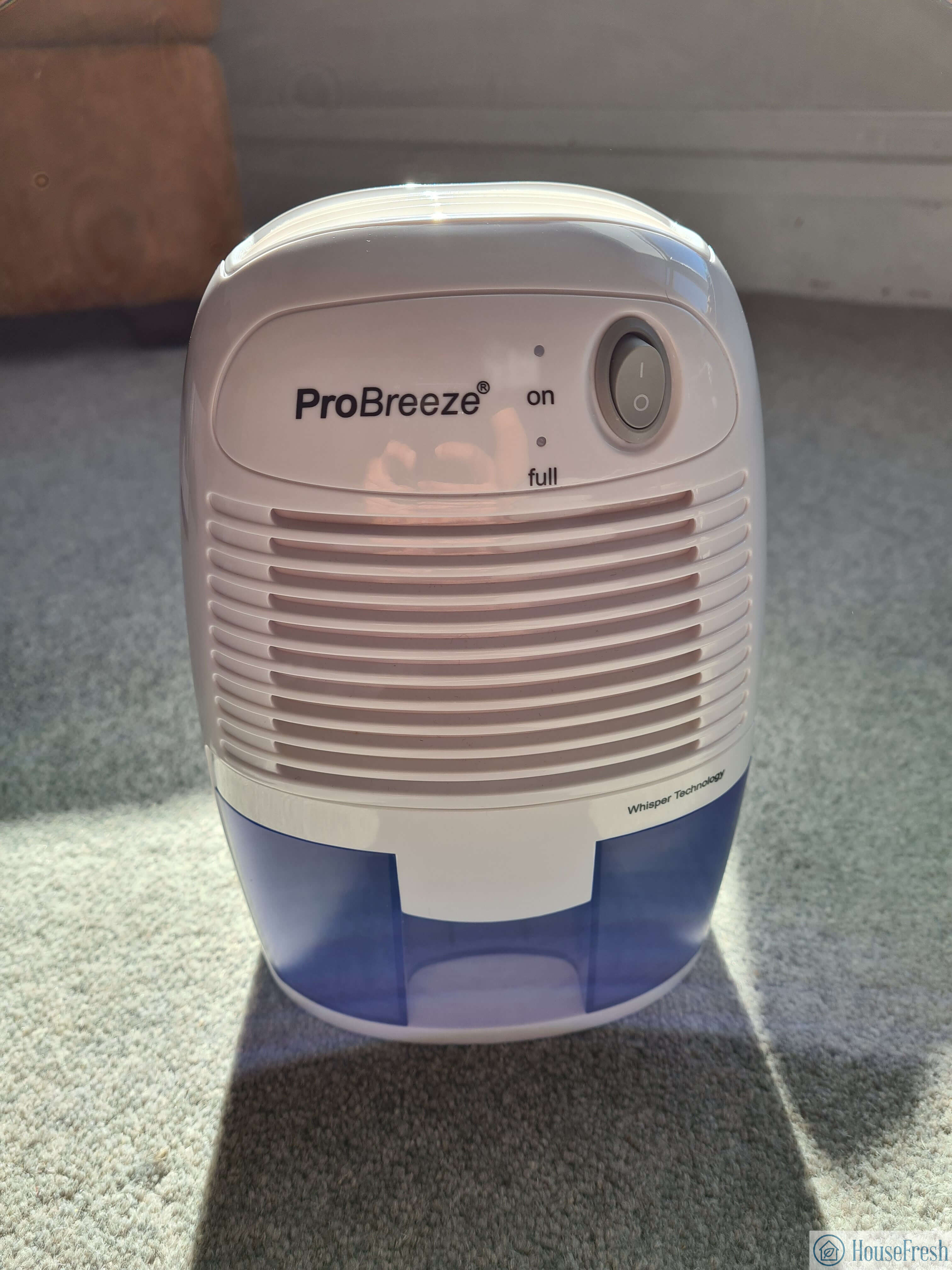 Capacity
7 ounces per day or a small water cup from an office water fountain
Technology
16 ounce water tank with 0.55kW energy usage over 24 hours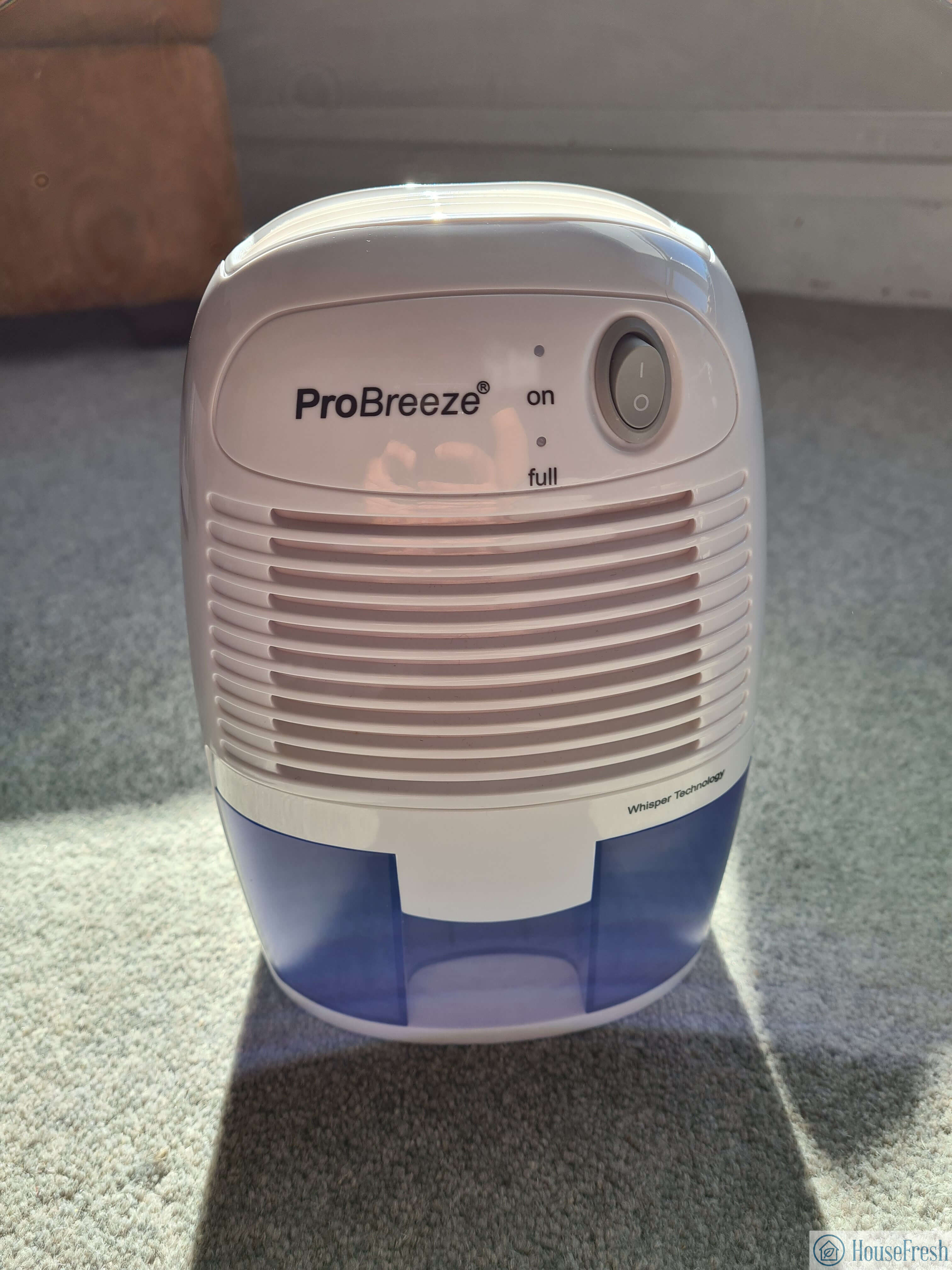 Capacity
7 ounces per day or a small water cup from an office water fountain
Technology
16 ounce water tank with 0.55kW energy usage over 24 hours
Specifications:
How much water can be removed per day: 9 ounces per day which is the same as a small water cup from an office water fountain.
The size of the room recommended is 215 sq ft although in my tests I would suggest an even smaller space like a drying cupboard.
It doesn't include a filter as it probably doesn't need it due to the small amount of air it can deal with.
It has a tank capable of holding 1.2 pints or 500ml – which means it will need to be changed every 2 days or so if used continuously.
The Look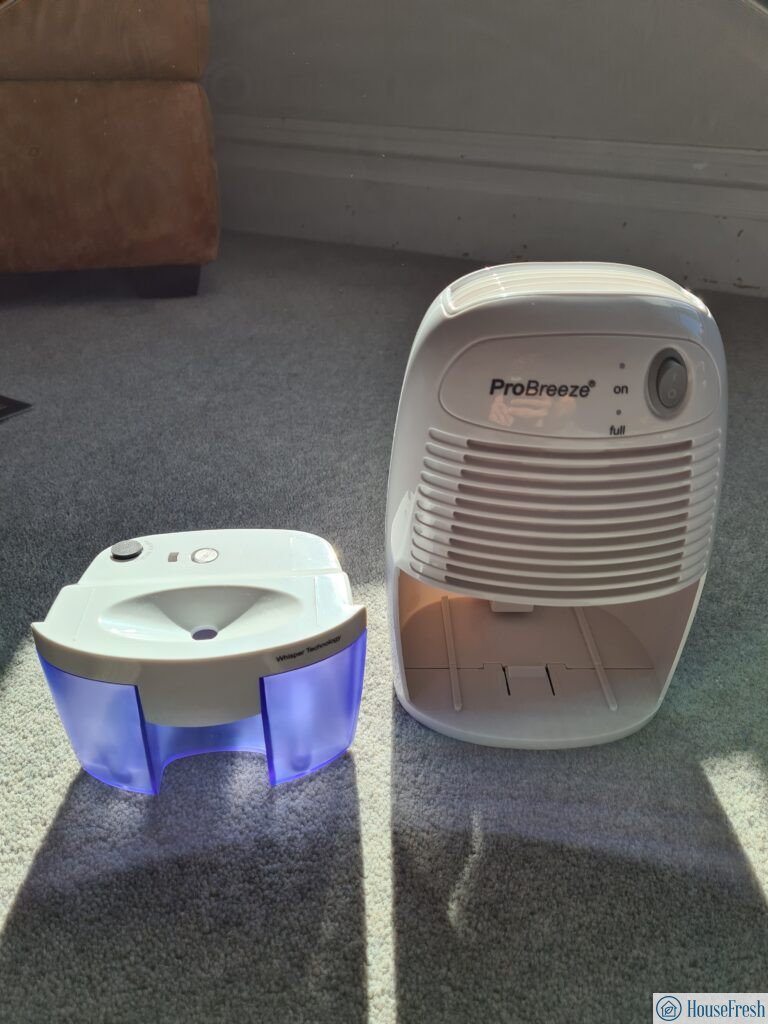 This dehumidifier is super small and light so doesn't require a handle as it can easily be carried.
It's as simple as any dehumidifier can be with only two buttons – on and off.
This makes sense considering its level of performance and price as it would be unlikely to need to have a cut-off or dehumidification sensor as it would have such a small effect on the overall humidity of the room.
Setup: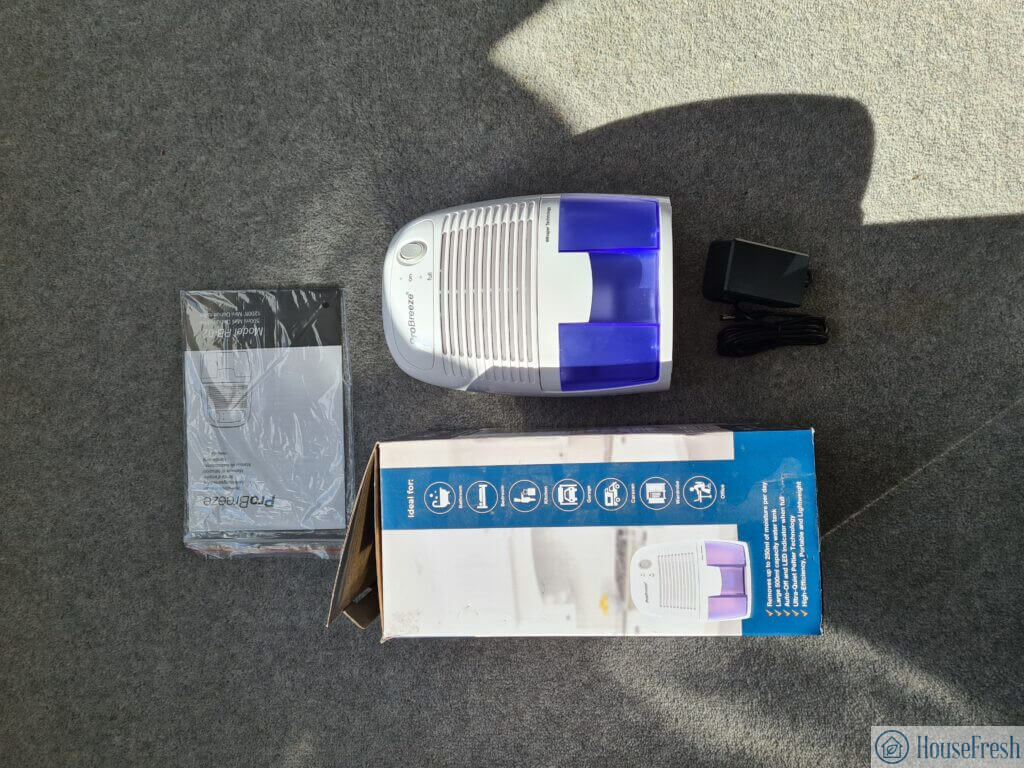 Out of the box, it's pretty much ready to go once you plug in the cable.
One thing to note is that the green on LED is super dim and hard to know if it's on when in daylight. Combined with the quietness of this machine – it's hard to know if it's on or not.
Performance
As I noted in the introduction I did a test of this unit in a grow tent in my basement – which is 35 inches X 35 inches with a height of 4ft 11in to give us a total space of 44.25 square feet so well less than the 150 square ft recommended on the product page.
I used a Govee Wifi hydrometer to track the level of humidity over a period of 2 weeks.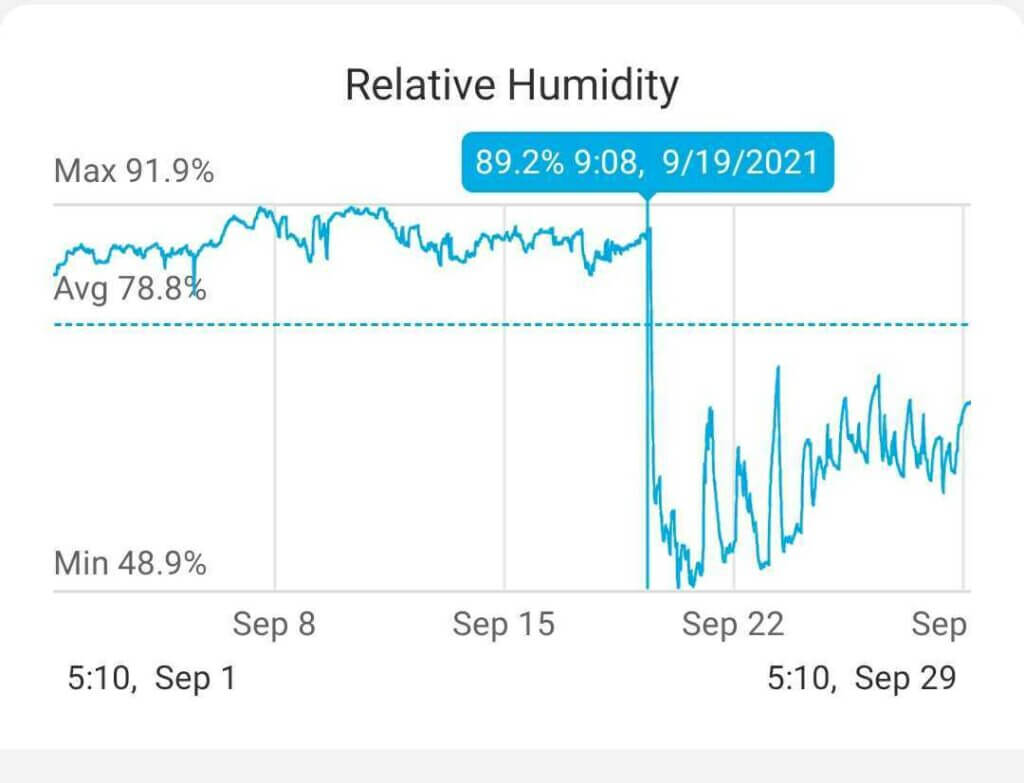 I switched on the pro breeze dehumidifier from 8th September and then swapped it out for a larger dehumidifier on the 19th of September which accounts for the large drop as the larger Delonghi dehumidifier showed what a real dehumidifier will do in a small space like this.
I certainly didn't expect that this unit was going to perform super well compared with units that were 4 times more expensive but I did expect it to have some marginal effect on the humidity in such a small space.
Sadly the results speak for themselves and I just can't think of a scenario where this dehumidifier would be useful – even an RV or bathroom is a much larger space than my grow tent so I expect the results would be even worse.
What I love:
The price – it's the cheapest dehumidifier on the market but as the review shows this does also come with downsides.
It's super small so could be used in a very small space if say you had an issue with damp in a kitchen cupboard
What I don't like as much:
Performance is just not enough for most practical use cases for a dehumidifier for most people.
The green on LED is super dim and hard to see in daylight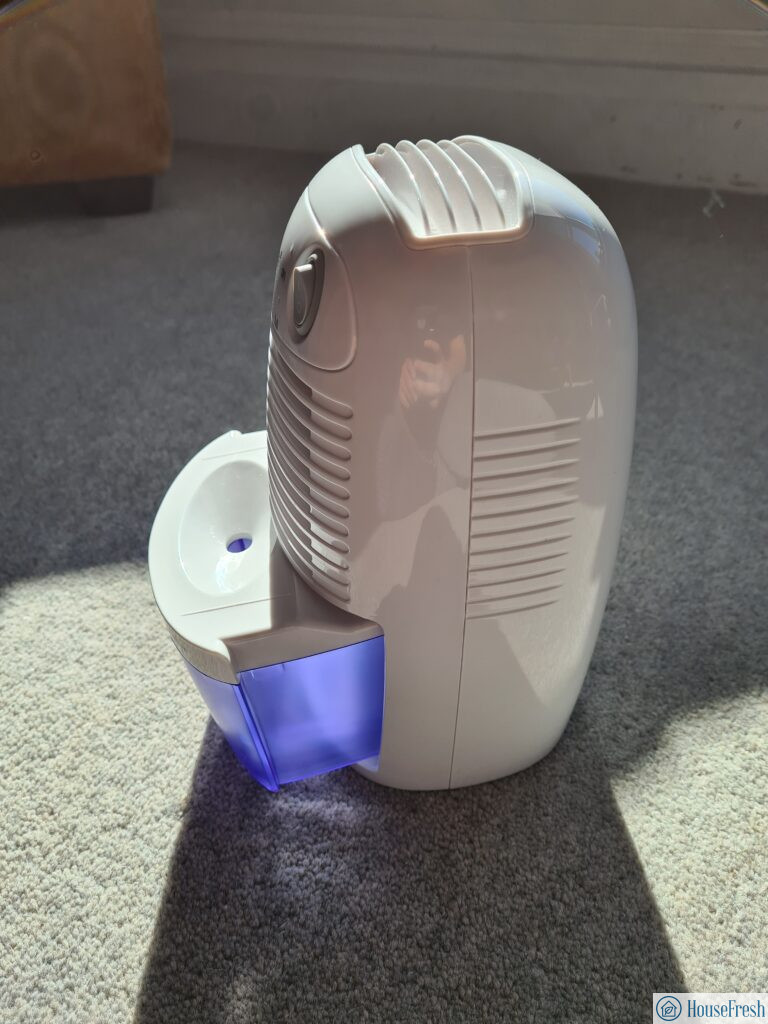 Bottom Line
I really wanted to love this dehumidifier as its price and promise sounded like exactly what I needed for keeping my grow tent air dry without a large chunky expensive dehumidifier. Sadly it was too good to be true and as my tests showed it is near useless in most spaces you need a dehumidifier.
If you do have a very strict budget then I would recommend something like the SEAVON 2000ml which can be found for less than $90 and able to remove way more water and has a water tank that is twice the size for not a lot of extra money.
But in most other cases, I would recommend pushing your budget and going for a more traditional dehumidifier like the Honeywell TP30WKN which can be found for under $200 and is much heavier but is light years ahead with performance when it comes to removing water from the air.
So sadly this is a dehumidifier that I would avoid unless you have a very specific case where you need a very small dehumidifier for a very small space.
Pro Breeze Dehumidifiers for Home,215sqft Small Dehumidifiers for Room,17oz Tank Portable Closet Dehumidifier Removes Humidity Mini Small Dehumidifier for Bathroom Dehumidifier for Bedroom RV Basement
SMALL & COMPACT: Our lightweight and portable dehumidifier for home is capable of removing up to 9 ounces of water per day with a 16-ounce water tank capacity. Ideal size bathroom dehumidifier for rooms of 1200-2200 cubic feet (215 sq ft).
SAFE AUTO SHUT OFF: Our dehumidifiers for bedroom are ideal in small spaces and rooms. When full, the dehumidifier will automatically shut off and the LED light will turn-on indicating the water tank needs draining
ULTRA QUIET & EFFICIENT: Get the best of your dehumidifier for home and experience Whisper Quiet Operation in bedrooms, bathrooms and offices. Power usage of just 23W per hour! This dehumidifier has a running cost of just $0.07/day! The ideal solution to humidity in your home!
EFFICIENTLY LOWERS HUMIDITY: Perfect dehumidifier for high humidity in your home, kitchen, bathroom, bedroom, caravan, garage, closet. Like all mini dehumidifiers, optimal operating temperature is 59-86°F. It will not work below 41°F.
AWARD WINNING BRAND: Pro Breeze is a world leader in small dehumidifiers for bathrooms, bedrooms, RV, Basements and was awarded one of America's Best Home and Garden Brands in 2022. Trust Pro Breeze - the only dehumidifier you need
Last update on 2023-09-21 / Affiliate links / Images from Amazon Product Advertising API