Our verdict:
The QP Pro builds on the success of the QP Lite, with a bigger color screen and the ability to track VOC levels. While the QP Lite is still the better option for most people, this is a great-looking device that lets you quickly understand your home air quality without fuss. 
Yes, it's probably the strangest brand name you've ever seen, but Qingping has been busy making excellent high-end quality sensors with attractive price tags.
Earlier this year, Smart Air reached out to us, and we got to test and review the smaller Qingping Lite. Its high-end sensor and screen impressed us, costing less than $100. It's essentially a cheap air quality monitor that is as good as premium models that cost $250+
The Qingping Pro is a little more expensive at $139.99 but can track VOCs and includes a more prominent color screen. It also provides app support with the ability to download your data for analysis.
TL;DR The Lowdown on the QP Pro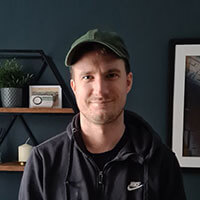 "An improvement over the QP Lite with the same sensor accuracy and with the additional support for VOCs. It would still be good to have more particle sizes such as PM10 that is included with the QP Lite, but for the price, this is still one of the best budget air quality monitors on the market." — Danny Ashton, Founder & Senior Writer
---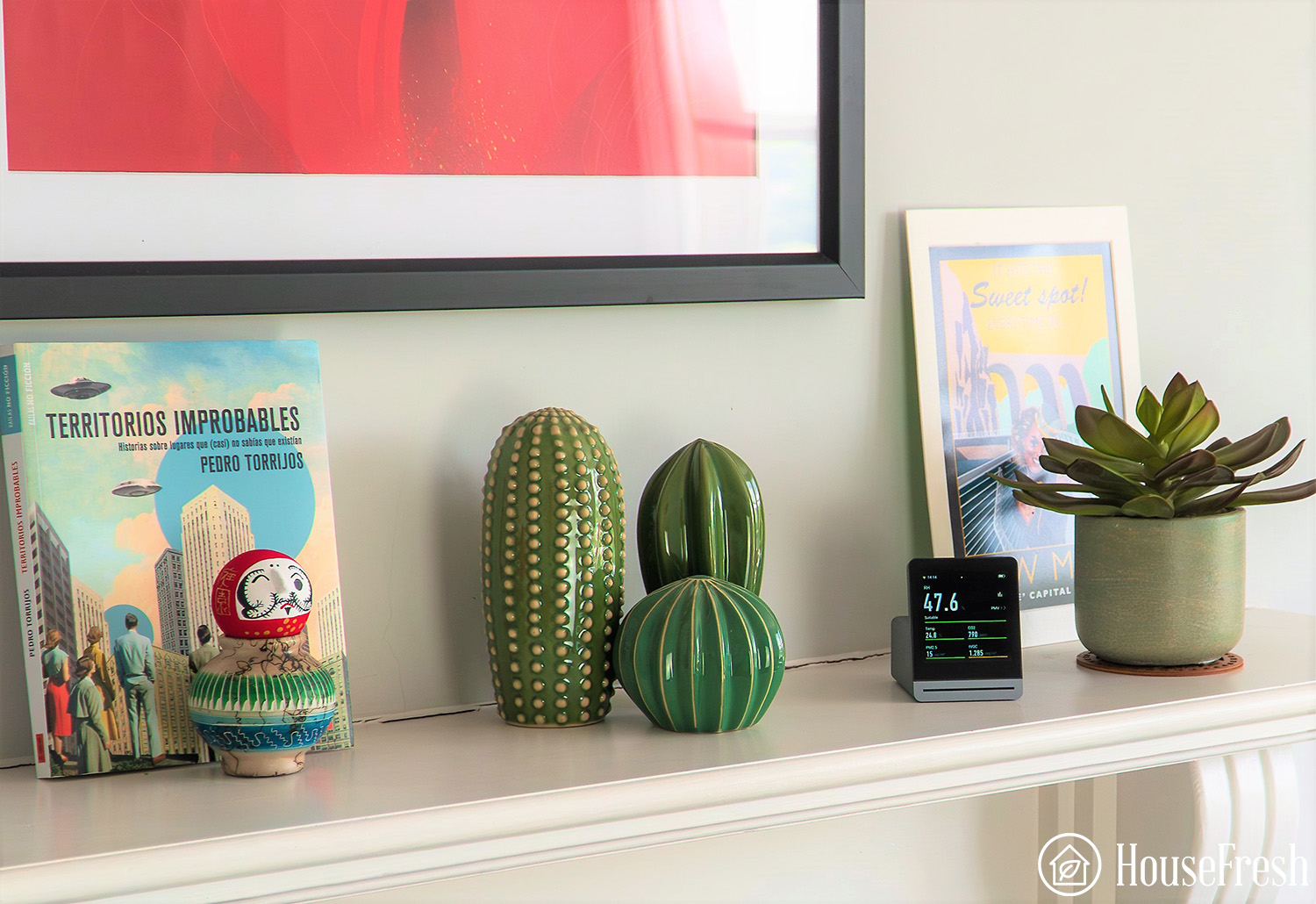 If you don't want to read my full review, these are the key things you need to know about the QP Pro air quality monitor.
What We Really Like:
👍 The ability to track VOC and PM2.5 accurately without spending more than $150
👍 The color screen shows PM2.5, temp, tVOC, CO2 and humidifier at one time
👍 Battery mode allows you to use the sensor without having access to power
👍 You can easily pull data from the device using the QingPing+ app
👍 Size is perfect for use on a desk
👍 Screen design allows you to understand your current air quality quickly
What We Think Could Be Better:
👎 Lack of PM10 and PM1 particle sensors which would be good to have in future versions
👎 VOC sensor only shows all VOCs and is not able to provide insight on specific problematic VOCs like formaldehyde
The Specifications
Budget air quality monitor with the ability to track VOCs
Like the QP Lite, this is a cheap monitor, but it doesn't use cheap sensors. It uses the Sensor S8 for PM2.5, an SGP30 for VOC and the same temperature and humidifier sensors used in Teslas [Sensirion].
| | |
| --- | --- |
| HouseFresh Rating: | ★★★★★ |
| Air quality factors detected: | PM2.5, CO2, temperature and humidity and VOCs |
| Battery type: | Rechargeable Lithium Battery (USB-C cable supplied) |
| Battery life: | 4 hours |
| Mounting type: | Tabletop |
| Dimensions (in inches / in cm): | 4.33 x 4.21 x 3.62 inches |
| Weight (in pounds / in kg): | 14.39 Ounces |
Perfect Desk Screen
As you can see, it's a good-looking device.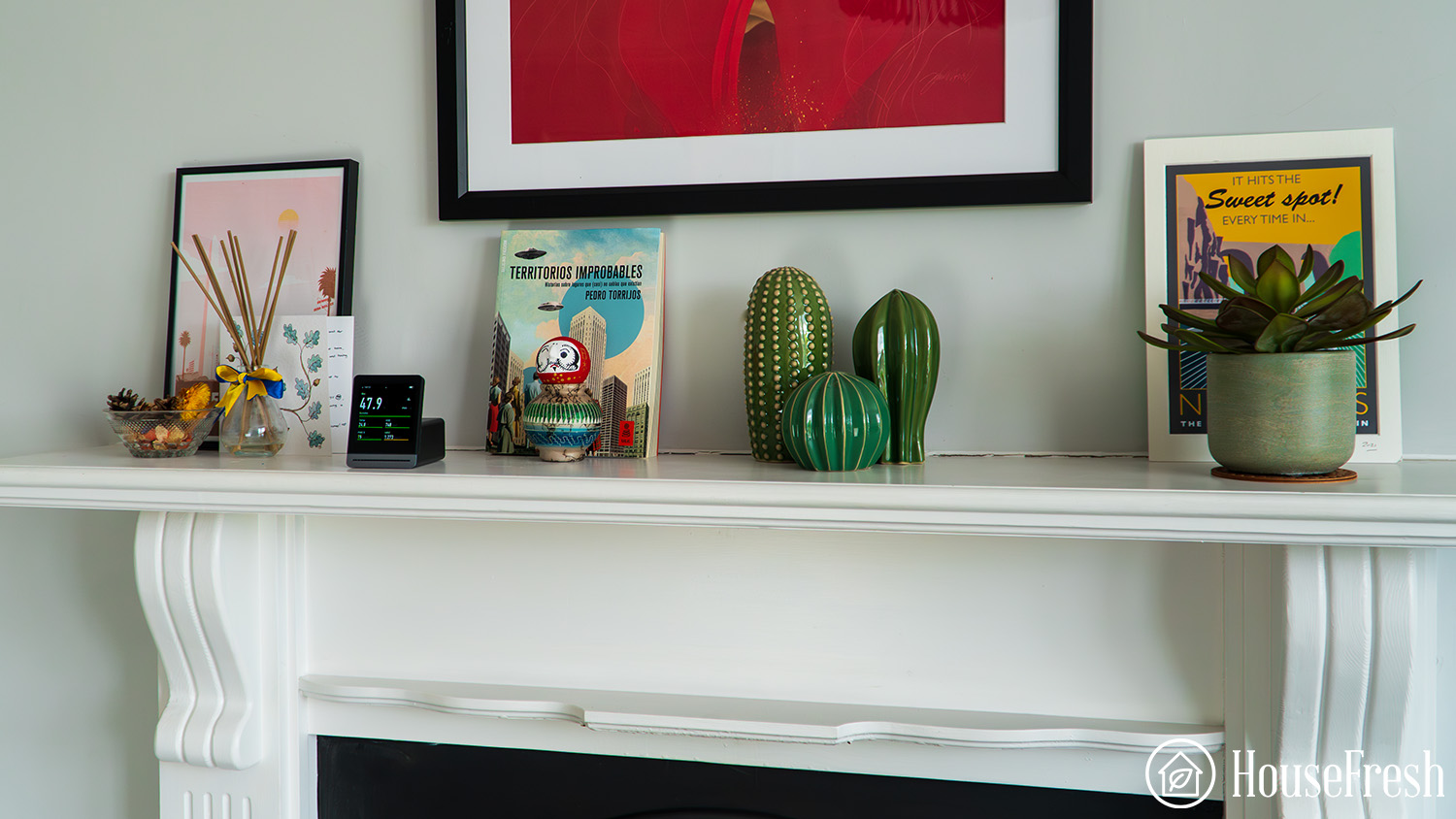 The QP Pro has an attractive screen that shows all the information in an intuitive way, allowing you to keep all the different air quality readings in one place.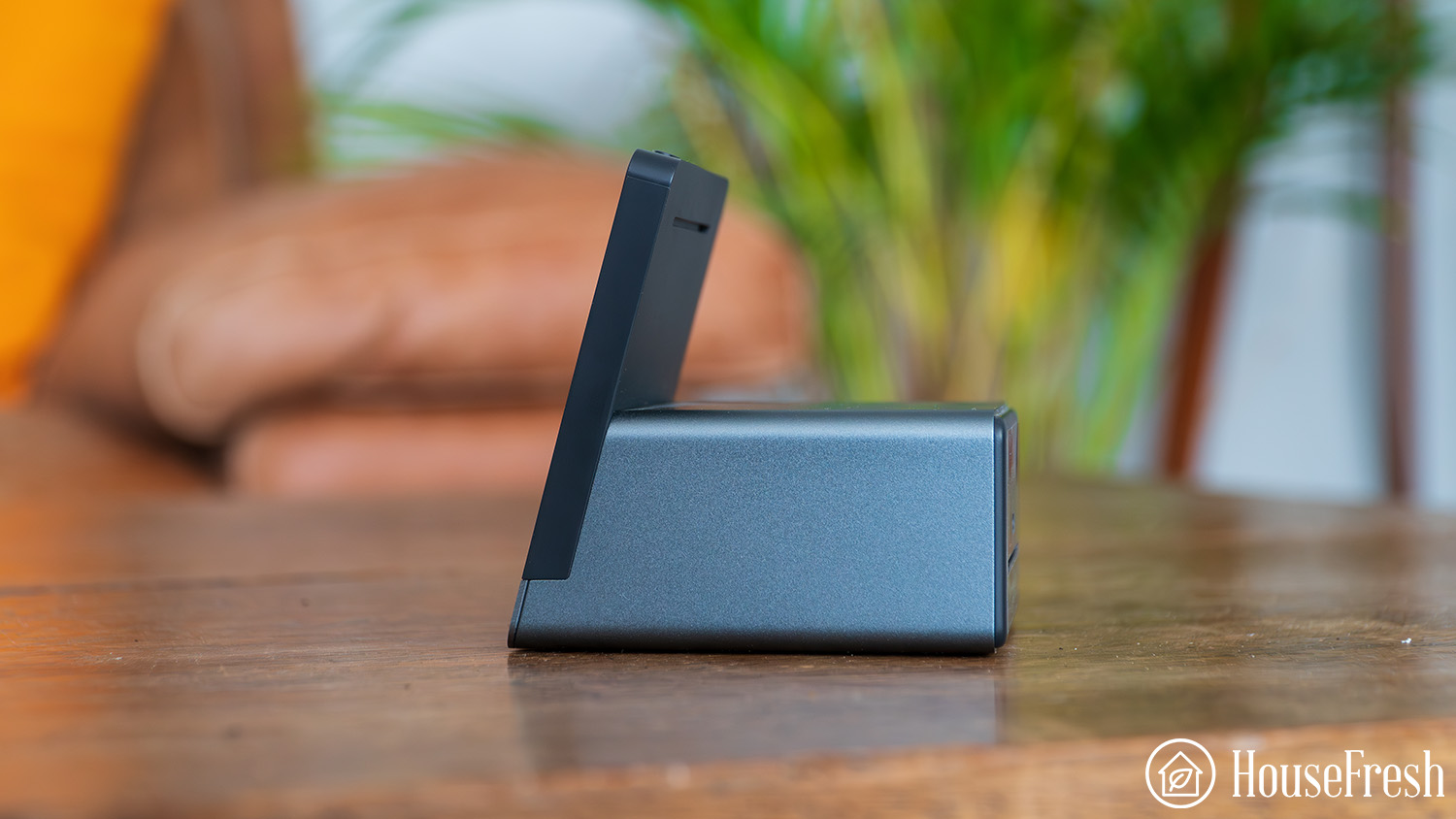 Looking at the unit from the side and the back, you can clearly see that it's bigger than the QP Lite: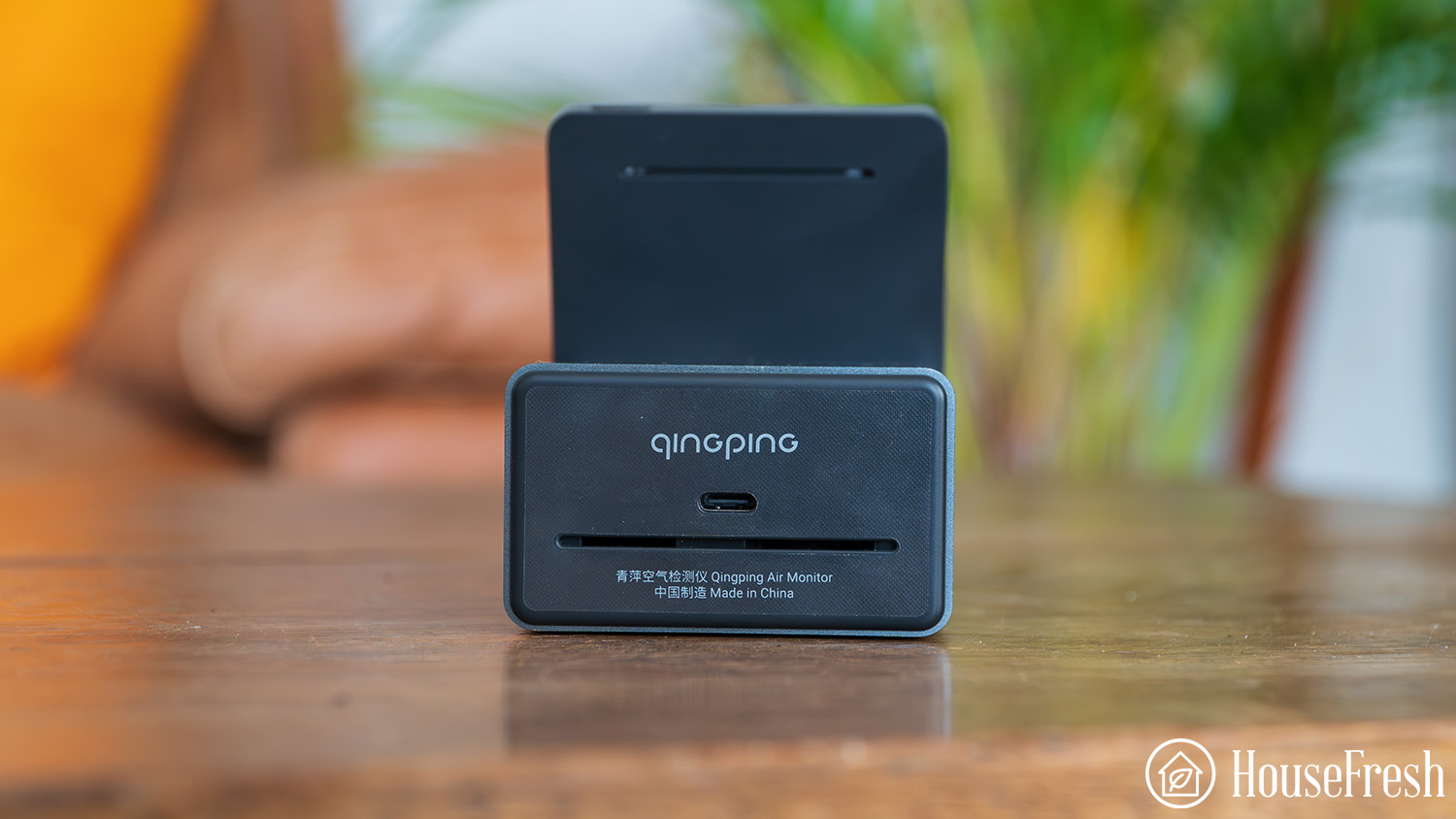 In comparison, the QP Lite is better for travel — I could see the screen getting damaged if you threw the QP Pro in your bag. Whereas the QP Lite is designed to be carried around.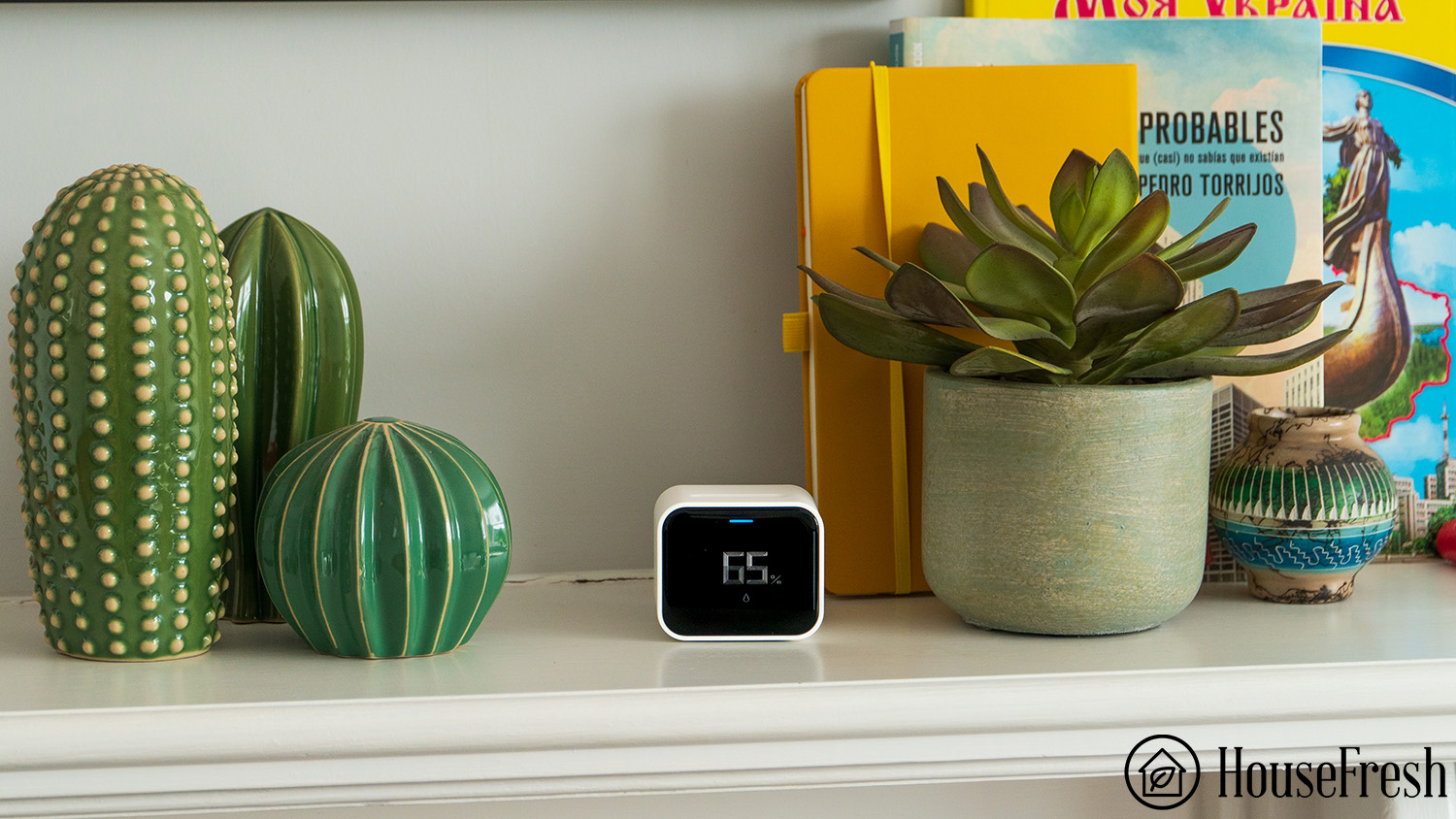 Simple System
While you use the top bar to change menus with the QP Lite, you just use the screen with the QP Pro. It's similar to a smartphone, so there is no learning curve to use it.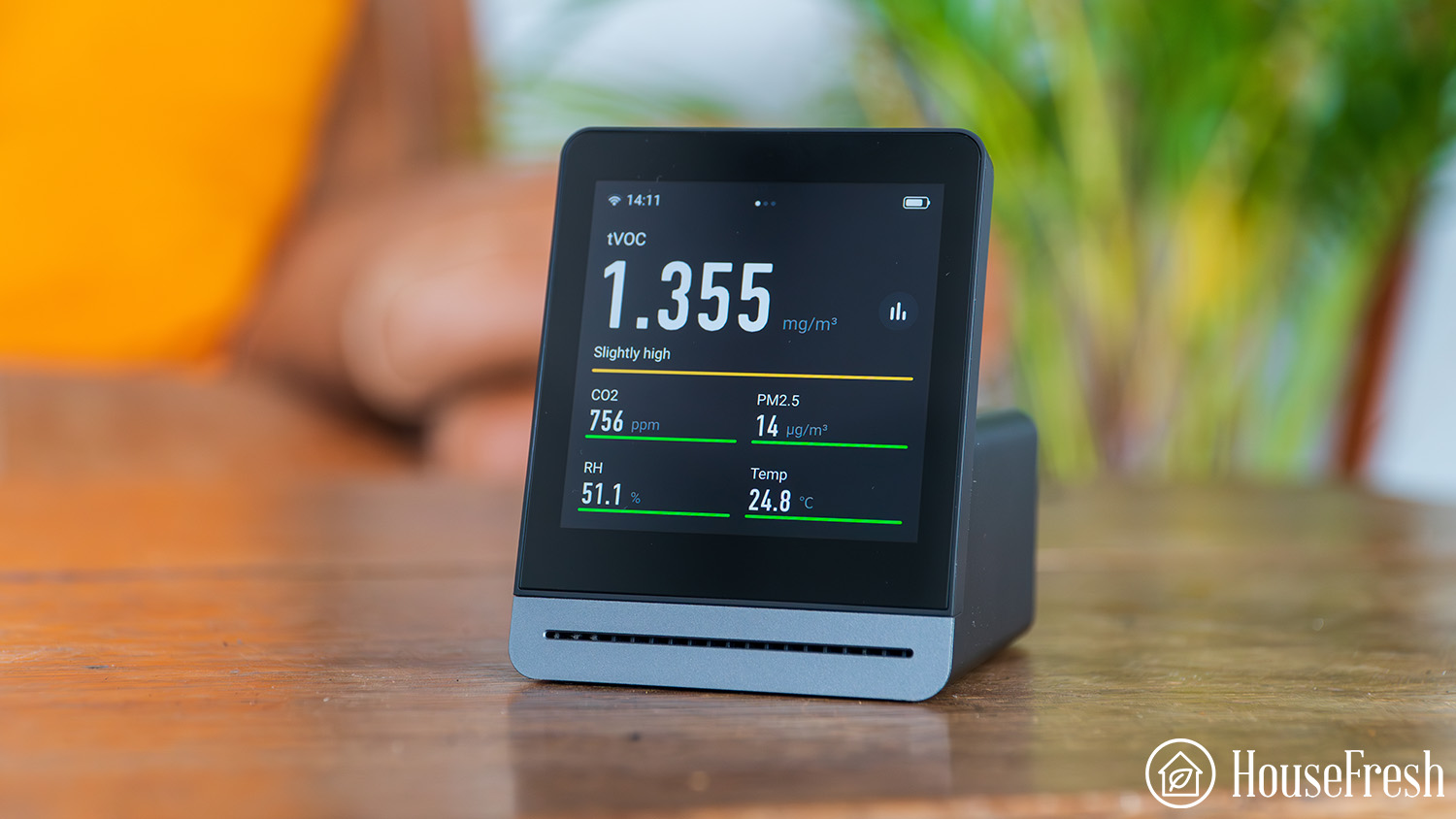 One significant benefit of the QP Pro over the Lite is having one screen that shows everything. With the QP Lite, you keep moving screens to see different sensor readings.
But that doesn't mean that the QP Pro doesn't allow you to go deeper… You will also be able to swipe the screen to move across different air quality factors.
You will have a dedicated screen for CO2 measurements: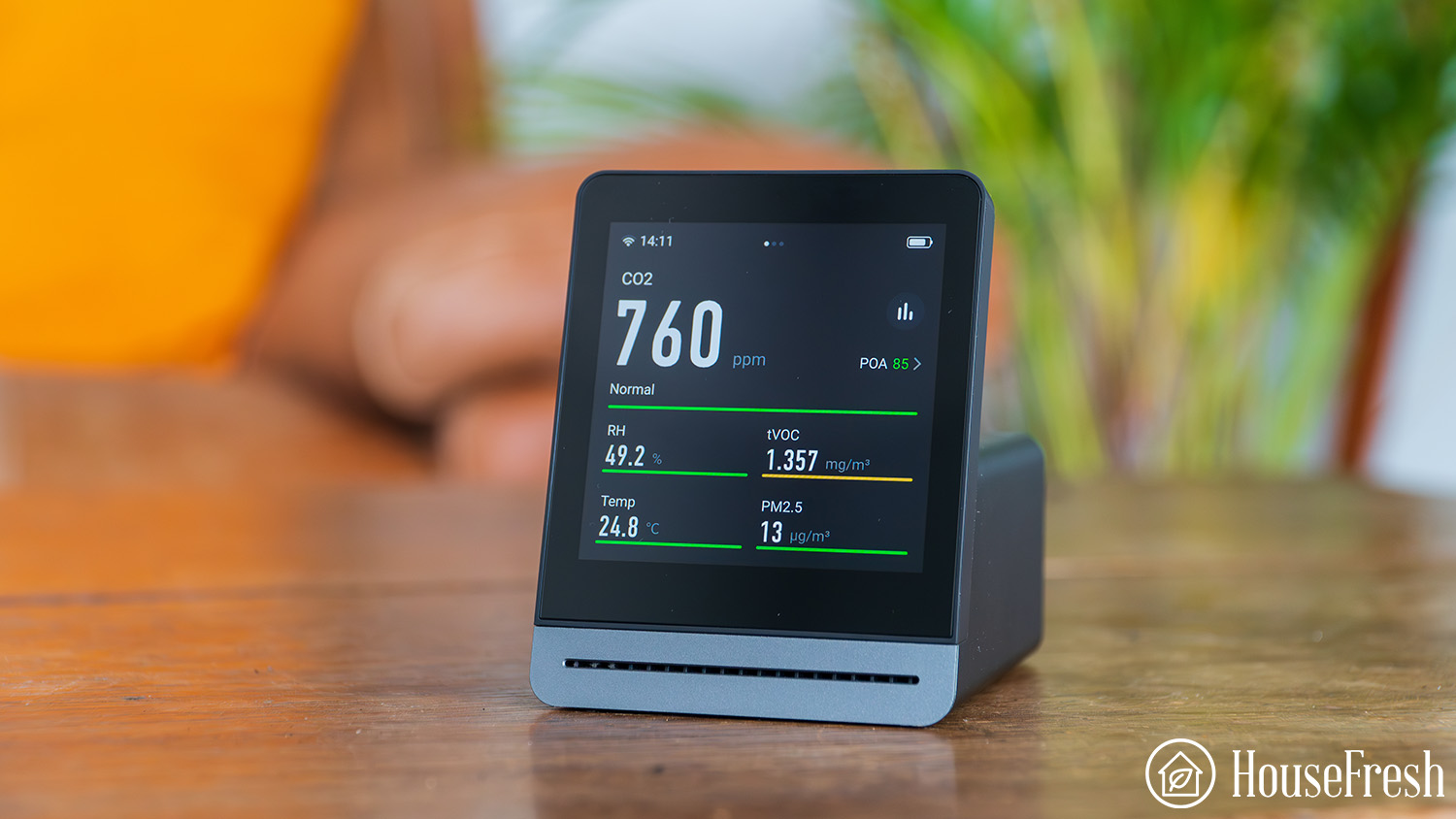 Another screen where to track TVOC (Total Volatile Organic Compounds) levels over time: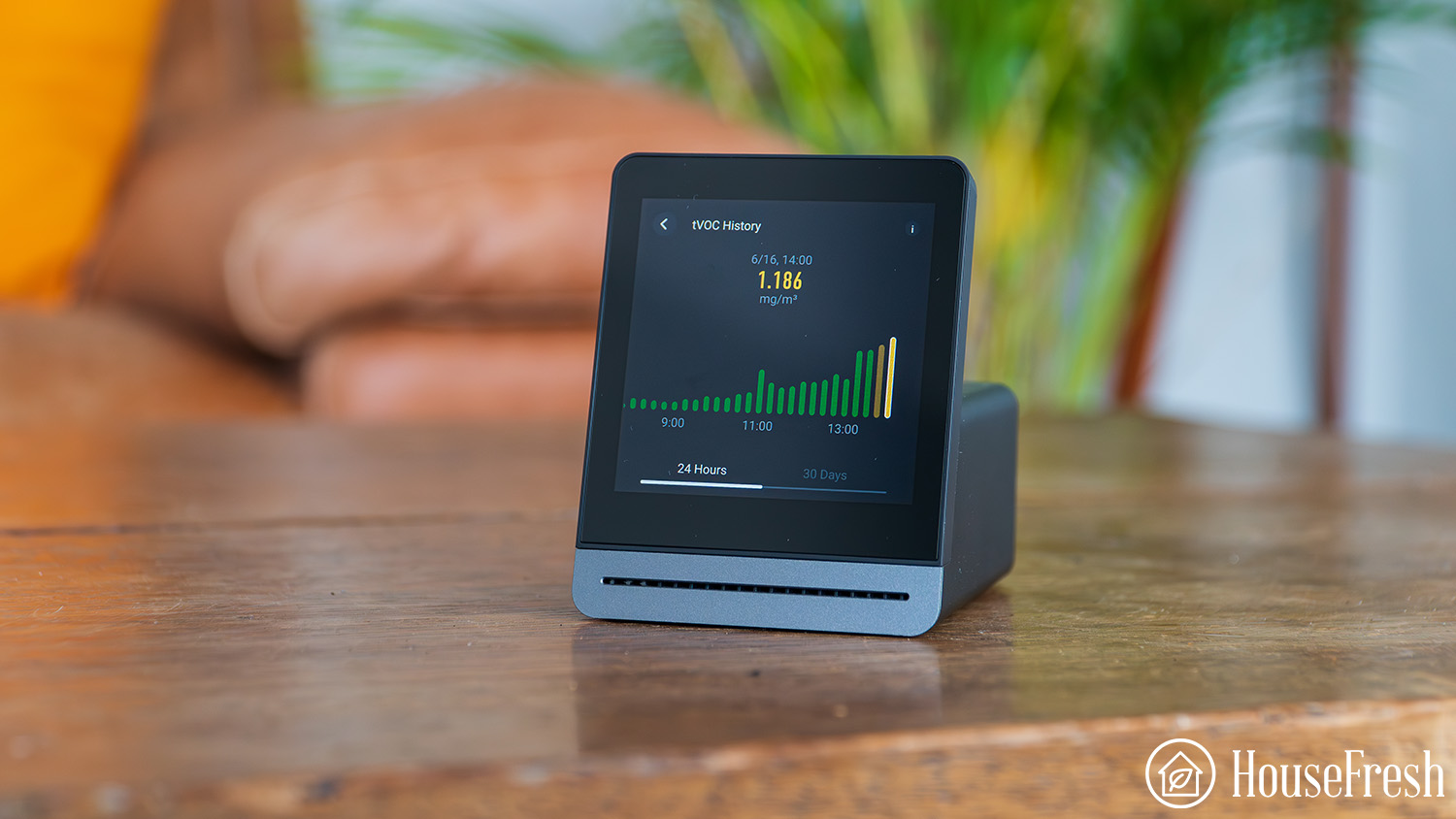 AND a separate screen for PM2.5 particulate levels in the air: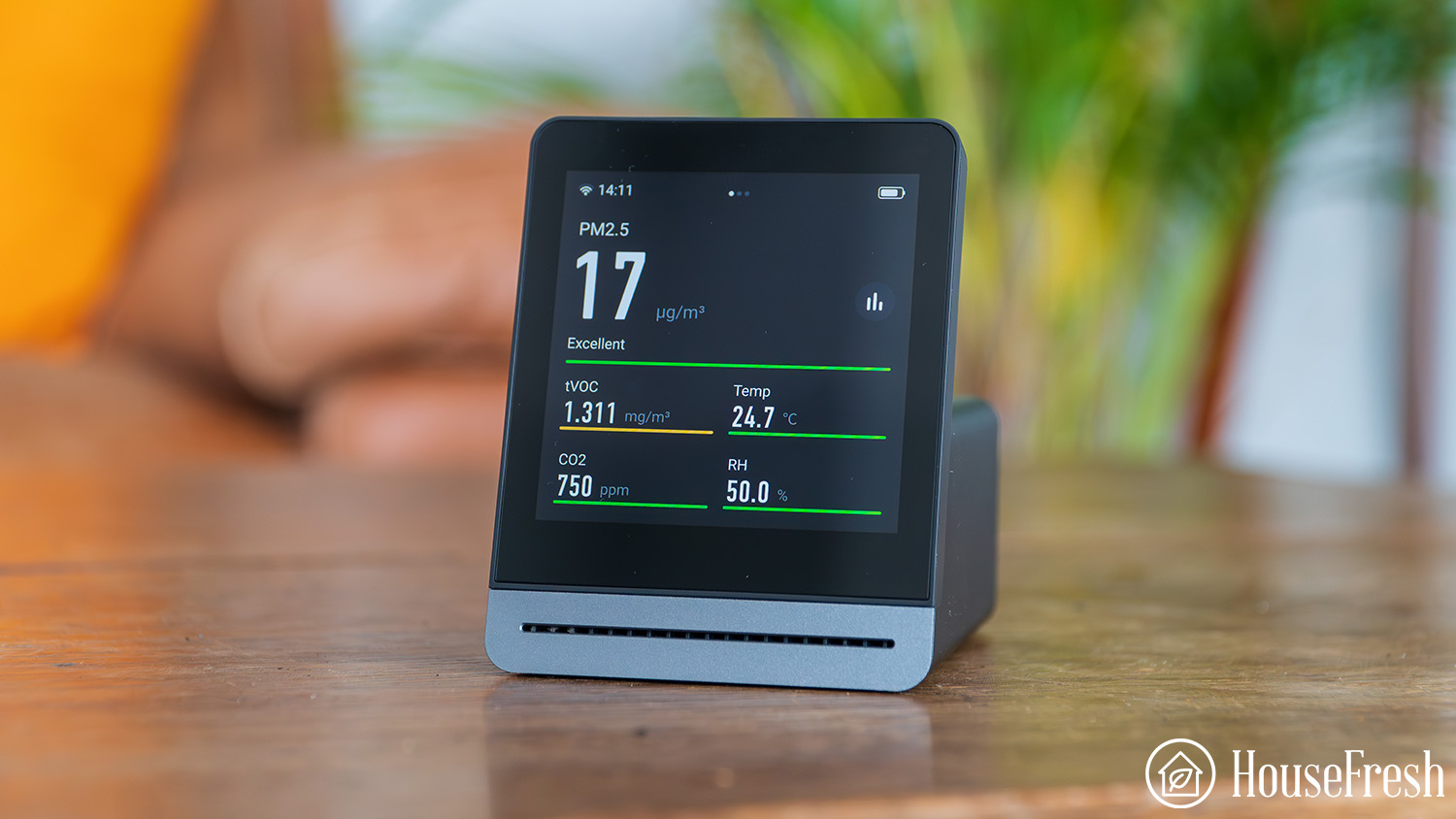 I had no issues connecting the Qingping+ app to the QP Pro; it connected to my 5GHZ WIFI with no issues. The air quality monitor will save the latest data on PM2.5, CO2, VOC and temperature and humidifier, allowing you to export this data to see changes over time.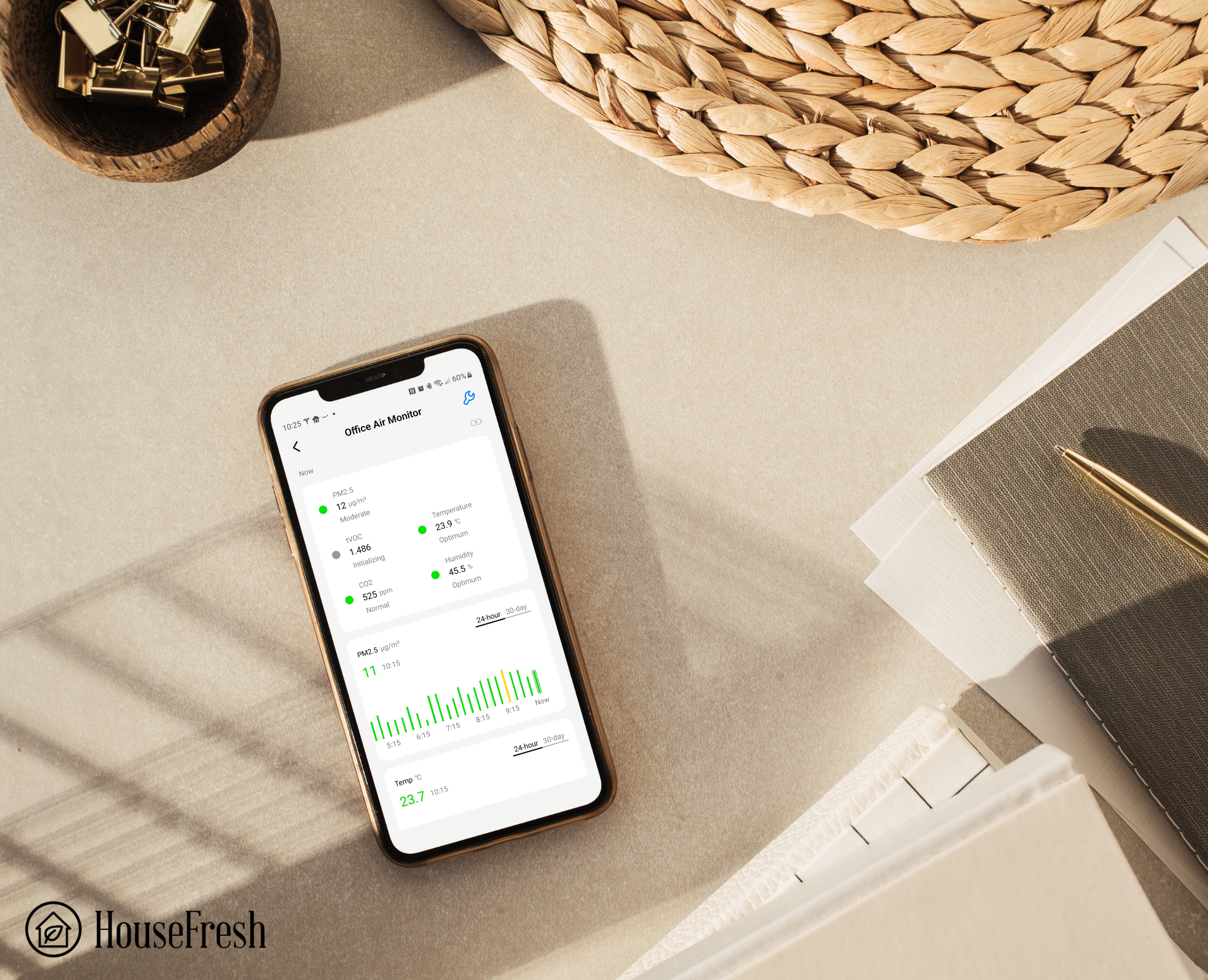 Like the QP Lite, data is provided every 15 minutes, which is fine for looking at historical data. However, I prefer having data every three minutes, which is the case with the Purpleair Indoor Sensor ($200 with no portable mode).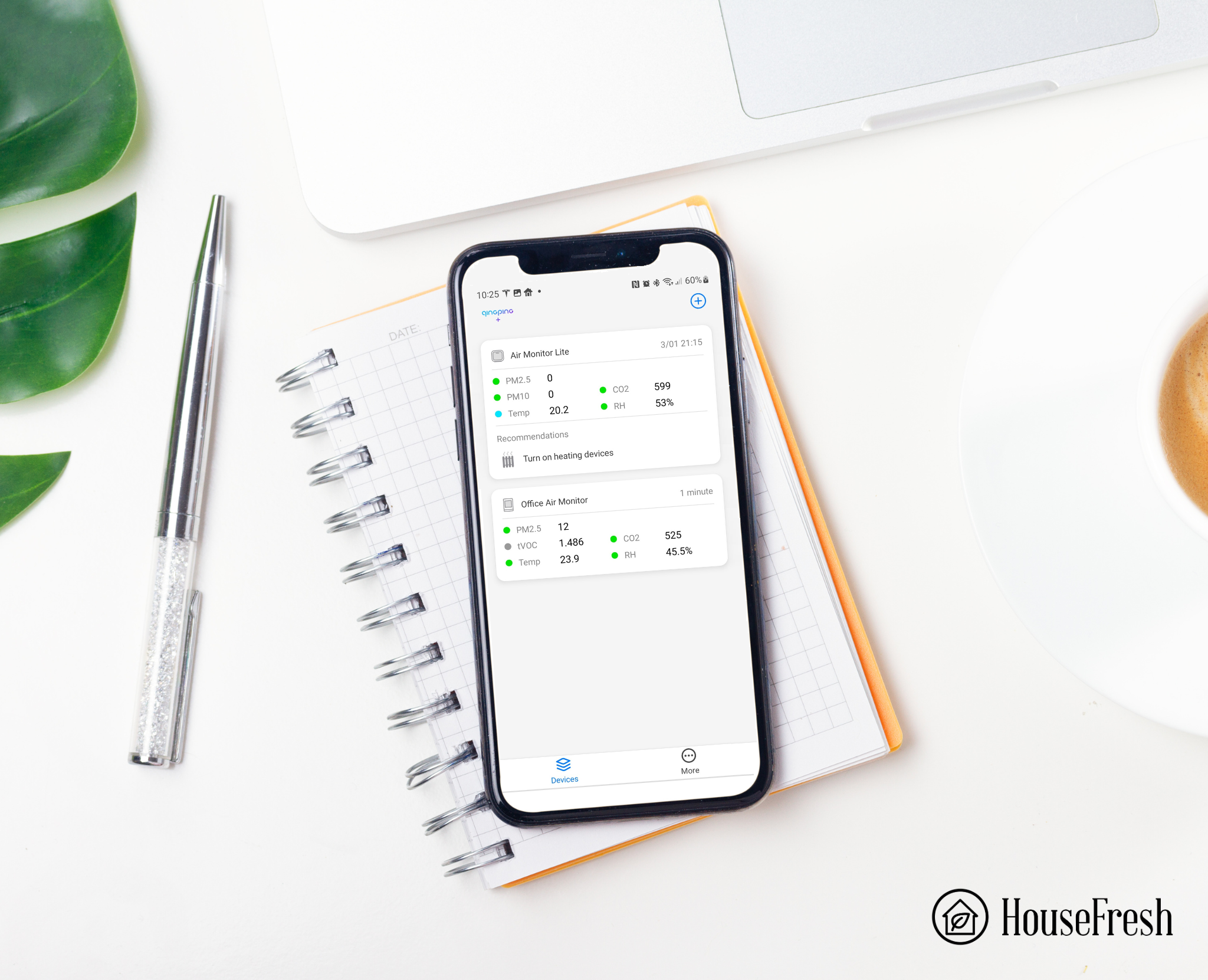 Export Your Air Quality Data
I exported the data from my QP pro and then used Flourish to create this simple line graph:
If you use specific smart appliances like those from Xiaomi, you can enable your devices to switch on based on data from your air quality sensor.
QP has also promised that a new update will allow for your data to be used with Google and Alexa, although this hasn't been rolled out yet, so I haven't had a chance to test it.
---
Bottom Line: Good Price, High-End Sensors Desk Air Quality Monitor
The QP Pro can accurately measure VOCs, PM2.5, CO2, temperature and humidity — features usually only available for $250+.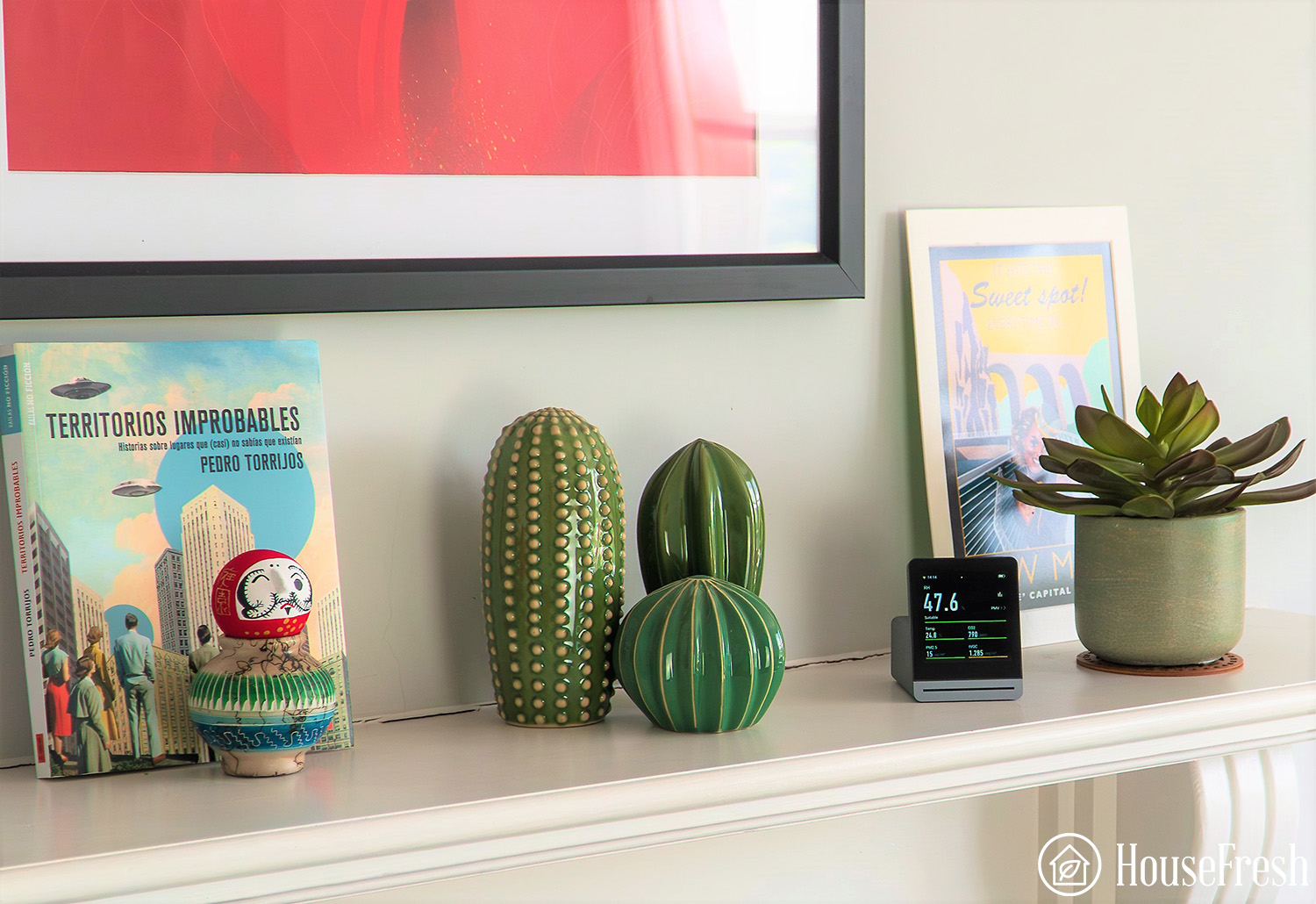 It's always a challenge to understand VOCs, as sensors can only measure all VOCs, including those that are not harmful. I would have preferred to see PM10 and PM1 rather than VOC, so I would still recommend the QP Lite over the QP Pro, as it's cheaper and gives more insight into particulate pollution.
If you are a big fan of having a clear screen to see your air quality on your desk, then the QP Pro might be something to look at.