Our verdict:
An air purifier as good as the Alen 45i (quiet and powerful enough for small to medium rooms) without the smart mode and ionizer. If you don't need smart features and auto mode, you can save money and still benefit from Alen's lifetime guarantee.
Alen is a well-known brand in the world of air purifiers and the Austin-based company has been building air purifiers since 1999. They currently have 72 employees and had a revenue of just under 30 million dollars last year. 
One of their stand-out features is a lifetime guarantee — unique in the air purifier industry, but it does require you to sign up for their filter subscription. We have already reviewed the Alen 75i and 45i, which impressed us, although they are a little pricier than competitors with similar air cleaning performance. 
The Alen Breathsmart Flex is based on the 45i but lacks the ionizer and smart features. It still has a similar level of air-cleaning power and looks very similar. We were keen to test the performance of the Breathsmart Flex in our home and see if it matched the performance of the Alen 45i.
Why You Should Trust This Review

Most air purifier reviews are just pictures and overly optimistic write-ups. Journalists at these publications are biased to sell the unit without digging deeper than running the air purifier a few times. 

We don't have deals with manufacturers or a big corporation watching what we say and we have no problem saying if an air purifier is terrible. We don't just take manufacturers at their word either; we test all our units in our home lab to see how well they perform at removing particles and share this data directly with you.

Our testing process:

1️⃣ Particulate removal test: We create pollutants with the help of incense smoke in our home lab that measures 705 cubic ft. We turn on the air purifier at its highest fan speed and then use a Purpleair indoor sensor to track PM1ug/m3, PM2.5ug/m3 and PM10ug/m3 particles levels, so we can measure how long it takes the air purifier to clean the air.

2️⃣ Energy consumption test: Using an energy meter, we measure how much electricity is used when running the air purifier at both its lowest and highest fan speeds.

3️⃣ Noise levels test: We use a professional sound meter to record sound levels emitted by the air purifier when running at each fan speed level.

Our ultimate goal is to build a data set that allows us to provide you, the reader, with as much information as possible to help you find the right air purifier for your needs.
TL;DR The Lowdown on the Alen BreatheSmart Flex
---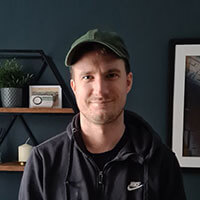 "A powerful and quiet air purifier without the bells and whistles you find with other models — that reduces the initial cost and you still get Alen's lifetime warranty"
— Danny Ashton, Founder & Senior Writer
---
What We Really Like:
👍 Lower price for a similar CADR to the Alen 45i — it took only one minute longer to clean our test room
👍 Maximum of 50dB at its highest speed, which compares favorably with other competing models with this CADR
👍 24.2 watts at its highest setting makes this one of the most efficient air purifiers we have tested and keeps long-term costs low
👍 Options to choose filters for specific needs such as those with higher levels of activated charcoal for more severe issues with VOCs, gasses and odors
👍 Lifetime warranty is only something we see with Alen air purifiers 
What We Think Could Be Better:
👎 No smart features such as App support or Auto mode — you need to pay extra for the Alen 45i to get this
👎 Filter costs are higher with Alen, over $100 for the HeavySmoke filter that includes 2+ lbs of activated charcoal
The Specifications
On paper, the Alen Flex is very similar to the 45i, although it lacks many smart features and an ionizer function. 
Check out below for the full specs for the Flex:
| | |
| --- | --- |
| HouseFresh Rating: | ★★★★☆ |
| Time to clean our test room: | 34 minutes |
| Air purifier technology: | H13 HEPA with an option for activated charcoal (Fresh, Odorcell and Heavy Smoke options available) |
| Recommended room size: | Up to 700 sq ft |
| Clean air delivery rate (CADR): | 225 CFM (Smoke:  191 / Pollen: 245 / Dust: 209) |
| Dimensions (in inches / in cm): | 25H x 15W x 8.5D inches (63.5 x 38.1 x 21.59 cm) |
| Weight (in pounds / in kg): | 15 lbs (6.8 kg) |
| Noise level (low – high): | 25dB – 50dB |
| Filter life: | Every 6 months |
| Warranty: | Lifetime (with product registration & active filter subscription) |
| Estimated energy consumption: | $25.23 per year (24.2 watts) |
Simple Design With a Small Footprint for Its Power
You get a fairly standard design with the Alen Flex. Although it has a reasonably low footprint, it will need to be kept on the floor.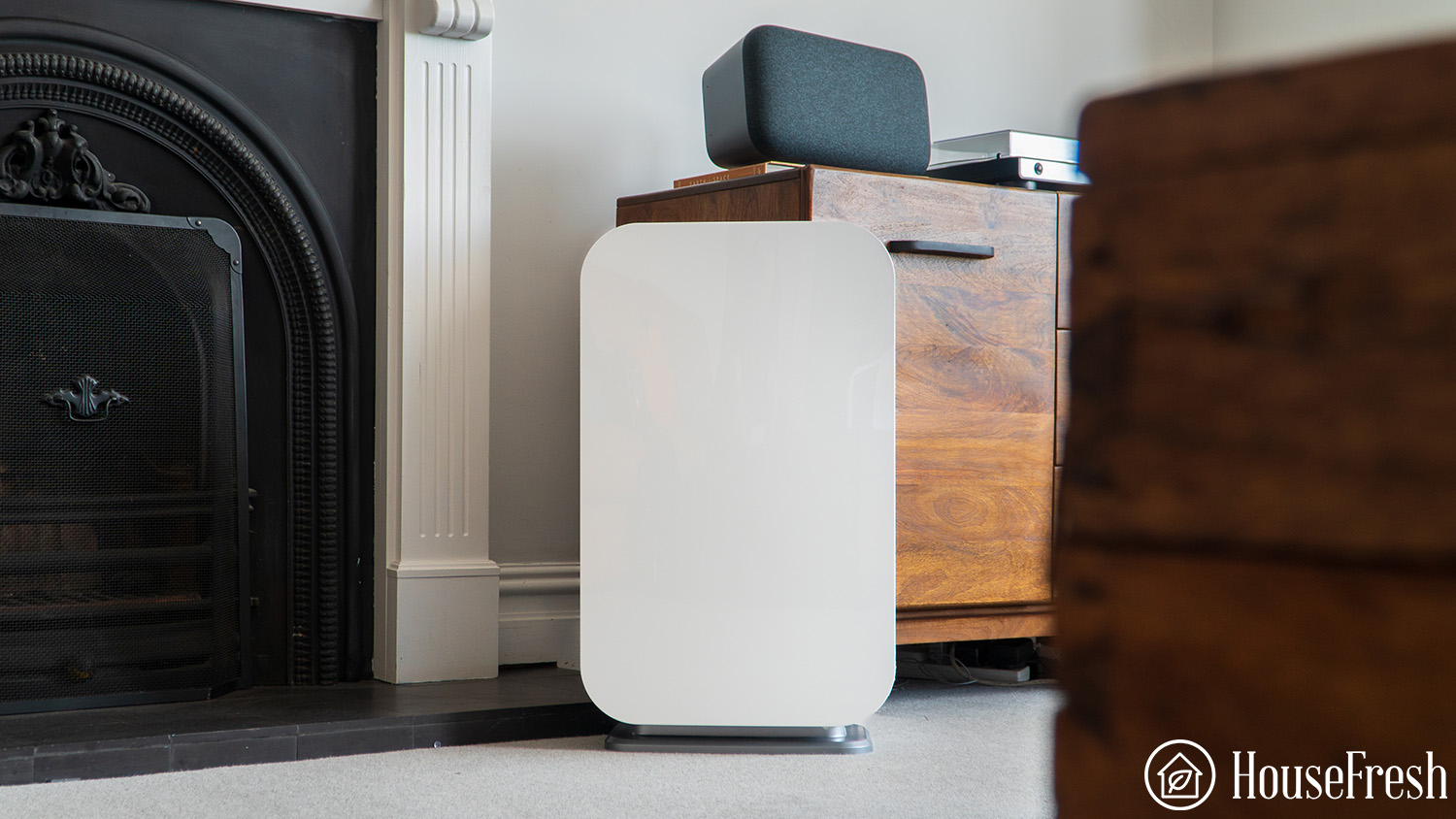 It doesn't particularly stand out, but it's also unlikely to be something to start a conversation for the wrong reasons.
The control panel is simple and straightforward, in line with other air purifiers by Alen. From left to right:
Filter indicator with three lights (green, yellow, red) to warn you when the filter needs to be replaced
Timer button to set the air purifier so it runs for 2, 4 or 12 hours before turning off automatically
Power button in the center to turn the unit on and off
Speed button to switch between fan speeds (with the highest being Turbo speed)
Lock button which allows you to lock the control panel after pressing and holding it for three seconds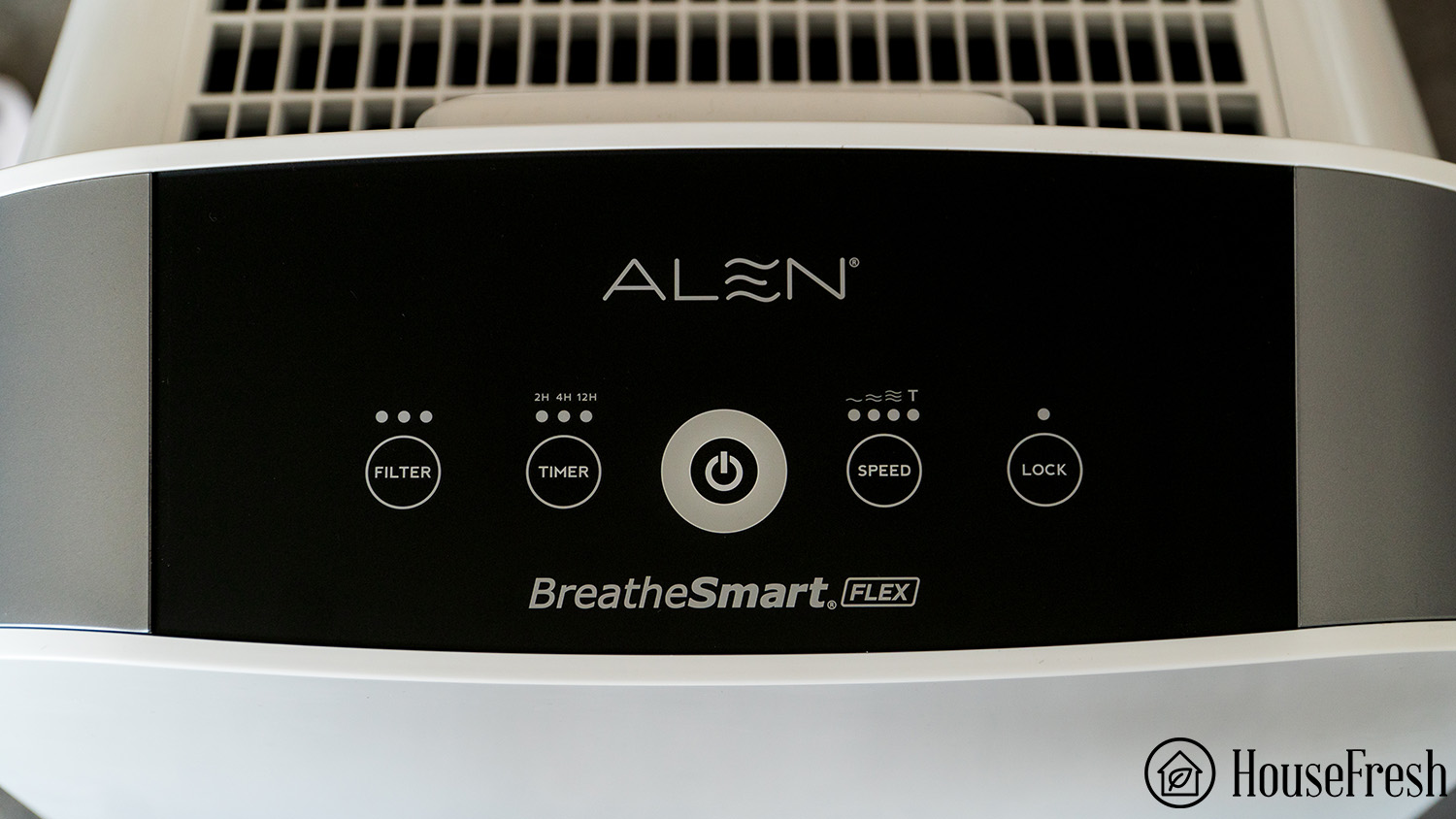 Comparing the Alen Flex with the Alen 45i
If you have been researching Alen air purifiers for a while, you are likely to have run into another unit that looks A LOT like the Flex: the Alen BreatheSmart 45i.
When comparing the Flex to the 45i side by side, you will see that they both look as if they were to have been built from the same mold, with nearly identical design: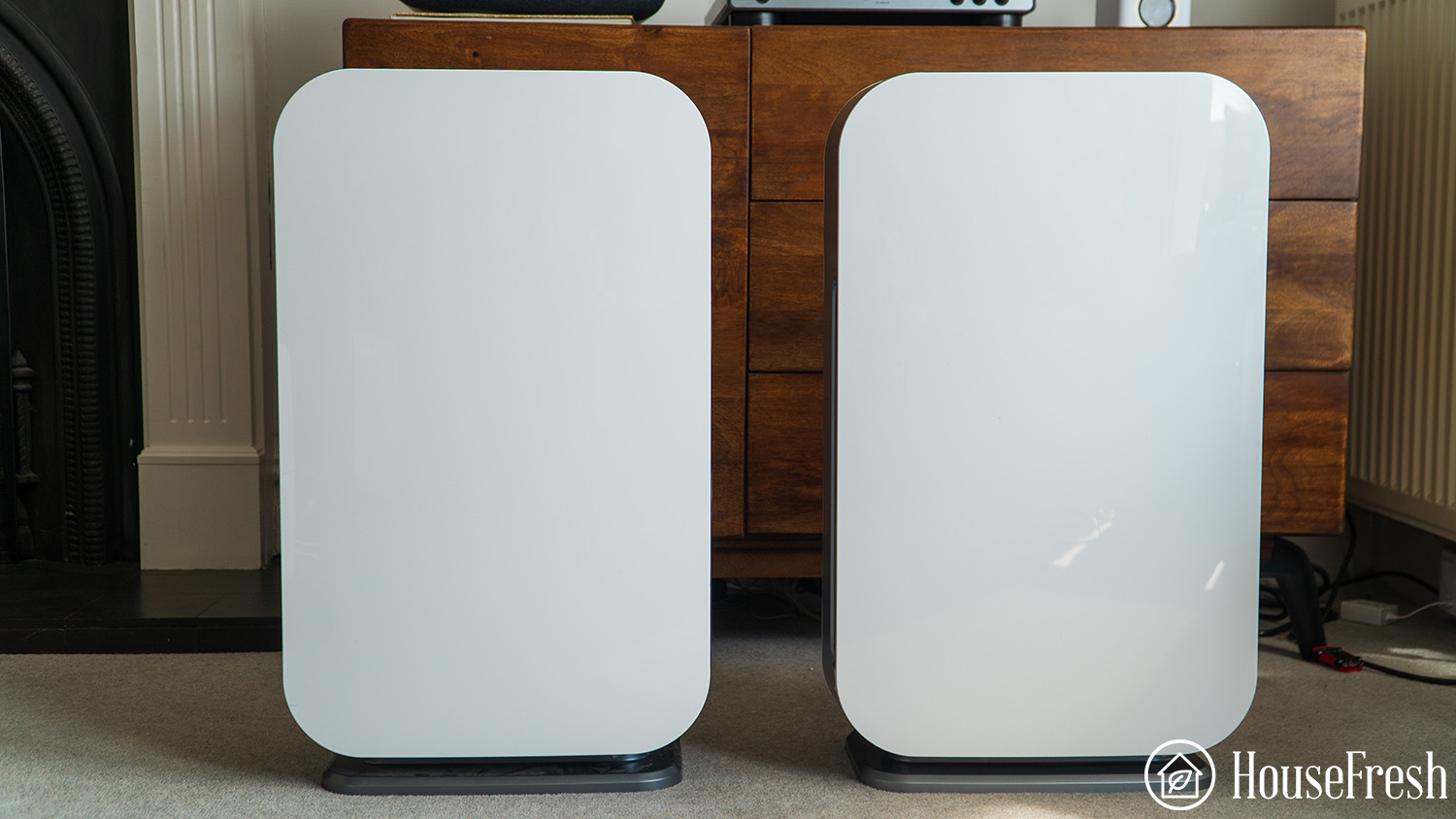 Both the Alen 45i and the Alen Flex have many of the same features, such as the child safety guard and a removable front cover that can be swapped out for five different colors.
The biggest difference comes when you compare the control panel of both units side by side: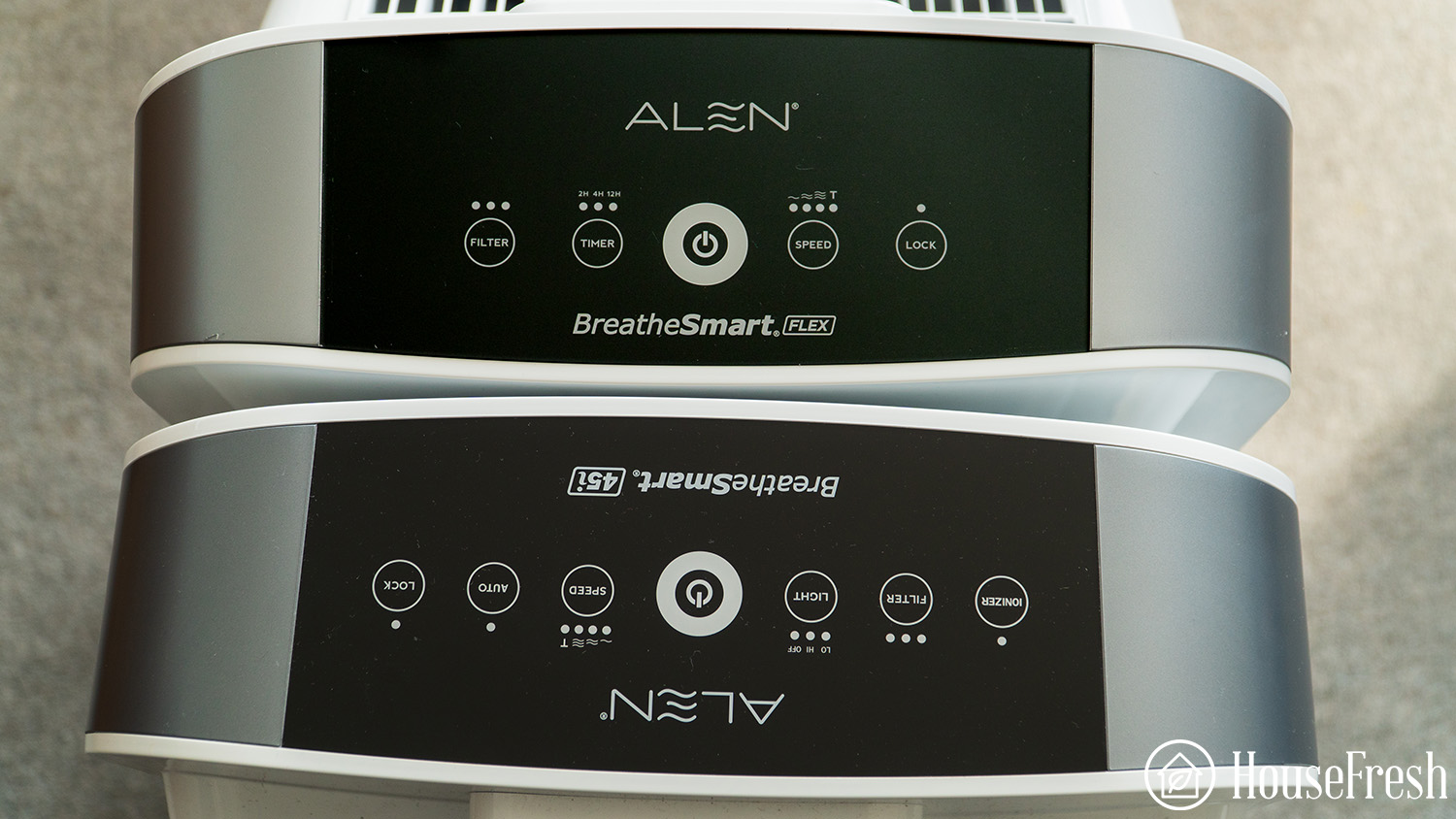 The control panel of the Alen Flex lacks buttons for the ionizer, auto mode and options for adjusting the light. 
That means that unlike the 45i, the Flex doesn't come in an in-built ionizer function (yay for those who prefer mechanical filtration only!) or with an auto mode (it does however come with a timer function, which is not the same but it's good to have).
Something worth noting: The Flex does not offer app support.
That said, you can connect your Alen Flex with the Alen air quality monitor, enabling you to understand your air quality and enable intelligent air purifier features. However, the monitor costs $129. 
💡 Tip: If smart functions are important to you, you should consider going for the Alen BreatheSmart 45i instead as it will offer more bang for your buck.
High Quality Customizable Filters 
As with all the Alen air purifiers, your filter has four main choices: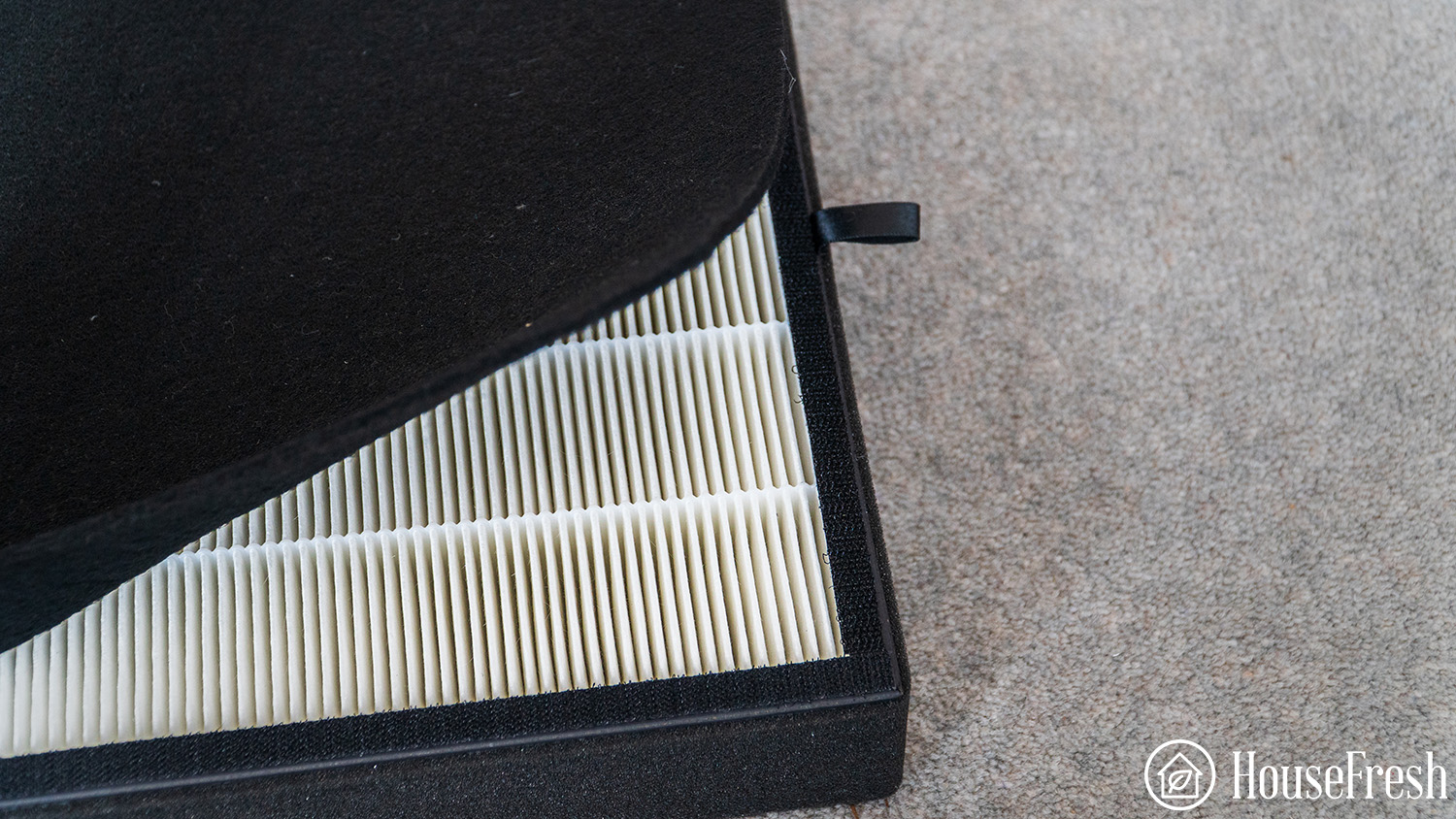 Every single Alen filter includes medical-grade H13 HEPA filtration that captures 99.9% of particles as small as 0.1 micron (e.g. dust, allergens, and harmful fine pollutants).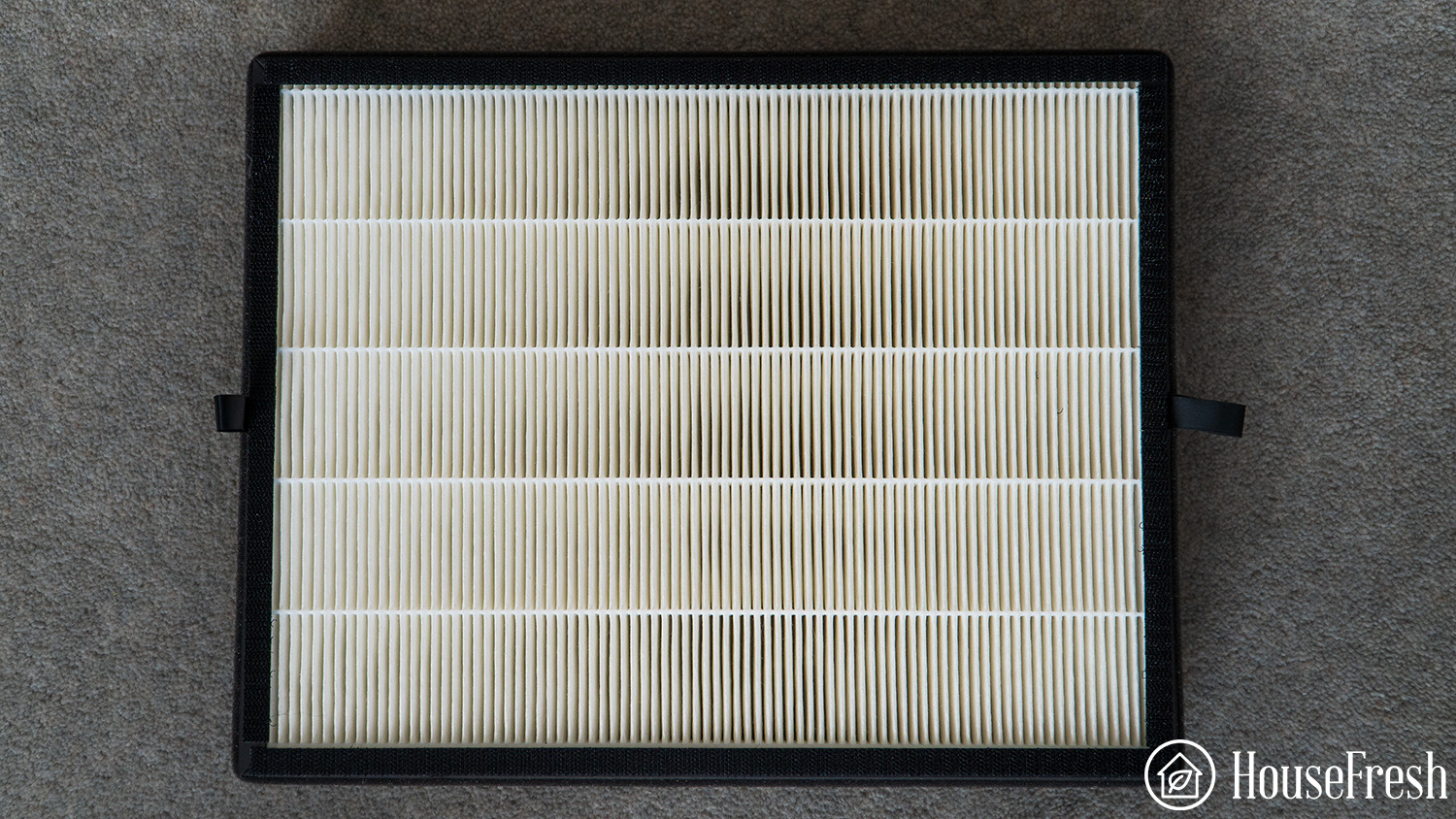 That said, my recommendation would be to get at least the B4-Fresh Filter as every home can benefit from odor control, even if you don't have severe issues with smoke or VOCs.

The additional cost on top of the basic B4-Pure Filter is not a lot and you will get an activated carbon filter in addition to the H13 HEPA filter: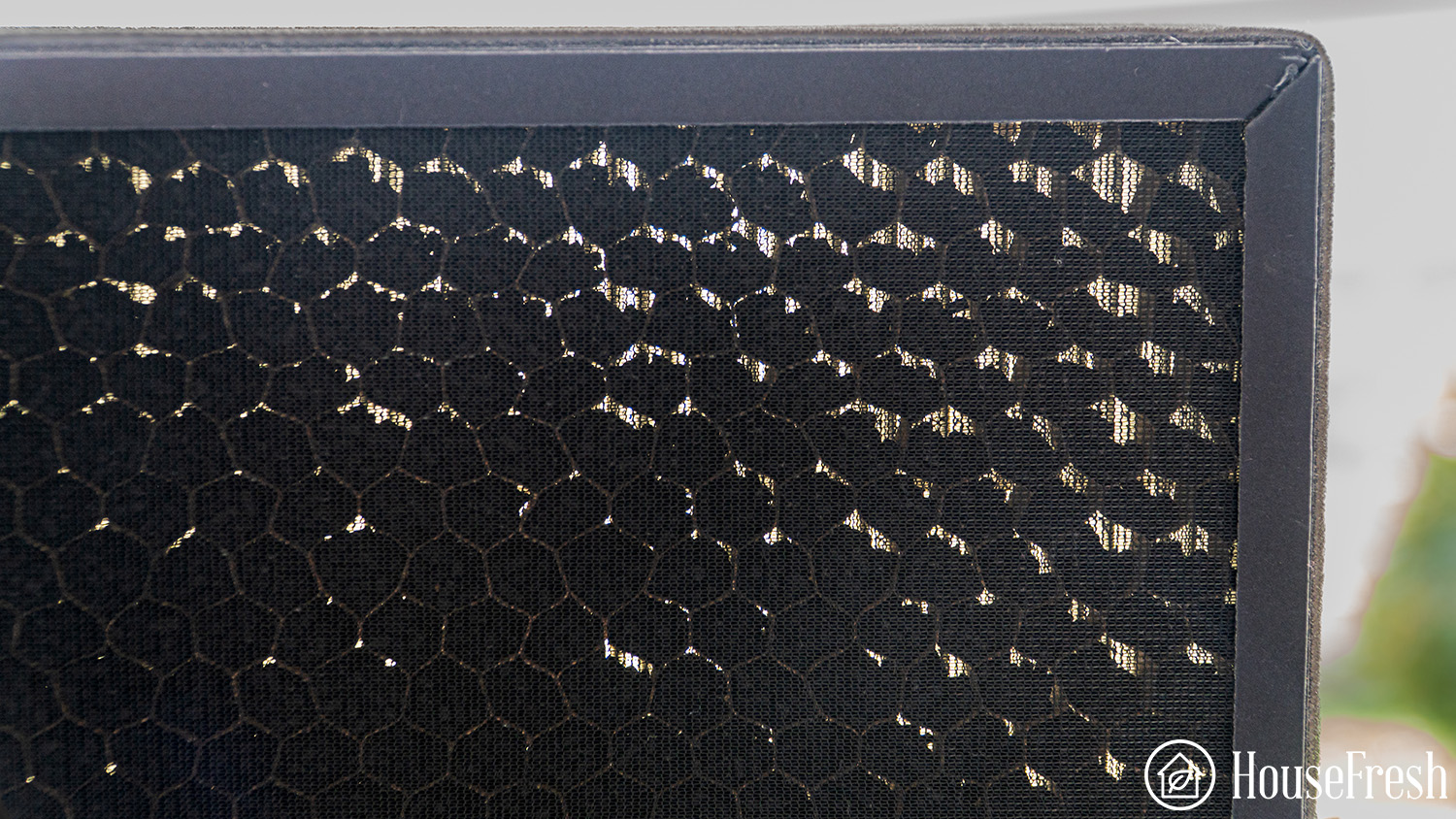 But if you just want an air purifier for allergies and do not need gas or odor removal, you can save a little money with the B4-Pure Filter filter option.
⚠️ As with many HEPA-based air purifiers, the filters for the Alen Flex arrive inside a plastic bag, so be sure to remove them from the wrapping before you use them. 
I was pleased to report that the Alen Flex filter had an ample red warning to remove the plastic, so I can't imagine anyone ignoring this. I wish more air purifier manufacturers would do this.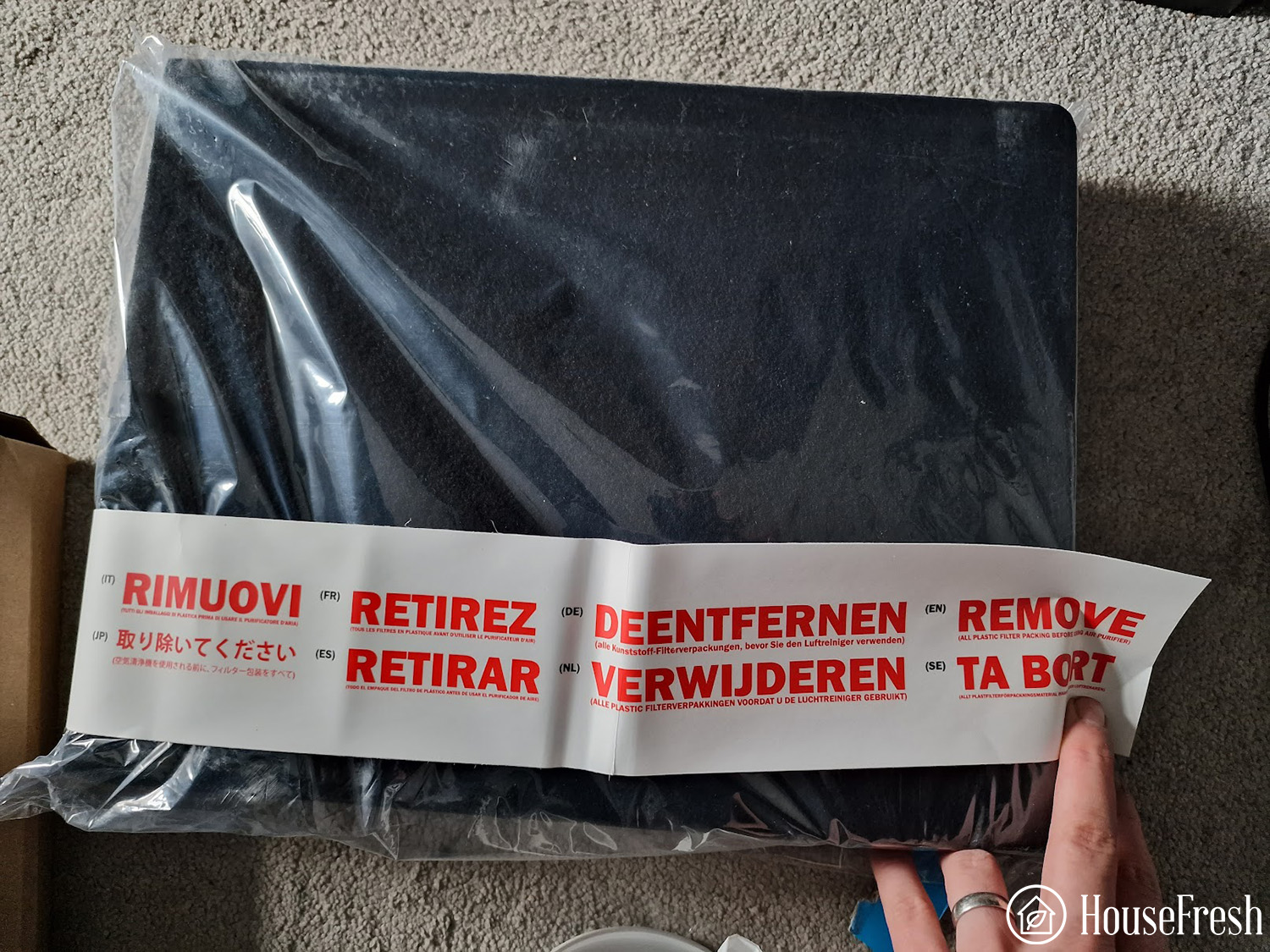 Changing the filter in the Alen BreatheSmart Flex is pretty straightforward. You just need to remove the back panel and you will be able to access the filters. Check out the video below for a step-by-step guide:
The Alen BeatheSmart Flex Cleared Our Test Room in 34 Minutes
That's only one minute less than the more expensive Alen 75i, which uses an ionizer!
As with all the reviews we produce at HouseFresh, we tested the Alen Breathsmart Flex in our test lab that measures 705 cubic ft office and burned incense to simulate indoor pollution. We used a Purpleair Indoor sensor to see how long the Alen Flex removed PM1.0ug/m3, PM2.5ug/m3 and PM10.0 ug/m3.
Finally, we share all our data using Flourish:
Air Cleaning Performance Test Results
As you can see, the Alen Flex managed to clean our test room at a similar speed to the upgraded Alen 45i. It will be effective for small to medium size rooms. For those with large rooms, you will want to look at the much larger Alen 75i.
Noise Levels Test Results
As with the Alen 45i, the Flex is one of the quietest air purifiers we have tested here at HouseFresh. At its highest level, it hits a maximum of 50dB, less than the sound generated by a standard refrigerator.
In comparison, many air purifiers with similar power levels can reach beyond 55dB and the Mila and IQAir Healthpro Plus go up to 74dB and 69dB, respectively. One feature of Alen air purifiers is that they also utilize pink noise, which is meant to be even more sleep-friendly white noise. 
We know noise can be subjective, so here's a video to allow you to hear the different noise levels associated to running the Alen Flex across each of the available fan speeds:
The Cost to Run a Breathsmart Flex: $94.23 Per Year
1. Electricity costs = $25.23 per year
Even at the highest speed, the Breathsmart Flex only pulled 24.2 watts which is a lot less than many competing air purifiers with this level of air cleaning performance. This means you can leave this unit on without worrying about large energy bills. 
2. Filter costs = $69 per year
The Breathsmart Flex uses the same filter choices we see with the Alen 45i, and on average, they are a little higher than we see from budget brands like Levoit or Taotronics. For those looking for large amounts of activated carbon, you will also have to pay a little more as these filters cost more than the Pure version. 
If you don't mind choosing non-Alen filters, you can get generic filters that cost $49.99 instead of $69.99 to reduce this cost a little.
Technology
Alen FLEX Pure Filter Replacement (H13 Grade True HEPA)
H13 Grade True HEPA + 3 Pre-Filters
Technology
Alen FLEX Pure Filter Replacement (H13 Grade True HEPA)
Technology
H13 Grade True HEPA + 3 Pre-Filters
---
Bottom Line
The Alen Flex is the cheapest Alen air purifier sold. They can sell it at a lower cost than the Alen 45i as it lacks the ionizer and smart features. The Flex still benefits from the high level of air cleaning performance, filter options and lifetime warranty that all Alen brand air purifiers benefit from.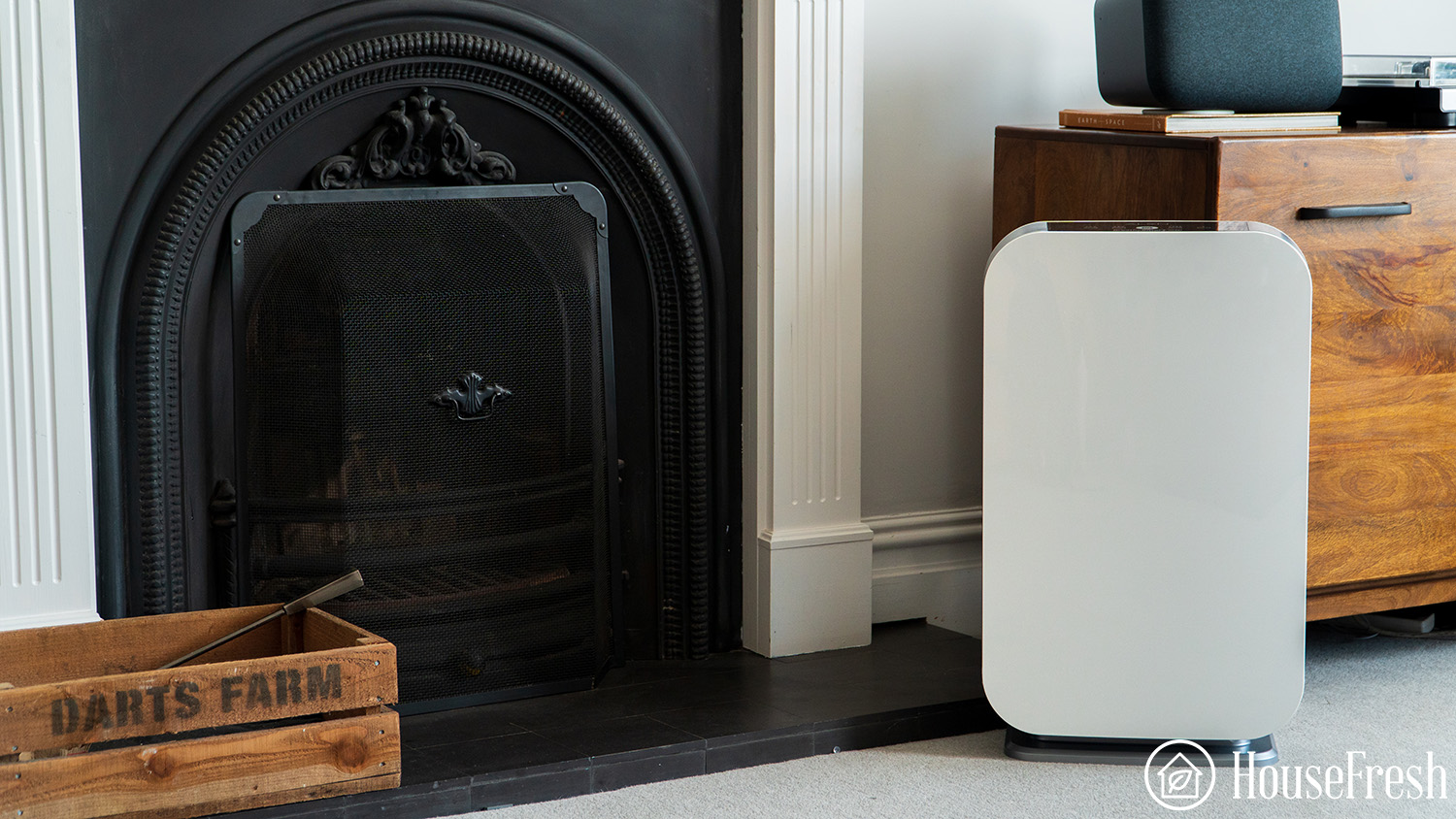 If you don't mind giving up the smart and auto mode for timers, then the Alen Breathsmart Flex is an air purifier that will do an excellent job keeping small-medium-sized rooms clean. It doesn't create too much noise and has very low energy consumption.
---
SOURCES
We calculated energy consumption costs with the help of the Department of Energy's appliance energy calculator. We calculated yearly costs associated with running Alen Breathsmart Flex for 24hs a day for 365 days. We ran this calculation utilizing the U.S. average utility rate of $0.12/kWh as of June 6th 2023.
Last update on 2023-09-22 / Affiliate links / Images from Amazon Product Advertising API