Our verdict:
I've been aware of the Molekule brand for a long time, they have great marketing and I'm sure at a fundamental level their PECO technology must work but I have to be honest, the Molekule Mini is the worst air purifier we have reviewed for a long time. 
It uses a ton of energy, is painfully loud, and performs worse than a $100 HEPA air purifier. With so many great units on the market, there really is no reason to buy this.
Molekule is relatively new to the world of air purifiers. Dharendra Yogi developed a photo-voltaic technology called PECO or photoelectrochemical oxidation which is meant to be able to eliminate pollutants at a molecular level instead of using mechanical filters that trap pollutants like the rigorously tested, scientifically proven, industry-standard HEPA.
In the early days, it got a ton of great press with awards from Popular Science, SXSW, and even a design award from Fast Company.
Since then, the press hasn't been so kind with both Consumer Reports and The Wirecutter giving poor reviews of their units. In 2019, after a complaint from Dyson, the Better Business Bureau National Advertising Division recommend that Molekule stop 26 advertising claims, which Molekule agreed to and removed them from all of their marketing material.
You can see this by checking their corporate website from 2018 on Archive.org and comparing it with their current homepage at Molekule.com. You will notice that many of the previous scientific claims are now totally missing from the website.
Following this controversy, it's safe to say I wasn't particularly excited about any of the air purifiers from Molekule. Still, it's only fair that we test these units in the same way we test all air purifiers at HouseFresh.
Why You Can Trust This Review

As always, we paid with our own money for the Molekule Air Mini to avoid any biases and we don't have any existing relationships with Molekule or any air purifier manufacturer. Our ultimate goal is to move beyond the marketing jargon to share our experience using these units in our home, running our own tests on them so we can compare them with other available units on the market.

We put the Molekule Air Mini through a three-stage test we designed to evaluate the performance of air purifiers:

1️⃣ Air cleaning performance test: We filled our 705 cubic ft. home lab with incense smoke and used an air quality monitor to measure how fast the Molekule Air Mini cleaned the air.

2️⃣ Energy consumption test: We used an energy monitor to record how much electricity the Molekule Air Mini consumes when running at its lowest and highest speeds.

3️⃣ Noise levels test: We tracked sound levels in decibels emitted by the Molekule Air Mini across all fan speeds with the help of a sound level monitor.

Right, let's get to it.
TL;DR The Lowdown on the Molekule Air Mini
---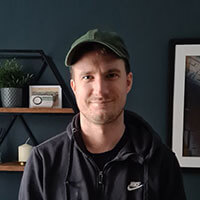 "The Molekule Air Mini is the worst air purifier I have tested. It uses a ton of energy, is painfully loud, and takes forever to clean the air. With so many great units on the market, there is no reason to buy this air purifier."

— Danny Ashton, Founder & Senior Writer
---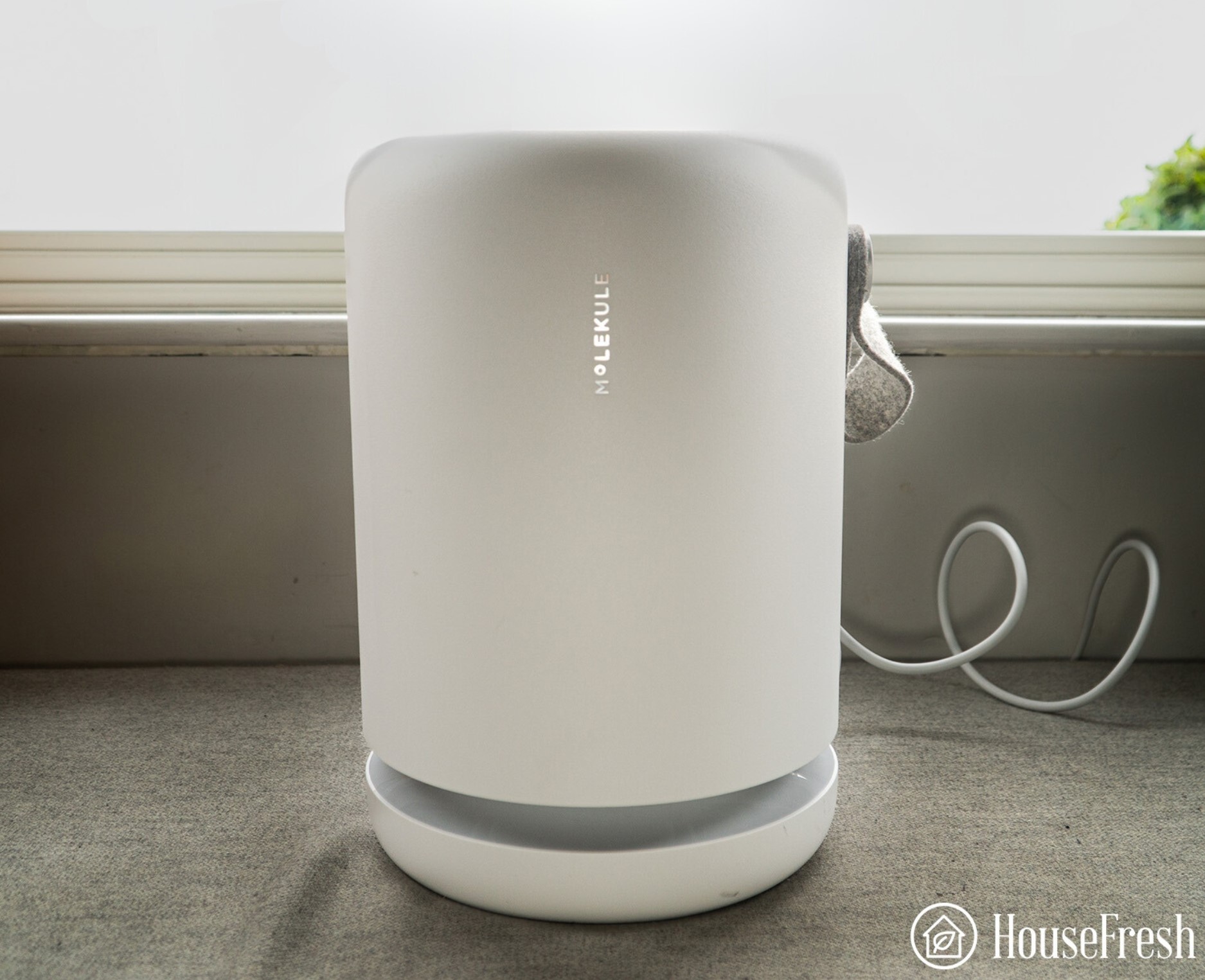 On a rush? Here are the main pros and cons you need to keep in mind before considering investing your money on the Molekule Air Mini.
What We Really Like:
👍 When I forget everything else, I can say that the Molekule mini is a good-looking gadget
👍 Fairly simple touchscreen that works
👍 Small size
👍 PECO is an interesting technology and maybe there are some health benefits beyond removing particulate matter efficiently but I fail to see an obvious one
What We Think Could Be Better:
👎 I found the performance-to-price ratio aligned with what The Wirecutter found and even a very cheap sub $100 HEPA unit will perform better
👎 Android app just didn't connect
👎 High-priced electricity usage
👎 Very loud, it was uncomfortable for me at the highest level
👎 High filter costs, which is strange considering it's meant to be in a different way to HEPA
The Specifications
This Molekule Air Mini has an RRP of $329.99.
It doesn't have a published CADR with is annoying, but not to worry as we will test this unit in the same room we test all our units so we can compare its air cleaning performance with similar units that do have a published CADR. Molekule suggests the Air Mini is suitable for rooms size of 250 square feet so we would assume it has a CADR of 160-180 to be able to clean the air in the room four times in an hour.
As a fan/air purifier, we would expect a much lower CADR score for the price, and as expected, this unit is really designed for smaller spaces or those not needing to clean a lot of air quickly. Although at this budget, I'm expecting a better performance than Honeywell HPA300 or the Levoit Core 400S which are both available for less money.
| | |
| --- | --- |
| HouseFresh Rating: | ★☆☆☆☆ |
| Time to clean our test room: | 2 hours and 21 minutes |
| Air purifier technology: | PECO Air Purification Filter Technology |
| Recommended room size: | Up to 250 sq. ft. |
| Clean air delivery rate (CADR): | Not available |
| Dimensions (in inches / in cm): | 12H x 8.26W x 8.26D inches (30.48H x 21W x 21D cm) |
| Weight (in pounds / in kg): | 11.8 lbs (5.35 kg) |
| Filter life: | 6 months |
| Noise level (low – high): | 39 dB – 88 dB |
| Estimated energy consumption: | $64.12 per year |
| Warranty | 2 years |
The Molekule Mini Looks the Part
You can totally understand why the Molekule Mini has won design awards, it's small, cute, and wouldn't look out of place in any high-end modern-designed home.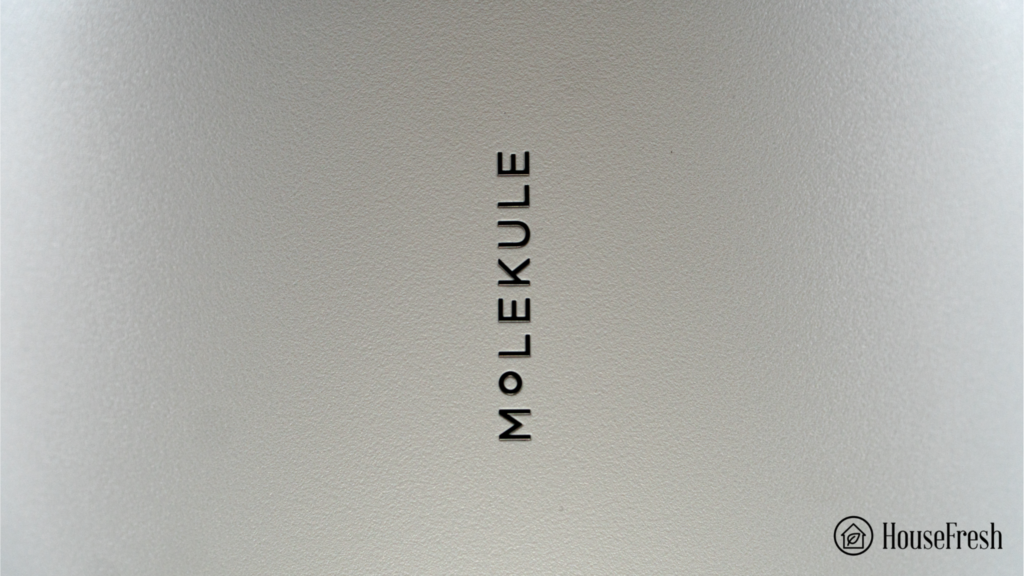 The size is something that really stands out when compared to traditional "mechanical air filters" which are often much bigger, as filter size directly equates to their performance. The assumption is that the PECO technology is able to achieve similar efficacy but without the requirement for large filters that you find with HEPA and activated charcoal.
You can see a big difference in size when we compare it with the Dyson HP04 and you could easily hide a unit of this size without taking over the room.
Similar to the Levoit Core series of air purifiers, the Molekule is a cylindrical shape that you turn to reveal the PECO filter unit. It's worth noting that the bulk of the filtering doesn't happen inside the filter but instead it uses UV-A light that interacts with the chemicals inside the filter to destroy pollutants.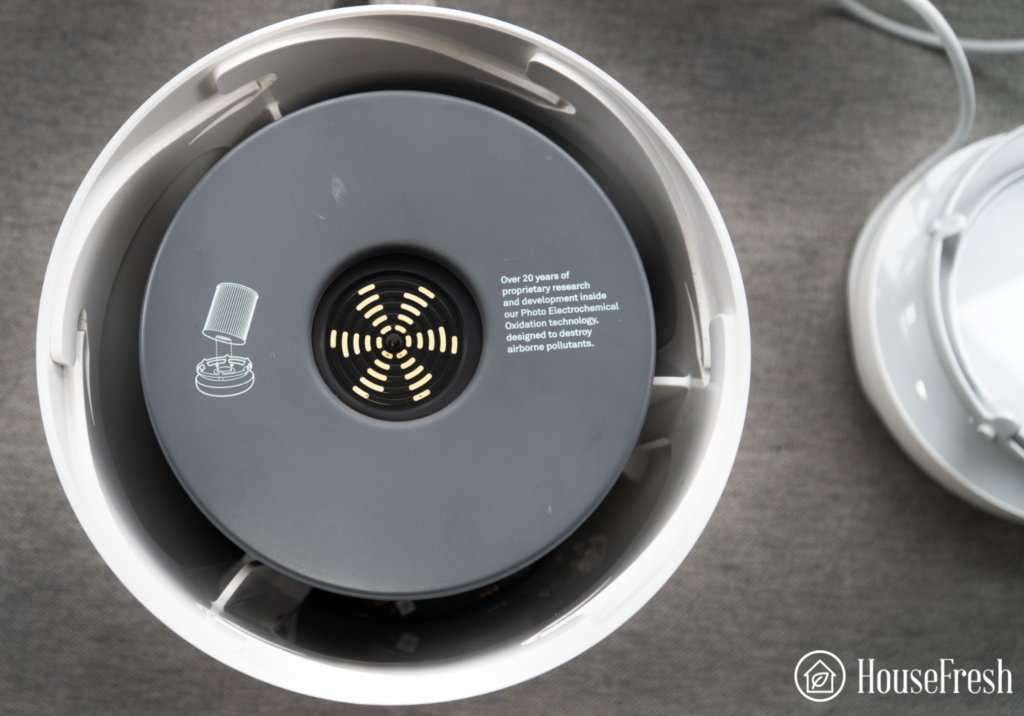 The filter was easy to remove as you can see in the video below:
The Controls: How Easy Are They to Use?
The Molekule Air Mini comes with touchscreen buttons on the top of the unit, making them a little hard to see in bright light. That said, the controls are easy to use.
If buttons aren't your thing, it also comes with App support with support for Google Play and Apple. I only got a chance to test the Android version of the Molekule app.
Similar to the Dyson Link App, you need to sign up for an account before you can use it. Getting my account set up and the app installed was simple – the challenge started when I tried to connect Molekule Air Mini…
I'm by no means a technophobe and have a solid Wi-Fi connection around the house, but I just couldn't get the air purifier to connect to my Wi-Fi, rendering the app pretty useless in my experience.
I saw that I wasn't alone when I looked at the Google Play reviews. The app has many reviews complaining about this very issue: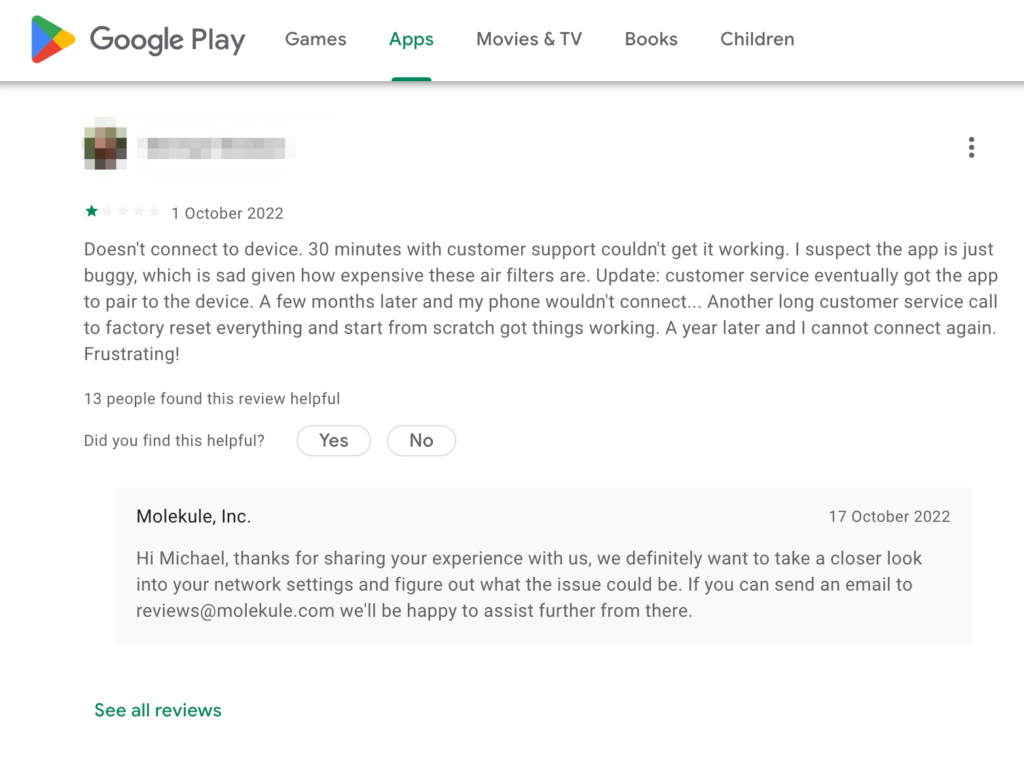 A quick search through app user reviews on Apple's App Store made it clear that this is not an isolated issue or a problem with the Android app: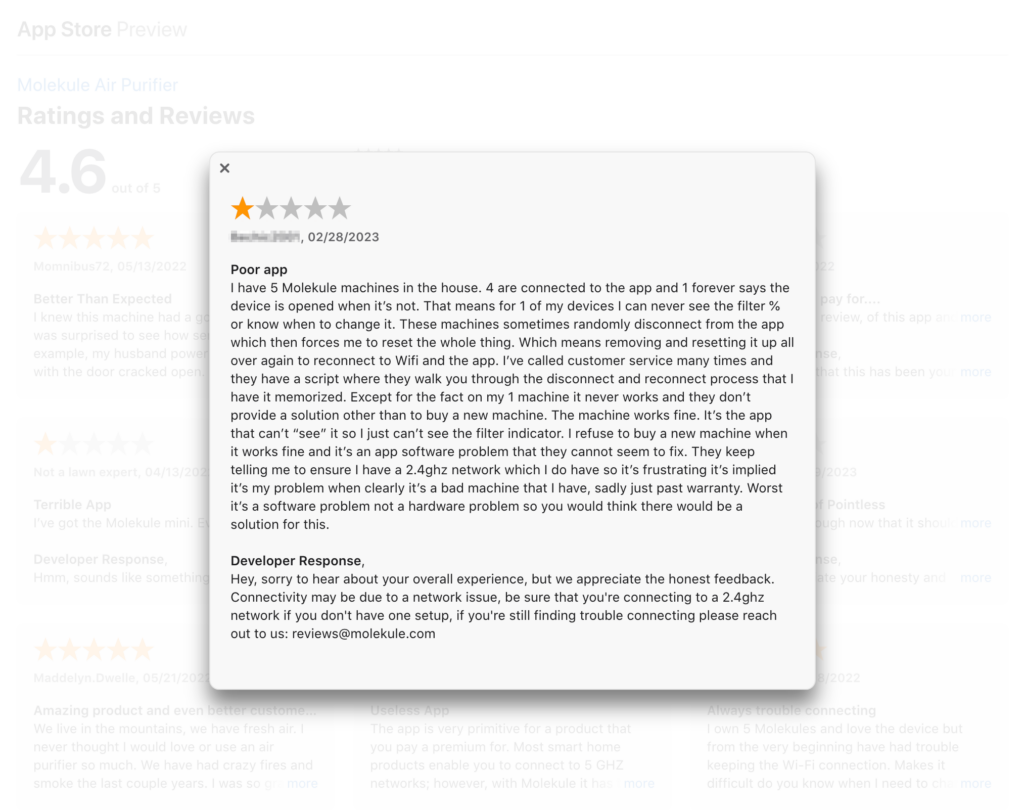 Considering the price of the Molekule Air Mini, it's unfortunate that the app is failing the users and that these smart features are not working as well as they do for other air purifier brands.
That said, I was still able to use the unit using the touch buttons, but it's a little concerning that a company supposedly at the forefront of a new type of technology (PECO) can't create an app that works.
A Non-Mechanical Filter: PECO Technology
This is the first non-mechanical filter that we have reviewed here at HouseFresh. The reason is fairly simple; we generally avoid new technologies that have not had the level of peer review analysis compared to HEPA and activated charcoal.
Mechanical filters have been in use since WW2, and there is a ton of scientific analysis and performance testing that we can trust. In a review of the academic literature, the team at Reading University showed the effectiveness of different filter technologies:

Filtration and adsorption stood as clear winners for particles and VOCs of the filter technologies analyzed.
It's worth noting that PECO was not included in the Reading University study, but it was included in an MIT study and was shown to be less effective than Adsorption when dealing with VOCs.
Over the years, there have been numerous air purifier technologies that have been brought to market with the hype that their technology is far better than mechanical-based filters, but they often lead to disappointment. Such as the Sharper Image Ionic Breeze that promised so much with its electrostatic precipitation but failed to do anything apart from releasing small amounts of ozone (if you didn't know, ozone = bad).
So you can understand that I might be cynical of another new technology that promises:
---
"It destroys pollutants regardless how small, incl. those 1000x times smaller than what HEPA can collect."

– Molekule*
---
*Taken from the Molekule.com homepage from 2018 that has now been removed after the complaint from Dyson to the BBB
But it's totally true that HEPA systems are pretty much useless against VOCs, chemicals and odors. This is the reason why the vast majority of air purifiers use other technologies like activated carbon (adsorption). These have been shown in many peer-review papers to be highly effective and activated charcoal has been in use since the Egyptian era. The downside to activated carbon is that you need a lot to make a big difference which is why the $1000 IQAir Health Pro Plus has 15lbs of carbon pellets as part of its filtration system.
PECO promises that it can achieve better results without the downsides of size and weight that come with HEPA filters and with the added benefit that it destroys pollutants vs just trapping them so we can also assume it will require a less costly filter replacement.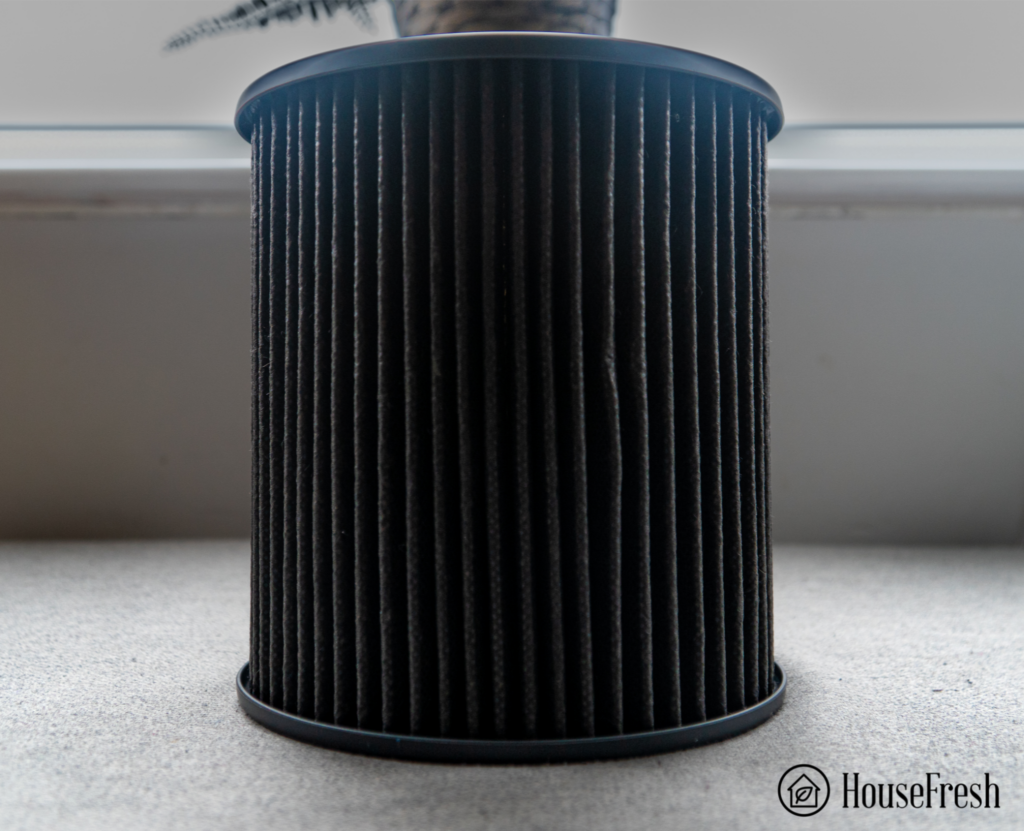 Sounds too good to be true?
Well, let's find out.
It Took the Molekule Air Mini Over 2 Hours to Clean the Air in Our Home Lab
The Molekule Air Mini needed more than two hours to remove all the pollutants from the air in our small testing room.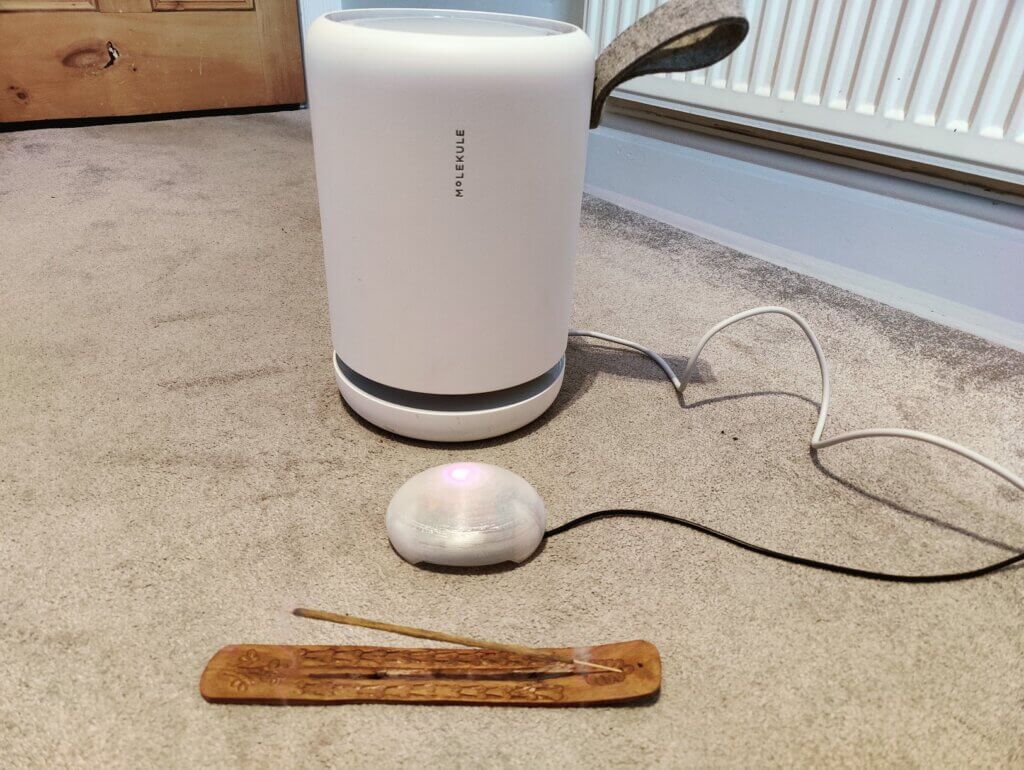 At HouseFresh we test all our units in the same room of 705 cubic ft, which is my home office. The reason we use this room is so we can compare the performance of different air purifiers in the same environment.
Before I take you through the results of my test, let me walk you through the process:
I burnt a powerful incense stick to create smoke pollutants.
Once the room is filled with pollutants, I switch the Molekule Air Mini to full speed.
I used the Purple Air Indoor sensor to evaluate how long it takes the air purifier to remove PM1, PM2.5, and PM10 pollutants from the air.
As for the results of the Molekule Air Mini, I had a real challenge with getting this air purifier to remove all of the pollutants in the air.
I left it working for over three (3) hours and the results were still not zero:
It was able to achieve PM2.5 of below 5ug/m3 in 2 hours, 21 minutes. And it took 1 hour 19 minutes to achieve a safe level of PM2.5 according to Indoor Health Institute of 12ug/m3.
Air Cleaning Performance Compared to Other Air Purifiers
I was forced to use a Blueair 411 at 17.38 to remove the final amount of pollutants in the air. By the way, the 411 took under 6 minutes at full power to clear the room. In comparison to achieve 0 levels of PM1, PM2.5 and PM10:
🚩 Based on this performance I couldn't in my right conscience recommend this air purifier to anyone as incense smoke is a fairly minor pollutant when compared to significant outside pollution or wildfire smoke.
Noise Levels Test Results
But we didn't just test the performance in terms of cleaning pollutants from the air. We also tested noise levels, and I've got to say, here it's where it gets worse.
At the highest speed, the sound level is high at 85-88 dB which compares poorly to competitors with the Levoit Core 400S and Smart Health S both having a maximum of 52 dB. To put things into perspective garbage disposal is 80 dB and this level of sound can cause damage over an 8 hour period. In comparison, many of the quiet air purifiers we tested have a maximum of 55dB and some run as low as 49dB on the highest speed!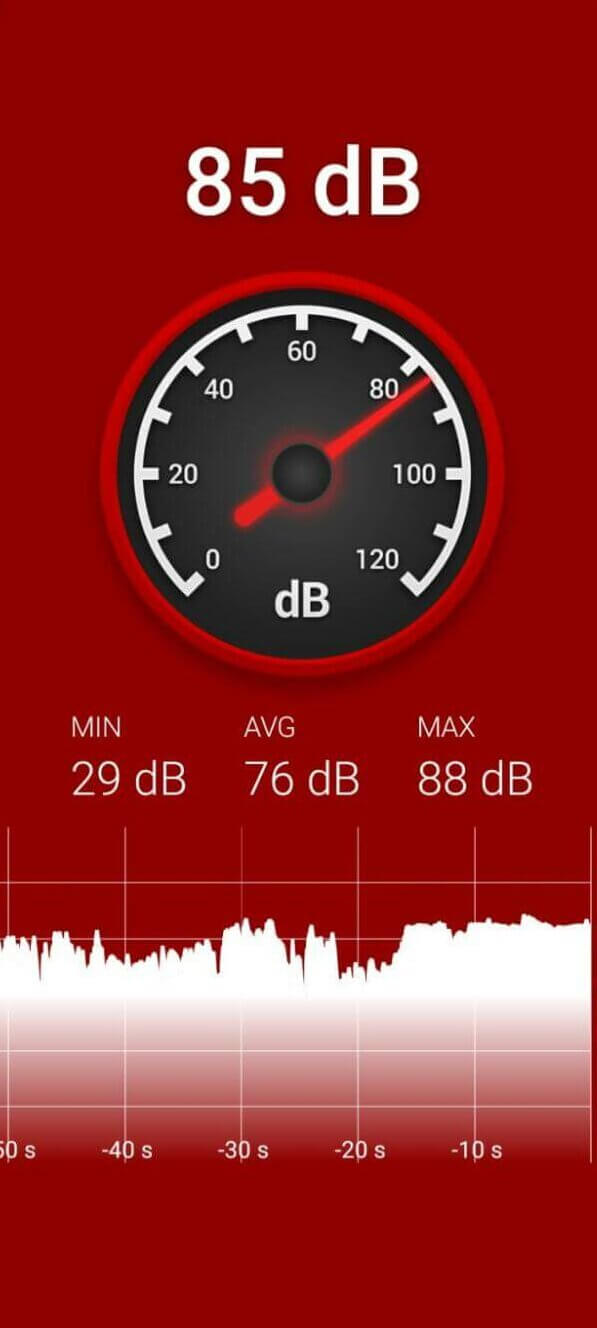 Feel free to have a listen yourself, check out the video below:
It really did sound like a jet plane and it makes me think that they are trying to use extra power to push more air through the unit to overcompensate for filters that are not effective at removing pollutants.
🚩 According to our testing, the Molekule Air Mini has some of the highest values for both electricity usage and noise levels generated, which means significant costs and negative externalities to consider when looking at use 24/7 over the long term.
The Cost to Run a Molekule Air Mini: $244,10 Per Year
The cost to run an air purifier is a significant concern as you will want to run your air purifier on most of the time if you have any issues with your outside air. So we always want to consider the price of the unit at its highest speed 24/7.
1. Electricity costs = $64.12 per year
As always, I tested the Molekule mini with one of my trusty power meters:
Speed 1: 26.1watts
Speed 2: 27.2 watts
Speed 3: 29.2watts
Speed 4: 34.8 watts
Full power: 61 watts
This means that running a Molekule Air Mini in your room 24/7 could cost up up to $64.12 per year in electricity bills only calculating with the help of the Department of Energy's appliance energy calculator, assuming you'd need to run the unit for 24 hours per day 365 days per year.
2. Filter costs = $179.98 per year
Another long-term cost to consider is regular filter replacements. With mechanical filter technology like HEPA, the filters get full of pollutants and if you don't change them, they will become less effective.
But, I wasn't sure if this also applied to PECO.
Looking at their site, I see that they recommend changing filters every 6 months to make sure that you are using the latest technology and to avoid performance issues with dirty filters.
The Molekule air has filters available for $89.99* and they suggest replacing them every 6 months so a filter replacement cost of $179.98 per year or $150 as part of a subscription. This is on the high side when compared with Levoit Core 400S which has a HEPA and Activated Charcoal filter for $49.99 that also needs replacing every 6 months so a $100 per year. It is a little less than the $250-300 that the IQAir Healthpro Plus requires on a yearly basis but that is spent over 3 different filters with heavy activated carbon filters that don't come cheap.
Technology
PECO Filters Compatible with Molekule Air Mini & Air Mini + Air Purifiers
Technology
PECO Filters Compatible with Molekule Air Mini & Air Mini + Air Purifiers
---
Bottom Line
Overall the running costs for the Molekule Air Mini per year, assuming you change the filters every 6 months and use it 24/7 as recommended, will be $244,10 per year, which is much higher than competitors that perform significantly better at keeping a room clear of particle-sized matter of PM1.0ug/m3, PM2.5ug/m3 and PM10.0ug/m3 which have been proven to be the worst type of particles to breath in for human health.
On top of this, its performance is extremely poor across the board to the point where even the very cheapest of HEPA filter-powered units, like the Levoit Core 300 or the TaoTronics AP003, perform much much better but a fraction of the cost.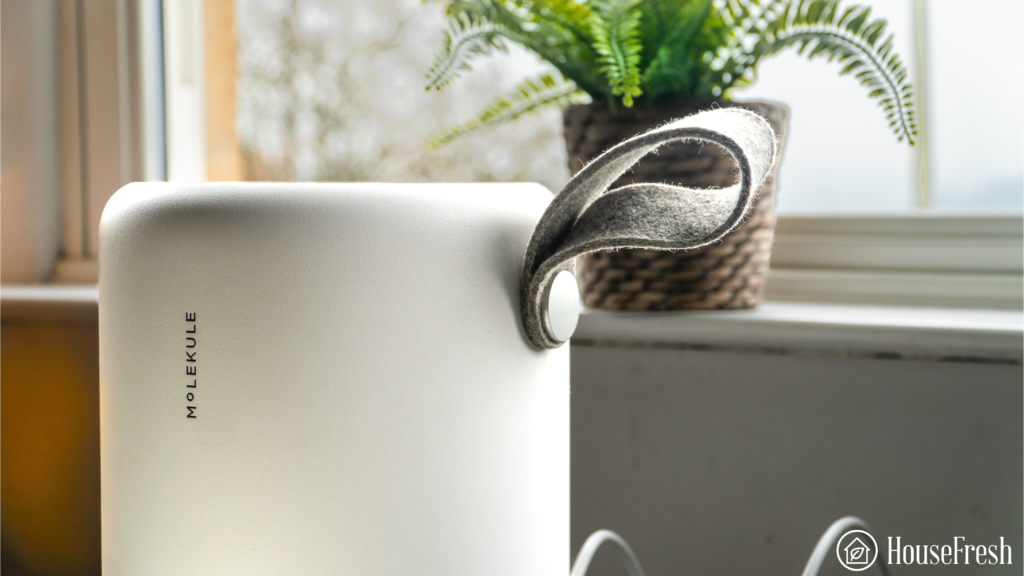 Don't get caught up in the hype – look elsewhere for a good air purifier.
---
SOURCES
We used the Department of Energy's appliance energy calculator to calculate yearly costs associated with running the Molekule Air Mini for 24hs a day for 365 days. We chose to run this calculation utilizing the US average utility rate, which is $0.12/kWh as of February 7th, 2023.
Last update on 2023-09-25 / Affiliate links / Images from Amazon Product Advertising API