Our verdict:
An innovative device that lets you understand your air quality via your smartphone or smartwatch.
It's let down by poor battery life: you'll need to charge it every day you plan to really use it.
Created by Atmo, a startup based in San Francisco, California, the Atmotube PRO is designed to send air quality metrics to your smartphone. The guys at Atmo reached out and asked us to test the device. 
We usually don't accept products for review as we prefer to buy everything ourselves, but we decided to accept the offer from Atmo as were reassured that we could be 100% unbiased without the need to "soften the blow" if there was anything about the Atmotube PRO that we didn't particularly like.
The Atmotube PRO is listed for $189.99 but can often be found for around $150. Most air quality monitors we have reviewed here at HouseFresh have a screen showing you the latest reading, but the Atmotube PRO sends all this information directly to your phone.
The high-end sensor has been tested by the AQ-Spec, so I was eager to put the Atmotube PRO to the test.
TL;DR The Low Down on the Atmotube PRO
---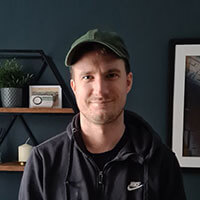 "A unique product that enables your smartphone to tell you the air quality right now with data on PM1, PM2.5, PM10 and VOCs. It's currently the only device on the market with a lab-level air quality sensor connecting directly to your phone. I would like to see improvements in the battery and app in future versions, but for those in high-risk areas, the Atmotube PRO is worth a look."
— Danny Ashton, Founder & Senior Writer
---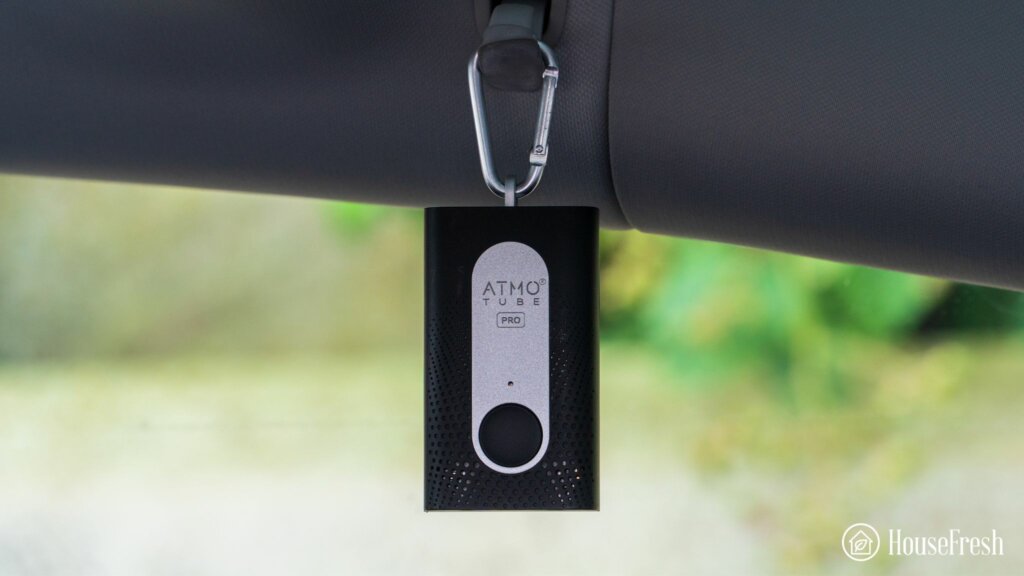 If you don't want to read my full review, these are the key things you need to know about the Atmotube PRO:
What We Really Like:
👍 It can provide readings every minute, so you can see if air quality is high risk in real time
👍 The app can trigger alerts with different air quality scores
👍 It is a small device that is easy to keep attached to your trousers or backpack
👍 The Android app is intuitive and easy-to-use for first time users
👍 The air quality sensor is highly accurate
What We Think Could Be Better:
👎 The battery runs out quickly, especially when you enable updates every minute
The Specifications
The lab-level air quality sensor on this device gives you insight into VOCs. When you realize that this sensor doesn't have a screen, it can seem expensive compared to the QingPing Lite, which is available for less than $100.
However, the Atmotube PRO's VOC sensor is a significant advantage over the QP Lite.
| | | |
| --- | --- | --- |
| HouseFresh rating: | | ★★★★☆ |
| Air quality factors detected: | | PM 1, PM2.5, PM10, VOCs, temperature, humidity and atmospheric pressure |
| Battery type: | | Rechargeable Lithium Battery (USB-C cable supplied) |
| Battery life: | | Depends on usage |
| Mounting type: | | Tabletop (10 days on 15-min mode) |
| Dimensions (in inches / in cm): | | 3.4H x 2W x 1D inches (8.6H x 5W x 2.D cm) |
| Weight (in pounds / in kg): | | 0.23lbs (105g) |
| Warranty: | | 1 year |
Small Device You Can Hang From Your Bag
The Atmotube PRO is a simple, elegant-looking black box. It weighs close to nothing so it wouldn't be painful to hang it from your belt or a strap on your backpack.
Personally, I decided to hang it from one of the hooks in my car as I didn't have an air quality monitor on the car yet: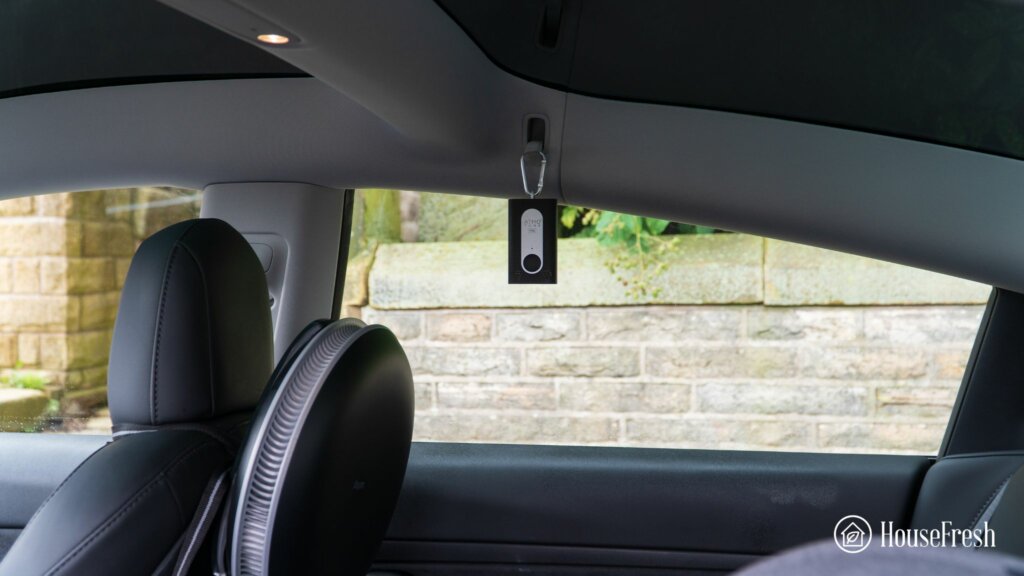 This is a very simple air quality monitor, so you should theoretically be able to get it to work right out of the box. That said, you're likely to have to charge the device before you get to use it properly.
To fully charge your Atmotube PRO, you have to plug the USB Type-C cable to a power supply for a minimum of 2 hours. You will notice that the LED light on the device will change color from orange to green, this means that the Atmotube is charged and ready to go.
When it comes to controls, the Atmotube PRO device doesn't have much going on – just one button: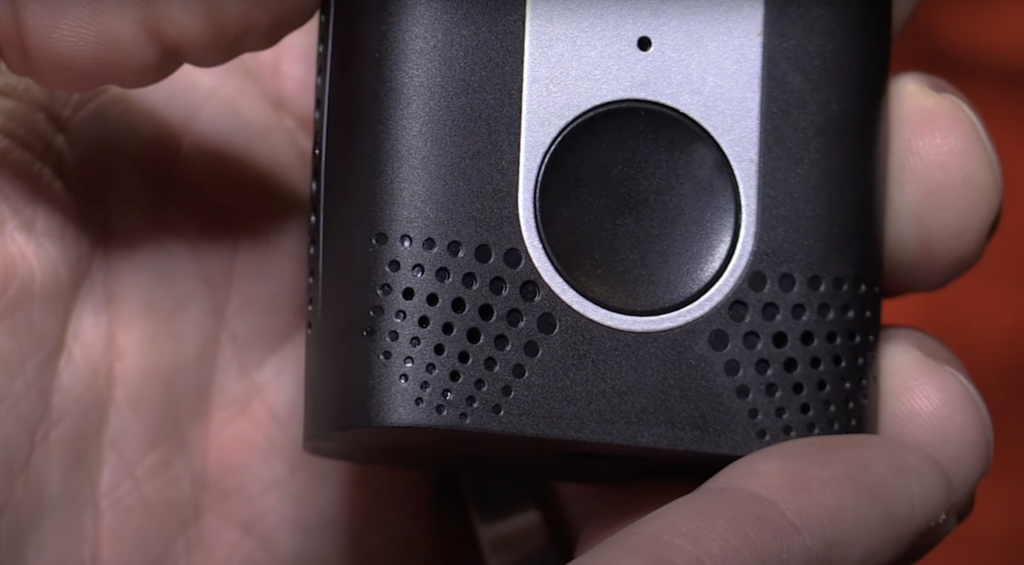 That's right. This little device features just one button that you can press to see the current air quality score, which is indicated by the color of the LED light above the button: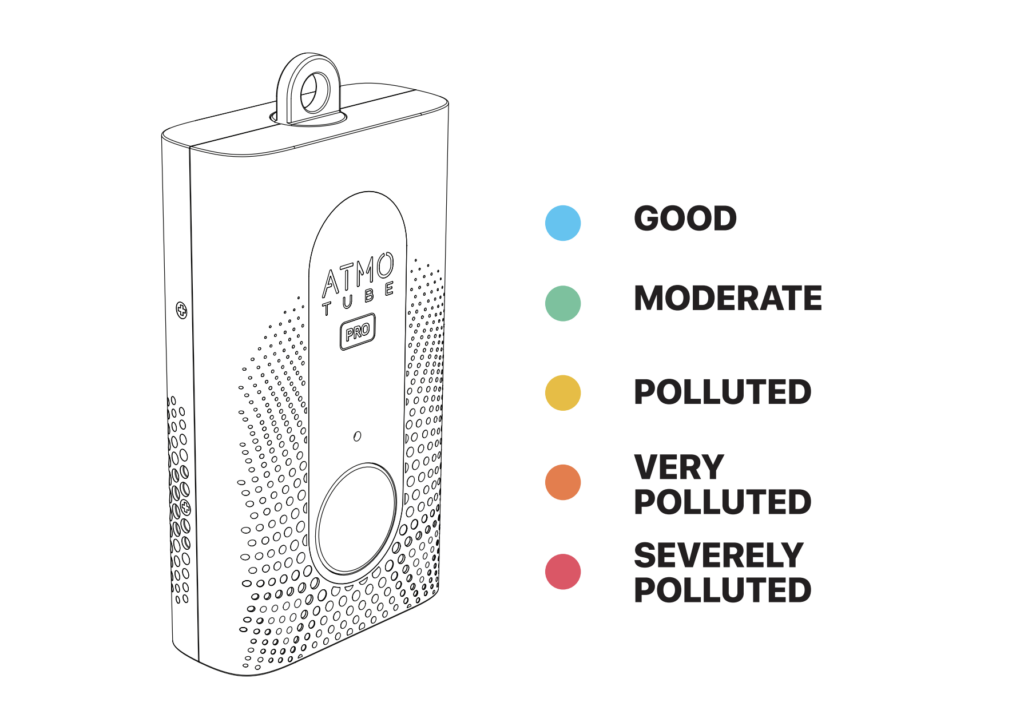 💡 Pro Tip: The moment you switch on the Atmotube PRO, the device will immediately begin to measure air quality, but Atmo clarifies on the accompanying Quick Start Guide that their measurements become more accurate after the first 12 hours of use as this gives the Atmotube PRO enough time for a thorough calibration.
Simple and Straightforward Mobile App
As I mentioned in the introduction to this review, the Atmotube PRO sends detailed air quality information directly to your phone. The device doesn't have a screen, so if you want to learn more about the air quality metrics other than what you can guess through the LED light colour, then you need to get the app.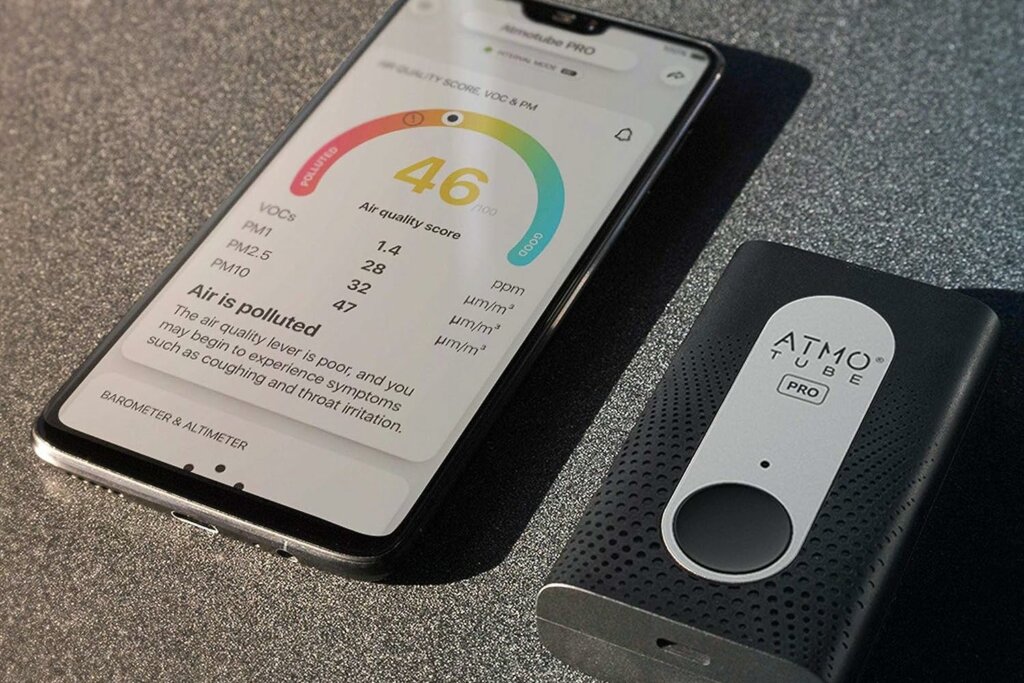 Two cool things about the app:
It will immediate alert you when the air you're breathing is not safe enough
It saves historical data on the different air quality factors
Inside the Atmotube app, you can click on the different types of pollutants/factors to see historical data from hourly, daily, weekly, monthly and even over the year. This is possible thanks to the fact that the Atmotube PRO takes readings every few seconds while it's ON. This is great but it really takes a toll on its battery.
In order to extend your Atmotube's battery life, you can open the app and go to Settings. Once there, you can select one of the different Modes depending on how often you'd like the PM sensor to take its readings. I seriously suggest you do this.
Export Your Air Quality Data
You can export all the data you collect with the Atmotube PRO, including even the latitude and longitude of your location.
I tested the Atmotube PRO during a visit to a BBQ restaurant. I assumed there might be a higher level of particulates in the air but was shocked to see how high the readings reached to. By seeing the alerts on my phone as soon as we stepped into the restaurant, I chose to sit further away from the kitchen near an open window.
Having the data reported every minute was very useful for reducing exposure quickly:
---
Bottom Line: High Price for a Unique Air Quality Monitor
If you are on the hunt for a cheap but accurate air quality monitor, you should consider the QP Lite. That being said, the Atmotube PRO has some exciting features that might be useful for some people.
I liked that you can evaluate current air quality every minute. The app alerts give you a heads up when you're in a situation where air quality has turned bad so you can do something about it. If you were biking or hiking in areas affected by wildfires, then the Atmotube PRO would quickly alert you that the air is polluted, allowing you to make a quick decision to get out of the area.
This pro, however, comes with a con: taking air quality readings every minute seriously reduces battery life. If you were to do this, the Atmotube PRO's battery would last for about a day, meaning that the device could be out-of-battery by the time you really need it.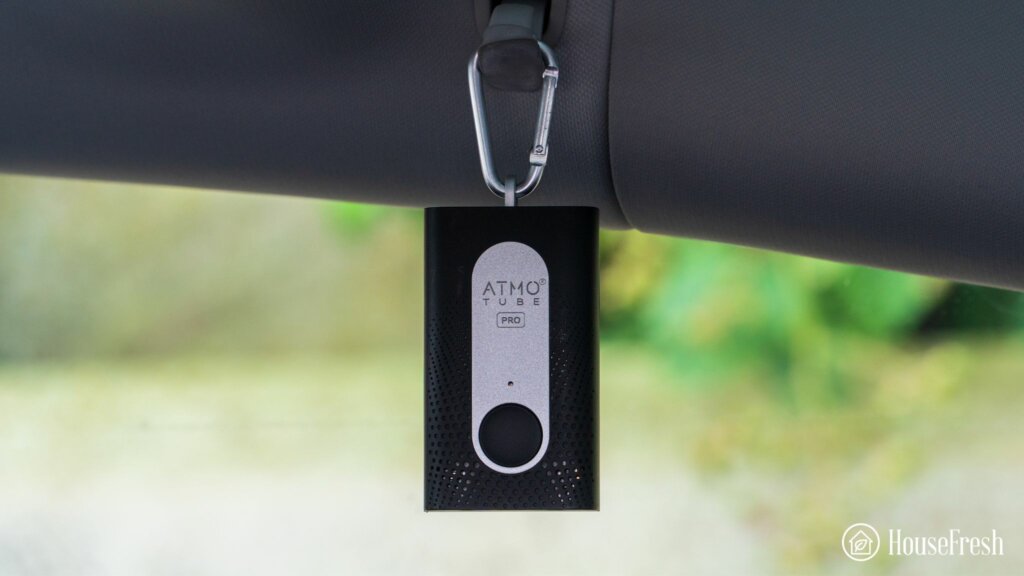 I am interested in future iterations of this device, especially if they come with a more powerful battery.
While we wait for smartphones to come with integrated air quality monitors (wouldn't that be great?), the Atmotube PRO is the only way to access air quality readings in real time on your phone.