Nothing beats drawing a nice hot bath after a long day. The candles are lit, your favorite album is on, and the bubble bath has been generously applied. Yet nothing kills the mood quite as quickly as looking up to see mold and mildew growing on your walls and ceiling.
Despite bathrooms being temples of cleanliness (student dorms and bachelor pads excluded), they can often be plagued by black mold. The humid air hitting cold surfaces results in condensation, providing fertile ground for mold to grow. If left unchecked, mold will not only be an unsightly feature of your bathroom but can rot furnishings and can trigger allergic reactions, asthma, and other respiratory problems.
It would be best first to control the humidity to tackle these issues in your bathroom. One of the most effective ways to control excess moisture is to utilize a dehumidifier – especially if your bathroom is poorly ventilated or it's too cold to open the window!
Bathroom size in the United States ranges from small (35 sq. ft.) to very large bathrooms (210 sq. ft.) You will see many dehumidifiers are recommended for far bigger spaces than that. Still, you need to be aware that these recommendations are made without assuming the unit will be used to help dehumidify a bathroom.

When dehumidifying a bathroom, the Home Ventilation Institute recommends an extra 50 CFM for a dehumidifier to be effective. So, if you plan to shower and remove moisture as quickly as possible, you need a dehumidifier that can move a lot of air, which is standard with larger units. So for most people looking for a bathroom dehumidifier with the ability to remove 30 pints of water is perfect, and for smaller bathrooms, you can get away with less with a smaller dehumidifier.
While small dehumidifiers seem like the perfect fit for bathrooms, we suggest looking at larger units if you want to deal with a lot of moisture created in average to large-sized bathrooms, as mini-units will find it hard work to remove enough moisture before it fills the room.
🤔 What is a dehumidifier?

A dehumidifier is an air conditioning device that takes moisture from your home. Simply put, a dehumidifier is a device that absorbs moisture from the air in your home until the relative humidity level is reduced to optimal levels.

Since bathrooms tend to accumulate a lot moisture, using a dehumidifier can help absorb the moisture, preventing mold and mildew growth.
Top 3 Best Bathroom Dehumidifiers
Last update on 2023-09-21 / Affiliate links / Images from Amazon Product Advertising API
Before we jump into the full list, I want to clarify something.
We want to provide you with useful guides that help you look beyond marketing hype, and the dehumidifiers below tick all the boxes for a dehumidifier that will do the job in the bathroom.
The Honeywell TP30WKN didn't get voted the best dehumidifier by Consumer Reports for no reason.
Honeywell has been in the game for many decades, bringing high-efficiency dehumidifiers and air purifiers to the market. With the TP30WKN, they're aiming at those with spaces of 1000 sqft that need moisture removal, but this unit is also perfect for the bathroom.
You might be saying to yourself, "1000 sq. ft. is a little over the top for my bathroom", but if you plan to use your shower or bath, you will want a dehumidifier that can work quickly to remove the moisture from the air.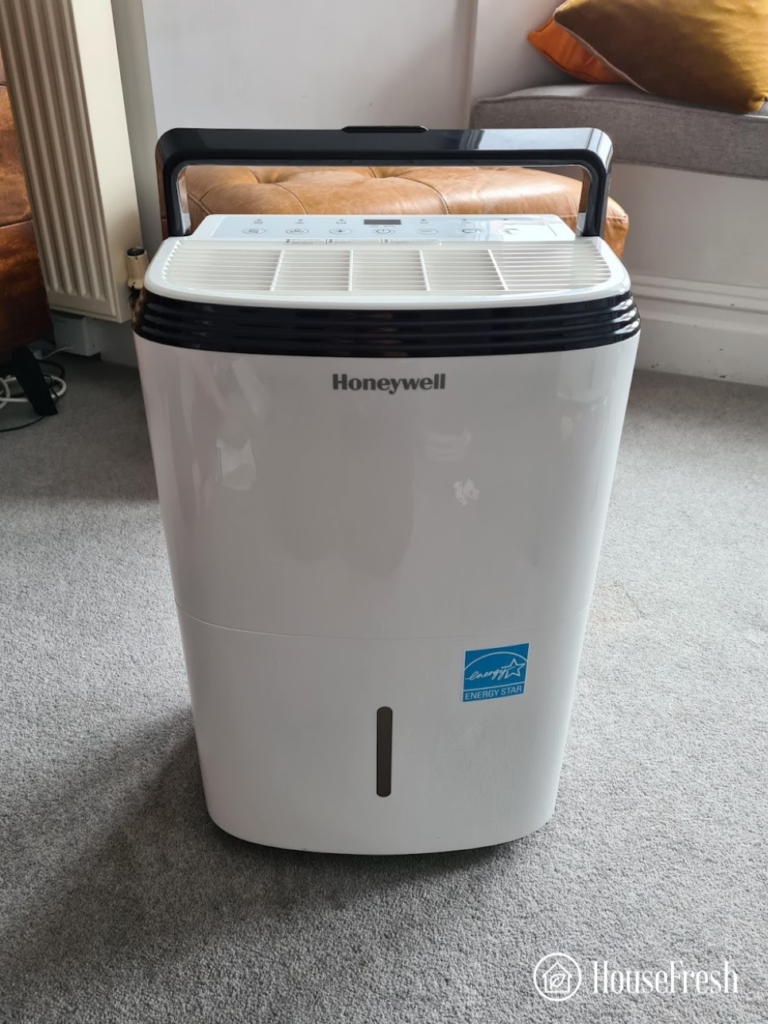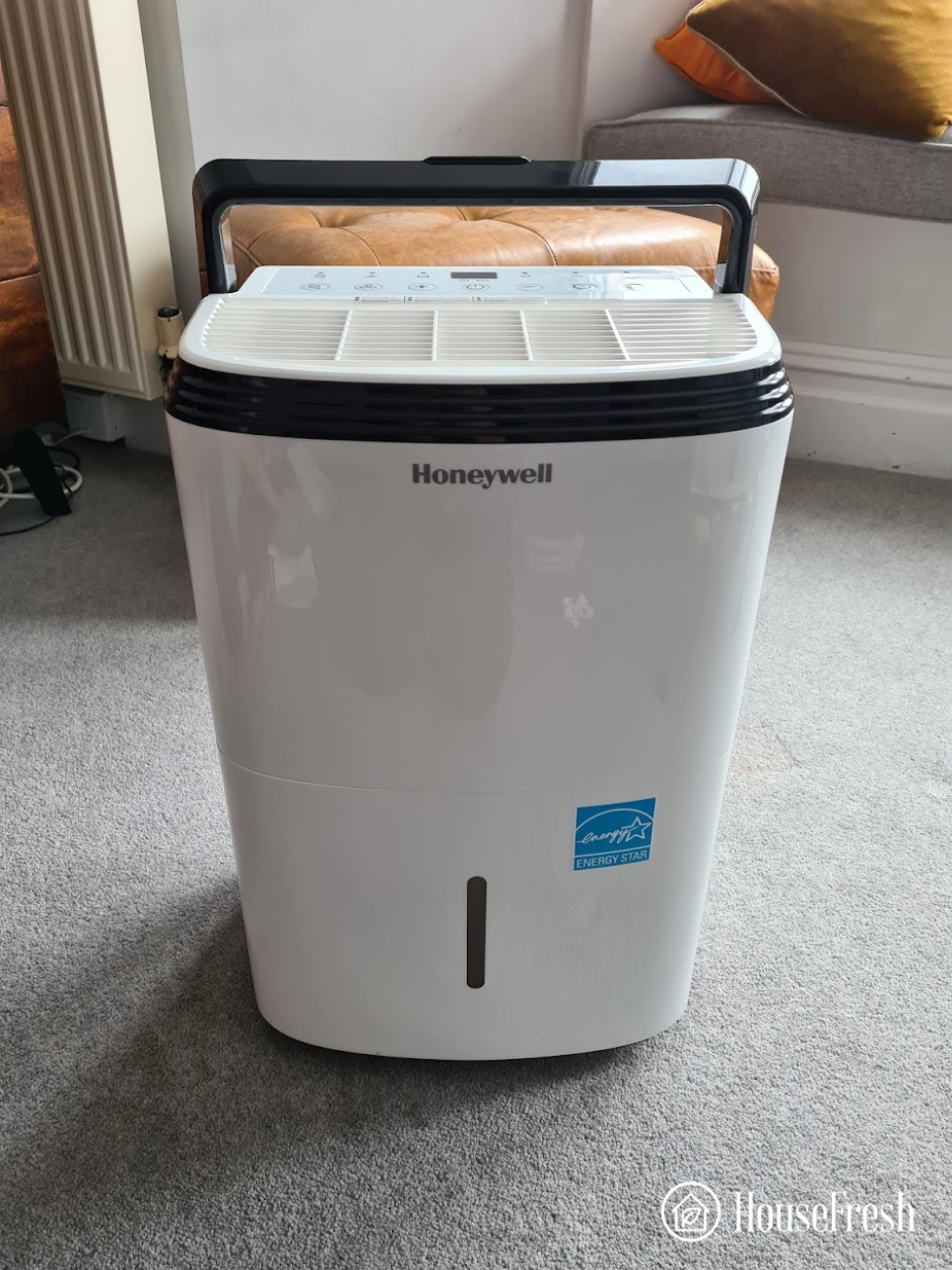 The Honeywell couldn't be easier to use. The tank slides in/out with ease to empty and when it's full, the unit will alert you and automatically shut off to make sure it doesn't overfill and spill over. The interface on the top of the unit is also easy to operate.
You can adjust your desired humidity level using the digital display, set the timer, engage sleep mode, and it lets you know when the filter needs washing. If all that isn't enough to convince you, it also comes with wheels and a heavy-duty handle to easily move from room to room or around your bathroom.
SPECS & FEATURES
| | |
| --- | --- |
| Moisture Removed (24hrs): | 30 Pints |
| Recommended room size: | 1000 sq. ft. |
| Weight (in pounds / in kg): | 42.9 lbs / 19.5 kg |
| Special features: | Auto Restart, Full Tank Alert w/ Auto Shutoff, Filter Clean Alert, Auto Defrost Control |
What We Really Like:
👍 Has a continuous drain option if you have a hose attachment
👍 There are 2 fan speeds to select
👍 It has thermal overload and fuse protection
👍 Features an automatic defrost control
What We Think Could Be Better:
👎 Can seem quite loud on the highest fan speed
👎 Doesn't have a low-temperature operation (41 degrees and below)
2. Best for Medium to Large Sized Bathrooms: hOmeLabs 4,500
Another unit for those with larger bathrooms or for people like me that need it for different rooms but don't want to fork out for a dehumidifier for each space, this Amazon top seller from hOmeLabs will take care of rooms up to 4500 sq. ft.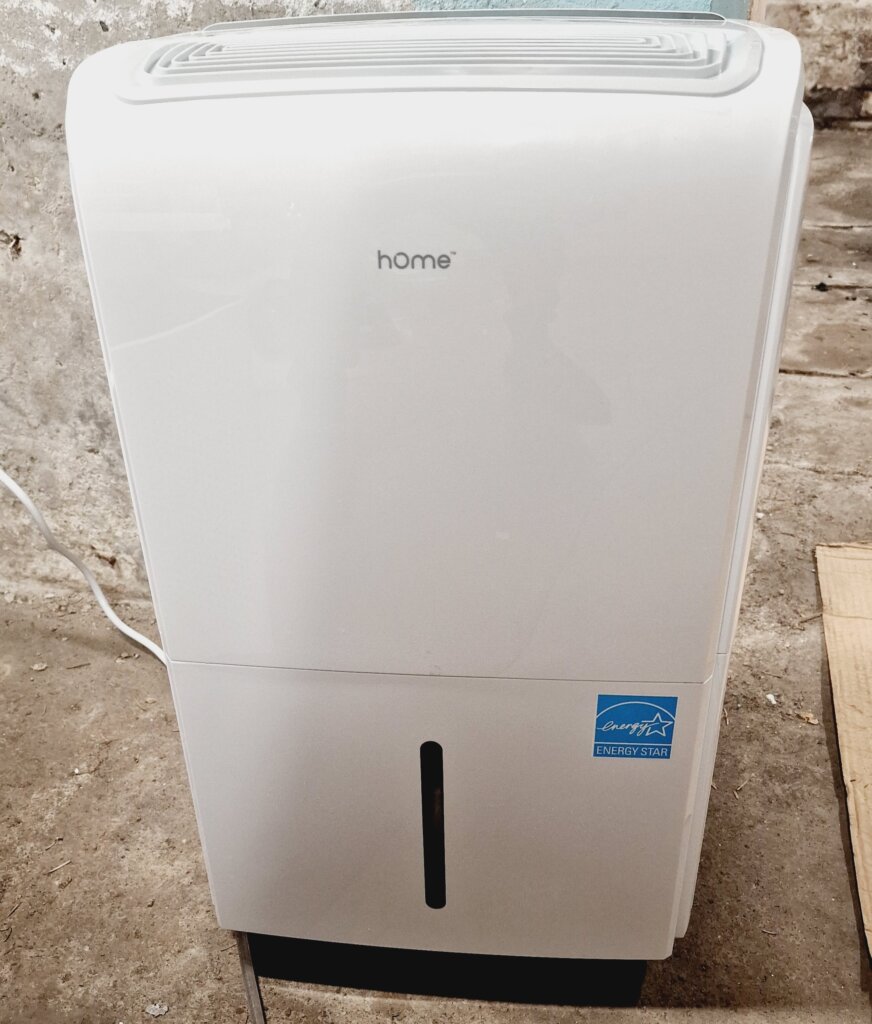 It can remove 50 pints of moisture in a 24-hour cycle by either collecting it in its tank or continuously through a drainage pipe that can be easily attached to the back.
This Energy Star Certified dehumidifier doesn't break the bank to operate, especially as it will clear the excess moisture from your bathroom in no time. A stand-out feature is the inclusion of the hose pump version which will mean you will never have to empty the bucket every few days.
This unit has a few cool features that make it stand out from the rest. It has a timer, humidity level adjuster, filter alert, and turbo mode, and hOmeLabs have treated us to a Comfort Mode. When engaged, the unit will automatically set a comfortable and healthy humidity level based on the room's ambient temperature.
Ideal for a loooooong soak in the tub.
SPECS & FEATURES
| | |
| --- | --- |
| Moisture Removed (24hrs): | 50 Pints |
| Recommended room size: | 4500 sq. ft. |
| Weight (in pounds / in kg): | 40 lbs / 18.1 kg |
| Special features: | 1-24hr timer, Turbo mode, washable filter |
What We Really Like:
👍 It has a washable air filter
👍 You can monitor moisture capacity through its tank window
👍 Comes with a 1-year warranty
👍 Has wheels and a handle for maneuverability
What We Think Could Be Better:
👎 Might be larger than you need for smaller bathrooms
3. Best for Large Bathrooms: Midea 2019DOE
With a tank that can carry up to 50 pints of water, the Midea 2019DOE can maintain a healthy humidity of around 45%-55%. Since there are many settings, such as desired humidity and rate of usage, once you find the perfect settings, they will be preserved with the innovative auto restart feature. Even with power disruption such as a power outage, your dehumidifier will return to its set functions.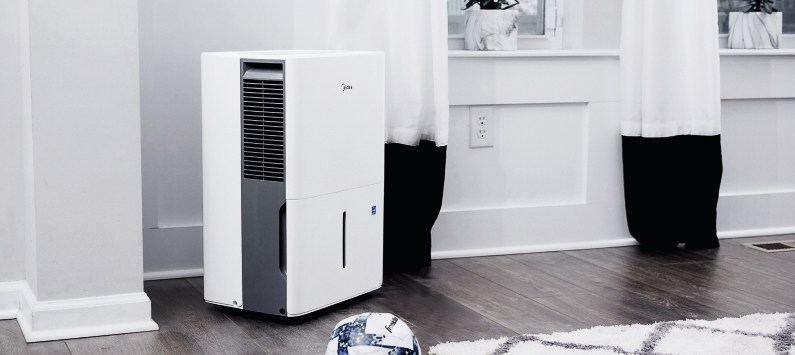 Producing a low level of noise (51 decibels), the dehumidifier will fade into the background noise, and carry the same volume level as a quiet conversation. Since the tank is included and set up right away, the only maintenance needed is draining the tank every so often when it fills up.
With a standard .75-inch garden hose inserted into the socket in the back of the humidifier, gravity will drain the water and allow the machine to keep functioning properly. Not only is the tank installed for immediate use, but there is a reusable air filter that works to ensure better air quality without breaking the bank.
SPECS & FEATURES
| | |
| --- | --- |
| Moisture Removed (24hrs): | 50 Pints |
| Recommended room size: | 4500 sq. ft. |
| Weight (in pounds / in kg): | 33.5 lbs / 15.2 kg |
| Special features: | Turbo mode (high fan) and timer mode |
What We Really Like:
👍 The white noise adds a calming ambiance
👍 Has 4 wheels and handles for easy moving around rooms
👍 The sleek, white design blends in with modern decor
👍 Easy assembly in about 15 minutes means faster dehumidifying
What We Think Could Be Better:
👎 We'd like to see a timer function for this device for more precise operation
👎 The tank gets heavy when it is full since it's a large size
The TOSOT 20 Pint Dehumidifier works flawlessly in spaces up to 1,500 sq. ft. In 24 hours, this tank can remove up to 20 pints of water from the air, making your bathroom a much more comfortable space to spend time in. When the tank is full of water, the dehumidifier will beep to remind you it's time to drain.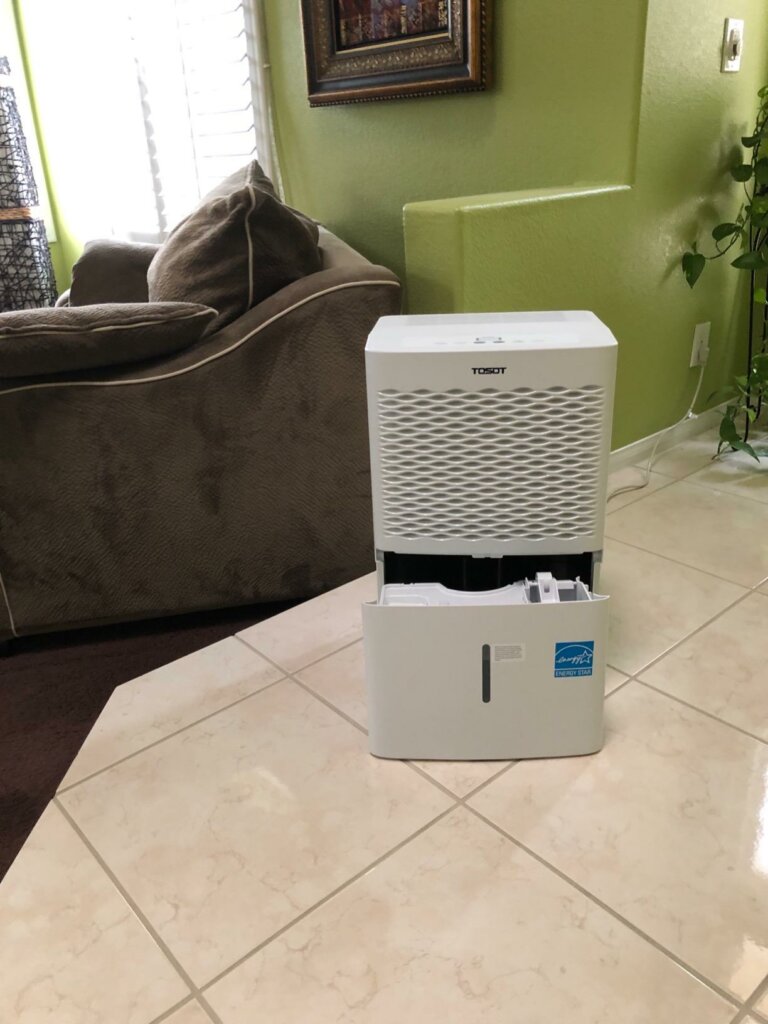 A unique feature of the TOSOT Dehumidifier is the different ways in which you can drain the tank. If you want to drain the bucket of water, the spill-proof bucket can be lifted out directly and emptied from the machine. Though, if you don't want to carry the heavy 1-gallon capacity bucket, you can connect a hose and drain the water that way.
On the control panel, you can choose a target humidity for the automatic shutoff. While it's working, the panel will show the current humidity level, and simply shut off when it hits the target range. In nonstop mode, there is no automatic shutoff at a target, and the machine will continue to run until you adjust it.
SPECS & FEATURES
| | |
| --- | --- |
| Moisture Removed (24hrs): | 20 Pints |
| Recommended room size: | 1500 sq. ft. |
| Weight (in pounds / in kg): | 33.9 lbs / 15.4 kg |
| Special features: | Target setting means automatic shutoff at your desired humidity level |
What We Really Like:
👍 At each setting, the noise level is as light as rainfall
👍 The air filter included is washable and easy to remove
👍 Available in different sizes with larger tank capacities
👍 Built-in overflow protection to prevent spills from occurring
What We Think Could Be Better:
👎 The plug to the hose attachment can be tricky to remove
👎 We'd like to see a remote control feature for those who want to adjust the settings while in the bath
This compact, functional dehumidifier removes up to 30 pints of water from the air daily. When it fills up, the indicator light will turn on, and depending on your preference you can either take out the tank to dump it or use the included hose to drain it.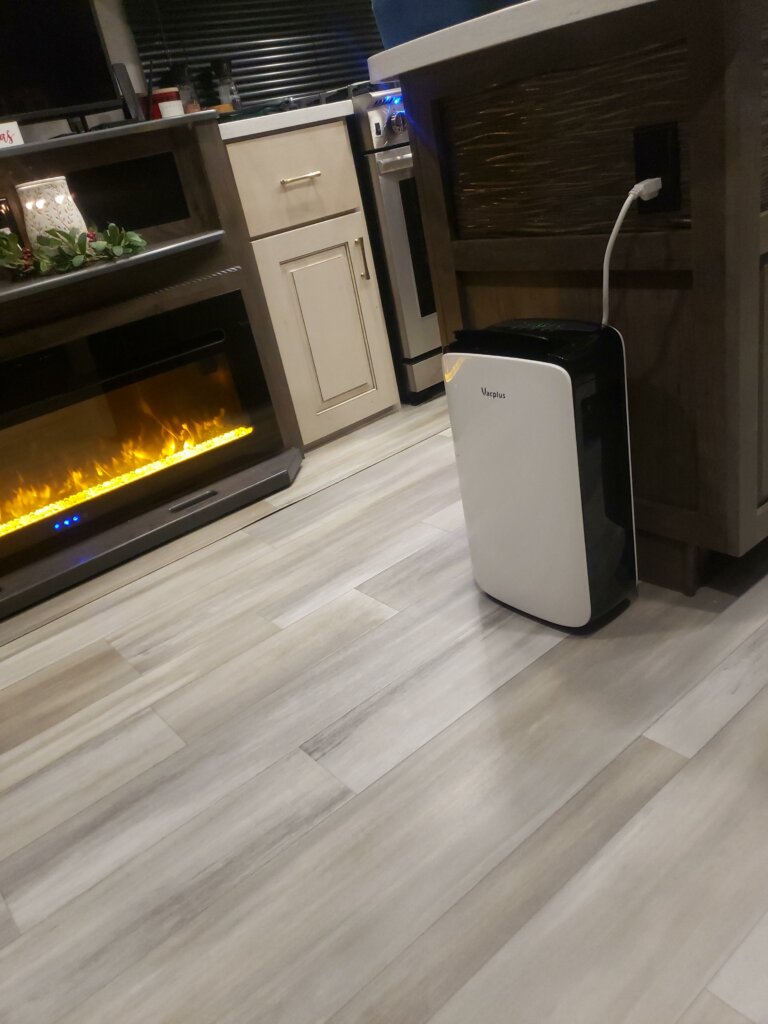 Since daily life is ever-changing, there may be days where you need to run the dehumidifier for longer than others, and other times where you don't need it running at all. To minimize the daily contact with the machine itself, it is possible to set a 24-hour timer to program it to turn on and off when needed.
Using only a small amount of energy, the dehumidifier is also kind to your energy bill, proving that it can be cost-effective to make your bathrooms more comfortable. Some optional modes are included, such as a drying clothes mode, which will dry your wet clothes with the touch of a single button!
SPECS & FEATURES
| | |
| --- | --- |
| Moisture Removed (24hrs): | 30 Pints |
| Recommended room size: | 1500 sq. ft. |
| Weight (in pounds / in kg): | 20.9 lbs / 9.5 kg |
| Special features: | Drying clothes mode and an included drainage hose |
What We Really Like:
👍 Target humidity can be set in order to save energy with auto-shutoff
👍 The filter can be vacuumed or wiped clean
👍 Has compact wheels that make it easy to move to different rooms
👍 Great for drying towels after showers
What We Think Could Be Better:
👎 Due to the use of a compressor, the sound may be slightly more noticeable
👎 The drainage tube may leak if not attached tightly enough
The Ivation 13-Pint Small-Area Desiccant Dehumidifier is a wonderful addition to any home to remove moisture from the air, prevent odors and mold, as well as provide warm air. Though the machine is small and compact, it can quickly dehumidify spaces up to 270 sq. ft.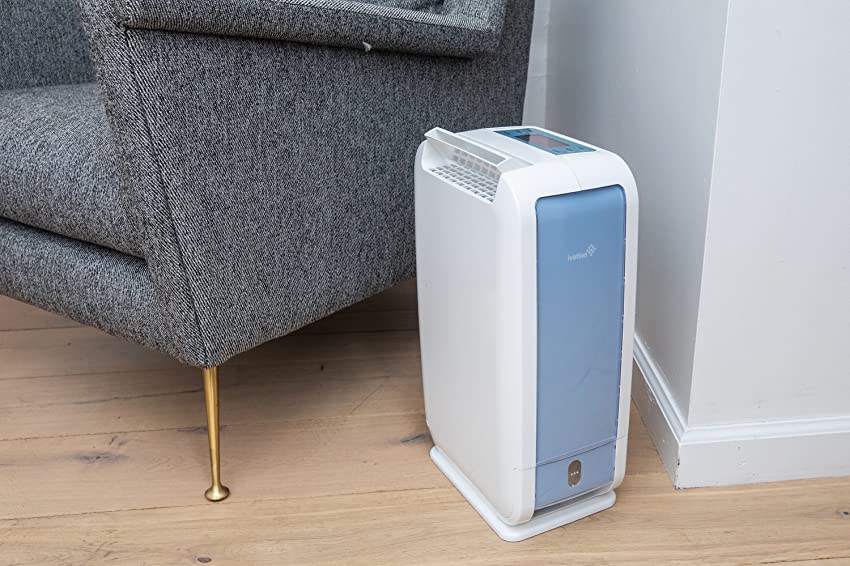 Using the control panel on the top of the unit, it is possible to set humidity controls, power levels and overall functioning. With an on/off button, a mode button to switch between low, high, and sleep modes, and a humidity button to set the desired humidity target, the controls for this dehumidifier provide you with all the utility you would need.
Some other options available include the ability to change the brightness of the LCD screen, setting a timer to manage usage times of the machine easily, and swing mode, which can adjust the movement of the air vents to help clothes dry faster.
For drainage, there are two options to empty the tank, as you could either take the tank out or use the included hose to drain out of the spout.
SPECS & FEATURES
| | |
| --- | --- |
| Moisture Removed (24hrs): | 13 Pints |
| Recommended room size: | 270 sq. ft. |
| Weight (in pounds / in kg): | 13.96 lbs / 6.33 kg |
| Special features: | Easy-clean filter and Anti-tilt shutoff |
What We Really Like:
👍 Special desiccant rotor works to provide better dehumidifying features
👍 Has a handle for easy moving
👍 The machine will automatically shut off if there is a threat of tipping over
👍 LCD display with change from Fahrenheit to Celsius for easy use
What We Think Could Be Better:
👎 Since it does produce heat, it may be less convenient to use in the hot months
👎 We would like to see the ability to use a standard garden hose to drain the tank, as the included hose is not compatible
---
The Pro Breeze Electric Dehumidifier does have some pros.
It's portable and very easy to use. When the machine collects the maximum amount of water and needs draining, it will automatically shut off, and an LED light will turn on, notifying you. When draining, the water tank easily separates to be poured out.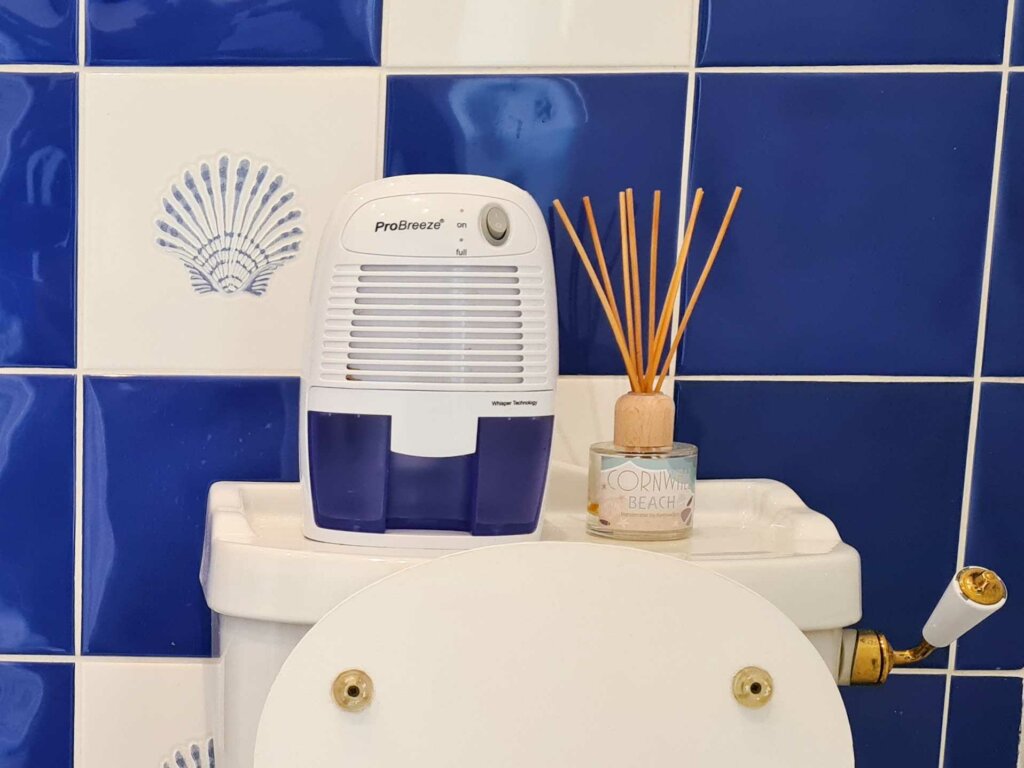 The problem is, in our tests, it didn't really seem to do much at all. The price tag of the Pro Breeze tells you everything you need to know. It's cheap and ineffective. This unit features in quite a few 'Best' lists from other sites, but we actually tested it in a real-world environment and were really let down by the results.
We would highly recommend spending a little more money and investing in a unit that won't leave you high and (not) dry.

If you have a small space and have a super tight budget then choose the Pohl Schmitt instead – it is not only cheaper but it's also A LOT more powerful.
SPECS & FEATURES
| | |
| --- | --- |
| Moisture Removed (24hrs): | 1 pint |
| Recommended room size: | 215 sq. ft. |
| Weight (in pounds / in kg): | 2.4 lbs / 1.1 kg |
| Special features: | Ultra-quiet Peltier technology |
What We Really Like:
👍 The tank is a nice purple shade, which is a good accent against the white body
What We Think Could Be Better:
👎 The tank is small, which means emptying it much more often
---
Buying Guide: Dehumidifiers for Bathrooms
Bathrooms are notorious for accumulating moisture and humidity, leading to mold and mildew growth in dark spots around the toilet and basin. Here, mold can access anything it needs to grow—bacteria, moisture, and darkness.
Mold and mildew not only make your bathroom look gross, but they are also harmful to people with allergies. The good news is that you can get rid of mold and mildew in the bathroom with a good dehumidifier and make your bathroom look clean and fresh.
But with many options, how do you find the best dehumidifier for your bathroom? We're here to help!
Dangers of High Humidity Levels in the Bathroom

When the humidity level in your bathroom is too high, it can result in a lot of issues, including dangers to your health and property damage. At any given point, humidity levels in your home, bathroom included, should never exceed 60%.

Here are the negative effects of high humidity levels in the bathroom.

💦 Mold and Mildew Growth
Mold is a fungal growth, usually green in color, that forms and spreads on damp places or dead decaying matter, while mildew refers to the white or gray patches on surfaces like tiles, windowsills, and shower curtains.

If not addressed, mold can cause serious health problems like allergies and asthma in children. Note that mold feeds on the things it lives on, so if not controlled, it can lead to a lot of damage—it digests materials.

🧱 Damaged Walls and Paintwork
The walls in your bathroom are a prime site for condensation to accumulate if high humidity is not controlled. Bathroom walls, in particular, are usually humid and can lead to condensation build-up and even mold and mildew growth.

Condensation in the walls may lead to bathroom wallpaper peeling and damaged paintwork. It's important not to redo the wallpaper or apply new paint without addressing the moisture problem, as the issues will recur.

🚽 Rotting Cabinetry and Floors
Your bathroom cabinets, cabinet doors, and other wooden components can be susceptible to damage caused by excess humidity.

If not controlled, excess moisture in the bathroom can damage wood components by creating stains or causing them to warp and decay. And if the moisture problem is not addressed for long, it can also cause irreversible damage to the floor.

If all these solutions don't work, mainly due to the weather outside, consider investing in a dehumidifier. These devices are specifically designed to reduce and maintain optimal levels of humidity in the air.
What to Look for When Buying a Dehumidifier for a Bathroom
Finding a suitable device for your bathroom can be daunting if you've never bought a dehumidifier before. The market is saturated with products offering top-notch features, and it can be hard to distinguish the real ones from copycats.
Plus, there are many features to look for, which can make it tricky even for a regular buyer. We'll make it easier for you to find the right one by outlining the critical factors when buying a dehumidifier for your bathroom.
1. Find a unit that will work well in the space
Area coverage is one of the critical factors to consider when shopping for a dehumidifier for the bathroom. It defines the area the device can dehumidify in one go.
Knowing the size of your bathroom is the first step in finding a unit that's perfect for the space. You'll also want to consider if the unit will be used in other rooms. Area coverage is usually measured in square feet though some manufacturers express it in cubic feet instead.
If you intend to buy a unit that can also be used in the kitchen and other areas, choose a dehumidifier that can cover a larger area. Note that different units will perform differently in different room sizes. A good dehumidifier for the bathroom should cover up to 1,000 square feet.
2. Choose a dehumidifier with a large tank capacity
When shopping for the best dehumidifier for your bathroom, you'll notice two measurements indicating the unit's capacity and tank size.
The tank size indicates the amount of water the unit can hold at any given time before emptying. On the other hand, the unit's capacity tells the amount of moisture the dehumidifier can absorb from the air in 24 hours.
Most dehumidifiers' capacity range from 30 to 70 pints, but many factors influence how much moisture each unit can remove from the room daily. Here are some tips to help you find the right capacity for your dehumidifier.
If you live in a humid region, add 10 pints to the recommended capacity
If a washing machine is in the room or near your bathroom, add 5 pints
If the room has more than one window, add 5 pints
If multiple people use the bathroom daily, add 5 pints
Since bathrooms are usually more humid than other rooms, a small tank can become inconvenient as you will need to empty it several times a day. So, opting for a higher-capacity tank is recommended.
3. Avoid small portable dehumidifiers unless your bathroom is truly tiny
The humidifier's performance is crucial.
As mentioned, bathrooms are usually more humid than other rooms in your house. So, it's vital to have a device that can handle the amount of moisture in the bathroom; otherwise, the excess moisture will lead to mold and mildew growth.
Avoid portable dehumidifiers unless your bathroom is so small to house a larger unit. At the very minimum, aim for a minimum 30-pint dehumidifier. Anything less than that will not handle the moisture in your bathroom.
4. Find a unit that will not emit more noise than you'd like
Depending on the model and size, some dehumidifiers can be very noisy. It's good to consider what noise level is acceptable before buying one. If you have kids, you'll want to buy the quietest dehumidifier.
Most manufacturers specify the noise levels of their dehumidifiers, so getting this number shouldn't be hard. When running, the best quiet dehumidifiers produce around 30 decibels (dB) of noise, so you might want to aim for units within this range.
5. Consider if having a dehumidifier with continuous drainage is important to you
Some dehumidifiers feature continuous drainage, which is a handy feature to have in your unit. Just as the name implies, this feature simplifies the drainage process.
Rather than emptying the dehumidifier every time it's full of water, you can attach a hose pipe to the unit to facilitate drainage. The other end of the pipe can be connected to a tank or an external drainage system. This way, the unit will work continuously without needing to be emptied, making your work easier.
If that sounds like something you'd want in your dehumidifier, look for a unit with the feature. Some units, particularly high-capacity dehumidifiers, come with this feature.
6. Read up on additional features
Some features might give you more control over your dehumidifier and can be handy in your unit. One such feature is the auto-defrost, mainly if you live in a region where the weather turns cryogenic.
Note that dehumidifiers work by condensing water to deposit it into tanks. But if the temperatures go below zero degrees, this water may turn into ice before entering the tank. The auto-defrost feature prevents this from happening.
Other features that can be handy in your dehumidifier include auto shut-off when the tank is full, humidity level display, and auto restart.
Frequently Asked Questions About Having a Dehumidifier in the Bathroom
🤔 How can I reduce humidity in my bathroom?
Excess humidity in the bathroom can be removed through simple means, such as opening the windows. If you're lucky to have windows that open to the outside, then one easy way to reduce humidity levels is to keep them open during and after the shower. Opening the windows will draw the moist air out and allow dry air in. In other words, it allows the free flow of air, preventing moisture build-up.

Passive ventilation is another excellent way to reduce moisture in your bathroom and involves using cooling vents. Unlike conventional fans that require electricity to run, passive ventilation relies on the principle of warm air rising and lower, outside pressure sucking the humid air.
🤔 Do I need a dehumidifier in my bathroom?
Many people will not need a dehumidifier as they will have adequate air flow using an integrated fan that will remove moisture before it can become a problem. But if your bathroom can't access the outside, then a dehumidifier can fix the problem. If possible, you should always look to use ventilation as it's far more effective and less cost long term than choosing a dehumidifier. Still, we totally understand that fitting an exhaust fan is not something that is an option for everyone and if you do choose a dehumidifier for your bathroom then be sure to go for a unit that is effective as the Honeywell unit we recommend.
🤔 Where should a dehumidifier be placed in a bathroom?
Since your dehumidifier is there to take moisture out of the air, it is important to place it somewhere where there is a lot of access to the moisture in your bathroom. For instance, a counter placement closer to your shower may be a more effective location to remove excess shower steam than placing the dehumidifier on the floor.
The filter, in any case, should have at least 12 inches of space between it and a wall or the bottom of an overhead counter. This way it is able to run much more efficiently as it isn't cut off by any obstructions. Some dehumidifiers are small, and some are larger, which will affect their ideal placement.
🤔 Is it safe to take a shower when a dehumidifier is in operation?
Because dehumidifiers are electric and some emit hot air, keeping them off while in the shower is significantly safer. This way, you reduce any risk of your machine short-circuiting or overworking and overheating.
If you want to keep it on, it isn't impossible, but it's important to keep the cord and machine away from potential splashing or water spray as you shower. Like any electrical device, water isn't ideal for your dehumidifier to come into contact with, but it can still be run if monitored.
🤔 How often should I empty the water tank in my dehumidifier?
Each dehumidifier will have a different size tank, which affects the number of times you may need to empty it. It also depends on the amount of water in the air or the number of people using the bathroom for showers and baths.
Luckily, many dehumidifiers have an auto-shutoff feature or an LED light that turns on when the tank is full, making it easy to know when to empty out the water.
Wrapping Up
A dehumidifier is an air conditioning device that absorbs moisture from the air in your home until the relative humidity level is reduced to optimal levels.
If the humidity levels in your bathroom are not controlled, they can lead to mold and mildew growth, damaged walls and paintwork, and rotting wood and floors. All these problems can be avoided by using a dehumidifier for bathroom.
When choosing the best dehumidifier for your bathroom, consider the device's capacity, performance, noise levels, drainage, and area coverage.
If you have a big bathroom with many people using it, a dehumidifier with an auto-shutoff, a big tank with the option for draining with a hose, and the ability to set a target humidity are very important. Though it may be more expensive, it will save time and function better in the long run. On the other hand, if you have a smaller bathroom with only one or two people using it, getting a smaller, portable humidifier may be more budget-friendly.
No matter your bathroom conditions, there is a perfect dehumidifier out there, and buying it will transform the humidity and comfort of your bathroom.
Last update on 2023-09-21 / Affiliate links / Images from Amazon Product Advertising API