Our verdict:
Coway is a big name in the air purifier game. Their ever-growing catalog of units shows that they are always making new developments in their technology and design. With new models out like the Airmega 250S and the feature-heavy Airmega Icon (which has wireless phone charging), you may start to think the 300 seems a little extinct…you'd be wrong.
This little box air purifier still holds its own when it comes to clearing airborne pollutants. With its dual fans and Max2 filters, the Airmega 300 covers rooms up to 1256 sq. ft, ideal for open-plan living spaces, basements, and attic rooms. It cleared our performance room in an impressive 26 minutes.
Yes, it's a bit plasticky, no, it doesn't have as many features as some of the units in this price range, but you can forget all that when you see the 300 in action.
If you've already started your journey into home air purification, you will have most likely come across Coway units in your research. With over three decades of experience under their belts, the engineers at Coway have made it their mission to "help people live happier, healthier lives" by innovating technology through research, development, and design.
Coway have developed their HyperCaptive™ air filtration system which combines their washable pre-filter, Green True HEPA filter™, and activated carbon filter which make up the Maz2 system.
Since its release, the 300 has had an update in the 300S which has WiFi capability to connect to the Coway smartphone app, which can also connect to your Google Home device if you have one. Also, with new models released like the Airmega 250S and Airmega Icon (which has a wireless phone charging dock), the 300 might look a little ancient. Let's go through the review and see.
As with all our hands-on reviews here at HouseFresh, we bought this unit with our own money, so we have strictly unbiased opinions. We test each unit in our performance room so we – A. know we're getting the right figures and B. can compare it next to other air purifiers.
TL;DR The Low Down on the Unit
If you're too busy to check out the full review, here are the main pros and cons I found with the Coway Airmega 300 when putting it through its paces.
What We Really Like:
👍 A modern design that will fit into many different decors
👍 It has an air quality indicator light
👍 There's an auto mode
👍Having a filter on each side maximizes the cleaning of contaminated air
What We Think Could Be Better:
👎 The four legs can mark carpets. Wheels would have been better
👎 That on/off jingle will haunt my dreams
The Specifications
Coway has made a great little unit with a high CADR for its size at 300 CFM. It may be a bit more expensive than other units of this size like the Honeywell HPA300, but you're also getting some pretty neat smart features thrown in, as well as its Max2 HyperCaptive™ filters.
| | |
| --- | --- |
| Purifier technology: | Green True HEPA filter™ |
| CADR (CFM): | 300 CFM |
| Recommended room size: | 628 sq. ft. to 1256 sq. ft. |
| Filter life: | 12 months |
| Noise level (low – high): | 22 – 52 dB |
| Dimensions (in inches / in cm): | 13.6W x 21.2H x 13.6D inches / 34.5W x 53.8H x 34.5D cm |
| Weight (in pounds / in kg): | 21.4 lbs / 9.7 kg |
| Energy consumption: | $114.06 per year |
Focus on Design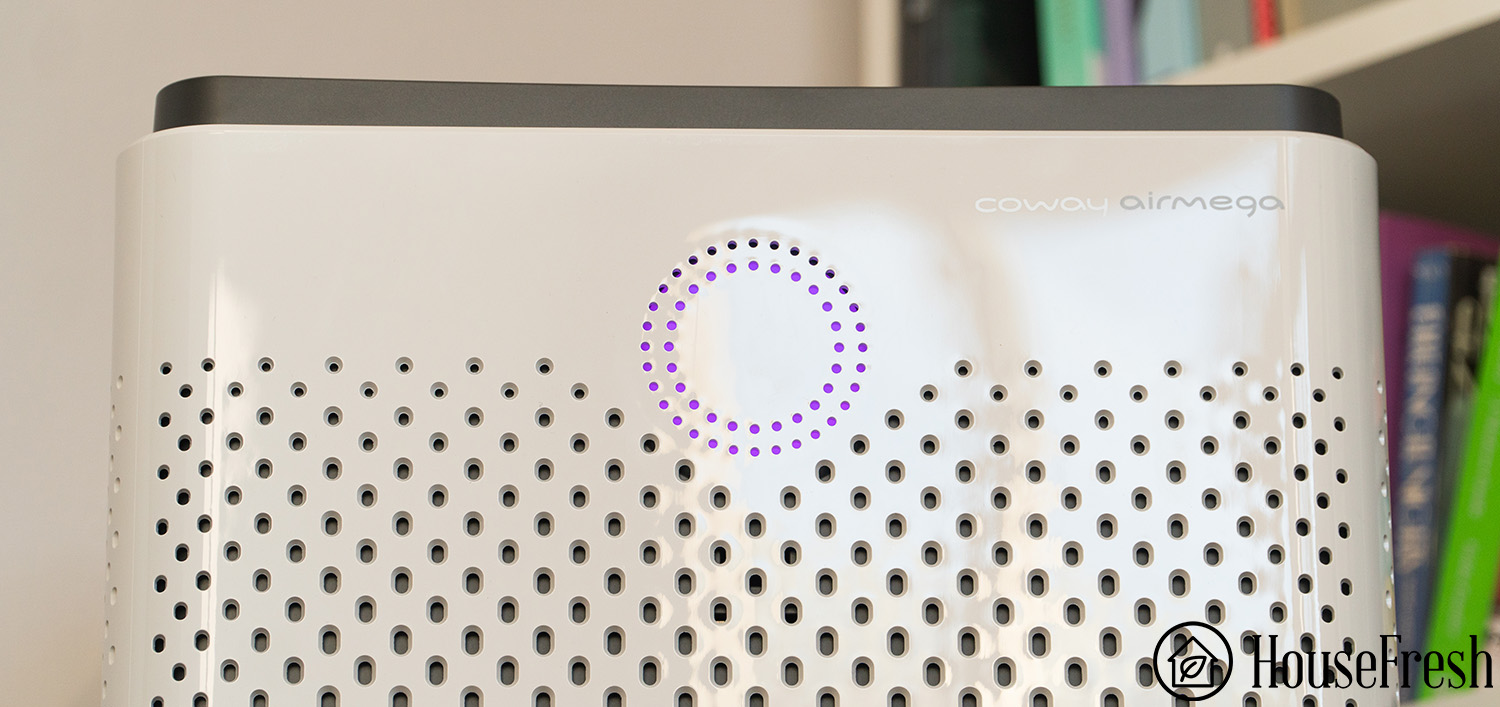 As soon as the 300 landed on my doorstep, you could tell from the packaging that this came from a company that values their design team, as it shows you what the unit looks like from all angles before you even open the box. Pulling it out of the box, you instantly feel that it's quite light, which means moving it from room to room isn't going to be a problem using the handles on each side.
The power button is recessed and the rest of the controls are touch sensitive. This took me a few seconds to work out, as I skipped the instruction manual (I like to delve straight in).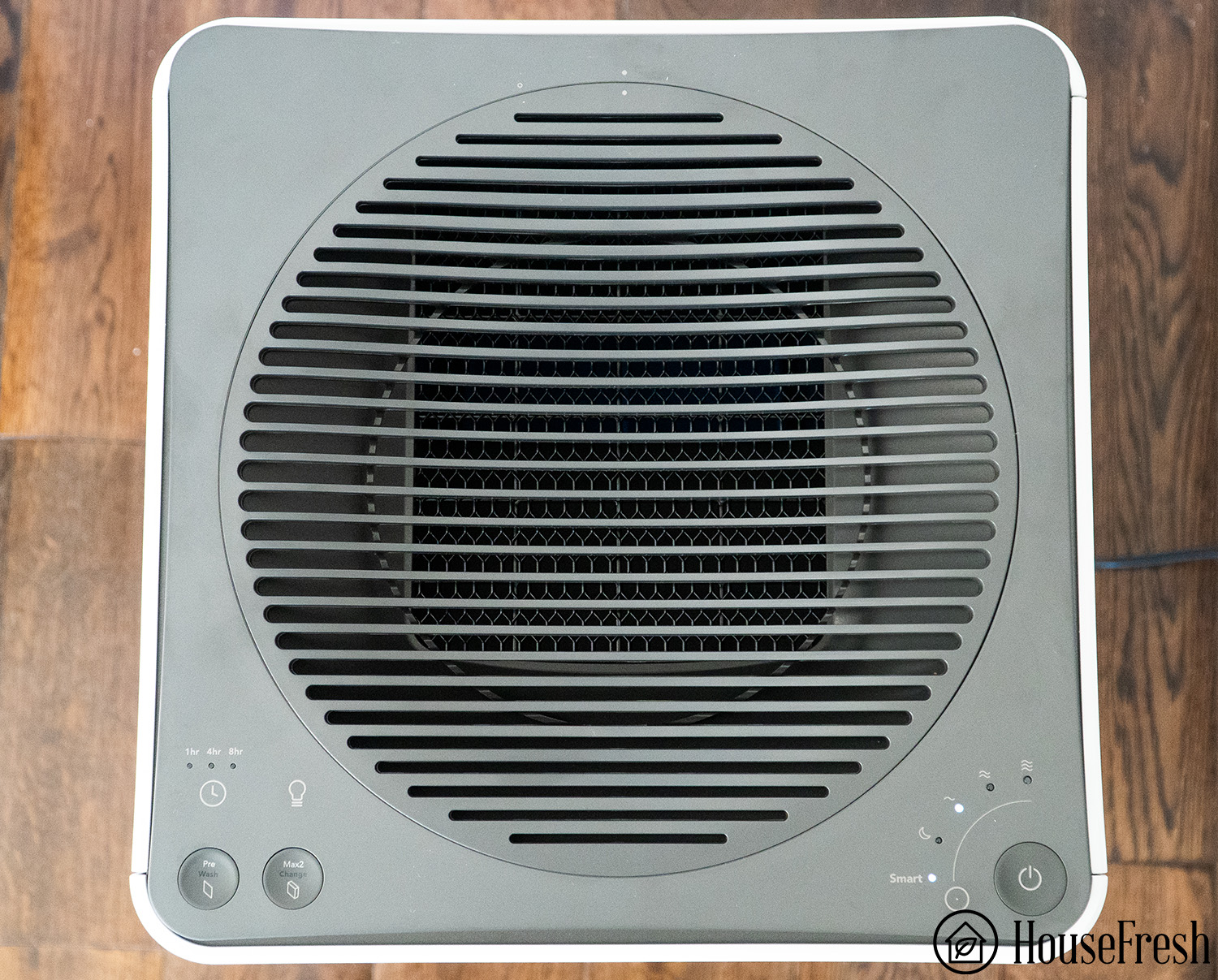 On the front of the unit is the circular LED air quality monitor. The color changes to let you know the quality of the air in the room, so you can adjust the fan accordingly. A great feature of the Coway units is that the colors don't change drastically, they seem to blend into the next seamlessly, making it very unintrusive.
| | |
| --- | --- |
| Color | Air Quality |
| Blue | Good |
| Purple | Moderate |
| Pink | Unhealthy |
| Red | Very Unhealthy |
A design issue I found with the 300 is that the side and front panels detach a little too easily, and when they do, they feel a little flimsy. Also, the legs are a bit thin and leave marks on the carpet. This unit would benefit from either a flat base or wheels.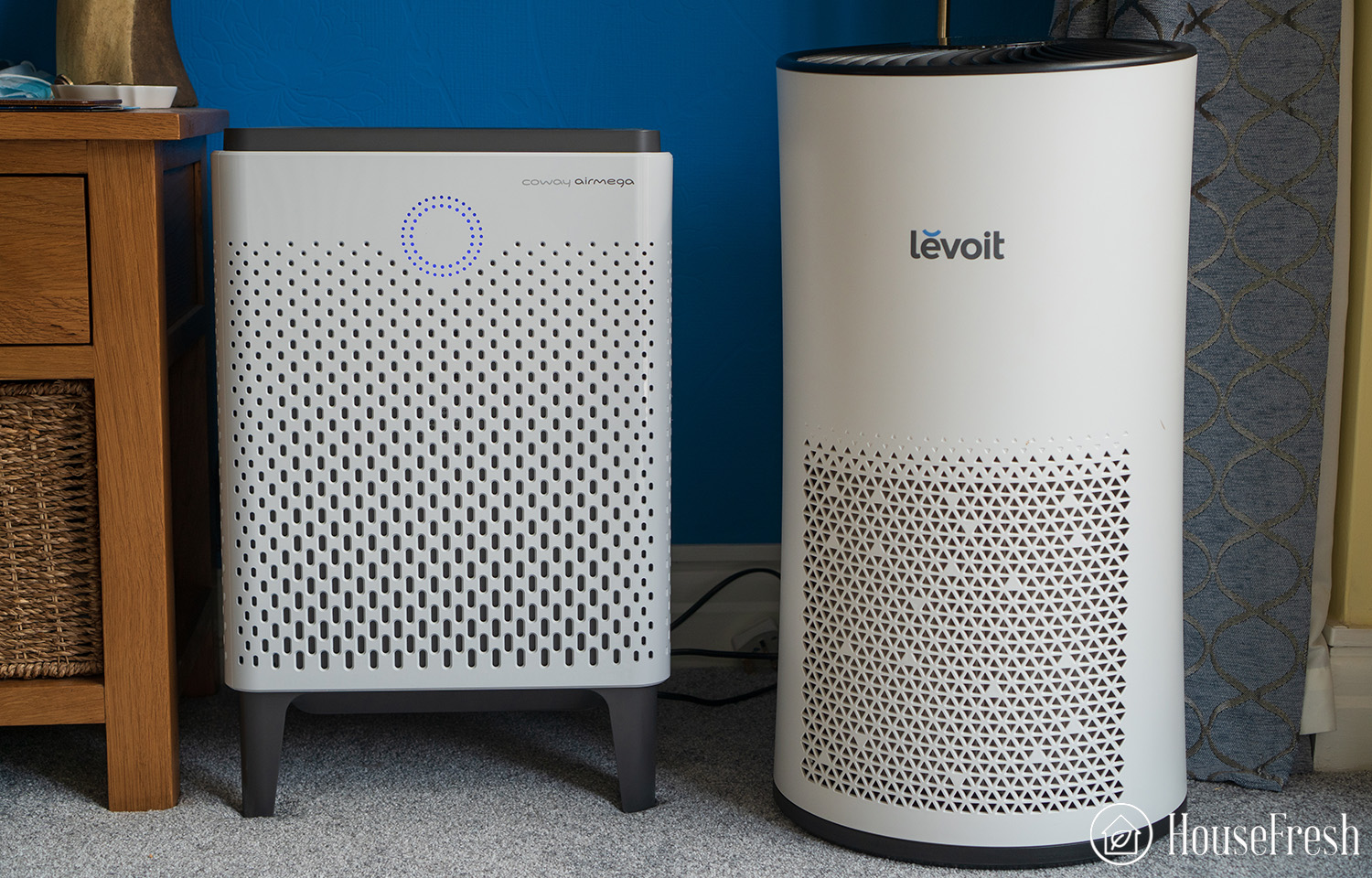 Placing the 300 next to the Levoit LV-H133 (which is very similar in performance), you notice the size difference. Coway have taken what could have been a plain white front and added a fake grill to give it that extra design feature. I prefer the lighter black finish of the 300 over solid black on the top of the unit, but the overall shape of the Levoit is more appealing.
99.999% of Particles Trapped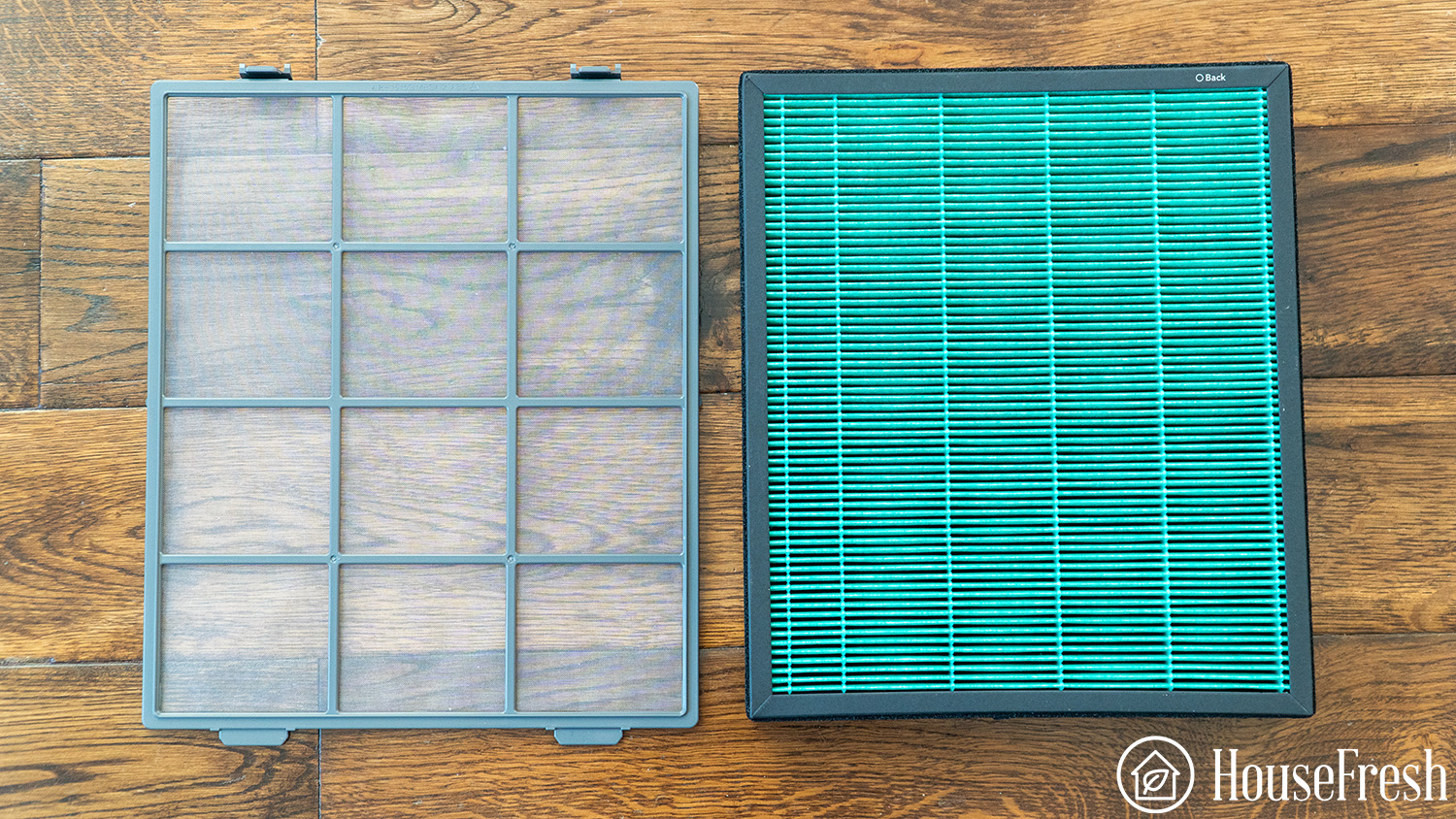 Okay, down to the nitty-gritty, the main reason we want an air purifier in the first place. How does the Airmega 300 perform at cleaning your room of airborne contaminants?
Each Coway unit is fitted with two signature three-stage HyperCaptive™ Max2 filters. One for each side of the unit.
Stage 1 – Pre Filter: This acts as the first line of defense. It captures the larger particles in the air like hair, dust, and dust mites. By filtering these particles early, it prolongs the life of the rest of the filters. It can be washed at home as well, so there's no need to replace it.


Stage 2 – Activated Carbon Filter: This uses a large amount of activated carbon to remove and deodorize odors from your home. From cooking, cigarette/vaping, and pet smells, to odors that contain harmful gases like VOCs (Volatile Organic Compounds). These VOCs can cause headaches, nausea, and in the long term have been linked to liver damage and even cancer.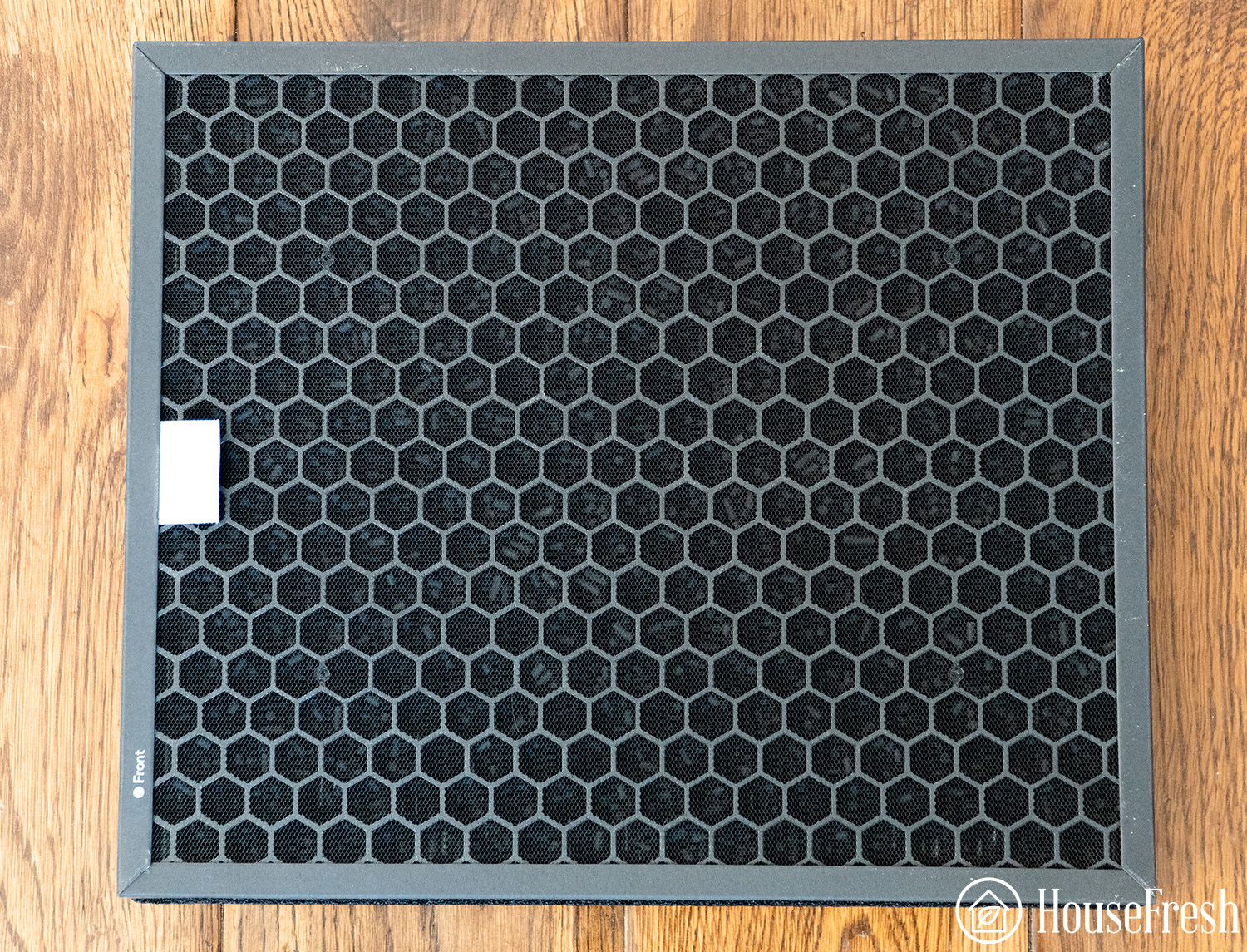 Stage 3 – Green True HEPA™ Filter: The last line of defense is arguably the most important. This "one of a kind" filter captures 99.999% of ultra-fine particles down to 0.01 ㎛² which include bacteria, mold, viruses, and pollen. Ideal for those who suffer from allergies.
The filters are located on each side of the air purifier, hidden behind the removable grill. Coway suggests that you replace these every 12 months, but if you forget, an indicator light on the control panel will light up to let you know exactly when it's time. One indicator is devoted to the pre-filter. When this lights up it means that you need to remove it, simply wash and dry, then return to its position. The second will indicate when the Max2 filter needs replacing.
Replacing the filters isn't a hard task.
Step 1: Unplug the unit

Step 2: Remove the magnetic side panel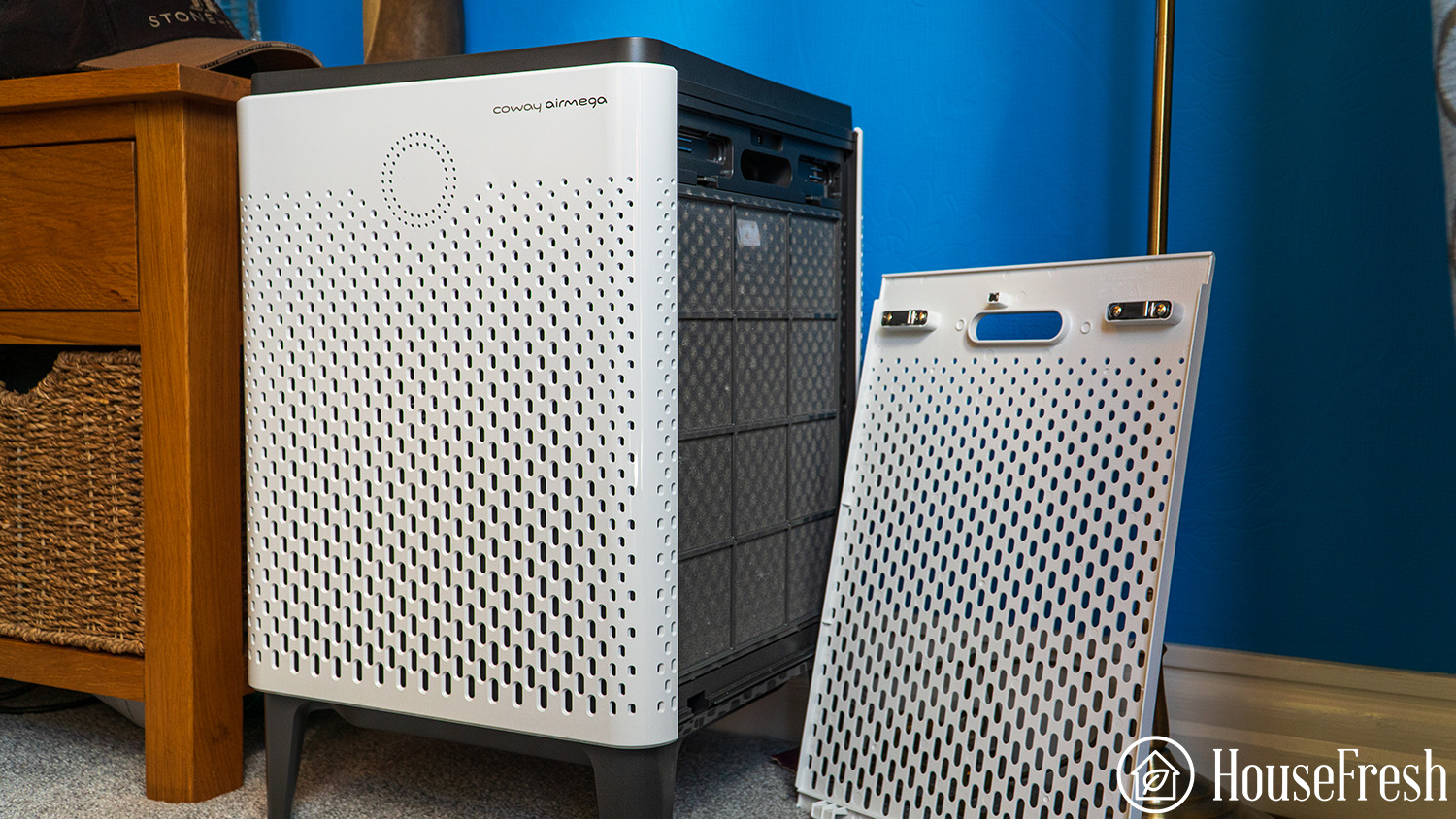 Step 3: Unclip the pre-filter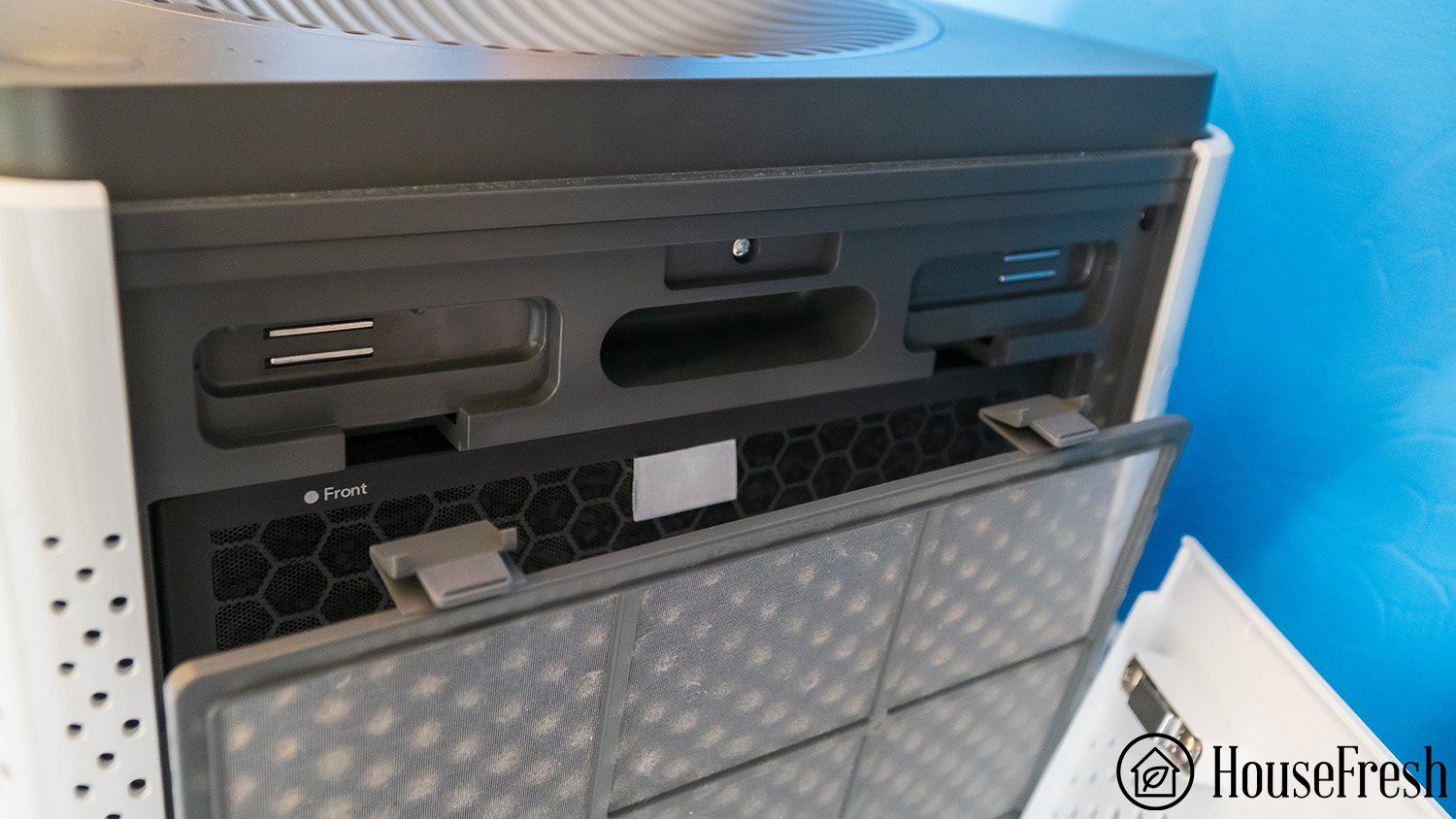 Step 4: Pull the tab on the top of the Max2 filter to remove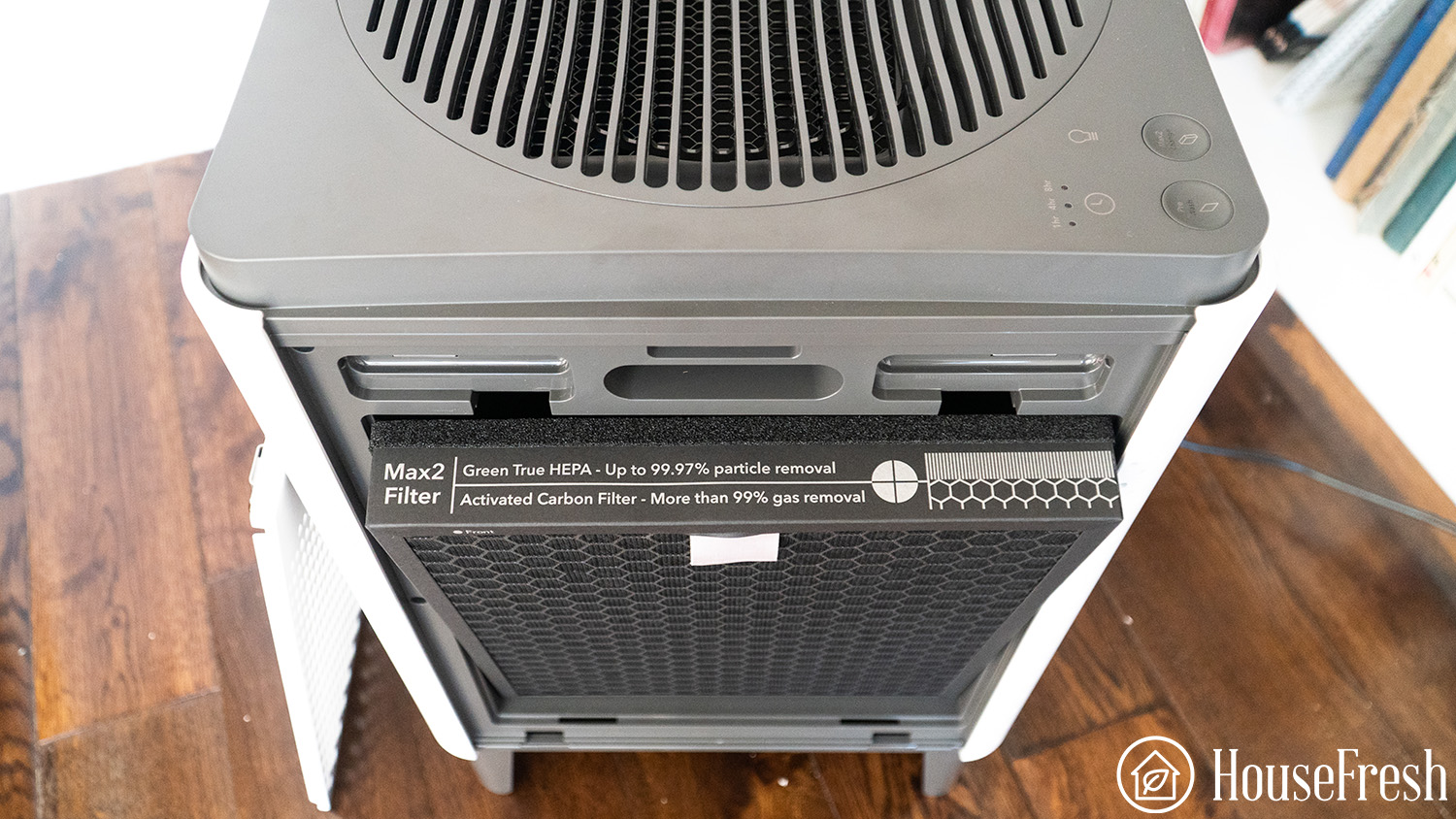 Step 5: Insert your new Max2 filter and reverse the steps
Four Buttons is All You Need
Operating the 300 is easy. A pro to not having a butt load of features is that you don't get confused when making adjustments.
Basically, there are four buttons on the control panel: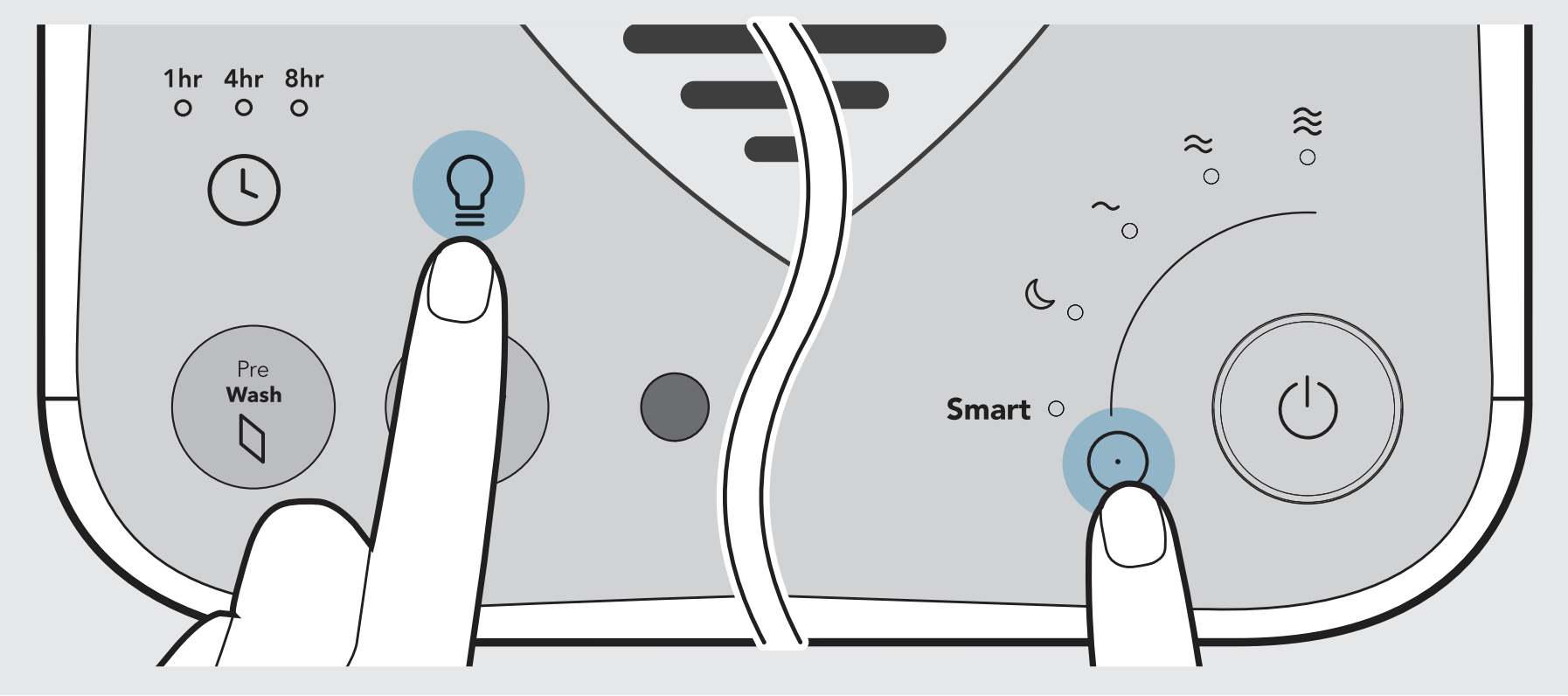 On/Off button
Fan speed/Auto mode selector
Timer
Display light on/off
The timer function has three different modes, 1hr, 4hr, and 8hr. You simply press on the clock icon on the left-hand side to scroll through the modes until you hit your desired time. The "button" next to the timer is a little light bulb. This allows you to turn on/off the lights on the color quality monitor. Perfect for if you want to use this in the bedroom as you sleep or if you don't want it to draw any attention to the unit.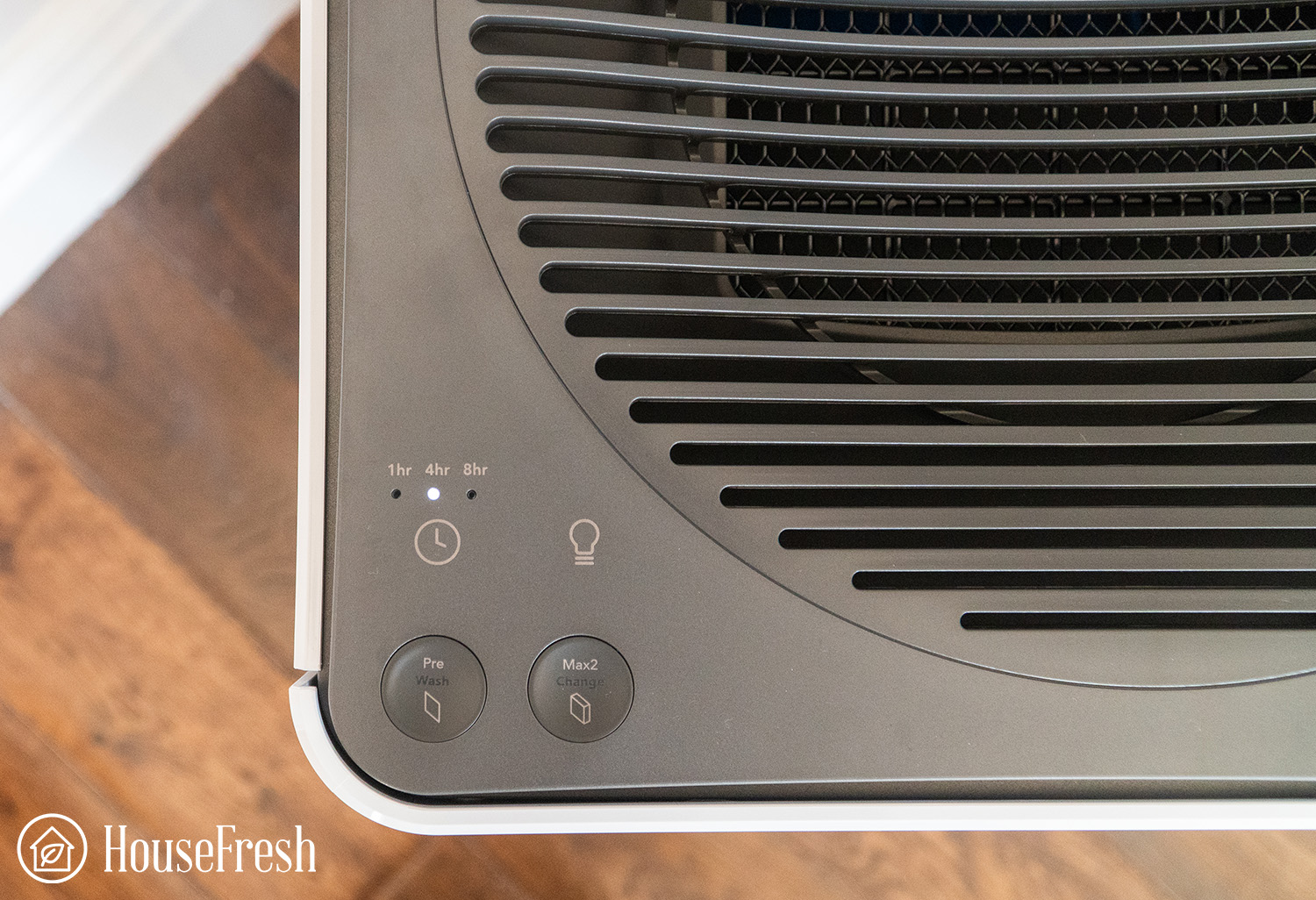 On the right-hand side is where you control its four fan speeds. Just tap the circle to scroll through each speed, or leave it on smart mode. If you've read any of my other reviews, you'll know this is my preferred option. The smart mode works with the quality monitor to automatically adjust the fan speed to adapt to the quality of the air in real-time.
Pro tip: The air quality sensor should be cleaned every 2 months for absolute accuracy. You can access the sensor through the front panel.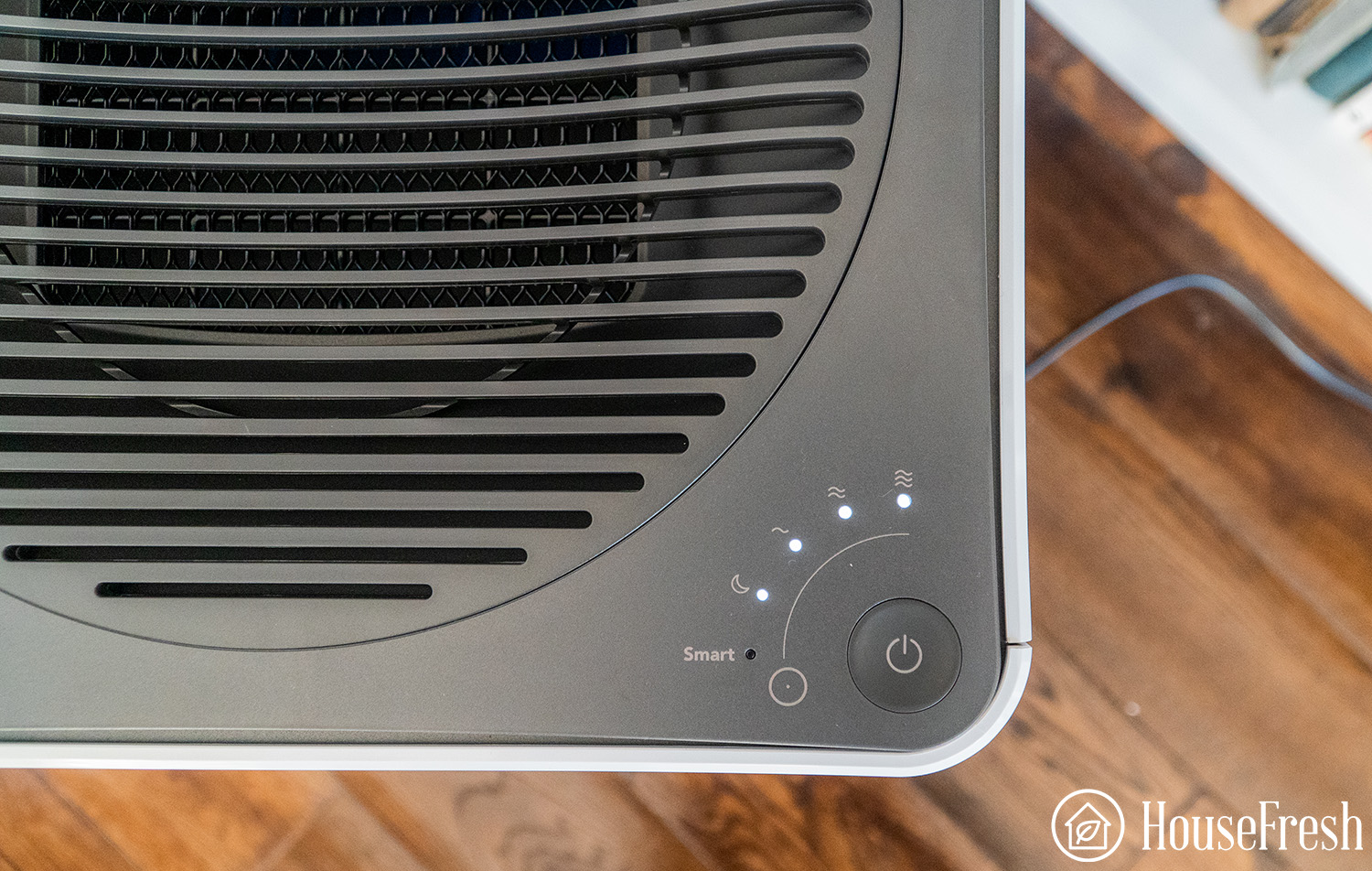 Another great feature of Smart mode is that if the air quality doesn't change after 10 minutes, the unit will shut the fan off automatically to save energy. If the air quality then changes, it will automatically start again. The controls are easy to adjust, and it takes little time for the fan to reach your desired speed.
The lowest speed is their night mode. This ensures that the fan stays at a constant speed, making the least noise possible, so it doesn't disturb your much-needed rest.

There isn't a whole load of features on the 300. I found myself wanting an app so I could control and monitor the unit without being in front of it. If you're of the same mind, check out the WiFi-enabled Airmega 300S which you can control through the Coway app.
Sale
Coway Airmega 300S App-Enabled Smart Technology Compatible with Amazon Alexa True HEPA Air Purifier, 1,256 sq.ft, White
[Coverage] Designed to clean spaces up to 1,256 sq. ft. in 30 minutes
[HyperCaptive Filtration System] Combination of a pre-filter, deodorization filter, and True HEPA Filter reduces 99.999% of 0.01-micron particles, including pollen and other allergens. It also reduces 99% of volatile organic compounds and odor
[APP and Voice Control] IoCare mobile app includes indoor and outdoor air quality monitoring, filter notification, scheduling, and speed and smart mode control. Coway Airmega also works with Amazon Alexa and Dash Replenishment
[Air Quality Indicator] 24/7 pollution monitor air quality throughout the day, adjusting purification to the necessary level, and saving energy when it's not needed
[Smart Mode] With its Smart Mode feature, the Airmega automatically adapts to its surroundings by adjusting fan speeds based on the room's air quality. That means your unit in energy efficient without compromising effectiveness
Cleared Our Room in 26 Minutes
At HouseFresh, we put every air purifier through its paces to see how they perform in real-world conditions. We do this because we want to give you, the reader, an idea of what it can do in your own home.
We don't live in airtight labs, so why should we judge an air purifier on how well it performs in one?
For our performance tests, we always use the same conditions each time. This means we can easily compare each unit against each other.
We test each air purifier in our 705 cubic ft office. By filling the room with different-sized contaminants created from incense sticks, we turn the unit onto its top fan speed and measure how long it takes to clear the room of pollutants.
To measure each unit's performance, we use a Purpleair indoor monitor which tracks the number of airborne pollutants of sizes 1.0ug/m3, 2.5ug/m3, and 10.0ug/m3 every few minutes.
Here's what we found with the Airmega 300.
With a CADR of 300 CFM, we expected the 300 to perform well in our testing room, and we weren't wrong. As you can see on the graph, the Airmega cleared the pollutants created by the incense in just 26 minutes.
When we compare this to other air purifiers we've tested, the result wasn't a surprise. It shows that the 300 is right up there with the other major players like the Honeywell HPA300 with the same performance time and the Levoit LV-H133 which was only 1 minute faster.
Not Too Loud
Sound is a big part of my life. I love all things music and spend a lot of time playing guitars, synthesizers, and many (maybe too many) other weird handmade instruments. For an air purifier to live in my house, it has to be stealthy.
Compared to some of the other units we've reviewed;
When you look at the decibels produced, the Coway seems like an average unit. But when you compare that to the size of the room it's working in and the size of its fan, you'll see that it does a quieter job than most when working in larger rooms.
Here's a sound video for you to gauge the hum it produces:
The Cost of Running an Airmeg 300? $213.06 Per Year
1. Electricity costs
When buying an air purifier, it's not only the price of the unit you need to consider. You also need to think about how much it's going to cost to run. Air purifiers use electricity, electricity costs money, and those costs are growing…rapidly.
Luckily, manufacturers are making air purifiers more energy efficient. As efficiency is at the forefront of our global warming, brands are starting to show they care by getting their products energy certified by companies Energy Star.
When it comes to the Airmega 300, Coway have made a pretty efficient unit. We clocked its highest energy consumption at 52.5 watts. This was on its highest fan speed which, as you've seen from our performance test, wouldn't need to be on for long periods of time.
We worked out that you shouldn't be paying more than $114.06 a year to power your unit. That's 31 cents a day for you math heads out there. In my opinion, that's a pretty small price for all the health benefits and fresh, clean air the 300 provides.
We calculated this cost using the average price of energy in California. Check out our Air Purifier Usage Calculator to work out what 52.5 watts will cost in your state.
2. Filter costs
Not only do you need to power your air purifier, you also need to keep it working at its maximum efficiency. This includes replacing its HEPA and Activated Carbon filters. Over time, these filters become clogged with all the contaminants they've pulled out of the air in your home. Once they become full, they become less efficient.
Replacing these filters is an expense you can't skip on. After all, there's no point paying to run an air purifier if the filters are too full to do their job.
Luckily, when you buy a replacement from Coway, they come in sets of two, so there's no need to double the cost. Each set can cost up to $99 depending on where you shop. There are unofficial Max2 filters out there that cost less, but I can't testify to how efficient they are.
When you add that to the cost of changing the filter every 12 months, the most this unit will cost is $213.06 per annum. Of course, all of these calculations are conditional on how much you use it, what size room you're using it in, and which state you're in.
Sale
AIRMEGA Max 2 Air Purifier Replacement Filter Set for 300/300S
Coway Airmega Max2 filter is an all-in-one HEPA filter system that combines True HEPA filter technology with an Activated Carbon filter.
True HEPA filter captures and reduces up to 99.97% of 0.3-micron particles in the air, including pollen, pollutants and other allergens and reduces fumes such as NH3 and CH3CHO.
Activated Carbon filter reduces more than 99% of odor from food, cigarette, and pets as well as volatile organic compounds.
Coway Airmega Max2 filter has an average of 12-month lifespan
MAX2 Filter Technology (Green True HEPA + Activated Carbon)
Bottom Line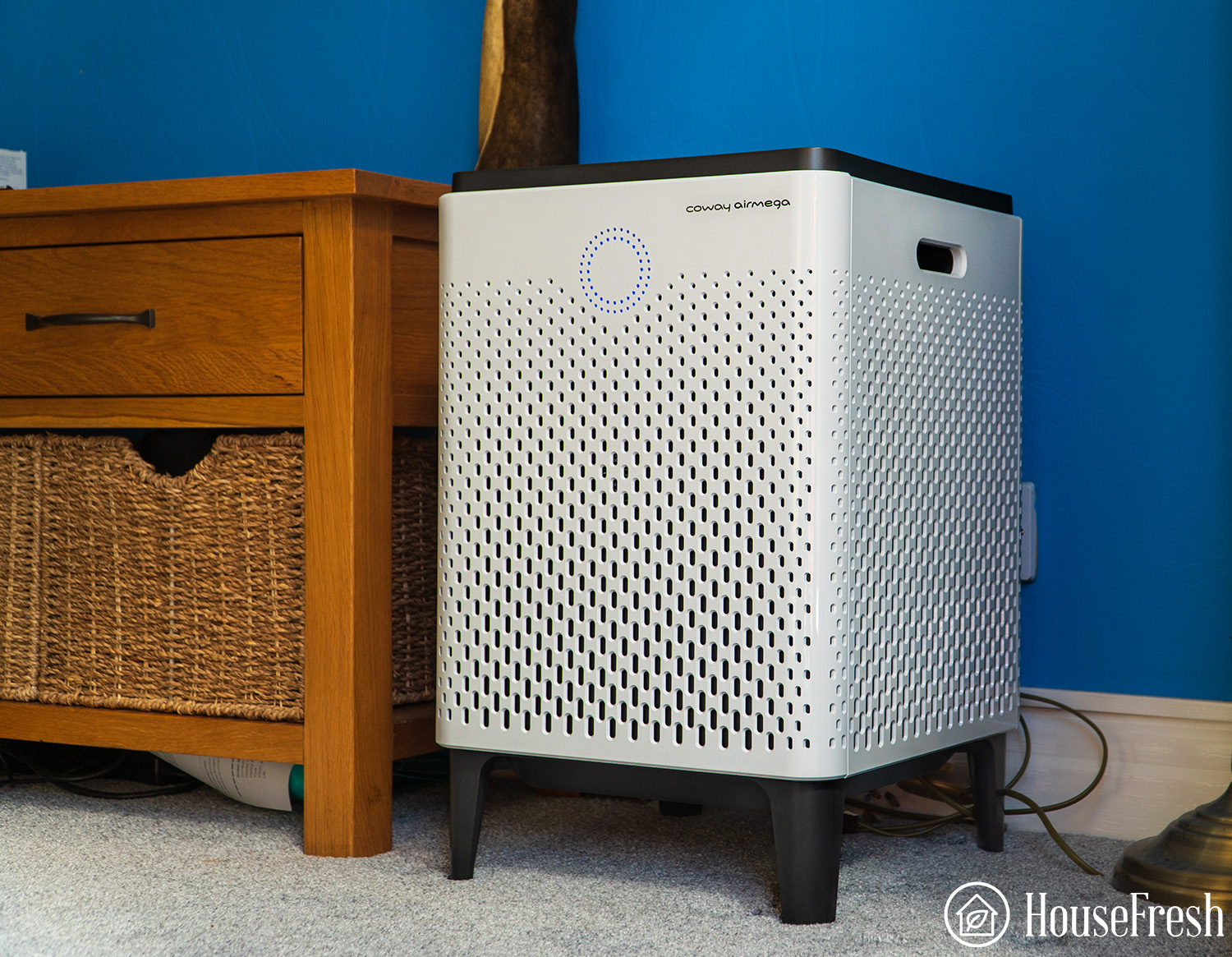 Although the 300 does have its faults; no wheels, annoying jingles, and a top grill which you could lose a penny in, it is still one of my favorite units I've reviewed and will remain in my office.
It may not have the features which we have come to expect from recent models like an app to control and monitor or even a remote control, but the 300 still holds its own against its competitors in our performance tests.
It clears the air of contaminants and odors with rapid speed, and the color wheel air quality monitor is a great feature to reassure you that the unit is working. It doesn't take up too much room compared to other units that service larger rooms like the Alen BreatheSmart 75i.

Overall, the Coway 300 would make a great addition to your home. My only advice would be (if you have it) to spend a little extra and go for the Airmega 300S for its extra features.
---
The Rules We Followed When Reviewing the Airmega 300
When you read through the never-ending stack of online reviews of products, you'll notice a common theme…they're all positive. This is because most of these reviewers have never seen the product, let alone used it, so they give it a good write-up, so they get more sales.
At HouseFresh we don't play that game. We tell you exactly what we don't like about the product as well as what we do.
That's why:
We bought the Airmega 300 with our own money and ran our own performance testing in our own home.
We research Coway's feature lists and specification figures, but we didn't rely on them. That means testing the performance of the 300 in real-world conditions with our own testing tools.
We used data from our performance test to compare the 300, like for like, with similar air purifiers in the market.
We didn't just get it out of the box once, we evaluated the long-term benefits and downsides of using the 300, putting the unit to the test for over 8 months.
Our Testing Process
At the end of the day, we're consumers, so we always research CADR rankings and other performance metrics published by the manufacturers, but we don't like to leave it at that.
We want to be 100% confident in our reviews. We wouldn't be without our real-world performance testing.
We test all the models we review in the same room (sized 705 cubic ft) performing the same job (removing incense smoke). This allows us to make our unit comparisons.
We use the PurpleAir PA-I Indoor PM 2.5 Sensor that combines the ability to track PM1.0ug/m3, PM2.5ug/m3, and PM10.0ug/m3 every few minutes.
This allows us to visualize the data using Flourish to help us clearly work out how long it took this specific unit to remove all pollutants from the air.
SOURCES
We calculated the monthly energy consumption costs with the help of our air purifier electricity usage calculator. We calculated daily and yearly costs associated with running an air purifier for 24hs a day in California. You can customize the result by air purifier wattage and by state.
Last update on 2022-12-04 / Affiliate links / Images from Amazon Product Advertising API