If you've already started researching air purifiers, you've most likely come across the brand name Levoit before. They are one of the major players in household products and their range of air cleaners is more popular than most.
Currently, they have their Core, LV-H, LV-PUR, Vista, and Vital ranges with the Core having the biggest choice of units. We've already reviewed the 600S, 400S, 300, and 200S from the Core range so we wanted to try something different Levoit has to offer.
One plus to buying an air purifier from Levoit is the signature technology they come with. As with most of their new products, the LV-H133 comes with a 360-degree HEPASmart filter, VortexAir™ technology, and a centrifugal fan wheel.
On your journey to buying new products online, you'll no doubt come across heaps of 'Best of' sites telling you what to buy when the writer hasn't ever seen or touched it. At HouseFresh we cut the bulls**t.
Why You Should Trust This Review

We buy all the products we review to spend time testing them in order to give you accurate, unbiased facts and opinions – even if they're not so flattering. We put all units through the same test inside the same space to compare their performance.

This is how we tested the Levoit LV-H133:

1️⃣ We lit an incense stick to release particulate and VOC pollutants in our designated testing room (705 cubic ft) before turning the Levoit LV-H133 on and setting it to full speed.

2️⃣ We used a Purple Air indoor sensor to record the PM1ug/m3, PM2.5ug/m3 and PM10ug/m3 particulate levels to clearly determine see how long it takes the LV-H133 to clean the air.

3️⃣ We used a power meter to track how much power the Levoit LV-H133 requires when running at its highest and lowest fan speeds.

4️⃣ Finally, we used our sound level monitor to record noise levels associated to the LV-H133 when running at the bottom and top fan speeds.

TL;DR The Lowdown on the Levoit LV-H133
---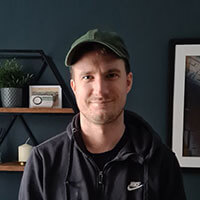 "If you don't mind the size and aren't too concerned about the lack of smartphone connectivity, I would recommend spending that extra $30 on this over the Core 400S for the LV-H133's performance and design.

However, if you're not too concerned about aesthetics, then the Core 600S is a superior model with its 410 CFM CADR, 635 sq. ft. room capacity, cheaper replacement filters, app connectivity, and it's 7 lbs lighter… all for an extra $50."

— Danny Ashton, Founder & Senior Writer
---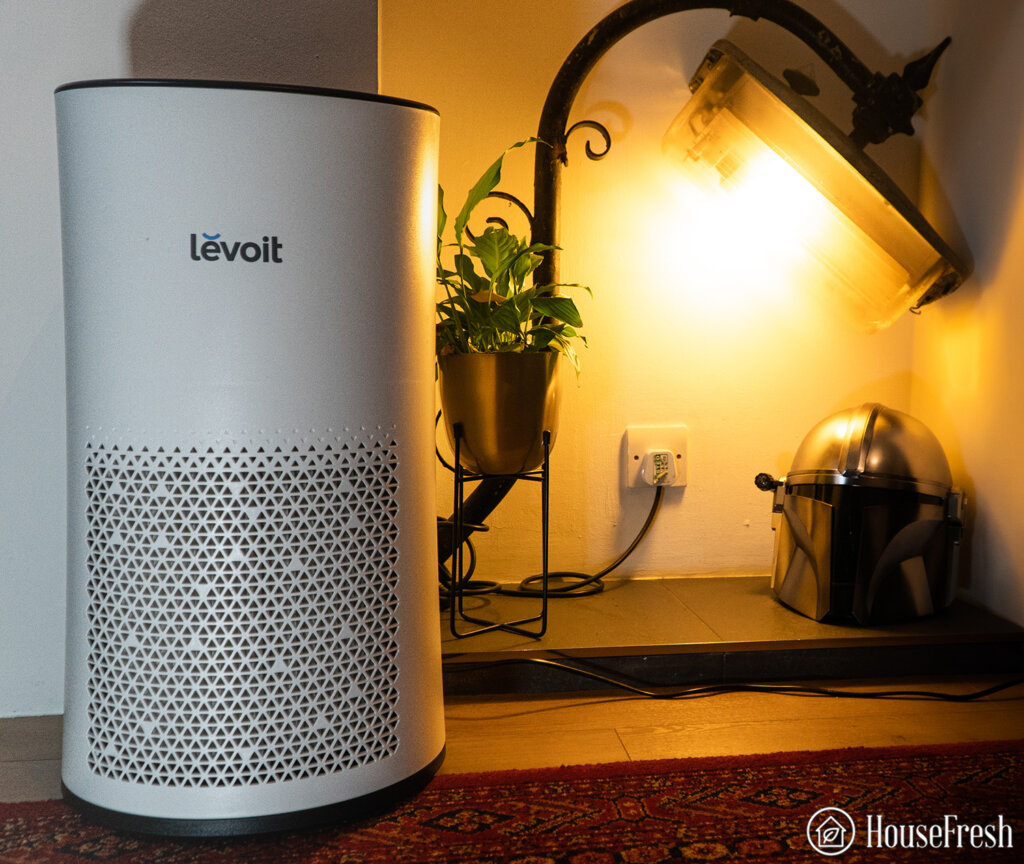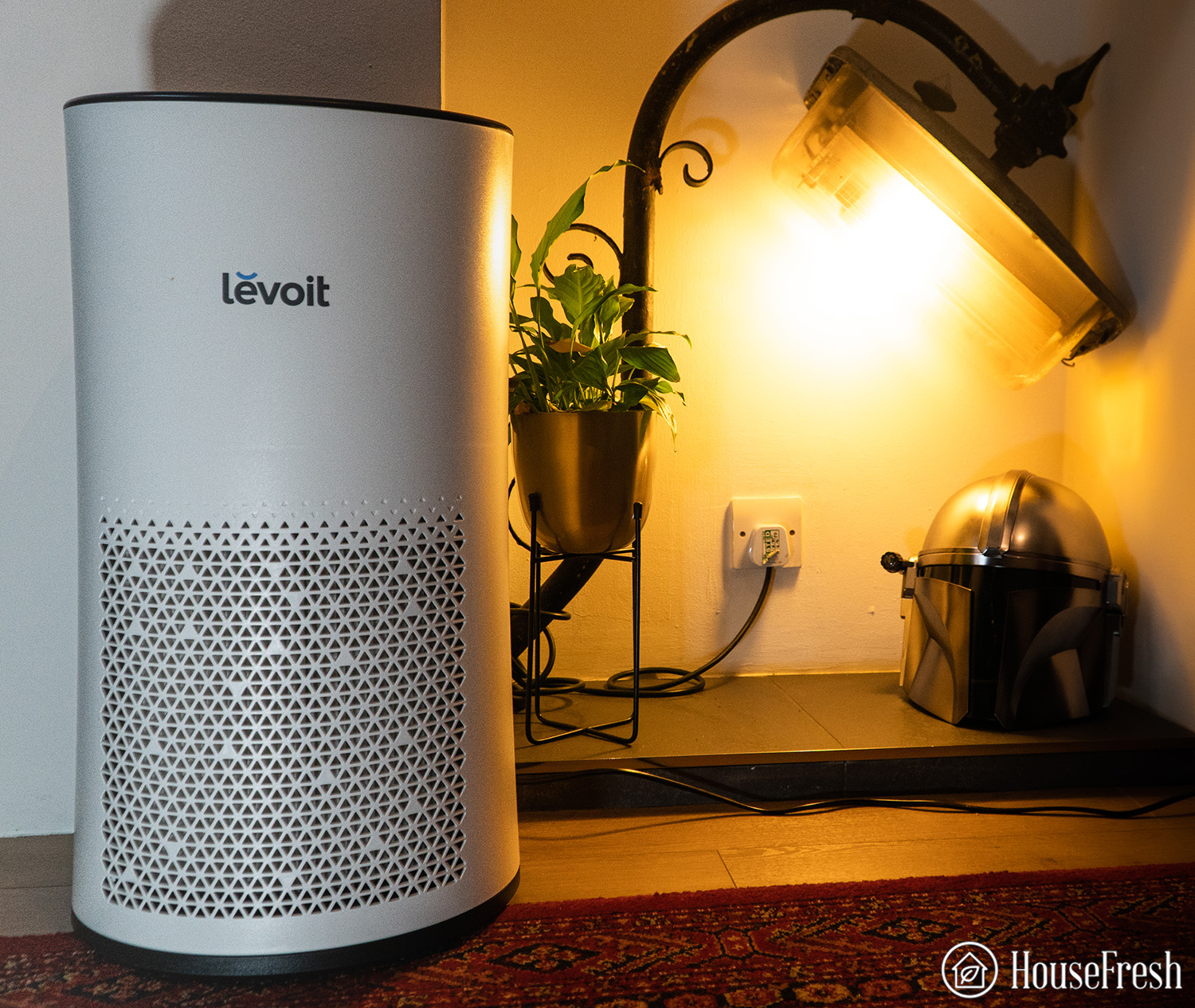 The LV-H133 is a great addition to the Levoit range. It's pretty stylish (especially in black), has enough smart features to keep it current, and performs amazingly in medium to large size rooms. And all at under $250*, that's a feat not many purifier brands can boast.
What We Really Like:
👍 The 360-degree filter
👍 It has an LED air quality monitor color wheel
👍 The touch screen controls are easy to operate
👍 The filter is super simple to change
👍 The numeric display shows how long the timer is set for
What We Think Could Be Better:
👎 It could have handles on each side for maneuverability
👎 It's a little too tall
👎 Wish the numeric display showed pm levels
The Specifications
Levoit are great at producing high-performing air purifiers at budget prices without sacrificing quality. The LV-H133 retails at $249.99* which is pretty darn good when compared to other units with similar CADR like the Mila (costing over $400*) and the Coway Airmega 300 ($549*).
| | |
| --- | --- |
| HouseFresh Rating: | ★★★★☆ |
| Time to clean our test room: | 25 minutes |
| Air purifier technology: | H13 True HEPA Filter and Activated Carbon Filter |
| Recommended room size: | Up to 442 sq. ft. |
| Clean air delivery rate (CADR): | 274 CFM (466 m³/h) |
| Dimensions (in inches / in cm): | 12.5L x 12.5W x 23.6H in (31.8 x 31.8 x 60 cm) |
| Weight (in pounds / in kg): | 21 lbs (9.5 kg) |
| Noise level (low – high): | 25 dB – 54 dB |
| Filter life: | 6 months |
| Manufacturer's warranty: | 2 years |
| Estimated energy consumption: | $52.56 per year |
The Curvy Cleaning Tower and Top-Loaded Touchscreen
For the LV-H133, Levoit have opted for a sleeker design over the cylindrical Core 400S or the more traditional boxy stylings of the 600S. It has curves in all the right places, making it quite pleasing to the eye.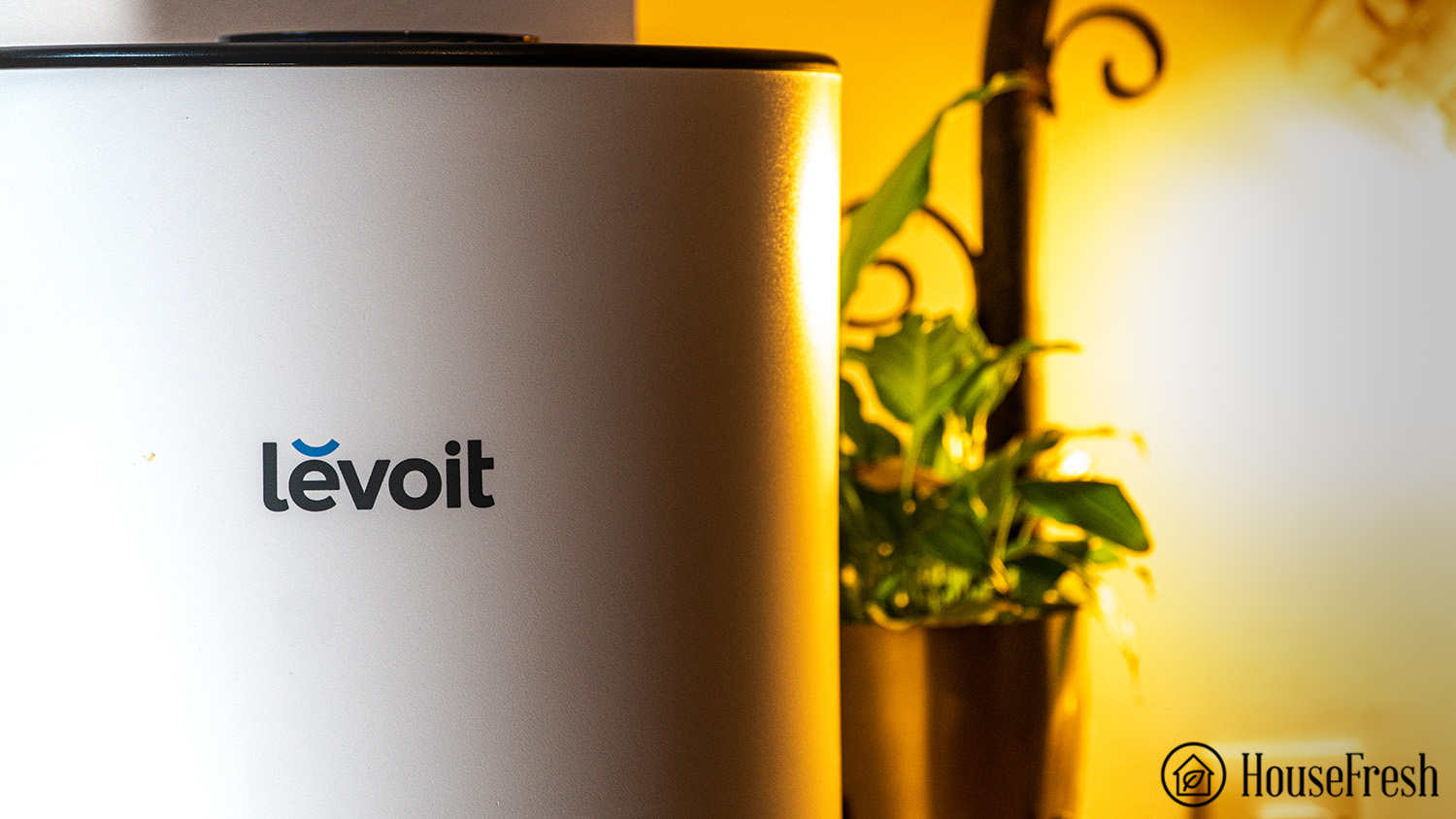 If you're like me, you don't want your air purifier to be the main focus of a room. You don't want to hide it away, but you don't need it taking up space in the middle of the room. This is where the LV-H133 ticks all the boxes for me, as it sits comfortably in a corner without taking up too much space.
The control panel sits comfortably on top of the unit, sunken into the middle of the outlet, making it easy to access regardless where it sits in your room.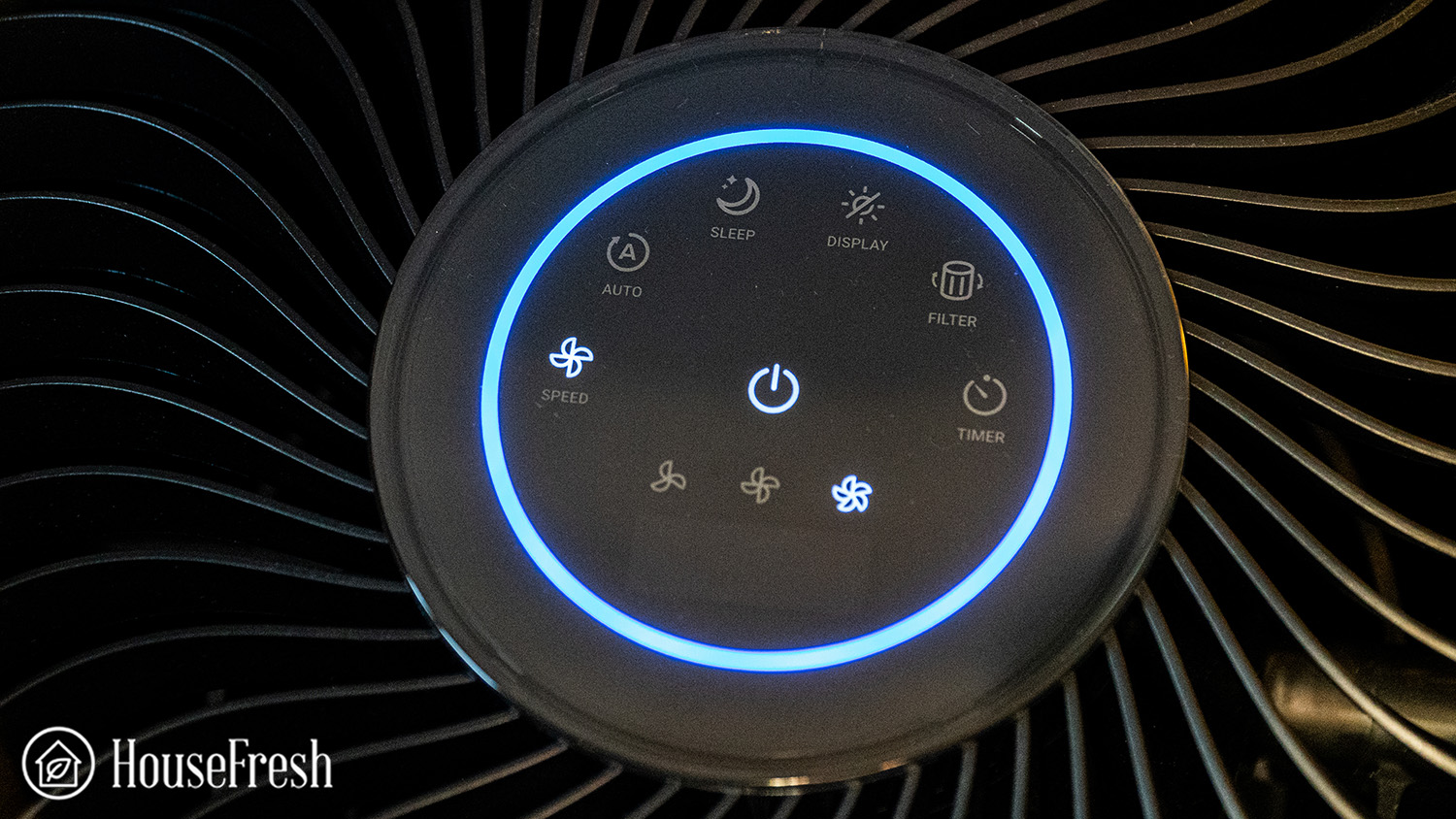 The round control panel contains 6 touch buttons, 3 icons to indicate fan speed, a filter check light, a color-changing air quality monitor ring, and a numerical display for the timer function. Each button is quite sensitive and doesn't need to be pushed hard to engage. They're all labeled and well-spaced, so you won't accidentally hit the wrong one.
Here's what each one does:
On/Off – Turns the air purifier on/off
Timer – Set the timer for anywhere between 1-12 hours to match your schedule
Display lock – Press and hold for 3 seconds to lock/unlock the display
Display lights on/off – Turns all display lights on/off for night time or movie time
Auto function – Adjusts fan speed automatically based on air quality
Fan speed – Select from 3 speeds; Low, Medium, and High
Sleep mode – Switches fan speed to Low and turns off display lights
The color-changing ring gives you a clear indication of the quality of the air in your room in real-time. You can adjust the fan speed yourself or use the unit's Auto Mode where the purifier changes fan speed automatically in accordance with the air quality.
| Indicator Color | Air Quality | Auto Mode Fan Speed |
| --- | --- | --- |
| Blue | Very Good | Sleep Mode |
| Green | Good | Low |
| Orange | Moderate | Medium |
| Red | Very Bad | High |
You can see here how the Levoit LV-H133 compares to the Coway Airmega 300 in terms of size and design aesthetics – the height of this unit stands out clearly against the Airmega 300: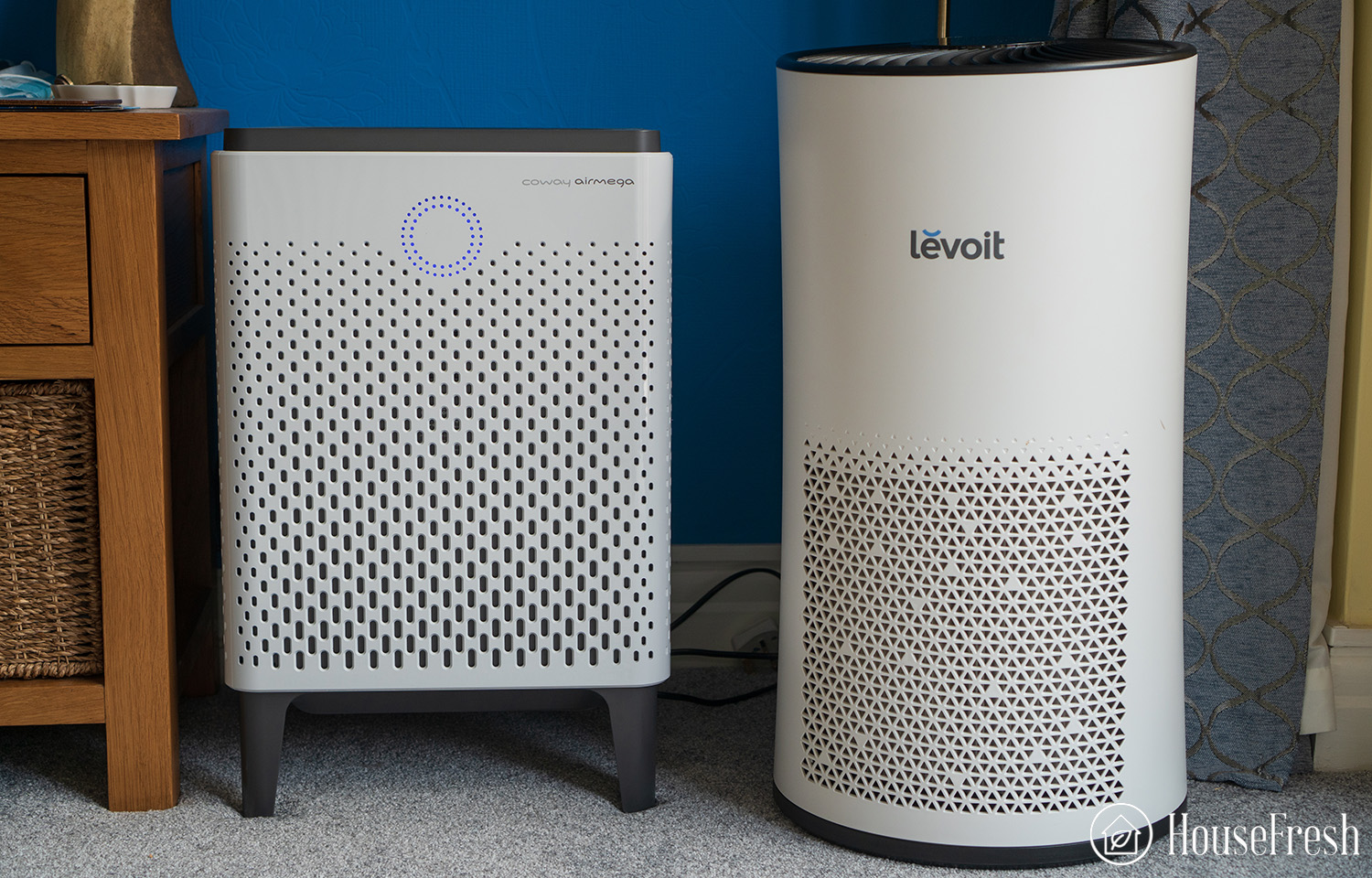 When the time comes to replace the filter, you'll find out that it's a fairly easy job. Simply remove the back panel and you will see the filter ready to be changed.
Without the filter inside, you will be able to spot the large fan that powers the LV-H133. I don't like to judge a book by its cover, but you can tell by the look that this fan means business.
360-Degree HEPASmart Filter Technology
The Levoit team are big fans of the 360-degree filter. It obviously works, considering that you'll find them in each of their Core air purifiers, as well as the LV-H133.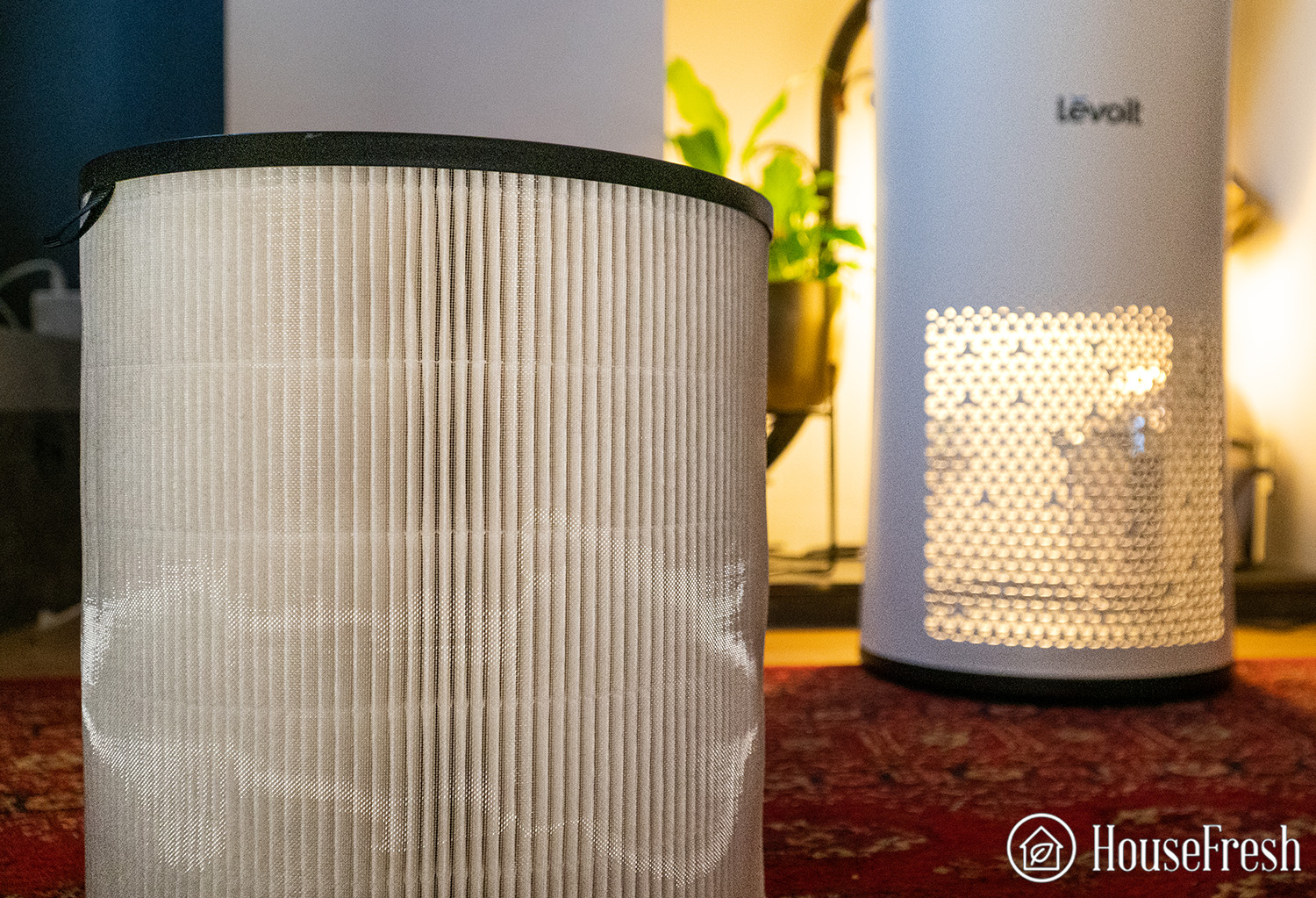 The LV-H133 filter is made up of three layers:
Nylon Pre-Filter – The main job of the pre-filter is to act as the first line of defense. It works by capturing the larger airborne particles from your room and trapping them. This also means that the HEPA filter doesn't need to work as hard, giving it more life before it needs replacing.
H13 True HEPA Filter – True HEPA filters are highly effective at removing 99.97% of fine airborne particles like mold, pollen, pet dander, and dust mites. This is the part of the filter that's doing the heavy lifting when it comes to cleaning the air.
Activated Carbon Filter – The last stage in the process is by no means the least. This layer is packed with activated carbon, which is used to adsorb orders and other VOCs (Volatile Organic Compounds) like cooking smells, pet odors, fumes, and smoke.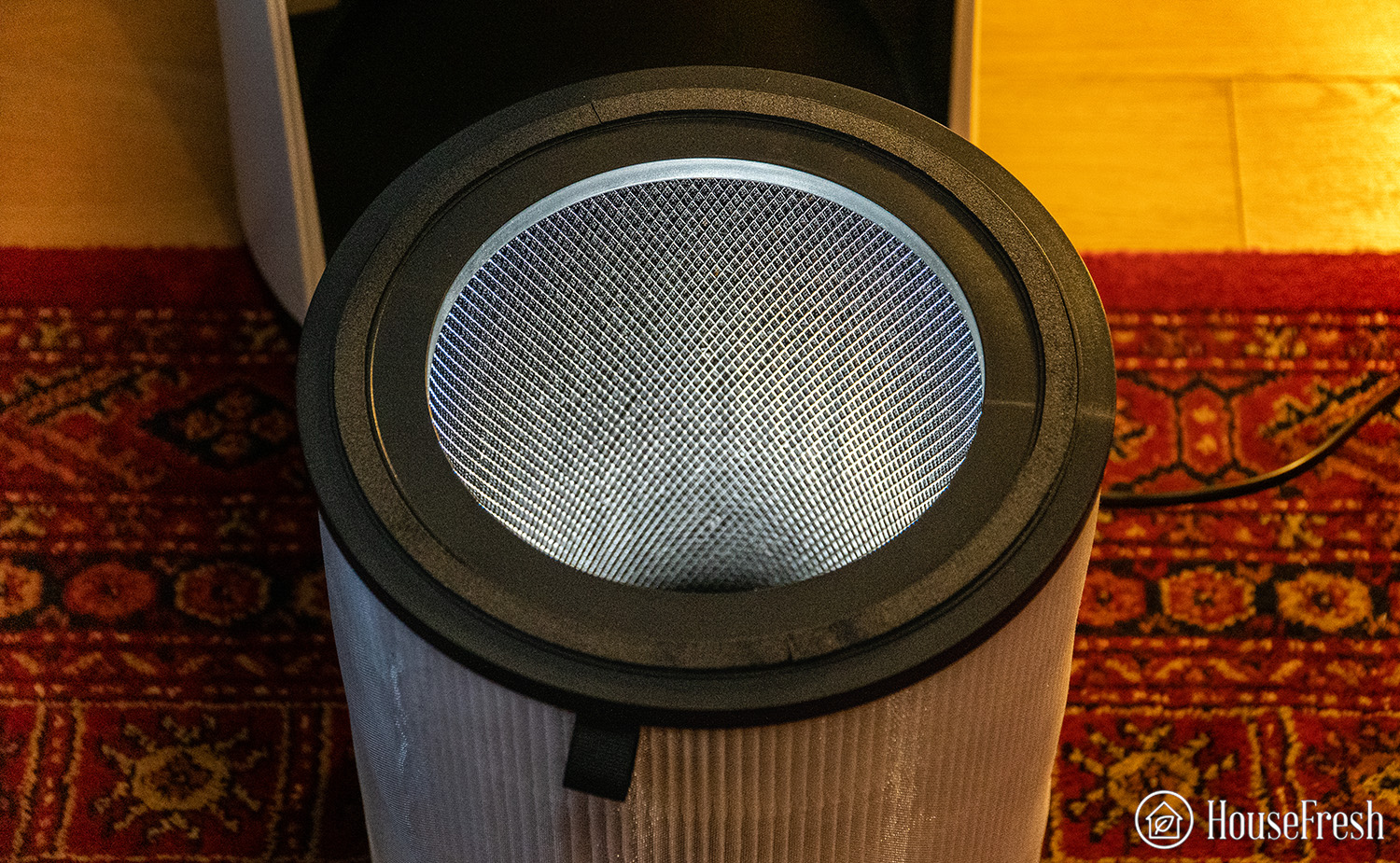 Not only is the LV-H113's HEPASmart filter highly effective, but it's also straightforward to replace when the time comes, as I said earlier in this review.
All you need to do is:
Remove the back panel
Pull out the old filter
Slide the new one in
It's that easy. Check out this instructional video if those steps weren't clear enough.
⚠️ Do yourself a big favor, and make sure you remove any packaging from the filter before you start using this (or any) unit. If you don't, it will not be able to clean any particles from the air and will create a burning smell — which is the opposite of what you want, right?
Cleared Our Test Room of Smoke in 25 Minutes
Okay, down to the nitty-gritty, the performance.
When we're reviewing an air purifier, we don't just look at them, turn them on for a minute to take some photos just to copy/paste specs into an article – ahem, most review websites out there, ahem.
We actually put each air purifier through its paces by testing its performance in a real-life environment. This way, we can tell you exactly they perform against one another.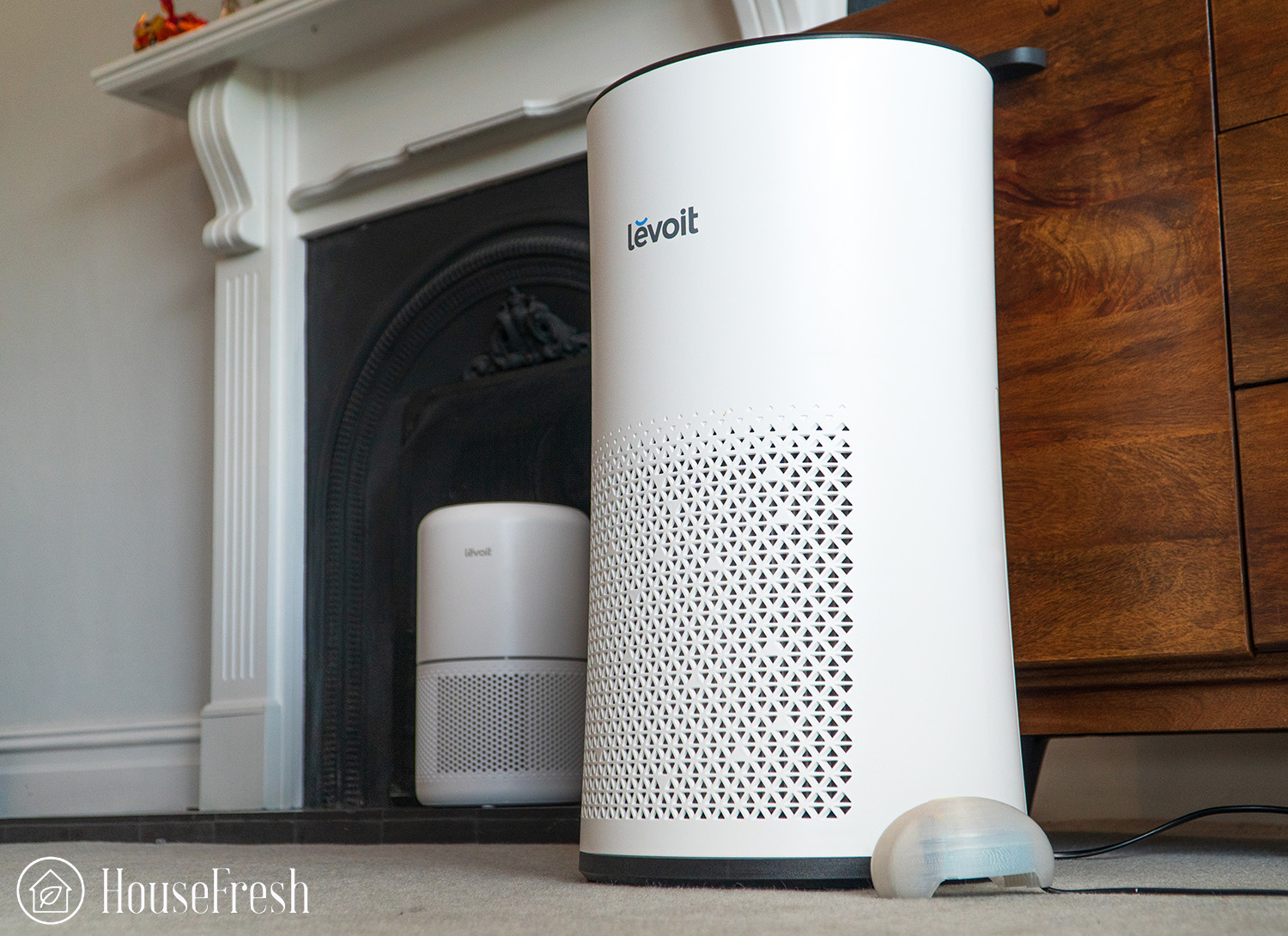 We do this by putting each unit in our 705 cubic ft test room, filling that room with pollutants using incense sticks, then setting the purifier on full to see how long it takes to clear the room of contaminants.
We can then monitor every minute of this test using our Purple Air Indoor sensor, which gives us data on PM1.0ug/m3, PM2.5ug/m3, and PM10.0 ug/m3. We then use that data to show you our findings in a simple graph.
Here's what we found when testing our LV-H133:
The graph shows the pollution filling the room up to 10:19 when we switched the Levoits' fan on to full speed. After that, there's a swift decline in contaminants as the LV-H133 filters out those airborne pollutants and fills the room with fresh, clean air. It does all this in a total of 25 minutes!
Air Cleaning Performance Compared to Other Air Purifiers
The performance we've seen in the LV-H133 is mighty impressive for a unit engineered to clear rooms up to 442 sq. ft. Let's compare that to other units we have tested in the same room.
Noise Levels Test Results
The sound these units emit is a major factor in whether I will use them again. I like to make music at home, so if the air purifier I'm using is loud, it's not gonna stay.
The LV-H133 kicks out 25dB on its lowest setting, which is hardly noticeable in an average household. On high, it goes up to 54dB, which is no jet engine, but you will hear it. As this unit clears your room of pollutants so fast, you'll never need to have it on high for too long.
Check it out for yourself in this video.
The Cost to Run a Levoit LV-H133: $155.43 Per Year
1. Electricity costs = $29.43 per year
With the ever-rising costs of electricity and our environmental duty to be more energy-efficient, you need to factor in how much an air purifier costs to run. There's no point in having clean air if you've got a monster energy bill to pay for it.
Luckily, Levoit have you covered. Each of their units is rigorously tested for its energy consumption as they strive to achieve an Energy Star Certificate to prove its efficiency…which it has.
As with all our units, we don't rely on what the manufacturers say, so we always test their energy consumption ourselves. We found that on its highest setting, the LV-H133 pulls 28.1 watts and less than 0.8 watts on its lowest. But what does that mean in terms of $$$?
Using the Department of Energy's appliance energy calculator we worked out that if you had the LV-H133 on full fan speed, for 24hrs a day, 365 days a year (which is ridiculously pointless and wasteful), it would cost you $29.43 a year to run.
2. Filter costs = $126 per year
Unfortunately, electricity is not the only cost to factor into your purchase.
The HEPA filters in air purifiers don't last forever. Over time they lose their efficiency as they become clogged up with the fine particles they've trapped. If you want your LV-H133 to operate to its potential, you'll need to replace the filter every 6 to 8 months.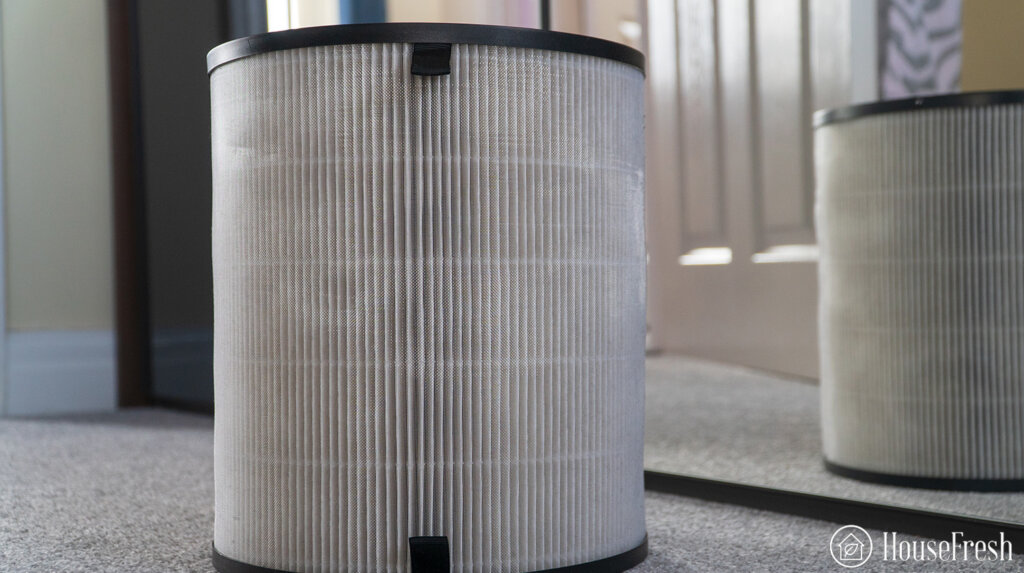 Don't worry, you won't have to check the filter daily. The filter change indicator light will go on when the unit recognizes needing a replacement.
You can pick up an official Levoit replacement filter online for $62.99* or an unofficial one for $52.99*.
Technology
H13 HEPA and Activated Carbon Filter
H13 HEPA and Activated Carbon Filter
Technology
H13 HEPA and Activated Carbon Filter
Technology
H13 HEPA and Activated Carbon Filter
Note: We haven't tested the unofficial filter, so can't testify to its efficiency.
Spending potentially $126 every year on filters does seem quite expensive, especially when the Core 600S out-performs the LV-H133 and its filters are slightly cheaper at $59.99*
---
Bottom Line
All said and done, Levoit has produced a sleek-looking air purifier for the modern home and at a price that we like very much. It has most of the smart features we've expected from units these days, like a timer, sleep mode, auto mode, and an air quality indicator, but lacks app connectivity.
We can't deny that the LV-H133 outperforms a lot of other units on the market at a fraction of the price. It's energy efficient to save on your electricity bills but the cost of replacement filters lets it down.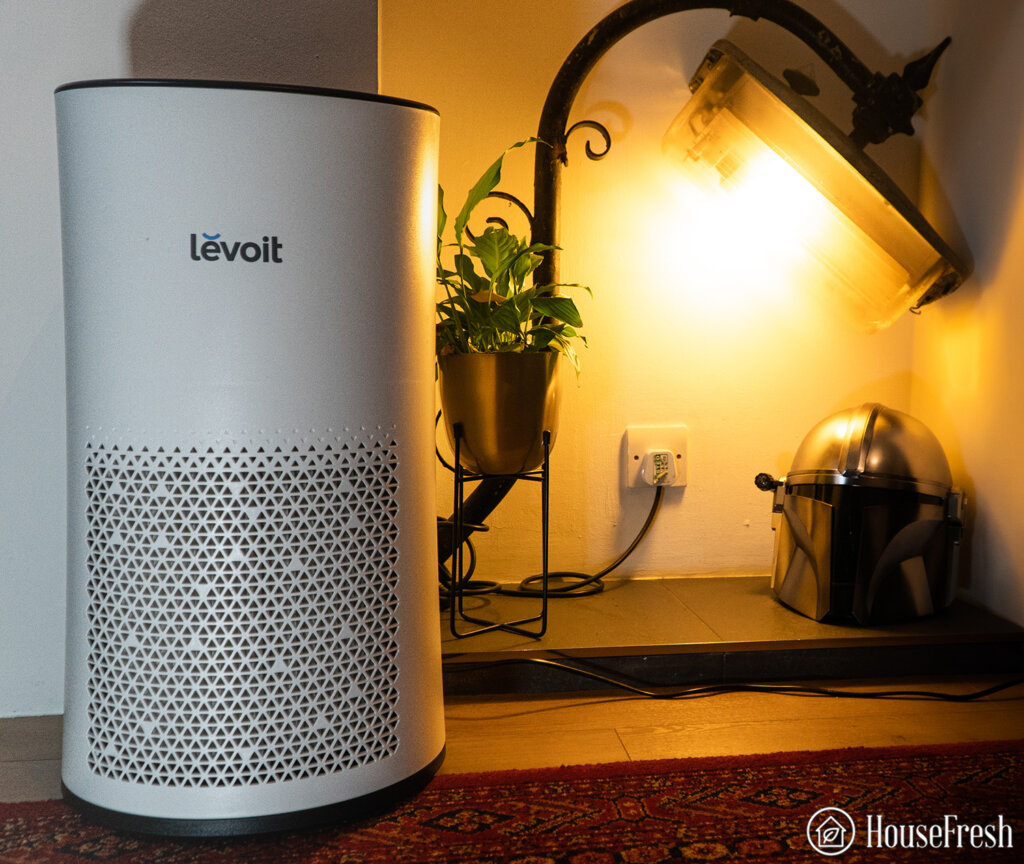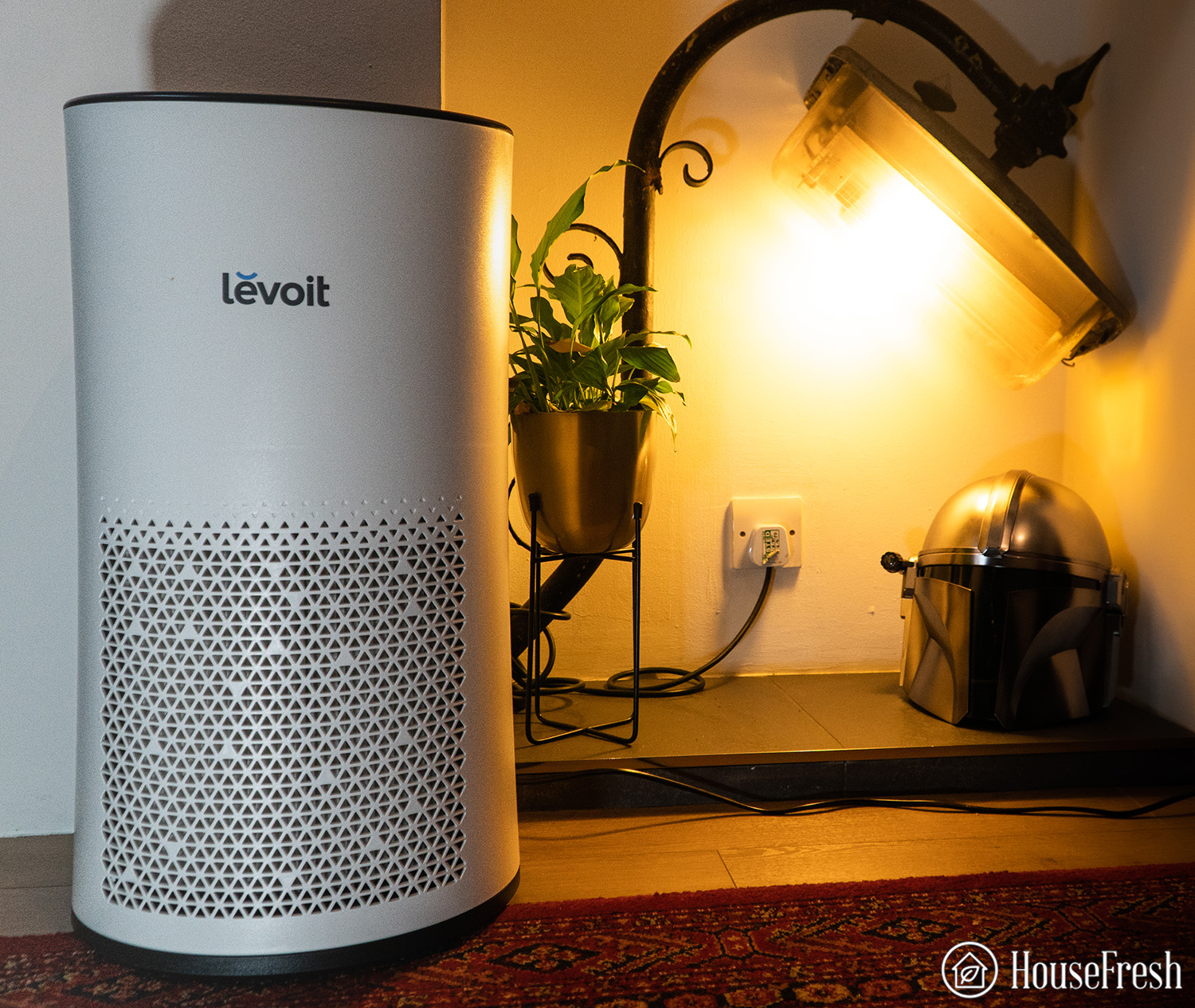 I like this unit, I really do, but I can't help pointing out that if you're not too concerned about aesthetics, then the Core 600S is a superior model with its 410 CFM CADR, 635 sq. ft. room capacity, cheaper replacement filters, app connectivity, and it's 7 lbs lighter…all for an extra $50.
---
SOURCES
We used the Department of Energy's appliance energy calculator to calculate yearly costs associated with running the Levoit LV-H133 for 24hs a day for 365 days. We ran this calculation utilizing the U.S. average utility rate of $0.12/kWh as of May 10th, 2023.
Last update on 2023-12-01 / Affiliate links / Images from Amazon Product Advertising API