Our verdict:
Let's not hype this up too much. After all, it is a budget unit. Coming in at around $250, I wasn't expecting all the bells and whistles that some of the other air purifiers I have tested. But, honestly, I miss them. 
Honeywell's HPA300 would be an ideal unit for those who want to simply turn it on and let it run. The coverage is great and the CADR for a unit at this price point is very rare. The design isn't innovative or modern, but that's a plus for some.
If you're looking for a no-thrills, hard-working, budget air purifier that looks like a budget air purifier, then the HPA300 is for you.
There's no doubt about it, Honeywell is a household name. But they're so much more than an air purifier manufacturer. With heavy ties in industry, aerospace, chemicals, and healthcare, it's no wonder their air quality products have earned their slogan of "The Doctor's Choice."
With quite a few models in the range, Honeywell has created a unit to suit most room sizes. In the HPA series, it starts with the small 060, right up to the larger, more tech-heavy 5300.
Today, we're looking at the HPA300, which falls into the middle section of the series and is a good gauge of what the range has to offer.
Why You Can Trust This Review

As with all our hands-on reviews here at HouseFresh, we bought this unit with our own money, so we have no biases to give a better review than we would under normal circumstances.

Opposite to most reviews you will read when searching for info about the Honeywell HPA300, we have actually tested this air purifier and used it in our own home for over six months BEFORE telling you what we think of it.

We tested the Honeywell HPA300 in three stages, as we do with all the air purifiers we review:

STAGE 1️⃣: We assessed the unit's air cleaning performance with the help of an air quality monitor. We lit a strong incense stick inside our 705 cubit ft. test room and tracked how long it took the HPA300 to thoroughly clean the air of pollutants.

STAGE 2️⃣: We recorded the air purifier's energy consumption levels. We used an electricity usage monitor to track energy consumption when running the HPA300 at its lowest and highest speeds.

STAGE 3️⃣: We uncovered the unit's actual noise level output. We used a sound level monitor to record the HPA's sound levels in decibels when running at its top and bottom speeds.

All this to say that this review is not a simple copy-paste of the manufacturer's marketing materials peppered with photos we took without even turning on the unit once.
This is a reflection of our experience testing the Honeywell HPA300 and also using it daily in our own home.
TL;DR The Lowdown on the Honeywell HPA300
---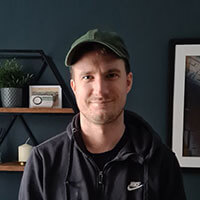 "The Honeywell HPA300 is a no-thrills, hard-working air purifier for those on a budget."

— Danny Ashton, Founder & Senior Writer
---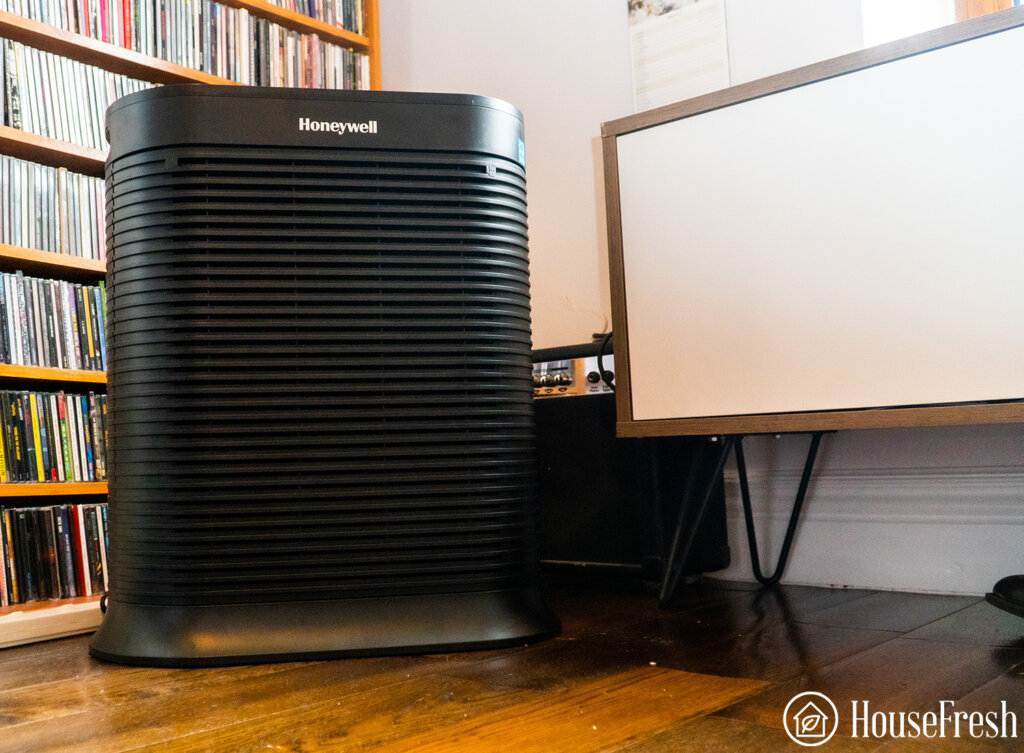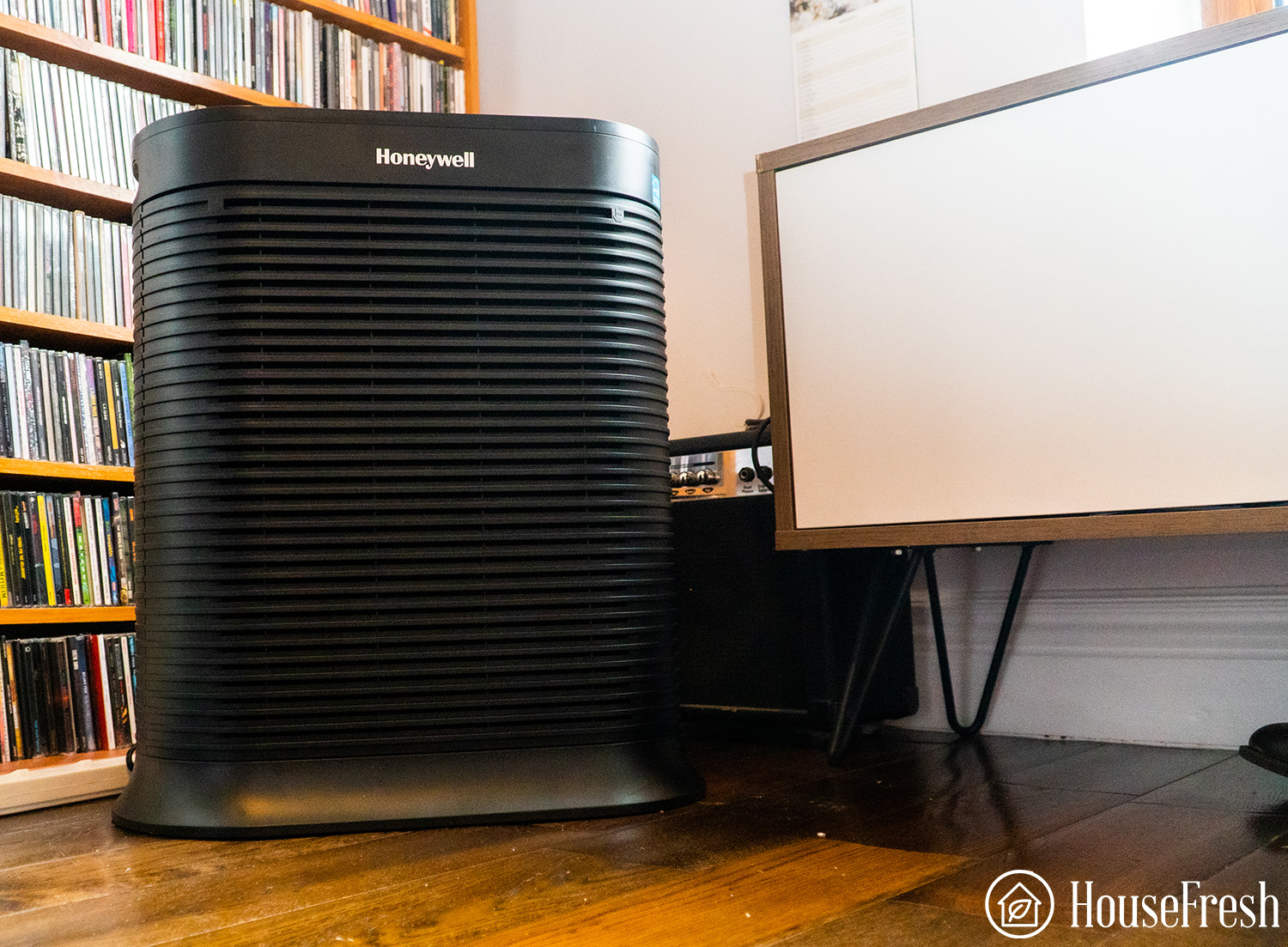 You're busy; we get it. Here's a Too Long Didn't Read low down showing you the main pros and cons I found when testing the HPA300.
What We Really Like:
👍 Has a high CADR rating for its budget price
👍 Ready to use straight out of the box
👍 Doesn't take up much floor space
👍 Replacement filters are easy to come by
👍 Straightforward controls
What We Think Could Be Better:
👎 It can get quite loud on the higher fan speeds
👎 You have to replace the pre-filter quite often
👎 It doesn't come with a remote control or app
High Powered, But Not So Energy Efficient
It's amazing to see a CADR this high in an air purifier that costs under $300. This can be attributed to Honeywell's high-powered fan. The HPA300 is a workhorse, clearing medium-sized rooms fast and effectively. The downside to having a powerful fan is that it uses a lot of energy to run and usually, this comes hand-in-hand with higher energy bills.
| | |
| --- | --- |
| HouseFresh Rating: | ★★★☆☆ |
| Time to clean our test room: | 26 minutes |
| Air purifier technology: | Activated Carbon pre-filter and True HEPA filter |
| Recommended room size: | 465 sq. ft. |
| Clean air delivery rate (CADR): | 300 CFM |
| Dimensions (in inches / in cm): | 20.8L x 10.83W x 22.38H inches (52.8L x 27.5W x 56.8H cm) |
| Weight (in pounds / in kg): | 17 lbs (7.7 kg) |
| Noise level (low – high): | 48.3dB – 71.2dB |
| Filter life: | HEPA every 12 months, Pre-filters every 3 months |
| Warranty | 5 years |
| Estimated energy consumption: | $189.01 per year |
Matt, Black, and Discrete
If there were an international beauty pageant for air purifiers, the HPA300 wouldn't be on the podium. If you compare it to Rabbit Air's MinusA2, which is focused on style, you'll see that Honeywell makes units that look like air purifiers and act like air purifiers.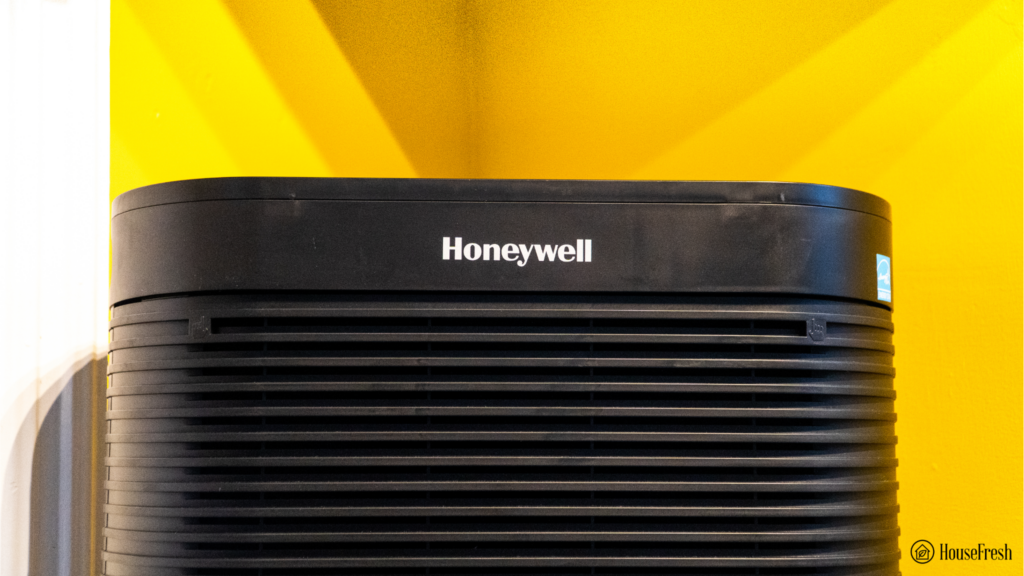 It has a simple, flat base with no wheels, which isn't an issue for maneuverability as it weighs 17 lbs and has an inset handle on each side. My mom mentioned she liked this style better, as it doesn't make a mark on her new carpet.
The metallic touch control panel is easy to operate with minimal buttons. You do have to press them hard, so if at first you don't succeed…
I did find an issue with the front panel of the HPA300. It is held on by clicking it into place, and if it isn't clicked in properly, it tends to fall off, especially when you move the unit from room to room.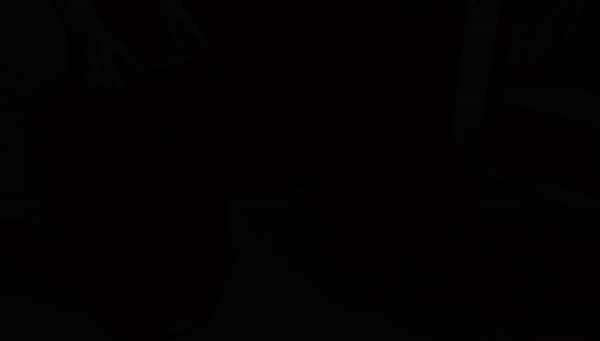 To compare the design with another unit, we sat the HPA300 next to the Winix 5300-2 as they're both similar in size and had a similar performance in our testing room. I personally prefer the design of the Winix, and it has the smart features that are missed on the HPA300.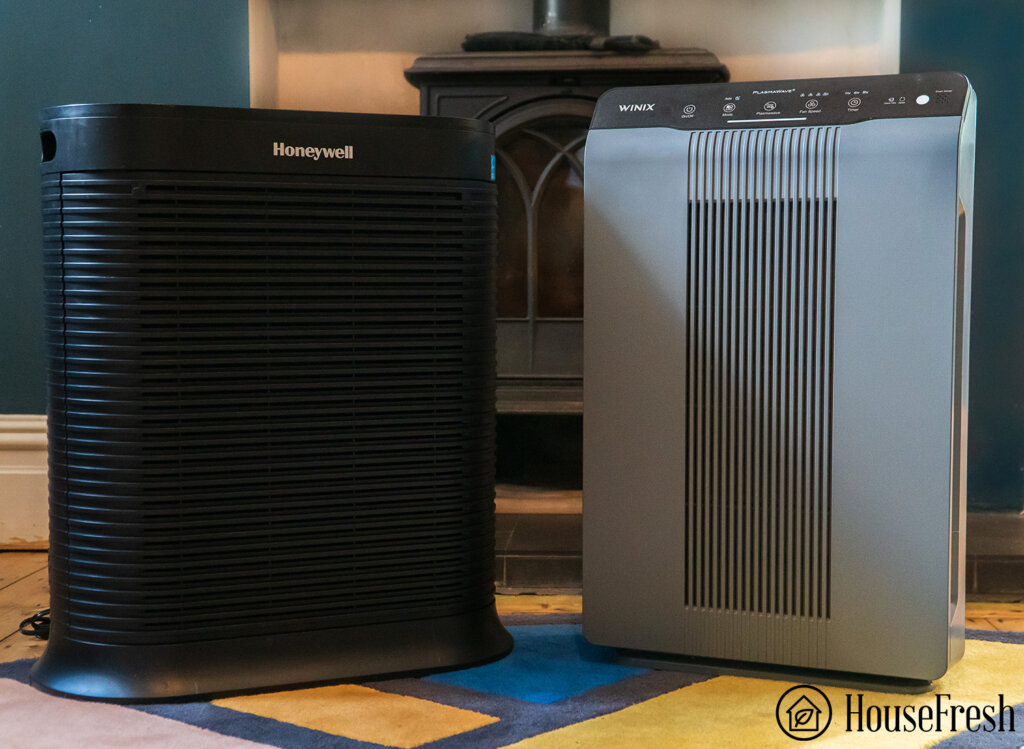 Why Have One Filter When You Can Have Three?
When you remove the front panel of the HPA300, you have access to the three mini filters. Each uses a two-stage process:
Stage 1 – Carbon pre-filter – Instead of having a pre-filter and a carbon filter, they are combined in one handy sheet. It captures larger particles in the air, such as dust and hair, whilst reducing odors and VOCs.
Stage 2 – HEPA filter – Instead of one large HEPA filter, they've opted for three smaller ones that fit snugly behind the pre-filter. The bonus of using smaller filters is that if one gets dirty, you only need to replace one instead of all three.
Usually, the third layer of a filter is the activated carbon layer, which is either packed full of loose activated carbon or bonded into a sheet. In the HPA300, you get that thin layer of bonded activated carbon to adsorb odors and other VOCs in the home.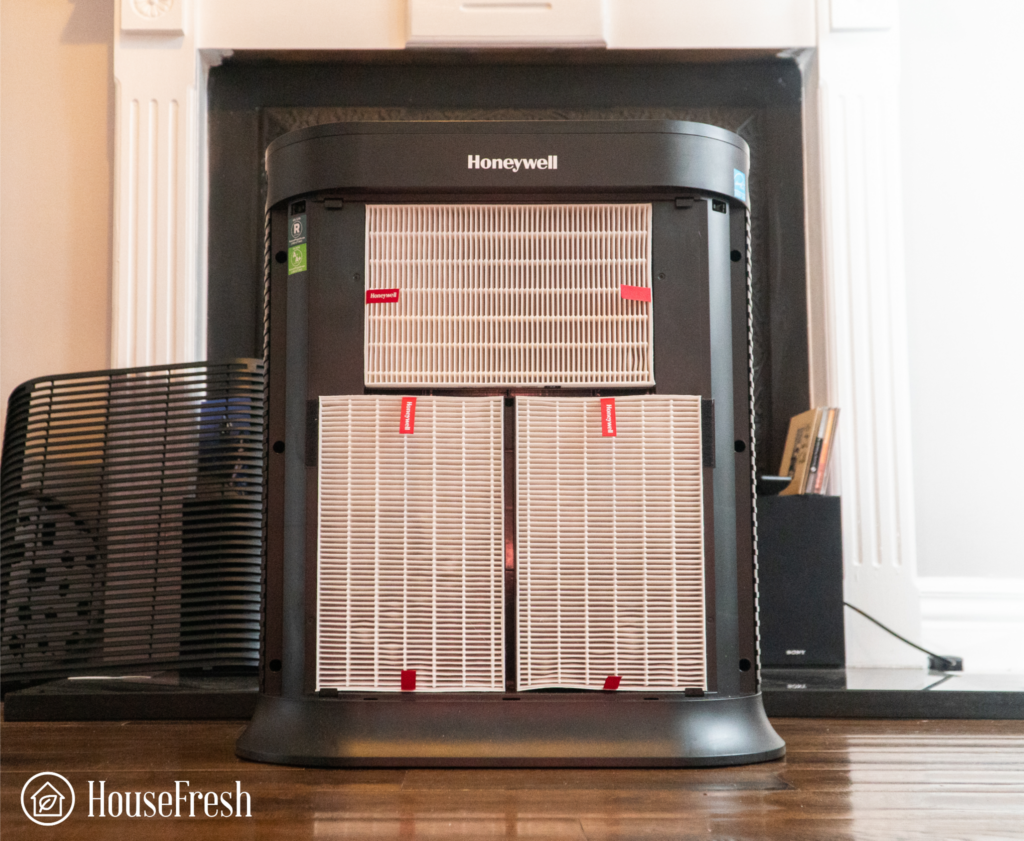 I can see the logic behind why Honeywell has gone for this approach, but the carbon filter feels a bit flimsy. Compare it to the Coway Airmega 300, and you can see the difference. With Coway, you can see the bits of carbon in the filter.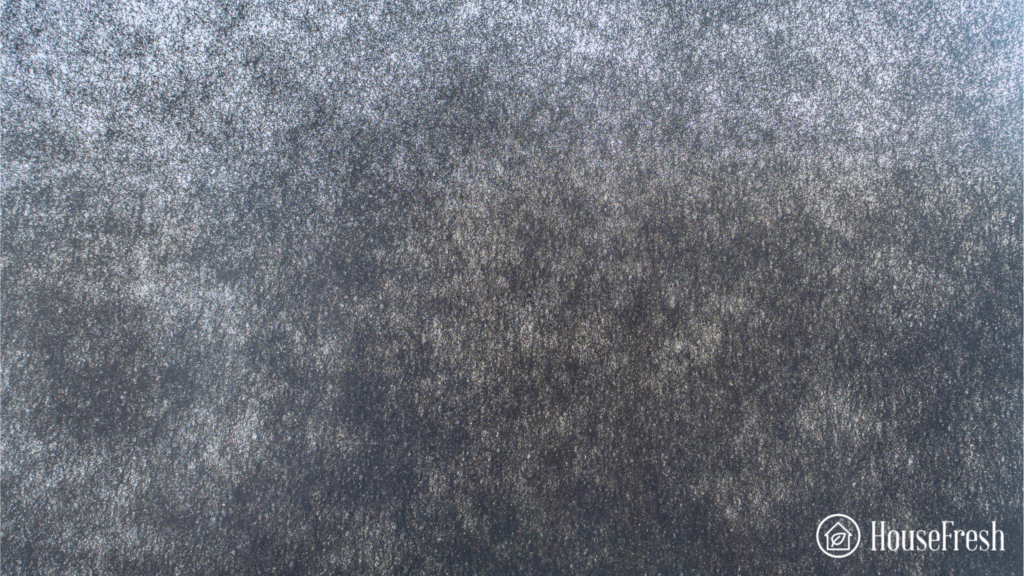 I prefer the loose-fill carbon filters as there's more surface area for VOCs to adsorb, so this sheet is a little disappointing.
Honeywell advises changing the HEPA filters every 12 months and the pre-filters every three months. Luckily, you can buy both types in one pack to last you 12 months or purchase them both separately if needs be.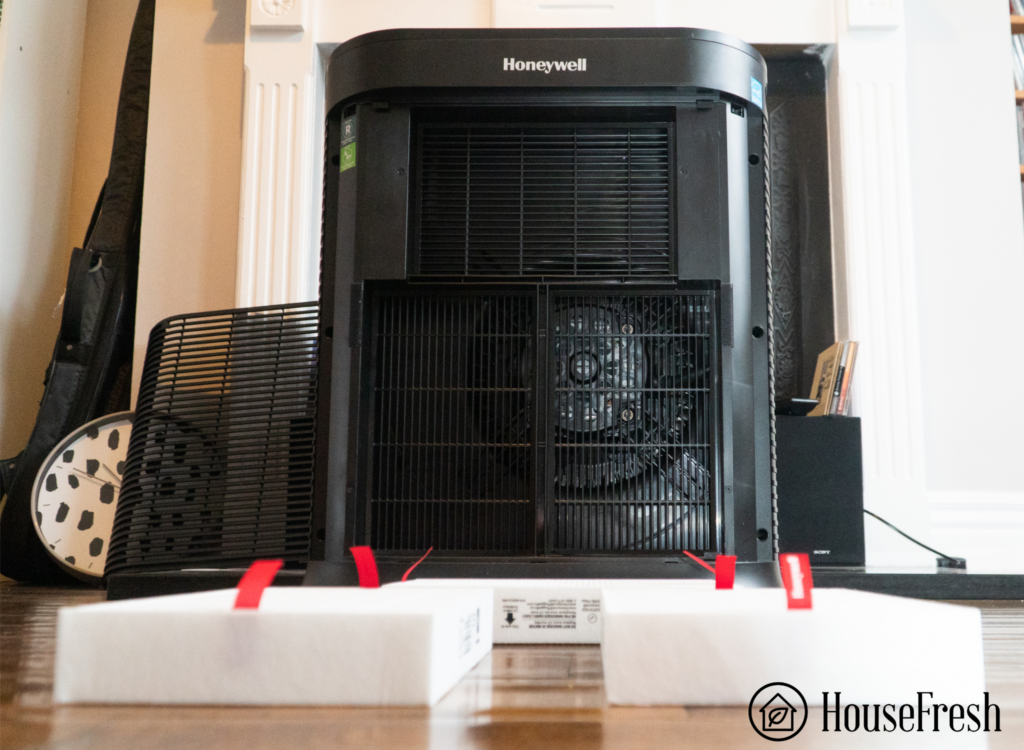 Replacing the filters is a simple process that takes around 30 seconds. Here's the process and a video to show you how.
Step 1: Unplug the unit
Step 2: Remove the front panel
Step 3: Remove the activated carbon sheet
Step 4: Pull the red tabs on the top of each HEPA filter to remove
Step 5: Insert your new HEPA filters and reverse the steps
⚠️ It's important that you remember to remove any plastic packaging from the filters before installing them into the unit. If you don't, the filters simply won't be able to work, and you'll probably start to smell plastic burning over time.
Simple Operation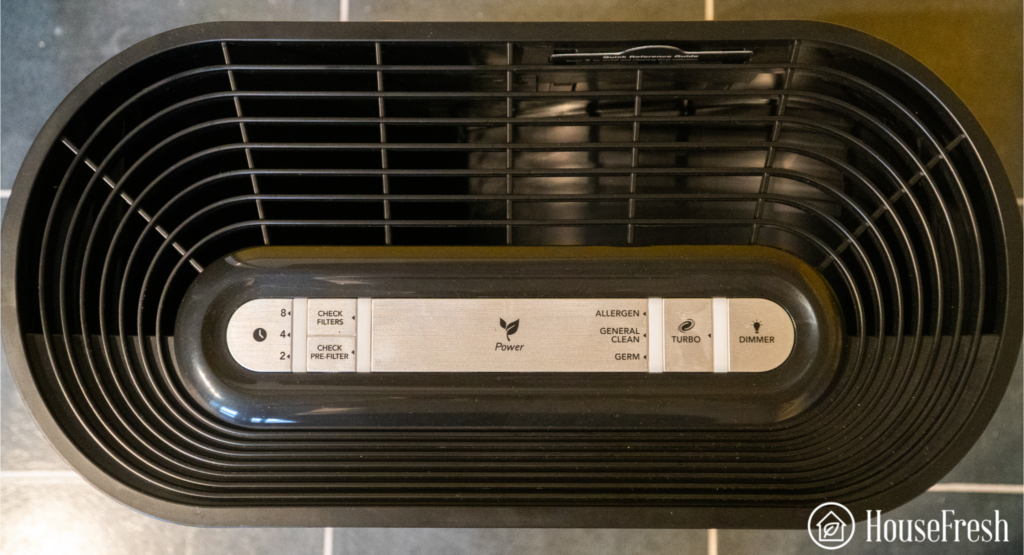 As I previously mentioned, this is a unit for those who want to turn the unit on and let it be. With no app, air quality indicator, ionizer, or remote to deal with, the control panel is easy to navigate, responsive and very straightforward.
There are four speeds to choose from: germ, general clean, allergen, and a separate button for turbo. There's no need to get confused over the names; they basically mean low, medium, and high.
You have a timer to set for 2hr, 4hr and 8hr for extra ease, and indicators will light up when it's time to change the filters.
Lastly, a dimmer button dims the blue lights or turns them off completely, making it handy for use in the bedroom whilst sleeping or if you don't want to draw any extra attention to the unit.
The Honeywell HPA300 Cleared Our Test Room in 26 Minutes
It's all good discussing design and functions, but how does this air purifier perform? We put the HPA300 to the test, so we could measure how effective it is at removing airborne contaminants from our testing room and comparing it with other units we've tested in the same conditions.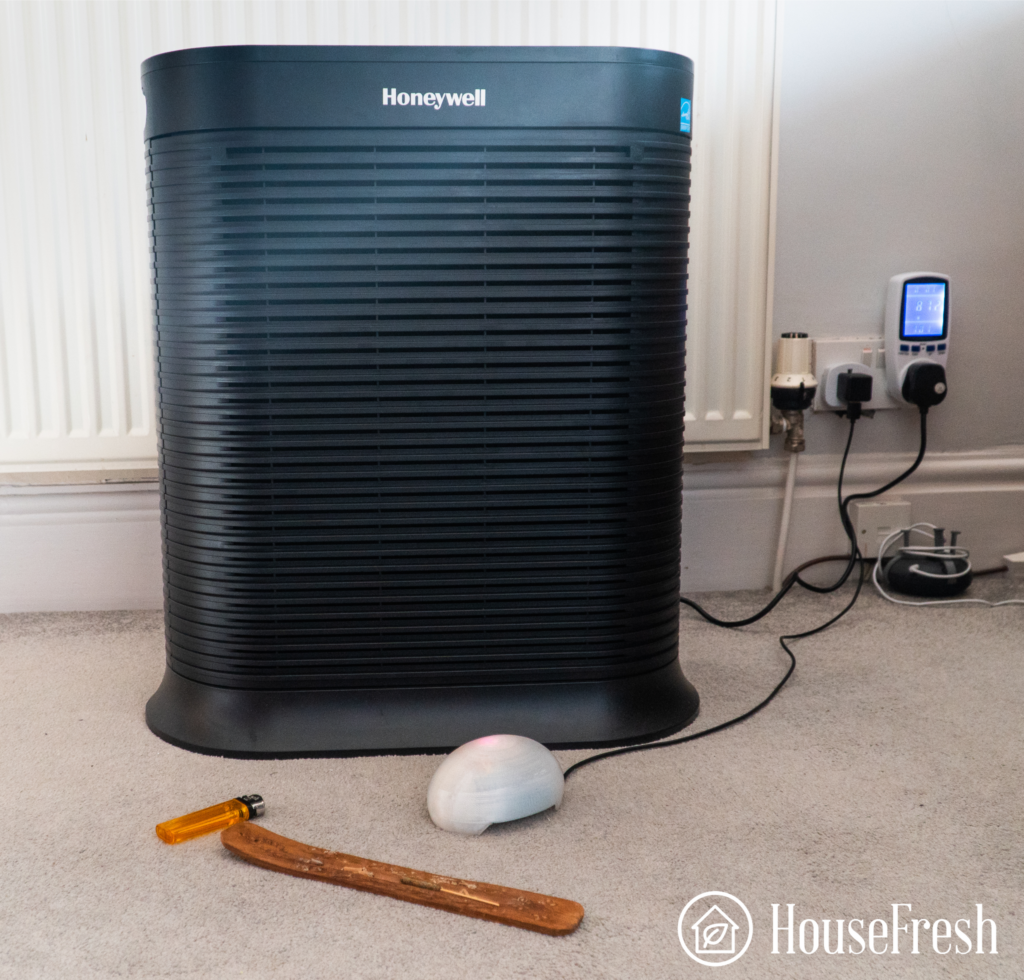 As with all our reviews, we test these units in real-world situations. You don't live in a sterile laboratory environment, and neither do we, so we test them in our home.
We placed the HPA300 inside our 705 cubic ft test room and recorded how fast it cleared the air from thick incense smoke pollution when running on turbo mode. We used our indoor sensor from Purpleair to update us on PM1.0ug/m3, PM2.5ug/m3, and PM10.0ug/m3 levels throughout the test.
Here's what we found:
As you can see from the data collected, the HPA300 clears our room of contaminants in 26 minutes. That's due to the powerful fan I keep mentioning. It may be loud, and it may use a lot of power, but this is the result you get because of that.
Air Cleaning Performance Compared to Other Air Purifiers
When we compare it to other units on the market with similar CADR ratings, the HPA300 was one full minute faster than the Winix 5300-2 and cleared or room in the same time as Coway's Airmega 300 which costs nearly double the price of this Honeywell.
Noise Levels Test Results
Unfortunately, noise is where the HPA300 lets itself down. The big fan, which allows it to have high CADR levels in this unit, means you must compromise on noise. There's no 'silent' or 'sleep' mode, which is an asset to Alen's 75i and 45i units, only a turbo mode which makes this unit the focus in any room.
Hear for yourself with our noise video.
The Cost to Run the Honeywell HPA300: $151.22 Per Year
1. Electricity costs = $66.23
When investing in an air purifier, it's not only the cost of the unit you need to think about. Air purifiers use electricity to operate, so you will need to consider the cost of running, especially if it is recommended to run the unit for at least 8 hours per day.
As energy costs keep rising, it's beneficial to have an air purifier that's as energy efficient as possible.
On Turbo mode, the HPA300 draws 87 watts of power, which is quite substantial compared to other units. We clocked the Winix 5300-2 at 63.4 watts on full and the Levoit Core 600S (one of our favorites) at a whole 40 watts less at 47 watts.
We calculated that if you ran the HPA300 at full fan speed for 24 hours a day, every day, it would cost $66.23 per year. We got this figure using the Department of Energy's appliance energy calculator.
Looking at the performance test results, you shouldn't ever need to run this unit for that long on turbo every day; that would be overkill. We use these perimeters to show the highest it could cost you.
2. Filter costs = $84.99
Electricity isn't the only extra expense when operating an air purifier in your home. You will also need to replace the filters in your unit periodically.
HEPA filters were developed during WWII and have been used to filter airborne contaminants. This technology has proved itself as the most effective way to remove micropollutants from the air by trapping them in a maze of intertwined fibers. The thing is, HEPA filters become less effective over time as they start to fill up with these trapped contaminants. Depending on the filter, it will become full and ineffective at some point, so it's paramount you change the filters at this time.
As the HPA300 uses three small HEPA filters instead of one large one, Honeywell has put plenty of thought into replacement filters. They offer packs of 1, 2, or 3 replacements, so if one filter is full but the others are okay, you don't need to fork out the extras.
A pack of three genuine Honeywell HEPA filters will set you back around $88.99, but that doesn't include a replacement activated carbon sheet, so we recommend purchasing the all-in-one box with three HEPA filters and four pre-cut activated carbon sheets.
Technology
3 HEPA Replacement Filters and 4 Activated Carbon Pre-Filters
3 HEPA Replacement Filters and 4 Activated Carbon Pre-Filters
Technology
3 HEPA Replacement Filters and 4 Activated Carbon Pre-Filters
Technology
3 HEPA Replacement Filters and 4 Activated Carbon Pre-Filters
---
Bottom Line
Overall, Honeywell have produced another sturdy air purifier covering all room sizes in the HPA range.
Unfortunately, that's all it is, another sturdy air purifier. With none of the cool features we've become accustomed to, the HPA300 does what it's meant to do, but in the least exciting way possible. Its noise levels let it down, and it wouldn't be advised to have it running when watching a scary movie.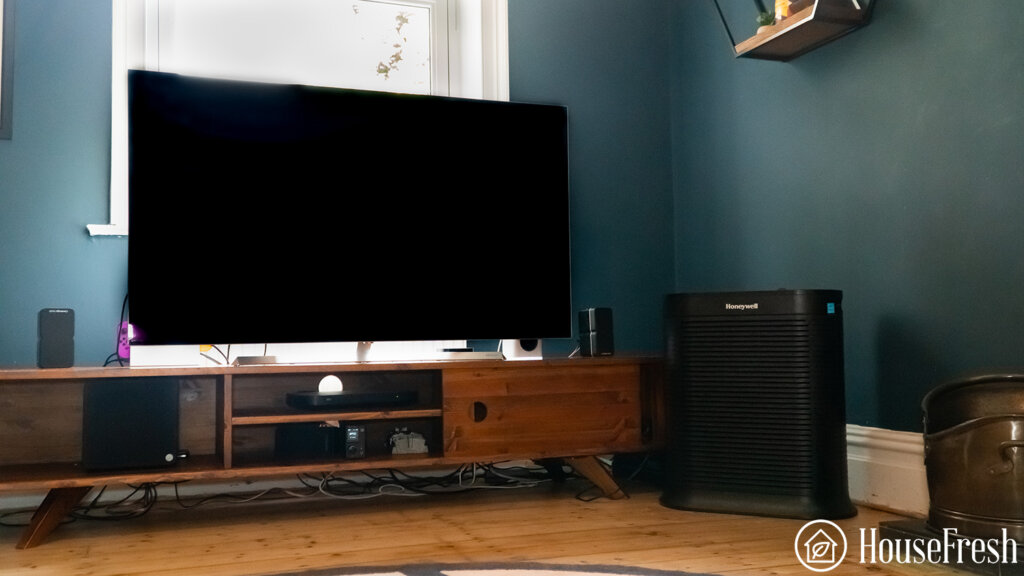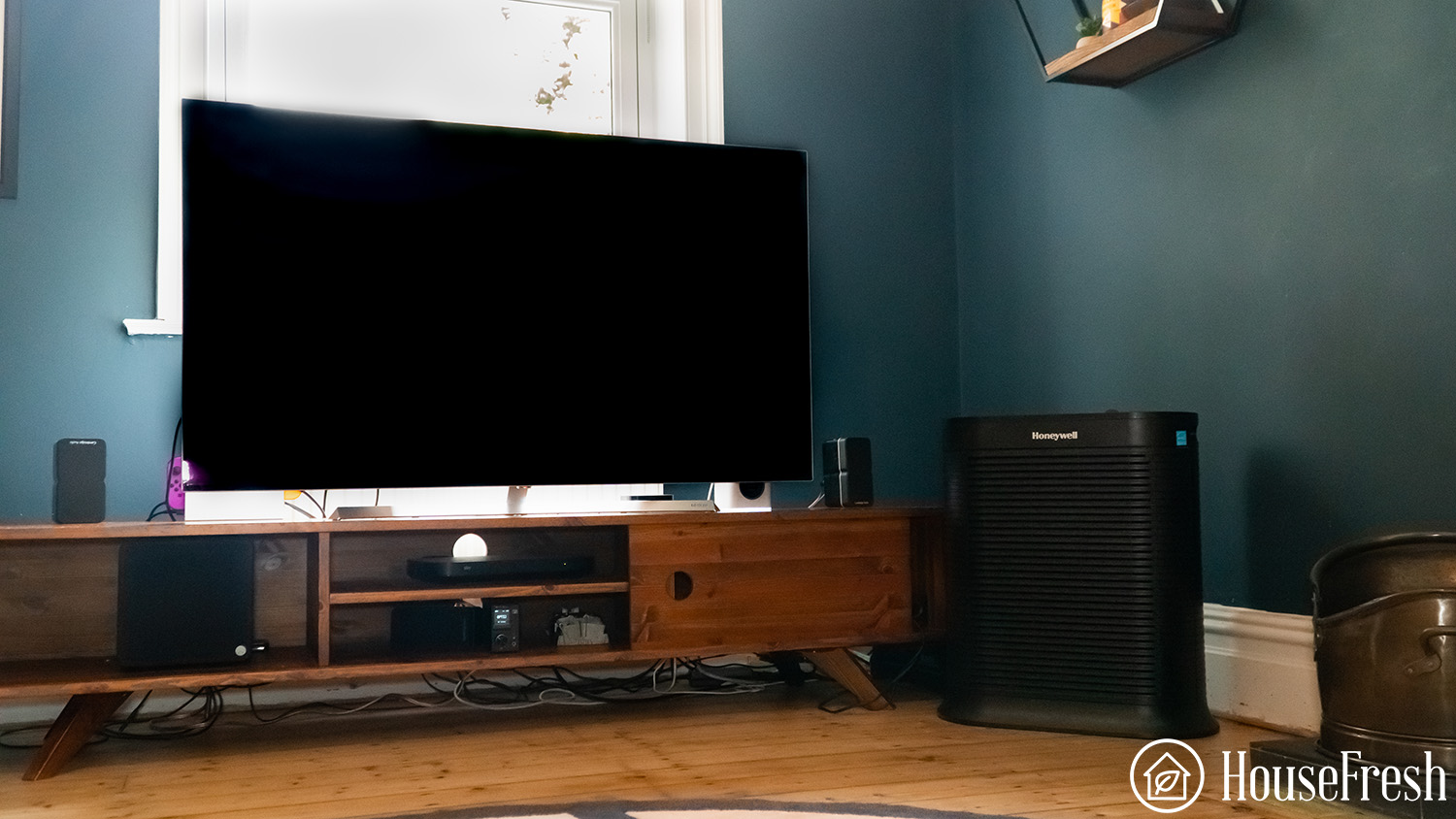 Don't get me wrong; this unit works hard. It boasts high CADRs and passes the test when it comes to eliminating airborne pollutants. It's easy to use, replacing filters is no trouble and it's simple to move from room to room. It's just a bit… meh.
If you're looking for a unit that will fit into your home, work hard and has a few more features, I would recommend going for the Winix 5300-2 or the Levoit Core 600S over the HPA300. And if your budget is tight, then you can't go wrong with the Core 300S or the TaoTronics AP003.

---
SOURCES
We used the Department of Energy's appliance energy calculator to calculate yearly costs associated with running the Honeywell HPA300 for 24hs a day for 365 days. We chose to run this calculation utilizing the U.S. average utility rate, which is $0.12/kWh.
Last update on 2023-09-17 / Affiliate links / Images from Amazon Product Advertising API