Our verdict:
If you are living in the UK and suffer from humidity issues then the Ebac 3850e is worth the extra investment over the competition. The fact that it is manufactured in the UK is the cherry on top for a unit the fixes two of the major problems that exist with most dehumidifiers – energy usage and water leakage when changing the bucket.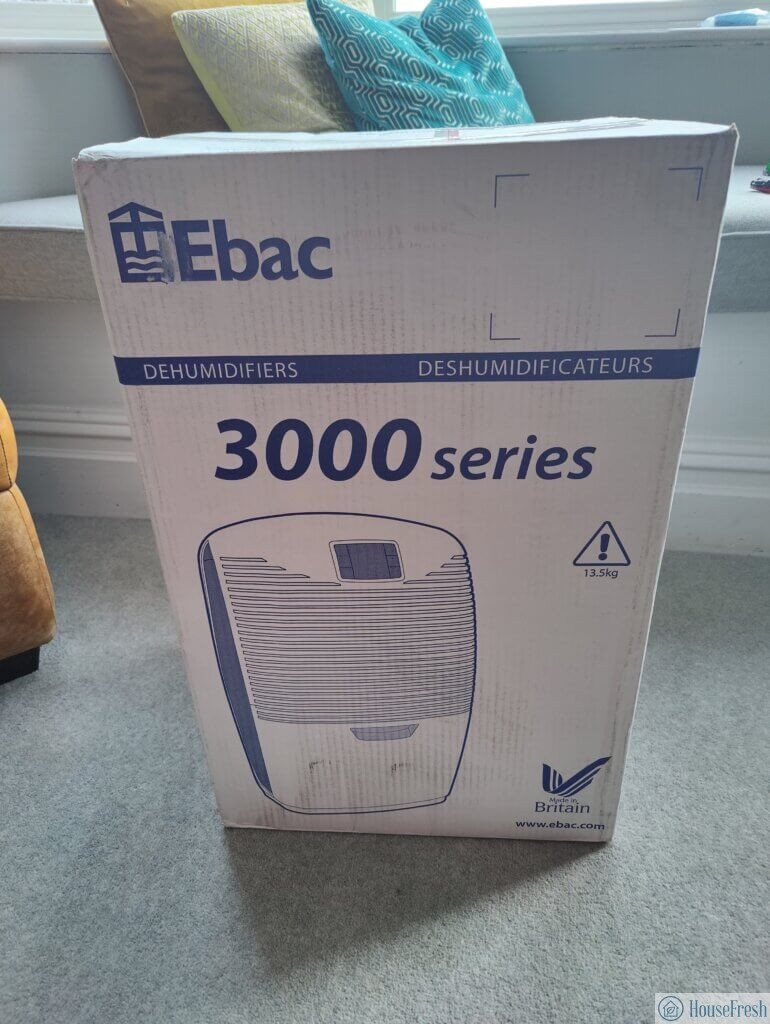 Many of the dehumidifiers on the market are aimed at the United States or Asia and are designed for those particular climates.
We are currently living in a stone house from the 1870s just at the entrance to the Peak District in Derbyshire. The humid issues that face our home are very different from those faced by someone living in Key West Florida or Point Pedro in Sri Lanka or any of the other most humid cities on earth. Whilst the UK isn't as bad as many places on earth for humid issues, the combination of continuous rain and old houses can create major problems in the home.
Whenever we do hands-on reviews at HouseFresh we use our own money and in this particular case, we bought it locally rather than going to Amazon or another big box store and recommend that you do the same to support your local community. We have no relationship with Ebac and our only goal is to provide the most thorough review possible so you can find the right dehumidifier for your home.
Specifications:
How much water can be removed per day: 21 litres – this Ebac unit is the highest capacity they sell which was key for me as our home is fairly large.
Be aware that the water bucket is 2.5 litres so you will need to empty it up to twice per day when you first use it in a very humid environment.
This unit is recommended for houses with up to 6 bedrooms
It has a dust filter and a large carbon based filter that will block dust and other smaller particles from entering the device.
It does come with the option of a continuous hose but you do need to pay extra for this £9.99 at last check but it does look higher quality than the usual hoses that are provided for free with other units we have tested.
The Look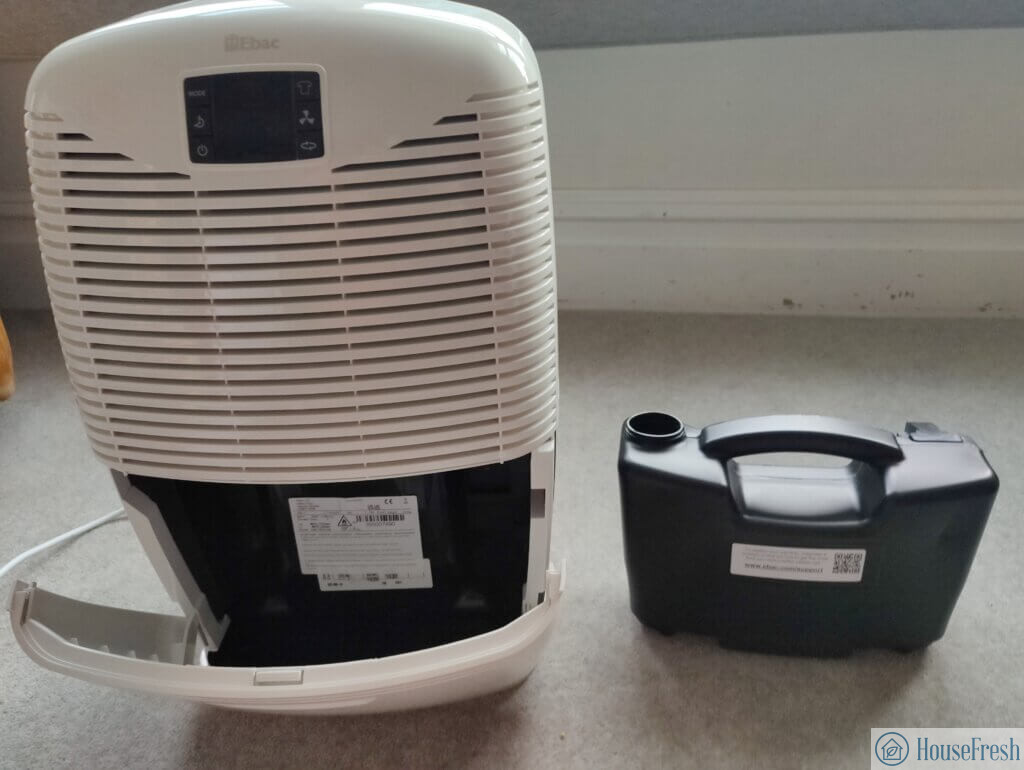 Yes, it's a dehumidifier, so unlikely something you will want to put on a show in the center of your living room but this unit does have some design elements with curved sides.
The one area of design I do really appreciate is the bucket. In most dehumidifiers, we review the bucket is usually something that is open and fairly easy to spill a little water when you are replacing it. With this unit as you can see in the picture, the bucket is more like a water container and can easily be removed without dropping any and can easily be used to water the plants!
You can see how the design of the bucket makes emptying super easy:
Setup: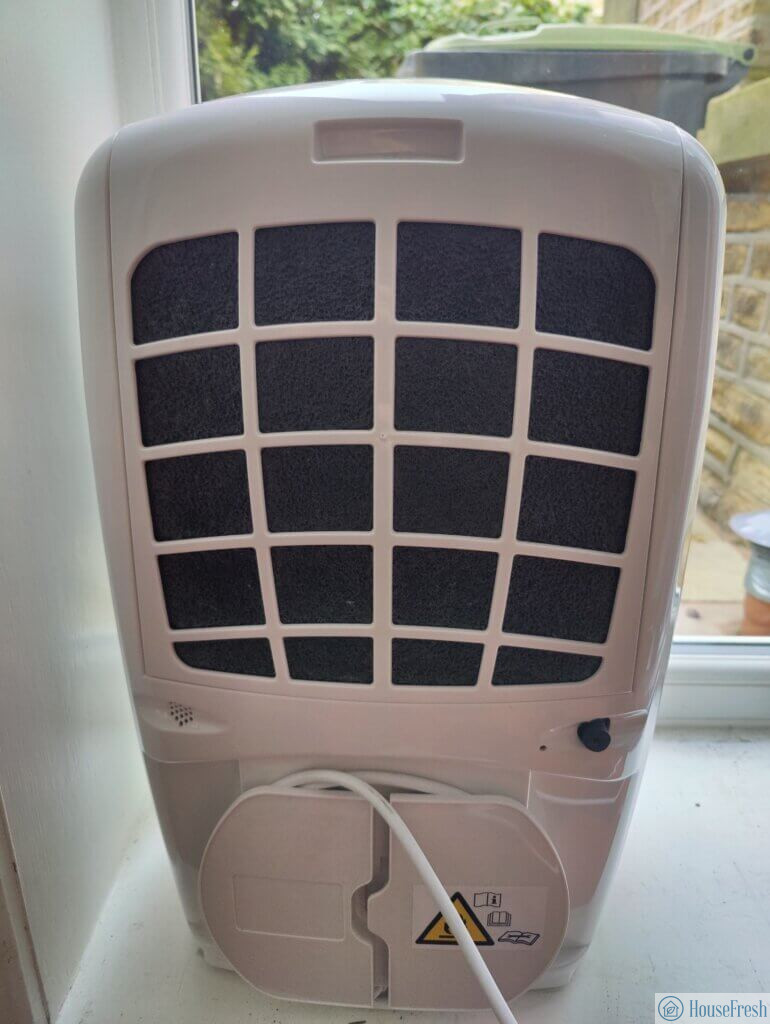 Once you remove the Ebac 3850e from the box it's pretty much ready to go. As I mentioned there is no continuous hose included and there are no wheels but again they are available to buy separately if one wishes at just over £15. I know some people would prefer that this was included but for my use, I'm happy that I am not paying for something that I would not use – both the hose and castors are not something I could not live without.
Smart Control:
The big sell of the Ebac is the Smart Control mode.
Most dehumidifiers set the humidity preference either as a specific % of humidity like we saw in the Honeywell dehumidifiers or a set range like we saw in the Delonghi dehumidifiers.
I am not going to bore you with the specifics but you feel free to read more at the Ebac site about their smart mode.
In simple terms, it means that rather than having a simple on-off mode, the unit is always keeping a track of the levels of humidity and can make small changes to make sure your room is kept at the right level of humidity with far less electricity.
When comparing this unit with other non-smart modes, I found this to be the case. The Ebac unit was less extreme with its modes of operation and when compared with other units the range of humidity would be larger before it kicked up a higher mode vs the standard units that went from low to high as soon as a certain level of humidity was reached. This meant that these non-smart units used more electricity and needed water changing more often for the same target of humidity.
For those in a really humid region of the world, this is unlikely to be much of a benefit but for those in the UK where the humidity range is not as extreme, this is super useful as you save money in the long run as your dehumidifier won't be pushed as hard.
Filters:
All dehumidifiers need some sort of filter system to protect the delicate internal parts from being covered in dust or other particles.
Ebac does something very interesting with its filter as it provides a fairly chunky charcoal-based filter that covers the whole air intake area.
In many dehumidifiers, they use a large dust cover but the filter element is usually tiny and has very little real-world usage.
The filter system used by Ebac is something that I hope other manufacturers imitate and in time I hope it becomes the standard.
Obviously, if you have an issue with your home air, a dehumidifier alone won't be able to deal with the issue and we would recommend a HEPA based air purifier unit to use in combination.
How easy is it to use?
When you first look at the menu system for the Ebac 3850e, it can be a little confusing but once you have had a chance to play around it's pretty simple.
For most use cases you will just leave it on smart mode and that will be the end of it.
You can adjust the fan system but I personally found the smart mode to be fine for minor adjustments.
The only other mode that I use on a regular basis is the laundry mode which pushes the unit into a higher mode for a short period of time and is perfect for when you have just put the laundry to dry.
One minor issue that I noticed with our unit was that the case had become disconnected from the main body which might have happened in transit. Thankfully there was a philips screw that was easy to adjust and I was able to quickly clip it back in and tighten the screw so no issues but something to be aware of when you first unbox it.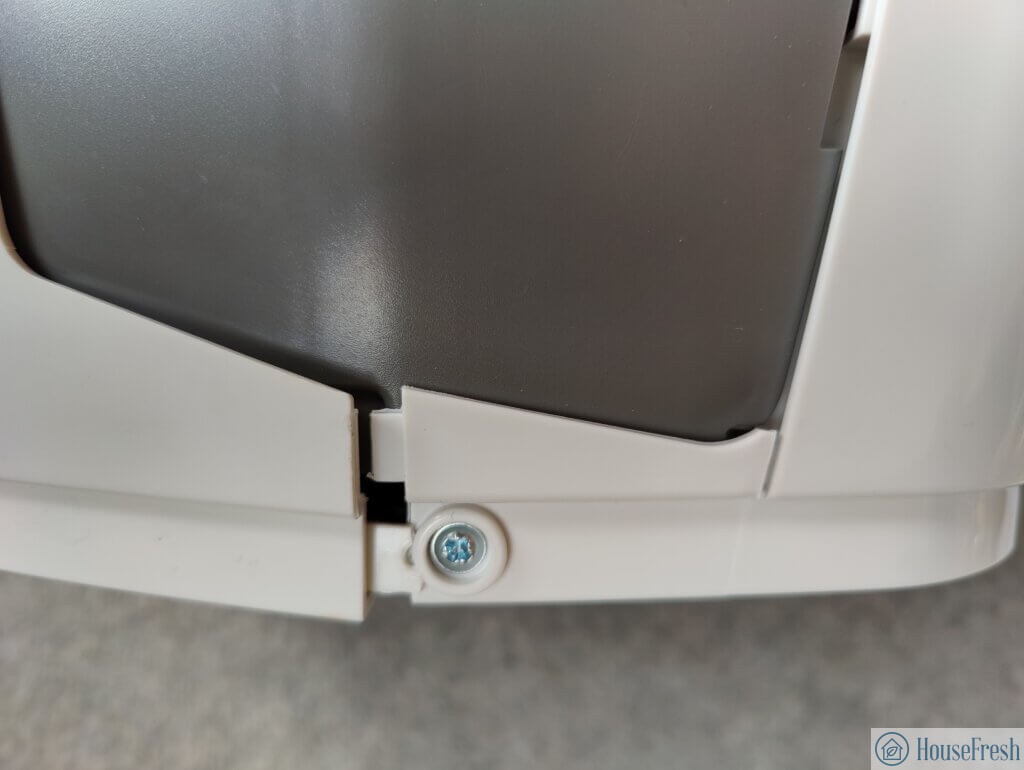 Cost of Running the Ebac 3850e
On the Ebac website they mention that the unit costs 43p/58cents per day.
I'm assuming that due to the smart mode, Ebac has not shared specific watt usage as it will vary dramatically depending on what the smart mode requires at the time.
But not to worry, I got my trusted energy power meter to see how much actual energy is being used at different modes.
On the normal smart mode in use, it pulled 148.2 watts and when I switched it to high mode this increased to 160 watts.
So that would be 70p per day at the low mode and 75p per day at the highest level.
One thing to consider is that a lot of the time that dehumidifier will not be active in smart mode and so the 43p per day estimate from Ebac is fair.
What I love:
British manufactured compared to most units that are built in China
2 year warranty
Smart mode is something that will help to keep power bills down and is something you don't see in other dehumidifiers on the market
Water bucket design is very good and avoid issues of spillage when emptying the water
What I don't like as much:
Continuous hose and castor wheels need to be purchased extra – would be good to see option to buy as part of a package
Those not in the UK might find other units are more effective for their climate.
Bottom Line
I never thought I would get excited about a dehumidifier but Ebac has done something very special with the 3850e. The two standout features are the Smart Mode and water bucket which deal with two of the biggest pain points that exist for dehumidifier usage.
With energy prices expected to increase in 2022 and beyond, anything that can help to reduce bill costs is worth looking at. Most humidity issues don't go away so you will have to use these appliances on a regular basis and in the long term these costs add up.
Combined with the clever design of the water bucket, I wouldn't recommend any other dehumidifier for those living in the UK.
You can buy this unit from Amazon but I would suggest trying to buy it locally from a shop or if that is not possible you can also buy it direct from Ebac.