Monica Geller: Neat. Practical. Energetic. Biophilic?
Biophilia is our innate love of nature. Biophilic design embraces the idea that our inner cave person still longs for the natural environments through which we evolved. Adapting natural shapes, materials, and principles to create "habitats for humans" may help us relax, heal, and even (ahem) mate.
On a subconscious level, deep below the control freakery, Monica was just as biophilic as the rest of us (as biophilic as a beaver, according to Phoebe). But the interior design of Monica's apartment? Absolutely not. A pity, because the Friends apartment looks forever trapped in the 1990s, while biophilic design is, naturally, timeless.
HouseFresh wanted to take you on a practical exploration of biophilic design's potential in the home. So, we decided to biophilia-up Monica's apartment, room by room, according to principles identified by the leading thinkers in the field. Because if you're torn between the city and the sticks, you might just need to bring that stream and maple tree indoors.
Kitchen
As a Head Chef by trade and regular host to her friends, the room with which Monica is most associated is the kitchen. We think she'd be happy that we've led with the principle of "dynamic balance and tension," as the phrase kind of personifies her.
In practical terms, we've achieved this balance by contrasting the white marble countertops with the darker wood-paneled cabinets to mimic the inconstant light and shadow of nature.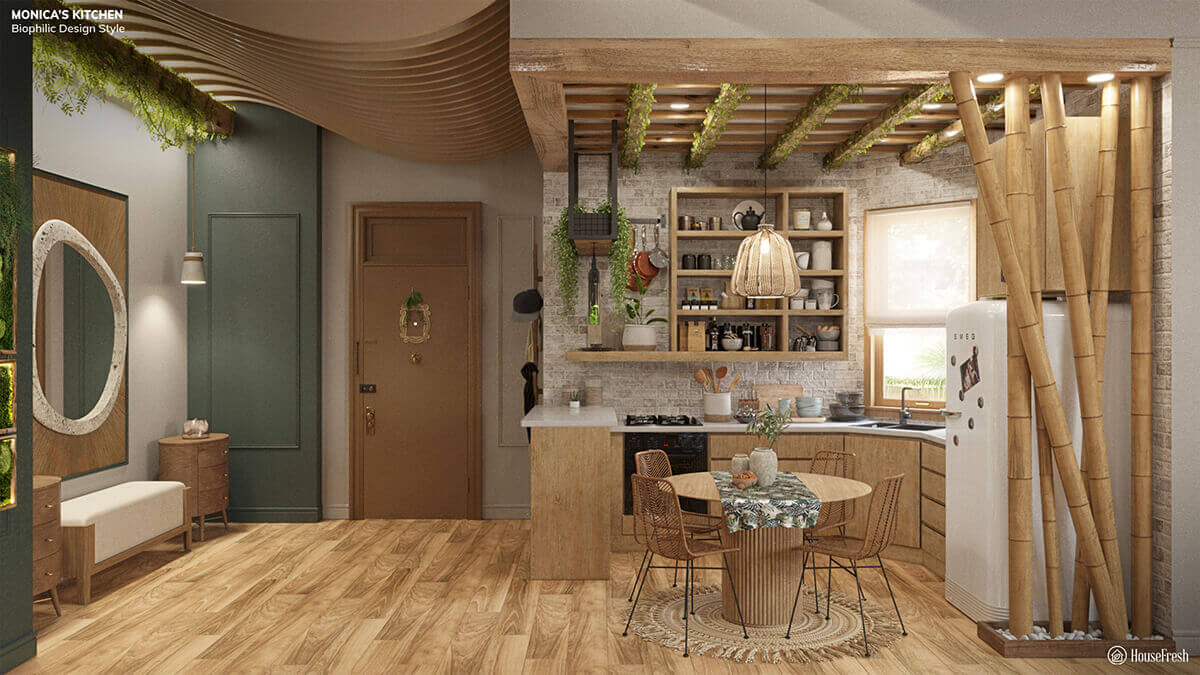 The herb garden above the sink is a multisensory feature. If you don't have a window to gaze through while doing the dishes, the infinite randomness of the greenery is something to meditate on. And home herbs bring a scent to your kitchen and a kick to your recipes.
Pro tip: Herbs are simple to grow and can help you reconnect with the food you eat. These are the top 10 easiest herbs to grow, according to House Beautiful: basil, thyme, bay leaf, lemongrass, oregano, mint, sage, rosemary, chives, and cilantro.
Living Room
The living room… where you just want to kick back and laugh with your friends and idiot brother. Science shows that patterns that change unpredictably in time – a water fountain in Monica's case – have a positive effect on heart rate, blood pressure, attention, and exploration.
Biophilic design isn't all about the wild of the jungle, and refuge is a key element of the concept. When your job's a joke, you're broke, and you just want to hide from the sarcasm, an egg-shaped chair will be there for you. Refuge is defined as "a place for withdrawal from environmental conditions or the main flow of activity, in which the individual is protected from behind and overhead." However, in this case it could just be "a science-backed excuse to get that rattan cocoon chair you've always wanted."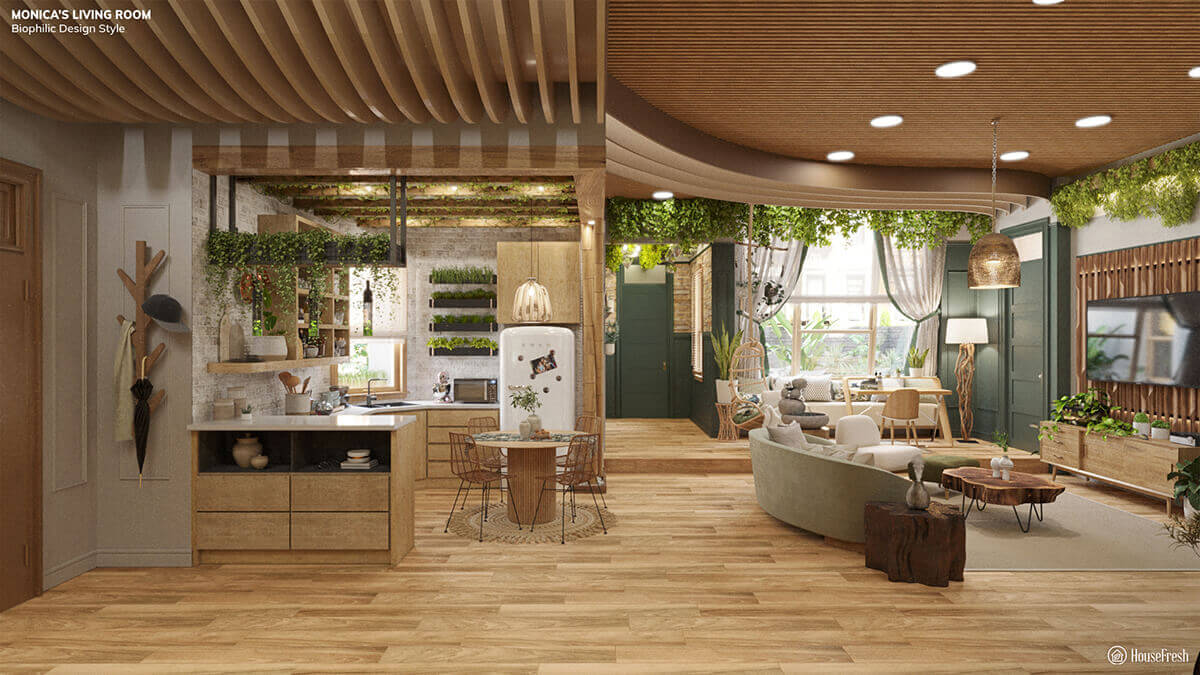 Pro tip: Have you considered using non-rhythmic sensory stimuli to relax? This design element is particularly effective if you're stuck indoors working online all day.
Bathroom
Who doesn't hanker for a bathroom that feels like a return to paradise without the worry of shriveling in the cold? It is in the bathroom that biomorphic forms and patterns (i.e., natural shapes and textures) find their ideal expression. A pebble-shaped tub or stone basin will redefine your connection to water. Embrace botanical motifs, seashells, and the Fibonacci sequence; reject straight lines, right angles, and – of course – the dingy.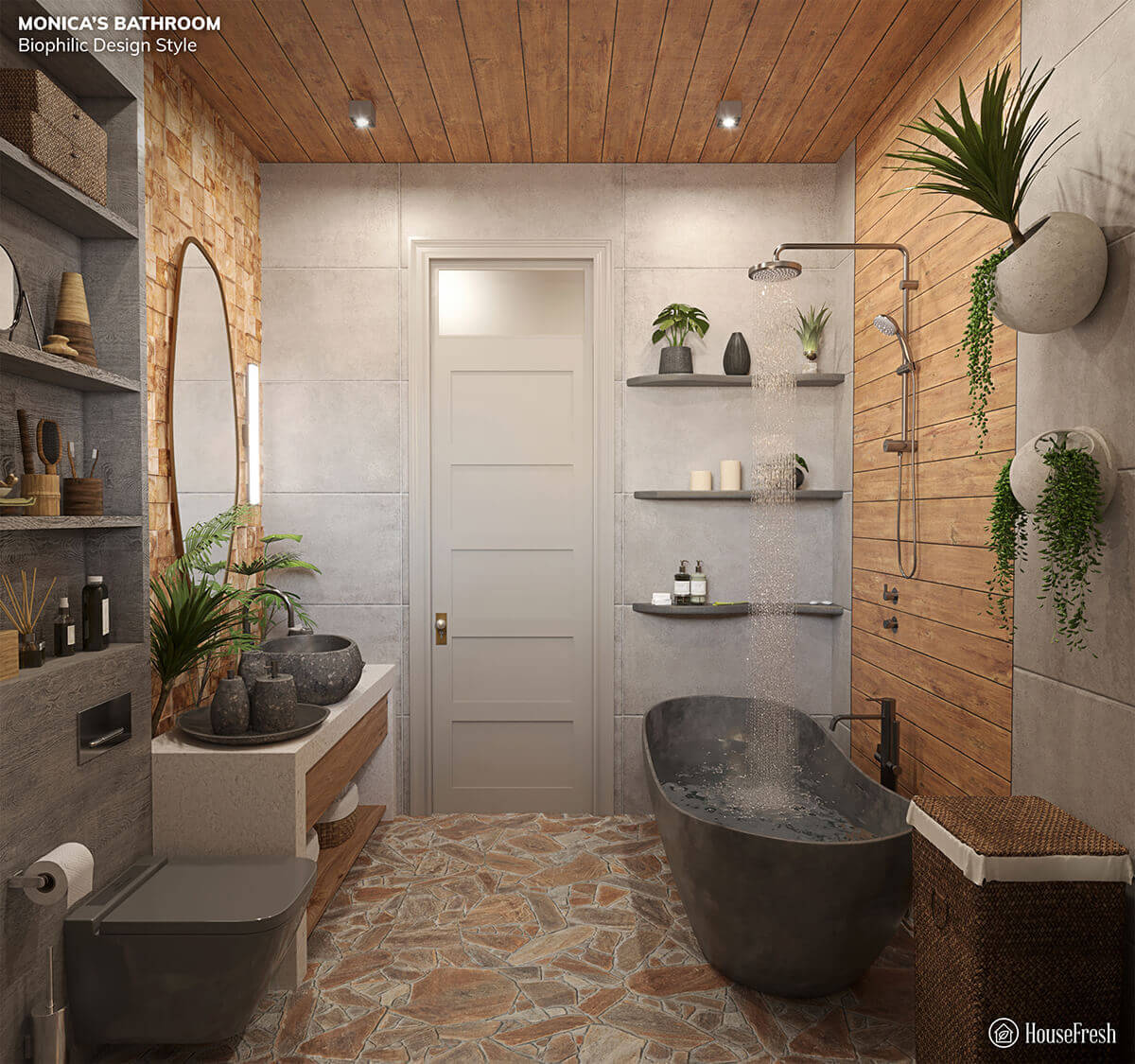 Natural light offers the simplest pleasures, but daylight itself is anything but simple. The human animal evolved in diffuse natural lighting, and our hormones are hardwired to the subtle change of light through the day from yellow to blue to red. Disruptions to this flow, in turn, disrupt our well-being. But we are also attuned to the drama of shifting shadows and patterns.
Pro tip: The wide LED bar lights in Monica's biophilic bathroom create warm light pools, while a windowless bathroom benefits from Lightglass or a portal to a natural light/smart lighting beyond.
Monica's Bedroom
How did rattan ever go out of fashion? Somehow, vine furniture went AWOL through much of the 1980s and 1990s, and it took the combined forces of eco-awareness, biophilic design, and downright good taste to put it back in our homes. In biophilic terms, rattan promises a material connection with nature. And a rattan bed is as close as you can get to sleeping in nature without being cold, uncomfortable, or bitten.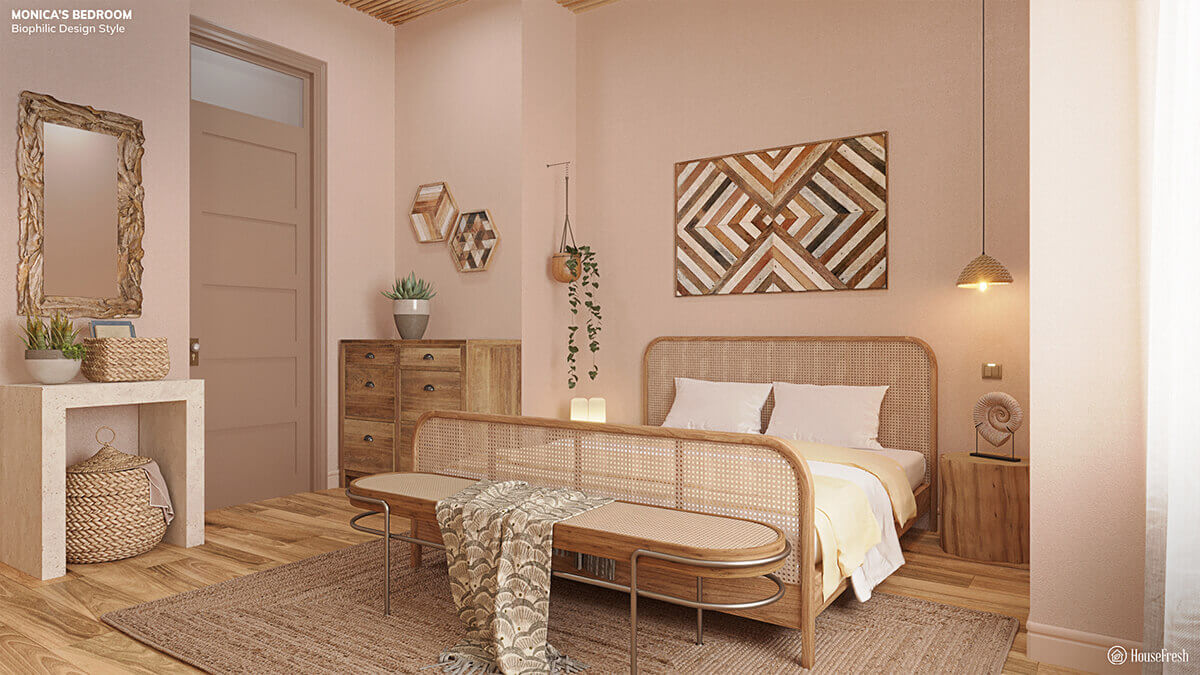 And yes, Monica's nightstand is basically a tree stump. Because how else will the bluebirds and chipmunks know how to find you?
Pro tip: You don't need to go full tree (Target has a number of more table-like tree tables), but the idea is to embrace the irregular natural shape and strong structure of the stump and not just the texture.
Rachel's Bedroom (2nd Bedroom)
Nature has sense and logic. When you design with biophilic principles, you want to do more than simply fill your home with random vegetation. Rachel's circular marble side tables reflect her personality and offer a pleasing through-line from the marble tops of the kitchen, bringing a little of that "dynamic balance and tension" into the bedroom.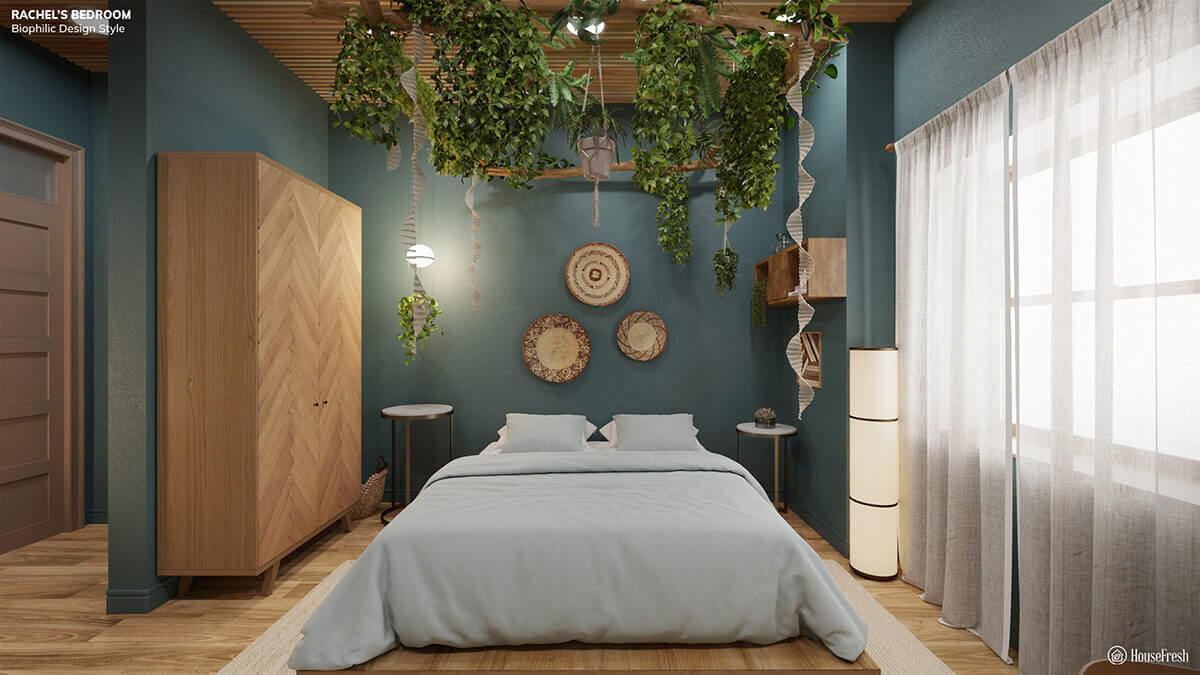 Earth and water tones act as 'natural analogs – the replication of nature's effect in artificial features. And nature finds its way home in a literal form through the hanging plant canopy over the bed. The natural canopy also speaks to the importance of refuge, particularly in a 'second bedroom,' which may be the occupier's only personal space.
Pro tip: Philodendron cordatum and Epipremnum are among the plants that are hardy and agile enough to scale your canopy bed.
Interior Hallway
People aren't perfect geometric shapes (not even the cast of Friends), so why are our mirrors always round, ovular, or right-angled? The wooden, organic-shaped mirror in Monica's biophilic entrance hall is wonky, charming, and natural, just like the best of us. Psychologists have shown how biomorphic shapes like these can reduce human stress and promote physiological well-being.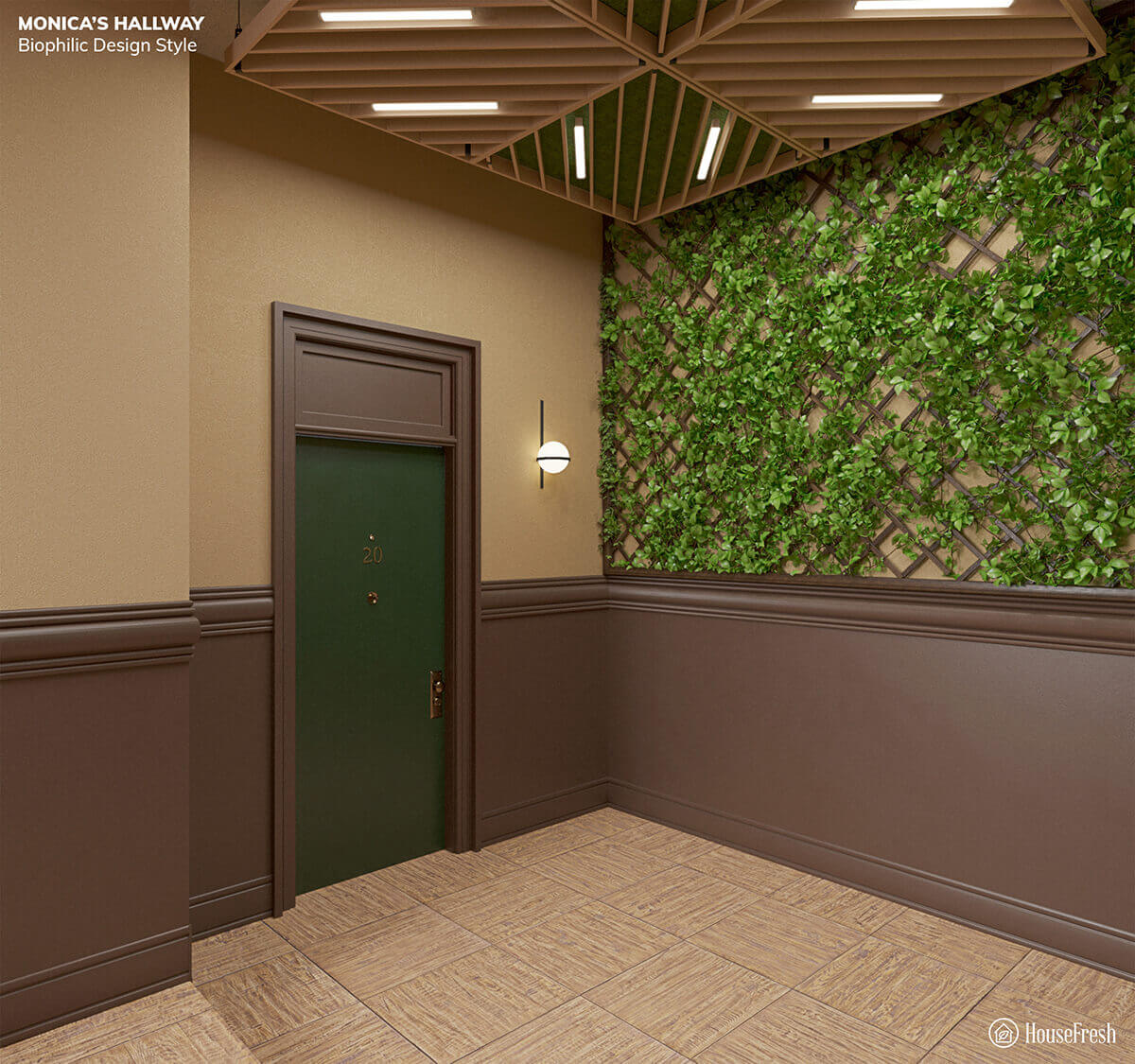 The thought of 1990s Chandler roasting Monica's plant walls might make the most hardened Friends fan cringe. But it's true that the plant wall, or living wall, has been slow in making its way from the Roman garden to the corporate setting to the home. A plant wall brings a dead space or blocked view to life. It offers a natural palette, texture, pattern, and even scent, on an efficient vertical plane.
Pro tip: Considering a plant wall in your home? Keep it near a window or, better yet, a reflective water feature to enjoy the calming effect of infinite light playing across the foliage.
Making Friends with Nature
Biophilic design is a sophisticated art and science that reconnects us with our most fundamental selves. To achieve a truly biophilic home, harness your instincts to the three types of 'user experience' identified by experts:
Nature in the Space. Bring natural elements into your home design.
Natural Analogues. Learn from and replicate nature through the artificial design features of your interior.
Nature of the Space. Build and connect spaces that offer perspective, protection, and playfulness.
Don't be bewildered by the scope of the project. Just bringing houseplants home or turning your sofa from the TV to the window can make a good start. And, if your inner Monica flinches at a touch of the wild, just hand the mic to your inner Phoebe.