There is still not a total consensus on the issue of COVID-19 virus being airborne at the World Health Organization but they still recommend HEPA filters for healthcare facilities.
As of 24 August 2020, the US CDC added the following guidelines to US schools about using ventilation to reduce the spread of COVID-19.

I would always recommend checking the latest CDC advice as things change quickly as more research data is reviewed: https://www.cdc.gov/coronavirus/2019-ncov/index.html
But let's assume that there can be some situations that COVID-19 is airborne. Then we would want to remove the virus using an air purifier quickly.
Many portable HEPA air cleaners can signif' lower risks of SARS-CoV-2 exposure in classrooms < 1,000 ft2. Put on stable small table to lower re-suspension from floor. Go CADR > 300 (scfm) for ETS. Avoid devices w/ gimmicky add-ons. Just purchased 12 for my bldg @Portland_State.

— Dr. Richard Corsi (@CorsIAQ) July 15, 2020
As recently as last month, Dr Richard Corsi (Dean of Maseeh College of Engineering) said that all classrooms should look at getting HEPA air purifiers that have a CADR rating of 250-300.
Most of us don't live in classrooms yet it would be safe to play on the side of caution by getting a similar spec model for home use.
This doesn't mean that the purchase of an air purifier will replace Coronavirus prevention methods such as social distancing, mask usage, and hand-washing – these have all shown to be very important to beating an epidemic like COVID-19.
After being involved with air purifiers for the past 10 years, I know that the biggest hurdle for many people is the sheer number of choices available.
It doesn't help that some air purifier manufacturers are actively trying to bamboozle customers with different technologies!
So it can get confusing… But for most people, the best candidate for home use is a powerful HEPA air purifier.
The simplest way to understand the function of an air purifier is to just envision a fan connected to some sort of filter.
Here's a homemade example of this: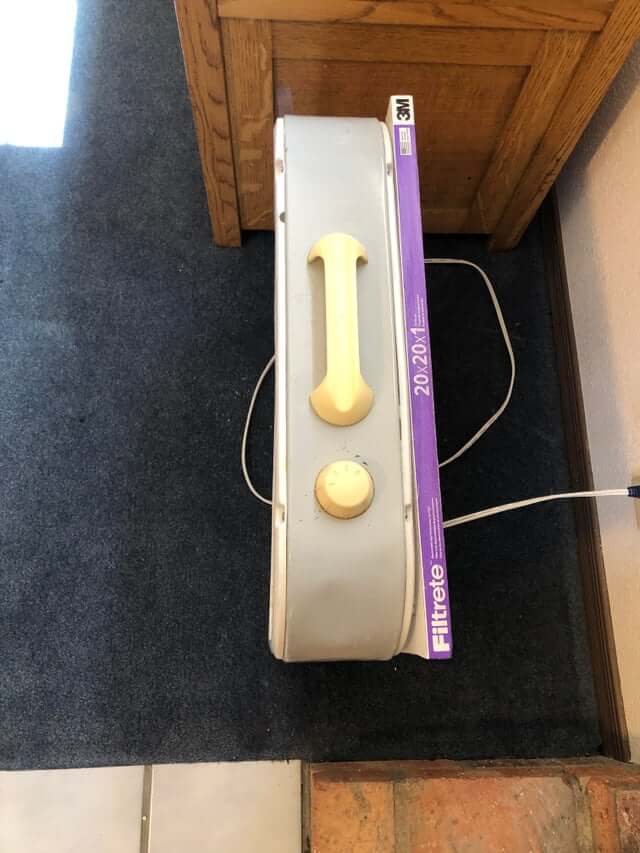 Image was seen on Reddit and the user said they found this device provided significant air cleaning
The truth is that it could be as simple and literal as a box fan with a filter taped on the back but most people prefer to buy a machine designed specifically for the task.
Now, if you fancy keeping this as cheap as possible then you are best having a crack at the DIY option with a large box fan and a HEPA filter that fits your sized fan – and you could be up and running for $70ish!
But it will be really loud and isn't be as efficient around the duct-taped edges.
Air purifier technology has come a long way over the last few years, so I would recommend most people to invest in a machine that was specifically designed for one task rather than the DIY approach.
Most Recommended Air Purifiers to Remove COVID-19 from the Air
This list of the top recommended air purifiers to catch Coronavirus particles from the air is updated as of August 2020.
I have only included those with a large HEPA CADR score as per Dr. Richard Corsi's advice to teachers.
I am also making sure to ignore those that have lots of bells and whistles that add to the price but don't provide a good $ ratio to the amount of air cleaned each minute.
Update as of 2023: We have put together a full study into what is the best air purifier for viruses and bacteria so would reccomend this over the suggestions below that we had orignally made.
1. Honeywell HEPA HPA304
You can tell from the picture that this unit is all about the HEPA, although it also contains a charcoal filter.
Whilst this unit is not likely to win home design awards, it is a top performer in cleaning air with a dust CADR score of 320. For more high CADR units check out our list of the highest cadr air purifiers on the market as of 2021.
It's a powerful unit with no bells and whistles to add extra to the cost. For most people, this is the air purifier that we would recommend for dealing with COVID-19.
More options in this range: Best Honeywell Air Purifiers
Sale
Honeywell HPA304 HEPA Air Purifier for Extra Large Rooms - Microscopic Airborne Allergen+ Reducer, Cleans Up To 2250 Sq Ft in 1 Hour - Wildfire/Smoke, Pollen, Pet Dander, and Dust Air Purifier – White
EXTRA LARGE ROOM AIR PURIFIER - Honeywell HPA304 HEPA Air Purifier helps provide fresher, cleaner air in minutes. Cleans up to 2250 sq ft in 60 mins (1 ACH), for powerful large room coverage. Provides 4.8 air exchanges per hr in AHAM suggested room size of 465 sq ft
HELPS REDUCE ALLERGENS - This HEPA air purifier has 3 air cleaning levels including Turbo Clean. It helps capture the following microscopic airborne allergens and particles: dust, pollen, pet dander, dust mite debris and smoke.
EFFECTIVE AIR CLEANING AND CIRCULATION – The Honeywell HPA304 Air Purifier filters and circulates air in extra-large 465 square feet rooms up to 4.8 times an hour.
ALLERGEN PLUS SERIES – This Honeywell HEPA Air Purifier is part of our Allergen Plus series. This product earned the ENERGY STAR label by meeting strict energy efficient guidelines set by the U.S. EPA.
COMPATIBLE DOES NOT MEAN COMPARABLE – For best performance, use only Genuine Honeywell air purifier filters. Compatible air purifier filter replacements are not guaranteed to offer the same performance or efficiency.
2. Coway AP-1512HH
Do you like the power of the HPA 304 but you also fancy something that doesn't look so clinical?
This unit has a CADR of 246 so less than the HPA304 but still in the right ball park for most home uses.

The replacement filters are around $20 for the charcoal and HEPA and you buy in packs of 2.

It also runs fairly quiet for an air purifier. One customer compared it to their older Honeywell air purifier and the Coway unit made far less noise.
I really like the look of this unit, it's a small white cube that doesn't take a ton of space and looks good on a shelf or in the corner of a room.
Coway Airmega AP-1512HH(W) True HEPA Purifier with Air Quality Monitoring, Auto, Timer, Filter Indicator, and Eco Mode, 16.8 x 18.3 x 9.7, White
Coway Mighty (AP-1512HH) is designed to accommodate room sizes up to 361 sq. ft (CADR: Dust 246 / Pollen 240 / Smoke 233 cb. ft. ).
4 Stage Filtration System (Pre-filter, Deodorization filter, True HEPA filter, Vital Ion) captures and reduces up to 99. 97% of particles 0. 3 microns in the air, including pollen, pollutants and other allergens. It also reduces volatile organic compounds and reduces odor.
Coway Mighty pollution sensor communicates indoor air quality in real-time. The brightly colored LED lets you know how clean or dirty your indoor air is every minute of the day. And it features a timer, and filter lifetime indicator.
Fan speeds available in 1, 2, 3 stages by manually setting up. While auto mode automatically optimizes the speed setting 1 through 3 based on the level of indoor air quality. When no pollution is detected for 30 minutes, the fan will automatically stop and set as Eco mode to save energy.
Timer feature allows the machine to run 1/4/8 hours before automatically powering off.
3. LEVOIT Core 300 (Budget Friendly Option For Less Than $100)
If $200 for an air purifier is completely out of budget then the Levoit core 300 is the best air purifier you can get for less than $100.
I would still push beyond the $100 mark for something life-threatening such as the COVID-19 virus but I get that budget is a major concern right now.
The CADR rating is 230 for dust so a lot less than the other 2 units but it's also half the cost.

They have one replacement filter available that combines a True HEPA, pre-filter and carbon filter which cost around $20.

Perfect option for someone wanting to keep a small room rid of Coronavirus particles – keep in mind that its max room size is around 180sq ft.
I would still always recommend paying a little more and getting the Honeywell unit but if $100 is your max, then the Levoit Air H13 is the unit we recommend.
You will also want to check out our list of the 10 best Levoit air purifiers on the market as of 2022.
LEVOIT Air Purifier for Home Allergies Pets Hair in Bedroom, H13 True HEPA Filter, Covers Up to 1095 Sq.Foot, 24db Filtration System, Remove 99.97% Dust Smoke Mold Pollen, Core 300, White
HIGH PERFORMANCE: Enjoy fresh air in 12 minutes with the Core 300 True HEPA Air Purifier. Featuring VortexAir Technology, 360° air intake, and CADR of 141 CFM / 240 m³/h (Clean Air Delivery Rate), Core 300 can purify air of a 1,095 ft² space once in one hour. The higher the CADR of an air purifier, the larger its purification area
FIND RELIEF: Ease sneezing, congestion, and other allergy symptoms caused by airborne contaminants. The H13 True HEPA Filter works alongside the Pre-Filter and High-Efficiency Activated Carbon Filter to capture 99.97% of airborne particles 0.3 microns in size, such as dust, smoke, pollen, odor
OFFICIAL LEVOIT FILTERS: Search for B07RSZSYNC or Core 300-RF to find Levoit's Core 300 replacement filter. Levoit filters provide the best fit and filtration, while off-brand filters are unreliable and may damage the air purifier
MULTIPLE FILTER CHOICES: Choose from a variety of replacement filters to best meet your needs. The Toxin Absorber Filter specializes in smog, toxins, and VOCs. The Smoke Remover filter specializes in wildfire, smoke and etc. And the Pet Allergy Filter helps to capture pet dander and absorb unpleasant odors
WHISPER QUIET AIR CLEANER: Choose Sleep Mode at night and then forget all about your air purifier while you sleep. QuietKEAP Technology reduces noise levels to a near-silent 24dB, ensuring the Core 300 won't get in the way of a good night's rest
Which Air Purifier Should You Get To Protect You From The Coronavirus?
If your budget is limited, then go for the Levoit Core 300
If your space is big, then you'll be better off with the Honeywell HPA300 which we recently reviewed.
And if you care about how your air purifier looks, then the Coway AP-1512HH will probably be the best choice for you.
But whichever option you go for, what's important is to keep the main goal of your purchase in mind. Dr Corsi kept it simple with his advice for buying an air purifier to help keep your house clean from COVID-19 particles:
If you want to protect the air inside your car, then I would also suggest you look at what we think is the best car air purifier in 2022.
"No need to purchase gimmicky add-ons that sometimes do little and sometimes emit ozone. HEPA is fine."

Dr. Richard Corsi
This means that either of those three options would do the job just fine. It's just about your preference.
Last update on 2023-06-05 / Affiliate links / Images from Amazon Product Advertising API