Our verdict:
The IQAir Healthpro plus is the best pure HEPA/activated charcoal air purifier on the market as of 2022. It's perfect for a large room or open space area but doesn't come cheap with both the initial unit cost of nearly $900 plus the electricity and filters costs adding an extra $300 per year. If you don't mind the use of ionizer technology then you will likely prefer to look at other units that can perform at similar levels for less cost but if you have any concerns about ionizer technology and want the best performance money can buy then this is the air purifier you will want in your home.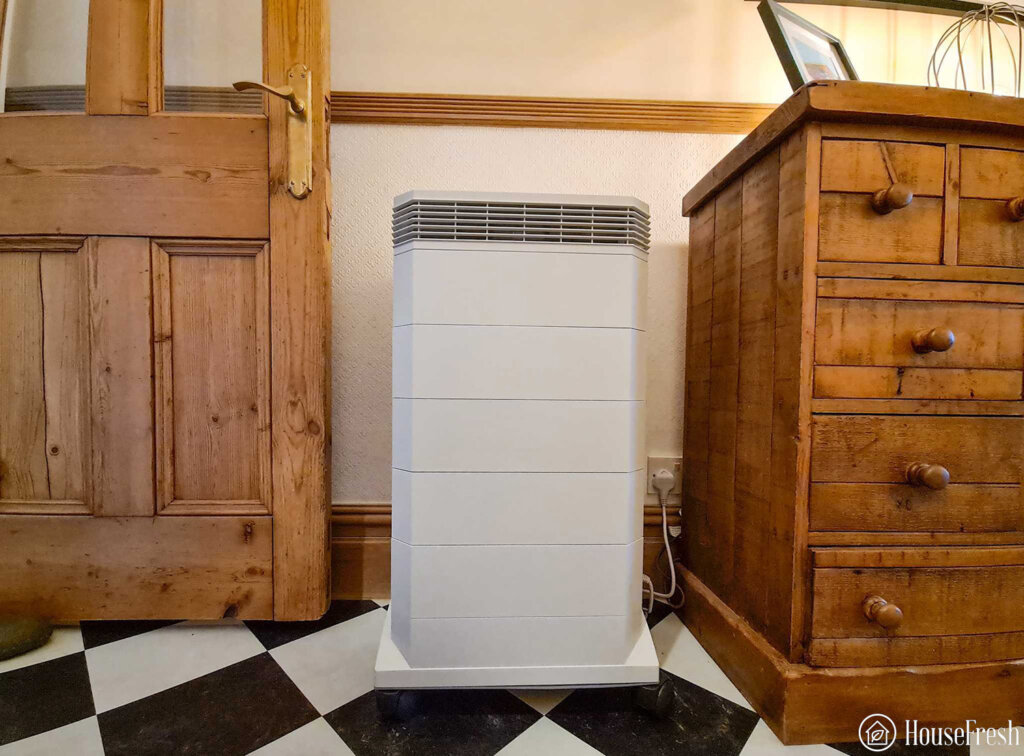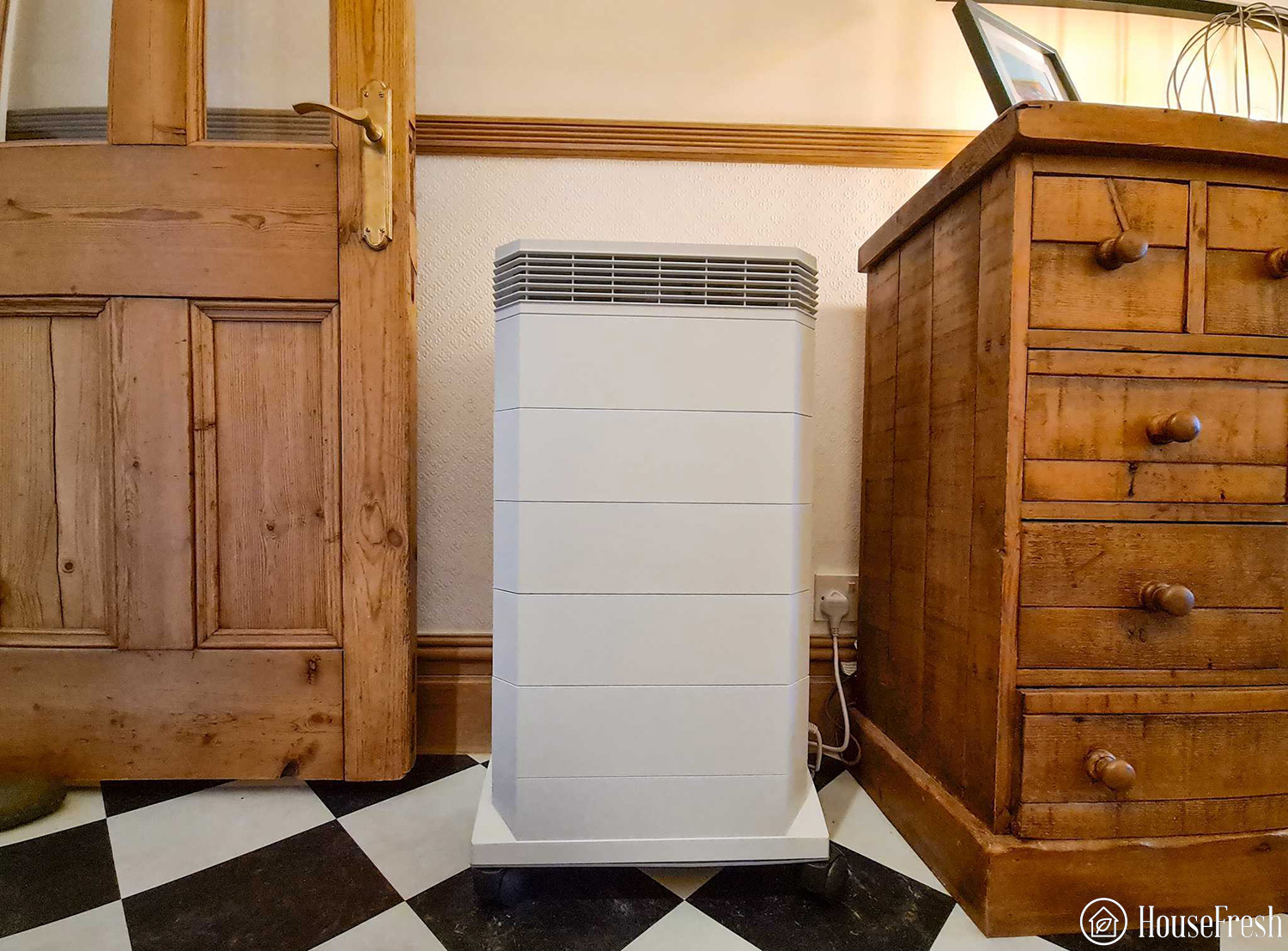 IQAir has been in the business of cleaning air since 1963 and currently, all manufacturing is based in Switzerland and southern Germany. It's still owned by the original Hammes family and is now a major player in the US and China market for air purifiers. You can even watch Frank Hammes step into a smoke chamber with only this particular air purifier to protect him!
This particular model that I am reviewing is the IQAir Healthpro Plus 250 which is priced at $899* and so is at the higher budget end for most home users.
This particular unit has been on the market since 2017 and has won a number of awards including the top air purifier from the Evening Standard in the UK.
Whilst there is a ton of positive sentiment behind this particular air purifier, I am not going to let that affect my overall review as I want to clearly know if this air purifier is worth the large price tag it comes with.
As with all the air purifiers we review here at HouseFresh.com, this was bought with our own money and we have spent the last month using it in our own home to see how it compares with the other units we have tested.
*as of 25th January 2022
CADR vs CFM
Before we jump into the stats it's worth taking the time to talk a little about CADR and CFM. The team at IQAir are not big fans of CADR as they believe it is biased in favor of Hybrid units (those that use Ionizer and HEPA) You can read more about their argument over at the IQAir blog.
In simple terms, IQAir doesn't use any ionizer technology compared to others in this space (Blueair and Alen) due to health concerns and efficiency decreases from particle charging.
Whilst a hybrid technology could clean the air quicker, if you had similar concerns about ozone or ionizers then you would want to take a closer look at something like the IQAir HealthPro Plus.
Specifications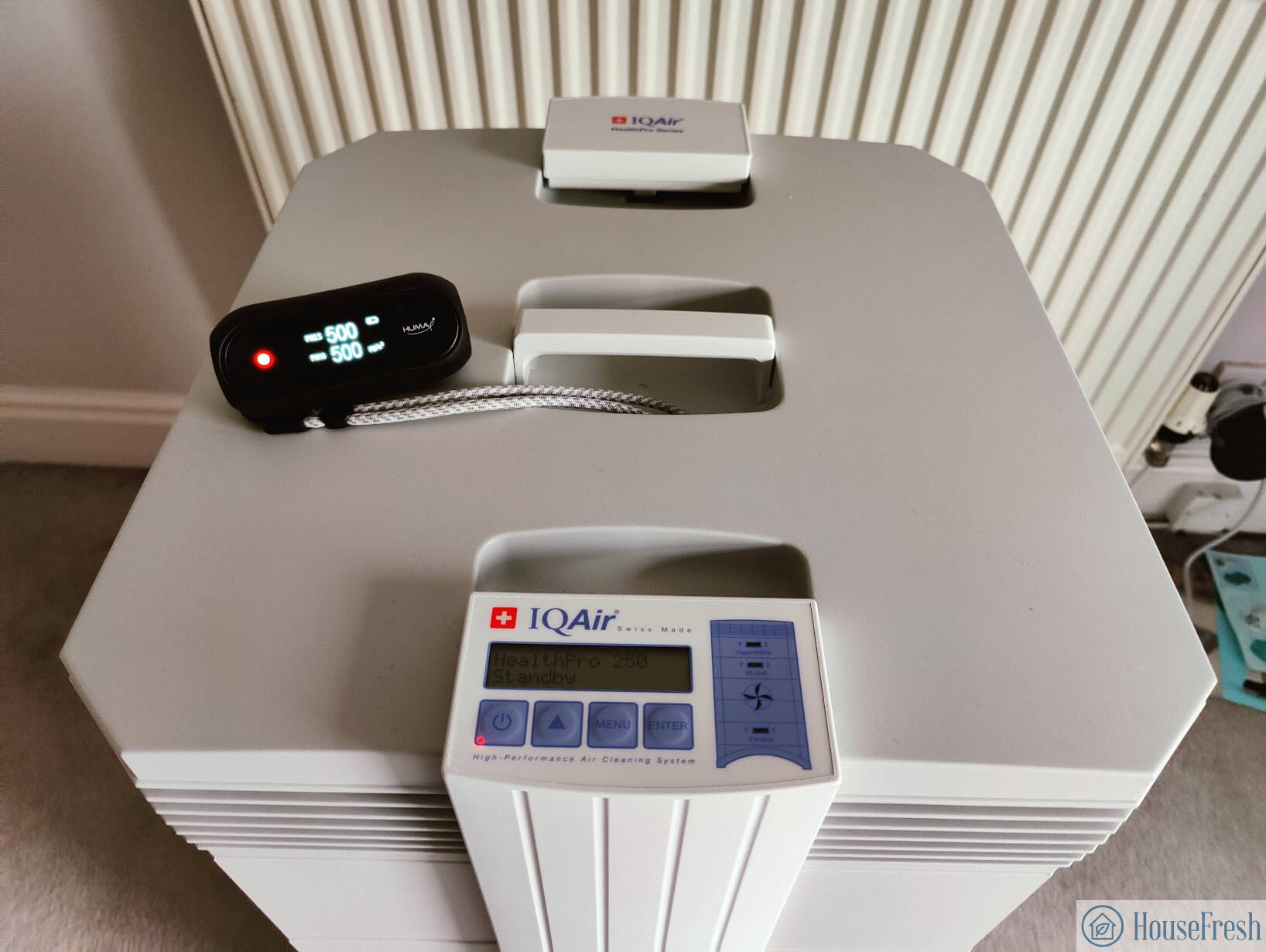 CFM
300 at Speed 6 or 510 m3h
Technology
HyperHEPA (99.5% particles ≥ 0.003 microns) and V50-CELL gas and odor filter
Power Consumption
21 watts to 156.5 watts (tested with power meter)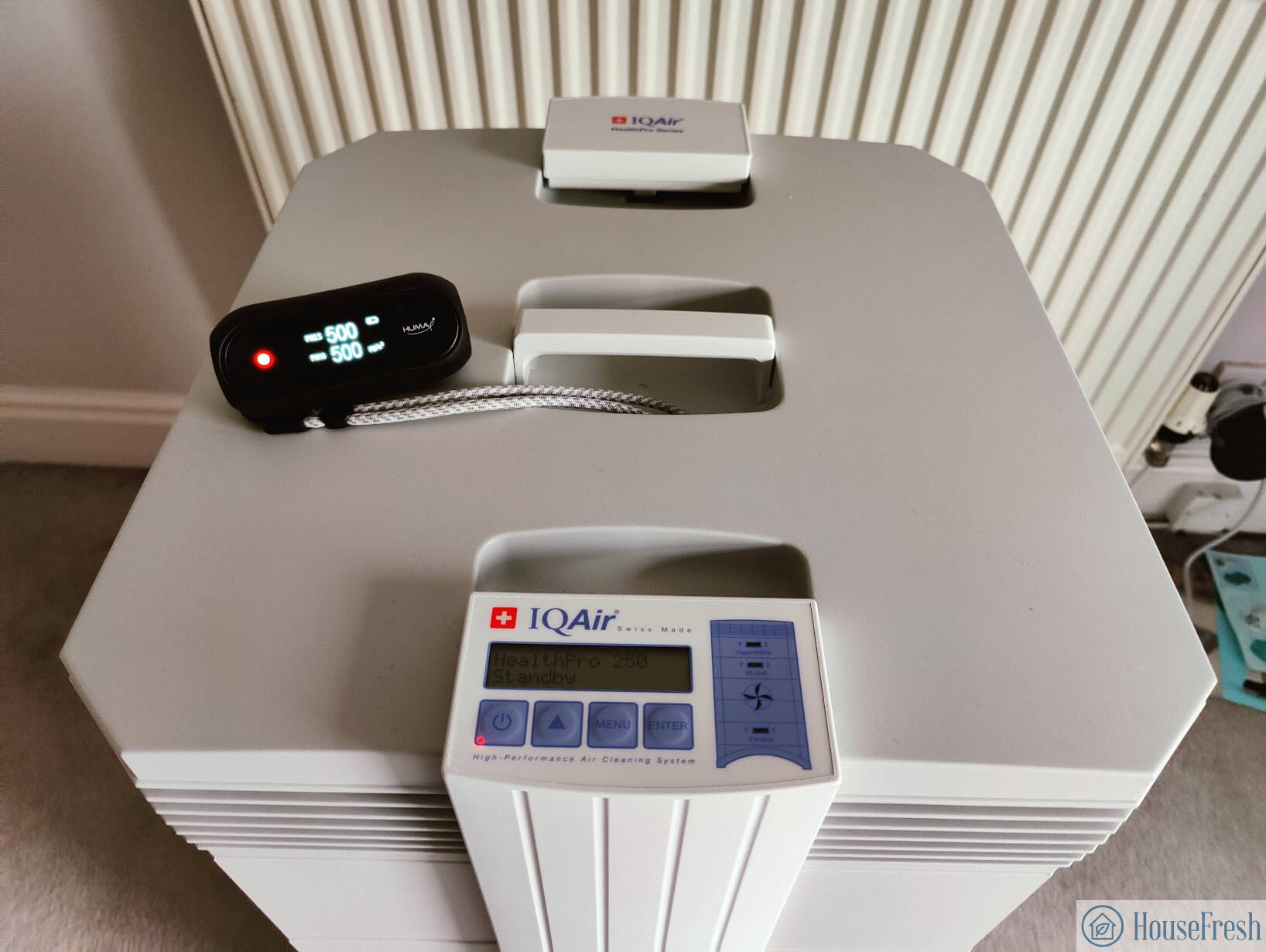 CFM
300 at Speed 6 or 510 m3h
Technology
HyperHEPA (99.5% particles ≥ 0.003 microns) and V50-CELL gas and odor filter
Power Consumption
21 watts to 156.5 watts (tested with power meter)
The Look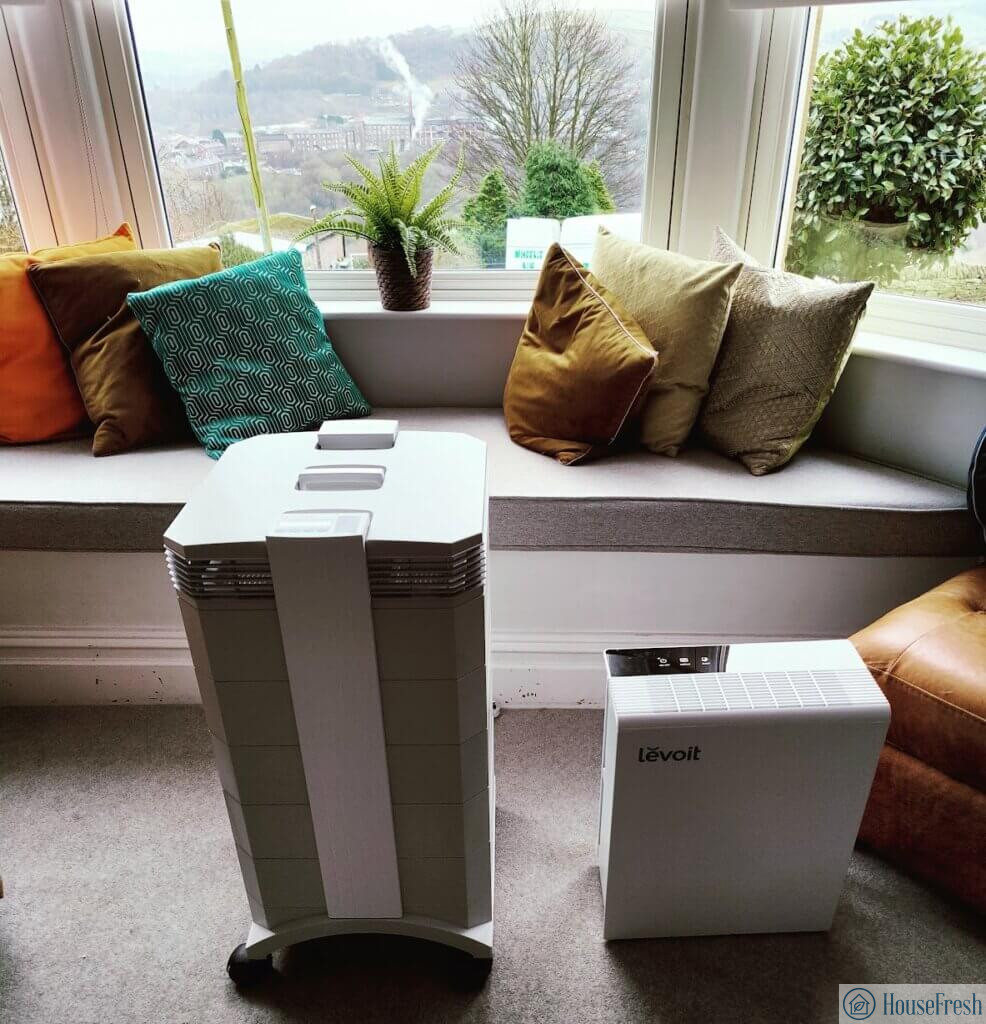 Is it a printer?
Was the first thing my wife said when she saw it and I have to agree it gives off office printer/copier vibes and it's certainly not small. You can see how it compares to the Levoit PUR131 in the photo above.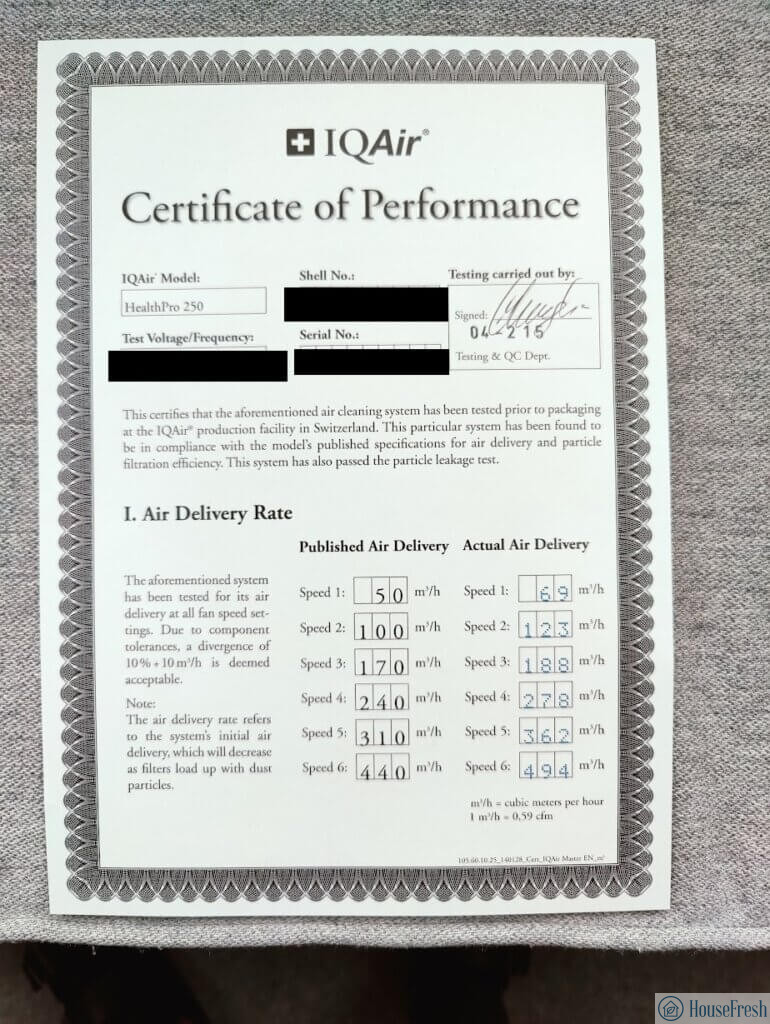 One thing I did appreciate was that you receive a certificate of performance as soon as you open the box as the team in Switzerland makes sure that every unit is tested before it goes out to you.
As you can see from the certificate my unit actually performed better than the published rate with Speed 6 providing 494m3/h vs 440m3/h.
Whilst the size is large, once you get it opened up you see that no one inch is wasted on anything not required.
The main case is basically a plastic shell that houses each of the different filters with a fan at the bottom that draws air up through the pre-filter and into the other filters.
So whilst it is big, it's not like you have a large unit full of empty space, the engineers at IQAir use every inch to fill it with filters so you are getting a good amount of performance for the floor space it takes up.
I am currently using the IQAir Healthpro Plus in my hallway and whilst it did get a strange look from my wife the first morning I set it up, it's now a part of the house and doesn't get in the way.
Setup: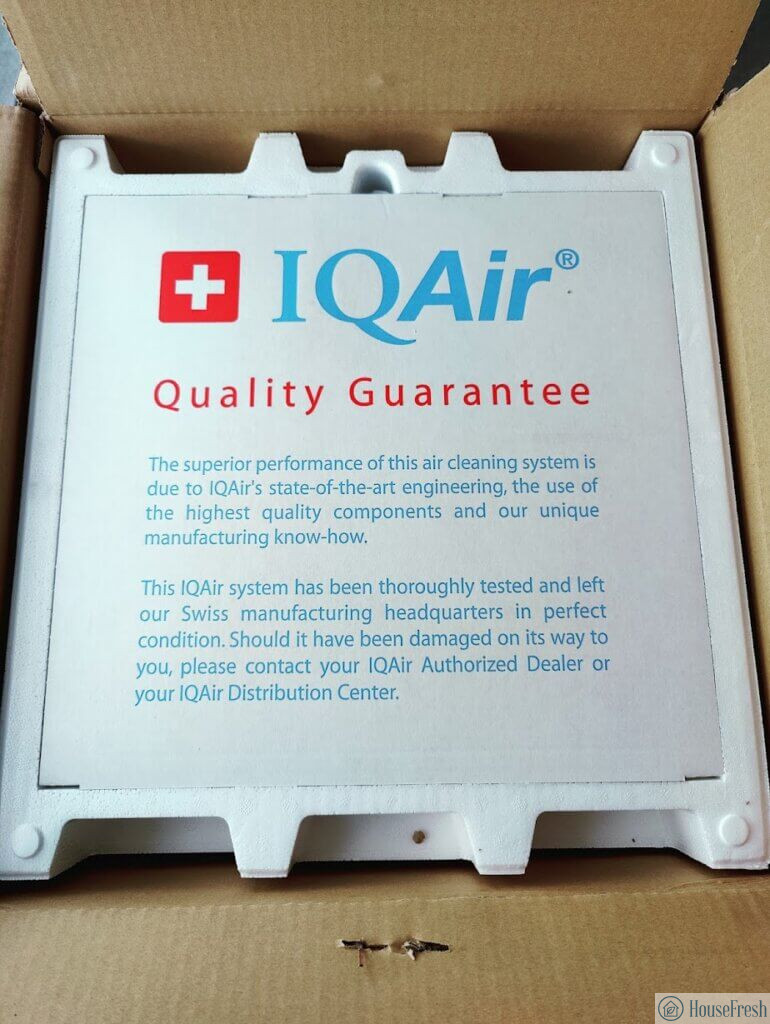 The IQAir Healthpro Plus comes well packaged in a large box and includes the certificate of performance before you remove the unit from its packaging.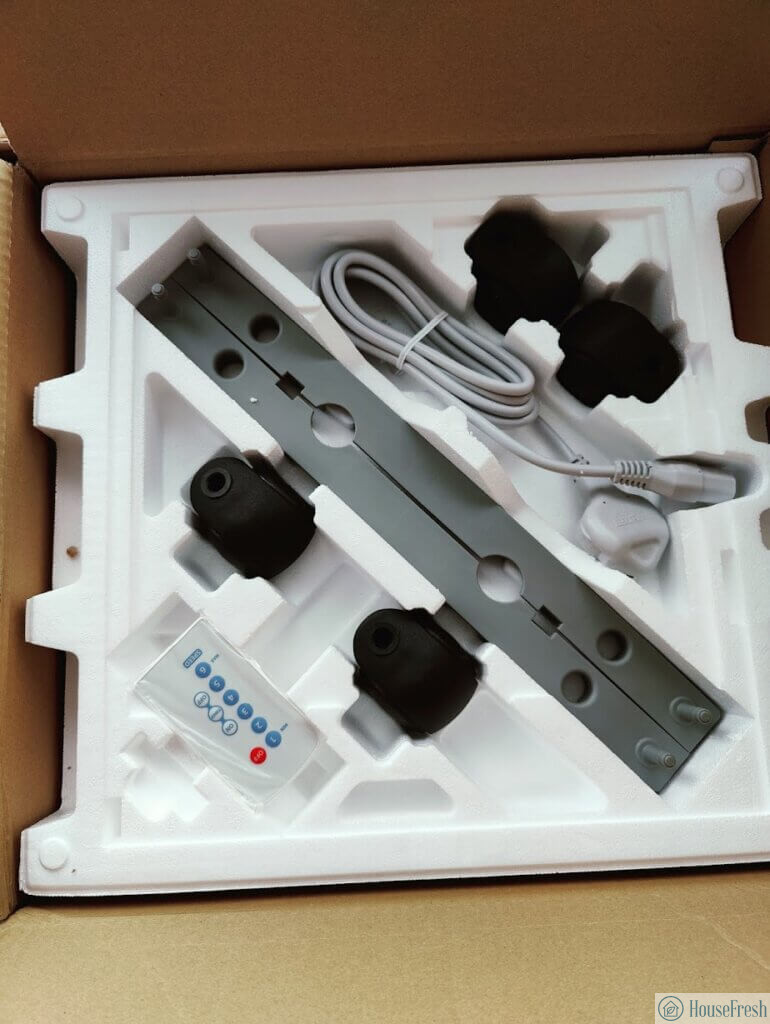 The remote, wheels, and power cable are packed separately. The wheels need to connect to the brackets and then be attached to the main part of the air purifier.
One issue I had was putting the wheels on once I had the brackets in place. Unlike most castor wheels these didn't just click into place. I worried I might break it but found that putting my entire weight on I was able to click them into place. I wouldn't like to try and remove them as they are super tight and whilst I don't worry about them falling off in the next decade, it would be something I would tell the team at IQAir to improve in future versions.
Filters:
The IQAir Healthpro plus is heavy at 46Ibs and I was worried how much of that weight was wasted as part of the chassis.
I shouldn't have been worried because most of the weight of this unit is due to the filters. The V5-Cell which is the filter that deals with odors and VOCs is alone over 5lbs of activated carbon and KMn05 alumina.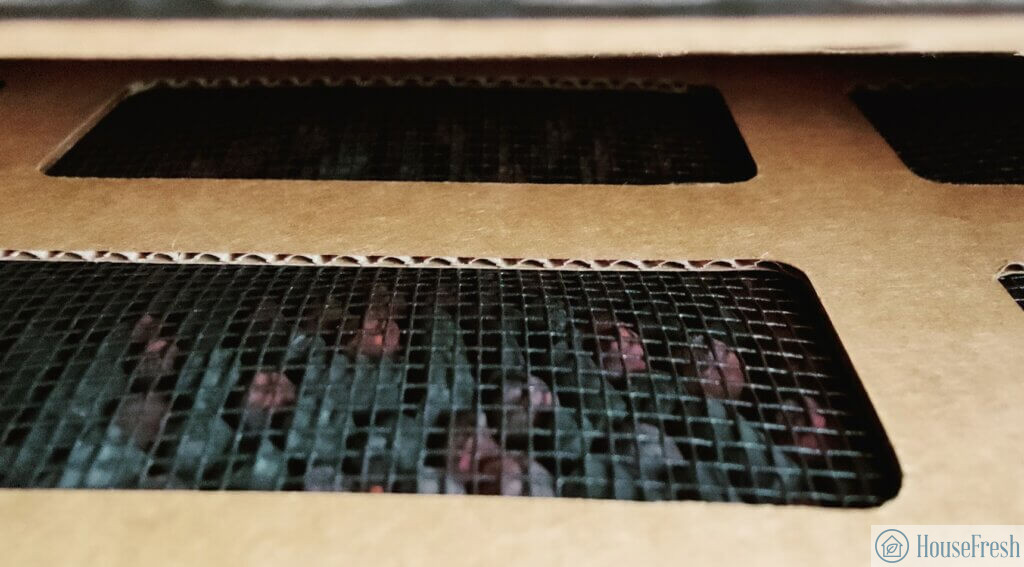 I took a closer look at the filter and you can see the individual pellets of activated carbon inside the V5-Cell Filter.
In this diagram from IQAir you can see the layout of filters for the Healthpro plus: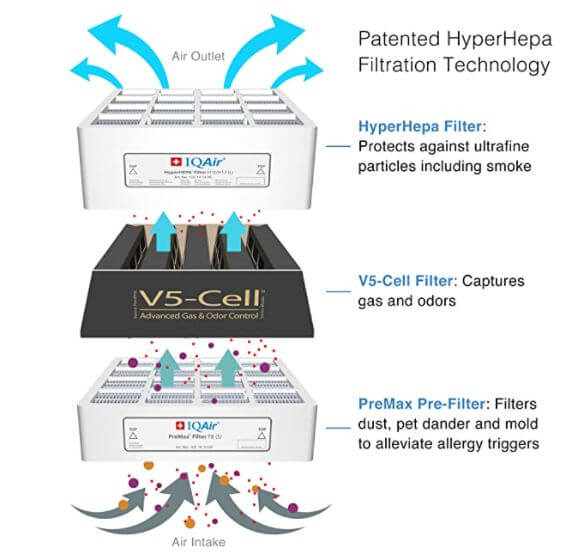 The initial pre-filter stops large particles like pet dander and dust particles which are pulled into the fan that then passes through the V5-Cell which removes gas and odors before the air is finally pushed through the primary HyperHEPA filter.
The benefit of this layout is that only pre-cleaned air is passing through the most expensive HyperHEPA filter which can be found for around $200 whilst the pre-filter is half that price. You will need to replace the pre-filter more often around every 18 months according to IQAir but then you only have to replace the HyperHEPA every 4 years which compares favorably to other high-end air purifiers.
How easy is it to use?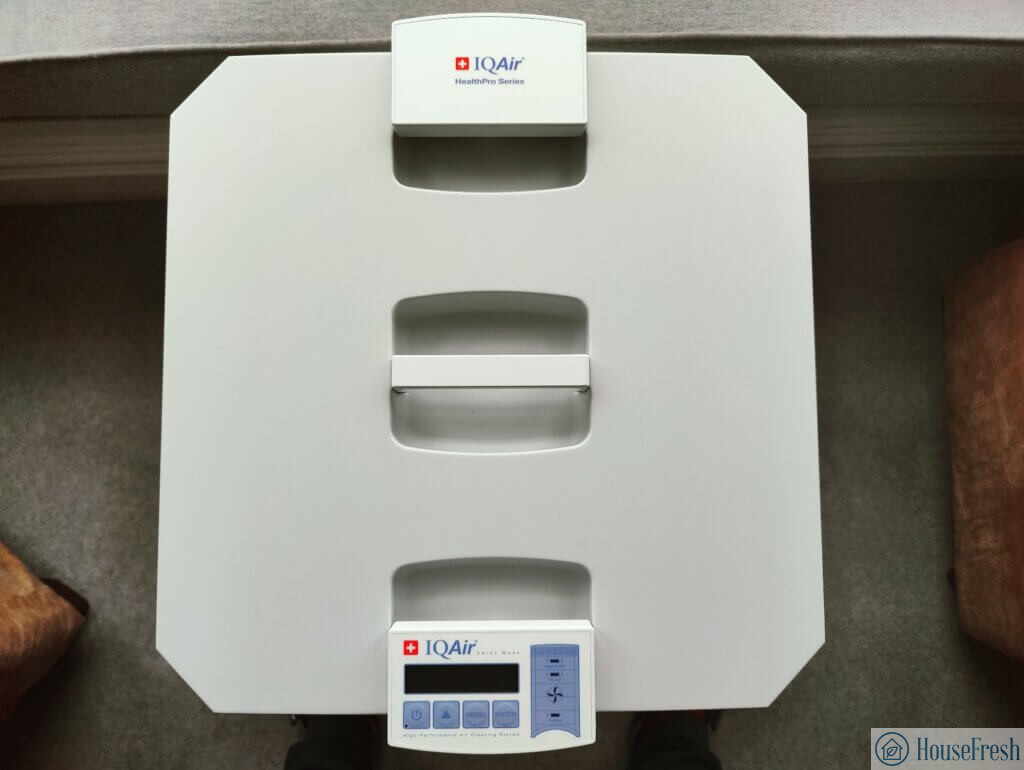 You receive a remote control but with small children in my home (who like to play with remotes and hide them) I preferred to use the buttons on the unit.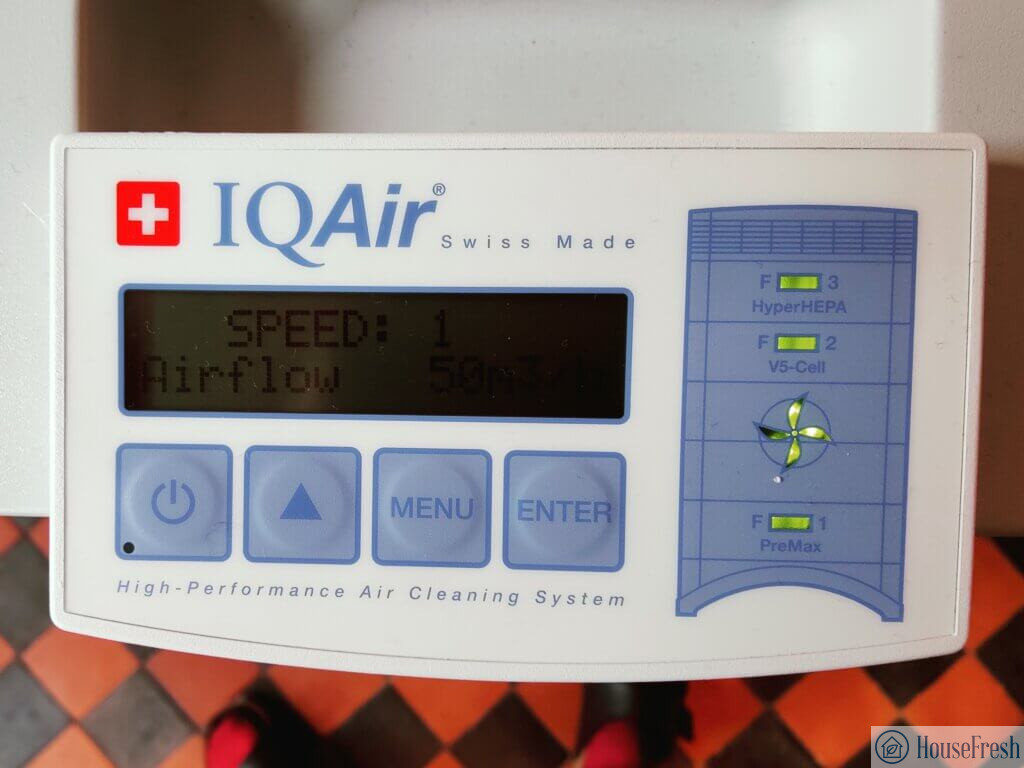 Compared to a lot of other air purifiers it's a fairly simple system with the ability to increase fan speed and also check out the amount of time left in the filters.
It does also have the option to set timers so you could get the unit to switch off during the night or when you don't require it but you will have to set this manually for each day with hours on and off.
I was a little disappointed to not see the implementation of a smart mode like we saw in the latest Levoit 400s that would allow the unit to come on automatically when it senses pollutants in the air.
If you are interested in how loud the IQAir Health Pro Plus is then be sure to check out the video above that I created of me using this air purifier at each speed from 1 – 6.
Performance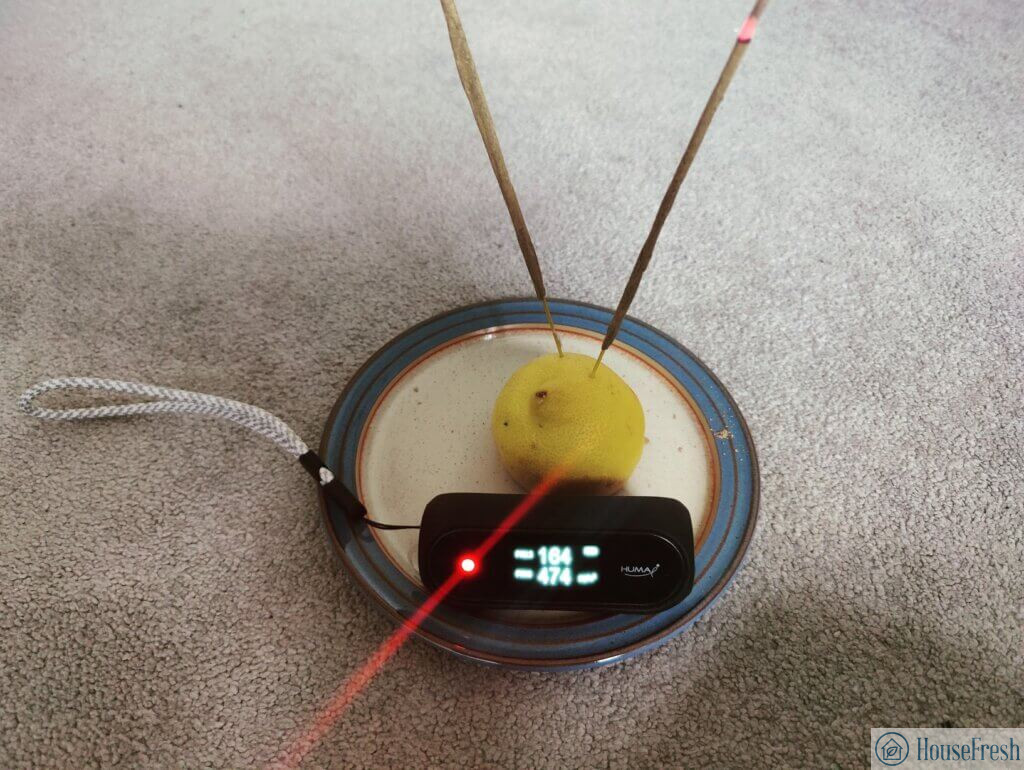 To test this unit I used the smallest room in my house and generated smoke using an incense stick.
To make a comparison with a smaller unit I repeated the test with another of my favorite air purifiers, the Levoit Core 300.
As neither unit comes with its own air quality indicator so I used my trusted Huma-i indoor air quality monitor and Purple Air Indoor sensor which would allow me to track air quality changes over time.
I wanted to know how quickly both units were able to reduce the amount of PM1, PM2.5, and PM10 particles in the air. These tiny particles are responsible for the bulk of health issues relating to indoor air pollutants as they can make their way deep into the lungs.
The room was 705 cubic ft.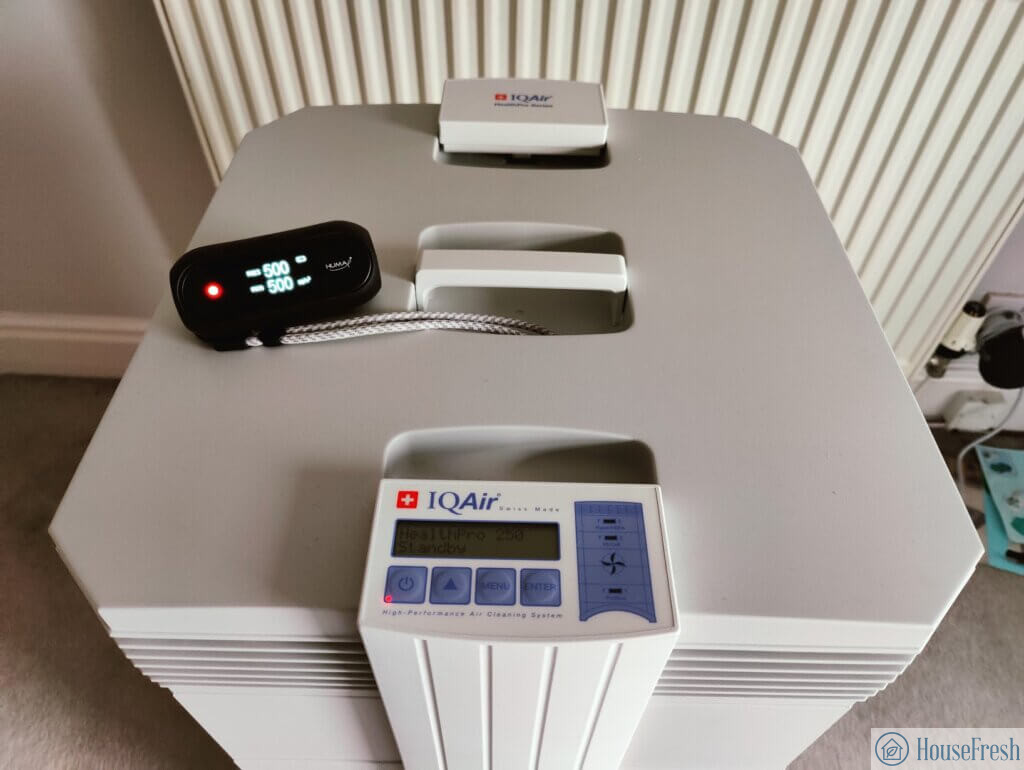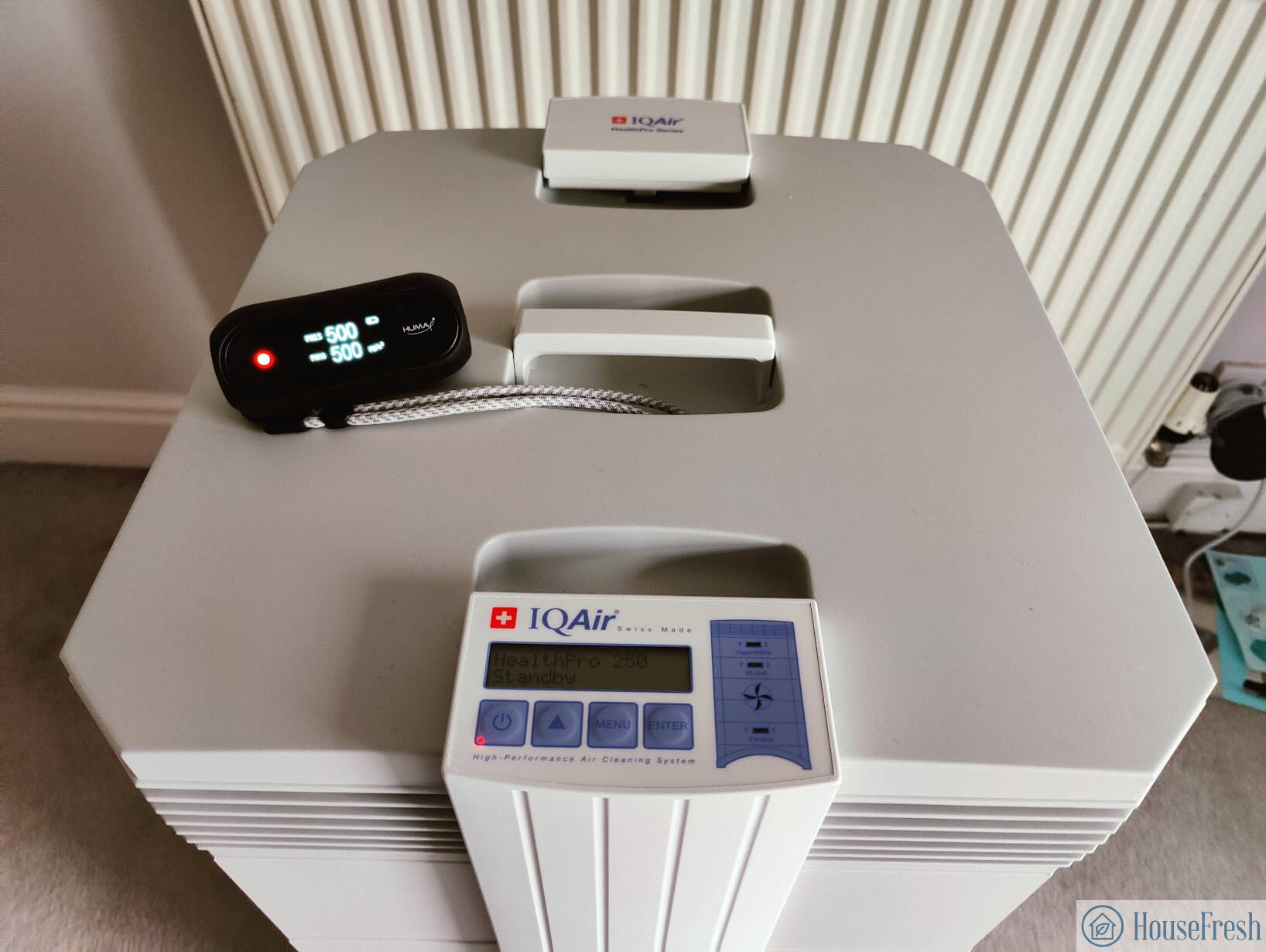 I started the air purifier on full power once 50% of the incense had burned and my air quality sensor was showing 500 pm10 and 500pm2.5.
The Levoit Core 300 took 40 minutes to get the room back to a reading of 3 pm2.5 and 3 pm10.
The IQAir HealthPro Plus took 25 minutes to get the room back to a reading of 0.01PM1, 0.16 pm2.5, and 0.16 pm10.
You can see the full data here:
The IQAir Healthpro Plus was able to clean the room nearly twice as quickly as the Levoit Core 300 which makes a lot of sense considering that the unit is nearly 9X more expensive.
You can see the sheer power of the IQAir Healthpro plus by looking at how quickly the air sensor changes when put close to the airflow exit on this air purifier. I did the same with the core 300 but it took significantly longer.
From a performance perspective, the IQAir certainly performed as well as I expected and I can now understand why Frank Hammes was so confident about using this air purifier as his primary air supply in the video I shared at the start.
Cost of Running the IQAir Healthpro plus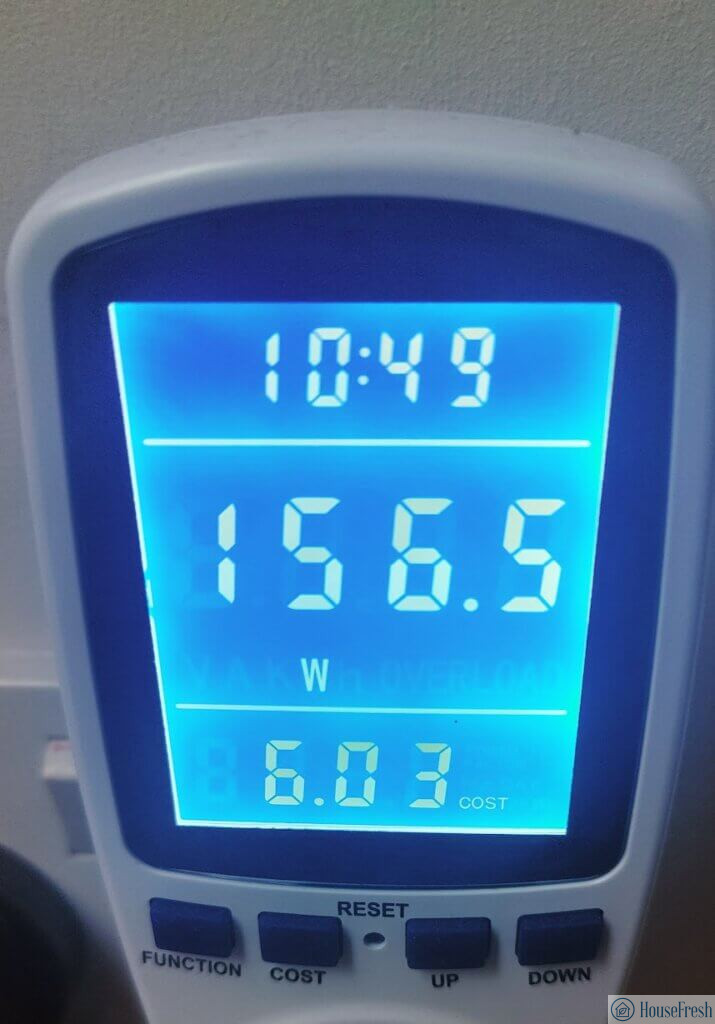 A big unit like this does cost a lot more in the initial outlay but another thing to consider is the extra costs for electricity and filters.
Rather than take the averages from the manufacturer's website, I tested the electricity usage for each different speed for this air purifier:
Speed 1: 21 watts
Speed 2: 38.7 watts
Speed 3: 57.7 watts
Speed 4: 81.6 watts
Speed 5: 113.9 watts
Speed 6: 156.5 watts
Using our handy air purifier cost calculator, we can see that at its highest setting this air purifier will cost 39 cents a day or $142.35 a year.
In comparison the Levoit Core 300 we tested on full power draws 34.5 watts so 9 cents per day and $32.85 a year – so a big difference.
So whilst you do get far superior performance, this will come at the cost of a higher electricity bill.
Another area to consider is the replacement of filters.
The genuine IQAir HyperHEPA and V5 filters are currently out of stock on Amazon but the pre-filter is available at $139 which needs to be changed every 18 months.
There are a number of generic filters that fit the IQAir Healthpro units with packages of all three including V5 and HyperHEPA coming in at $250 – although these are not built by IQAir so performance may not be at the same level.
Whilst you would hopefully not have to change all the filters every year, you would expect to budget at least $200 per year for filter running costs on top of the costs of the unit.
To compare with a similarly priced unit – the Alen 75i – filters cost $139 which need to be changed every 6 months so again a yearly cost of around $200 so compares favorably to other high-performance air purifiers.
What I like:
Manufactured in Switzerland and performance tested before it arrives
Top performance with 300 CFM and the ability to remove odors with 5lbs of activated charcoal
No use of ionizer. I'm still not sold on the benefits of ionizers long term unlike HEPA technology which has been proven again and again to be a great way to keep air clean.
HyperHEPA is best in class for any air purifier – 99.5% of particles smaller than 0.003 microns
10 year warranty
What I don't like as much:
No auto function or app support
Wheels could be easier to fit
Price is at the top end for 300 CFM performance
Bottom Line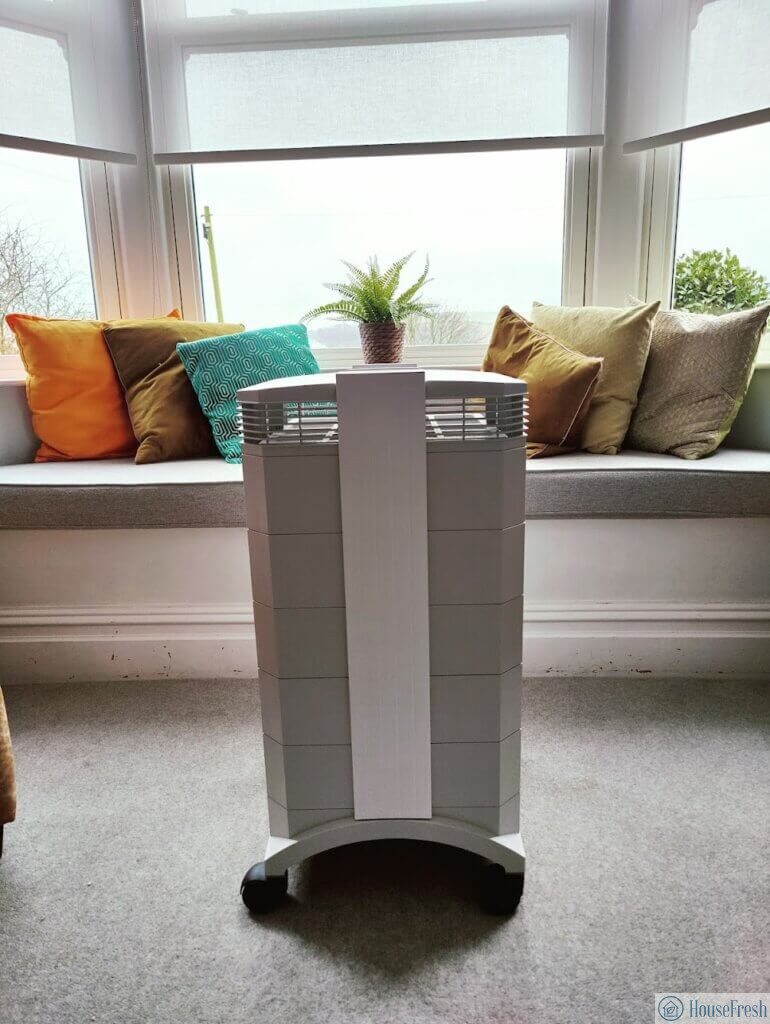 I had high expectations for the IQAir Healthpro Plus and its performance in our real-world tests didn't disappoint.
Yes, it isn't cheap but any level of performance of 300 CFM doesn't come cheap with the comparable high-performance units such as the Blueair classic 405 at $599 and the Alen 75i at $749. These units are able to perform at this level for less money due to their hybrid use of an ionizer combined with a HEPA filter.
IQAir is clear that they don't recommend Ionizer technology but I could totally understand situations such as large amounts of smoke that you would benefit from this extra power without the extra cost of a pure HEPA /activated charcoal system.
The question of whether you should get a unit like the IQAir Healthpro Plus will depend on what your position is on the use of hybrid systems that utilize ionizers. If you have any concerns about ionizers or specific health ailments then the Healthpro Plus is currently the most powerful HEPA/Activated charcoal unit on the market. If you don't want to get the odor and VOC filter you can buy a version that has a more powerful HyperHEPA performance at $50 less which is the IQAir HealthPro (no plus) and IQAir Healthpro compact which might make more sense depending on your specific use case.
IQAir HealthPro Plus Air Purifier - Medical Grade HyperHEPA filter for home large room up to 1125 sq ft - for Viruses, Bacteria, Allergens, Asthma Triggers, Smoke, Mold, Pets, Dust, Odor, Swiss Made
Unrivaled Performance: The HealthPro Plus is the #1 Rated room air purifier for homes, offices, schools, hospitals, industrial, and commercial sites. Has received more top reviews and awards than any other air purifier. Chosen by the Hong Kong Hospital Authority for both SARS-CoV-1 & SARS-CoV-2, the virus that causes COVID-19. Superior airflow with the 320-degree EvenFlow Diffuser efficiently filters all the air in large rooms and bedrooms numerous times an hour.
Medical Grade H14 HyperHEPA Filter: Proven and certified by a third-party testing lab to remove and trap 99.995% of all airborne particles down to 0.003 microns, the HealthPro Plus supplies unequaled protection against bacteria, dust, mold, pollen, pet dander, smoke from wildfires, odors, harmful chemicals like formaldehyde, and more. True HEPA filtration.
Long Lasting & Cost-Efficient Filters: Three different filters clean the air four different ways. Pre-filter traps coarse particles. Activated carbon adsorption and pelletized chemisorption filter odors and gasses. HyperHEPA traps fine and ultrafine particles. Long-lasting filters – 16 to18 months for the pre-filter, 2 years for the gas and odor filter, 3 years, 9 months to 4 years, 2 months for the HyperHEPA filter - helps save money over the air cleaner's lifetime, and more eco-friendly.
Energy Saving and Ultra-quiet Air Cleaner: The HealthPro Plus emits ultra-quiet, low-decibel sound across all four fan speeds. The fan-in-center design places the motor between sound-reducing filters. Doubled-walled housing limits sound. Rubber suspension pads isolate motor vibration from the air cleaner housing. EvenFlow Diffuser deflects sound back into the system. Powerful fan uses only as much electricity as a conventional light bulb, amounting to pennies per day to operate.
Certified Performance: Each HealthPro Plus air purifier is made in Switzerland and individually tested for total system efficiency. If the system is not delivering 99.97% cleaner air or better, it does not get shipped. The results of the tests are detailed in a hand-signed Certificate of Performance. Every system comes with a 10-year limited warranty. Direct purchases from the manufacturer will require a signature to acknowledge receipt upon delivery. CARB EO # G-10-059.
Last update on 2022-12-05 / Affiliate links / Images from Amazon Product Advertising API