Our verdict:
A made-in-the-USA air purifier that removes VOCs and gasses that won't be suitable for the majority of consumers. 
Still, for those of you who have concerns about removing gas as well as particles, then this expensive air purifier is worth considering.
Richard Taylor's wife, Joyce, suffered from respiratory distress syndrome. He noticed that she only had relief when in a clean hospital room. So in 1990, he designed an air purifier that used True Medical HEPA and activated carbon to clean the air inside his home. 
Within a week of using the first device, Joyce could sleep undisturbed for the first time in years. That was the start of Austin Air.
Now it's one of the world's largest air cleaning manufacturers and has 30 employees with a revenue of $19.2 million. Austin Air purifiers use much more activated charcoal than what is typically used in consumer air purifiers, with around 15 lbs used in the HealthMate. 
While this means that Austin Air purifiers are one of the higher priced on the market, they are mighty at removing gasses, odors and VOCs that standard air purifiers find much harder to remove. Austin Air was tested by the U.S. Army and fulfilled the largest deployment of air purifiers in American history to support the air quality concerns in post-9/11 NYC. 
Why You Should Trust This Review

As with all of the air purifiers we review here at HouseFresh.com, we bought the Austin Air HealthMate with our own money to ensure we can be unbiased and open about the good and bad. 

We the tested the HealthMate following the same process we use to test every air purifier we review – allowing us to compare all brands and models with each other. 

1️⃣ We create dense smoke by igniting an incense stick in a sealed testing room (705 cubic ft). 

2️⃣ We use our trusted PurpleAir Indoor Air Quality Monitor to track PM1.0ug/m3, PM2.5ug/m3, and PM10.0ug/m3 levels in the air.

3️⃣ Once the incense has burnt out, we place the air purifier in the test room and turn it on.

4️⃣ With the unit running at top speed, we monitor the PurpleAir readings until the incense smoke is eliminated.

5️⃣ We also use an electricity usage monitor to record the air purifier's energy consumption at each fan speed level.

6️⃣ Lastly, using our commercial sound monitor, we measure how much sound is generated at the highest and lowest speeds.

Once we have all the data, we upload this to the data visualization tool Flourish to make it easy to understand and compare with other units on the market.
TL;DR The Lowdown on the Austin Air HealthMate
---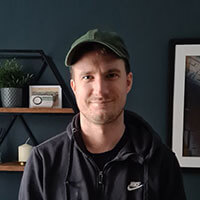 "The best air purifier on the market for dealing with gasses, odors and VOCs. Likely overkill for those looking to keep dust and pollen levels low due to its high initial and running costs."
— Danny Ashton, Founder & Senior Writer
---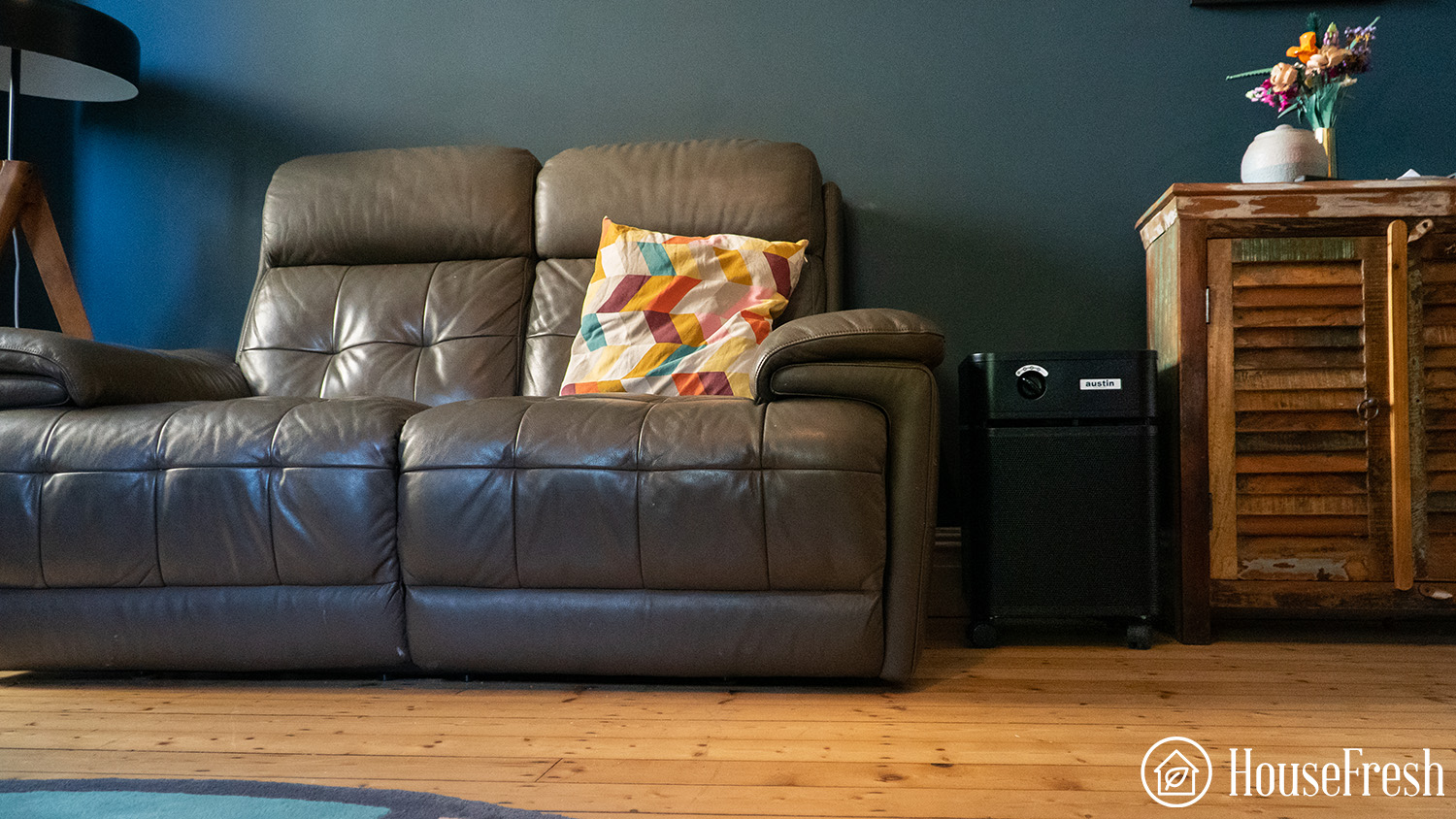 What We Really Like:
👍 15lbs of activated carbon with zeolite (the largest amount we have seen in a consumer air purifier) — perfect for dealing with any issues with gas-based pollutants
👍 Filters last five years before they need to be changed
👍 Simple system to use — three fan speed modes
👍 Wheels allow you to move the purifier to different locations without having to lift
👍 Powerful fan that pushes a good amount of air through both the HEPA and activated charcoal filter
What We Think Could Be Better:
👎 At maximum fan speed, it pulls 132 watts which are on the higher side compared to similar-performing units
👎 No app support or smart features at all
👎 At 62dB, it's a little louder than purifiers from Levoit, Alen or Blueair
The Specifications
This air cleaner is worthy of consideration for those wanting to remove gasses from their environment. But, at over $700, this air purifier is considered high-end and you are not paying for extra features. The Austin is a powerful fan with a large, activated charcoal filter and true HEPA. 
The most similar comparison we can make would be the IQAir Healthpro Plus. It's $800 and has a smaller activated charcoal filter but improved performance when dealing with particle pollutants. 
| | |
| --- | --- |
| HouseFresh Rating: | ★★★★☆ |
| Time to clean our test room: | 37 minutes |
| Air purifier technology: | Large Particle Pre-filter + Medium Particle Pre-filter + Activated Carbon and Zeolite filter + True Medical Grade HEPA filter |
| Recommended room size: | 750 to 1500 sq. ft.  |
| Clean air delivery rate (CADR): | 150 CFM (estimated based on HouseFresh tests) |
| Dimensions (in inches / in cm): | 23H x 14.5W x 14.5D inches (58.4H x 36.8W x 36.8D cm) |
| Weight (in pounds / in kg): | 47 lbs (21.3 kg) |
| Noise level (low – high): | 40dB – 62dB |
| Filter life: | 5 years |
| Warranty: | 5 years |
| Estimated energy consumption: | $138.76 per year |
Basic But Stylish Design With a Functional Control System
I like the basic look of this air purifier. It's a curved rectangular unit that fits nicely in a modern room.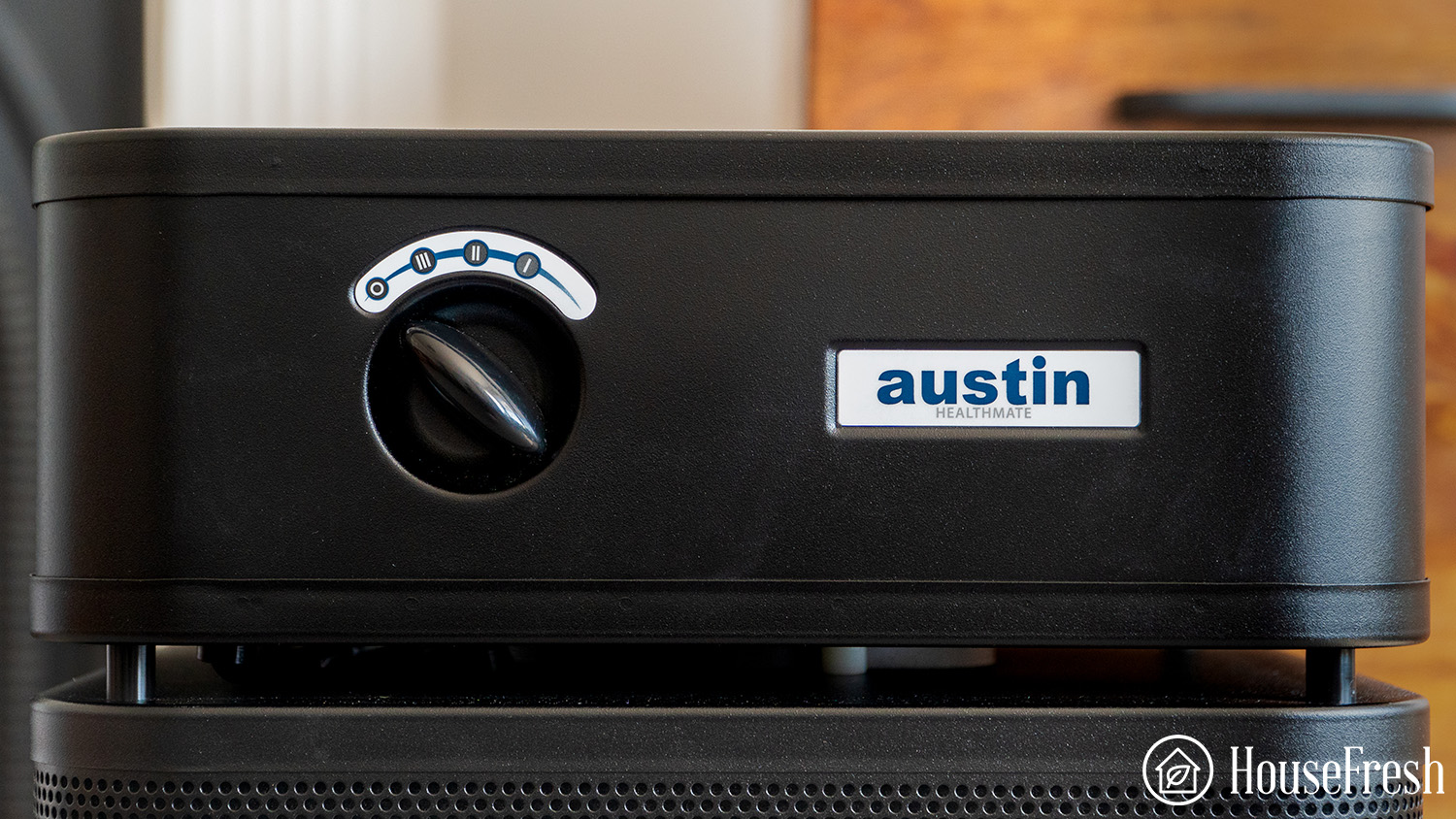 I could feel the weight of the activated carbon filters as soon as this unit arrived. At 47 lbs (21.3 kg), you might need someone to help when you receive it, but once you have got it out of the box, the included wheels help move it around.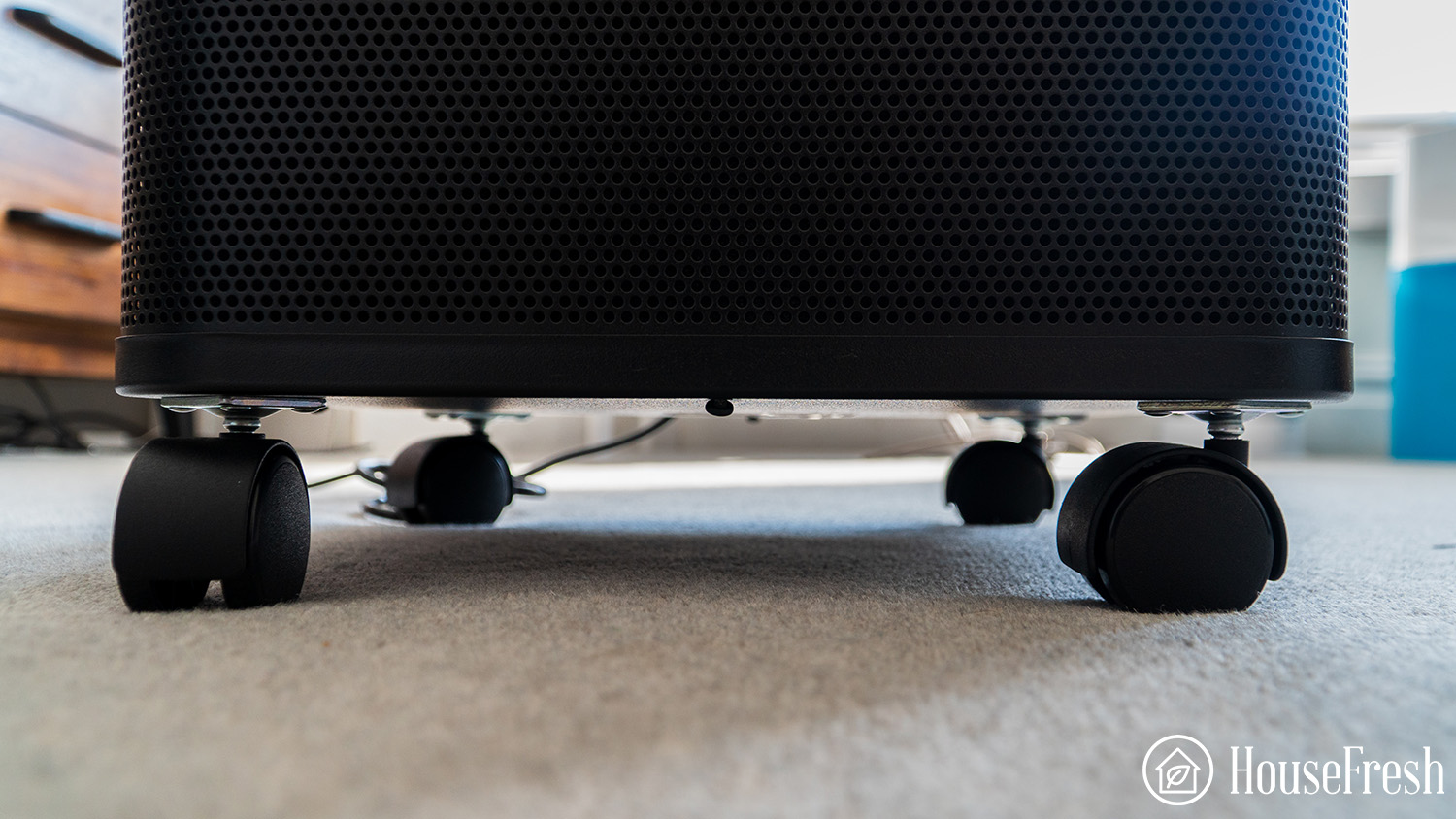 I liked the black color, but you can also choose sandstone if you prefer that color scheme.
The Austin Air team didn't reinvent the wheel with its control system. The HealthMate has a simple 3-function switch for switching the unit on and for changing the fan speed.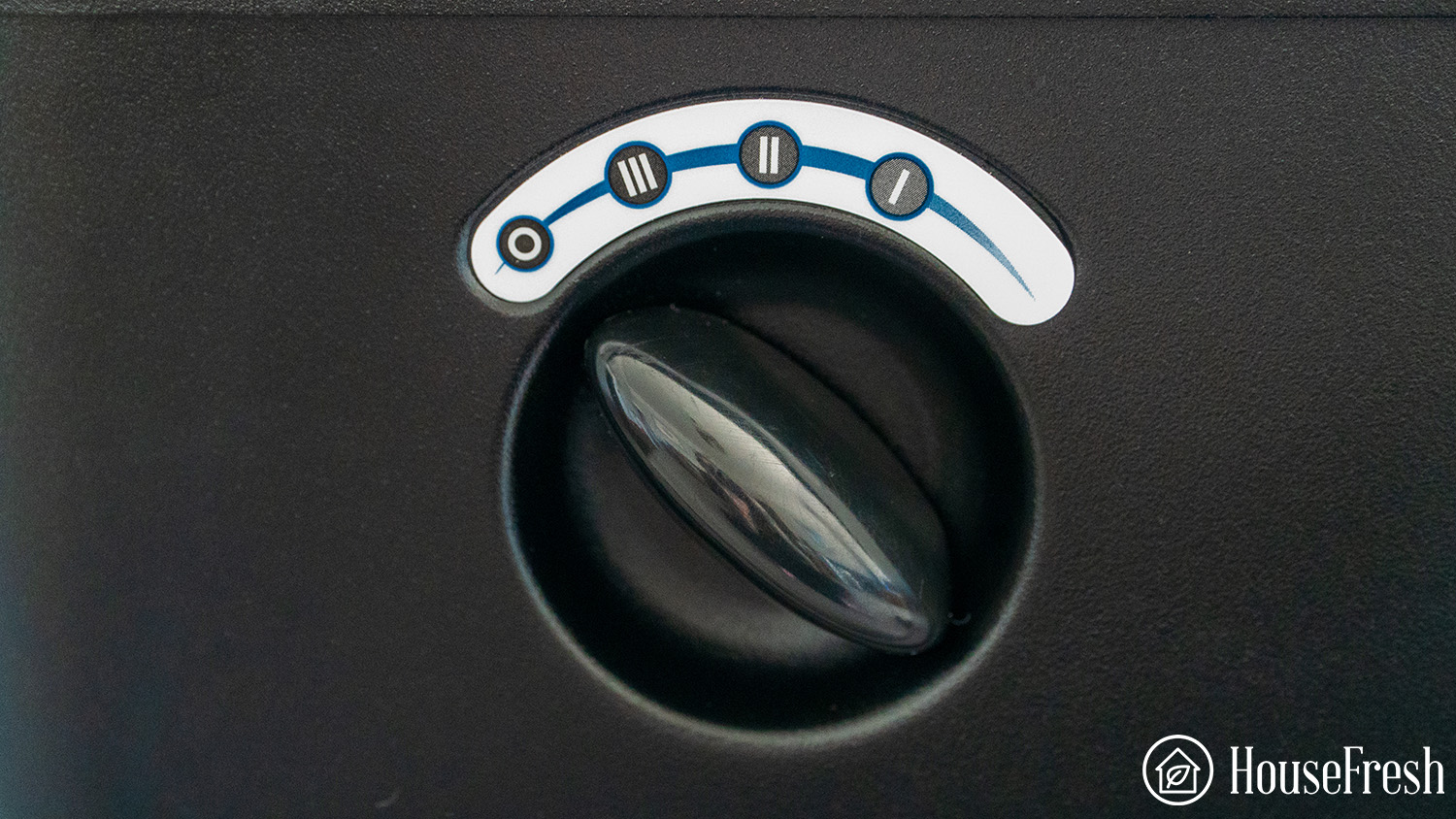 Considering that VOCs and gasses are tricky to detect with current sensor technology, I understand why they don't use an auto-mode.
When compared side-by-side with the large IQAir Healthpro Plus, you can see that it has a similar floor footprint but is a much shorter unit.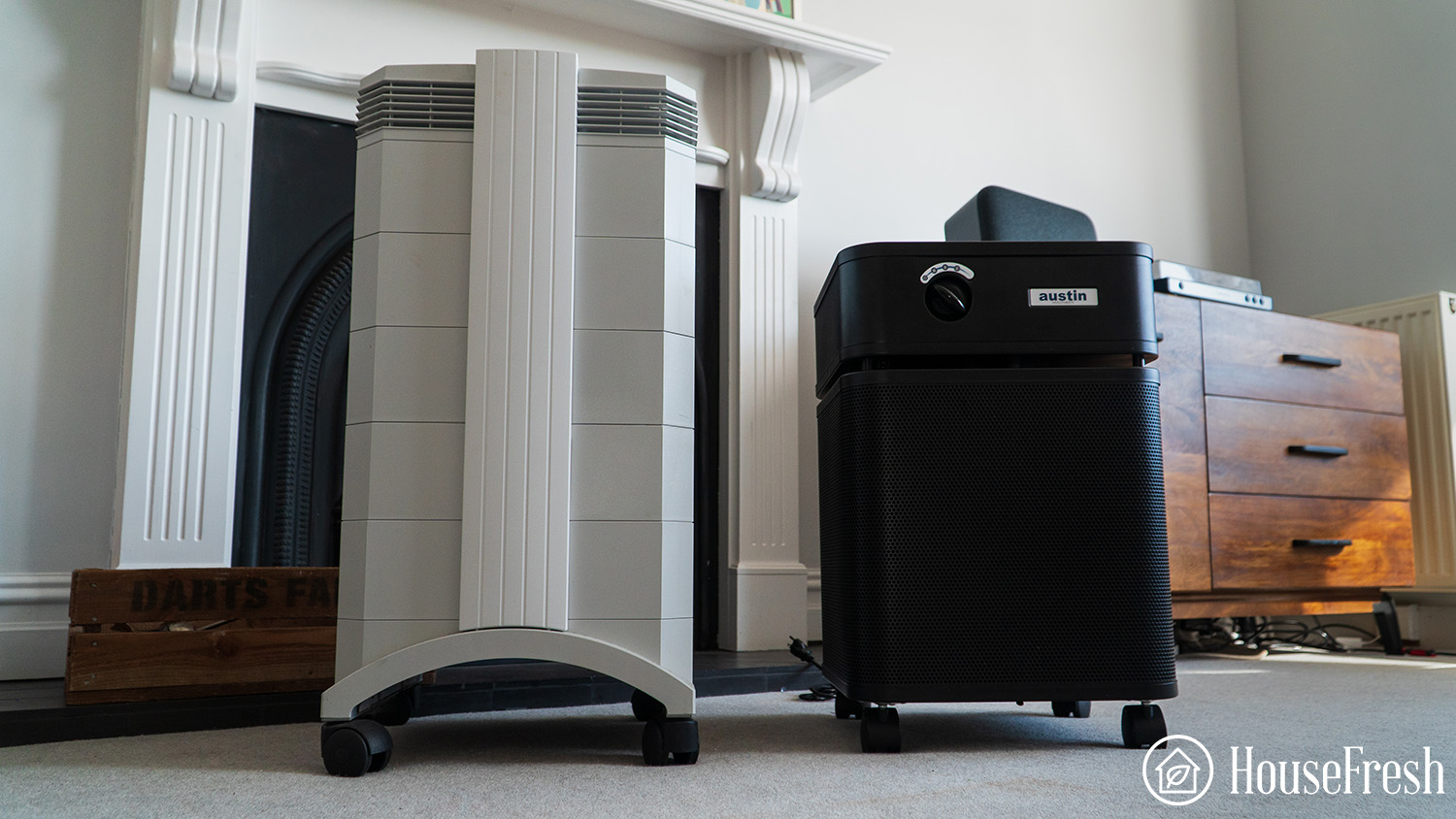 ⚠️ While it might not look big compared to the IQAir, the HealthMate is still one of the largest air purifiers on the market based on weight and dimensions.
Functional Design That Does the Job
The Austin HealthMate uses a True HEPA filter with 15 lbs of activated carbon and zeolite. 
Zeolite helps improve how well the filter can remove VOCs. It works similarly to activated carbon, absorbing and trapping the gasses. 
Most air purifiers use a HEPA-based filter with a small amount of activated carbon via impregnated fabric or small pellets. The reason that small amounts of carbon are used is down to price and can quickly increase costs for the initial unit and replacement filters.
As most home issues involve particle pollution, they don't require much carbon to do their job well. 
But in situations that generate a lot of VOCs or gasses, you will want to have the biggest amount of activated carbon available. The Austin Air HealthMate currently has the largest carbon-sized filter in the United States. 
You can see just how big this filter is when comparing it side-by-side with the Levoit Core 300 – this thing in HUGE!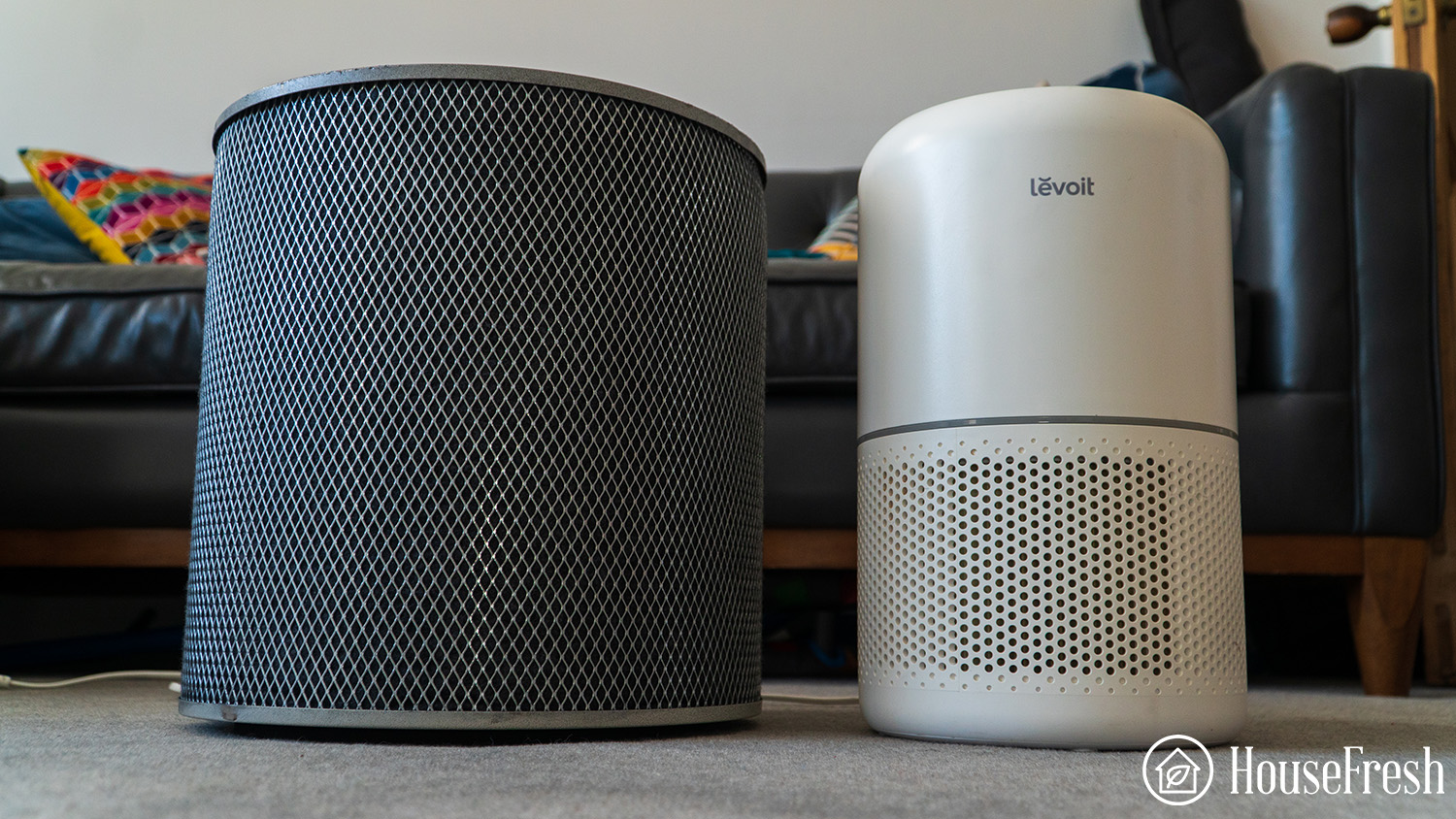 ⚠️ When HEPA-based filters are first delivered, they are often kept in a plastic bag, and this was the case with the Austin Air HealthMate — so I was sure to remove this bag before switching the unit on. 
Replacing the filter is not as straightforward as other units. You will need a screwdriver: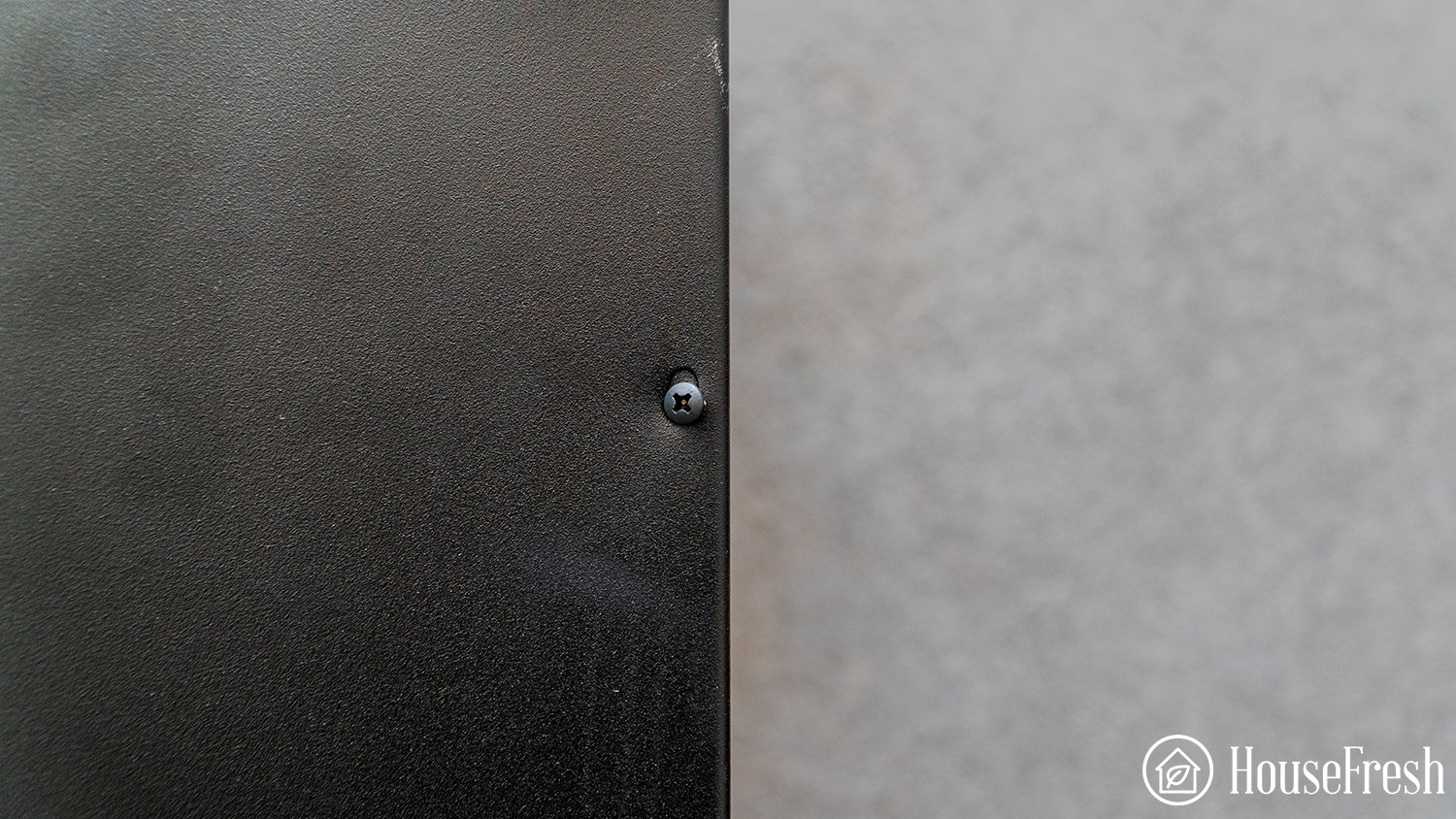 Once you have dettached the top of the unit from its body, you will be able to access the filter. Here is how it looks inside:
---
The Austin Air HealthMate Cleared Our Test Room in 37 Minutes
We test all the air purifiers we review here at HouseFresh in the same room of 705 cubic ft and use burning incense to simulate particle pollution. Using the indoor sensor from Purpleair we track the PM1.0ug/m3, PM2.5ug/m3 and PM10.0 ug/m3 and time how long it takes to get the level of PM1 down to 0.
Air Cleaning Performance Test Results
The Levoit Core 300S took a little longer than this unit, at 39 minutes, to clean our test room. The Mila air purifier was quicker at 35 minutes.
If this air purifier was designed only to remove particles, then the results could be seen as unimpressive, considering that it cleaned our test room at a similar rate to the Levoit Core 300S, which is available for $150. But you must consider that the Austin Air is designed to remove gasses and VOCs due to its larger-than-normal activated carbon and zeolite filter. 
Luckily our upgraded Purple Air Indoor sensor has the latest BME68 sensor that allows us to also track the level of VOCs in the air. 
Removing gasses takes much longer and even with the large filter of the Austin Air HealthMate, you can see that VOC levels are drastically reduced over the next few hours after we perform our particle test. By 2 PM, we had reduced the level of VOC from 433.65ppm to 50.52ppm. 
Noise Levels Test Results
At the lowest fan speed, the Austin Air HealthMate has a comfortable 40dB, but at the highest speed, it reached 62dB, which is a little higher than similar performing units that max out at 52 dB. 
The ability to remove VOCs will likely require a more substantial fan to push the air through the large filter, so more noise is expected. While it's not painfully loud, it would be something you notice if you had to work in the same room. 
That being said, I know that noise is subjective. Have a listen for yourself so you can assess whether the Austin Air HealthMate is too noisy for you?
---
The Cost to Run an Austin Air HealthMate: $254.56 Per Year
1. Electricity costs = $196.66 per year
At the highest speed, the Austin Air HealthMate pulls 132 watts, equating to $138.76 per year if you run it 24/7, 365 days per year. This is higher than we see with most consumer-grade air purifiers, but again makes sense when you consider the large, activated charcoal filter.. 
2. Filter costs = $57.90 per year
The replacement filters come with one filter that includes the HEPA, activated charcoal/zeolite and prefilter and comes in at a whopping price of $289.99. Still, luckily, you only need to replace the filter every five years, which is way more in line with the costs of other air purifiers on the market. 
Considering the large amounts of activated carbon, the filter costs seem very fair, but it's still going to be a bit of a shock when you first replace it after five years. 
Several generic filters are a little less to purchase, which brings the total cost of filter replacements down to $149, equaling $30 per year in filter costs. Still, based on reviews, I was wary of the quality and recommend sticking with Austin Air genuine filters.
Technology
Large Particle Pre-filter + Medium Particle Pre-filter + Activated Carbon and Zeolite filter + True Medical Grade HEPA filter
HEPA Filter Kit Compatible with Austin Healthmate
Technology
Large Particle Pre-filter + Medium Particle Pre-filter + Activated Carbon and Zeolite filter + True Medical Grade HEPA filter
Technology
HEPA Filter Kit Compatible with Austin Healthmate
---
Bottom Line
If you don't have any issues with VOCs or gasses, you are much better off saving your money with a cheaper air purifier from Levoit, Blueair or Alen. 
But if you have health concerns or significant issues with outdoor pollution gasses, you can't get much better than the Austin Air HealthMate and its 15 lbs of activated carbon and zeolite.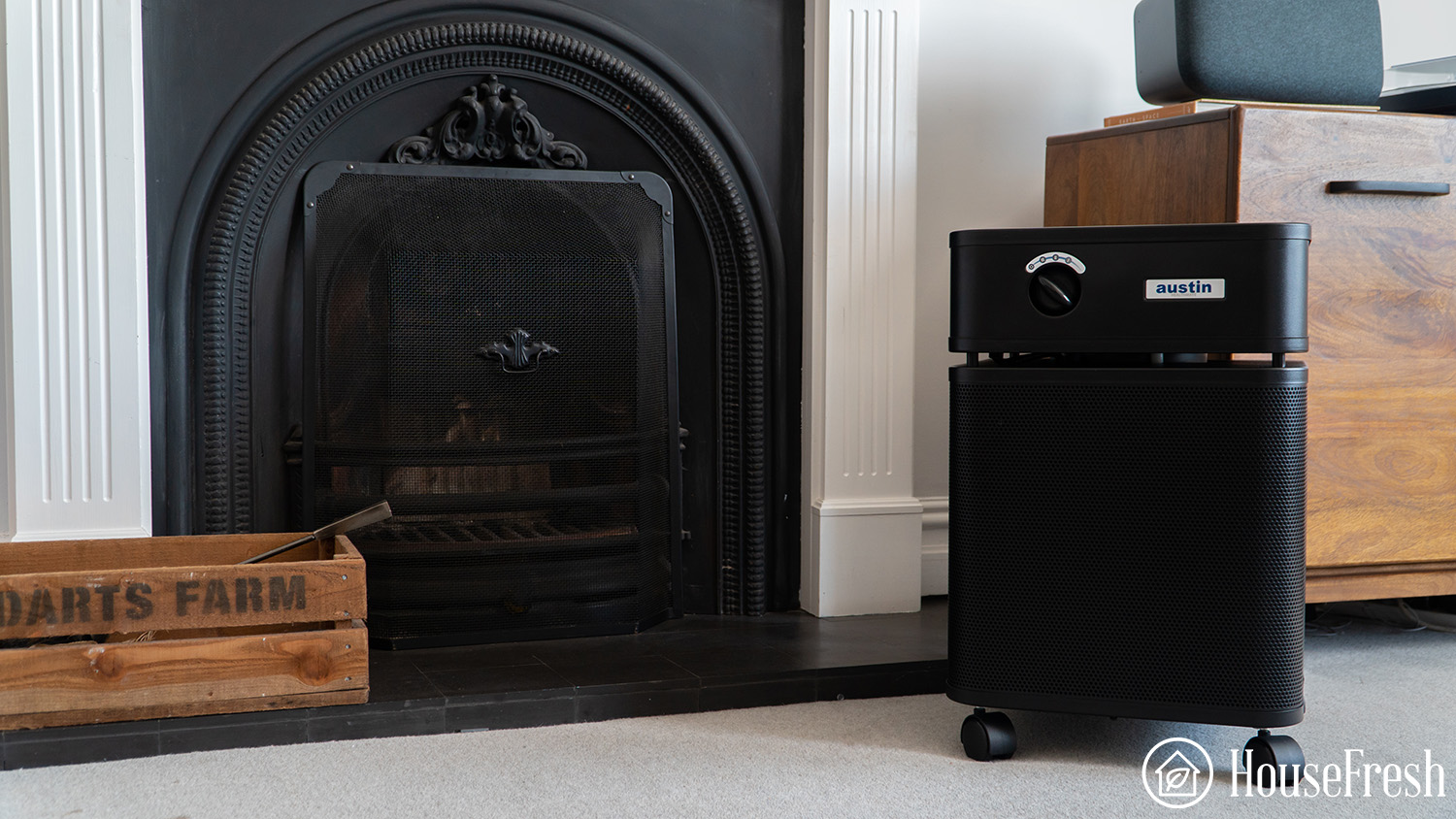 It has much more activated carbon than the IQAir Healthpro Plus and comes in cheaper both to buy and run. Still, its performance for just particles is less than that of the IQAir unit. For those looking for the best air purifier for VOCs, the Austin Air HealthMate is one of the leading air purifiers. 
SOURCES

We calculated the monthly energy consumption costs with the help of the Department of Energy's appliance energy calculator. We calculated yearly costs associated with running Austin Air HealthMate for 24hs a day for 365 days. We ran this calculation utilizing the U.S. average utility rate of $0.12/kWh as of September 2023.
Last update on 2023-09-26 / Affiliate links / Images from Amazon Product Advertising API