The Rainbow RainMate air purifier was invented as part of a patent developed by Rainbow (Rexair inc) in 1988. That patent expired in 2006, so the market is now full of these "water air purifiers" that filter air through water to remove pollutants.
While the primary market for this invention was a new type of vacuum cleaner, Rainbow realized that you could also use this technology on a smaller scale as an "air purifier."
Interestingly, the Rainbow RainMate air purifier was not sold directly to the consumer but was part of a home sales presentation where a salesperson would show all the products — from $3000-$4000 for a complete cleaning vacuum system to this air purifier for $150- $170.
I'm never a fan of direct selling as it naturally puts the consumer at a disadvantage, as they will feel pressured to purchase something with someone in their home.
Thankfully I didn't have to sit through a presentation for my rainbow air purifier — I could buy a generic version of the unit on Amazon as the patent has long expired. Now many companies use the technology in units priced from $45-$75, with some including free fragrances.
In our home lab of 728 cubic ft, we light an incense stick to generate particle pollution and VOCs.

We set up our trusted Purpleair Indoor Sensor with the latest Bosch gas sensor to track levels of PM1ug/m3, PM2.5ug/m3 and PM10ug/m3 and VOCs in the air.

We switch the air purifier to its highest speed and measure how long it takes to get our room air quality down to PM1 level to 0.

We use an energy meter to measure precisely how much electricity is used when running the unit at the lowest and highest fan speed settings.

We track sound levels emitted by the air purifier at different fan speeds with the help of a commercial sound meter.

TL;DR The Lowdown on the Rainbow Rainmate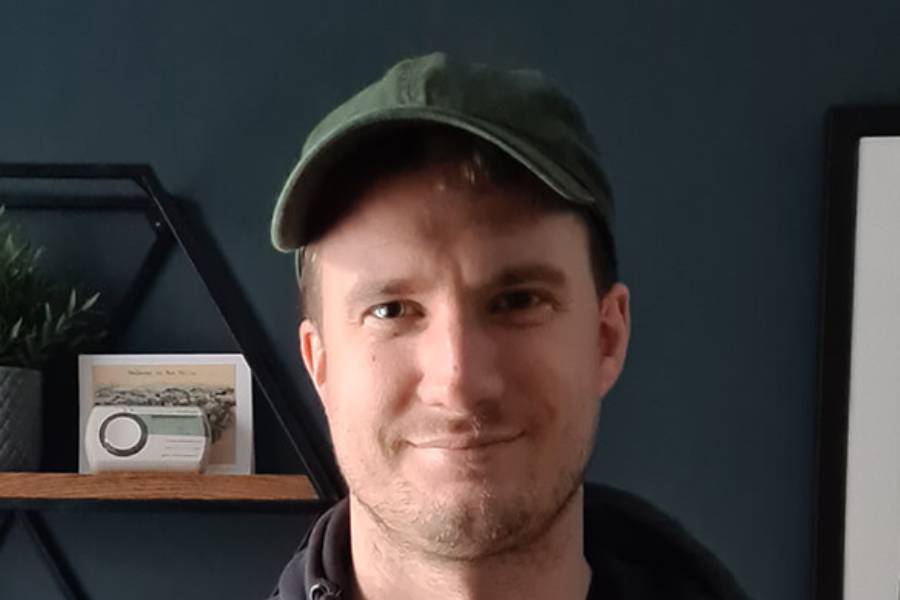 "No filter costs, but it failed to deliver when it came to cleaning the air in my home. If you need to clean the air, then look elsewhere."
— Danny Ashton, HouseFresh Founder & Senior Writer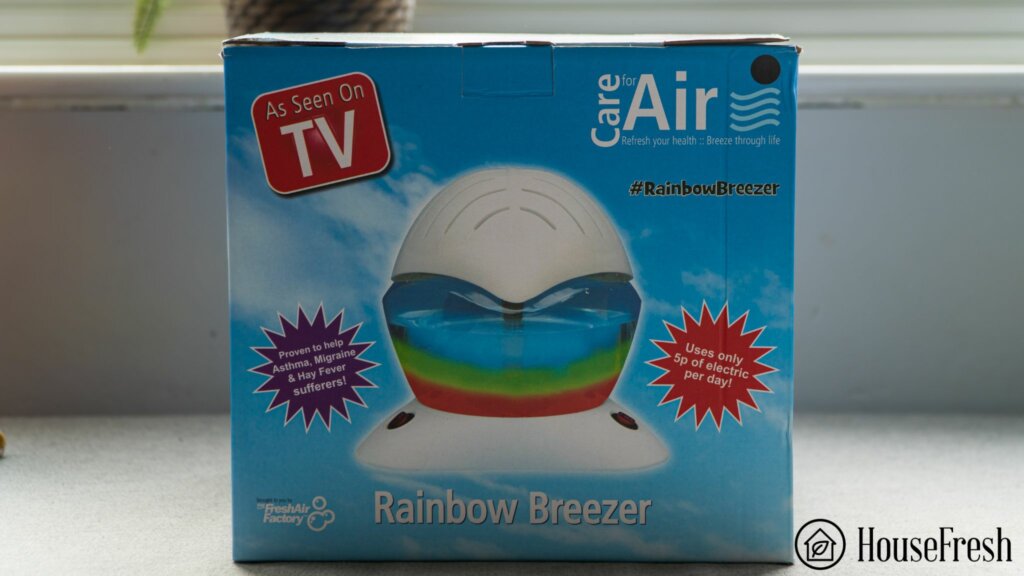 If you don't want to read my 1800-word review on this air purifier, then you can see my key points below:
What we really like
It's pretty cheap, with generic versions available for less than $40 on Amazon
It doesn't create any harmful byproducts that you find with ionizers
It's a small and fairly easy way to deliver fragrances to your room
What we think could be better
Next to useless when it came down to removing particulate pollutants from the air based on our performance tests
Don't like that the unit is sold directly via salespeople as it puts the consumer at a disadvantage and pressures them to buy
It shouldn't be sold as an air purifier; it is a fragrance diffuser
The Specifications
The first thing that made me a little wary of the effectiveness of this air purifier was the lack of data about its cleaning power. The manufacturer doesn't share the CADR, which is the first indicator that this might not perform well at removing pollutants from the air.
| | |
| --- | --- |
| HouseFresh Rating: | ☆☆☆☆☆ (if we could give it negative stars, we would) |
| Time to clean our test room: | We were unable to clean the air in our test |
| Air purifier technology: | Water air purifier |
| Recommended room size: | 180-360 sq. ft (1200 sq. ft was also stated) |
| Clean air delivery rate (CADR): | Not shared |
| Dimensions (in inches / in cm): | 9 x 8 x 9 in inches (22H x 20W x 22D cm) |
| Weight (in pounds / in kg): | 2.8 lbs (1.2 kg) |
| Noise level (low – high): | 10dB |
| Filter life: | No filter but the water needs to be changed |
| Estimated energy consumption: | $16.82 per year |
Strange Look for an Air Purifier
It's bizarre looking for an air purifier. It looks more like a coffee maker than a standard air purifier.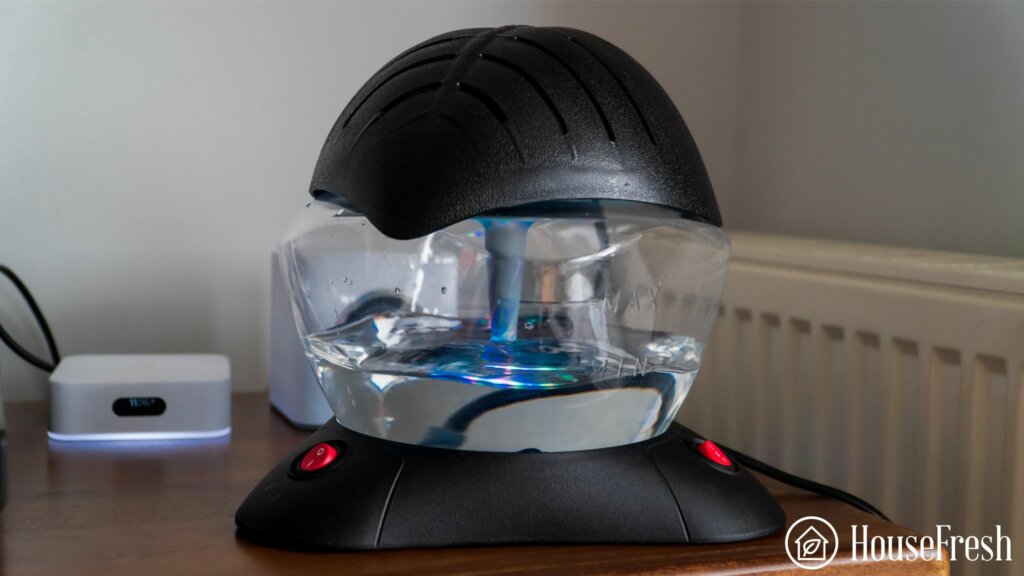 It has two buttons, one to switch it on and another to switch on the LEDs. It's small and easy to live with, and you can easily keep it on top of furniture.
It's a super simple unit to use, you just switch it on when it's full of water, and it will start pulling air from outside into the main tank and start bubbling. The LEDs are optional and have their own switch.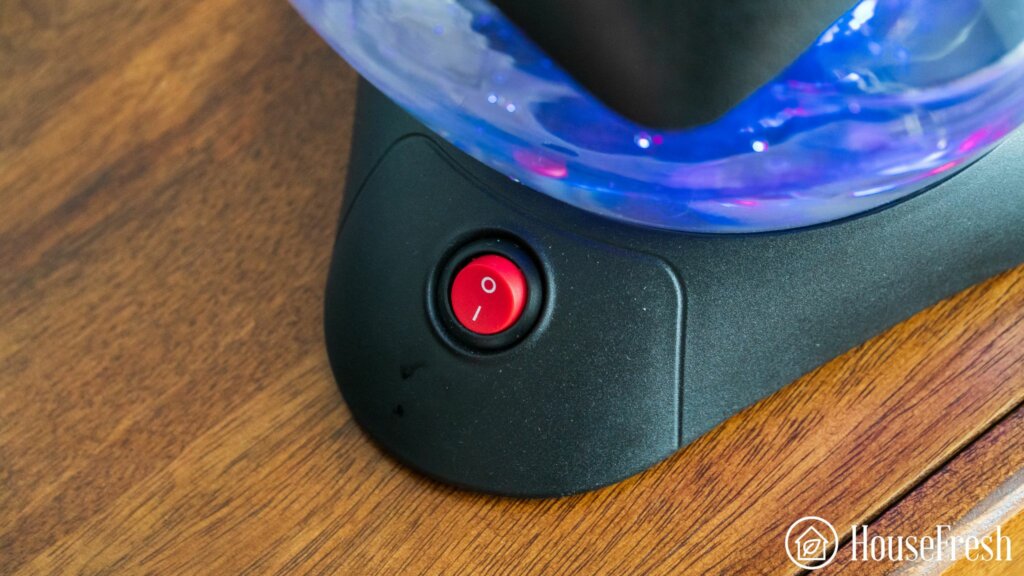 You need to fill up the main tank with water before using it to clean your air, which is easy enough. The LEDs catch your attention and can go from blue, red and green to yellow.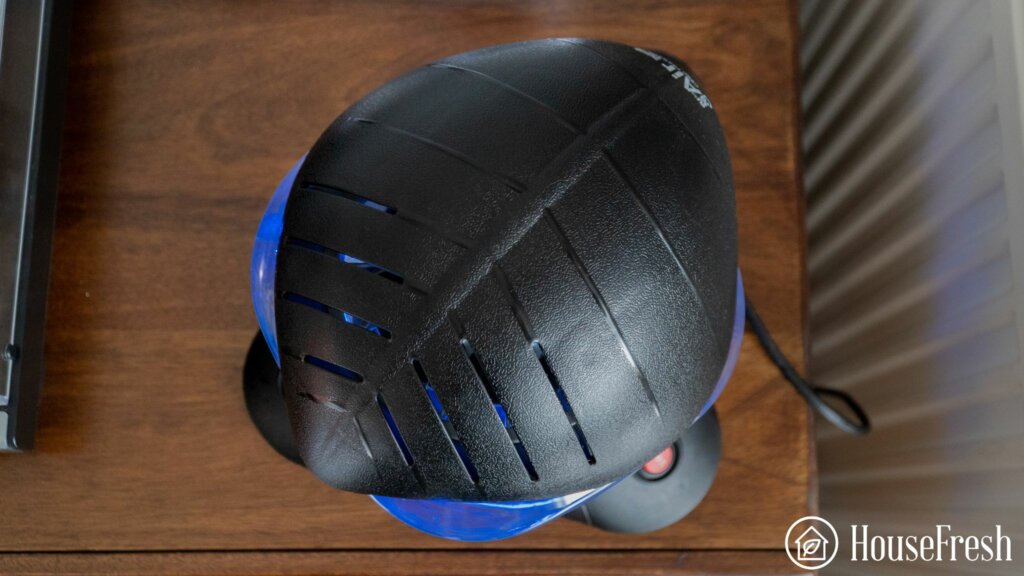 Water Filtration Technology
Unlike the standard air purifiers we review here at HouseFresh, the Rainbow Rainmate uses water as the filter. The water will need changing when running the unit for a long time.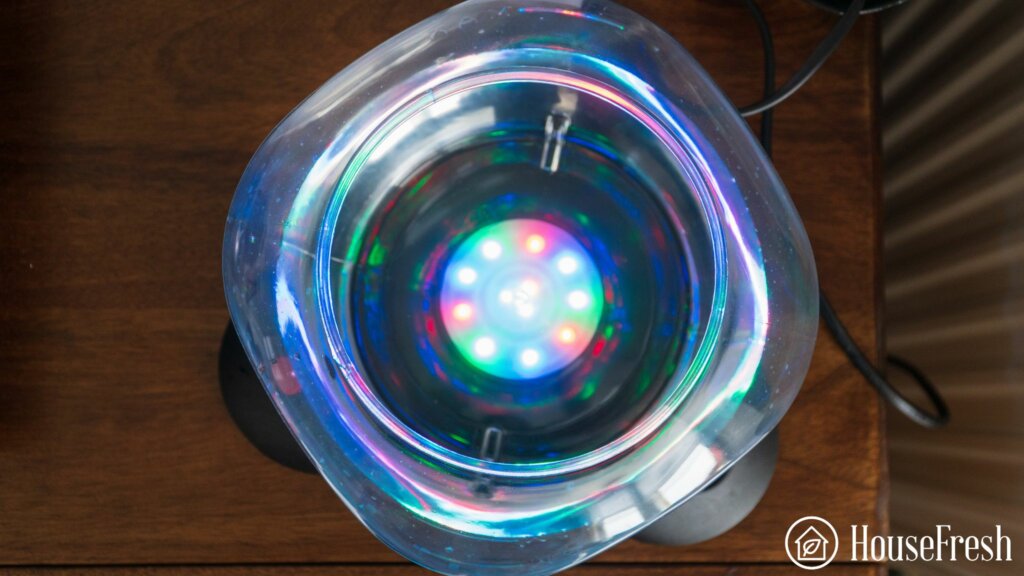 I have read a ton of academic studies around the performance of HEPA and activated charcoal at removing pollutants and gasses from the air. Still, I have not seen any studies about the power of water to remove these types of pollutants.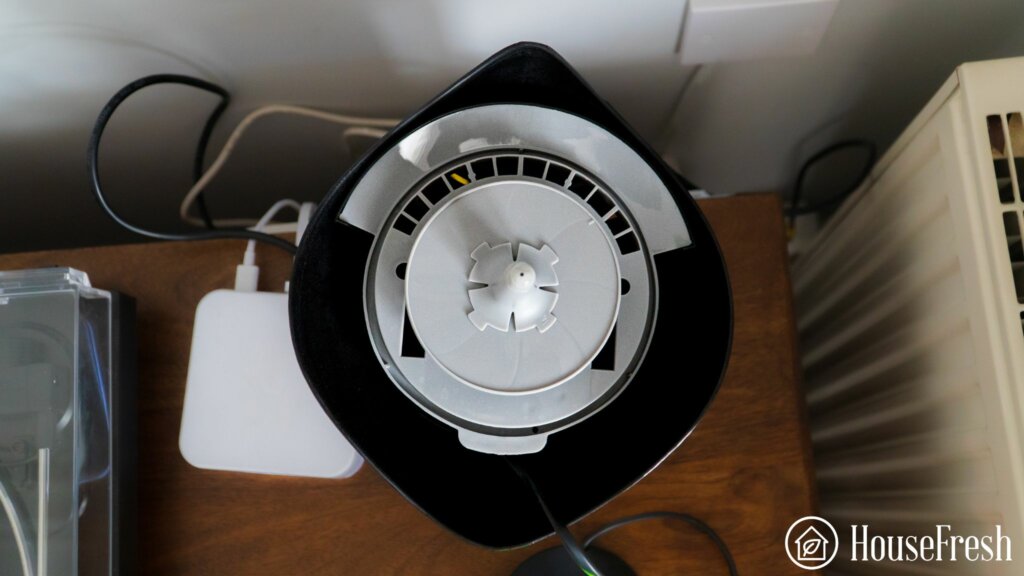 While it sounds like the perfect technology, as no one likes to purchase new filters every six months, it sounds too good to be true.
The Rainbow Rainmate Was Unable to Clean Air in Our Test Room
I was wary of the effectiveness of an air purifier like this, but I tested it the same way we test all the air purifiers we review here at HouseFresh. As I mentioned above, we use incense sticks to create pollutants and then track how long it takes to remove PM1.0ug/m3, PM2.5ug/m3 and PM10.0 ug/m3 using our Purple Air Indoor sensor — one the best air quallity sensors on the market.
First, the bad news, the Rainbow RainMate was unable to successfully remove pollutants from the air in our small test room. While pollutants did go down a little, even after 2 and a half hours after we had started the incense, the PM2.5 was still at 272.82ug/m3.
This is defined as Hazardous by IQAir and would be dangerous to spend any time on.
Air Cleaning Performance Compared to Other Air Purifiers
You can see here how the terrible performance of the Rainbow Rainmate Water Air Purifier compares to other low budget units on the market:
The pollutants created by an incense stick should be easily removed by even the cheapest air purifier. In comparison, a real-world issue such as wildfire smoke or cigarette smoke will create much more pollutants, and the Rainbow air purifier would perform even poorer.
⚠️ The fact that this unit is touted as suitable for asthmatics and allergy sufferers is not true. This unit couldn't remove pollen and dander quickly enough to avoid allergy/asthmatic symptoms.
Noise Levels Test Results
The only positive I can say about this air purifier running is that it does run quietly with a stated maximum of 10dB, but when you consider it doesn't do much to clean the air, it really doesn't matter.
You can hear the noise level output for yourself in the video below:
The Cost to Run a Rainbow Rainmate: $17 Per Year
1. Electricity costs = $15-$17 per year
The Rainbow water air purifier has a maximum power of 16 watts, but when we tested it directly, we found that it only went up to 13.5 watts — very low when compared to other air purifiers on the market. We estimate it would be between $15-$17 to run per year based on the latest US electricity costs.
2. Filter costs = $0 per year
As this air purifier uses water to filter the air, there are no extra filter costs to consider as you just change the water every few weeks.
---
Bottom Line
I was wary of this air purifier when I read about how it's sold directly in the home and that they had no published CADR scores. You often hear the phrase — "it sounds too good to be true," and for the Rainbow RainMate, this is the case.
While we would love to have an air purifier that costs very little to run and needs no replacement filters, the fact that it's useless at the one job of removing pollutants is why I wouldn't recommend this air purifier to anyone.
At best, it's a pretty-looking incense diffuser, but there are likely better options focused on this job. If you like this gadget, avoid requesting a salesperson visit your home, as you will overpay and potentially be pressured into other products.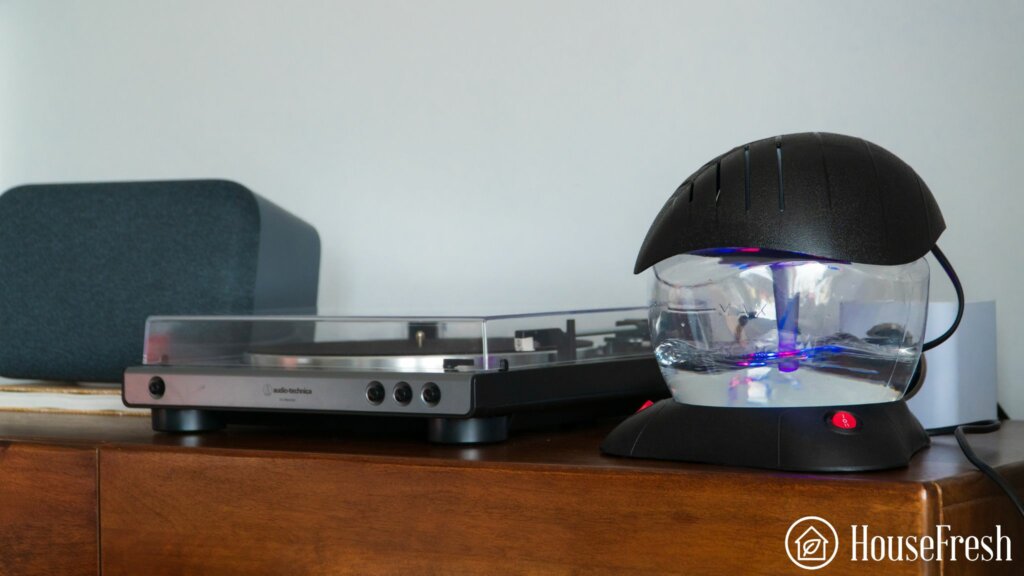 I recently read that Rainbow is offering these "air purifiers" for free or as a "prize," but you need to agree to a salesperson visiting your home to sell you a higher-priced vacuum cleaner ($4000). I would avoid taking this offer and if you want this unit, you can buy it cheaper on eBay or find a generic version on Amazon.
If you have a similar budget constraint, you are much better off with the Levoit Core 300. You will have to accept that you will need filter replacements every six months, but in exchange, you will be confident that it is cleaning the air in your home.
---
SOURCES
We used the Department of Energy's appliance energy calculator to calculate the yearly electricity costs associated with running the Rainbow RainMate for 24hs a day for 365 days. We ran this calculation utilizing the U.S. average utility rate of $0.12/kWh as of April 2nd, 2023.
At HouseFresh, we have been reviewing air quality products since 2010. In all these years, we learned not to rely on manufacturers' claims and the ever-so-glowing marketing materials. That is why we buy products with our own money, so we can write unbiased reviews after we've had enough time to evaluate air quality products in our home lab. Every unit we recommend has been thoroughly tested to assess its performance, energy consumption, and noise levels emitted in real-life environments. If you have any questions about our testing process for different types of air quality products, just drop us an email at
hello@housefresh.com
.