8 Best Ozone Generators (When Ozone Generators Make Sense)
Ozone machines have been advertised as effective appliances to help remove pollutants from the air. However, few scientific studies support these claims, with positive results shown only regarding their ability to remove odors.
Regardless of their effectiveness, you need to be aware that the Environmental Protection Agency does not endorse using ozone machines. There are risks associated with these machines, and you should use them cautiously.
What is Ozone?

You have probably heard of ozone in relation to the Earth's stratosphere, which protects us from the sun's UV rays. However, there is such a thing as "bad" ozone. An example is ozone pollution (a.k.s. smog), which poses a severe health risk.

According to the Environmental Protection Agency, ozone affects our lungs and can lead to many health problems. Those with preexisting lung conditions (e.g., asthma), older people and children are particularly at risk.
Even though ozone is found naturally in the atmosphere, it is a highly reactive and potent chemical that can harm humans and all other living things, including pets and plants.
When inhaled, ozone can create a severe reaction in your lungs, causing coughing and shortness of breath. Therefore, you must remove all living things from the space before using an ozone generator.
When Does It Make Sense to Use an Ozone Generator?
Unpleasant odors are common in every home — burned dinner, a stinky cat litter box, or a musty basement can all cause odor problems. That said, these are unlikely to be bad enough to warrant the use of an ozone generator.
So when should you use one? Well, if you're a hotel owner and you want convert some rooms from smoking to non-smoking, for example, an ozone generator might be a good solution. This technology could also be used by a professional pest control company.
For home odors, an air purifier will be more than enough.
The Top 3 Ozone Generators
Style
Cons
It is not safe to use around animals
Unit Dimensions
12.6 H x 12.4 W x 10.5 D inches / 32 H x 31.4 W x 26.6 D cm
Style
Cons
It is not safe to use around animals
Unit Dimensions
12.6 H x 12.4 W x 10.5 D inches / 32 H x 31.4 W x 26.6 D cm
If you're still not sure which ozone generator is right for you, check out our full list of recommendations below:
This commercial-grade air purifier offers 15,000 mg/h of Ozone output and produces O3 in a special process that charges electrical current in oxygen molecules to cleanse odors at their source. The compact design makes it perfect for air cleansing in large areas. At the same time, the powder-coated exterior adds extra durability.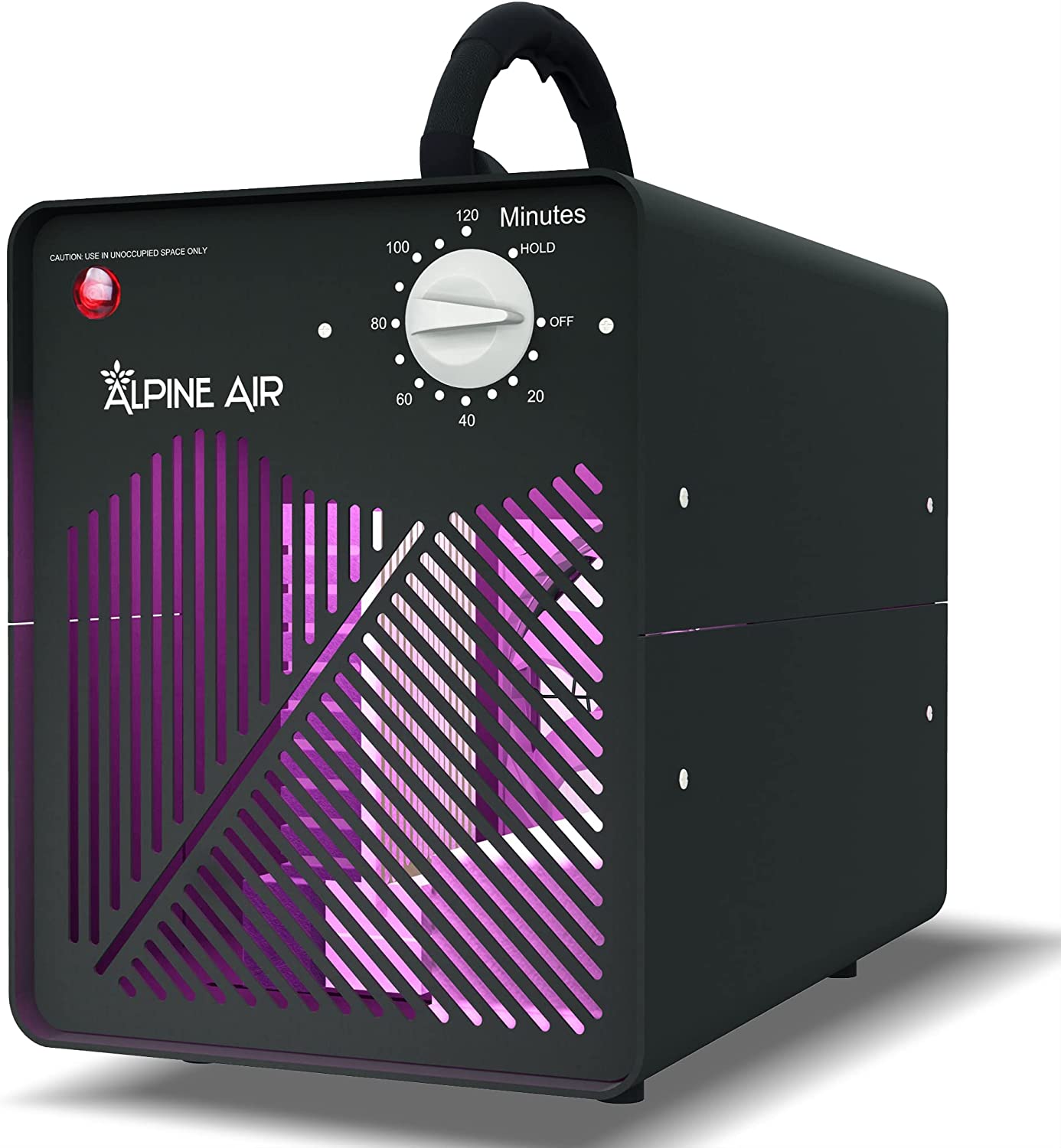 The unit features a touch control method and a low noise level of 30 dB. It is also built to last up to 20,000 hours of service. Furthermore, this ozone generator is lightweight and portable, weighing only 6.92 lbs, with aluminum construction and a durable handle attachment for easy mobility.
It has an adjustable timer, which can be set between 0 and 120 minutes of ozone production and an adjustable ozone concentration so you can customize the ozone output to best suit your needs. It also features a digital display indicating both ozone concentration and timer settings. It has a coverage of 5,000 sq. ft, making it suitable for large spaces.
What We Really Like:
👍 Lightweight and portable
👍 Digital display indicating both ozone concentration and timer settings.
👍 A convenient auto-shutoff feature for when desired levels are reached.
What We Think Could Be Better:
👎 It is unsafe to use around animals, like most ozone generators.
The Enerzen Ozone Generator 11,000mg Industrial O3 Air Purifier Deodorizer has an adjustable fan speed and unique pulsating feature, so it can destroy the odors you can't reach with standard air filters.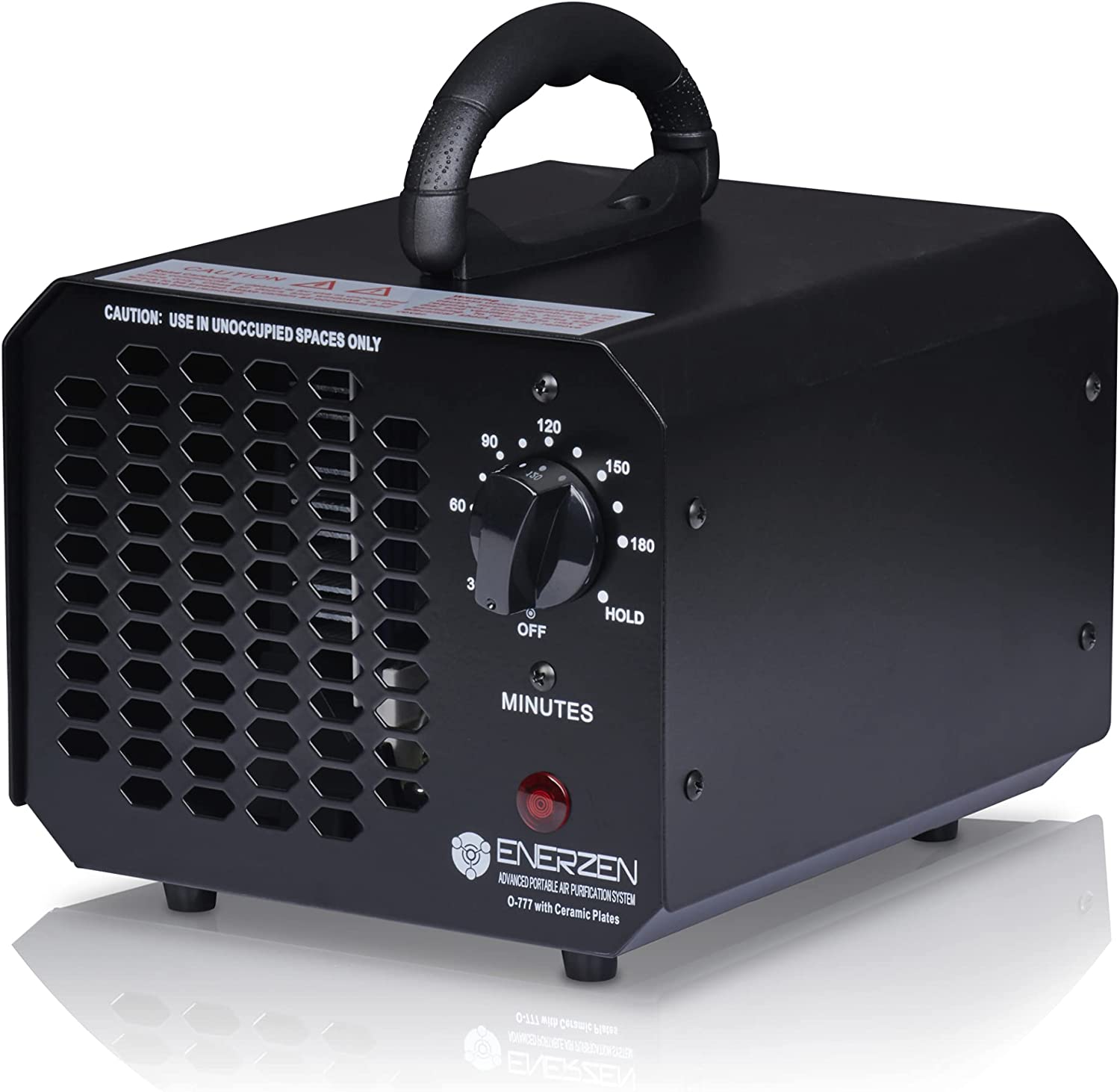 The Enerzen Ozone Generator covers 2000 square feet of floor area and has an 11,000 mg/h adjustable fan speed. It does not require air to pass through the machine, making it ideal for odor decontamination outdoors and indoors. Remember, after using the machine, you should allow 30 minutes for residual ozone to disperse before returning to breathable air. 
What We Really Like:
👍 When sprayed, it takes only 30min for the air to get back to normal.
👍 2000 square feet area floor coverage.
What We Think Could Be Better:
👎 This generator can be quite noisy when placed in a confined environment.
The OdorStop OS3500UV Professional Grade Ozone Generator eliminates odors in medium to large spaces. It weighs 10 pounds and has a high-quality aluminum housing, making it easy to transport and install anywhere. Not only does it have a 12-hour timer with a hold function, it also has options for customization.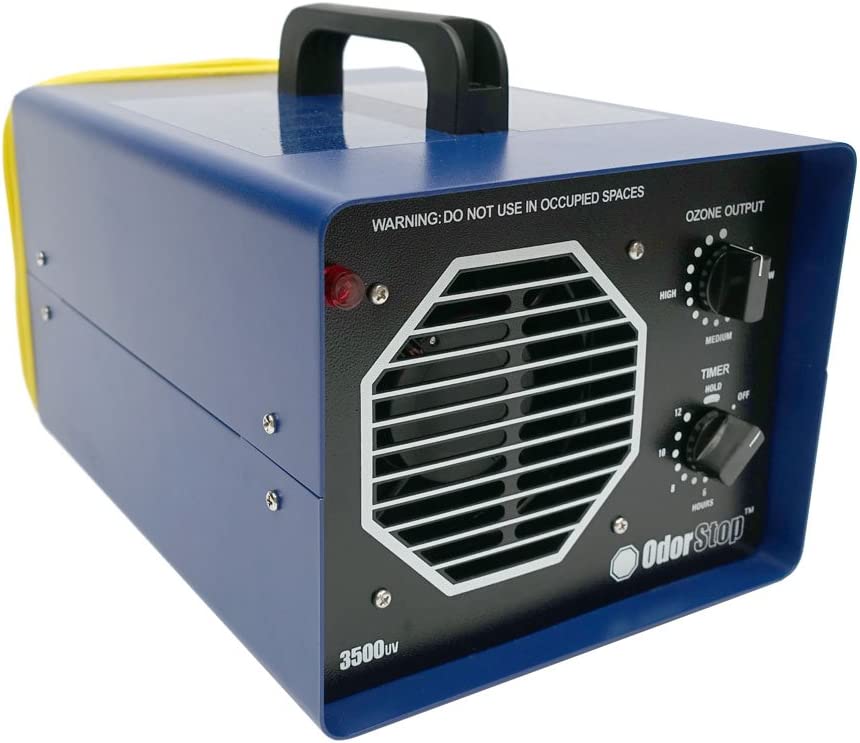 The device also comes with three high-output ozone plates, which help eliminate odors. It also has a washable filter, and a 110 CFM fan for maximum air circulation, and the generator is also equipped with a UV lamp. It's easy to install the unit since it is fully assembled and ready to use.
Its unique design allows the ozone plates to be cleaned without being disassembled.
What We Really Like:
👍 Great customer service with guaranteed refunds if the product is faulty.
👍 The three ozone plates provide superior odor elimination capability.
What We Think Could Be Better:
👎 It can cause damage to rubber and plastic materials, so it's essential to take extra precautions when using it.
This Deodorizer has a powerful ozone output of 5000 mg/h and can cover up to 2000sq.ft. Weighing only 3.5 pounds, it is easily portable, making it suitable for indoor and outdoor spaces. Additionally, it has an adjustable timer knob that can be set between 0 to 120 minutes and a long-lasting ozone plate with a 5000-hour lifespan.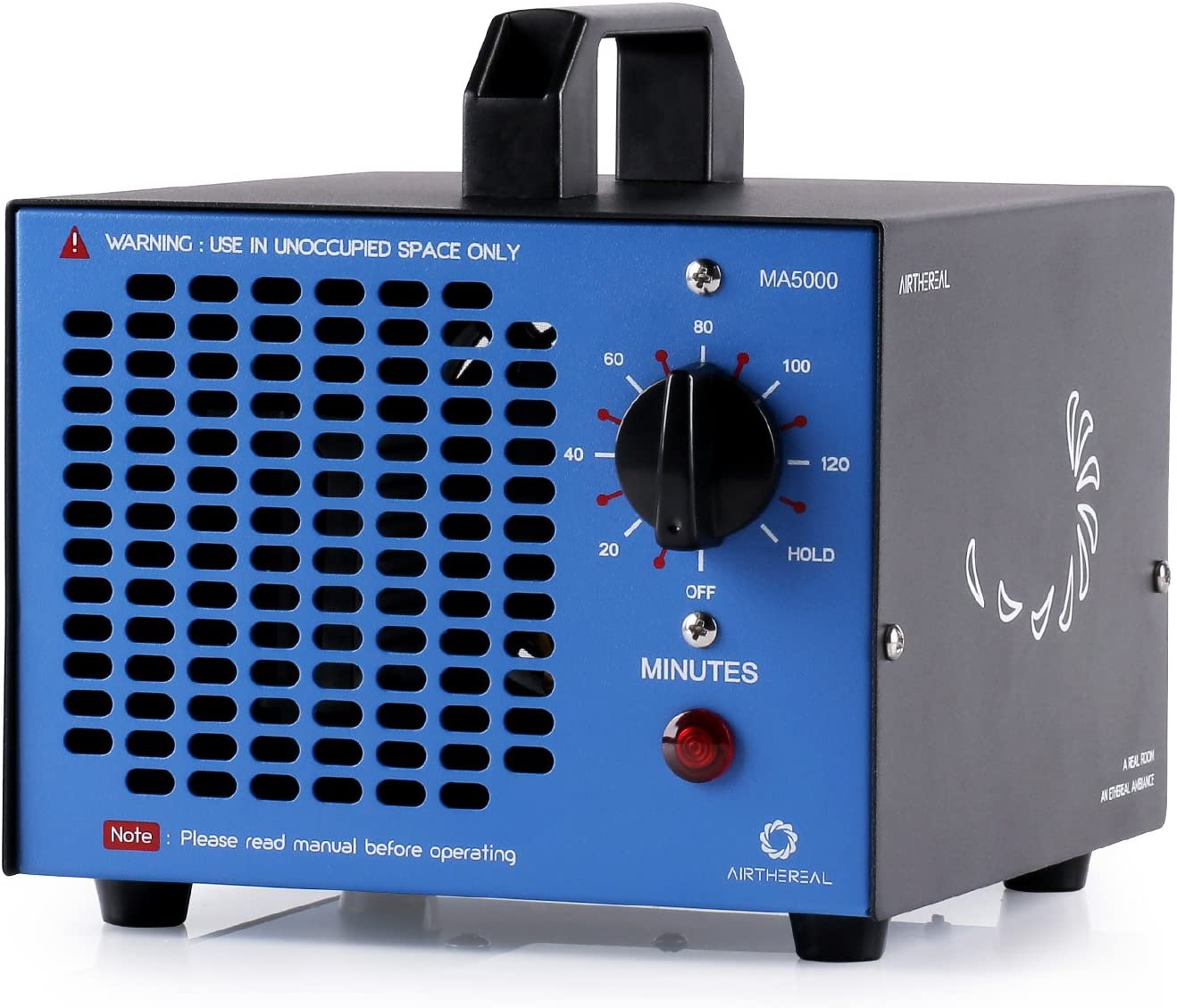 With its "HOLD" setting, ozone is emitted efficiently and continuously and will stop after 30 minutes of use. It has a color-coded display panel for better visibility, and since it's designed to be used twice weekly, it offers excellent value for money.
This ozone generator's powerful output and long lifespan make it one of the best on the market today.
What We Really Like:
👍 Amazing customer service.
👍 Comes with a replaceable ozone discharge unit, making it easy to replace once it breaks down.
👍 The color-coded display panel improves visibility in low light.
What We Think Could Be Better:
👎 Strong chemical-like smell after use that may harm your health.
The Airthereal MA10K-PRO is a professional-grade ozone generator. With its powerful 10,000 mg/h ozone output, this generator can effectively purify and freshen up rooms of up to 3,500 square feet. It is also portable and relatively lightweight, so it can easily move around.
The ozone plate that produces the ozone can last up to 10,000 hours, making it an incredibly durable device that can offer long-term use.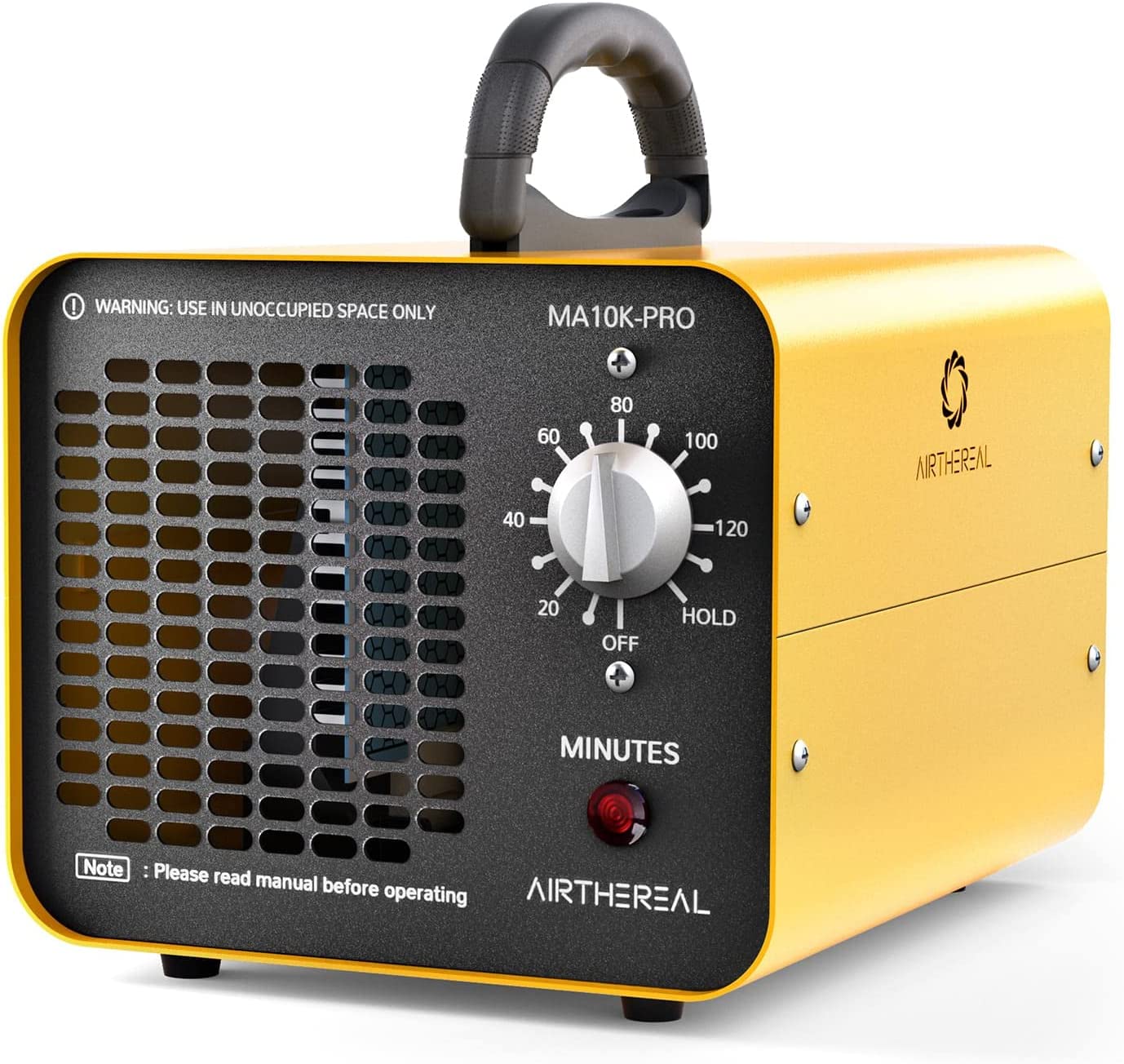 Safety is also a priority with the Airthereal MA10K-PRO. Its intelligent design includes features such as an automatic shutoff that activates if the ambient temperature or oxygen levels are too low. It also includes an air intake filter to keep dust and dirt particles from entering the generator. 
This ozone generator comes with a 3-year warranty, offering customers extra assurance that they have a quality product.
What We Really Like:
👍 Removable power cord.
👍 50% higher purification efficiency compared to other generators.
👍 Can be run continuously and generates a lot of ozone.
What We Think Could Be Better:
👎 The warranty does not cover service, and you'll need to do it yourself after receiving the components than need replacement.
This powerful ozone generator can treat up to 2000 square feet of space, making it ideal for larger spaces. It has an ozone output of 12000 mg/h and features an advanced ceramic ozone plate, which gives it a long lifespan and extended durability.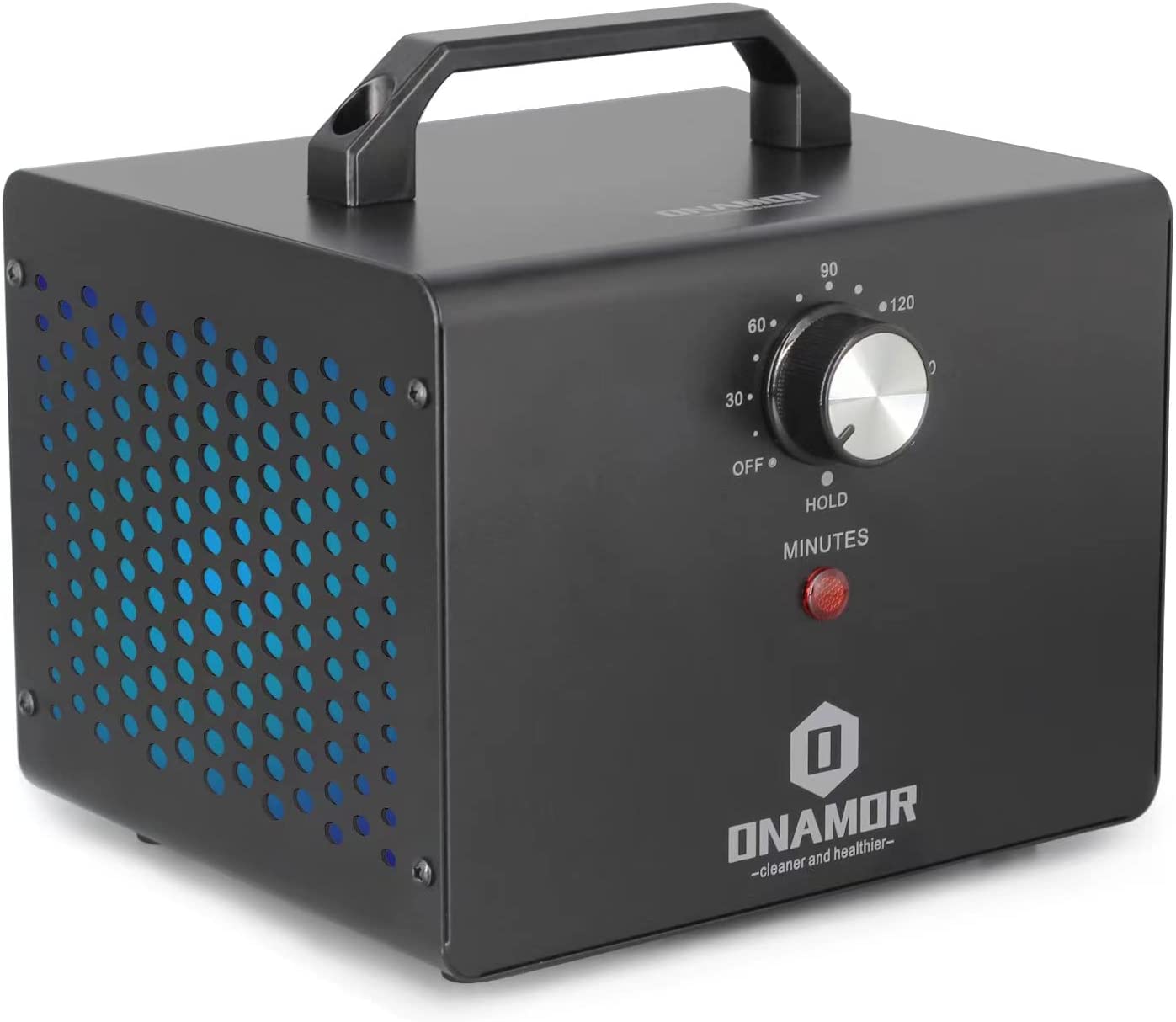 Regarding safety features, the generator has an auto shutoff function that will turn off the machine when the ozone reaches a safe level, as well as an adjustable timer to control how long the machine runs.
In terms of versatility, the generator can be used for various applications, such as eliminating odors and freshening the air. It can also remove allergens from the air, such as dust, pet dander and mold spores. Furthermore, the generator comes with a one-year extended warranty, giving you peace of mind if anything happens.
What We Really Like:
👍 You get a wide area coverage for a low price.
👍 It comes with a foldable handle and is therefore easy to carry around.
👍 Environmentally friendly by using minimal energy for purification.
What We Think Could Be Better:
👎 The cord could be made longer.
The Mammoth MAFA10000A offers an ozone output of 10,000mg, perfect for up to 3,500 square feet of space.
This generator is equipped with a 120-minute timer, ensuring you can set the machine to run for just the right amount of time for your needs. Additionally, it includes a 1-year warranty, and its ozone plate life is up to 6,000 hours.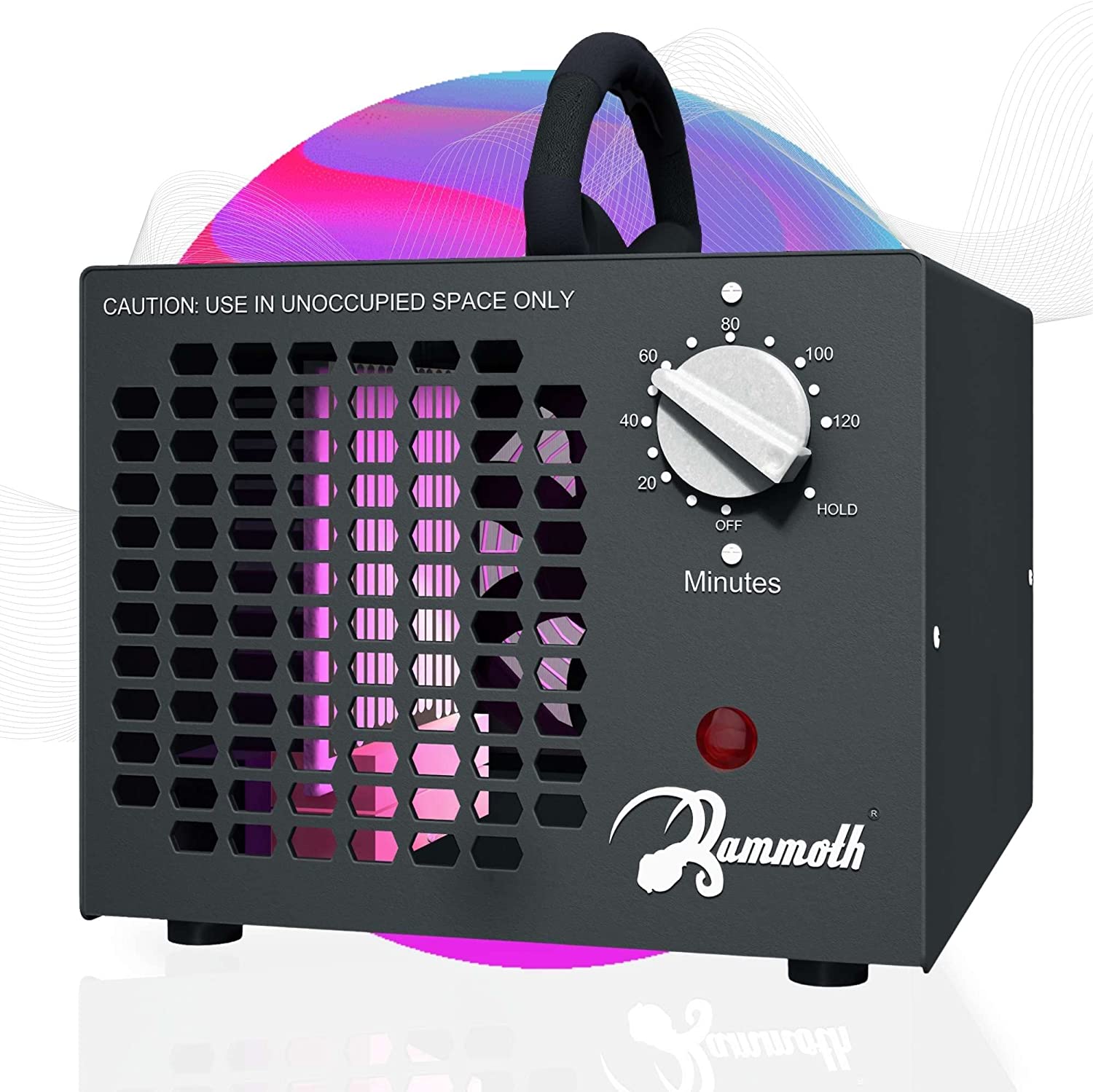 The Mammoth Ozone Generator is highly portable, making it easy to move around and set up where needed. It also comes with true HEPA filters, that can capture 99.97% of particles as small as 0.3 microns, helping to keep your air fresh and free of allergens and pollutants.
What We Really Like:
👍 It comes with a foldable handle and is easy to carry around.
👍 Wide area coverage for a low price.
👍 Good for eliminating a variety of odors.
What We Think Could Be Better:
👎 There is a mistake in indicating the correct dimensions of this product.
This ozone generator comes with 20,000 mg / h of ozone output to effectively eliminate odors. It has a timer of 120 minutes, so you can set it up to turn off automatically if you're not around.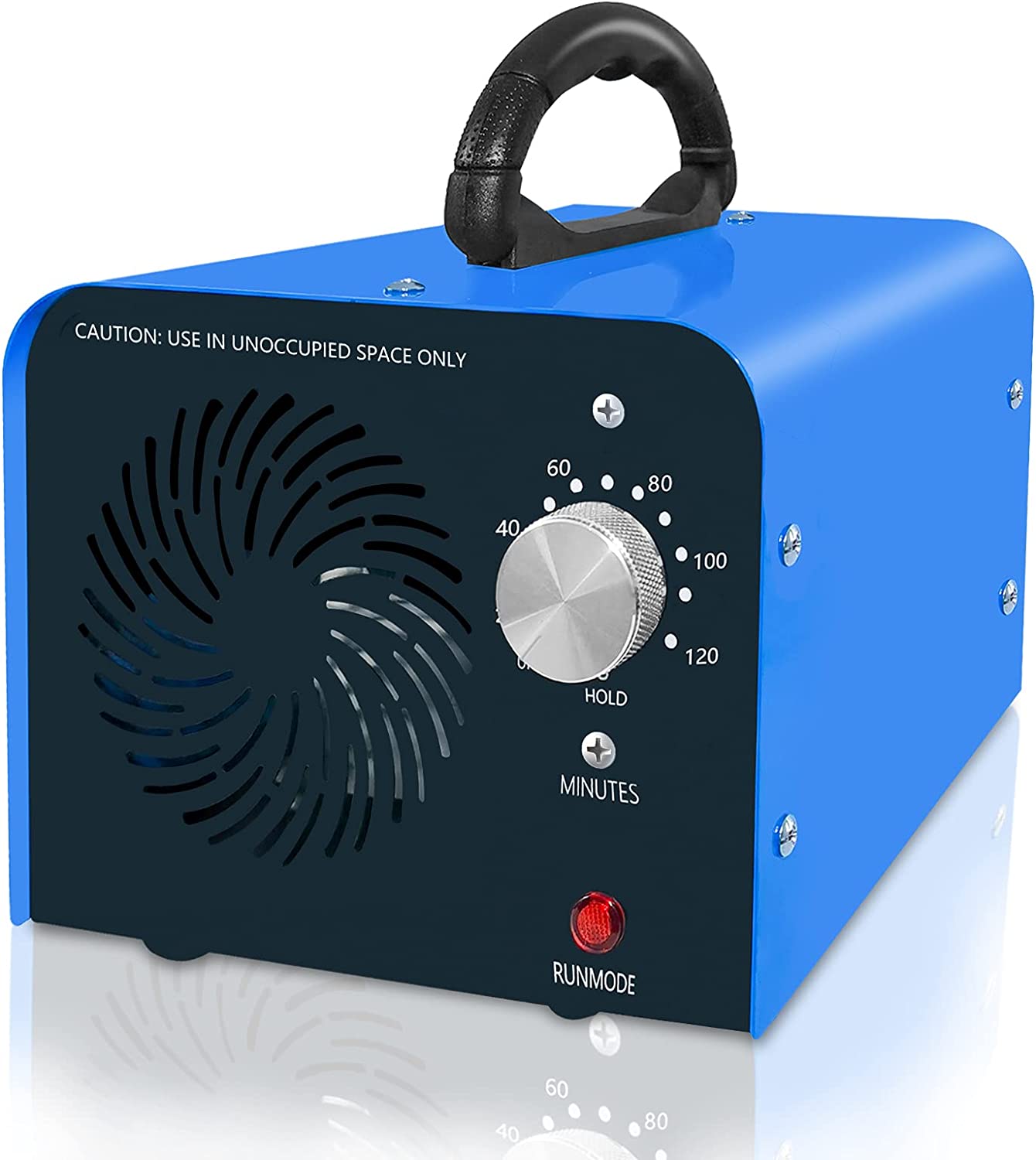 This ozone generator is lightweight at just 2.2kg (4.85 lb), making it easy to move around. It also has a built-in carrying handle for convenient portability. This ozone generator is suitable for use in a room of up to 5000sq ft.
What We Really Like:
👍 Works on large spaces, upto 5000sq ft.
👍 Made from heavy-duty plastic, lightweight yet durable.
👍 Easy to clean, maintain and operate as a first-time user.
What We Think Could Be Better:
👎 A number of complaints about the quality of the product, it may stop producing ozone after a while.
---
Buying Guide: Ozone Generators
As I mentioned at the top of this article: most every day situations will now warrant the use of an ozone generator.
🤔 What can I use instead of an ozone generator?

Experts recommend using air purifiers with an activated charcoal filter for daily use on normal odors since it's a safer option. 

– The Mila is a solid choice for for most people when paired up with The Overreactor filter which comes with 1.96 lbs of modified granular — perfect for medium sized spaces.

– Living in a slightly bigger space? Consider the Alen 75i as it comes with a powerful activated carbon filter that is highly effective at eliminating bad smells.
– The iQair Healthmate Pro is the one we recommend for bigger spaces. It's V5-Cell filter deals with odors with over 5lbs of activated carbon.
If you have a more significant odor problem to tackle, read on as we will break down the most important things to consider before you buy an ozone generator.

1. Size of the room
When shopping for an ozone generator, it's essential to consider the size of the room or area in which you plan to use it. The size of the unit will determine the amount of ozone it can produce and the effectiveness of the cleaning.
2. Portability
Depending on your lifestyle, you may require a more portable ozone generator for easy transport from one place to another. If this is the case, look for one that is lightweight, compact and has handles for easy carrying.
3. Cost
Ozone generators come at different price points. Do your research to find the best value for your money based on the size, quality, and function of the generator you intend to buy.
4. Safety
Ozone generators should be used cautiously, as they can be dangerous if used incorrectly. Look for safety features like timers, and auto-shutoff, to ensure proper operation and avoid potential harm.
---
Common Questions About Ozone Generators 
🤔 What are the dangers of ozone generators?
Long-term exposure to ozone may increase the risk of developing asthma or other respiratory diseases. They also cause corrosion to metals and damage rubber, fabrics, electrical components, and other materials.
🤔 How long should you run an ozone generator in a room?
It is recommended to run an ozone generator for 30 minutes to one hour per 1000 ft3 of space to reach a concentration of 0.05 ppm (parts per million) ozone. If the area is larger, then the ozone generator should be run for a more extended period.
---
Wrapping Up
Remember, for regular everyday odor issues, an air purifier will do the trick. For bigger issues, an ozone generator might be the right choice for you. The units above are the bets ones out there and won't let you down.
Last update on 2023-06-06 / Affiliate links / Images from Amazon Product Advertising API