Since its inception in 2007, TaoTronics has made giant strides in consumer electronics, offering air purifiers, kitchen appliances and audio devices. The company is based in Shenzhen, China and its products are available in countries like Japan, Singapore, Germany and the U.S.
They're famous for their true wireless earbuds and powerful air purifiers, including the TaoTronics AP003 — our best air purifier of 2022.
As a Chinese manufacturer who sells directly to the U.S., they don't waste money on marketing, with their value proposition defined by their low cost. They currently have various air purifiers/fan combo units, including the AP001, AP005 and AP008.
Owing to the exceptional performance of the AP003, we decided to buy the AP005 and put it to the test in real-life situations. Keep reading to learn more about the test results and see how it compares with our tested units.
Why You Should Trust This Review

Here at HouseFresh, we pay for every product we review out of our pockets to give you, the consumer, an unbiased opinion. We test the unit and provide a fair and honest review, citing pros and cons with no caveat.

Since the AP005 is not as easily available on Amazon (TaoTronics was kicked off last year for violating review rules), we ordered the unit directly from taotronics.com. The package arrived in just a few days, and I had no issues with delivery.

Here's how we tested the TaoTronics AP005:

1️⃣ Step 1: Air Cleaning Performance
We placed the AP005 inside our 705 cubic feet test room, filled the space with incense smoke and closed the door and windows to create as much thick smoke as possible. We then turned the device on at full speed and used our air quality monitor to track how fast the unit removed pollutants from the air, recording as PM10.0 ug/m3, PM2.5ug/m3, and PM1.0ug/m3 levels dropped.

2️⃣ Step 2: Electricity Usage
Using an electricity usage monitor, we plugged in the TaoTronics AP005 air purifier and recorded energy consumption in watts at the highest and lowest speed levels.

3️⃣ Step 3: Noise Levels
Lastly, we used a sound level monitor to record sound levels in decibels, testing the noise produced by the AP005 when running at its lowest and highest fan speeds.

TL;DR The Lowdown on the TaoTronics AP005
---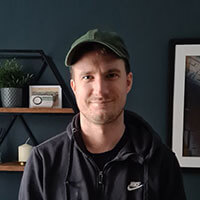 "A powerful air purifier for the budget, but I would still prefer the slightly bigger AP003 model."

— Danny Ashton, Founder & Senior Writer
---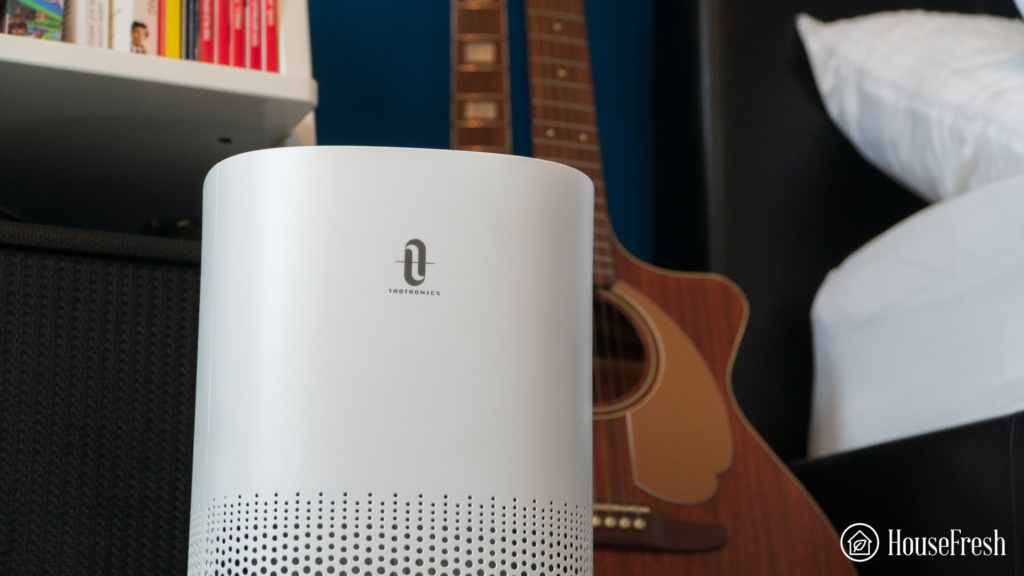 If you don't want to read the full review of the TaoTronics AP005, you can focus on the pros and cons:
What We Really Like:
👍 Smart auto mode for real-time air quality monitoring
👍 An easy-to-read color-coded system
👍 Small and compact design
👍 Three-stage filtration system
👍 Affordable at just $65
What We Think Could Be Better:
👎 No mobile app
👎 Carbon filter used impregnated fabric vs. pellets that we prefer
👎 Not easy to find a unit you can buy via Amazon
The Specifications
The great thing about TaoTronics is that they offer affordable air purifiers with features you'd expect in highly-priced models. At $65 for CADR 147 CFM, the AP005 provides excellent value for money compared to units with similar performance, like the Levoit Core 300.
| | |
| --- | --- |
| HouseFresh Rating: | ★★★★☆ |
| Time to clean our test room: | 36 minutes |
| Air purifier technology: | Pre-Filter, H13 True HEPA and Activated Carbon Filter |
| Recommended room size: | 270 sq ft |
| Clean air delivery rate (CADR): | 147 CFM (250 m³/h) |
| Dimensions (in inches / in cm): | 14.9H x 8.8W x 8.8D inches (37.8H x 22.4W x 22.4D cm) |
| Weight (in pounds / in kg): | 7.9 lbs (3.58 kg) |
| Noise level (low – high): | 25 – 50 dB |
| Filter life: | 3 – 6 months |
| Manufacturer's warranty | 1 year |
| Estimated energy consumption: | $30.48 per year |
Small Footprint and Easy-To-Use Controls
The TaoTronics AP005 is a cylindrical unit like its bigger brother, the AP003. The cylindrical design allows for a small footprint, which made it easier for me to use in different rooms without needing to move the furniture.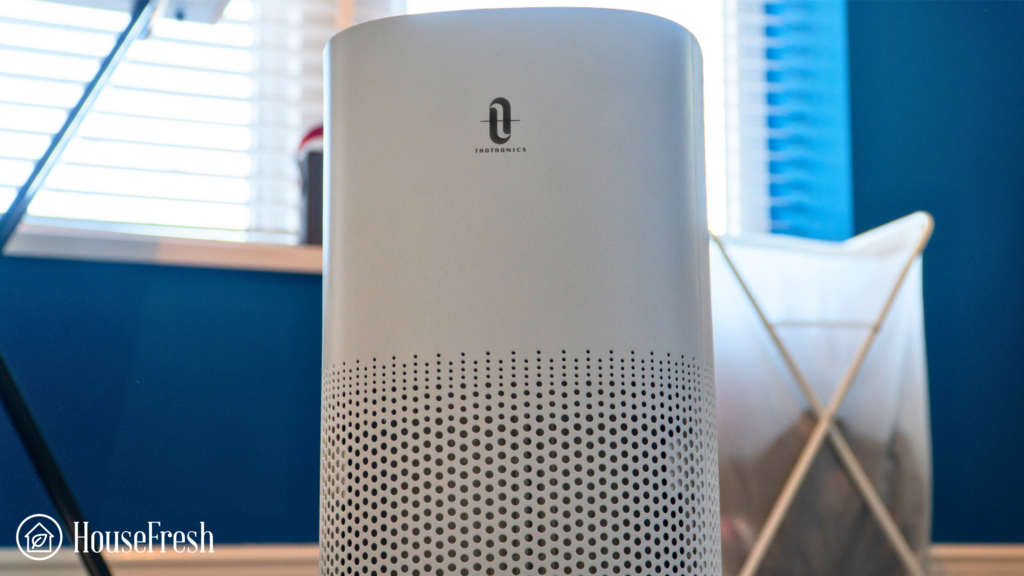 The AP003 draws in air from the bottom, sucks it through the inner filter and expels it from the top. Tiny, numerous circular holes perforate the front and back of this unit, feeding air to the 3-stage filtration system. This efficient design allows for an even distribution of clean air.
At the top, you'll find all of the TaoTronics AP005 controls. The control scheme is simple, with six touch buttons that are appropriately labeled to avoid confusion. At the bottom of the panel is a simple power button with an LED indicator.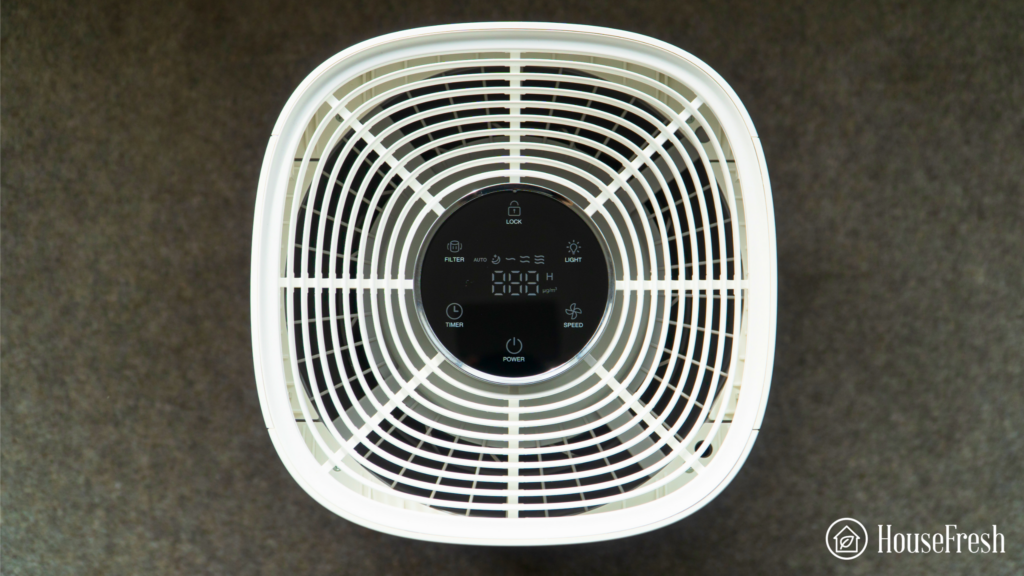 To the left side of the panel is a timer and filter indicator button. The timer automatically allows you to select your desired operation time for the device to turn off after the specified duration. The filter button illuminates when the filters need replacement.
To the right are the speed and light buttons. The speed button lets you change the fan speed while the light button cycles through the different LED light levels: poor air quality, good air quality, and excellent air quality.

💡 At the top is a lock button that disables the device's control panel to avoid unintended pressing.
Measuring 14.9H x 8.8W x 8.8D inches (37.8H x 22.4W x 22.4D cm), the AP005 is virtually the same size as the Levoit Core 300: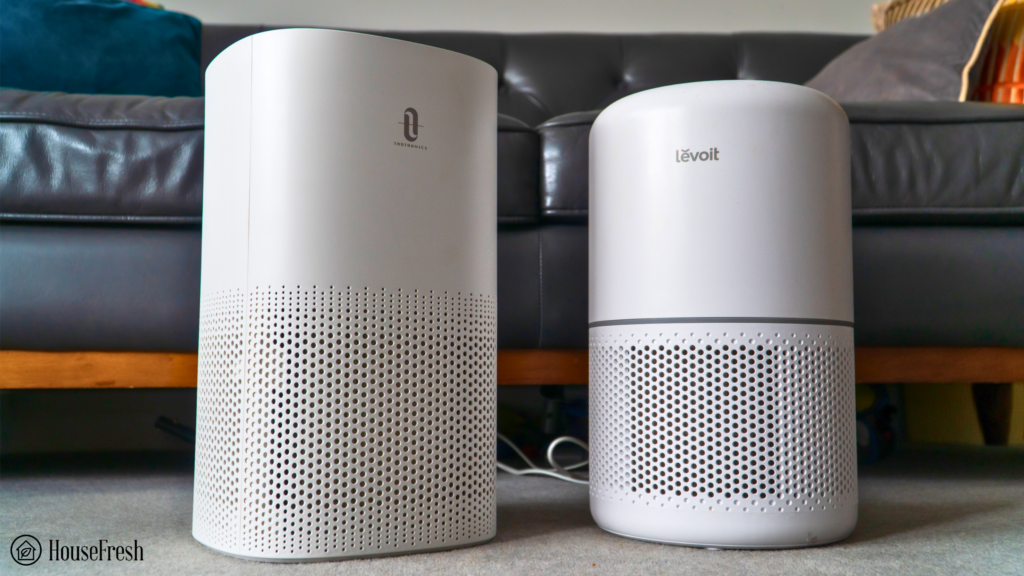 If you're between the TaoTronics AP003 and the AP005, it will be useful to see the size difference between both units – you will need to have a lot more space in the room for the AP003: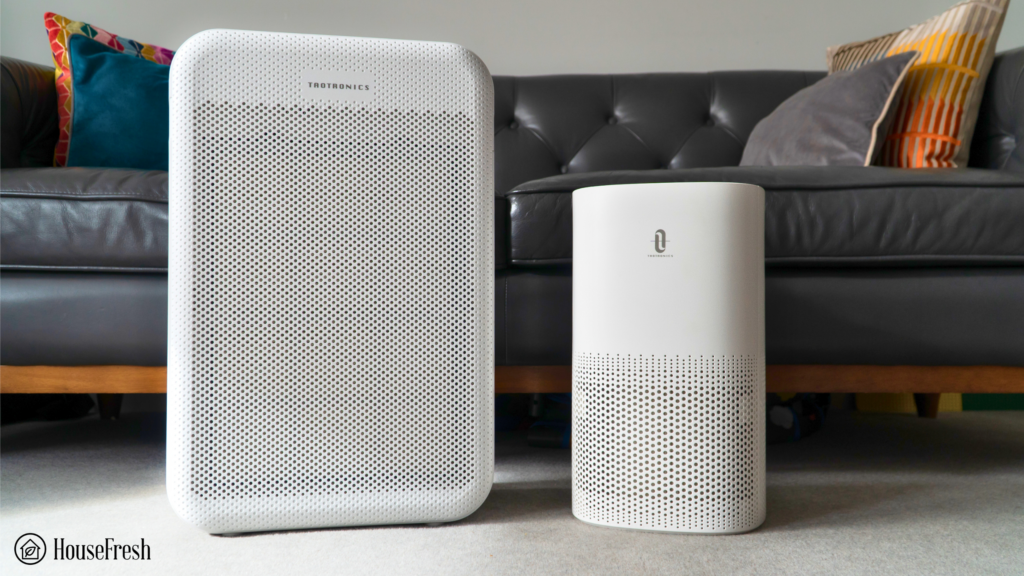 Industry-Grade Air Filtration System
I love that the TaoTronics AP005 uses industry-grade H13 True HEPA and Activated Carbon filters that don't produce harmful by-products like ozone ❤️.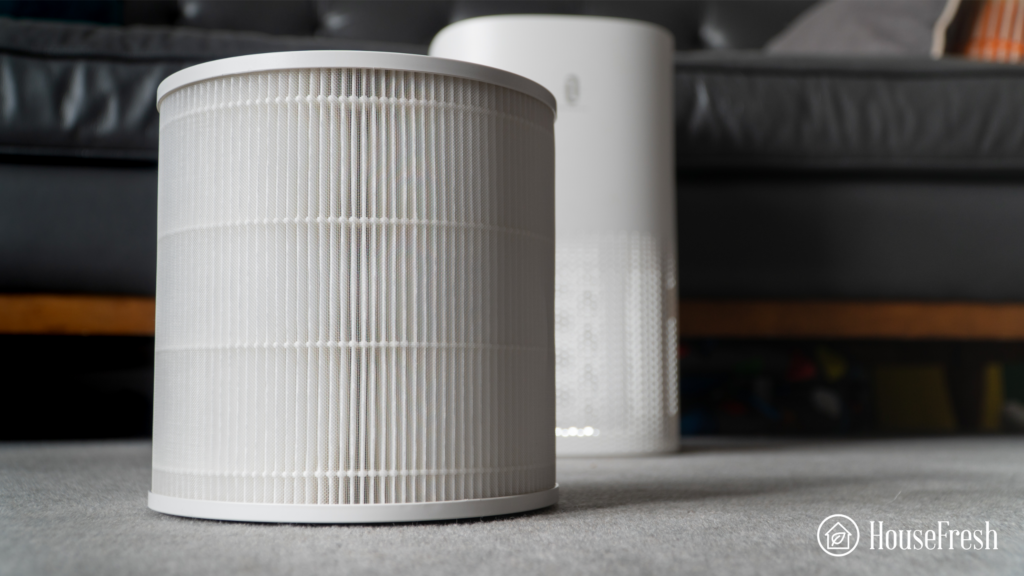 The TaoTronics AP005 features a 3-stage filtration system.
Pre-filter — Traps large particles such as hair, pet fur and lint
H13 True HEPA filter — filters 99.97% of particles down to 0.3 microns, like dust, dander, pollen, mold and germs.
Activated Carbon filter — Absorbs odors and harmful gases
Removing the filters is easy and can be done in three simple steps. Simply flip over and twist the filter cover indicator filter to open, remove the old filter and replace it with the new one, then align the triangle marks and twist the indicator to lock, and you're good to go.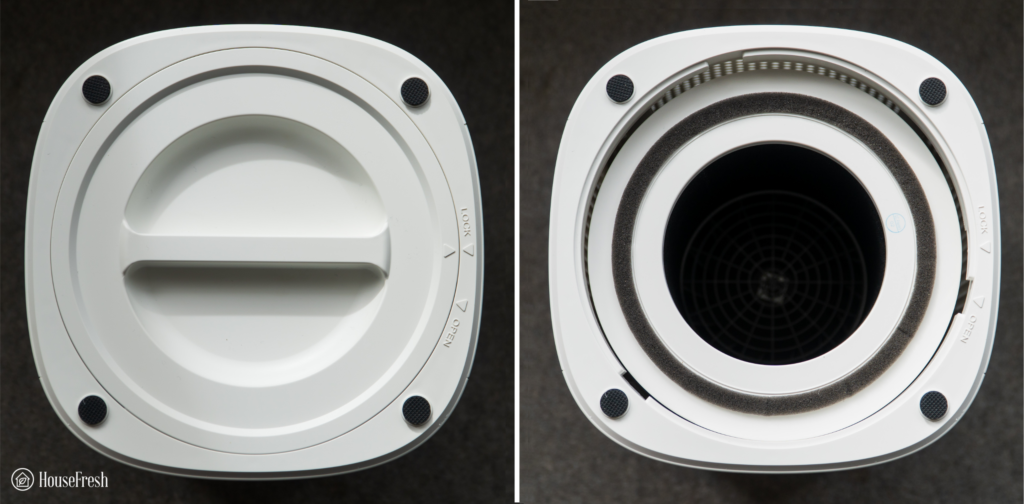 Still unsure of how to do it? Check out this step-by-step video:
So, a recap, two more things I like about this unit: the filters are easy to remove, and filter replacements are readily available.
⚠️ New air purifiers will come with the HEPA filter covered in plastic or inside a plastic bag. Remove this before you start the unit; otherwise, it won't work.
The TaoTronics AP005 Cleared Our Test Room in 36 Minutes
The TaoTronics AP005 removed all pollutants in our 705 cubic feet test room in just 36 minutes.
💵 This puts the AP005 on our list of the top recommended models for those on a tight budget.
As mentioned, we burn incense sticks and use our indoor sensor from Purpleair to track PM10.0 ug/m3, PM2.5ug/m3 and PM1.0ug/m3 levels in a controlled environment to see how fast an air purifier can remove all these pollutants from the indoor air.
As you can see from the graph, the AP005 cleared our test room in just 36 minutes, with PM10.0ug/m3 and PM2.5ug/m3 and levels dropping fast from the moment the device was turned on.
Air Cleaning Performance Compared to Other Air Purifiers
In terms of air cleaning performance and speed, it compared favorably with other units in its same price range such as the Levoit Core 300S.
When it comes to noise levels, the TaoTronics AP005 didn't disappoint. How much noise does it produce when operating at minimum and maximum fan speeds?
Noise Levels Test Results
In our testing, the TaoTronics AP005 sound levels ranged from 25dB at the lowest fan speed to 45dB at the highest. This is pretty good compared to other air purifiers we've tested.
The TaoTronics AP005 compares favorably to many of the other units we have tested and is one of the quietest at its maximum speed. Take a listen for yourself:
The Cost to Run a TaoTronics AP005: $66.46 Per Year
1. Electricity costs = $30.48 per year
When buying an air purifier, you'll need to factor in the cost of running the unit, especially considering the rising electricity costs. The good news is that the TaoTronics AP005 is a fairly efficient device.
Our electricity usage monitor showed that the AP005 pulls 29.3 watts at full power, amounting to $30.48 a year, running it non-stop.
In comparison, the Core 300 pulls 45 watts at maximum power, equating to $47.30 per year.
2. Filter costs = $35.98 per year
Filter costs are another essential factor when buying an air purifier. HEPA and Activated Carbon filters work by removing pollutants from the indoor air and over time, these filters wear out and need to be replaced.
Genuine filters for the AP005 cost $17.99 and must be replaced twice yearly. In comparison, you pay $34.99 for genuine TaoTronics AP003 replacement filters and $60 for the Levoit Core 300.
Flintar 2-Pack of AP005 H13 True HEPA Replacement Filter, Compatible with TaoTronics TT-AP005 Air Purifier, 3-in-1 Pre-Filter, H13 Grade True HEPA and Activated Carbon Filter Set
Contains Two (2) packs of premium 3-in-1 True HEPA filtration system including Pre-Filter, Medical Grade H13 True HEPA Filter, and High-Efficiency Activated Carbon Filter
Pre-filter traps larger particles in the air like hair, dust, pet fur, lint and more
Activated Carbon Filter absorbs household odors from pets, cooking, smoking, wildfire, and harmful VOC's
H13 Grade True HEPA Filter captures 99.97% of airborne particles down to 0.3 microns in size, creating fresh and purified air for you and your family
Easy to replace and disposable, no tools required. Replace the 3-in-1 filter every 3-6 months depending on the usage and environment
---
Bottom Line
The TaoTronics AP005 is a cheap air purifier that can do a great job at removing particles from the air in small to medium-sized rooms.
It's a very effective air purifier for the price, although the lack of pelleted carbon means we would recommend the AP003 over it or the Levoit Core 300 as it will be more effective for odor and gasses.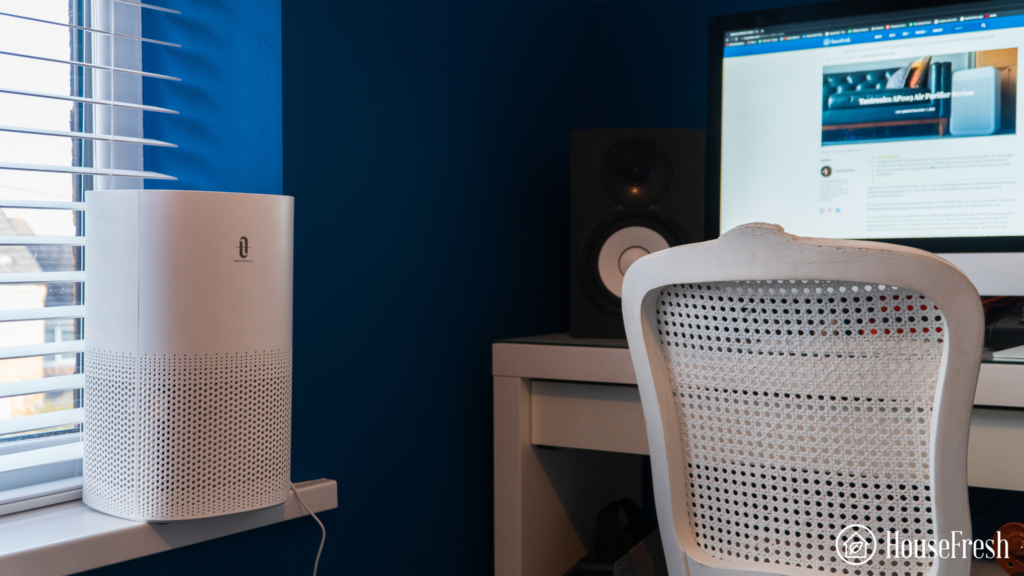 But if you just want to remove particles and don't have a big budget to spend, you can't go wrong with the TaoTronics AP005.
---
SOURCES
We calculated the monthly energy consumption costs with the help of the Department of Energy's appliance energy calculator. We calculated yearly costs associated with running TaoTronics AP005 for 24hs a day for 365 days. We ran this calculation utilizing the U.S. average utility rate of $0.12/kWh as of March 22nd, 2023.
Last update on 2023-12-02 / Affiliate links / Images from Amazon Product Advertising API