Our verdict:
A budget air purifier that has premium functions and powerful air cleaning power. Its name might not roll off the tongue, but the TaoTronics AP-003 is the best new air purifier we have tested in 2022. At this price point, it's going to be the air purifier to beat for other manufacturers in 2023 and beyond.
TaoTronics is an interesting brand that is part of the Sunvalley group based in China, which was profiled by The New York Times back in 2017. They offer a wide range of technology products, from headphones to air purifiers.
At one point, TaoTronics were making $300 million from Amazon alone, so it was a shock when I read that all brands under the Sunvalley group were kicked off Amazon last year for breaking review rules.
As we generally focus on air purifiers readily available on Amazon, we hadn't yet had a chance to test any of the units from TaoTronics. Still, I chose to push ahead with a review after using a tool from Clearnairstars, an NGO run by Dr. Pieter Peach from Australia. His tool results showed the TaoTronics AP003 was at the top for best performance for non-DIY air purifiers! So I had high hopes for this unit.
When Chinese brands first entered US markets with their generic designs, they could often compete on price but were disappointed with the quality. As any consumer will now relate, in 2022, Chinese versions of electrical appliances can now match the performance of western brands and potentially even outperform them.
The clear focus for the TaoTronics AP003 is at the budget end of the market of air purifiers. With an entry price of $79.99 but a CADR of 384 m³/h/226 CFM, its performance aligns with far higher-priced units.
On paper, the AP-003 looks like 'the Levoit Core 300 killer', with the ability to clean more air for less money. But we must take a more in-depth look at this unit before celebrating too early.
Why You Can Trust This Review
As with all the reviews we do here at HouseFresh, we bought this with our own money. In this case, we bought the unit directly from taotronics.com, and whilst it wasn't as fast as Amazon, the delivery was within just a few days, and the communication was excellent along the way.
The reason we use our own money is that we don't want to have any external biases, as we want to say exactly what we think so that our readers can choose the right unit for their particular use case. We also don't just take CADR figures for granted, we test using our own equipment to see how real-world performance matches up to the numbers on the box.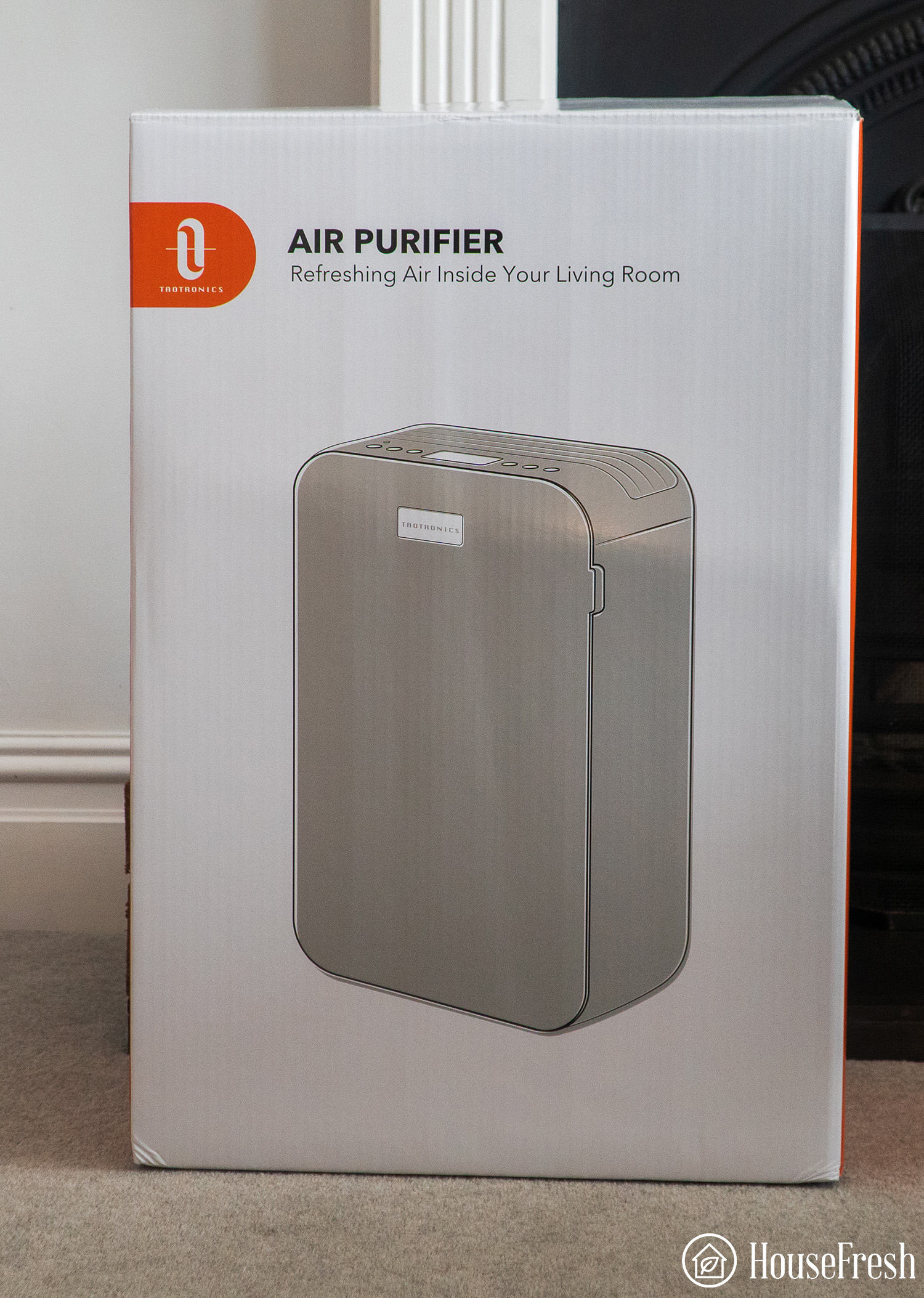 Our testing involves three stages. First, we assess air cleaning performance, then energy consumption, and we also track noise levels through all modes available in the unit.
We light an incense stick inside our sealed 705 cubic ft testing room and let it burn.
We set up our air quality monitor and turn on the air purifier at its highest speed.
We keep track of PM1.0ug/m3, PM2.5ug/m3 and PM10.0 ug/m3 levels for as long as it takes for the incense smoke to completely disappear.
We then plug in the air purifier using an electricity usage monitor and record energy consumption in watts at the lowest and highest speed levels.
Lastly, we use a sound level meter to record the sound level in decibels emitted by the unit working at its top and bottom speed.
Data in hand, we go to Flourish to visualize all these various numbers. This is the only way we think it's fair to assess and compare air purifiers in a fair way that does each unit justice and uncovers the products that don't live up to the hype.
So, let me walk you through what we learned when testing this air purifier.
TL;DR The Lowdown on the TaoTronics AP003
---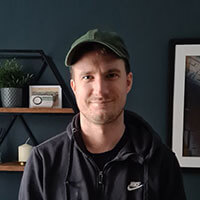 "A budget air purifier that has premium functions and powerful air cleaning power."

— Danny Ashton, Founder & Senior Writer
---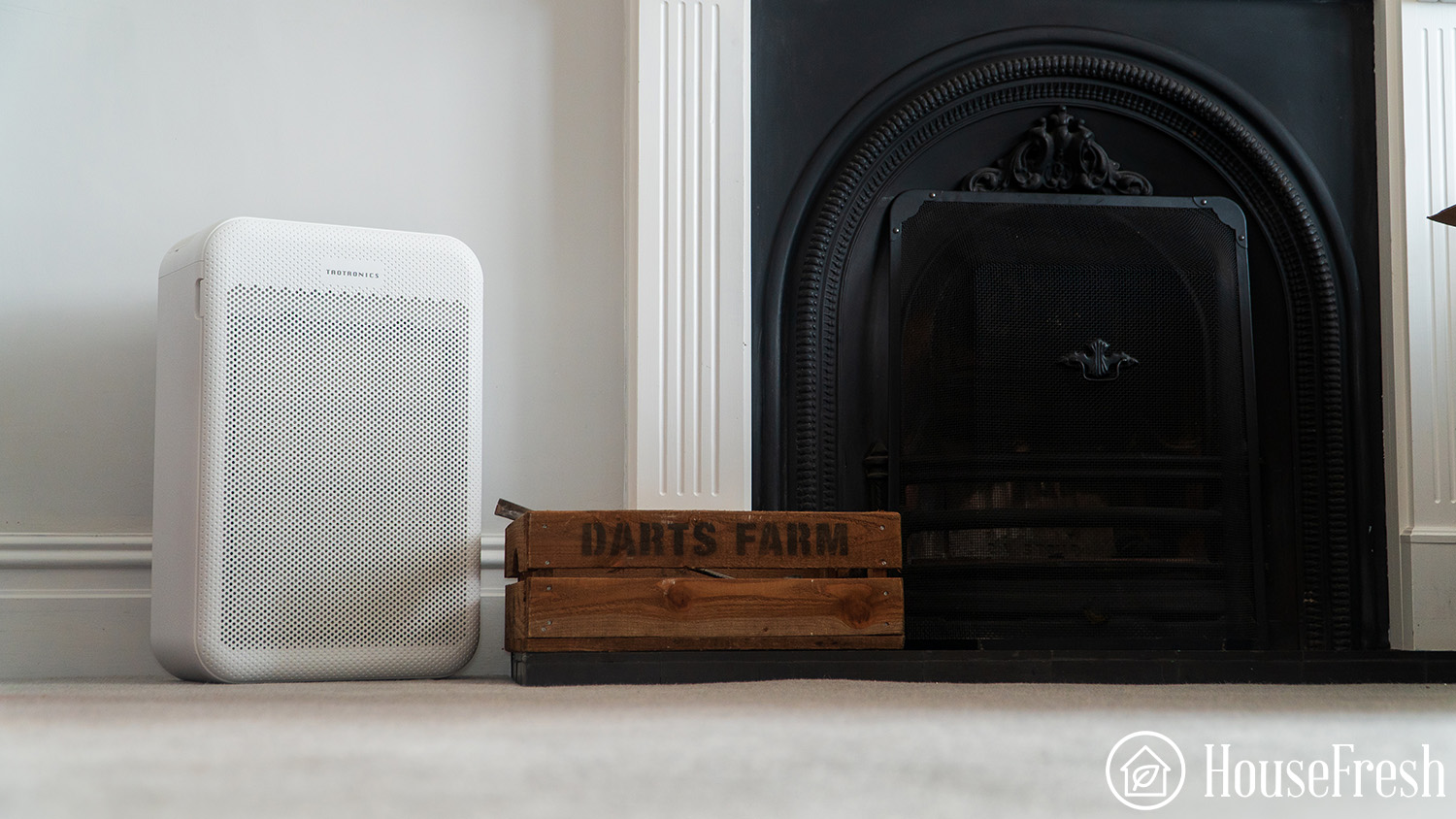 If you don't have the time to read my 3000+ word review, then get the main gist with the following bullet points:
What We Really Like:
👍 $80 for air cleaning performance that is normally in the $200 range
👍 Sound levels are well below industry standard, which suggests a very efficient motor
👍 Pure HEPA and activated charcoal, so no ionizer, which means zero ozone created
👍 Best priced filters we have seen for filters that are this large
👍 Good use of activated charcoal pellets which is normally only seen in premium units $200+
What We Think Could Be Better:
👎 Not easy to find on Amazon – most people will be forced to buy directly or go with third-party sellers
👎 No app support (doesn't bother me but something to consider)
👎 Not enough activated charcoal for issues related to VOCs
Game Changing Spec
At $79.99 for CADR of 226 CFM, the TaoTronics AP003 is a game changer regarding value for money. The clear focus for the TaoTronics AP003 is at the budget end of the market of air purifiers.
| | |
| --- | --- |
| HouseFresh Rating: | ★★★★★ |
| Time to clean our test room: | 29 minutes |
| Air purifier technology: | H13 HEPA with activated carbon pellets |
| Recommended room size: | 322 sq ft (30 m²) |
| Clean air delivery rate (CADR): | 226 CFM (384 m³/h ) |
| Dimensions (in inches / in cm): | 21.8 x 14.1 x 7.9 inches (55.4 x 35.8 x 20cm) |
| Weight (in pounds / in kg): | 18 lbs (8.16 kg) |
| Noise level (low – high): | 32 – 52 dB |
| Filter life: | 3 – 6 months |
| Manufacturer's warranty: | 1 year |
| Estimated energy consumption: | $30.48 per year |
The fact that it has this level of performance without using an ionizer is the cherry on top – if you have been reading my articles long enough, you will know that I don't recommend ionizer air purifiers.
Looks Good, Modern (And Expensive)
The TaoTronics AP003 comes with a sleek design and looks way more expensive than it costs.
One of the big things that Chinese manufacturers have been investing in is improving product design style. When my wife saw the AP-003, she thought it looked good (and expensive), which is an impressive job considering this unit is less than $80. It looks modern but doesn't have a strange shape, so it should be easy to have in the corner of a room without looking out of place.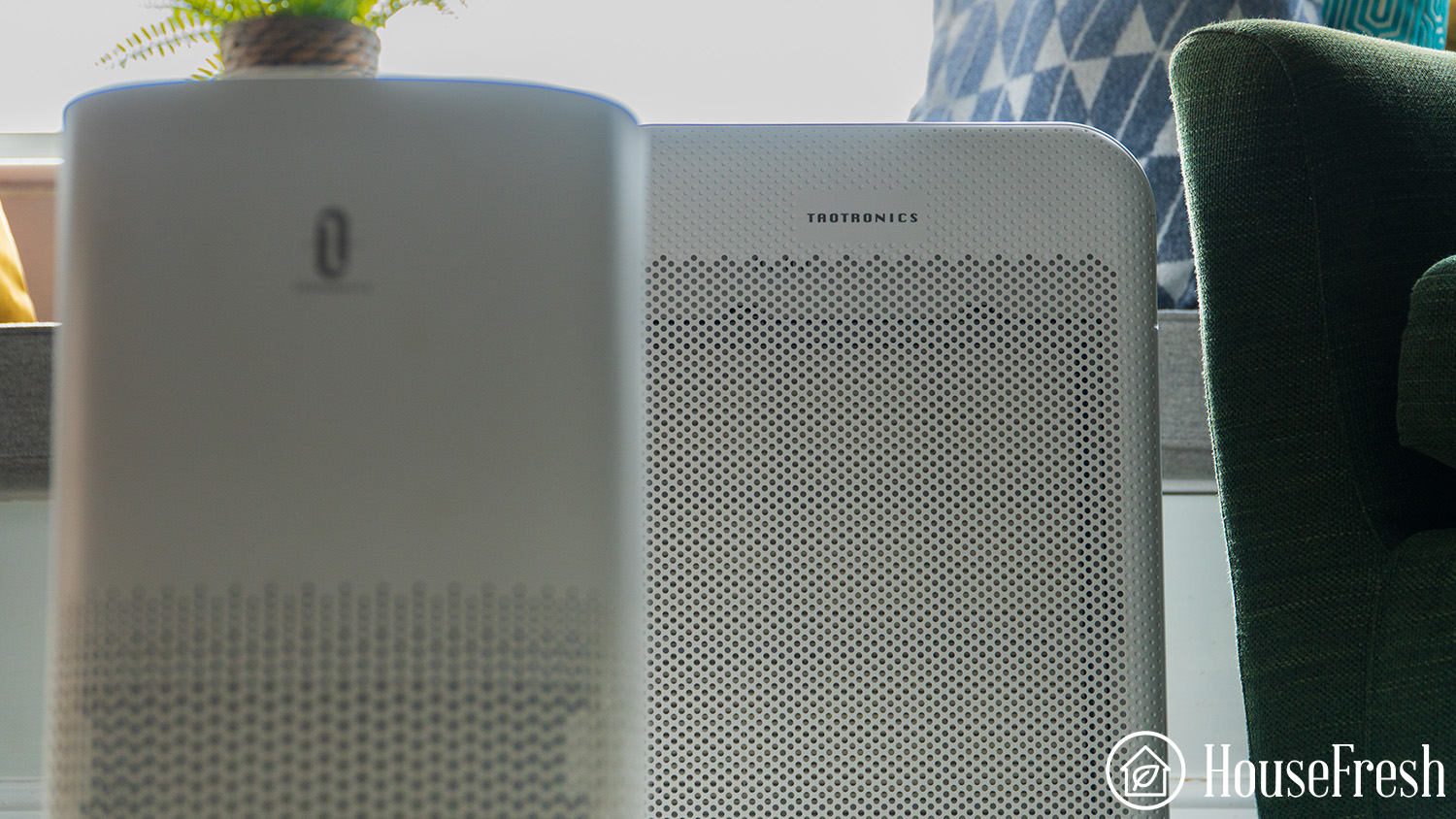 The main thing that stands out with this air purifier is the screen that shows the current air quality level. It doesn't just give an estimate like many of the other air purifiers that contain sensors but shows the exact level of pollutants to the nearest ug/m3. The screen looks high-end and doesn't match the budget cost.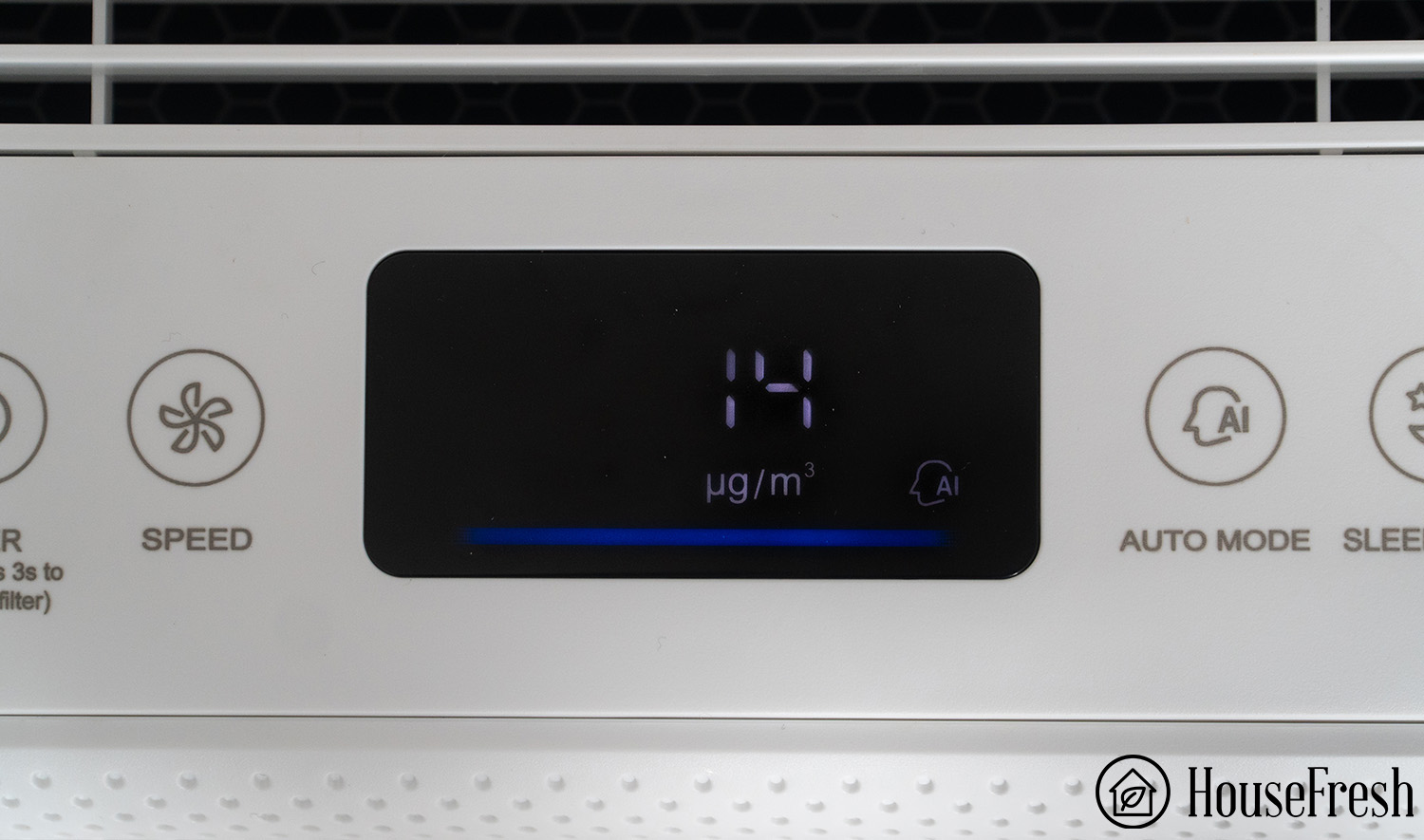 Compared with the Levoit Core 300S, the inclusion of the screen makes a big difference. Whilst most people can easily see that blue is clean and red is problematic, having the exact figure feels like a big step up. It is certainly bigger than the Levoit Core 300S and has a large footprint, but it's not excessively big like the Alen 75i or IQAir Healthpro plus, which take up a ton more space.
High-Performance Filters For Low Price
The filters in the TaoTronics AP003 are of excellent quality despite the low price tag.
Both the HEPA filter and activated charcoal filter in the AP-003 are of good quality. You will often find cheaper impregnated carbon filters such as those used in the Winix 5300-2, which still help to remove odors but are not anywhere near as effective as those that use actual charcoal pellets that you use on this unit.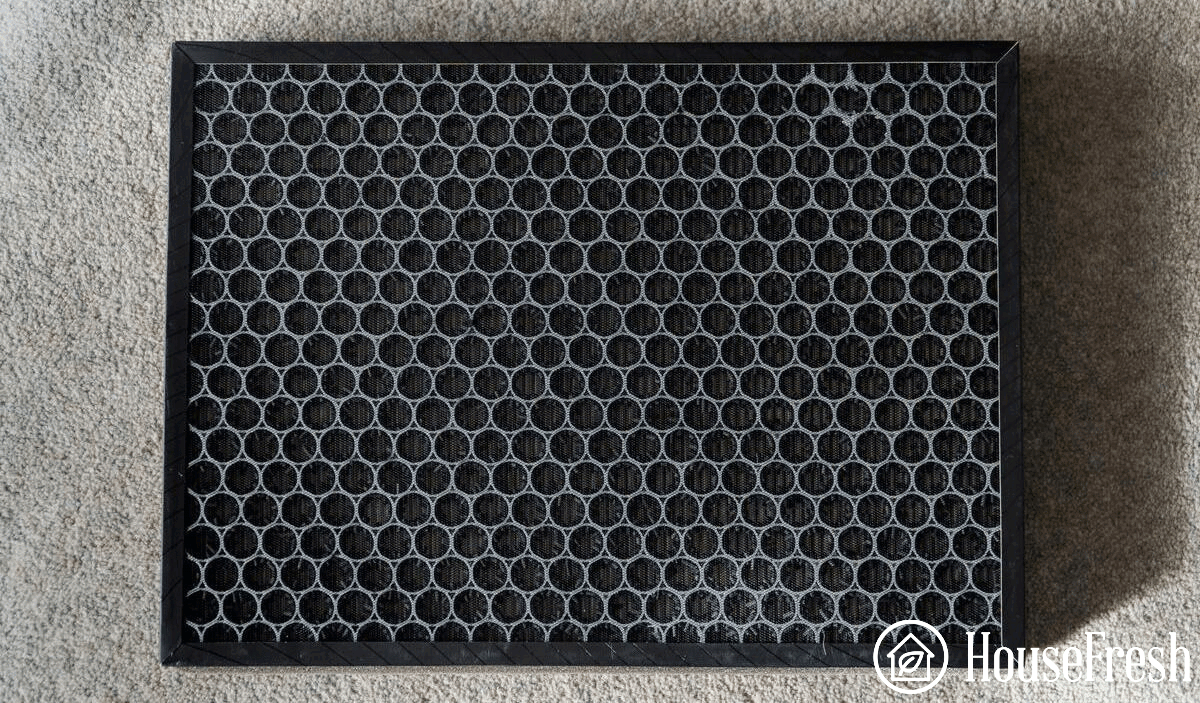 Whilst odors might not be your primary concern for keeping your air clean, the addition of activated charcoal doesn't have any negative effects on performance, and you will be surprised at the amount of odor-causing chemicals in your home.
The actual size of the filters still constrains mechanical filter technology, so it's good to see such a large amount of space dedicated to the filter with this unit. Adding the pre-filter is a good way to keep large particles from damaging the HEPA filter. Still, the main job of filtering the air is done using the H13 HEPA — the grade of HEPA recommended for medical uses.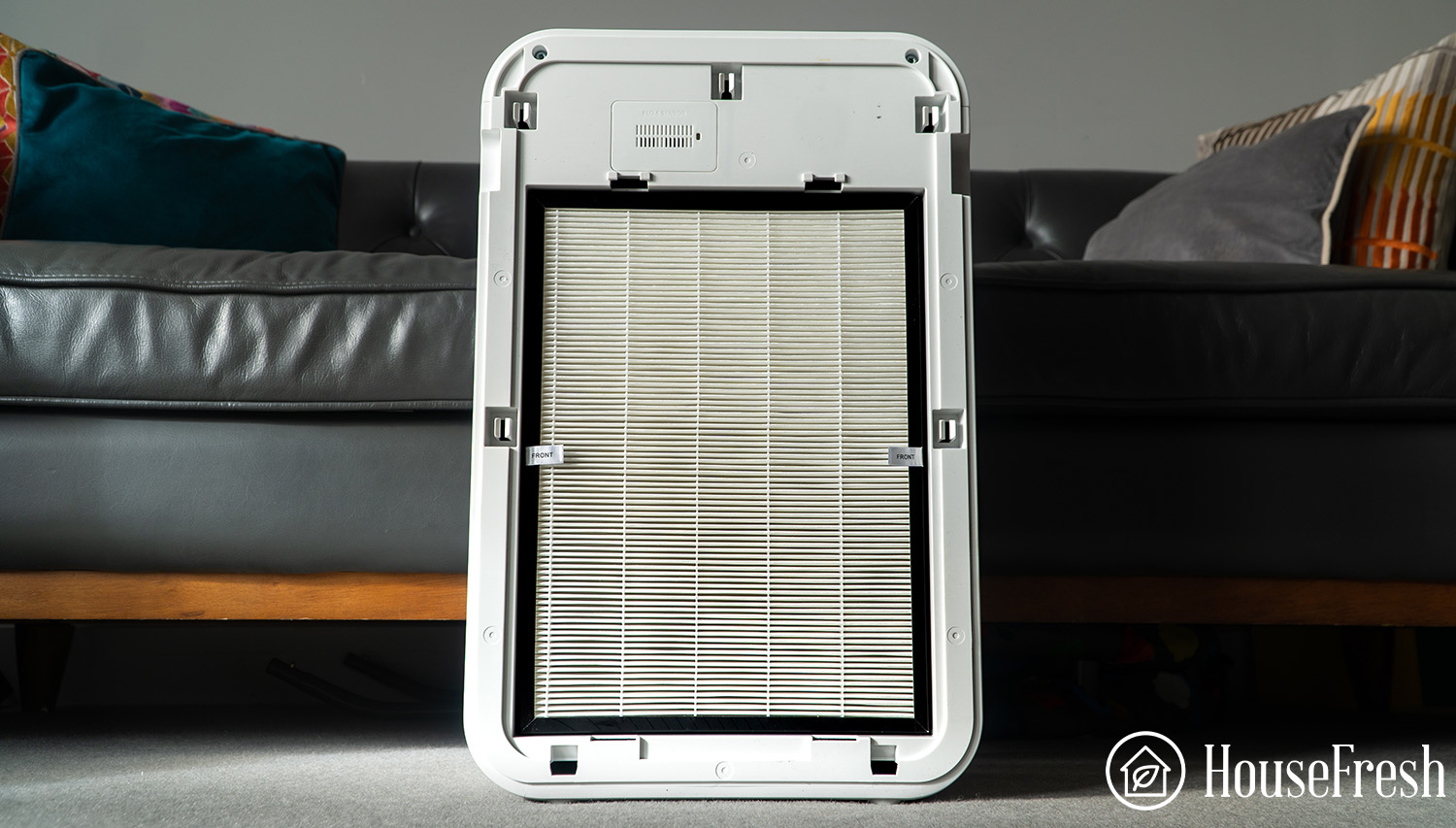 In reality, all HEPA-grade filters can filter very small particles, and as we saw with the Smart Health S, even a lower-grade filter such as H11 can still perform very well in reducing PM2.5 particles in the air.
But it's generally preferable to see a higher-grade HEPA filter as long as you have the right powered fan to push air through the filter, so we're thrilled with including H13 in such a low-priced unit.
The TaoTronics team did an excellent job of making new users aware that they must remove the plastic bag from the filters before usage. They use a big yellow sticker visible when you remove the air purifier from the box. You will be amazed at how many people still forget to remove the plastic, so be sure to do that before you switch on your unit, as it otherwise might worsen the air.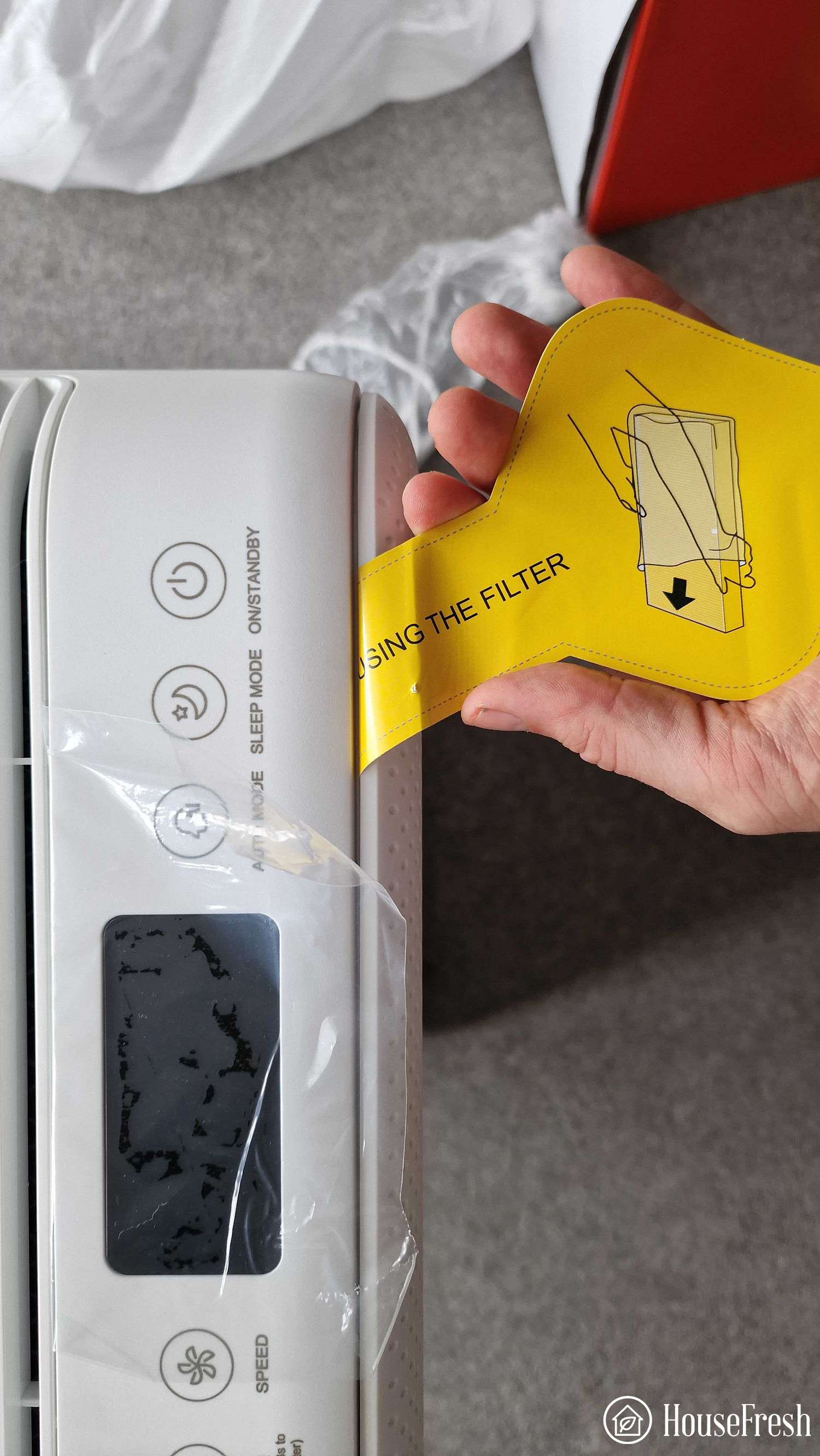 When the time comes to change the filter in your TaoTronics TT-AP003, you will be pleased to find out that it's quite a simple task that won't take a lot of time and won't require you to read a manual to perform:
Simple But Not Smart
The TaoTronics AP003 has an uncomplicated menu system with a child lock button, timer, speed (3 options), auto mode, sleep mode, and on-off button.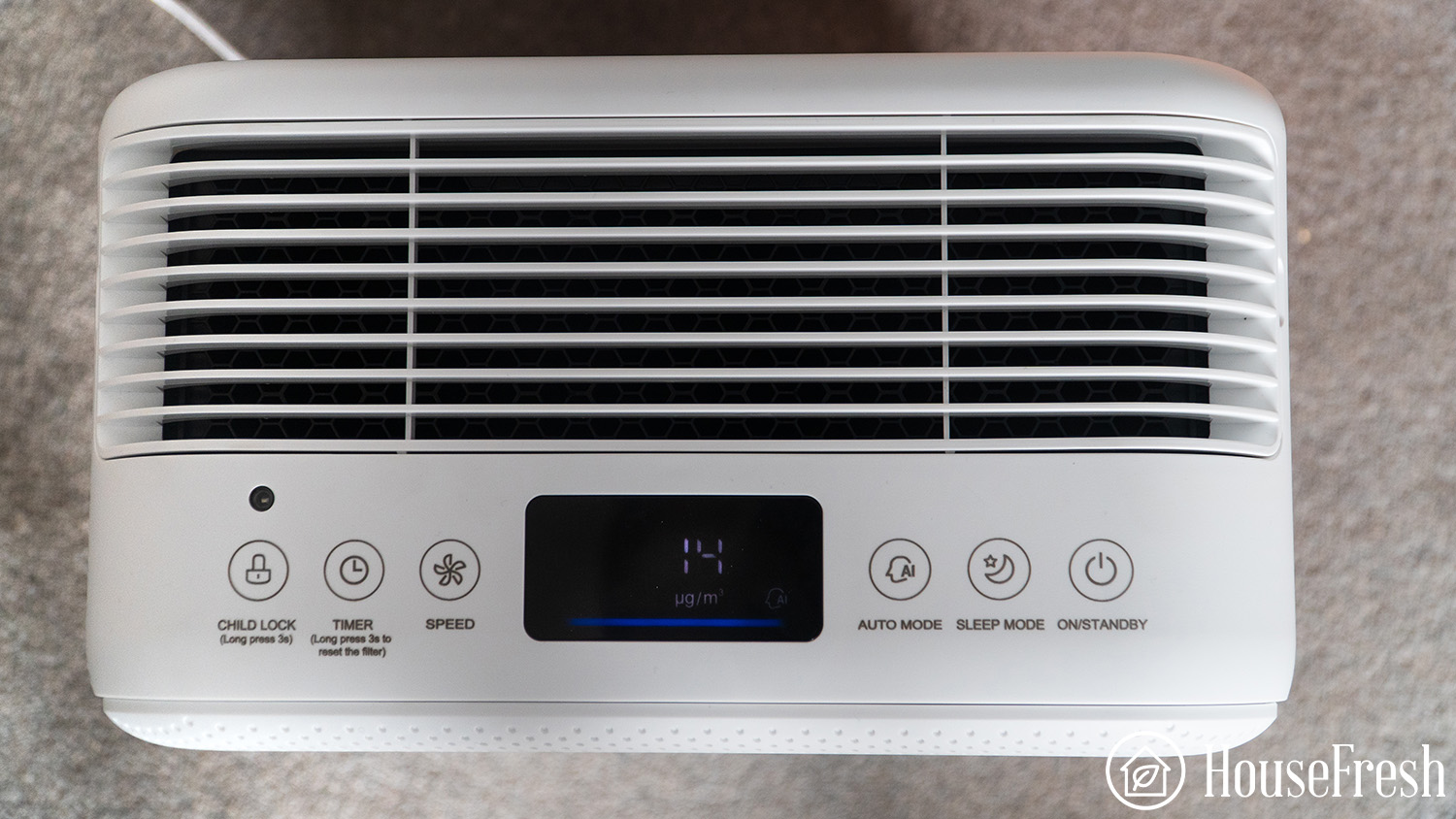 I don't mind that there are no app-supported features, as I rarely use the app with air purifiers instead of the onboard buttons. This is especially true with purifiers that include auto-mode, as you just set, forget, and change the filters. One standout app would be that from Dyson, such as the one they include with their air purifier/fan combos, but most others are usually poorly designed with little usefulness for day-to-day use. 
For those looking to build a "smart home" you might prefer another unit, but for the rest of us, the TaoTronics AP-033 is simple enough to get going without the need to Google anything or *gasp* read the manual.
The TaoTronics AP003 Cleared Our Test Room in 29 Minutes!
The TaoTronics AP-003 blew us away with its impressive air-cleaning performance, considering we're looking at a budget air purifier.
Most air purifier reviews are written by journalists who play with the unit and take some pictures but don't go further. At HouseFresh, our goal is to go a lot deeper into how an air purifier will work and how well it will keep your home air clean. 
Indoor air quality hasn't always been a top priority for homeowners. Still, since Covid-19, there has been a ton of new research that has shown how important air quality is, both to your respiratory system and even your mental health.
We know that most consumers will not be excited about the latest air purifier launch like they are about the latest iPhone. However, we do believe that air quality health will become a major concern for American homeowners as we enter 2023 and beyond. The air purifier industry has a reputation for selling products that promise a lot but fail to deliver, so we think it's important that we help to make life a little easier by doing our reviews and this includes performance tests.
All our tests are done in the same room to compare different units, which all have the same job — removing all the pollutants generated by one incense stick in our 705 cubic ft office. We use the indoor sensor from Purpleair to track levels of PM1.0ug/m3, PM2.5ug/m3, and PM10.0ug/m3 over time, so we can see how effective the air purifier is at removing these tiny particles from the air.
The main number we track for our testing is how long the air purifier takes to bring the pollutants down to 0.
On paper, the TaoTronics AP-003 has some big numbers for its price, with a CADR of 384 m³/h/226 CFM. This CADR is even higher than the old flagship air purifier the Alen A350, and even is in the same realm as the Levoit Core 400S (which costs $219.) If the performance test matches this CADR, it's going to be easy to recommend this unit to those looking for cleaning on a budget.
So, how did it do?
Here are the main pointers:
It took 29 minutes to remove all the pollutants from our test room!
This was higher than the Mila (35 minutes) and even the Levoit Core 400S (33 minutes), which was meant to have a higher CADR on paper.
It was less than what we saw with the Alen 75i (24 minutes) and IQAir Healthpro Plus (25 minutes), but both units are much larger, cost more and use way more electricity.
Air Cleaning Performance Test Results
Let's put that into perspective by comparing it to the top 10 best-performing units in our tests:
From a performance perspective, the TaoTronics AP-003 has the best air purifier performance for $ spent.
Noise Levels Test Results
Another feature that makes the AP-003 stand out is the amount of sound generated. The AP–003 has a range of ≤32 – 52dB, which is at the top level we have seen with modern air purifiers.
Here is how the TaoTronics AP-003 compares against units with a similar air-cleaning performance:
The TaoTronics AP-003 has a very efficient fan motor which allows it to clean a lot of air without generating a lot of noise.
The Cost to Run a TaoTronics AP003: $65.47 Per Year
1. Electricity costs = $30.48
One area many consumers of air purifiers forget is the cost of electricity. Air purifiers work best when they are running continuously so if you are not careful inefficient air purifiers can start to cost a lot of money over the long term.
The good news is that the AP–003 manages to clean like a far more powerful unit than the amount of power it used. Using an electric meter, we saw a maximum of 29.2 watts at the top speed and 5.3 watts at the lowest speed.
This power usage is similar to the Levoit Core 200S, which cleaned our test room in 61 minutes – the AP-003 is also our top unit for performance to electricity usage.
2. Filter costs = $34.99
Another cost that gets forgotten is the cost of changing filters. Mechanical-based filters must be replaced every 6 months depending on usage, and costs can add up, especially for smaller units that run harder and longer.
Genuine filters that contain both the HEPA H13 and activated charcoal are $29.99, which is a very fair price considering their size. In comparison, the IQAir HyperHEPA filters are $199 but are replaced less often but still end up costing a lot more in running costs.
If you are open to non-genuine filters, you can find two for $34.99, which is $17 per filter. This aligns with the cheapest filters we have reviewed for the FÖRNUFTIG from IKEA ($15.99) and Smart Health S from Smart HEPA ($29.99).
Long-term filter costs are very much in line with the very best in the industry.
Rioche TT-AP003 Premium H13 True HEPA Replacement Filter, Compatible with TaoTronics TT-AP003 Air Purifier, 3-in-1 Premium H13 True HEPA Filter, 2-Pack
▶ Compatible with *TaoTronics *TT-AP003 Air Purifier. Compare to *VIVOSUN 5-in-1 Air Purifier (*FC-35S1A*) . Package of 2 pack.
▶ H13 Grade True HEPA Filter helps remove up to 99.97% of airborne particles as small as 0.3 microns including lint, pet dander&pet fur, hair, dust, pollen, mold spores, dust mites, PM2.5, etc.
▶ Activated carbon filter contains premium collumar activated carbon particles, which can efficiently absorb unwanted odors such as smoke, cooking smells pet odors and more.
▶ 100% satisfaction. Recommended to replace every 3 to 6 months for optimal performance.
---
Bottom Line
At the start of this review, I said I had high hopes for this air purifier.
After testing this unit in our home, I'm happy to say we have found a Levoit Core 300 killer. It manages to clean the same level of air as much higher-priced units ($200+) and comes with low sound levels, energy usage, and filter replacement costs.
I now understand why Dr. Pieter Peach at Cleanairstars rates this air purifier so highly, as it does impress compared to the current crop of air purifiers we see at the end of 2022.
The only downside is the lack of app support, and you will still want more charcoal if you are looking to deal with serious odors or VOCs but for most people looking to keep their home air clean, you can't go wrong with the AP-003 from TaoTronics.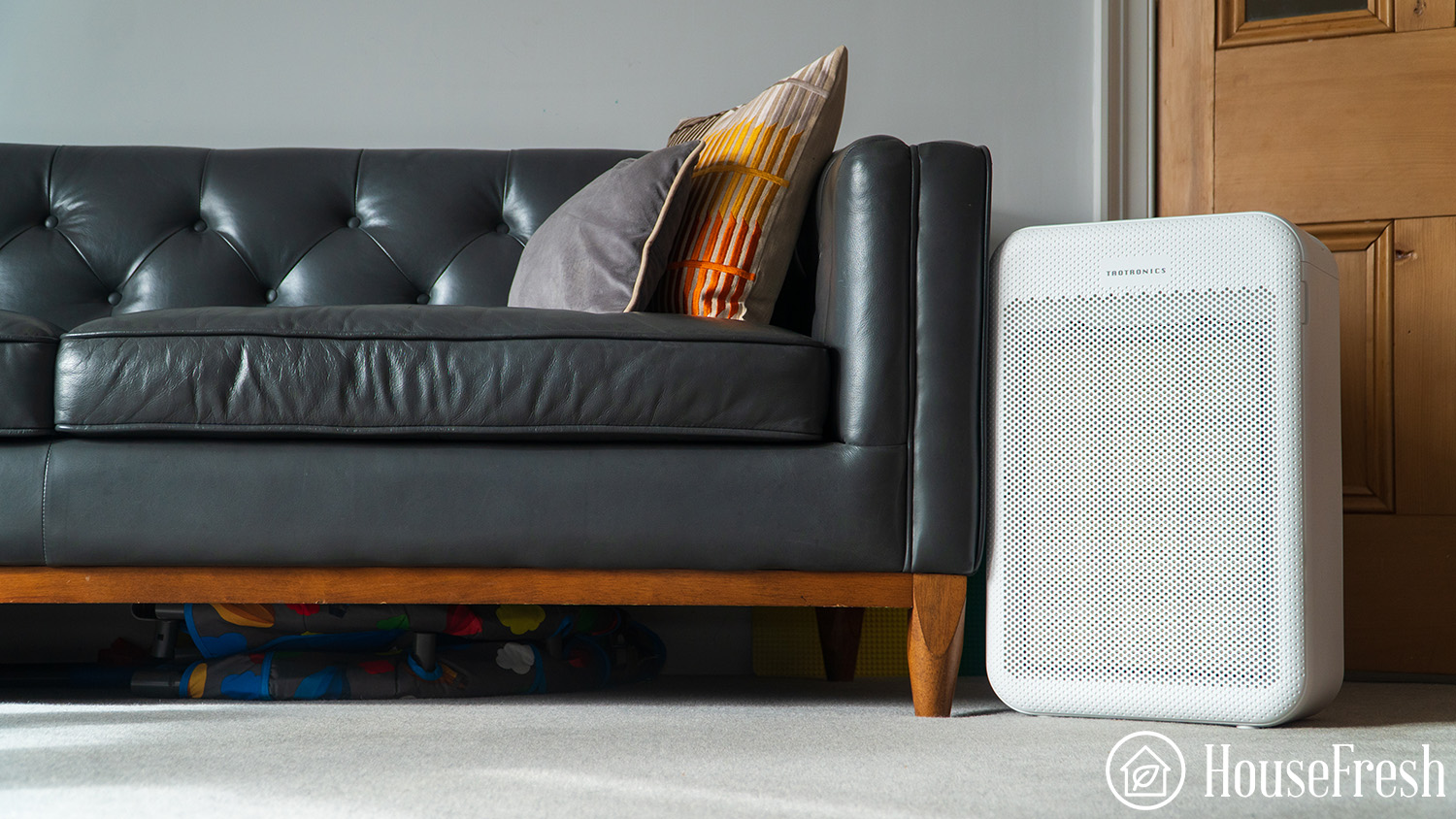 The main contender to the AP-003 is the Levoit Core 300, but the unit from TaoTronics has it beat on both performance and short-term and long-term costs. The only challenge is where to purchase it since the main company has been kicked off Amazon. I found that buying directly from taotronics.com had the best price. Whilst not as quick as Amazon, they gave you plenty of updates and delivery was within a few working days at no extra cost.
Occasionally, you will see this air purifier under a different name on Amazon. Still, it's usually at a higher cost but something to consider if you don't want to use a different store to buy it.
---
SOURCES
We used the Department of Energy's appliance energy calculator to calculate yearly costs associated with running the TaoTronics AP003 for 24hs a day for 365 days. We chose to run this calculation utilizing the U.S. average utility rate, which is $0.12/kWh.
Last update on 2023-09-17 / Affiliate links / Images from Amazon Product Advertising API