Levoit has been forced to retract its use of HEPA in its advertising after a case brought against them from Dyson to the BBB. While the filter may not be HEPA grade, it still performed very well in our particle removal experiment, showing that even lower-grade filters are great at removing tiny particles.
Levoit burst onto the air purifier scene in 2017. Up until that point, there had not been any major changes in the world of air purifiers, and many units looked very similar to those of five years or more ago. Levoit changed everything with its wide range of air purifiers.
Their business is based in the USA, and they manufacture their units in China. Their parent company is Vesync Co Ltd, a publicly traded smart appliance company that employs over 1,200 people and is listed on the Hong Kong Stock Exchange.
Levoit is constantly innovating, developing new technologies, and incorporating newer smart tech features into its 'S' line of units. That's how Levoit brought the power of modern economies of scale to create home appliances that perform better for less.
The Levoit Core 300 was first introduced in the United States in late 2019, and it grew to become a major bestseller at the start of the COVID-19 pandemic.
It's no secret why, considering the Core 300 boasts a high CADR rating and activated carbon filters but costs less than $100.
Okay, then, with that out of the way, let me tell you about the Levoit Core 300.
In our home lab of 728 cubic ft, we light an incense stick to generate particle pollution and VOCs.

We set up our trusted Purpleair Indoor Sensor with the latest Bosch gas sensor to track levels of PM1ug/m3, PM2.5ug/m3 and PM10ug/m3 and VOCs in the air.

We switch the air purifier to its highest speed and measure how long it takes to get our room air quality down to PM1 level to 0.

We use an energy meter to measure precisely how much electricity is used when running the unit at the lowest and highest fan speed settings.

We track sound levels emitted by the air purifier at different fan speeds with the help of a commercial sound meter.

Right. Let's get this review started.
TL;DR The lowdown on the Core 300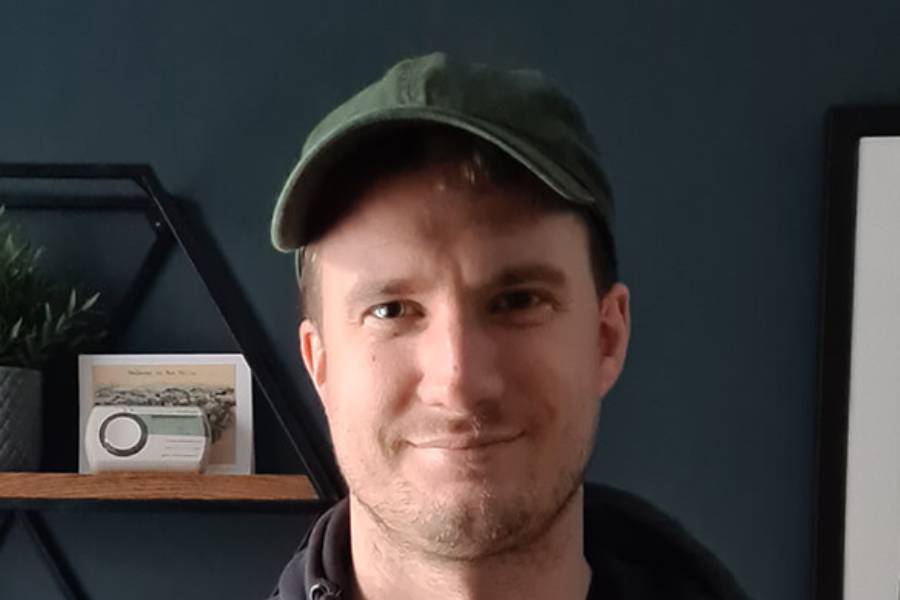 "The Core 300 is a hard unit to beat when it comes to value for money."
— Danny Ashton, HouseFresh Founder & Senior Writer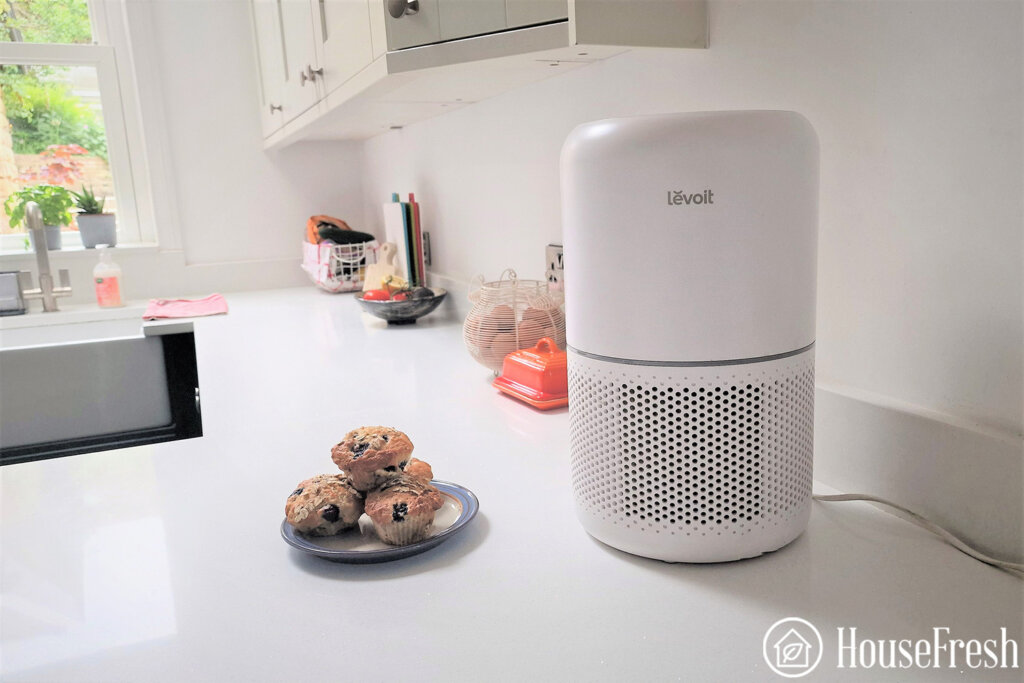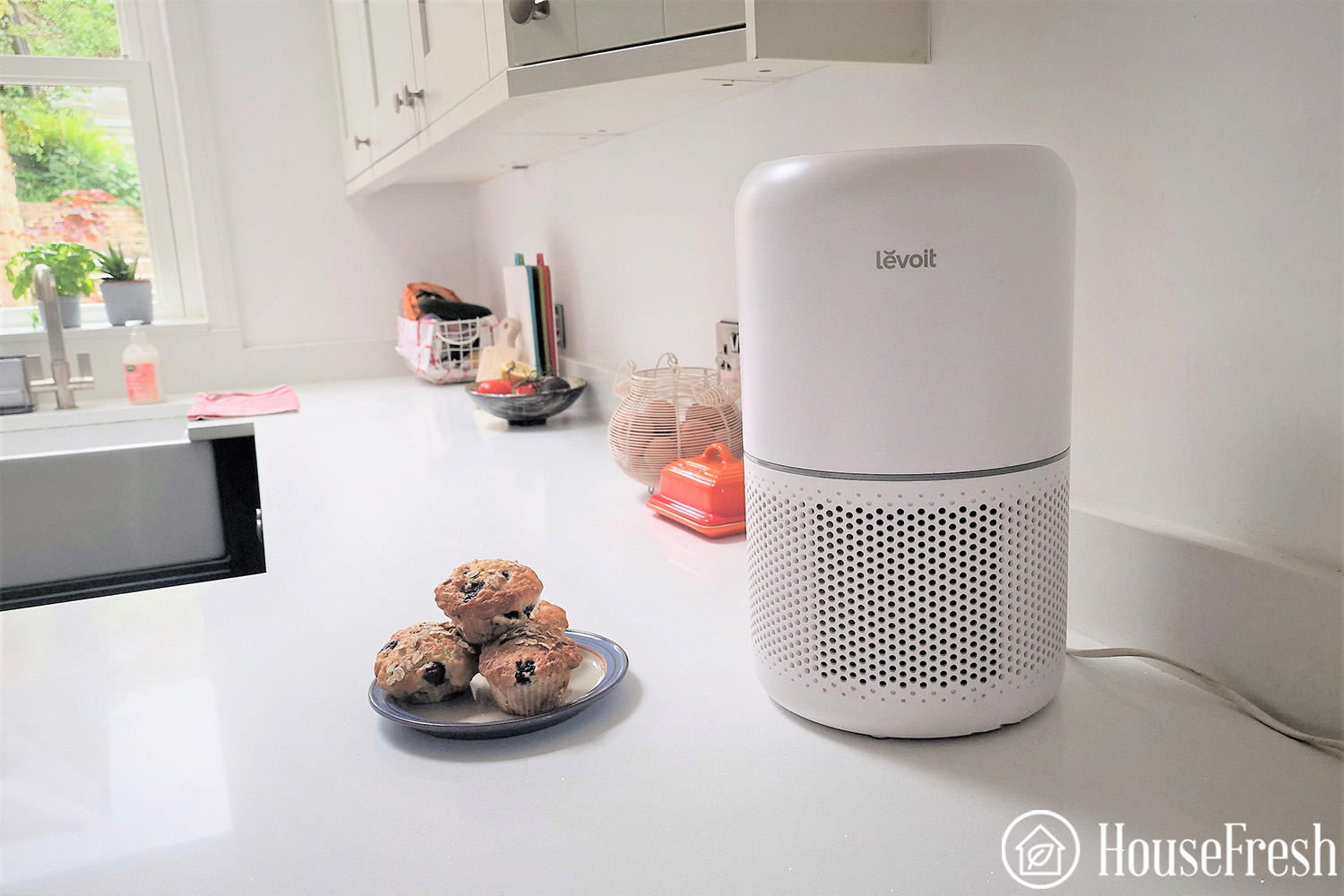 If you don't fancy spending the next 10 minutes reading about this air purifier, don't worry; I've covered you with my pros and cons for the Levoit Core 300.
What we really like
It's less than $100 and has a CADR of 140CFM for Dust, 145CFM for Pollen and 141CFM for smoke – with previous generations of air purifiers, you needed to spend upwards of $250 to get this level of performance
It looks pretty good and doesn't take up so much space due to its cylindrical design.
Sleep mode allows it to run at near silent with all lights off (see video below for sound examples)
Replacement filters are easily available via Amazon
It comes with a timer mode so you can leave it on for 2, 4, 6 and 8 hours, and it will automatically switch off
What we think could be better
It lacks an onboard air quality sensor, so it can't automatically switch on if it detects pollutants in the air
It doesn't include wifi capability or an app (which might be seen as a plus for some people)
It would be great if you could remove the pre-filter for cleaning
The specifications
145 CFM for less than $100 is why the Levoit Core 300 became the biggest-selling air purifier of the last few years. It makes a lot of sense for so many different consumers.
| | |
| --- | --- |
| HouseFresh Rating: | ★★★★★ |
| Time to clean our test room: | 40 minutes |
| Air purifier technology: | 3-Stage Filtration (Pre-filter for large particles, main filter for airborne particles, high-efficiency activated carbon filter for odors and gasses) |
| Recommended room size: | 219 sq. ft. |
| Clean air delivery rate (CADR): | 145 CFM (246 m3/h) |
| Dimensions (in inches / in cm): | 8.7L x 8.7W x 14.2H inches (22L x 22W x 36H cm) |
| Weight (in pounds / in kg): | 7.5 lbs (3.4 kg) |
| Noise level (low – high): | 24 – 50dB |
| Filter life: | 6 – 8 months |
| Manufacturer's warranty: | 2 years |
| Estimated energy consumption: | $47.30 |
Small in size, big on power
I expected the Levoit Core 300 to be much smaller based on the pictures I saw online, but it's still a small device compared to other air purifiers I have tested.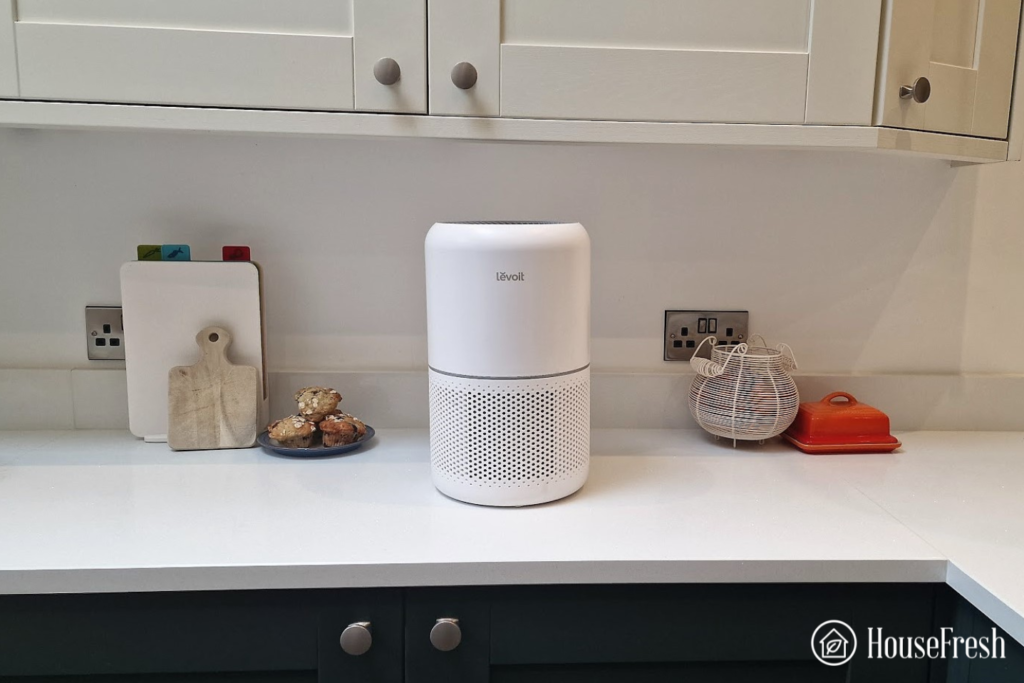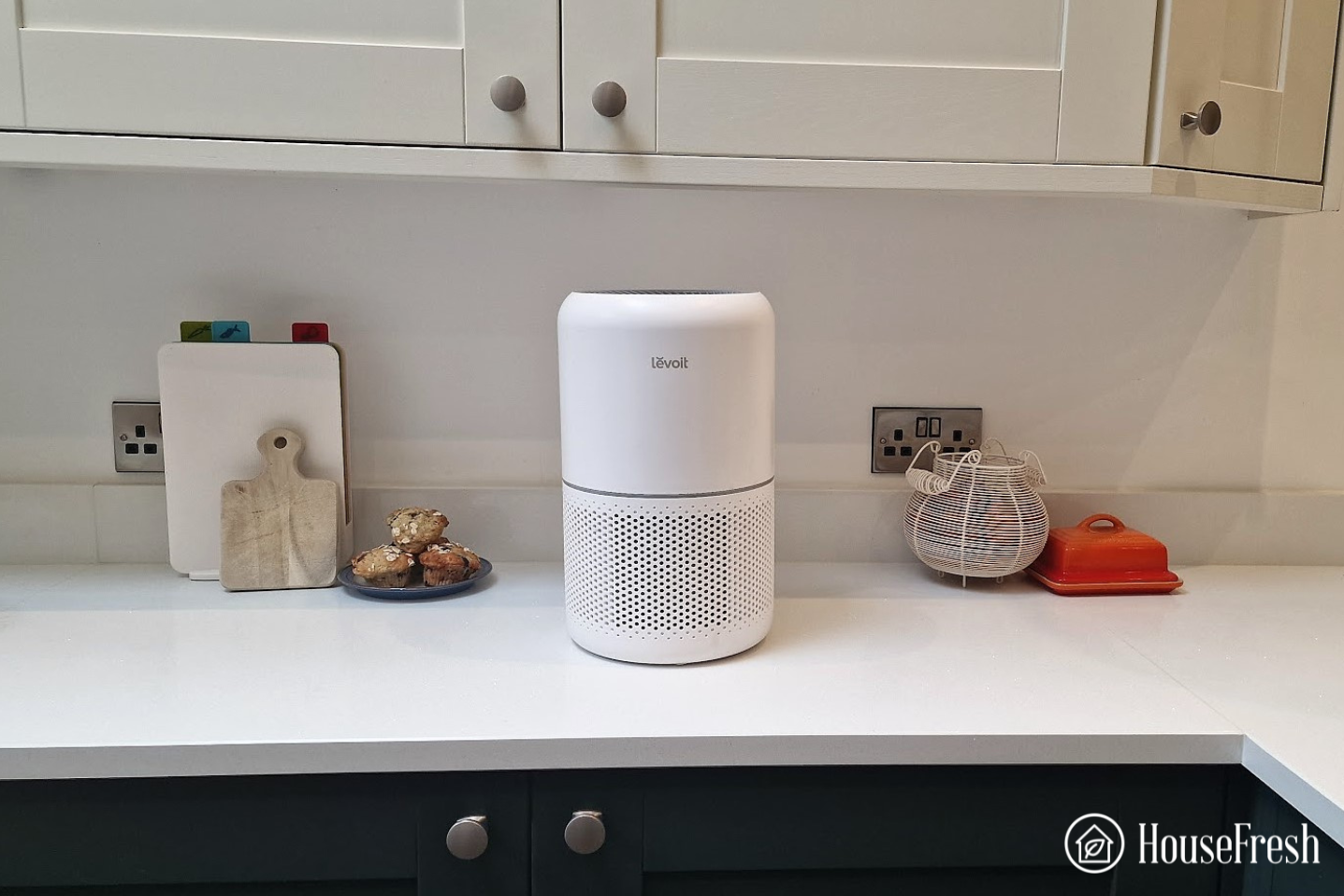 The cylindrical design allows for a fairly small floor footprint, so I could use it in most rooms without needing to move furniture around.
The simple menu system is something that Levoit does well, and the 300 is a great example — options for speed, timers, sleep, and lighting are all buttons on the slick touchscreen menu.
There is also a warning for when the filter needs replacing, which I'm hoping is closer to eight months than six, but I'll provide an update as soon as I see the warning light.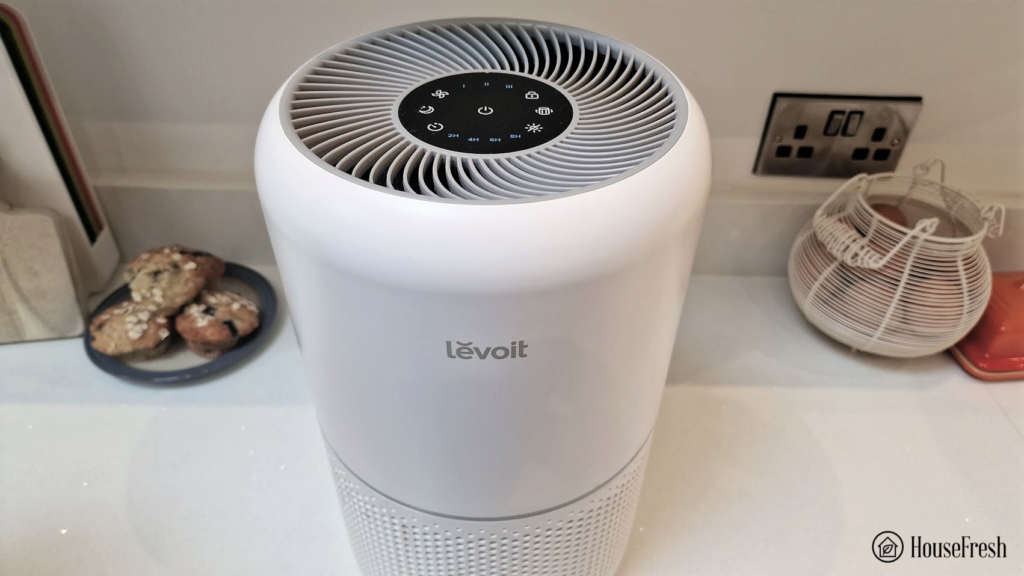 The Levoit Core 300 is one of the first powerful air purifiers for under $100. Since its release, many other manufacturers have come out with their version of the Core 300, including:
Medify 25: This unit has similar performance but is often much higher in cost
Blueair Pure Air 411: With a lower CADR rating (120 CFM versus 145 for the Core 300) and often at a higher cost
Years after its release, the Levoit Core 300 is still the leading contender for best budget air purifier available in the United States.
All-round filtration with no chemical byproducts
The Levoit Core 300 has a filter that combines a nylon pre-filter, a main filter and a layer of activated carbon pellets. The filter does a great job of removing everything from pollen and viruses to odor and VOCs.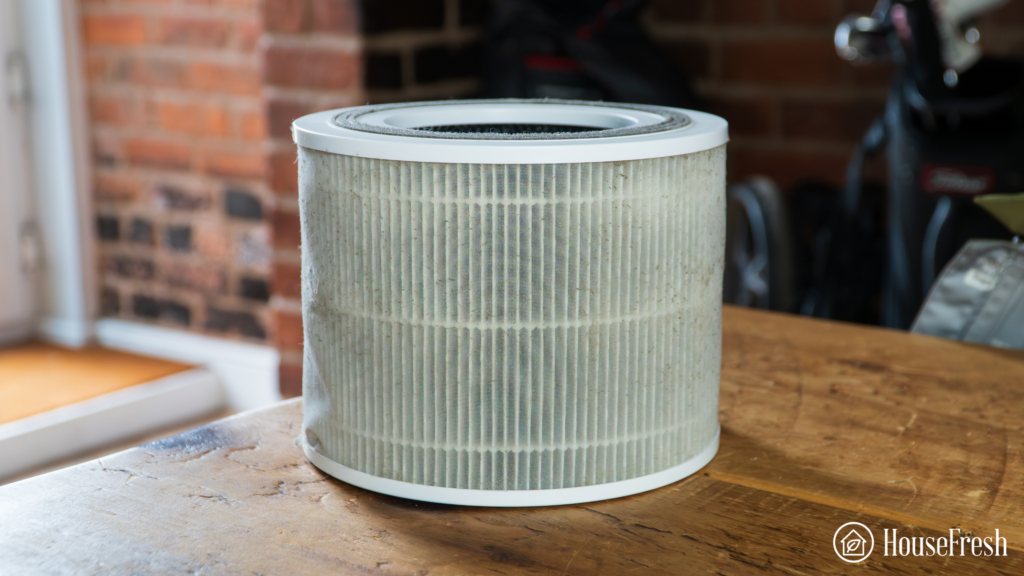 Removing the filter from the unit is fairly easy, and it can be done in three simple steps:
I appreciate how the Core 300 uses mechanical filtration that won't produce any potentially harmful byproducts like ozone.
These days, many air purifiers come with 'innovative' air purification technology that doesn't make a difference during our performance tests.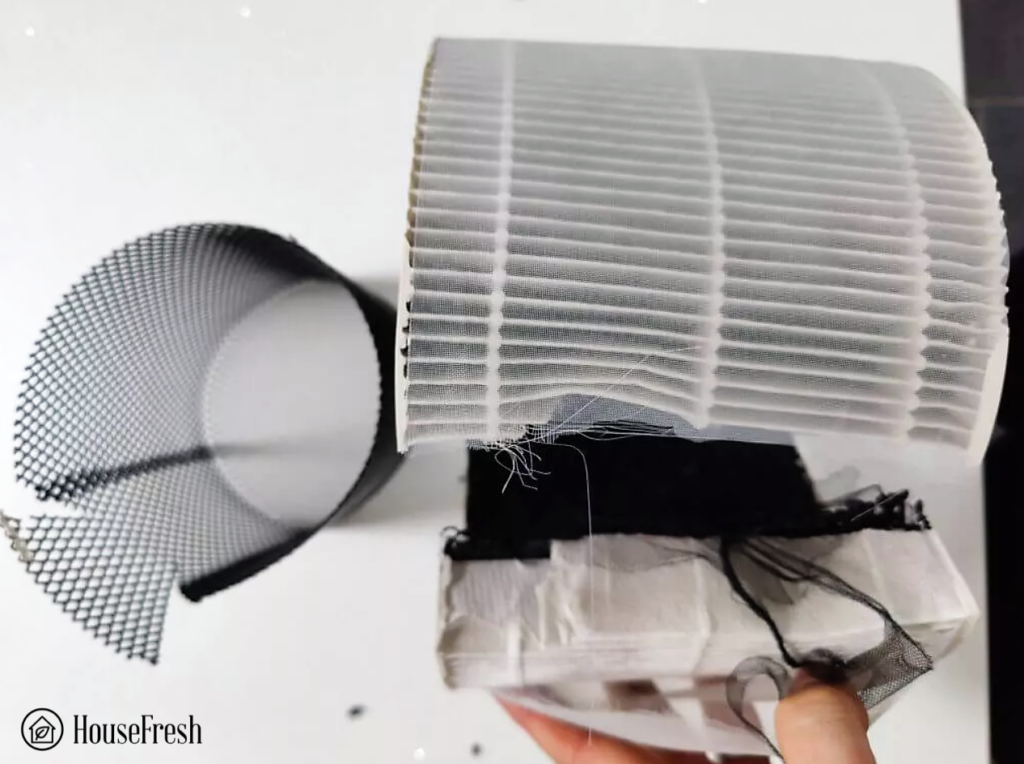 Regardless of all the scientific-sounding taglines, it would help if you remembered that the trustworthy HEPA + Activated Carbon combo had been put to the test generation upon generation.
The first documented use of activated charcoal goes as far back as 3750 B.C., and HEPA technology was invented during WW2.
Most fancy-sounding air purification technology is yet to be proven by peer-reviewed studies. Still, you will find thousands of papers on the positive effects of HEPA and Activated Carbon being published by academics from around the world.
Tip
One thing we always mention in our reviews is to remember to remove the filter from the plastic bag it comes in. Many HEPA filters are kept in plastic containers to ensure they won't be used before they arrive with the customer.
Dyson has started adding noticeable warnings on their plastic bags and I wish more manufacturers would follow suit, clarifying that plastic needs to be removed before putting the filter in the air purifier.
Simple controls make it easy to use
Simplicity is built into the controls of the Levoit Core 300.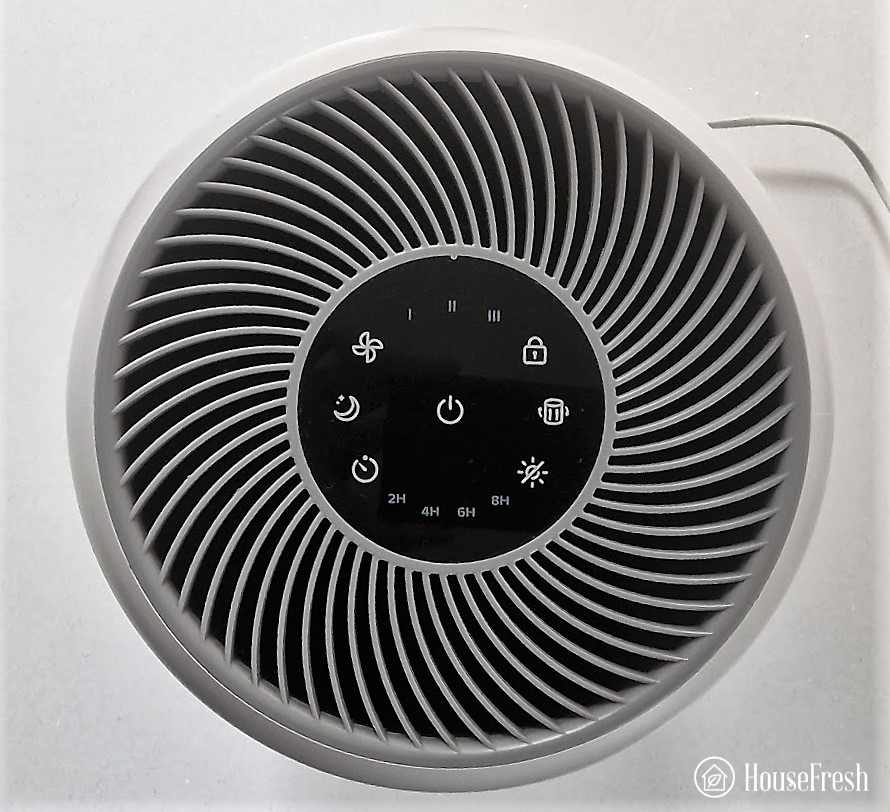 This display is undoubtedly more complex than the simple 'one button' control panel of the Blueair range or the dial approach taken by the Smart Air Health S. Personally, I like that it has clear buttons meant to be used for each of the different modes.
I have used the timers several times, which I rarely do with devices, as the options are usually tucked away inside a sub-menu.
The Core 300 cleared our home lab in 40 minutes
The Levoit Core 300 removed all pollutants in our test room (sized 705 cubic ft) in 40 minutes.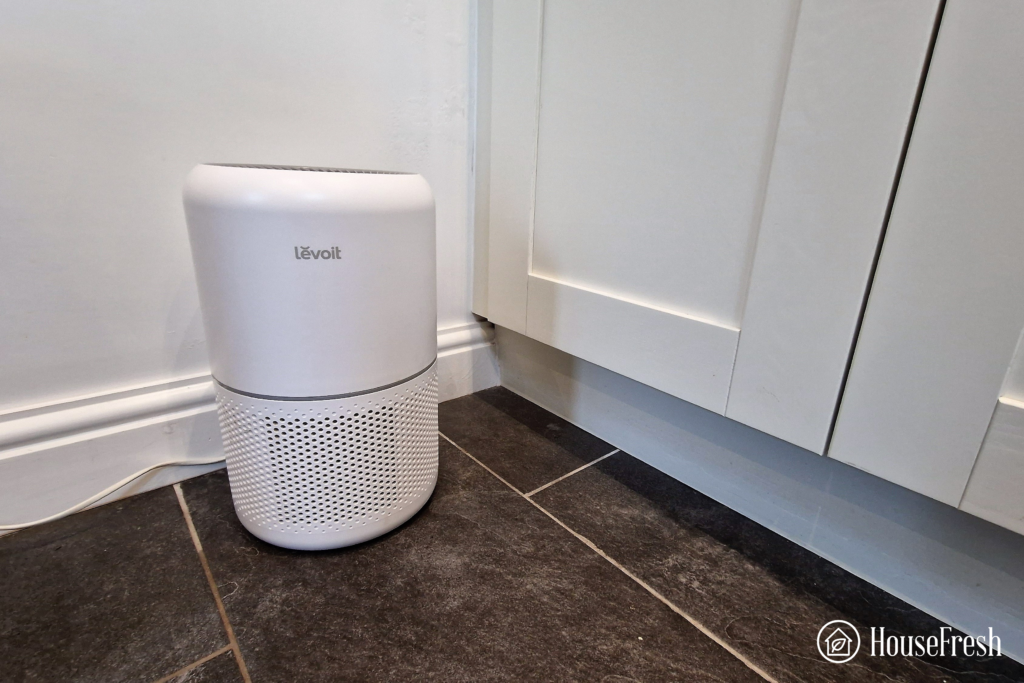 This unit compares favorably with the more expensive Medify MA-25, which managed 43 minutes and was far better than the Dyson HP04, which had multiple extra features but was close to $800.
Air cleaning performance test results
When comparing cleaning performance against price, it's hard to fault the Levoit Core 300. What we saw during testing makes it hard to recommend the upgraded but more expensive Levoit Core 300S, which shaved off just one minute compared to the Core 300.
Noise levels test results
When it comes to noise levels, the Core 300 performed well.
We know that sound can be super subjective, so we produced a video of the different speed models so you can hear for yourself:
The cost to run a Core 300: $107.3 per year
1. Electricity costs = $47.30
With the energy crisis in full surge across the United States and the world, it's important to consider the costs of devices like air purifiers, as it's often not given the importance that it should.
The standard Levoit Core 300 pulls 45 watts at maximum power, which equates to $47.30 per year but don't worry too much, as our calculation is based on 100% usage, which is unlikely to be the case.
That being said, electricity consumption is still something to consider when considering the costs of running an air purifier in the long run. This might be one big reason why you might want to look at the upgraded 300S, as it was able to perform at its highest setting with just 26 watts, which is a significant reduction for the same amount of cleaning power.
2. Filter costs = $60
Filter costs are another area that most people miss when thinking about air purifiers. HEPA and activated charcoal filters work by becoming full of pollutants over time and so need regular replacing if you want to sustain cleaning performance.
Genuine Levoit filters cost $29.99, so owning a Core 300 could cost an additional $60 per year, considering you need to replace the filters every 6 months.
After long-term testing of the Levoit Core 300, we saw the red light at 9 months. This was one extra month on top of the 6-8 month mark advertised by the manufacturer.
For a replacement, I went with a Levoit Core 300-RF-PA aimed at those looking to remove odors. In my particular case, we have used the Core 300 mainly in our bedroom and kitchen, so removing smells was a must.
Due to stock issues, I couldn't find this filter for less than $30, which is quite a big chunk of the unit's total price — something to consider when annual filter costs are close to the full RRP for the unit.
But also, I did see several generic filters at $30 for 2 filters ($15 each!), which may perform as well, but I'll be looking to test this in a future review.
Technology
H13 (Medical) Grade HEPA and Activated Charcoal
3-in-1 filter includes Mesh Pre-filter, H13 HEPA Filter and Activated Carbon
Technology
H13 (Medical) Grade HEPA and Activated Charcoal
Technology
3-in-1 filter includes Mesh Pre-filter, H13 HEPA Filter and Activated Carbon
Comparing the Levoit 300 against the Levoit 300S
Since the Core 300, Levoit has released the upgraded Levoit Core 300S, incorporating an air sensor and smart features.
When you look at both units side by side, there is no way you can quickly pinpoint which one is which.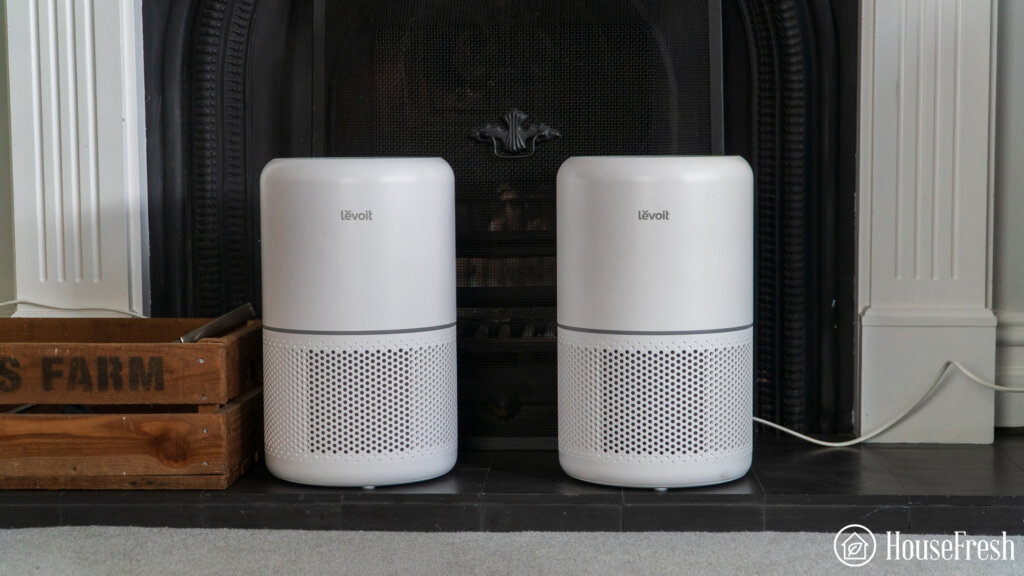 The Levoit Core 300S includes app support AND auto mode, but you need to be mindful as these extra features add more than $50 to the price tag.
📱 The Core 300 has no innovative features, so if you want to control your air purifier remotely using your phone, you will need to upgrade to the Core 300S.
🍃 Regarding air cleaning capabilities, the Core 300 and the Core 300S share the same technology. However, the Core 300S shaved off one whole minute when cleaning the air in the testing room compared to the Core 300, which took 40 minutes.
⚡️ Long-term costs will be quite similar, although the Core 300S is more energy efficient, so if your electricity bill is a concern, you should go for the Core 300S.
I would suggest getting the Core 300S if you can afford the extra $50 upfront, as you get a much better unit with all the same filter costs and even lower energy bills.
Sale
LEVOIT Air Purifiers for Home Bedroom, Smart WiFi, Auto Mode, Covers Up to 1095 Ft² for Home Large Room, Quiet Cleaner for Pets, Allergies, Dust, Smoke, White Noise, Core 300S / Core300S-P, White
Wake Up Refreshed: Feeling sick after a night's rest, the 3-in-1 filtration system helps you combat dry throats, nightly congestion, allergies, and asthma
Access Anywhere, Anytime: Simply ask Alexa or Google Assistant to control the air purifier when your hands are full. The free VeSync app also allows you to check your air quality and set schedules
Set It and Forget It: Let the air purifier work for you, even while you sleep. With Auto Mode, the Core 300S/ Core 300S-P senses any change in PM2.5, and automatically adjusts fan speeds and the air quality indicator rings. Enjoy an undisturbed night and clean air
Multiple Filter Options: It's your pick, Choose between our 3 customized replacement filters to fit your needs: the Pet Allergy Filter, Toxin Absorber Filter, or the Smoke Remover Filter. Or search "Core 300-RF (B07RSZSYNC)" to find our Levoit 3-Stage Original Filter when you need a replacement
Ultra-Quiet: No light, no noise, just air purification. Sleep soundly while the air purifier works as quietly as 22dB for light sleepers. Sleep Mode automatically turns off display lights and reduces noise levels
---
Bottom line
The Levoit Core 300 is an easy air purifier to like.
It doesn't overpromise and has a great CADR score, which matches the performance figures we saw in our tests.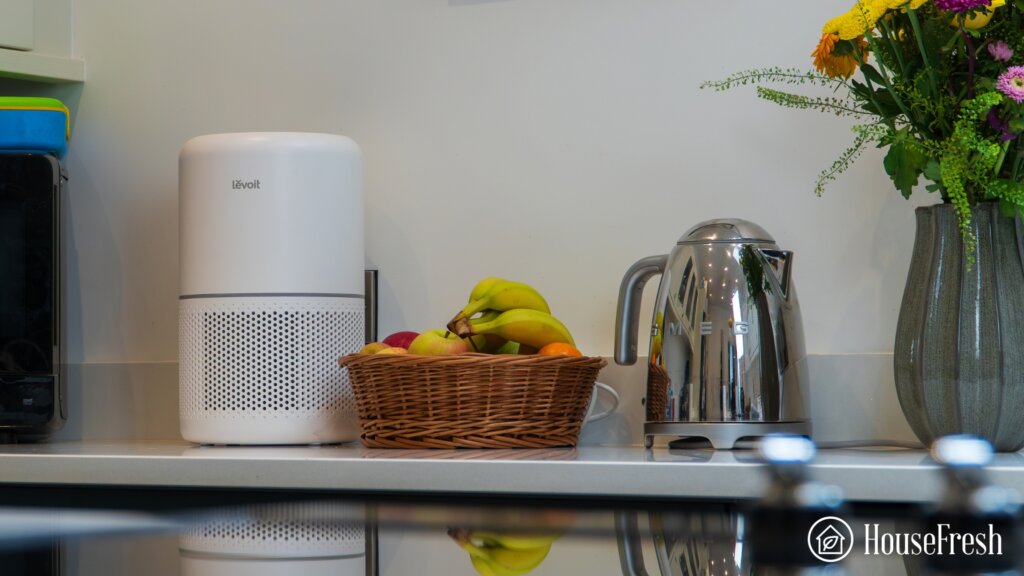 The Levoit 300 is not for everyone in the same way that not everyone wants to drive a VW Beetle, but if you need something to clean a room and don't want to overpay, the Levoit 300 is the one unit I have no problem recommending year after year. If you're looking for something cheaper, then you should read our review of the TaoTronics AP003.
At HouseFresh, we have been reviewing air quality products since 2010. In all these years, we learned not to rely on manufacturers' claims and the ever-so-glowing marketing materials. That is why we buy products with our own money, so we can write unbiased reviews after we've had enough time to evaluate air quality products in our home lab. Every unit we recommend has been thoroughly tested to assess its performance, energy consumption, and noise levels emitted in real-life environments. If you have any questions about our testing process for different types of air quality products, just drop us an email at
hello@housefresh.com
.
SOURCES
We used the Department of Energy's appliance energy calculator to calculate yearly costs associated with running the Levoit Core 300 for 24hs a day for 365 days. We ran this calculation utilizing the US average utility rate of $0.12/kWh as of March 3rd, 2023.
Last update on 2023-11-30 / Affiliate links / Images from Amazon Product Advertising API