"Upon my life, I believe handsome public grounds, with music, would have the happiest influence in allaying riots and debauchery, crime and secret vices," declared landscape designer Andrew Jackson Downing in 1848.
The public garden was late to the U.S. In Europe, the Italian Renaissance had ushered in a culture of open grounds of variously scientific or aesthetic appeal. But it took until the 19th century for the U.S. to notice the benefits that the grand garden could have on the soul of both the individual and the nation.
The romance flourished as urbanization put a tighter squeeze on our natural spaces. A public garden immerses you into a world of landscape design and natural wonder. It offers education if you want it and meditation if you need it, a short pedal or stroll from your door. And when you travel, the gardens on show harbor local history, design, and indigenous plant life away from the bustle of the city or beach.
Andrew Downing had earlier raved that public gardens provide "room and space enough for pleasant little groups or circles of all tastes and sizes, and no one is necessarily brought into contact with uncongenial spirits." Sadly, this social appeal of the public garden caused most to politely close during lockdown. So, as these gardens re-open for human visitors, HouseFresh analyzed Tripadvisor reviews of nearly 1,000 landmarks to find the most picturesque public gardens that are overdue for your contemplation: the gardens that the most reviewers called "beautiful."
Key Findings
Gardens by the Bay in Singapore is the most beautiful public park in the world, with 12,385 "beautiful" mentions on Tripadvisor.
Bellagio Conservatory & Botanical Garden is the most beautiful public park in the U.S., with 5,706 mentions.
Seven out of the top 20 most beautiful public parks in our study are in Europe.
Luxembourg Gardens in France is Europe's most beautiful public park (6,818 mentions).
Futuristic Singapore Landscape Is the World's Loveliest Public Garden
A public garden offers a restful escape from the touristic thoroughfare. Your host city might boast a variety of public garden types, such as the botanical garden (offering a more scientific angle or a collection of rare or exotic plants), arboretum (tree garden), or gardens with a different design principle or cultural emphasis. We found the most beautiful one in each country and mapped them below.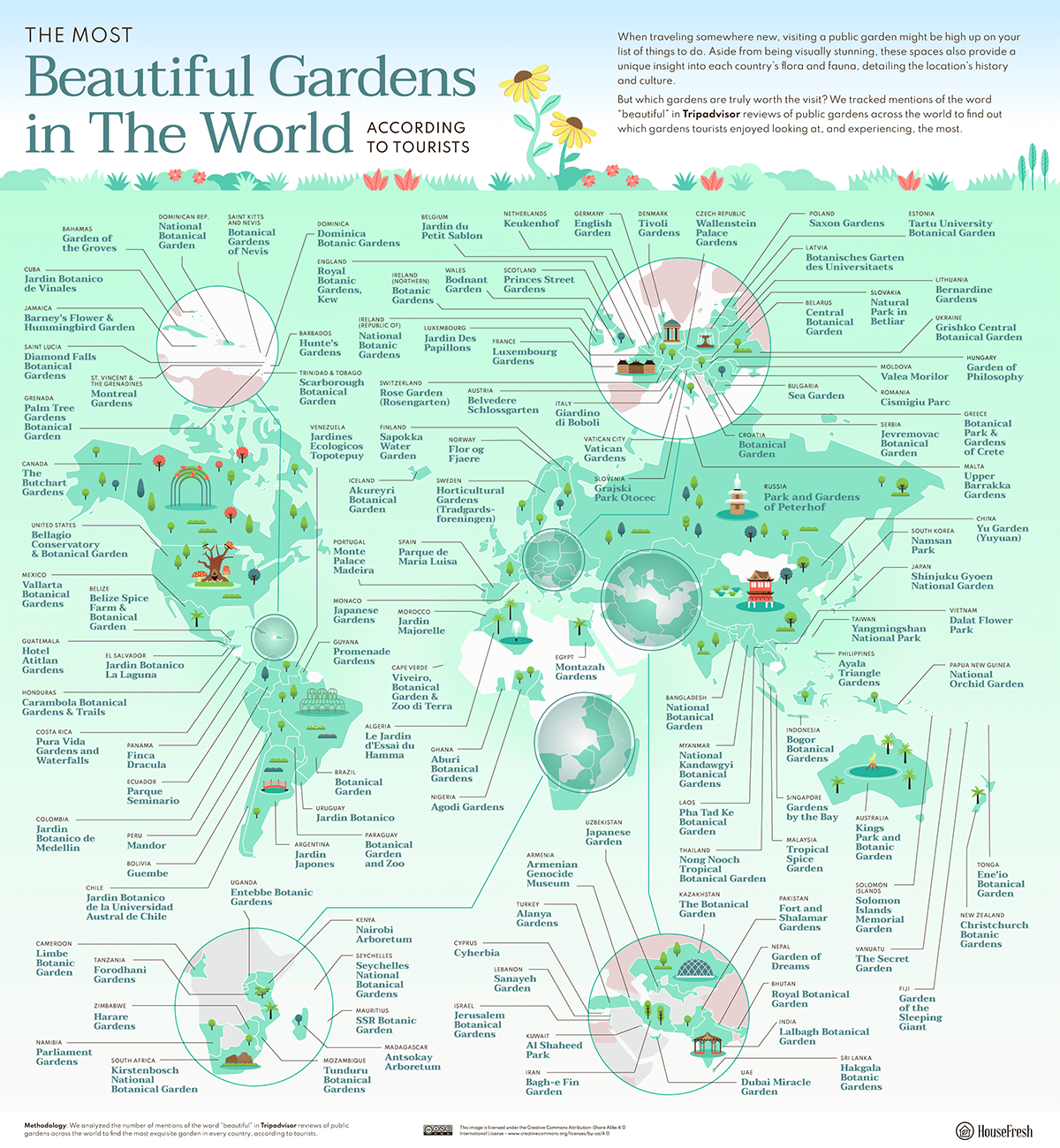 There is a good spread of top-rated public gardens around the world. Our top ten includes landscapes in Asia, Africa, North America, Europe, and Oceania. However, seven of the top 20 are in Europe, indicating the importance of European royal and pleasure gardens. These have long alternated between the Baroque-tinged geometrics (such as Luxembourg Gardens, France (below)) and a wilder landscaped layout.
The world's most beautiful public garden boasts three waterfront landscapes and the world's largest glass greenhouse. Since opening in 2011, Gardens by the Bay has been the cornerstone of Singapore's claims to be the premier tropical garden city. An aerial walkway through the 'Cloud Forest' and a cascade of orchids down the futuristic walls of the greenhouse are among the hypermodern features of this blissful resort.
"Stay for the sound and light show," recommends one reviewer, "where many of the sculptures are lit up with varying colours and patterns to the background of beautiful opera and music."
Glam Las Vegas Conservatory Is the Most Beautiful in the U.S.
A wander around a public garden, taking your phone from your pocket only for a discreet Instagram moment, has a whiff of the Victorian wellness retreat. But it has come of age as we're driven to add gardens to roofs and interior walls in an attempt to save our planet and our mental health. Wherever you are in the U.S., there's probably a secret paradise a short trip away. This map pinpoints the most beautiful in every state.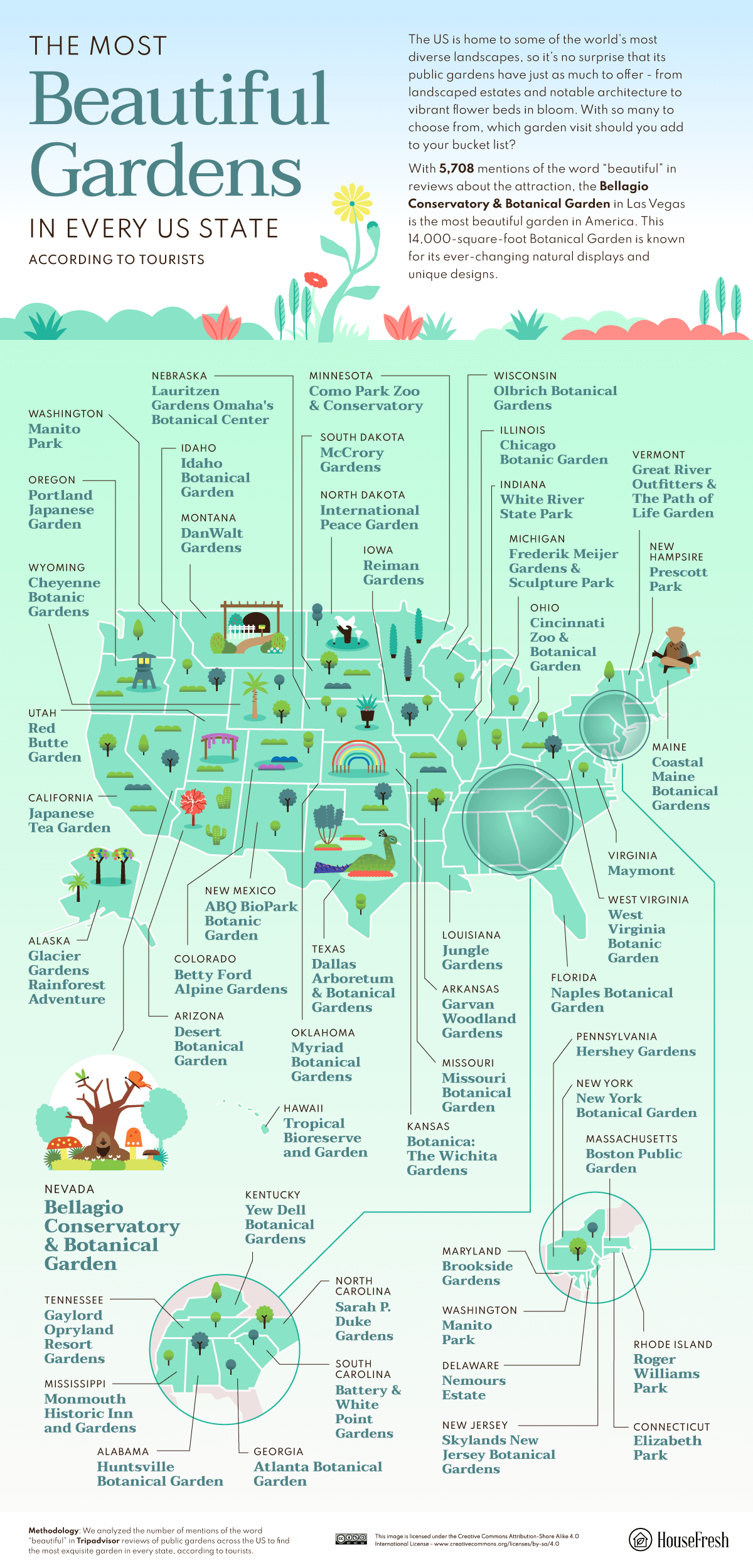 The most beautiful public garden in the U.S. is rated 53% more beautiful than the second-placed Boston Public Garden. Bellagio Conservatory & Botanical Garden is a key feature of the eponymous Las Vegas hotel, delivering curated flora from around the world. Granted, the heavily-designed gardens offer a space more suited for entertainment than meditation. But, this being Vegas, every last detail is attended to your satisfaction.
"It is so beautiful and such a pleasant way to spend some time away from the noise and chaos that is Vegas," testifies one visitor. "A happy place and time!"
You only need to utter the words "Japanese garden" to lull some horticulturalists into a state of meditation. A visit to Portland Japanese Garden will show you why. Rather than strict rules, a Japanese garden harnesses a mindful sense of proportion, grace, and mutability, with attention to local needs and materials rather than a zoo-like import of exotic plants and techniques.
Portland Japanese Garden achieves this while embracing core values of "Inspiration, serenity, tranquility, and the aestheticism of nature." The Japanese ambassador once described it as "the most beautiful and authentic Japanese garden in the world outside of Japan."
A Sense of Enormous Well-Being
The joys of the public garden are many: "health and spirits," suggests Andrew Downing, "exercise in the pure open air, amid the groups of fresh foliage and flowers, with a chat with friends, and pleasures shared with them, as compared with a listless lounge upon a sofa at home, over the last new novel or pattern of embroidery!"
So, rise up, "fair countrywomen" (and everyone else), from your embroidery station or hotel bed, and breathe in the colorful wonders of a nearby botanical park. You can search our full data below to find one. You've nothing to lose but your cobwebs.
METHODOLOGY
Throughout December 2021, we used Tripadvisor to gather data on the most beautiful gardens in the world by searching Things To Do using the keyword "beautiful" in each country of the world and each U.S. state. Then, we extracted the attractions labeled as gardens.
We deemed the places with the highest number of mentions of "beautiful" in their reviews were deemed the most beautiful gardens.