Anyone who has spent time on a construction site will know just how dusty they can be. From small jobs such as DIY home improvements to large renovation projects, dust can quickly accumulate once work gets underway.
Dust is a big issue for many people, contributing to allergies and respiratory conditions if inhaled. Dust particles are usually microscopic, making them especially tricky to control – this is particularly challenging on a building site where airborne particles are constantly created and circulated.
While many tradespeople or clients will chalk this up to an occupational hazard or a necessary evil to get the job done, no one should compromise their health to fit that new kitchen or replaster old walls.
Combatting construction dust is much easier than you might imagine. Equipped with the right tool for the job — a powerful air purifier fitted with quality filters — you can eradicate dust quickly. Creating a clean, healthy environment for all on-site.

To find the best air purifiers for construction dust, we use data that we've collected through our performance tests to compare the units we own side-by-side. By doing this, we can find which units stand up to the challenge of effectively and efficiently clearing dust from rooms.
In our home lab of 728 cubic ft, we light an incense stick to generate particle pollution and VOCs.

We set up our trusted Purpleair Indoor Sensor with the latest Bosch gas sensor to track levels of PM1ug/m3, PM2.5ug/m3 and PM10ug/m3 and VOCs in the air.

We switch the air purifier to its highest speed and measure how long it takes to get our room air quality down to PM1 level to 0.

We use an energy meter to measure precisely how much electricity is used when running the unit at the lowest and highest fan speed settings.

We track sound levels emitted by the air purifier at different fan speeds with the help of a commercial sound meter.

With test data, we can compare and contrast each air purifier to find the ideal unit for making construction dust a thing of the past. Our four top air purifiers boast these three key features:
HEPA Filtration — HEPA (High-Efficiency Particulate Air) filters are considered the benchmark of a quality air purifier. Guaranteed to remove at least 99.7% of particles as small as 0.3 micron, these filters offer excellent protection from minute construction dust particles.
Powerful fans — Construction sites can be laden with dust, meaning your unit will have to be able to circulate a lot of air if it can make a difference. Opting for powerful purifiers with high CADR scores will deliver the best results.

Portability — Large, cumbersome air purifiers are great if you stay in the same place for a long time, but as various projects are completed, you'll want a lightweight and convenient unit to take with you on the move.
Staff picks: Top 3 air purifiers for construction dust
For those looking to clean up your construction site quickly, here's a sneak peek at our top three air purifiers.
Last update on 2023-12-02 / Affiliate links / Images from Amazon Product Advertising API
To learn more about our top air purifier choices for construction dust, be sure to check out the complete list below. With options for different sized spaces, purifier styles and various budgets too.
An air purifier made specifically for dusty environments — see why this unit is the ideal addition to your construction tools.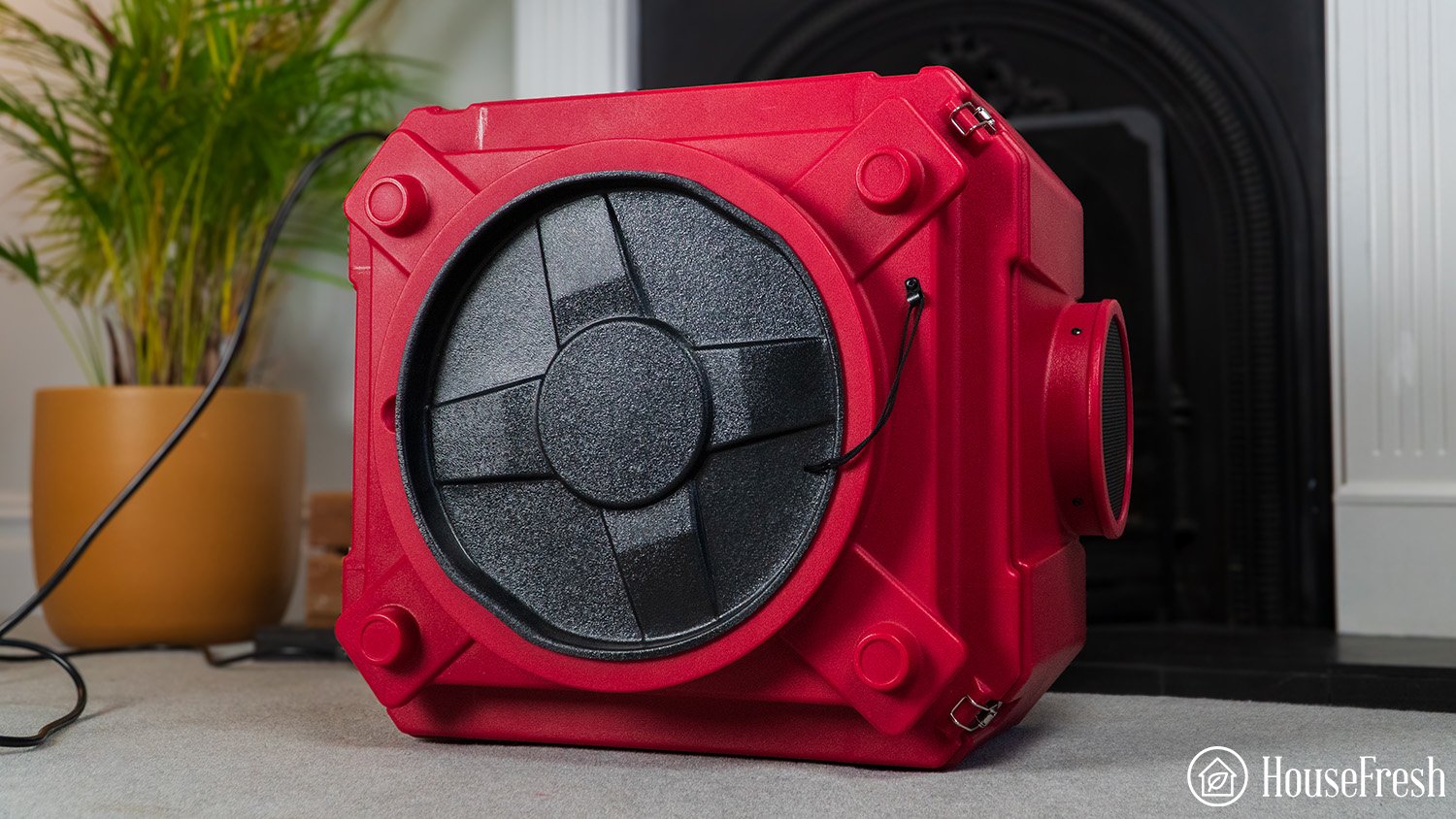 For any construction worker concerned about the air they breathe while at work, the ALORAIR should be your first port of call. This powerful, robust and straightforward option makes it easy to transform air quality on-site.
Equipped with a MERV 10 filter (traditionally found in commercial units), alongside a HEPA and Activated Carbon filter, this air scrubber will leave no dust particles behind. It's capable of cleaning 550 cubic feet of dirty air per minute.
What we really like
Most powerful unit on this list with a CADR score of 550 CFM
Well designed for use in a construction zone
It can be used with special ducts to target dust at the source
Large HEPA filters which can store plenty of particulate matter and are easily available on Amazon
What we think could be better
It will be overkill for everyday use at home
This is the toughest air purifier on this list too. It comes with rotomolded polyethylene (LLDPE) housing, making it able to withstand the demands of any construction site. While the anti-slip feet and stackable design add versatility, allowing you to use multiple units in conjunction for even greater cleaning capability.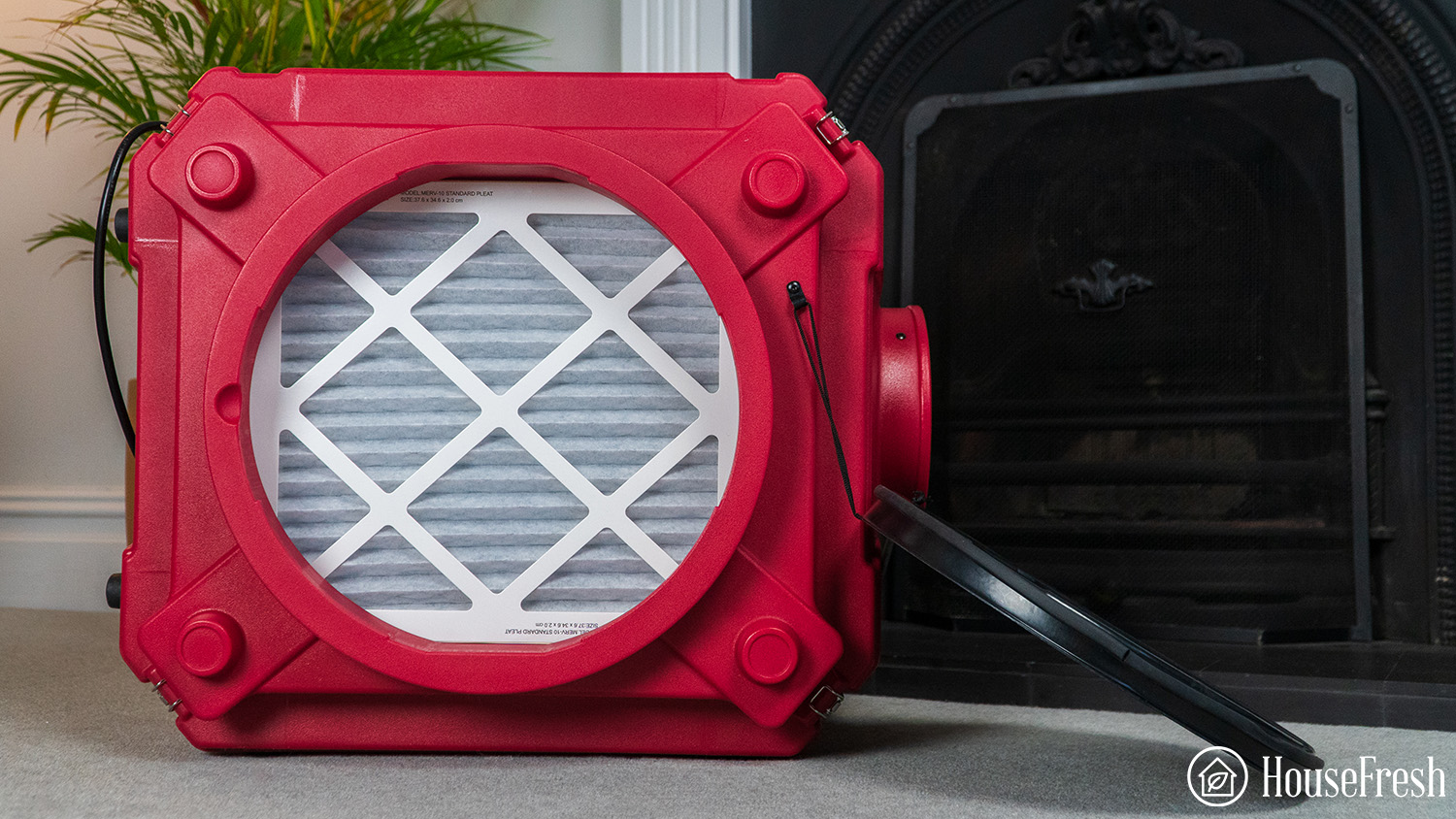 SPECS & FEATURES
| | |
| --- | --- |
| HouseFresh rating: | ★★★★☆ |
| Time to clean our test room: | 18 minutes |
| Air purifier technology: | MERV 10, HEPA and Activated Carbon filters |
| Recommended room size: | 900 sq. ft. |
| Clean air delivery rate (CADR): | 550 CFM |
| Dimensions (in inches / in cm): | 24.8L x 20.87W x 14.96H inches (62.99H x 53W x 37.99D cm) |
| Weight (in pounds / in kg): | 39.6 lbs (16.7 kg) |
| Noise level (low – high): | 76 – 77dB |
| Filter life: | 6 – 8 months |
| Manufacturer's warranty: | 10 years on polyethylene body + 1 year on parts & labor |
Small and light with a high cleaning performance — there's more to this air purifier than its budget price.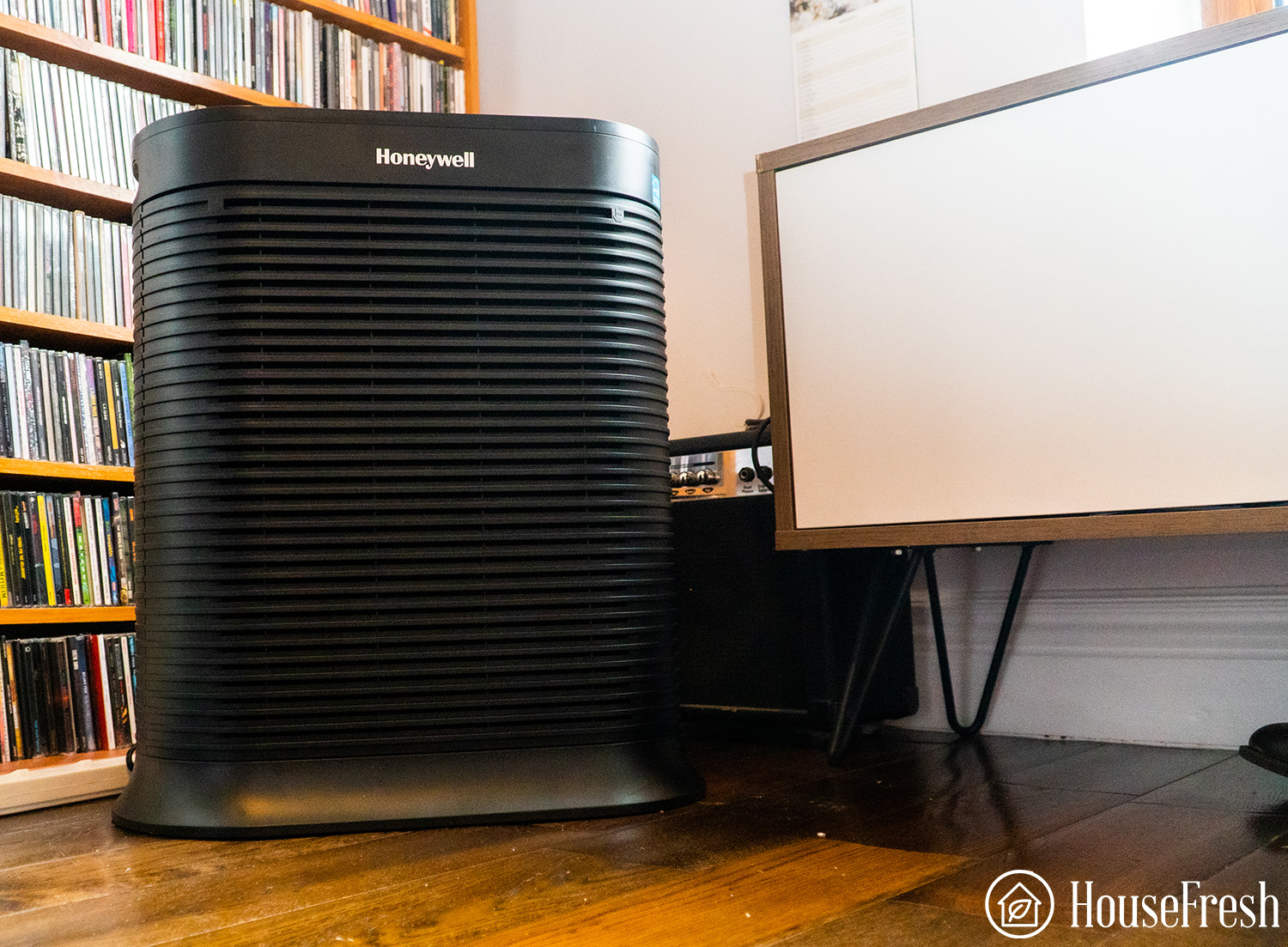 Costing just over $200, the Honeywell HPA300 is punching well above its weight. For this price, you'll get an air purifier with colossal power and long-lasting HEPA filters that will make light work of construction dust.
Despite being an older model, the HPA300 still competes with the latest and greatest air purifiers on the market. Primarily because it's an out-and-out workhorse. With fans powerful enough to clean 300 cubic meters a minute within a medium to large-sized space, this purifier is an excellent addition to your toolbox.
What we really like
It's super simple to use with a fool-proof control panel
It packs a punch thanks to its 300 CFM CADR score
Sturdy design and generous warranty will be helpful in construction areas
HEPA filters last longer than many rival alternatives
What we think could be better
It would be great to see a separate activated carbon filter to tackle VOCs
It runs a little loud on higher speed settings
As well as cutting costs when you initially purchase this purifier, you can also expect to save money on filter replacements. The readily available replacements come in three sets, setting you back just $23 per filter. This saving will come in handy on a building site, where high quantities of construction dust may see you needing to replace your HEPA filters more often than in a domestic setting.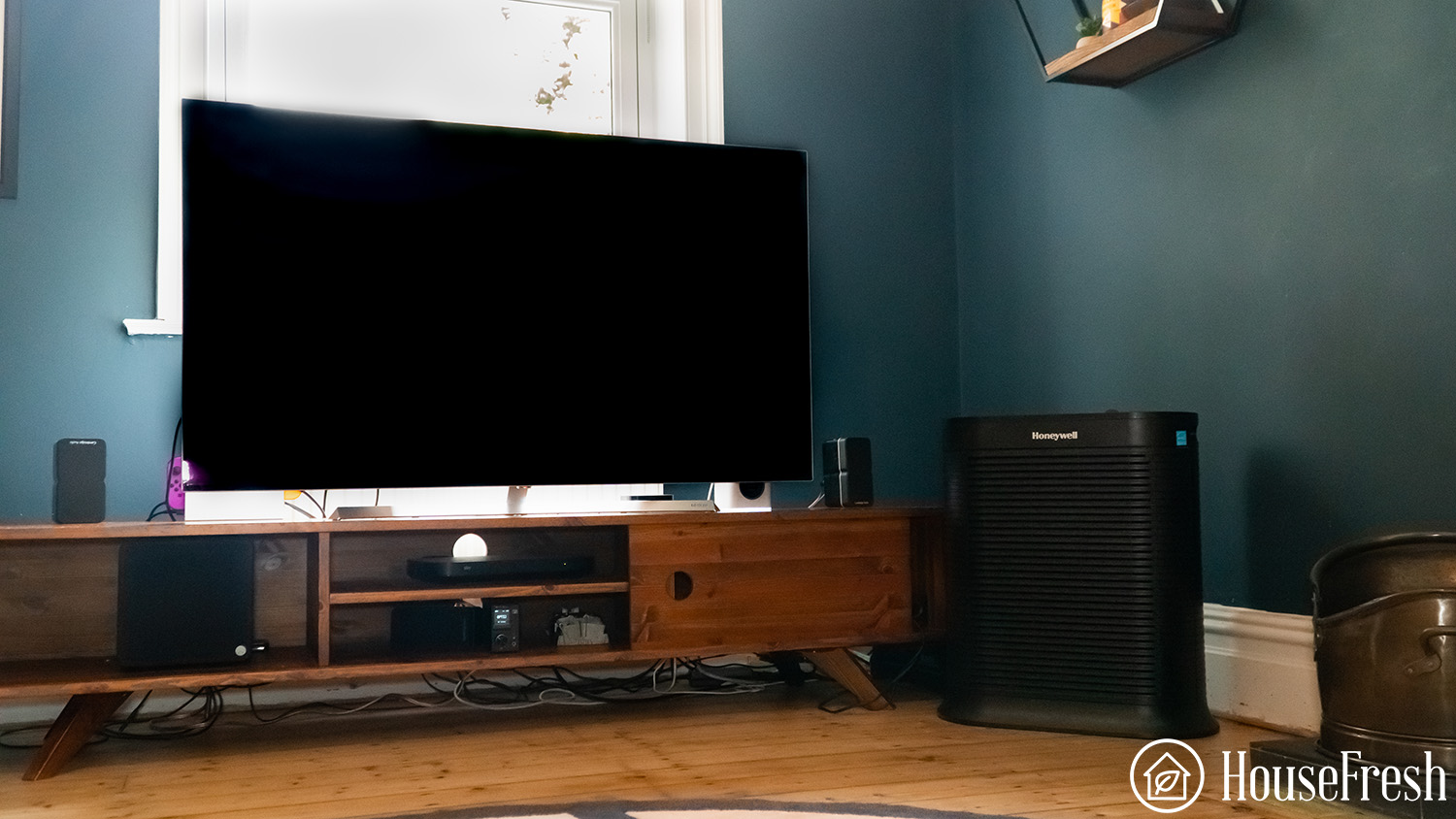 SPECS & FEATURES
| | |
| --- | --- |
| HouseFresh Rating: | ★★★☆☆ |
| Time to clean our test room: | 26 minutes |
| Air purifier technology: | Activated Carbon pre-filter and True HEPA filter |
| Recommended room size: | 465 sq. ft. |
| Clean air delivery rate (CADR): | 300 CFM (509 m³/h) |
| Dimensions (in inches / in cm): | 20.8L x 10.83W x 22.38H inches (52.8L x 27.5W x 56.8H cm) |
| Weight (in pounds / in kg): | 17 lbs (7.7 kg) |
| Noise level (low – high): | 48.3 – 71.2dB |
| Filter life: | HEPA every 12 months, Pre-filters every 3 months |
| Warranty | 5 years |
| Estimated energy consumption: | $189.01 per year |
With a massive CADR, smart functions and app connectivity — Levoit reminds us you can't judge a book by its cover.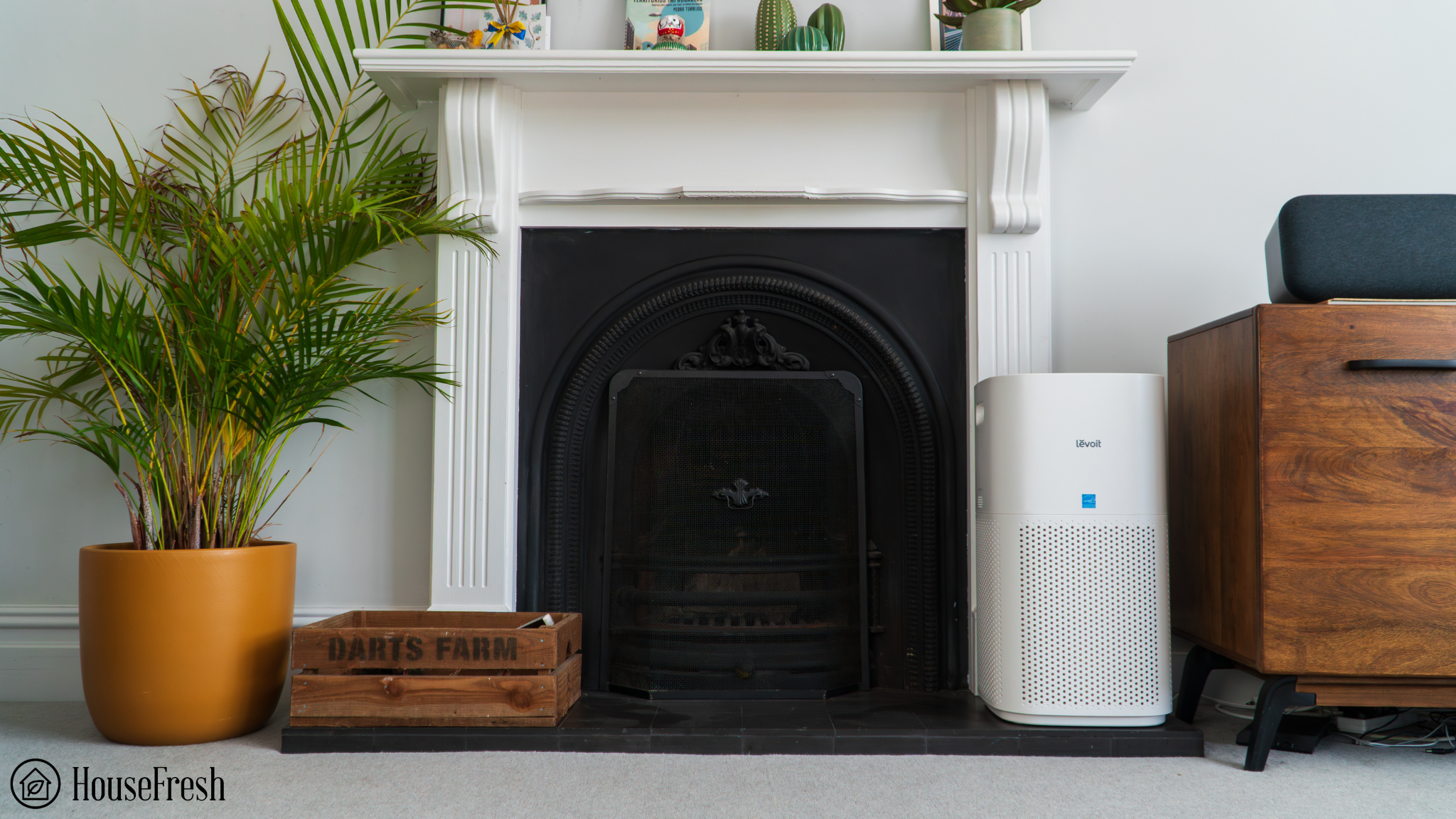 The longer construction dust is left to linger in the air, the higher the likelihood of it being inhaled. That's why it's vital to act fast and remove particles as quickly as possible. This is where the Levoit Core 600S comes into play; being the fastest air purifier we've ever tested, clearing all traces of air pollutants in just 15 minutes.
Levoit has stacked this purifier full of air-cleaning capabilities. From their trademarked VortexAir fans that whip up a storm to the highly efficient H13, medical-grade HEPA filters can capture the tiniest dust particles in a single pass.
What we really like
It is a powerful air purifier, with a CADR of 410 CFM
It works wonders in larger-sized or open-plan spaces
It comes with lots of smart features that may come in handy when concentrating on other jobs
Highly energy efficient for such a powerful unit
What we think could be better
I wish the filters had a longer lifespan
Clean and modern design may not last for long on a construction site
The 600S is simple to use and relatively easy to maneuver too. You'll find an Auto mode that monitors air quality and changes the fan speed accordingly, a Smartphone app that enables remote operation and a lightweight design that simply requires you to pop in a filter and hit the on switch to transform your air quality.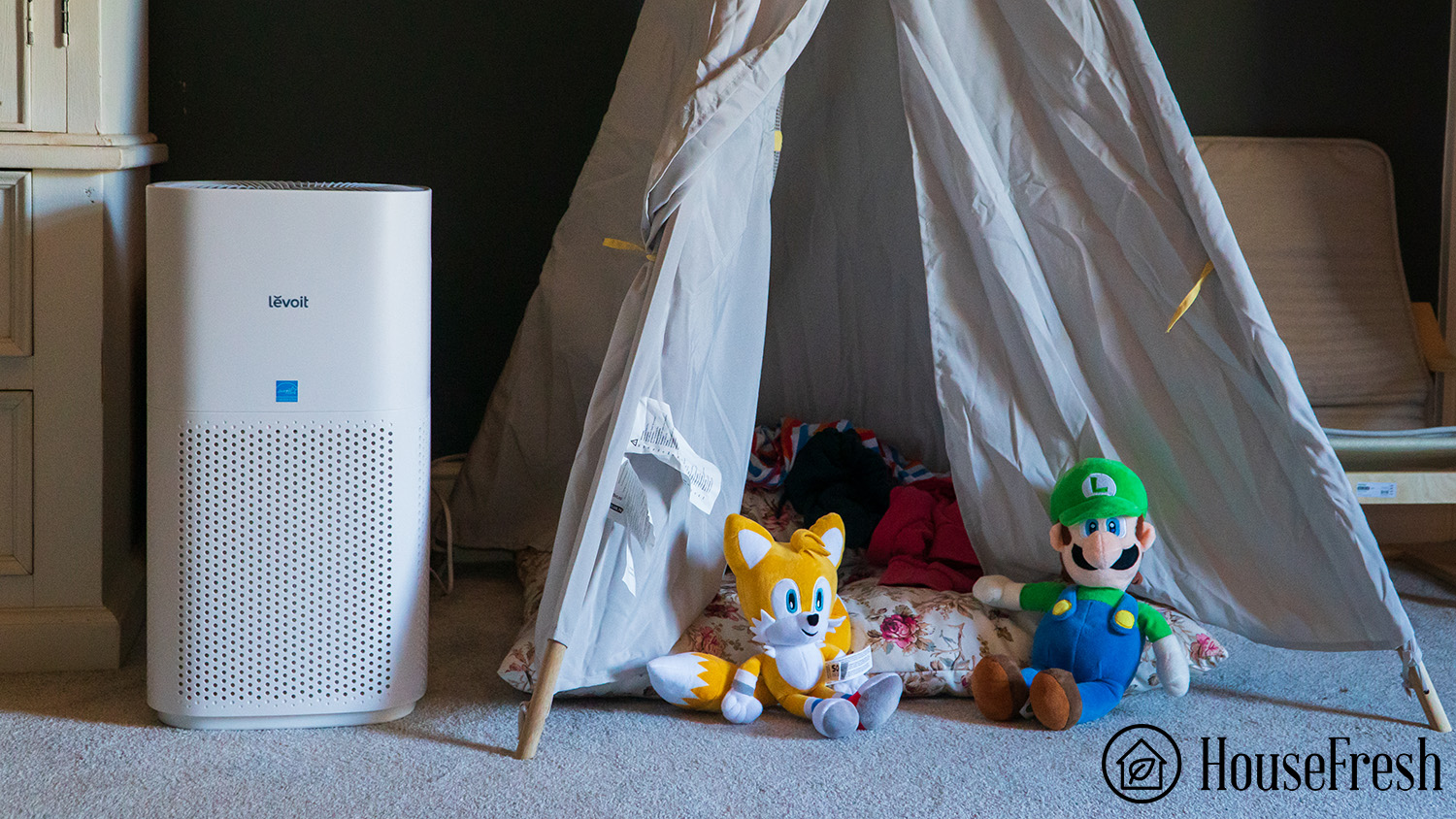 SPECS & FEATURES
| | |
| --- | --- |
| HouseFresh Rating: | ★★★★★ |
| Time to clean our test room: | 15 minutes |
| Air purifier technology: | 3-Stage Filtration (Pre-filter for large particles, main filter for airborne particles, high-efficiency activated carbon filter for odors and gasses) |
| Recommended room size: | 635 sq. ft. |
| Clean air delivery rate (CADR): | 410 CFM (697 m³/h) |
| Dimensions (in inches / in cm): | 12.3 x 12.3 x 23.6 inches (31.3 x 31.3 x 60 cm) |
| Weight (in pounds / in kg): | 13.7 lbs (6.2 kg) |
| Noise level (low – high): | 26 – 55 dB |
| Filter life: | 6 months |
| Manufacturer's warranty: | 2 years |
| Estimated energy consumption: | $51.51 per year |
4. Best for small budgets (and rooms): Levoit Core 300
Save on space without compromising on performance — good things do come in small packages.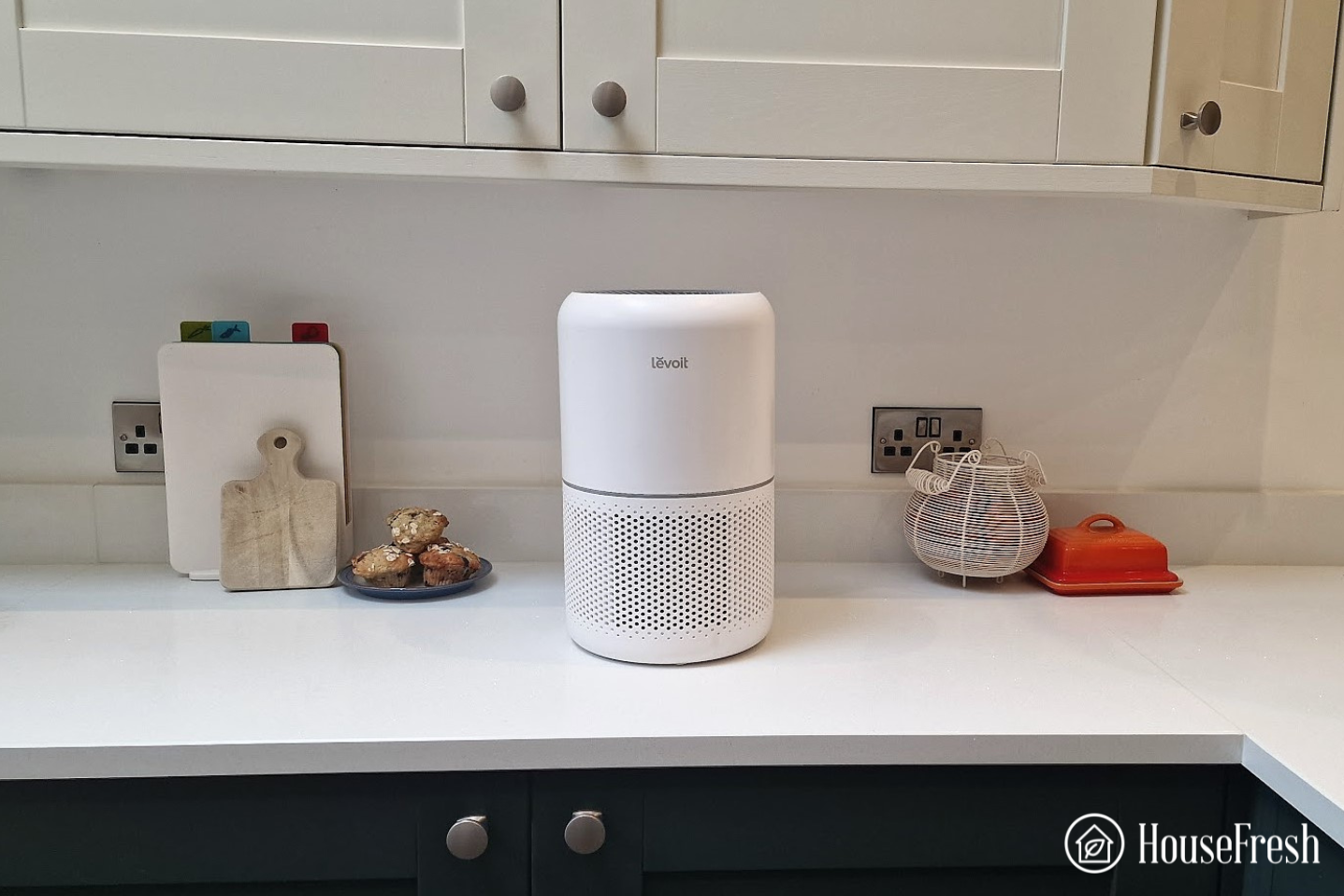 When I say "construction", I'm not just talking about bringing the pros in for an overhaul. If you're doing some DIY, flipping a house yourself or fixing an accidental hole in the wall, you may not need a big, powerful air purifier like the ones above…that's where the Core 300 comes in.
Weighing less than 4 kg and measuring up to just 8.7 inches wide, the Core 300 is undoubtedly the easiest purifier to transport on this list. But being convenient to carry isn't the only feather in its bow. Levoit has designed this unit to combat construction pollutants, with impressive fan power, a H13 HEPA filter and generous amounts of Activated Carbon, all working to keep even the smallest dust particles at bay.
What we really like
Budget-friendly price tag of less than $100
It is easy to transport and set up in seconds
Good performance per $ spent — It cleared our test space of smoke pollutants in 40 minutes
What we think could be better
It is less powerful than other options on this list
Smaller size results in smaller filters, which in turn results in less powerful air cleaning
However, if you are frequently exposed to excessive dust, the Core 300 probably isn't the best option. Due to its compact size, you'll find that its filters are smaller and, therefore, will become clogged much faster, losing efficiency in the process. Instead, look to larger units such as the Levoit Core 600S.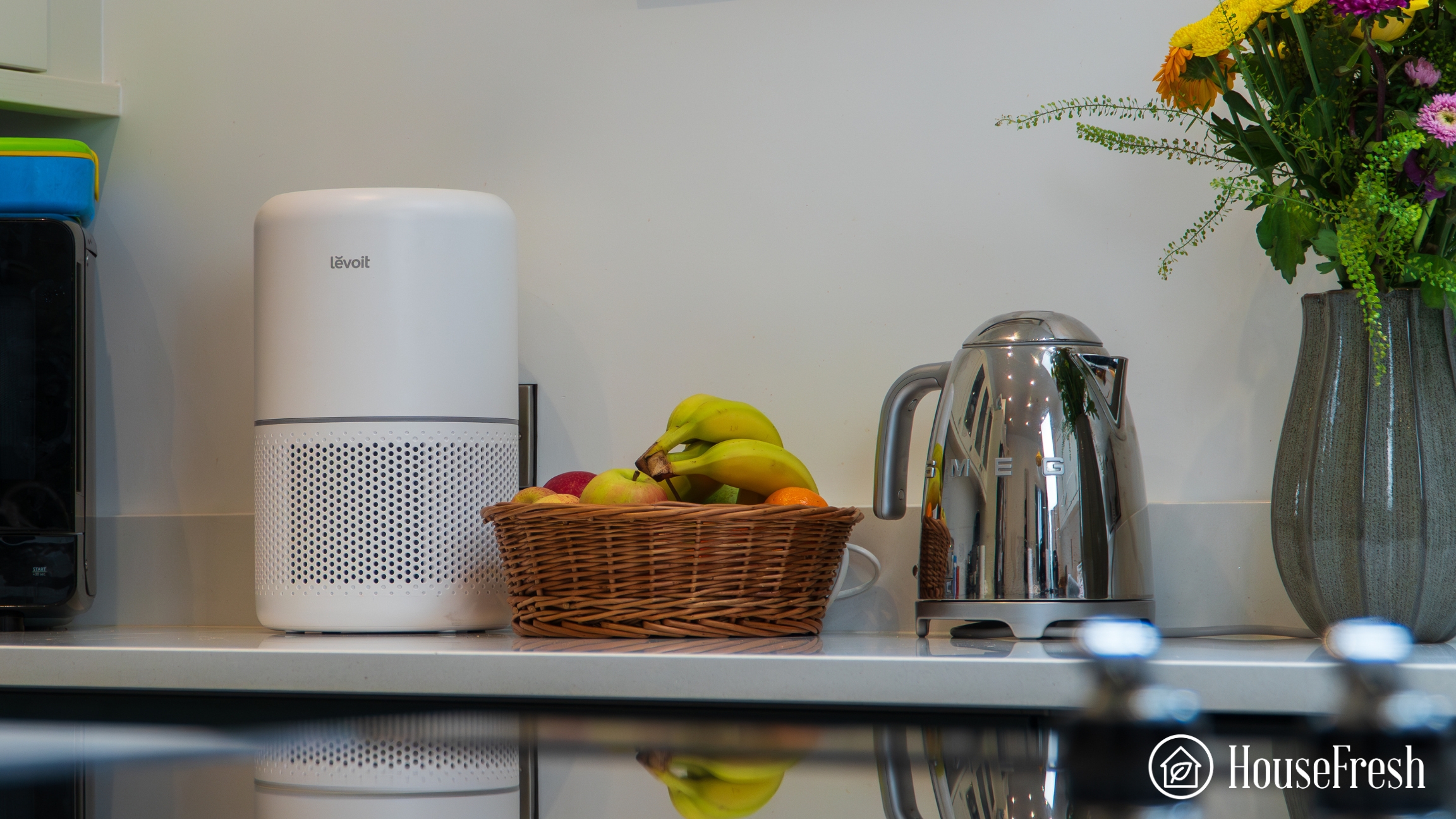 SPECS & FEATURES
| | |
| --- | --- |
| HouseFresh Rating: | ★★★★★ |
| Time to clean our test room: | 40 minutes |
| Air purifier technology: | 3-Stage Filtration (Pre-filter for large particles, main filter for airborne particles, high-efficiency activated carbon filter for odors and gasses) |
| Recommended room size: | 219 sq. ft. |
| Clean air delivery rate (CADR): | 145 CFM (246 m3/h) |
| Dimensions (in inches / in cm): | 8.7L x 8.7W x 14.2H inches (22L x 22W x 36H cm) |
| Weight (in pounds / in kg): | 7.5 lbs (3.4 kg) |
| Noise level (low – high): | 24 – 50dB |
| Filter life: | 6 – 8 months |
| Manufacturer's warranty: | 2 years |
| Estimated energy consumption: | $47.30 |
What to look for in an air purifier for construction dust
When you're working on construction indoors, all that dust that's launched into the air when you drill, hammer and saw can really affect your breathing. The CCOHS states that breathing in dust can lead to inflammation of your nose and throat, affect your breathing and even lead to diseases like pneumoconiosis.
An air purifier can eliminate those harmful contaminants from your air, but it has have certain specifications to do the job effectively.
When looking to buy an air purifier for construction dust, you have to ask yourself some questions so that you choose the right air purifier for your needs.
1. Does your chosen air purifier utilize HEPA filters?
When it comes to construction dust, particles range in size between 0.5 and 10.0 microns, so to remove them from the air you breathe, you'll need filters that can capture minuscule particles efficiently.
Yale University recommends HEPA filters for eradicating dust. These filters are certified to capture at least 99.7% of particles as small as 0.3 microns, making them highly effective control measures. Some units may not use the word HEPA, like the Levoit Core 600S, but they still contain high-grade, quality filters capable of removing these tiny particles.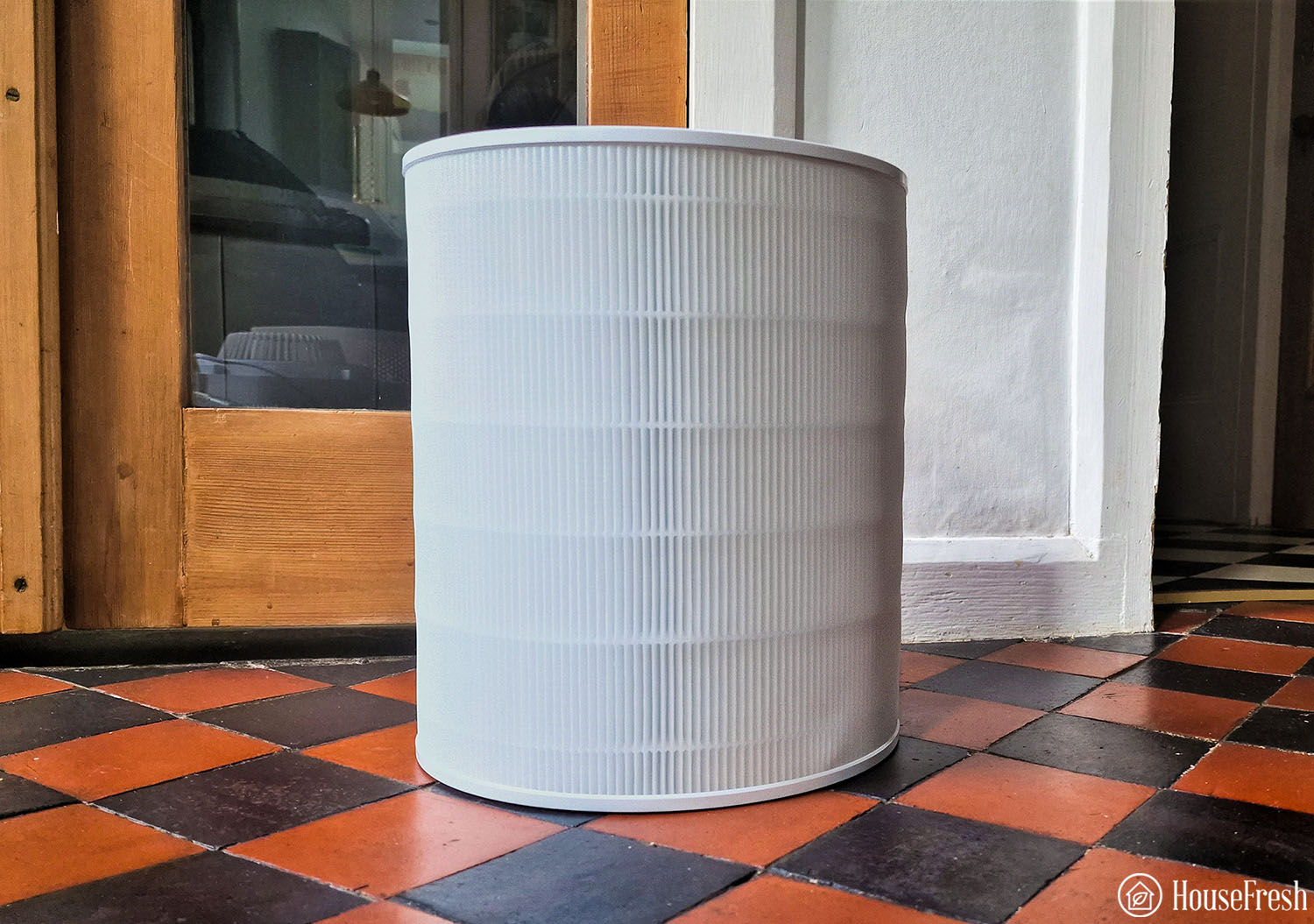 2. How large is the construction space you'll be using the purifier on?
Air purifiers are designed to work at their optimum in a specific-sized space. Some units cater to larger, open-plan spaces and others aimed toward smaller rooms.
It's paramount that you measure your space before you buy an air purifier so that you know what specifications to need from a unit. That's why we built our CFM Calculator that will show you what clean air delivery rate (CADR) you will need to look for in an air purifier.
3. Do you move to various spaces throughout the day?
Those of you who move around while on the site to complete different parts of a project will require an air purifier that is easy to move and simple to set up.
While larger air purifiers may be helpful if working in an open-plan space, they are awkward to carry. This is where smaller units, such as the Honeywell HPA300 or Levoit Core 300, are more efficient, providing targeted protection in specific rooms or tighter spaces.
Be sure to check out the dimensions and weight of any purifier, as listed in our purifier specification table, to understand better how easy it is to transport.
4. Do you require protection for other airborne pollutants other than construction dust?
Construction sites are known to be dust magnets but are also a hotbed for other airborne pollutants that arise on the job. Solvents, adhesives, paints and cleaning supplies emit harmful gasses known as Volatile Organic Compounds (VOCs), which can result in serious health complications if exposed regularly.
To combat VOCs and construction dust, you must look for a purifier that utilizes Activated Carbon filters alongside your trusted HEPA.
Common questions about construction dust
Air purifiers are an incredibly effective way of eliminating construction dust from your space. Using a fan, air purifiers pull in air (including its contaminants) through filters that trap dust particles, removing them and leaving you with fresh clean air to breathe.

Want to know more? Check out our full blog post on Does an Air Purifier Help With Dust?
The best filter for removing any airborne pollutants like pollen, mold, bacteria and dust is a HEPA filter. These high efficiency filters use tightly woven fibers to form a maze that trap contaminants as they pass through.

The EPA backs us up stating that a HEPA filter is capable of removing 99.97% of dust from your air.
Drywall dust is larger and denser than normal household dust, so when you're using an air purifier I would recommend a unit with a thick, removable pre-filter. Depending on how much drywall dust becomes airborne, it's good practice to clean the pre-filter regularly with a damp cloth and/or vacuum to make sure it doesn't become blocked.
There are a few methods to get rid of construction dust when you're done.
Remove any airborne dust by running your air purifier at its highest fan speed
Get as much ventilation as possible by opening windows and doors
Use a vacuum cleaner that contains a HEPA filter
Wash any fabrics that were not covered
Wrapping up
Construction dust is one of the most prevalent sources affecting air quality around the world. Fine particles that accumulate from an array of construction processes become suspended in the air and can enter your respiratory system, contributing to health problems if left unchecked.
Cleaning the air and eradicating dust particles is simpler than you may think. A well-powered air purifier that uses quality HEPA filters will capture the vast quantities of particulate matter and help create a healthier environment for you to live or work in.
At HouseFresh, we have been reviewing air quality products since 2010. In all these years, we learned not to rely on manufacturers' claims and the ever-so-glowing marketing materials. That is why we buy products with our own money, so we can write unbiased reviews after we've had enough time to evaluate air quality products in our home lab. Every unit we recommend has been thoroughly tested to assess its performance, energy consumption, and noise levels emitted in real-life environments. If you have any questions about our testing process for different types of air quality products, just drop us an email at
hello@housefresh.com
.
Last update on 2023-12-02 / Affiliate links / Images from Amazon Product Advertising API