Suffering from allergies can be the bane of many people's lives. From an incessant itchy throat to sore and stuffy sinuses, symptoms can soon become irritating and leave you feeling run down. This is particularly a problem if the source of your allergy is prevalent for prolonged periods of time.
But there are things you can do to help.
By investing in an air purifier, the amount of allergens inside your home will be dramatically reduced. Less exposure to triggers means fewer symptoms, allowing you to breathe easier all year round
In order to reduce the amount of allergens inside your space, however, you'll have to pick the right tool for the job.
The key thing to know is that keeping your space free of allergy particles requires a bigger, more powerful air purifier than someone needing to remove occasional pollutants like cooking odor.
Increased power yields faster results, as the purifier captures allergens as soon as they materialize. For an air purifier to enjoy enhanced performance, you should look for high Clean Air Delivery Rates (CADR), along with filters certified to capture the smallest particles.
Using the data from our tests and my personal experience with each unit, I've curated six excellent air purifiers that are tailor-made to help remove allergen particles from the air in your home.
Staff picks: Top 3 best air purifiers for allergies
Need fast relief from allergies? Here are the 3 best air purifier options in 2023:
As everyone's home will be different, we've made sure to include a range of air purifiers that are suited to different size spaces and covered a variety of budgets too. 
Be sure to check out the complete list below, paying close attention to room size suitability and the range of features each unit offers to find the perfect purifier for you.
With industry-leading filter technology, the IQAir Healthpro Plus is my top choice for those suffering from severe allergies.   
When it comes to your health and wellbeing, it's worth investing in quality. The HealthPro Plus from IQAir is as good as it gets in the air purifier market, with this unit being used in medical facilities around the world. 

Although this air purifier isn't the fastest we've tested, it does come with the best filter I've seen from any manufacturer. In fact, this purifier comes with three individual filters, each of which is colossal.
IQAir's primary filter, which is responsible for capturing allergy particles, goes above and beyond the standard HEPA filter. It is able to remove 99.5% of particles as small as 0.003 microns, ensuring even the smallest of mold, dander or pollen allergens are removed. To put it simply, IQAir's HyperHEPA is miles above the rest.
Due to the sheer size (and cost) of this air purifier, it's unlikely you will purchase a unit for each room in your home. However, thanks to its powerful fans and filters, it will work exceptionally well in large open-plan spaces or offer unrivaled protection in a room with high quantities of allergens.
SPECS & FEATURES
2. Best for small rooms: Shark HP102
For smaller spaces, the Shark HP102 provides powerful performance for a budget-friendly price tag.
If you suffer from severe allergies, you will likely need an air purifier in every room to keep allergens at bay, especially during allergy season. The Shark HP102 allows you to achieve this whole-home coverage thanks to its affordable price tag and smaller stature.
The HP102 is the new kid on the block and has pipped our longstanding favorite, the Levoit Core 300S, to the mantle of best budget air purifier. It completed our Clean Air Speed Test in 38 minutes, cutting it with air purifiers that cost considerably more.
As well as impressive air cleaning times, the Shark air purifier comes with a cleverly designed filter that is fine-tuned to remove allergy particles. Donned the Anti-Allergen NANOSEAL, this adapted HEPA filter is capable of capturing 99.98% of particles, tested to IEST-RP-CC007.3, 0.1-0.2 microns, meaning it will make light work of allergens like dust mites, which measure between 0.2 and 0.3µm. 
During our tests, I was impressed with the HP102's user-friendly interface that provides detailed feedback on pollution levels and particle size. Its in-built Auto mode will also help combat changes in allergy pollution levels without you having to bat an eyelid. Weighing less than 3kg, you can even carry the unit from room to room for round-the-clock protection without breaking the bank.
It's important to note, however, that this is the least powerful unit on this list. With a CADR score of 92 CFM, it will struggle to circulate the air effectively in larger spaces, such as the deceptively advertised 500 sq. ft. you find on the manufacturer spec sheet. Instead, I'd recommend this unit for rooms up to 200 sq. ft., which will allow for more air changes per hour and keep allergies at bay.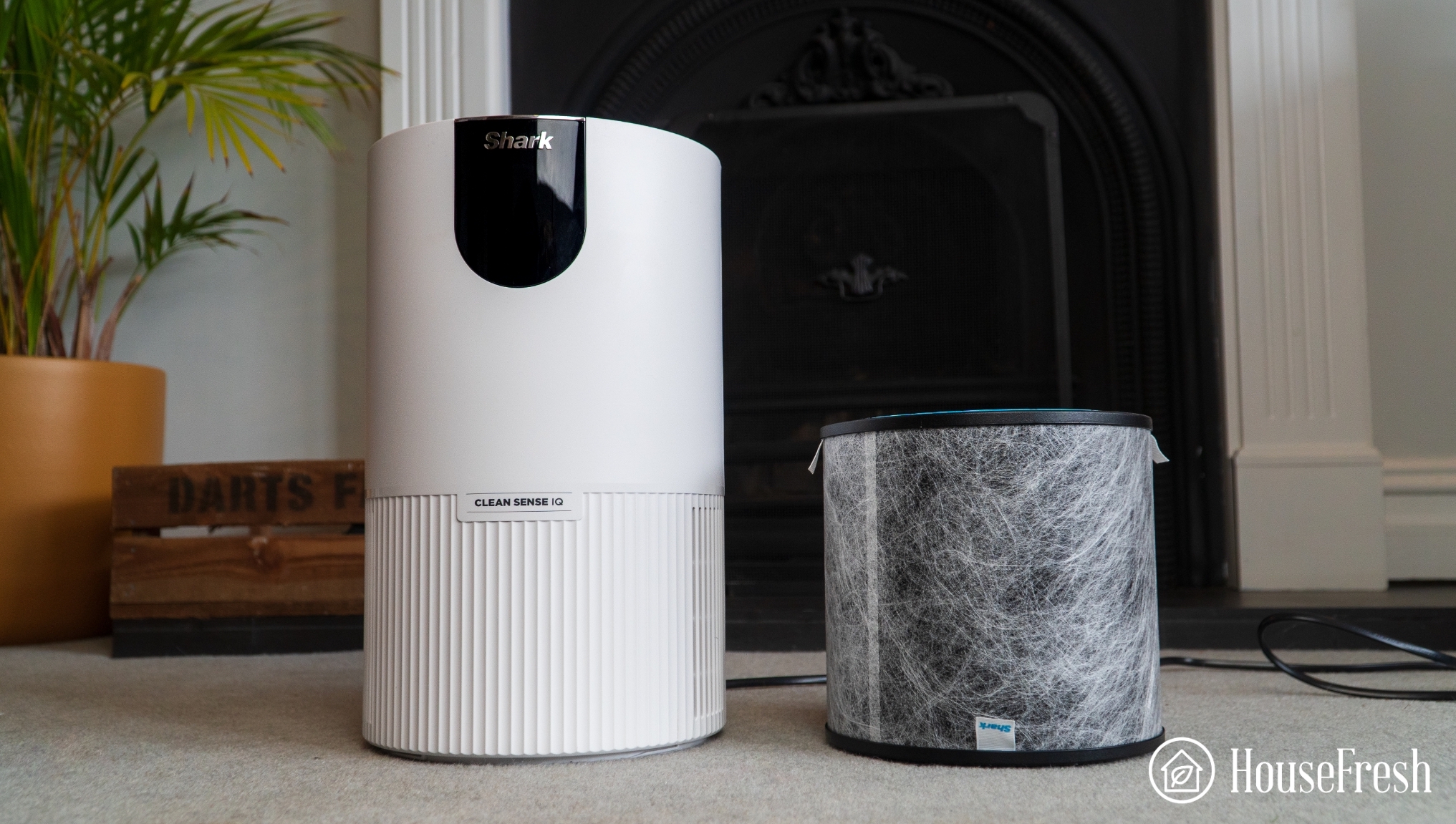 SPECS & FEATURES
When it comes to eradicating allergens before they become a nuisance, you'll need a powerful air purifier like the Blast Mini.
The Smart Air Blast Mini boasts the highest CADR score on this list of 435 CFM and cleared all pollutants in our clean air speed test in just 17 minutes.
With this power, the Blast Mini can perform almost four air changes per hour in a space as large as 915 sq. ft. This means it's an excellent option for offices, classrooms or any extra large open plan space. For those looking to use this unit in the home, you can expect even faster results as the air is circulated and cleaned with even greater efficiency. 
Digging deeper into the filters used by Smart Air, you'll find a high-performance H13 HEPA that is capable of capturing the smallest of allergens. What's more, it will last for an impressive 13 months, even if used continuously.
It's worth mentioning that this purifier doesn't come with an activated carbon filter as standard – this won't affect performance against allergies but means it won't capture odor and VOC particles if you were looking to target those pollutants, too. If this is a concern, you can buy the activated charcoal filter as an extra but it will reduce particle removal speed slightly.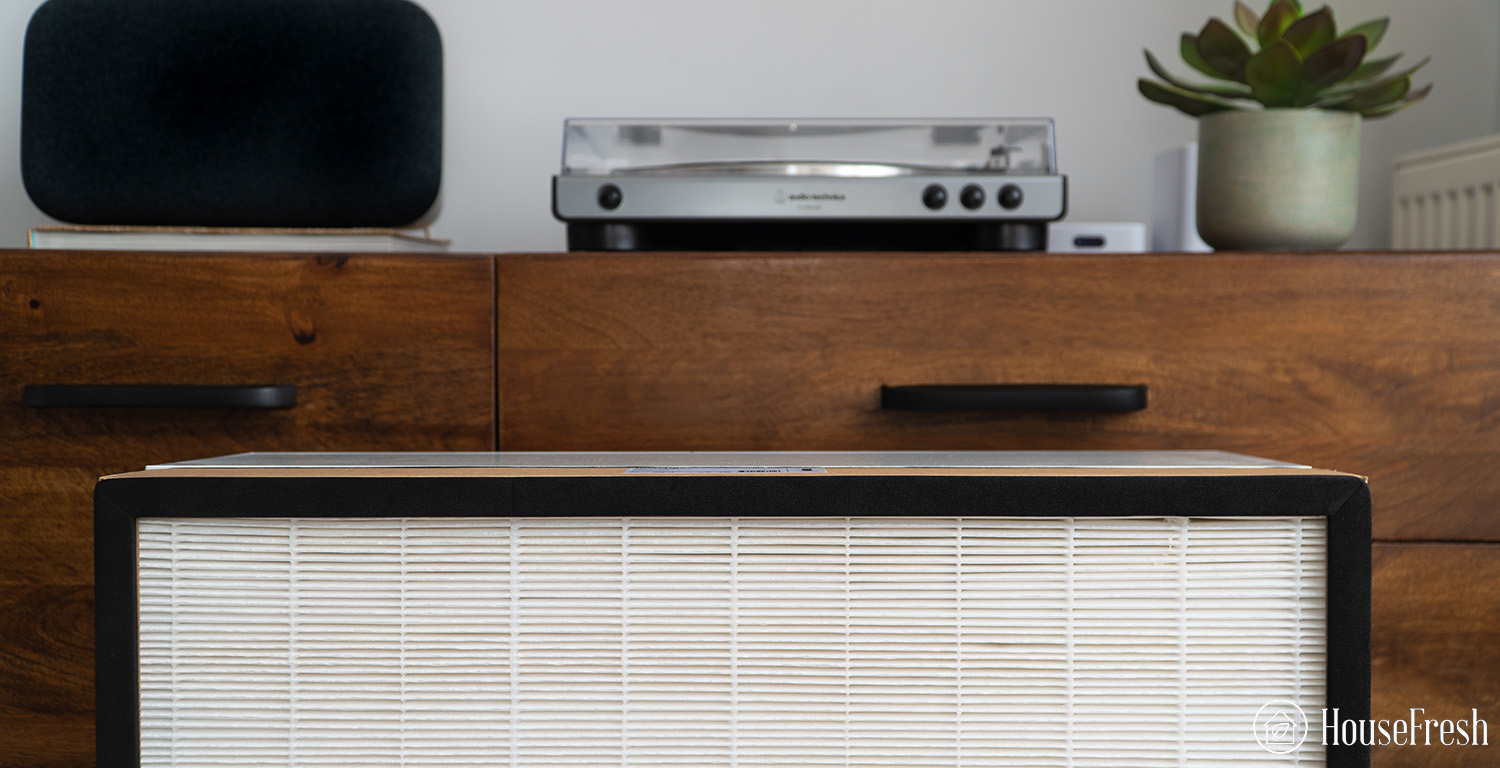 SPECS & FEATURES
Although not quite as powerful as its big brother, the 75i, the BreatheSmart 45i is an excellent choice for nipping pollen and other allergies in the bud.
It comes with medical-grade filters that capture 99.97% of particles as small as 0.1 micron and enjoys ample air circulation with a CADR score of 245 CFM. 
These impressive sounding stats were backed up by real-world performance tests too, as we saw first-hand in our review. The 45i cleared the test lab of all pollutants in an admirable 33 minutes, beating the likes of the Mila and Austin Air Healthmate.
Where you can save some money with the 45i, however, is tailoring your filter to best suit your needs. Alen offers four different filters compatible with this purifier. The Pure is their most basic and cheapest filter, it doesn't contain any activated carbon but will work excellently against the tiny particles found in most common allergens.
As well as an Auto mode, this 45i draws on many other useful features and functions. I love this unit's Sleep mode, as it creates a pink-noise hum that will send you peacefully off to sleep while allowing you to reap the rewards of clean air through the night, which is ideal for those affected by dust mites and pet dander that can accumulate in the bedroom. Plus, users will also benefit from the 45i's energy efficiency and lifetime warranty.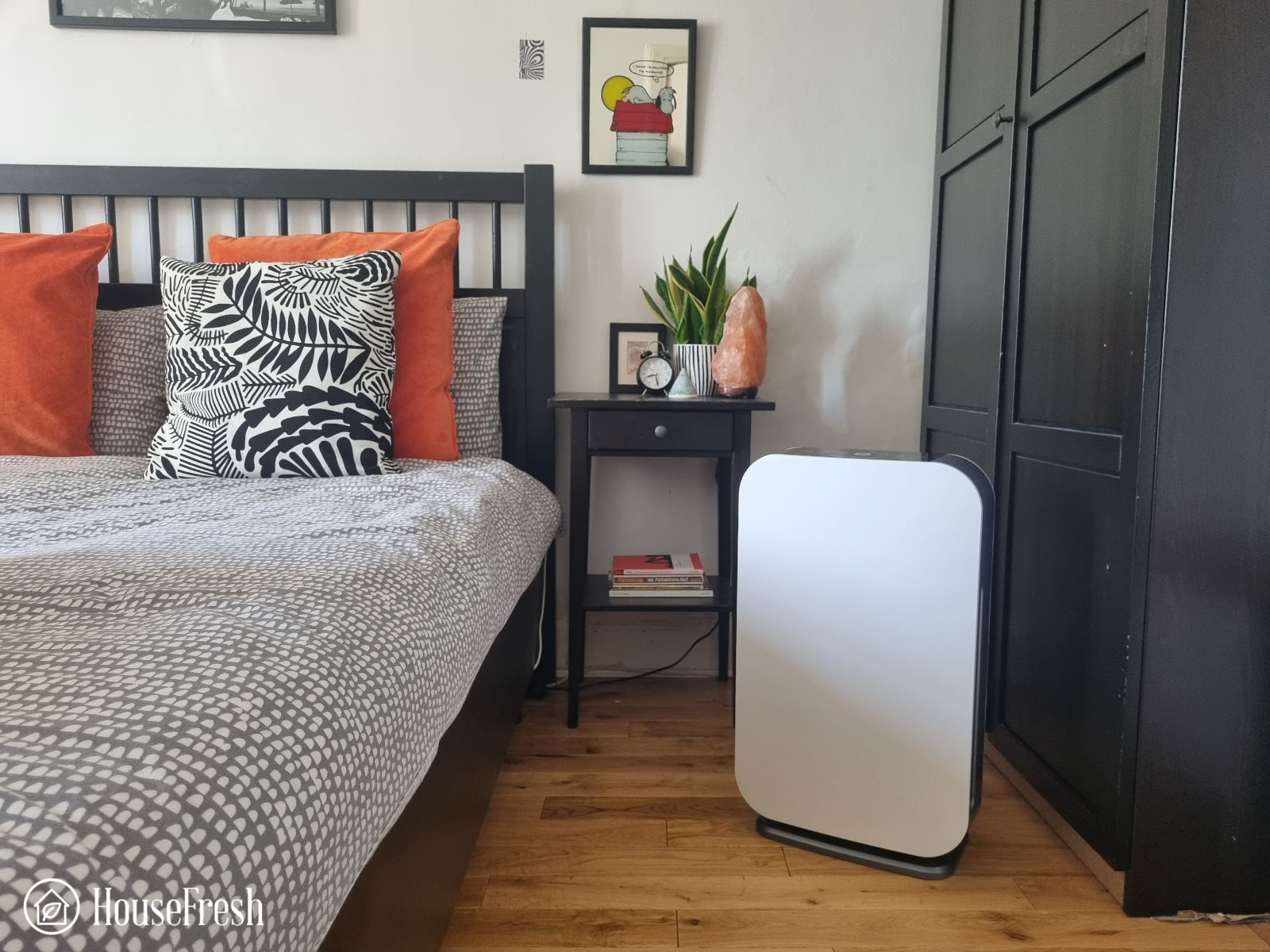 SPECS & FEATURES
5. Best smart option: Mila
With the help of eight different air sensors and an onboard computer, the Mila can offer a personalized air cleaning solution. 
Mila is a relatively new manufacturer on the air purifier scene. Their innovative smart features certainly caught my eye, but I was most impressed with this unit's solid performance (having completed our clean air speed test in 35 minutes) and versatility thanks to Mila's wide range of filter options.
What underlies this performance is a powerful motor (check out the 250+ CADR score) alongside high-quality HEPA filters. Mila has 7 different filters to choose from, each of which contains 4.2m² of pleated material to capture pollutants. To combat allergies, you can use their Basic Breather (H12) or The Big Sneeze (H13). Both will work well at removing pollen, dust and dander while enjoying faster airflow than the more expensive alternatives with activated carbon.
What really sets this unit apart is its smart technology. The Mila has seriously upped the ante in this realm, using 8 different air sensors and its onboard computer to offer a personalized air cleaning solution. From its Quarantine mode, which keeps your space 100% particle-free, to the Turndown Service, which focuses on clearing your bedroom of all allergens before switching to an ultra-quiet, sleep-friendly setting.
Do take their recommended room size with a pinch of salt, however. While Mila suggests this purifier is suitable for spaces as large as 1000 sq. ft, it will work much more effectively in spaces around the 400 sq. ft. mark. In a space this size, it can perform more air changes per hour (I recommend at least 4 ACH) and eliminate allergens much faster.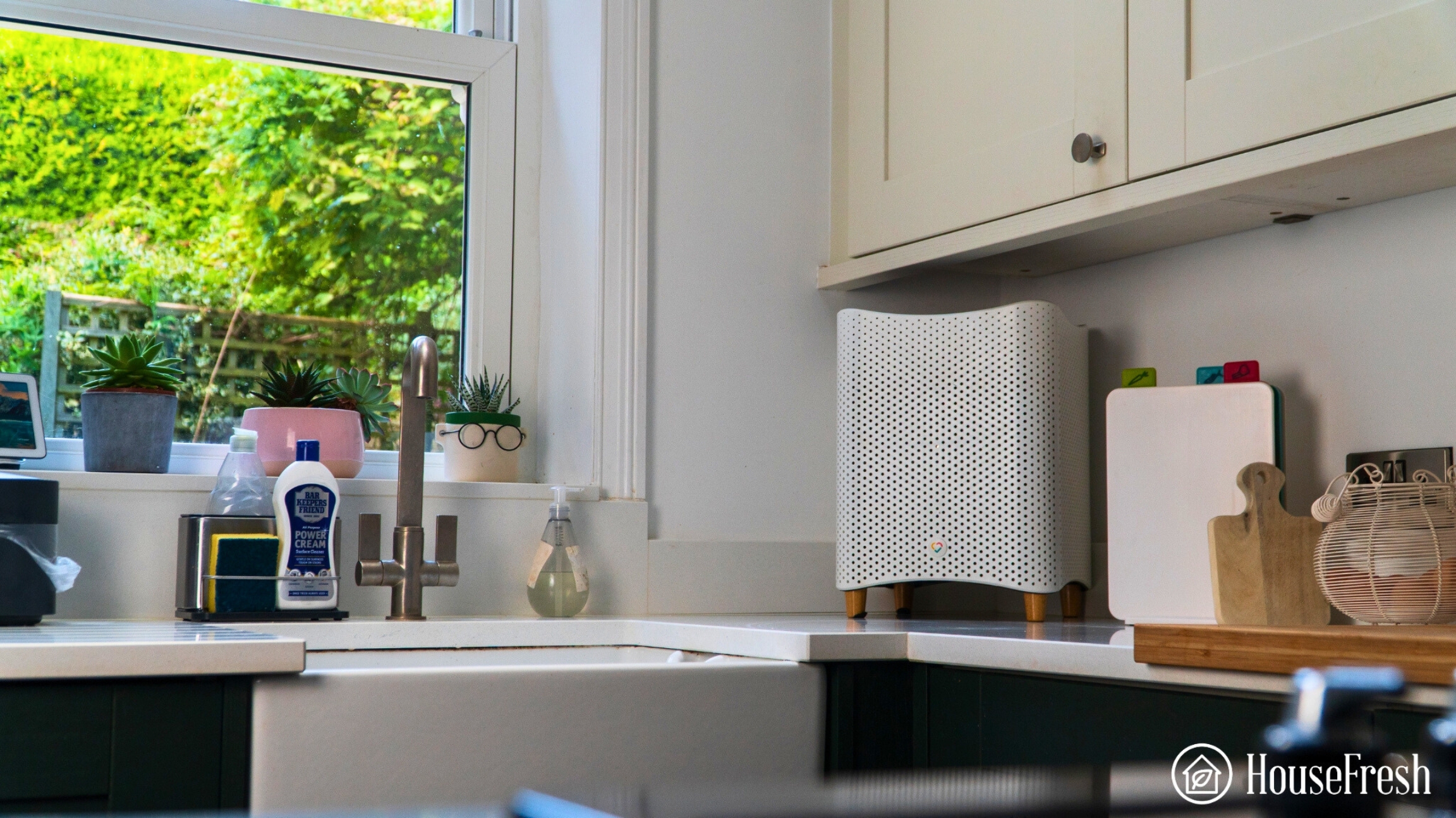 SPECS & FEATURES
The 600S is a brilliant unit, offering rapid particle removal from larger rooms without breaking the bank.
Up until recently, this was the fastest air purifier to complete our clean air speed test. The Core 600S cleared all traces of pollutants from our test lab in a staggering 15 minutes. The only other unit to beat this time is Levoit's latest unit, the EverestAir, which costs almost twice as much.
With such speedy results, you can expect to feel the adverse effects of allergies far less as common sources such as dust mites, pollen and mold are removed from your environment.
Other useful features found on the 600S include an Auto mode for fuss-free operation, Levoit's VeSync app for detailed air quality feedback and remote control, as well as low operating volumes, all of which contribute to simple yet effective protection from allergies around the clock. 
One thing to point out is that Levoit has recently changed the grading of its primary filters. What was once advertised as a H13 HEPA is now simply a primary filter. This is a result of Dyson challenging Levoit on whether their filter meets the HEPA certification. This may be of concern to some, however, in our findings, we've only known Levoit to make some of the best-quality air purifiers on the market.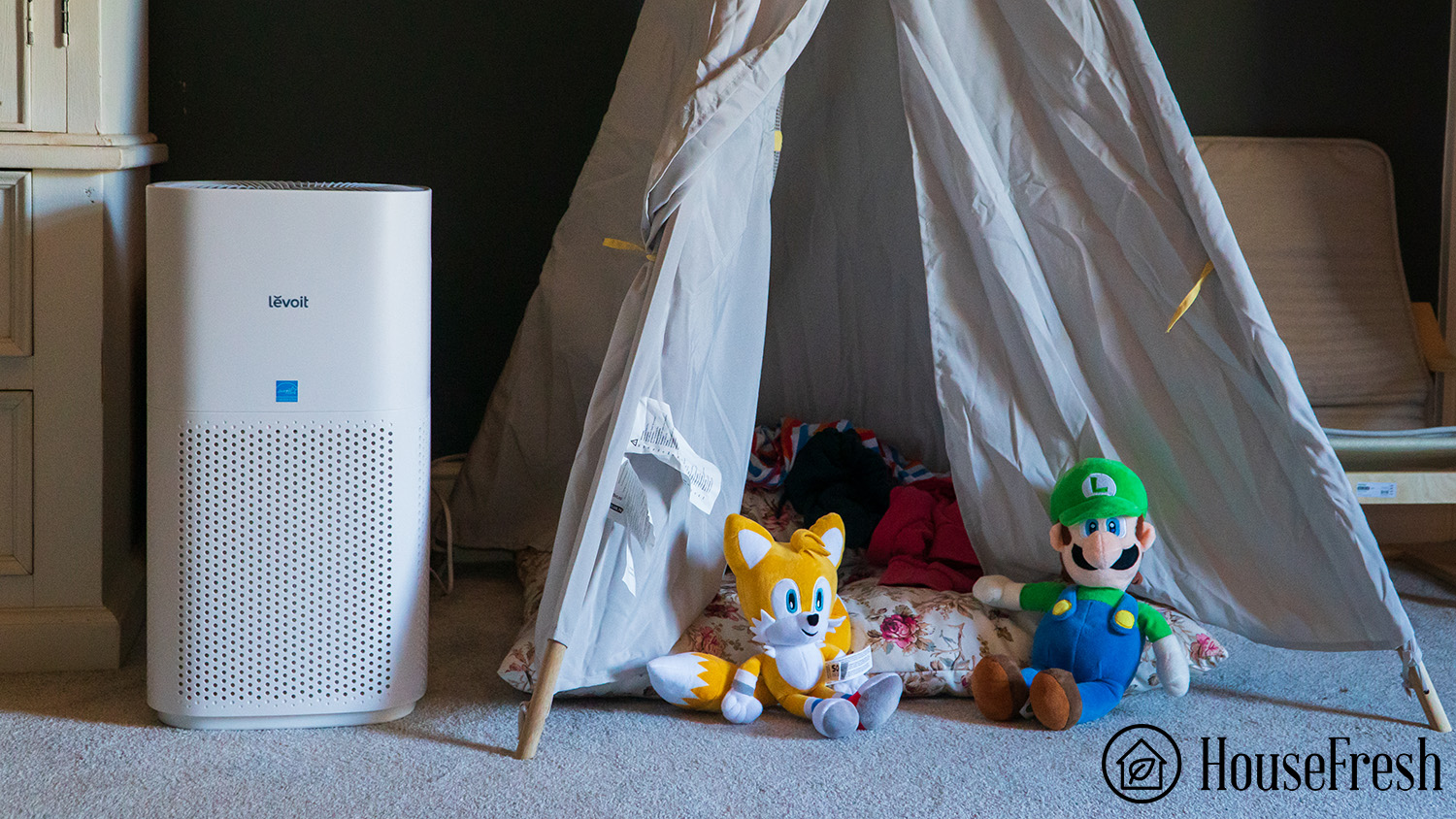 SPECS & FEATURES
What to look for in an air purifier for allergies
Armed with the right air purifier, you'll find that allergy symptoms occur much less frequently and begin to appreciate a much higher air quality standard.
Air purifiers come in different shapes and sizes, so be sure to look for these features when buying an air purifier for allergies.
1. Focus on finding an air purifier with quality filters
To remove allergens like pollen and pet dander, you'll need a filter that can capture the smallest PM1 particles.
As a rule of thumb, look for air purifiers that use HEPA-certified filters. Usually made of materials such as fiberglass, cotton, or foam, HEPA filters can filter up to 99.97% of particles as tiny as 0.3 microns, including all common allergens. 
Medical grade H13 HEPA filters are better for those with severe allergies. These filters remove 99.99% of viruses, bacteria and airborne particles larger than 0.1 microns.
The exception to the rule is currently Levoit air purifiers. Due to a legal dispute, the company has removed all mention of HEPA certification from some of its most popular units, including the Core 600S. While I am usually dubious of filters that don't meet the HEPA grade, having tested many Levoit units thoroughly and personally using them in my own home, I am confident their filters are still of the highest quality.
If looking to solely remove allergens, you won't require an activated carbon filter. However, for those looking to tackle multiple pollutants, look for options that use charcoal pellets, which provide the largest surface area to remove VOCs and odors.
2. Don't dismiss the CADR Rating
Clean air delivery rate, or CADR, measures the effectiveness of an air purifier in dealing with different types of pollutants.
The higher the score, the more powerful the purifier is, meaning it can be used effectively in larger spaces.
The score is usually an average reading against three different pollutants, namely, smoke, pollen and dust. For those wanting to remove allergens from the air, it's worth digging a little deeper to find these pollutant-specific scores and opt for a unit that best suits your needs. 
3. Make sure the unit can cover the space where you want to use it
Some air purifiers are ideal for large spaces, such as classrooms, while others can only clean a small room, like a bedroom, bathroom or office.
Manufacturers usually share a suggested room size that the air purifier can cover. This should indicate that the purifier can complete 4-5 air changes per hour, which is important for removing allergens from your space.
Always reach for your measuring tape and size up the space you plan on using the purifier in before making a purchase. I recommend buying a device that can cover more space than needed to ensure full coverage.
4. Be mindful of the noise output
You don't want to replace one nuisance (allergens) with another (noise).
When tackling allergies, you'll likely need to use the air purifier around the clock. Units with specialist Sleep modes, like the Alen BreatheSmart 45i, will be highly beneficial for light sleepers.
Try to find a unit that balances a high CADR and a low decibel operation. You can always set the air purifier to its highest setting to clear the space more quickly (albeit loudly) before reducing the speed to maintain clean air with more acceptable volumes at lower speeds.
5. Decide if you need smart features
Air purifiers with smart features like auto-mode are great for those looking to reduce allergic symptoms without constantly fussing with your unit. After all, if allergens increase in your space, you'll only realize once symptoms start to show.
However, the reality is that auto-mode, onboard sensors and app support don't come cheap. As we pointed out with the Mila air purifier, you can find cheaper alternatives without these features that still achieve the same air-cleaning output.
Make sure you weigh up if you think you would make use of such features and ensure you prioritize your budget on high-quality filters and powerful performance first. 
Common questions about allergies and air purifiers
Wrapping up
Whether you suffer from dust, dander, pollen or mold allergies, an air purifier can help remove triggering particles before they become a nuisance.
Remember to ensure the air purifier you choose uses high-quality filters and is capable of circulating the air inside your space at least 4 times per hour to achieve the best results.
If you have any questions about any of the air purifiers on the list or you have some recommendations of your own, please don't hesitate to get in touch.
Last update on 2023-11-30 / Affiliate links / Images from Amazon Product Advertising API