AROEVE doesn't make it easy to find out much about the company: their website is empty of information and there aren't many details on their Amazon profile page. When I tried to find out more information about the https://aroeve.com/ website through a WHOIS query that pulls out domain registration data, I learned that their site is hosted on Alibaba and the domain is registered in China. So, we assume that this is a Chinese company that sells primarily on Amazon.com.
The MK01 is the most popular air purifier sold by AROEVE, but they also have the MK02 ($55) and MK04 ($99) which are designed for larger rooms. The AROEVE MK01 is targeted towards smaller rooms (up to 215 sq. ft.) and includes an aroma pad.
If you do a quick search on YouTube, you will see plenty of reviews for the MK01: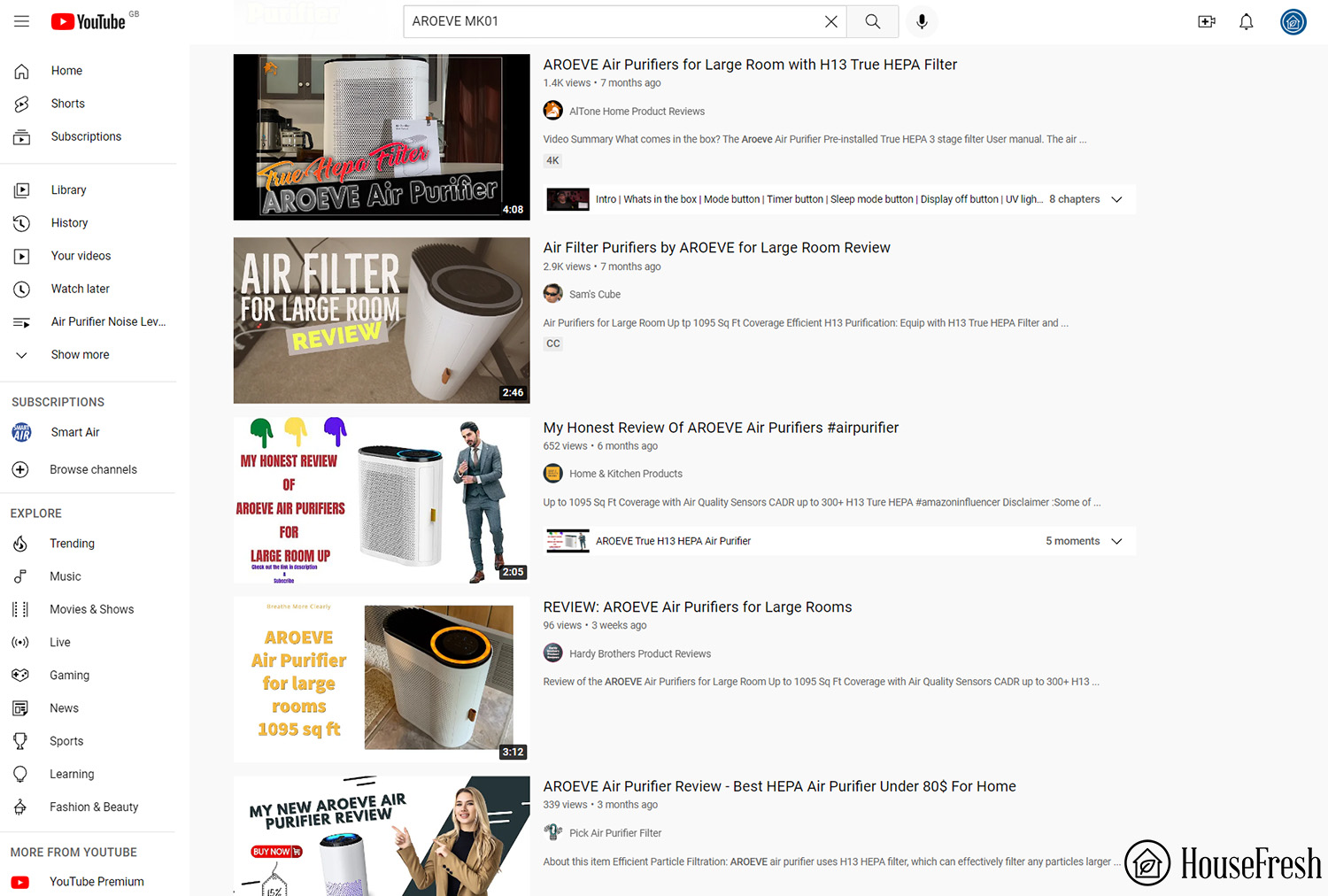 However, they are all very positive, making me think that many of these "reviewers" were provided this unit for free in return for a review.
Here at HouseFresh, we never accept free products in exchange for reviews, as we want to stay as unbiased as possible to provide our readers with the truth (positive or negative), so you can find the right air purifier for you.
We ran three key tests on the AROEVE MK01 before I wrote this review.
In our home lab of 728 cubic ft, we light an incense stick to generate particle pollution and VOCs.

We set up our trusted Purpleair Indoor Sensor with the latest Bosch gas sensor to track levels of PM1ug/m3, PM2.5ug/m3 and PM10ug/m3 and VOCs in the air.

We switch the air purifier to its highest speed and measure how long it takes to get our room air quality down to PM1 level to 0.

We use an energy meter to measure precisely how much electricity is used when running the unit at the lowest and highest fan speed settings.

We track sound levels emitted by the air purifier at different fan speeds with the help of a commercial sound meter.

The lowdown on the AROEVE MK01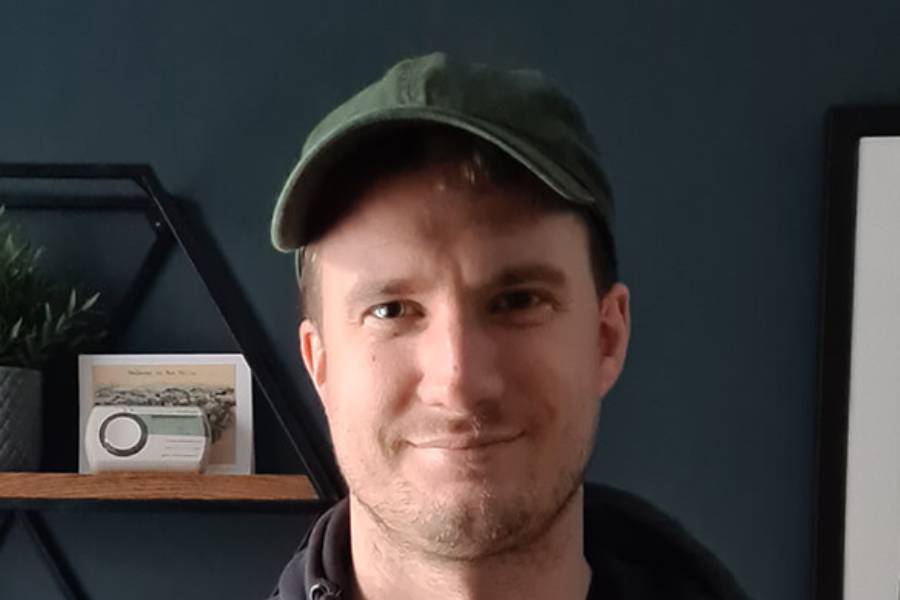 "No filter costs but it failed to deliver when it came to cleaning the air in my home.."
— Danny Ashton, HouseFresh Founder & Senior Writer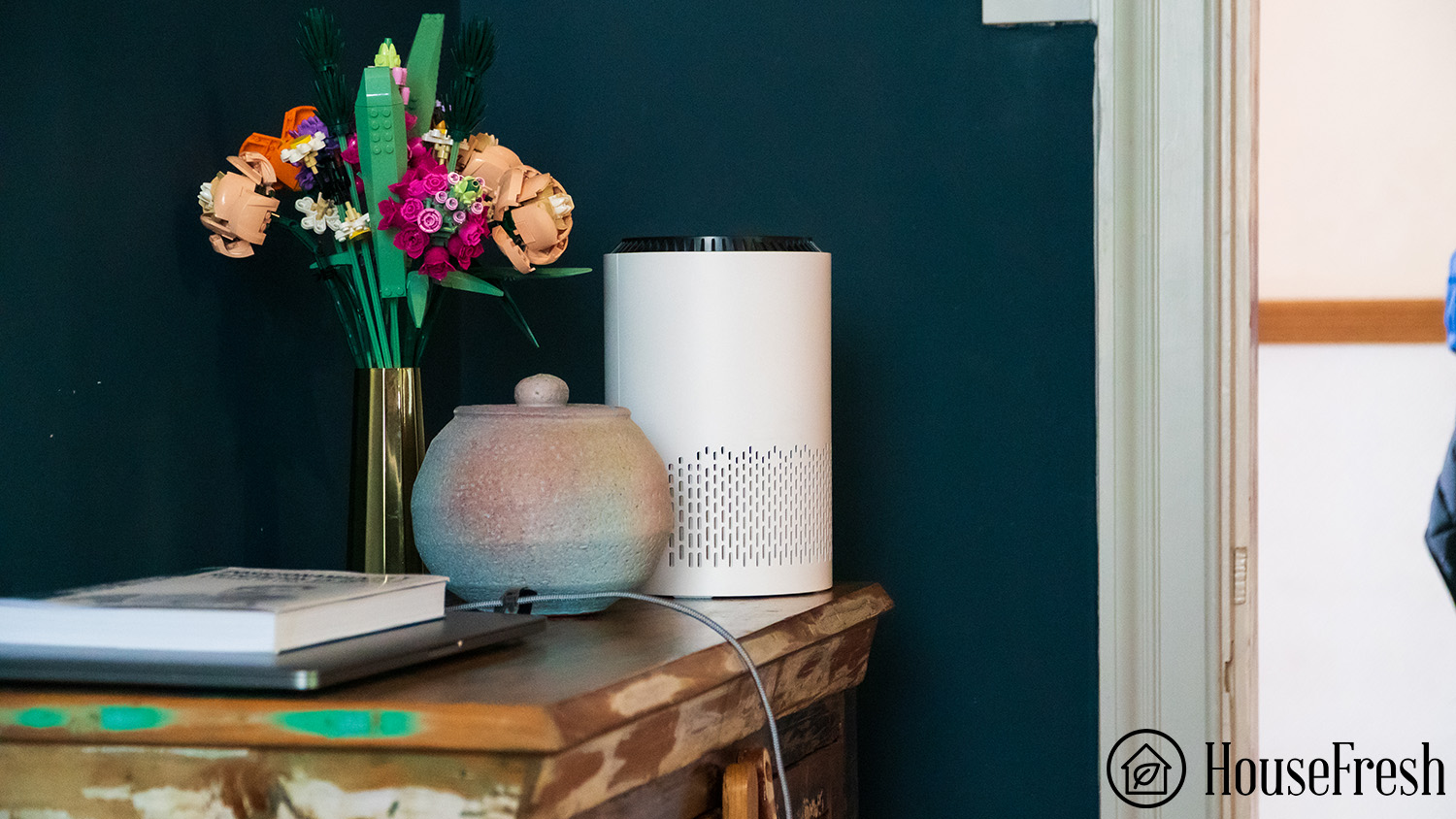 If you just want to know whether this air purifier is good or not then I can save you time and tell you to avoid this purifier and go for something else like the Taotronics AP-033.
What we really like
It's a small unit, making it easy to put on a desk or in a location where a larger air purifier would be too big
The lights are cool, although I don't think they help with the air cleaning!
What we think could be better
AROEVE doesn't share the CADR score for this air purifier and that's likely because it's very poor 
It took 2 hours and 43 minutes to get our home lab down to a breathable level 
It failed to remove all pollutants in 5 hours, something we usually only see with very small air purifiers
Filters are $19.99, which seems cheap but considering the lack of cleaning power is a total waste of money
The specifications
As I mentioned, AROEVE doesn't share CADR levels but based on our lab test, I estimated around 25 CFM. In the old days, this is the power you could expect for a very cheap air purifier. Nowadays, however, this air cleaning power is risible compared to units like the Taotronics AP003, which costs $20 more but offers a solid 226 CFM!
| | |
| --- | --- |
| HouseFresh Rating: | ★☆☆☆☆ |
| Time to clean our test room: | 2 hours and 43 minutes (but was unable to clean the air 100% in less than 5 hours) |
| Air purifier technology: | Fine Preliminary Filter, H13 True HEPA Filter, and Activated Carbon Filter |
| Recommended room size: | 161 sq. ft. |
| Clean air delivery rate (CADR): | 25 CFM (estimated) |
| Dimensions (in inches / in cm): | 6.1L x 6.1W x 9.7H inches (15.5 x 15.5 x 24.6 cm) |
| Weight (in pounds / in kg): | 1.57 lbs (0.71 kg) |
| Noise level (low – high): | 22 – 60dB |
| Filter life: | 3 – 6 months |
| Warranty | AROEVE MK01 does not come with a warranty |
| Estimated energy consumption: | $19.97 per year |
Small and cheap with simple controls
From a design point of view, the AROEVE looks cheap but is certainly not the worst air purifier I have seen. The size is great and would be perfect if it was able to also achieve great cleaning power.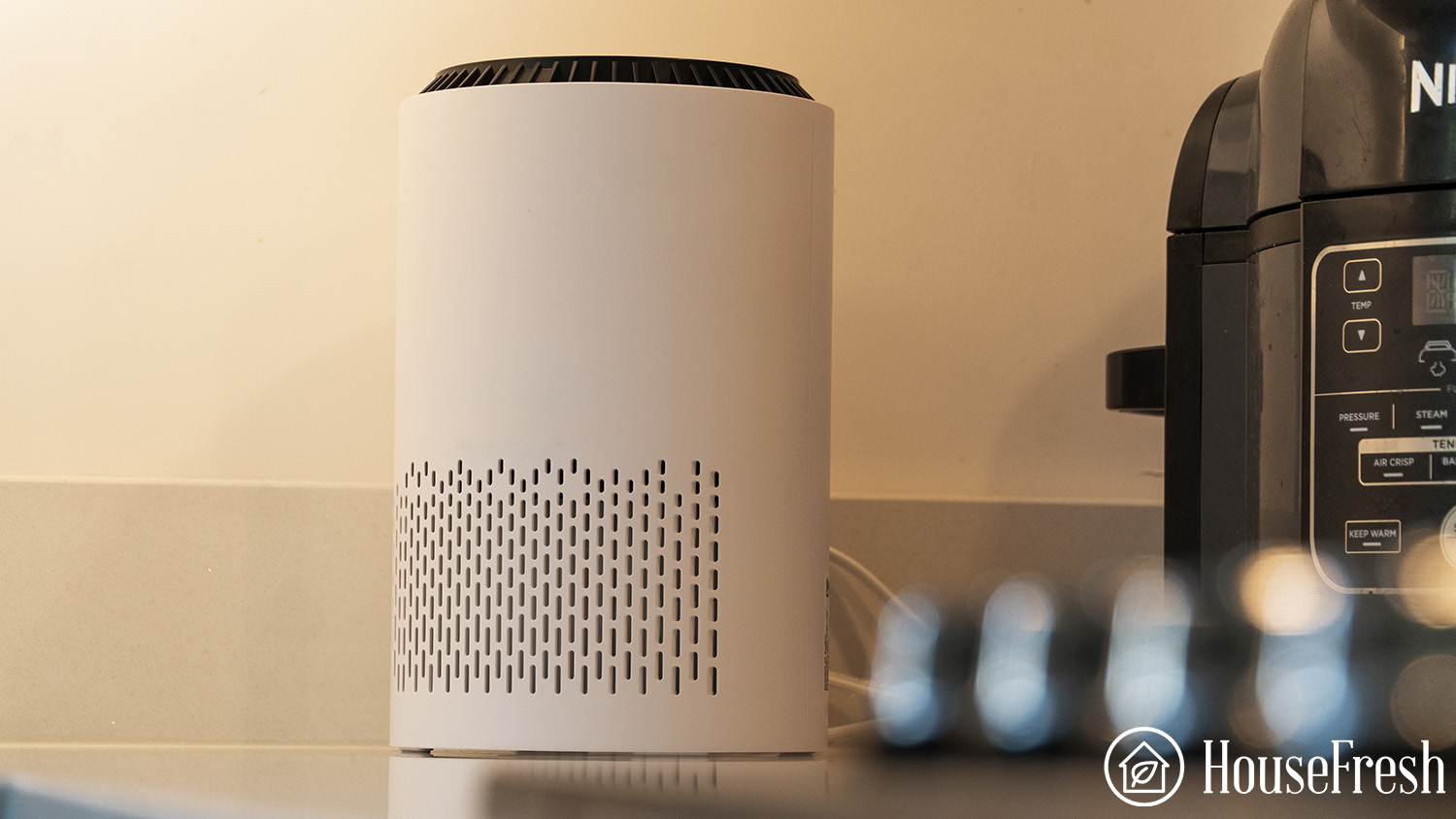 The MK01 has simple controls with no app or auto mode. You can choose a timer of 6, 12, and 24 hours.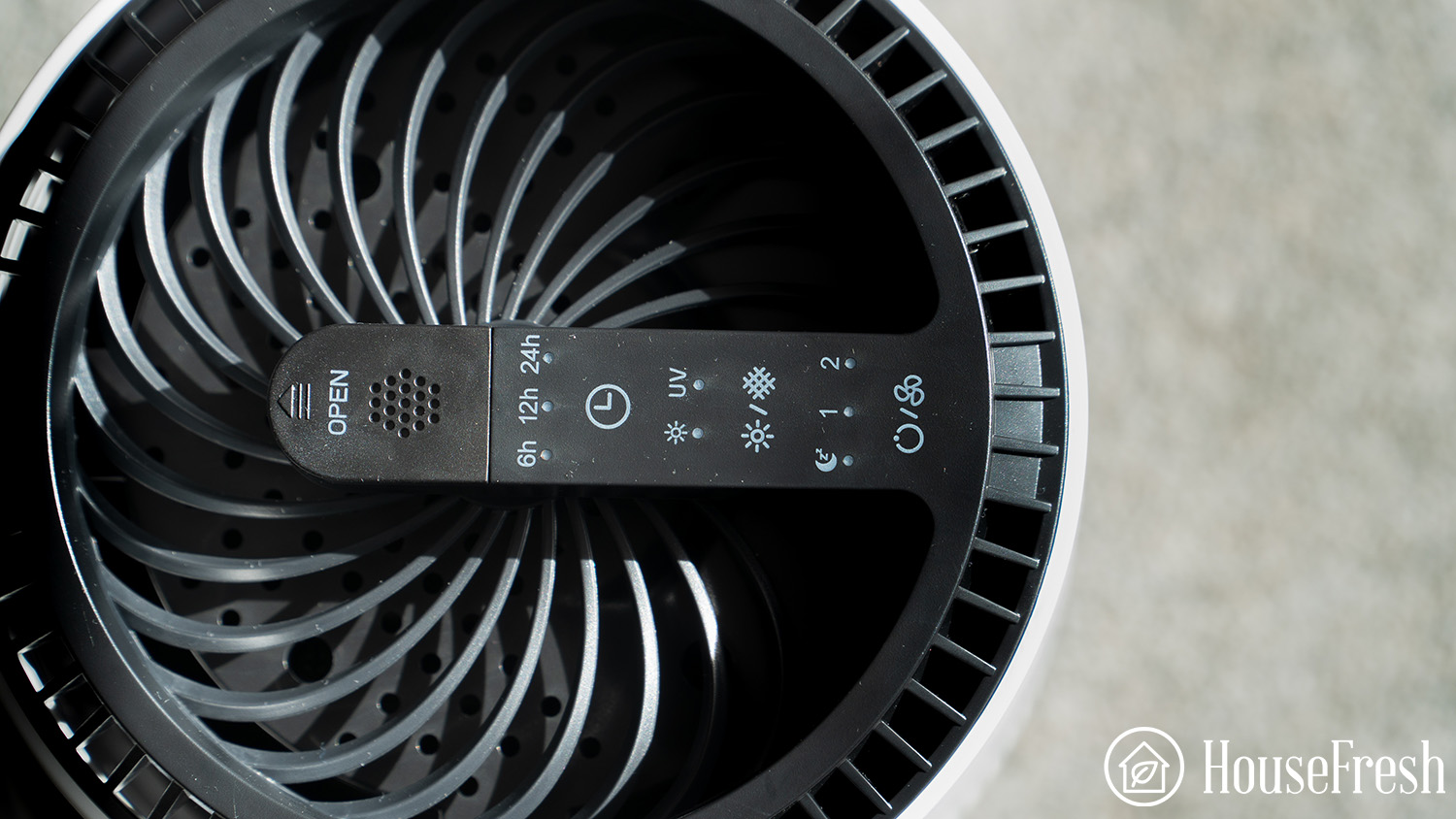 When you compare it with the Levoit Core 300, the MK01 is much smaller. However, this means that the unit will find it hard to clean as much air in comparison, as mechanical filters such as HEPA require a large surface area and a powerful fan to effectively clean the air in a room.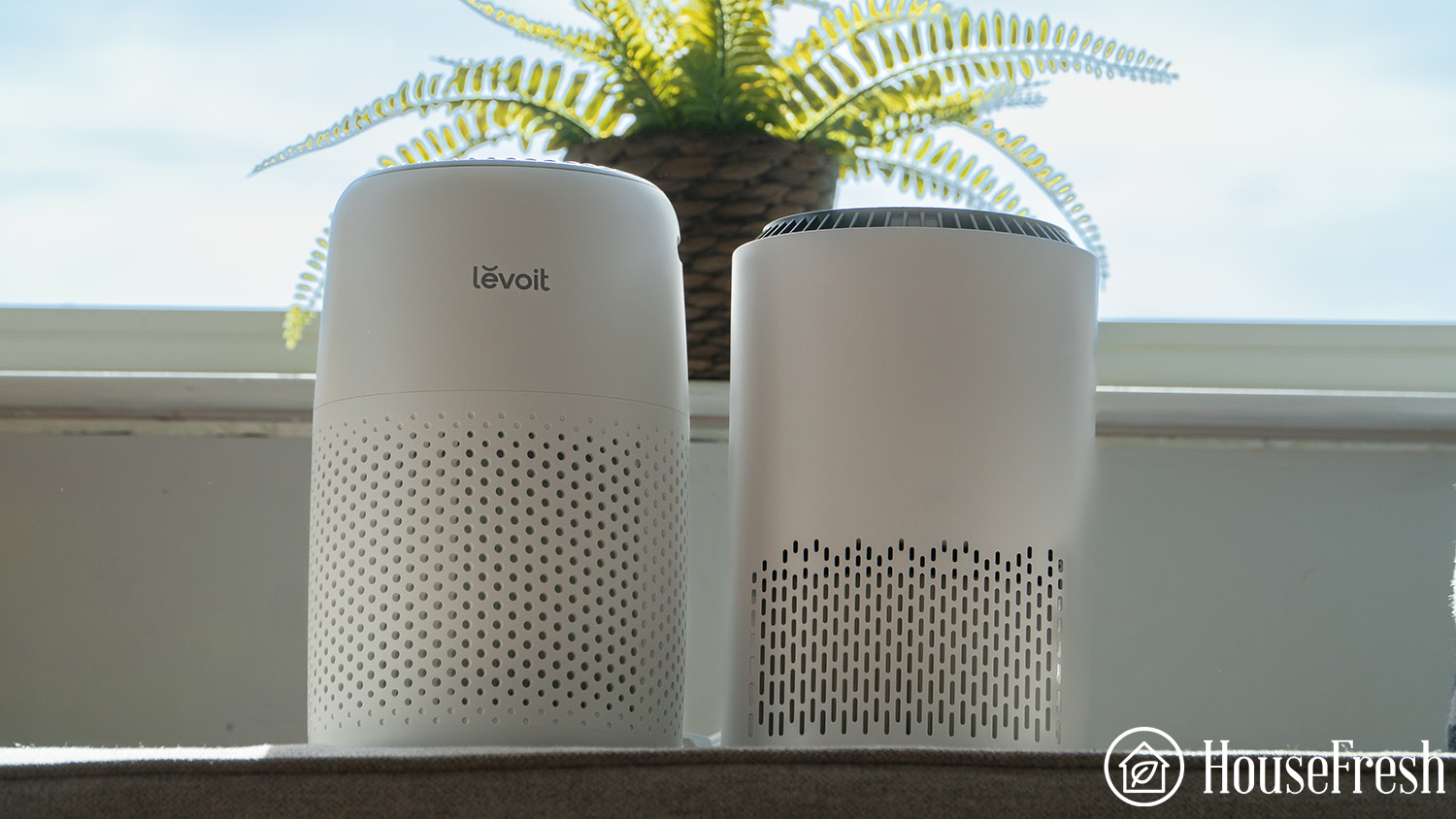 Pointless medical grade filters
The MK01 uses HEPA H13 which is the medical grade of HEPA – a strange choice considering that the unit is so small. Higher grade HEPA like H13 need more airflow to work efficiently, so many manufacturers will often use lower grade filters.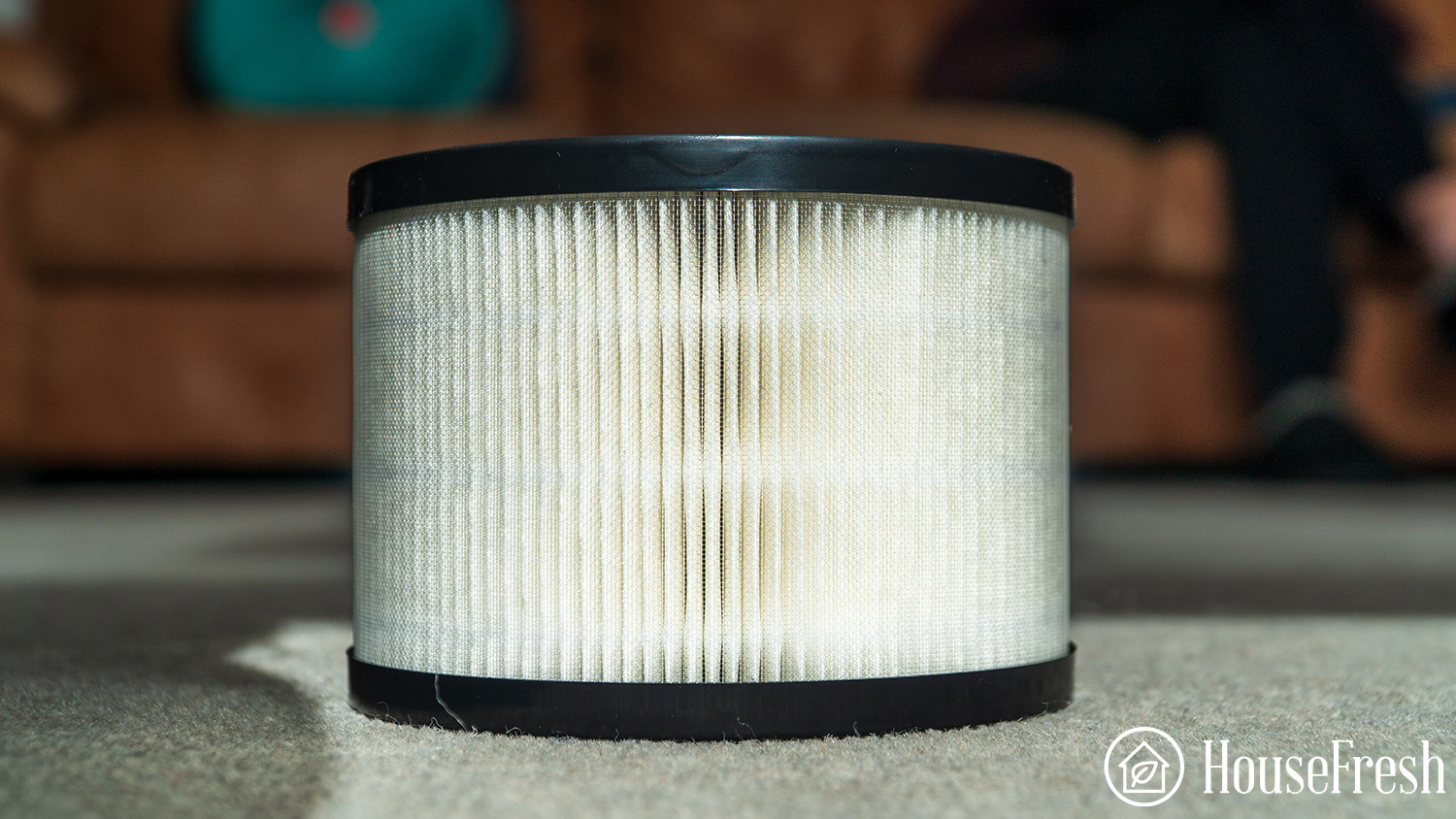 These filters can move more air in a compact space, meaning a quicker clean. I assume that AROEVE uses H13 as a marketing tactic, as they make a big show of it on their Amazon page.
In addition to HEPA filter, the AROEVE MK01 also comes with a fine pre-filter and an activated carbon filter: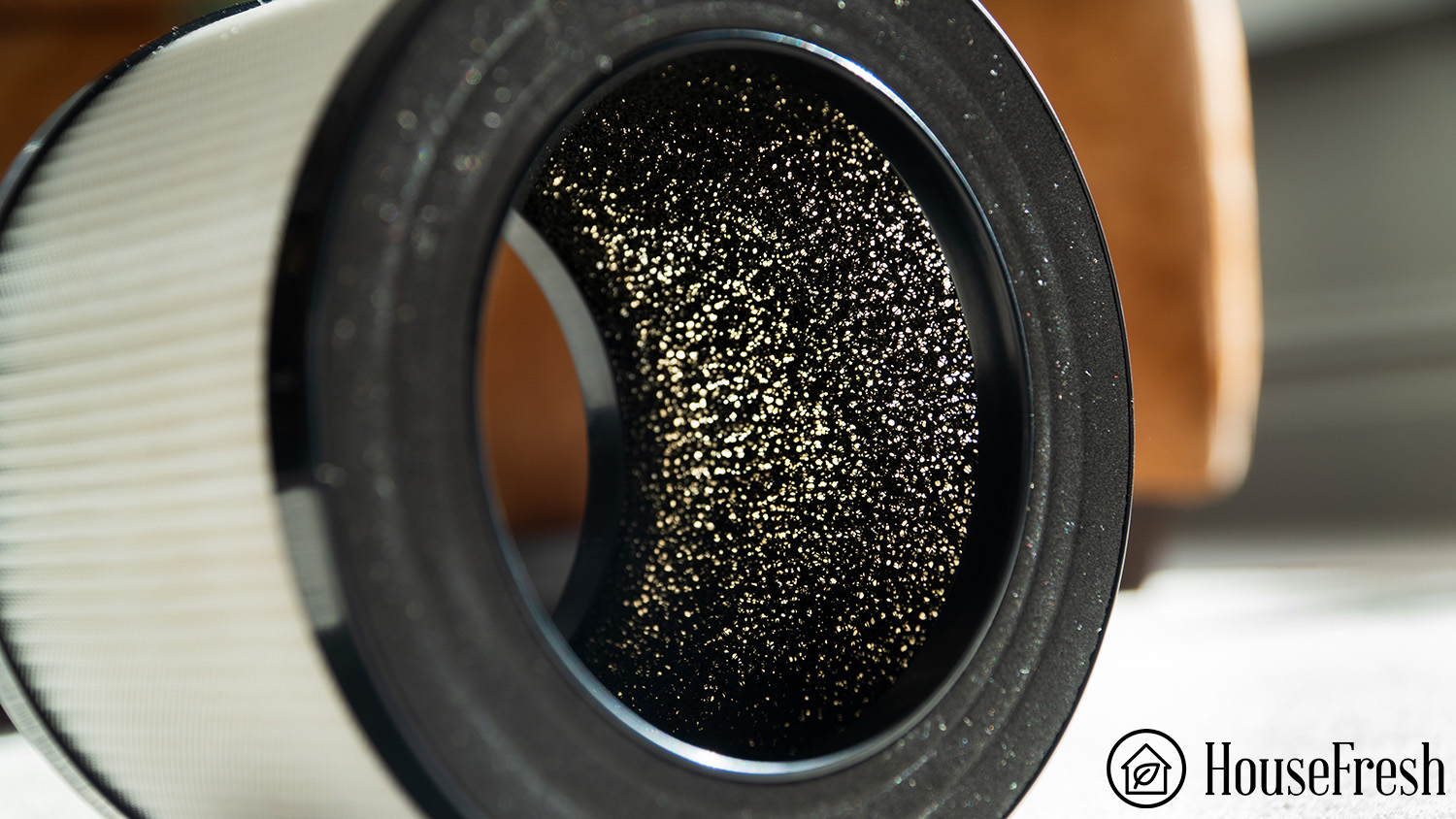 Tip
Be sure to remove the filter from the plastic bag, as the unit will not work unless air can flow freely into the filter.
Watch our video if you are wondering how easy it will be to replace the filters in an AROEVE MK01:
The AROEVE MK01 cleared our test room in 2 hours and 43 minutes
When writing this review, I was surprised to see all the reviews for this unit that stated it cleaned their air well, although not one had tested this for real.
At HouseFresh, we test all our units to confirm manufacturer data is correct. This allows us to uncover the performance of units without lab data, such as the AROEVE MK01.
We conduct our tests in the same 705 cubic ft home office, which allows us to compare the performance across all the air purifiers we've tested. The test has three parts:
We introduce particulate pollutants into the room by using an incense stick
We track the time it takes for the air purifier to remove all pollutants using an indoor sensor from Purpleair, that provides us with data on PM1.0ug/m3, PM2.5ug/m3, and PM10.0ug/m3
Throughout it all, we gather energy consumption data with the help of a power meter and noise levels in decibels.
When it comes to the performance of the AROEVE MK01, we encountered the same issue we had with the Molekule Air Mini: the unit was unable to get the number of pollutants down to zero.
That being said, the MK01 managed to get air down to a breathable level (per World Health Organization guidelines) but had problems getting this level down further. This makes me think that this air purifier was too small for even our small office.
You can see the results of our air cleaning performance test in the interactive chart below:
To achieve the WHO breathable level it took 163 minutes (or 2 hours and 43 minutes), which is very poor compared to other units we've tested – including the ULTTY CR021, a fan and air purifier unit that took 131 minutes to clean the air in the room.
Air cleaning test results
Overall, it's safe to say that this is one of the worst air purifiers we have tested here at HouseFresh.
Noise levels test results
At its lowest speed, the MK01 generated 22db of sound but you would not use this speed in reality as it is truly useless. Noise level goes up to 60dB when on the highest speed, which is higher than many of the smaller units we test here.
Have a listen for yourself:
The cost to run an AROEVE MK01: $39.96 per year
1. Electricity costs = $19.97 per year
With electricity costs expected to increase, this is a figure worth knowing before investing in an air purifier – a gadget that you will likely use 24/7, especially if you have issues with outdoor pollution.
This unit will cost you $19.97 a year to run constantly if you live in America. You can use the Department of Energy's appliance energy calculator to calculate what it would cost in your state.
2. Filter costs = $19.99 per year
An area that customers new to air purifiers often forget about is that HEPA filters will need to be replaced every 6 months for smaller units. The filters from AROEVE are $19.99, and while this seems cheap when you compare it with its cleaning power, it's far too high to recommend to most people.
AROEVE MK01 & MK06 Air Filter Replacement 4-in-1 High-Efficiency H13 HEPA Air Filter for Smoke Pollen Dander Hair Smell Suitable- Standard Version
Keep Your Money: Our filter uses a uniquely designed silver ion HEPA layer, unlike the off-brand filter that imitates us on the market, we use environmentally friendly and healthy materials.
Prevent Clogging: When hairs, dander, and other large particles meet the pre-filter layer, they will be blocked outside to prevent the air purifier from clogging.
Special Silver Ion Layer: Silver ions can react with harmful particles entering the filter and produce harmless substances. We use a unique production process that is unmatched by the rest of the filters.
99.97% High-Efficiency Filtration: H13 True HEPA filter layer is used, which meets the high-Efficiency Particulate Air (HEPA) standard. It can filter 99.97% of airborne particles larger than 0.3 microns.
Removes Unpleasant Odors: The premium granular activated carbon filter physically absorbs unwanted odors and fumes such as smoke, cooking odors, and pet odors, as well as VOCs, which makes it a good choice for homes with pets, cooking, and smokers.
Bottom line
On paper, the AROEVE MK01 seems perfect, as it is priced cheaply at $59.99 and has 4.5 stars on Amazon.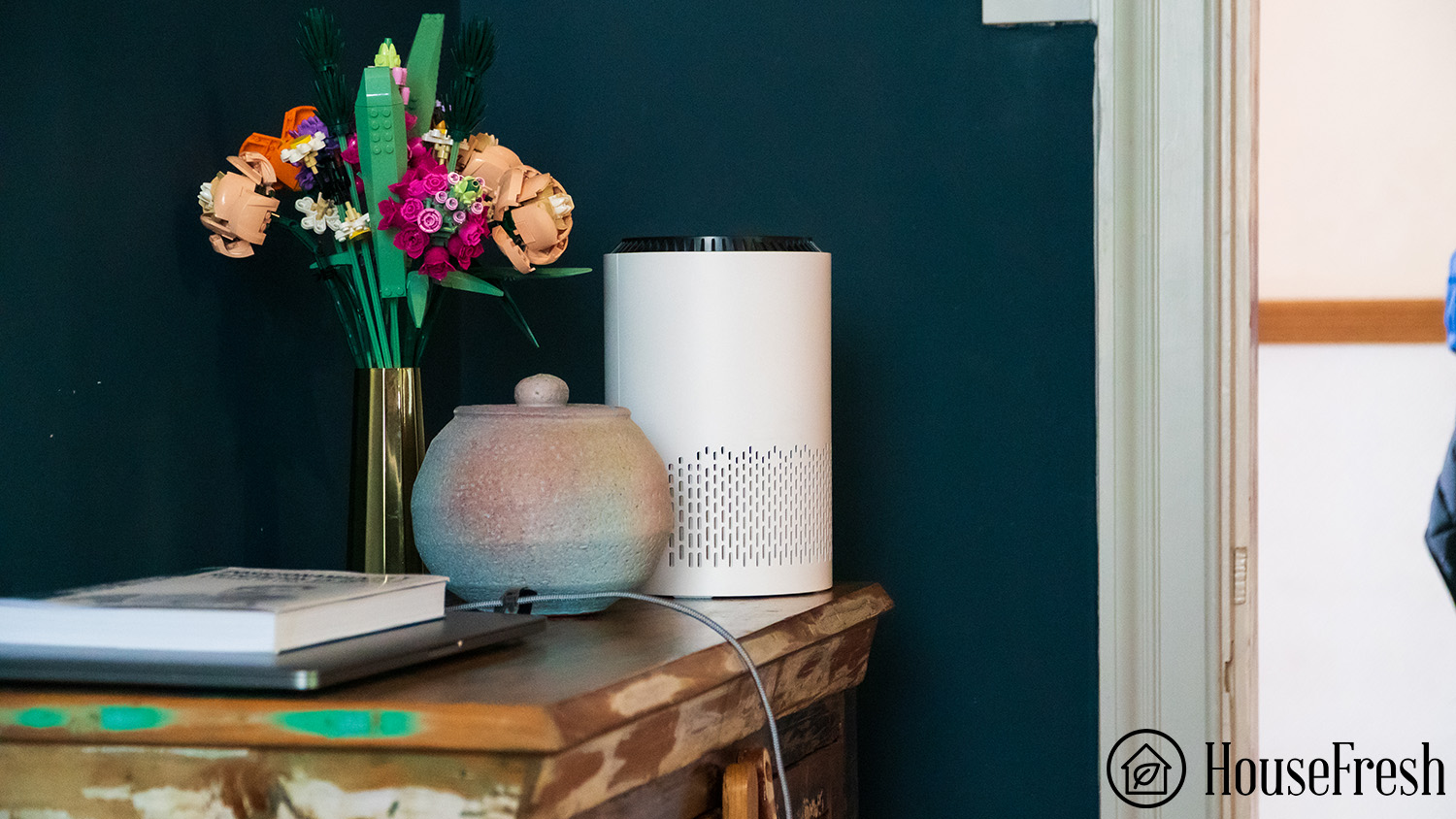 The reality becomes apparent when we use Fakespot and see that the MK01's adjusted score is 3 stars, due to the evidence of review manipulation.

Personally, I would recommend paying $20 extra and going for the Taotronics AP-033, which operates much better across all areas and has been proven to clean the air effectively in rooms larger than the recommended size for the MK01. 
SOURCES
We used the Department of Energy's appliance energy calculator to calculate yearly costs associated with running the AROEVE MK01 for 24hs a day for 365 days. We ran this calculation utilizing the U.S. average utility rate of $0.12/kWh as of March 30th, 2023.
At HouseFresh, we have been reviewing air quality products since 2010. In all these years, we learned not to rely on manufacturers' claims and the ever-so-glowing marketing materials. That is why we buy products with our own money, so we can write unbiased reviews after we've had enough time to evaluate air quality products in our home lab. Every unit we recommend has been thoroughly tested to assess its performance, energy consumption, and noise levels emitted in real-life environments. If you have any questions about our testing process for different types of air quality products, just drop us an email at
hello@housefresh.com
.
Last update on 2023-12-04 / Affiliate links / Images from Amazon Product Advertising API